Are you searching for the perfect black and silver nail ideas? You will love our list of 24+ stunning black and silver nails, including glitter nails, chrome nails, and geometric manicures that are perfect for any occasion!
Stunning Black and Silver Nails
When it comes to the world of fashion there are styles that you can never go wrong with. Timeless pieces including that little black dress or your favorite pair of go-to black pumps. When it comes to nails, classic black nail polish is another timeless, no-fail option.
Black is an excellent nail color as it provides the perfect neutral canvas to pair with any outfit. And, adding in a touch of silver nail polish will instantly elevate your look.
To help inspire your next manicure, we have put together a list of the most stunning black and silver nail ideas! Our list has everything from simple French nails to black and silver marble nails, so we are certain that you will find exactly what you are looking for.
Black and Silver Nail Designs List
Whether you are looking for glitter accents, a simple matte finish, or a bold animal print, our list features black and silver nail ideas that we are sure you will love!
Black French Tips with Silver Star Accents
A French tip is always a classic choice. We love this look with a added sparkling star detail that instantly turns this classic mai into a bold one.
If you want to give this nail design a go, or take it even further, try adding a bigger gemstone or silver foil flakes.
Fine Glitter Polish w/ Glossy Black Tips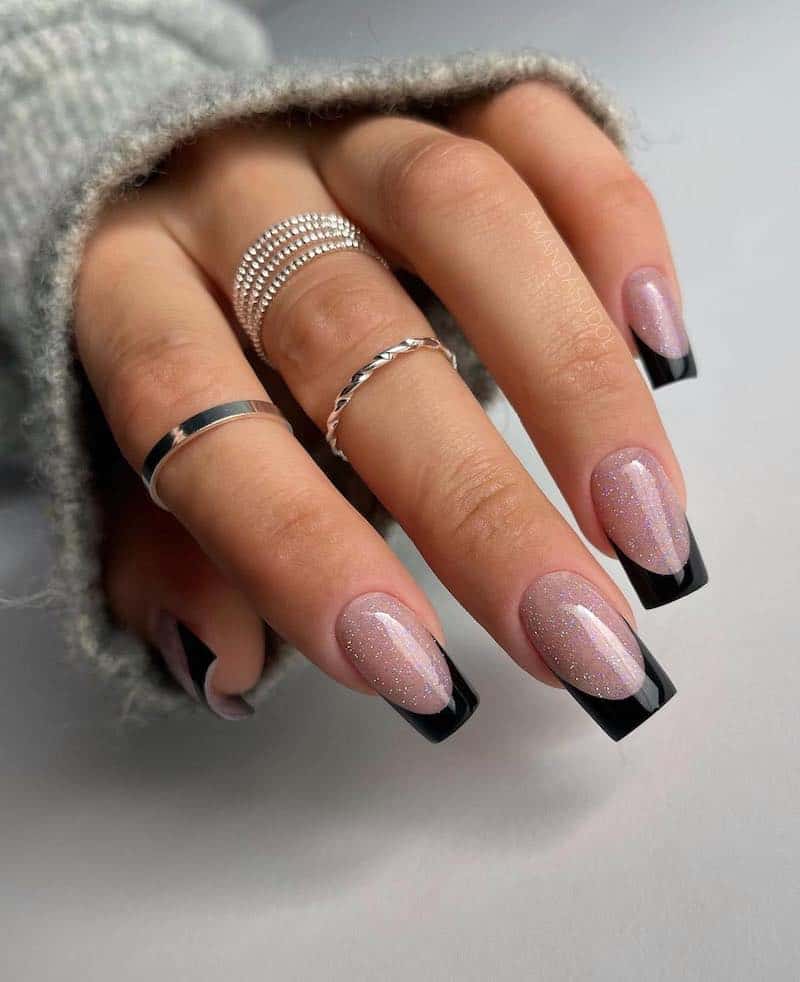 We love this simple and stunning manicure with a fine silver glitter base and glossy black French tips. This nail design provides the perfect balance of classic and bold for the winter season.
Silver Glitter Nails w/ Black Butterfly Accents
Y2K fashion is making a huge comeback these days! And these sparkling silver glitter nails with a black butterfly accent give off the perfect Y2K vibes.
This manicure is great for a fun everyday look or a party/special occasion. And butterfly nails symbolize a fresh start or new beginning, so these would make a great New Years nail design too!
Solid Black Nails w/ Abstract Design Accents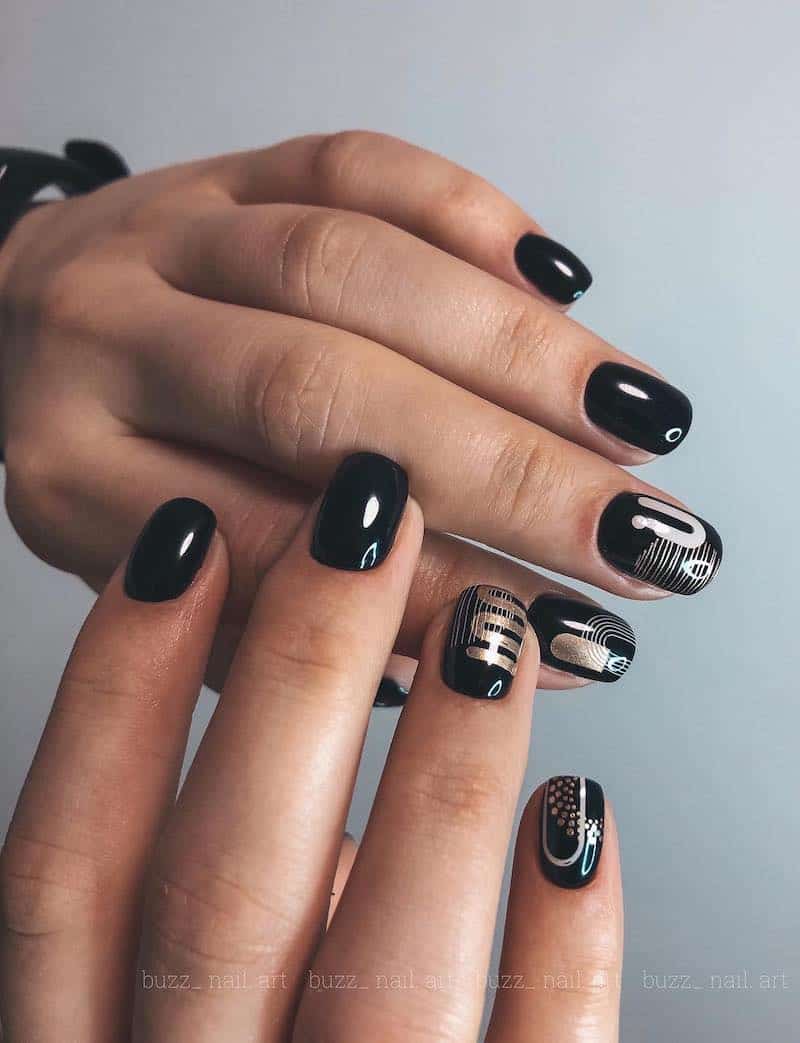 Adding an accent nail to a classic solid black mani is the perfect way to elevate your look. These silver fine lines and abstract nail designs offer a futuristic feel.
Do black nails look classy?
Black nails always look classy! Black is a sophisticated and timeless color in the world of fashion and a black manicure is no different. Also, black is the perfect neutral canvas, so it goes great with any look or color palette.
Black and White Tips w/ Nail Jewels
If you like bold and extravagant manicures, adding nail art and jewels is the perfect way to accomplish that. This black and white split French design with added pearls, bows, and silver gems, gives just the right amount of sparkle for a special occasion.
Black Polish w/ Silver Glitter Waves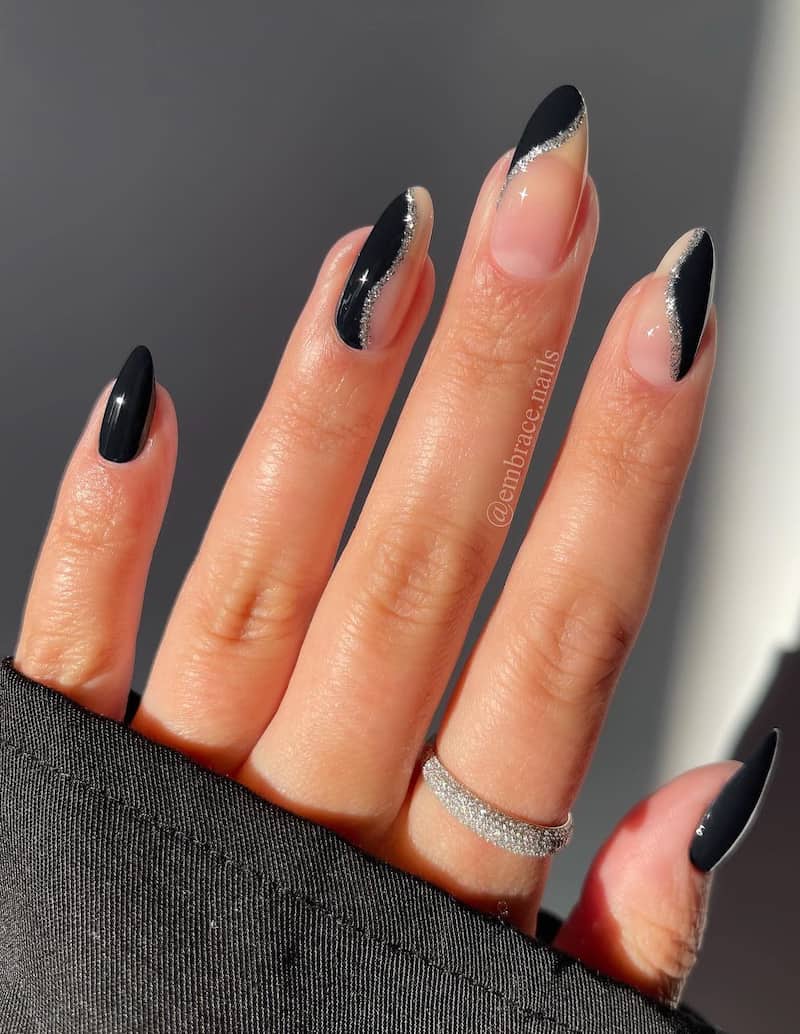 Taking basic black polish and using silver glitter to create sparkling waves and negative space is a great way to take your nails from basic to eye-catching. The fine details of the silver waves add just the right amount of sparkle.
Nude Nails w/ Black & Silver Accents
If you're looking for a unique manicure, try creating a geometric shape at the tips. Then, add a couple of dainty silver dots for extra sparkle.
Black and Blush Nails w/ a Silver Triangle Accent
We love the combination of black and blush pink in this manicure.
Paired with a satin finish, this look is chic and elegant. And the addition of a sparkling silver triangle on the middle nails adds even more to an already beautiful design.
Black Nails with a Silver Glitter Overlay
Adding a shimmering silver sparkle overlay is the perfect way to take a basic manicure to the next level. Take it a step further with a simple line design.
Silver Glitter Nails w/ a Black Mini French Tip
Glitter is a girl's best friend!
This silver glitter mani with a mini black French tip creates the perfect balance between flashy and classic. The dots at the base of the nail are dainty and elegant and pull the look together.
Silver Chrome Nails w/ Black Lines
Chrome is a popular trend right now and this looks uses silver chrome with black lines to create geometric shapes on a raw nail base. The combination of the raw nail and shining chrome gives an edgy and bold look.
Does black nail polish look good on dark skin?
Black nail polish is a great neutral color that looks great on all skin tones, including dark skin. No matter your skin color, a black manicure provides a classic, yet bold look.
Black and Silver Collage Nails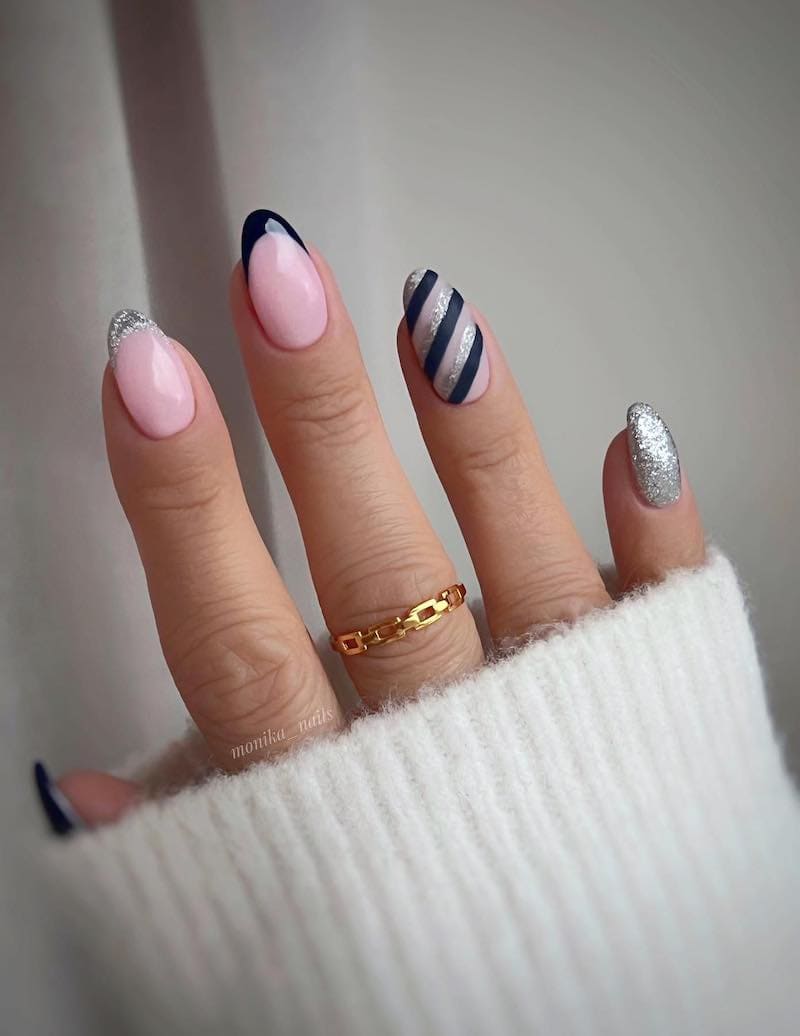 If you have trouble picking a single nail design, a collage nail palette is a great way to enjoy all of your ideas. We love this combo of black and silver designs including a French tip, solid nails, and stripes for an elegant and bold look.
Nude Nails w/ Black & Silver Animal Print
A nude base with black and silver animal print keeps your manicure clean, simple and sassy. A black and silver animal print accent is always a great way to add a little fun to your nails, and it makes for the perfect night out.
Glossy Black Nails w/ Silver Glitter
Sometimes adding a simple glitter topcoat is an easy way to completely transform your basic mani. We love how this fine silver overlay takes this simple black mani into the next galaxy!
Silver and White Frenchies w/ Black Accents
This combo gives an upscale twist on a classic French manicure. With the silver sparkle and the added black accents, this manicure provides a classic and elegant look, and it is perfect for daily wear.
Matte Black Nails with Foil Speckles
This manicure is simple and dainty with a matte black base and silver foil speckles throughout. We love how wearing this design on short nails makes it the perfect functional everyday look.
Glossy Black & Full Glitter Nails
Adding in a full glitter accent nail (or two!) is one of the best ways to take your mani from basic to brilliant. This combo of shiny black and solid silver glitter is so eye-catching, and it takes minimal effort to recreate.
These would make the perfect silver and black Christmas nails!
Black & Silver Chrome Nails w/ Polka Dots
This is one of our favorite black and silver nail ideas on the list. The black base paired with chrome accents and silver polka dots is really fresh and modern.
Take this look to a new level by switching up the shape, we recommend a coffin or stiletto!
Black + Silver Glitter Ombre Nails
With a bold sparkle nail and a glitter ombre accent, this mani is instantly upgraded from simple to stunning. This nail design is a must for anyone that loves a minimal, yet bold and eye-catching mani!
Black Marble Nails
Marbling is a beautiful way to take a manicure to the next level. This black and gray marbling is simple and elegant and the added sparkle of a silver accent makes for a design that pops.
Black Glossy Nails w/ Silver Foil
We love this simple, yet eye-catching black and silver manicure. The black base and the addition of silver foil make for a high-contrast design that creates an effortless, edgy look.
Black Frenchies w/ Swirls
Elevate a simple and classic design of French tips with the addition of a silver swirl overlay. This detail takes a timeless manicure to the next level.
Black and Silver Glitter French Tips
When it comes to black and silver nails ideas, French tips are a great way to go, then add a fun twist! We love how this manicure has the added silver sparkle on the French tip and a dainty dot at the base of the nail, making this design instantly more intriguing.
Nude Base w/ Black and Silver Details
This nude base with black and silver edges creates negative space and a beautiful, modern look. We love how this manicure has silver sparkle on its own, as well as in combination with black to create a fun design.
We hope you loved this list of black and silver nail ideas! Whether you choose a nail design that is simple or daring, we're confident that you will have a stunning manicure. We hope that this list of black and silver nails has inspired you to find the perfect nail design!
More Nail Inspiration You'll Love:
22+ Beautiful Winter Ombre Nails We're Obsessing Over
31+ Elegant & Classy Winter Nails I'm Obsessing Over
21+ *Stunning* White Christmas Nails