Looking for chic ways to create a cropped blazer outfit? You'll love this list of 12+ crop blazer outfit ideas to help you learn how to style a cropped blazer in chic and modern ways!
*this post contains affiliate links*
How To Style A Cropped Blazer
Cropped blazers have been trending in the last couple of years, and this chic piece is a great way to add a refined and modern vibe to any look. Something we love about a cropped blazer is that you can wear it for a casual ensemble or to dress up your outfit for a night out or a formal dinner.
If you've been wondering how to style a cropped blazer, we're here to help. This style guide has stylish crop blazer outfit ideas and tips on how to incorporate this item into any look!
Chic Crop Blazer Outfit Ideas
We have laid-back looks, feminine and flirty outfits, and polished and put-together ensembles in our list of crop blazer outfit ideas below. So no matter what your style is, we have a look for you!
ivy-league vibes
get the look:

We love the preppy yet sophisticated vibes we get from this look! The jeans balance out the other elevated pieces to keep this outfit casual, making this a great choice to wear for Sunday brunch with the girls.
The two-tone loafers are a gorgeous statement piece and work so well with the blazer. Or you can opt for heels if you want to add a feminine touch.
professional + polished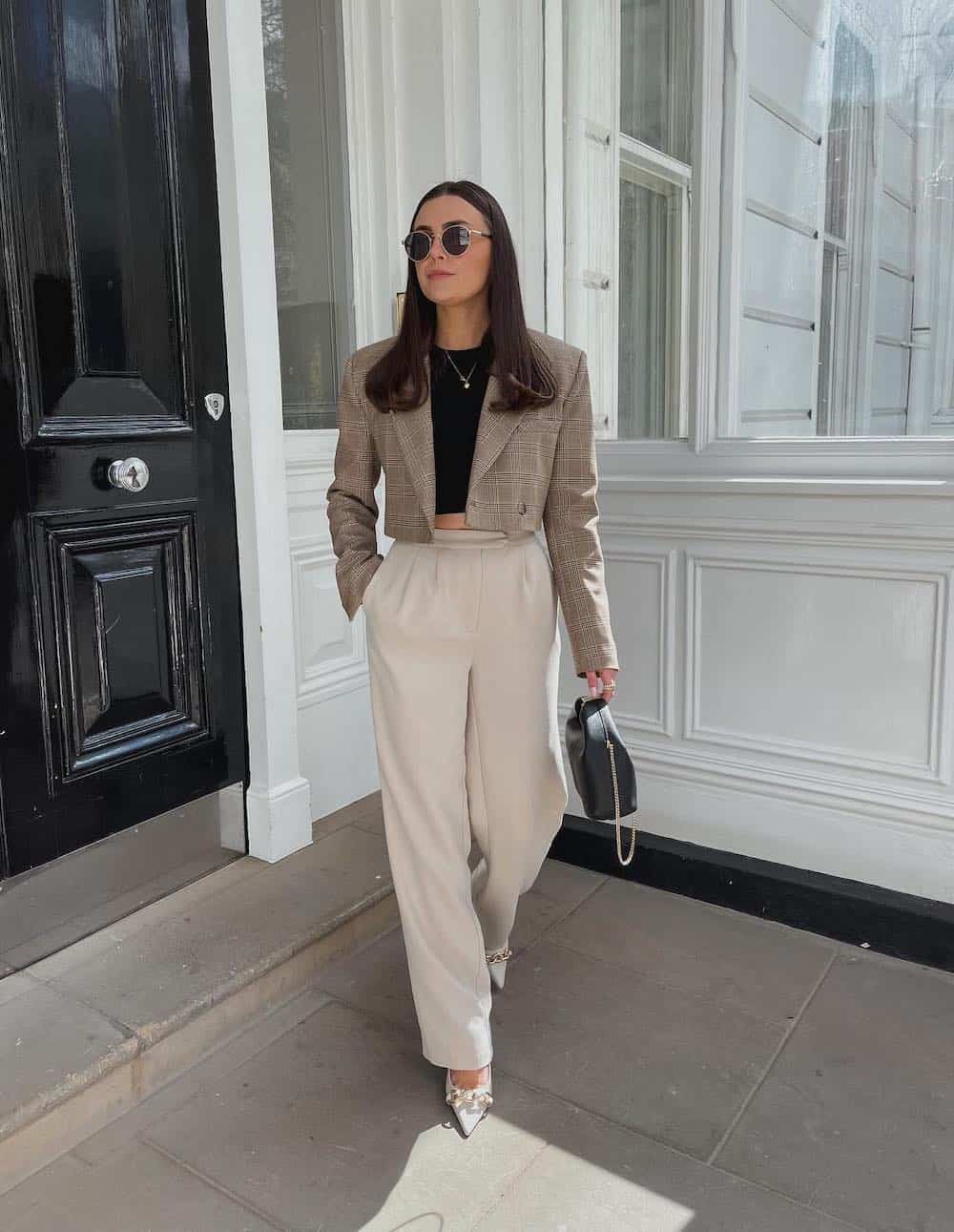 get the look:

A plaid blazer definitely has an elegant look, and choosing a plaid cropped blazer is a perfect way to blend classic style with modern trends. And we are here for the embellished pumps – they're chic with a bit of a flirty feel that we can't get enough of!
The pleated trousers are an excellent choice to pair with this cropped blazer, and it adds another refined touch. Go for a look like this for a polished yet feminine vibe that's perfect for a dinner date night.
See more plaid blazer outfits here!
with a denim skirt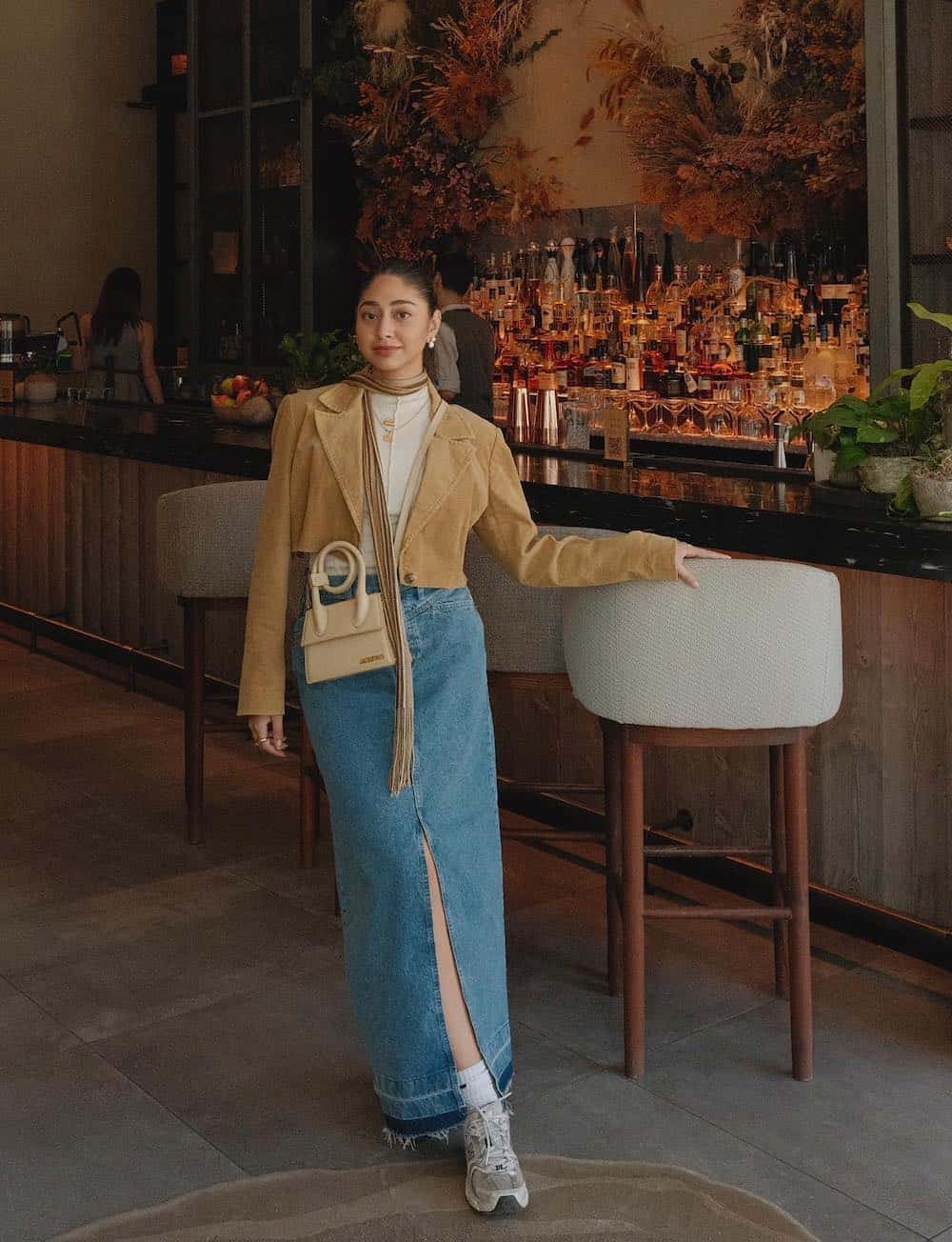 get the look:

Denim midi skirts are all the rage right now and the perfect modern piece to pair a cropped blazer with. We love the combo of this midi skirt with a suede crop blazer – and these pieces are great for fall!
If you want to go for a look like this in the spring or summertime, choose a blazer made from a lightweight material like linen or cotton and swap the midi skirt for a mini. No matter what season you style this for, denim is great for a casual look that you can wear while grabbing coffee with friends.
Are cropped blazers flattering?
Cropped blazers are very flattering! The cropped cut of this jacket is great for highlighting your curves since it draws attention to your waist. This is especially great for anyone with an hourglass figure. If you go for an oversized crop blazer, pair it with wide-leg jeans or flowy pleated pants to help balance out the boxy top while accentuating your waist.
You can also pair this piece with high-waisted pants or shorts since these will also draw the eye to your curves. And a cropped blazer is great to layer over midi dresses or skirts.
elevated and sexy
get the look:

If you want an elegant but subtly seductive outfit for your next date night or weekend getaway with your SO, this is a perfect choice! The lace bralette and strappy heels are chic and feminine, while the cropped blazer keeps it refined.
Finish the look with a chic clutch or crossbody bag and simple gold jewelry.
cropped blazer + skirt set
get the look:

You can always create an effortlessly chic look by choosing monochromatic pieces or a matching set. The mini skirt and sandals have a laid-back and youthful vibe, but the blazer and matching tones give it an elegant look.
This outfit is a must for your next girl's night out! The strappy sandals are great for a night of walking around downtown, although you can opt for heels if you want a classier look. You can also swap the mini skirt for a silky black midi skirt if you want extra coverage or will be out in cold weather.
cool-day casual
get the look:

Speaking of cold weather, a cropped blazer is a fantastic layering piece for fall! We love the causal vibes of this outfit, and everything from the turtleneck sweater to the warm-toned blazer has a cozy feel.
Wear this to a pumpkin patch or when checking out the farmers market this autumn.
pair it with trainers
get the look:

We love pairing elevated and casual pieces – and this look is the perfect example of how to do just that! This crop blazer outfit has a minimalistic and laid-back feel from the wide-leg trousers, the trainers, and the simple tank top. The cropped blazer adds a polished touch and works great as a chic coat while out and about.
Go for a look like this when hitting up your favorite cafes and shops in the city or while searching for some new favorite places!
Is a cropped blazer work appropriate?
A cropped blazer can definitely be a work-appropriate piece, although you have to style it correctly if you want to wear it to the office. Pair your cropped blazer with other formal pieces, like pleated trousers, midi skirts, or classy dresses. And don't forget about footwear. Classic pumps and loafers are perfect for an elevated office outfit and will help to create a refined look with your blazer.
Another tip for wearing a crop blazer outfit at work – choose a neutral color combo or go for a monochromatic look. This will create a chic and sophisticated outfit that's suitable for a day at the office.
business casual
get the look:

This is a perfect example of how to style a cropped blazer for work! The matching colors of the pants and blazer make this look like a formal matching set, and the simple white top creates a clean, sophisticated look that's definitely work-appropriate.
The trainers add a casual touch, but they still work for this because of the formal aesthetic of the other pieces. You can always choose more refined shoes for an elevated look. Although these neutral-colored sneakers would be perfect for casual Fridays.
cropped blazer + tall boots
get the look:

Give your crop blazer outfit a chic and modern look by pairing it with tall, sleek western-inspired boots. This ensemble is so cute, and you can definitely wear this for a night out or as a winter concert outfit.
You can go for a black cropped blazer to match the color of the boots, but we love the bright tones from this ivory jacket and light-washed jeans.
school girl vibes
get the look:

A pleated tennis skirt instantly gives off a school-girl vibe, and the addition of chunky oxford shoes matches those vibes so well. The cropped blazer also works with the aesthetic of these pieces, and we love how this outfit is the perfect blend of youthful and refined.
Rock a playful and trendy ensemble like this for a lunch date with pals, to run errands, or even for a night out.
a pop of color
get the look:

Adding some color to your outfit is always a great way to get a bold, attention-grabbing look. This pastel green crop blazer has a spring feel to it, and the light-washed denim shorts and classic tank top make the whole ensemble a top choice for warmer days or the transitional weather in early spring.
You can also go for a colorful look like this in fall or winter. Dark, muted shades are great for cooler months, so a navy, emerald green, or burgundy crop blazer would be great for this time of year. And black or dark-washed blue jeans will give you a similar look to this while keeping you warm.
simple aesthetic
get the look:

The last cropped blazer outfit on our list is a chic and effortless look. We love the buttoned-up blazer as a top here, although you can wear a crop top or tank underneath in case you get hot. The trousers match the classy feel of the blazer, while the black and white sneakers keep it laid-back.
This outfit would be perfect for spending a day out and about, whether you'll be running errands or spending a day with loved ones. The long layers make this an excellent choice for cool days as well. Although, you can wear this in spring or summer by picking pieces made from airy fabric blends.
Cropped blazers are perfect for adding a stylish and modern feel to your everyday style. And whether you're looking to add this piece to a refined outfit or you want to elevate a night-out look, you can't go wrong with adding a crop blazer to your wardrobe.
We hope you've found this list of cropped blazer outfit ideas helpful and have the perfect inspiration to style your own chic cropped blazer looks!
More Style Inspiration You'll Love:
13+ Elevated Black Blazer Outfit Ideas For Women
16+ Chic Blazer Outfits That Prove You Need One In Your Closet
7+ Balmain Blazer Dupes For 2023: A Timeless Look For Less!