Wondering how to style a blazer and still look feminine in 2023? Check out these 19+ chic and cute blazer outfits for women, and learn exactly how to create women's blazer outfits for all kinds of occasions!
*this post may contain affiliate links*
Très Chic Blazer Outfits for Women
For many years the blazer was associated mostly with menswear. But in the last couple of decades, the blazer has become a piece everyone can wear, and women are styling them in chic ways we've never seen before.
Both emerging and established women's fashion brands are now carrying blazers as essentials in their lines. It's a fact – blazers are no longer just a masculine piece.
We've scoured the fashion world and have come up with some very stylish and feminine women's blazer outfits you are definitely going to want to try. So if you've been wanting to add this chic piece to your wardrobe, this blazer outfits women's edition is a must-see style guide!
How should a woman wear a blazer?
Women can style blazers in so many ways as they are a versatile wardrobe staple. A blazer can easily be dressed up or down for all kinds of occasions. Here are just a few ways a woman can wear a blazer:
with jeans, a t-shirt, and sneakers
over a slip dress with heel
with a midi skirt, blouse, and loafers
with a knit hoodie, leggings, and trainers
over a sweater dress with knee-high boots
Read on to discover more ways to wear a blazer in 2023!
Blazer Outfit Ideas To Copy
Now that you know the basics for styling a blazer, get inspired with even more women's blazer outfits that are chic and definitely have a feminine vibe. Below you'll see some of the best street style trends for modern ways to rock a blazer.
Boyfriend Blazer Outfit
A boyfriend blazer (also known as an oversized blazer) has a more oversized look rather than a fitted blazer. We love the look above with the plaid blazer, graphic t-shirt, and vintage-wash jeans.
The outfit has a "took-it-from-my-boyfriends-closet" vibe but still looks feminine with the figure-hugging jeans and accessories. We would style this look with a pair of slingback block heels that can easily take you from day to night.
Camel is a versatile and stylish option for fall women's blazer outfits. You can pair it with a feminine slip dress and suede heels like the look above, or with a more laid-back outfit.
We love the combination of the oversized blazer and feminine dress as the length of the blazer gives an elevated look to the outfit.
If you aren't into a dress, try a camel blazer with black jeans and a striped black and white knit sweater underneath. Finish the outfit with camel or black loafers for a sophisticated vibe.
A blazer with sneakers might seem like an odd fit, but done the right way, it's a match made in style heaven. The professional look of a blazer can be easily toned down with the playfulness of sneakers.
The look above proves this theory as the trainers give the whole outfit an athleisure vibe. It's the modern twist on a sporting club look that men wore for decades (women just do it better now…).
Above is another stylish take on cute blazer outfits with sneakers. A slightly oversized black blazer can look more laid-back with a knit tank, vintage wash straight-leg jeans, and cute white sneakers.
This outfit is perfect for a day of running errands and lunch with friends. If your work hosts "Casual Fridays", this is an easy way to look professional while wearing denim in a corporate office setting.
When considering cute blazer outfits for women, pairing a midi shirt dress with a linen blazer is the way to go. Midi dresses are a great option for spring and summer, and the blazer is a perfect way to add an extra layer if it's cooler out.
This outfit can be worn for running errands and brunch with friends, or for a wine tasting at a vineyard. The look is versatile and works for all kinds of occasions and events.
Loafers are an excellent choice to keep the polished look, but you could easily swap them out for heels to take the outfit from day to night.
Wedding Guest Blazer Outfit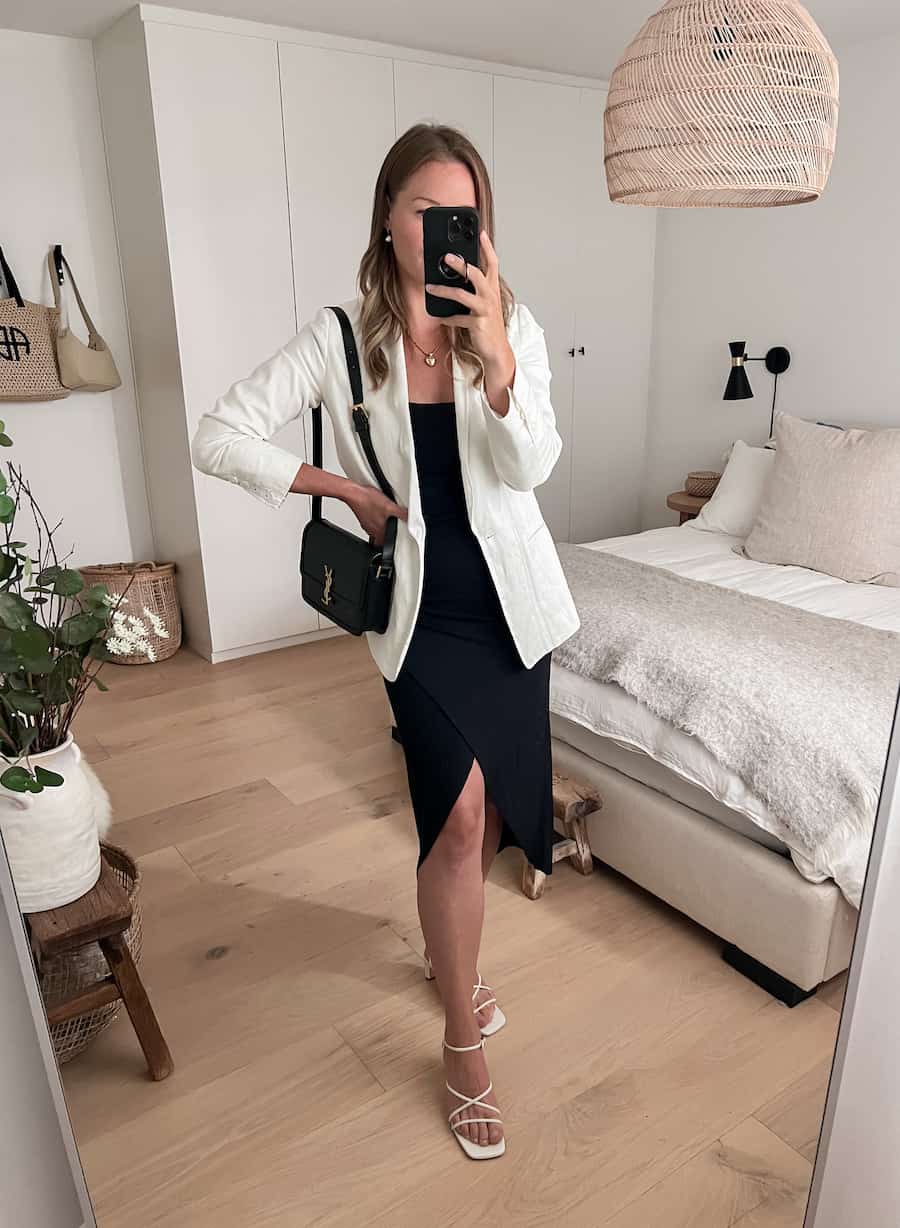 get the look:
Add a chic touch to your wedding guest outfit by layering a blazer over your dress. This is a perfect look for a wedding taking place in cooler weather since the blazer is not only stylish but will also keep you warm.
Stick to neutral colors like this for a clean and polished look. The classic black and white color combo is appropriate for any wedding, and choosing black or white accessories helps to pull the whole ensemble together!
An oversized blazer with a hem that rests below the bum is the perfect substitute for a jacket. We love the look of a plaid blazer with a little black dress for the perfect mix of masculine and feminine.
The dainty heeled sandals make the outfit more dressy and add in even more of a feminine vibe. This look is perfect for date night, girl's night, or a formal event in the evening.
Blazer + Ribbed Maxi Dress
get the look:
When it comes to styling blazer outfits women can always add an elegant touch by sticking with neutral colors like this.
We love this look for a refined fall outfit. The crisp white sweater dress has a warm and cozy feel, while the warm-toned blazer and accessories are perfect for autumn.
This outfit is a must for a coffee date this fall. Elevate the outfit with gorgeous gold jewelry, and you'll be ready to take on the day in style!
A red blazer is a bold choice but works when done the right way. In fact, according to Town & Country, the name "blazer" was first coined in 1952 when an article referred to the "blazing red" jacket worn by members of Cambridge's Lady Margaret Boat Club.
We recommend pairing a red blazer with neutral colors like black, tan, or white. Other colors will compete with the red and may end up looking tacky rather than polished and classy.
How can I look cute in blazer?
If you want to look cute while wearing a blazer, it's best to balance the masculinity of a blazer with more feminine pieces. Blazers tend to have a looser fit, so try styling them with form-fitting pieces like a ribbed tank top and straight-leg jeans.
Another sure-fire way to make a blazer look cute is to add heels to the outfit. You can wear any type of heel including pumps, sandals, or heeled boots to get the right effect.
Lastly, bring in feminine accessories like a cute headband, dainty jewelry, and a chic purse.
Blazer Outfits With Jeans
When it comes to blazer outfits for women, pairing a blazer with jeans is a no-fail way to look stylish and elevated. The four outfits below show how you can rock this combination with flats, sneakers, and boots!
Go with a simple navy blazer over a white shirt with blue jeans and cream loafers for a sophisticated, laid-back look.
For a Parisian-inspired look, style a neutral-toned linen blazer with an ivory cami, cropped blue jeans, and black slingback mules.
Go casual with a tan boyfriend blazer, white t-shirt, and converse sneakers. This is one of our fave cute blazer outfits that is chic yet effortless, and can be thrown together in a flash.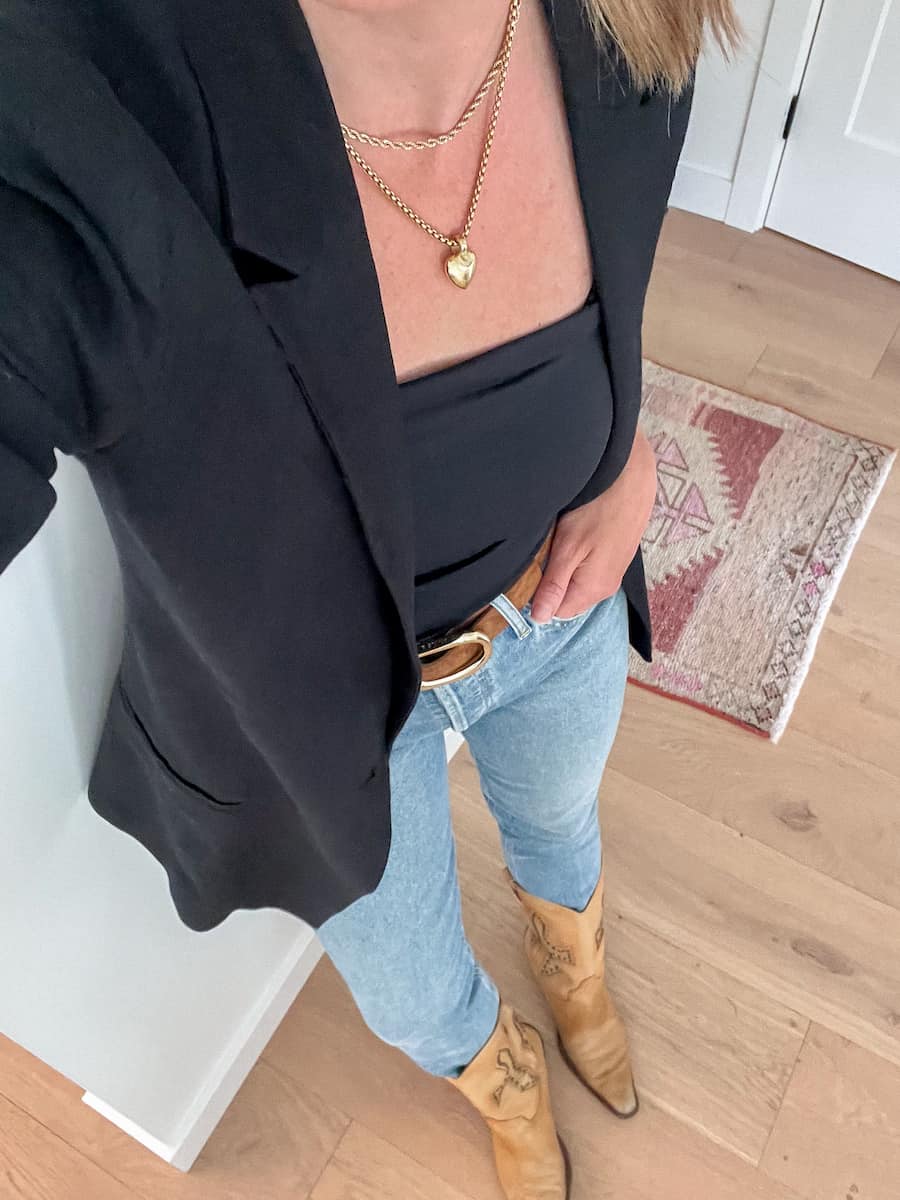 get the look:
Add a playful touch to a clean and modern outfit with cowgirl boots! The neutral-colored top and blazer keep this outfit refined, while the boots add some fun Western flair.
Blazer Outfits For Work
Wearing a blazer to work should feel second nature, even if you work in a more casual environment. Below are two women's blazer outfits that can be worn for a more professional work setting, or an office that has table tennis and napping pods.
A blazer and leather pants is an excellent choice for the office. It's stylish and professional with a bit of an edgy vibe.
This monochromatic outfit is giving us all the feels. The oversized black blazer looks excellent with black cropped trousers and black loafers. It's professional and very chic at the same time.
When it comes to cute blazer outfits for women, the blazer and shorts combo is definitely having a moment. We love the look of an oversized boyfriend blazer in the summer thrown over a knit tank and pleated shorts.
Add a pair of casual sandals for a laid-back look or go with heeled sandals for a dressier take in the summer months.
Final Notes
As you can see there are a plethora of blazer outfits women can try. If a blazer is something you've been on the fence about adding to your wardrobe, we hope we have convinced you to take the plunge!
In every season you'll be able to style your blazer and wear it for all kinds of events, gatherings, and occasions.
So, which look will you try first?