Wondering what shoes to wear with sweater dresses? Get 10 stylish looks and learn about the best footwear to pair with your sweater dress!
*This post contains affiliate links*
get the look:

Shoes to Wear with Sweater Dresses
Sweater dresses are great transition pieces to have in your closet, as they can be worn in the fall, winter and early spring. The only thing you'll need to change? Your shoes!

Switching up your footwear can take your spring sweater dress to winter in no time. With that idea in mind, you might be wondering, what shoes do I wear with a sweater dress?
For us, anything goes! A ton of different shoes can be worn with a sweater dress. From sandals to sneakers to knee boots, we have the perfect way to style your favorite shoes with your favorite dresses from season to season.
get the look:

How do you wear a sweater dress in the fall?
For fall outfits, we recommend sticking with the classics. In the warmer days of early fall, you can get away with sandals and mules. As a chill starts to hit the air, transition to sneakers or loafers. In any case, opt for heels if you are trying to dress up your sweater dress for dinner or a night out.
See our fall sweater dress outfit ideas for inspiration!
1. Sweater Dress with Sandals
get the look:

A sweater dress with sandals might sound odd, but this look can be very chic, especially on warm days in September! Stay away from flip flop style sandals, and opt for a slide style instead.
A midi sweater dress works well for this look, as it extends the line of your body, even when wearing flats. Roll your sleeves up during the warmer part of the day, and roll them down as the night falls.
This is a perfect outfit for the transitional weather from summer to fall.
2. Sweater Dress with Mules
get the look:

Want footwear with a little more coverage than sandals? Mules are a great alternative!
Leather mules have a chic feel in the autumn with the closed toe. However, they are still a great option for warmer fall weather because of their open back. It's the best of both worlds!
Midi sweater dresses pair well with mules. Make sure to choose a lighter, knit sweater dress when recreating this look. You'll still have that comfy fall feel, without getting too warm.
3. Sweater Dress with Trainer Sneakers
get the look:

Trainers are good anytime and anywhere, and styled the right way, they can look super chic! Just as the sneaker and sundress trend continues to take over the fashion world in the summer, so does the sneaker and sweater dress trend for fall.
Any sneakers will do, but we especially love a chunky trainer moment, or a classic pair of white leather sneakers. Pair a simple black or ivory sweater dress with your favorite pair of trainers for a casual and sporty look.
Add a long trench coat for an extra layer of warmth or coverage on a rainy day.
4. Sweater Dress with Loafers
get the look:

Loafers scream high-fashion. This fall, you'll see loafers on every influencer, model and runway.
They're a nod to men's fashion, and are intended to be paired with more feminine pieces. Additionally, they pair perfectly with sweater dresses for an office or daytime look.
Long, knit sweater dresses compliment loafers for a chic, cozy look.
5. Sweater Dress with Heels
get the look:

Heels elevate any outfit, including sweater dresses. You can wear any heel with a sweater dress, but we prefer chunky block heels.
An a-line midi dress is the perfect sweater dress to pair with block heels for work, dinner or drinks. This versatile look can be taken from day to night and fall to winter.
A sweater dress and block heels are perfect staples to include in your capsule for fall for fall!
How do you wear a sweater dress in the winter?
In the winter, the perfect way to style a sweater dress is with a sleek pair of boots. Simply put, boots of all styles and sweater dresses are a match made in heaven.
Try ankle booties, knee-high boots, over-the-knee boots, or combat boots for an edgy look. Whether you're wearing a midi dress, mini dress or maxi dress, there is a boot for you!
6. Sweater Dresses with Boots
get the look:

Adding a pair of mid-calf height boots to any midi-length sweater dress outfit will easily keep you warm and transition your wardrobe easily from fall to winter.
For early winter, you can opt for ankle boots, combat boots or booties. And, in the later winter months, we recommend pairing your sweater dress with knee boots or thigh-high boots for extra warmth.
7. Sweater Dress with Combat Boots
get the look:

Combat boots are for the ultimate cool girl. They're edgy, perfect for fall and make you stand out.
Our favorite way to style combat boots is with a chunky mini sweater dress and tights. An oversized mini can compliment all body types.
Pair the sweater dress with black tights and you've got an outfit that will keep you warm and chic all at the same time. Throw on a wool pea-coat or oversized black leather jacket for an extra chic look.
8. Sweater Dress with Knee High Boots
get the look:

Knee high boots are a classic choice when it comes to styling sweater dresses. They're fun, feminine and sexy.
If you're wanting to be extra warm, pair your knee high boots with a midi or maxi dress. On the other hand, if you want to show off the boots, opt for a mini sweater dress.
We love the look of suede knee-high boots with a knit sweater dress as they have a great look and texture that says "warm and cozy". Perfect for fall!
9. Sweater Dress with Ankle Boots
get the look:

Ankle boots are also a great choice when it comes to styling sweater dresses. When shopping for ankle boots, you can choose from flat or heeled ankle boots.
This season, we are definitely hopping on the lug boot trend. Pair your favorite midi sweater dress with a pair of ankle lug boots for an edgier vibe.
Lug boots are perfect for the girls who aren't quite ready for combat boots, but still want to create a cool look.
10. Sweater Dress with Booties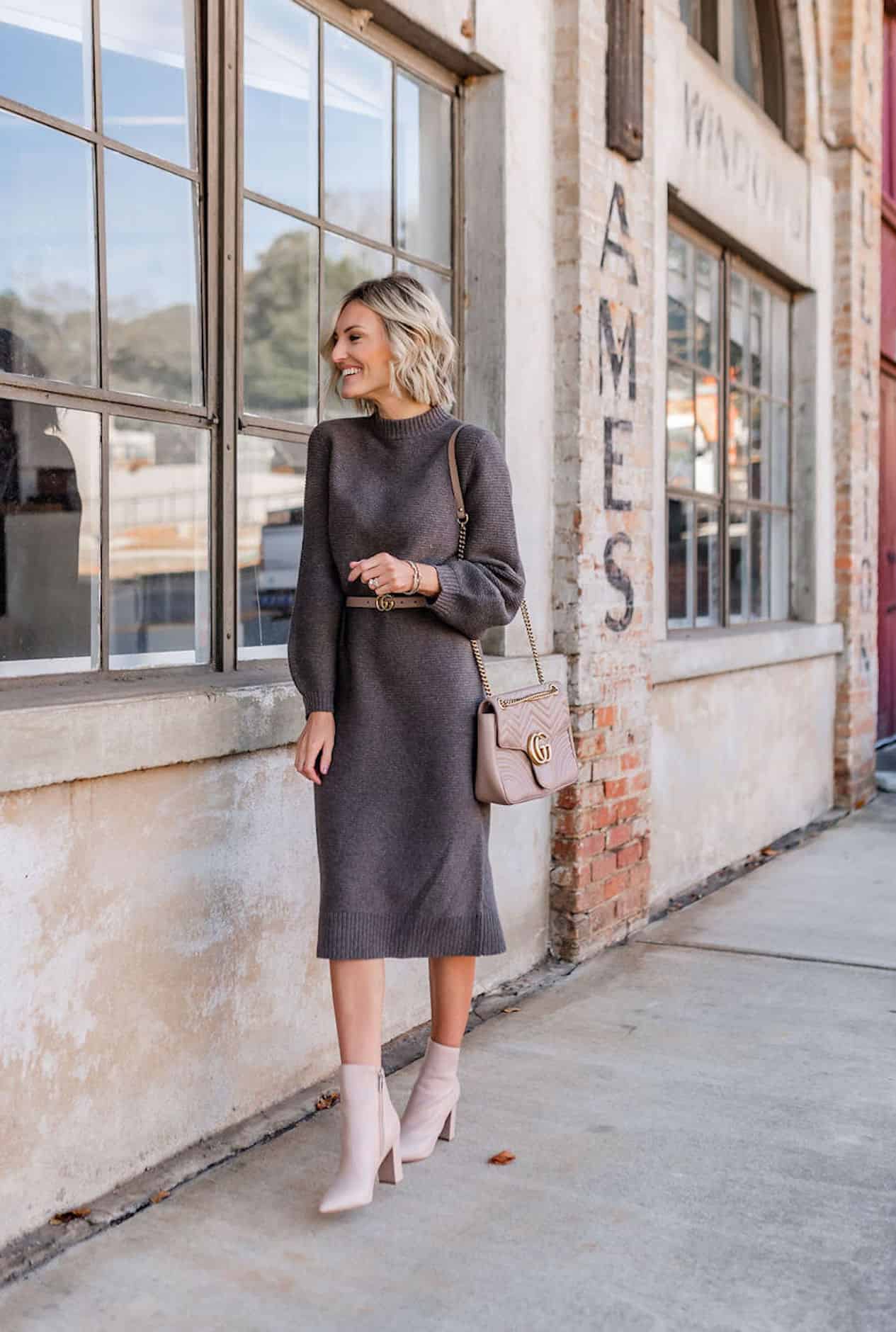 get the look:

The most effortless shoe to wear with a sweater dress; ankle booties! Booties are an extremely versatile shoe that can be worn with skirts, jeans, shorts and sweater dresses.
You can opt for a flat bootie or a heeled bootie. Our advice: go for the heel! Heeled booties dress up any look, especially sweater dresses. Additionally, they work with any length of sweater dress.
The combination of a cozy sweater dress and a sexy heel is our go-to fall and winter look. You'll love it too!
11. Sweater Dress with Slouchy Boots
get the look:

Lastly, is a super chic way to wear a sweater dress that is definitely not seen enough. We love a leather or suede slouchy boot with a midi or maxi length sweater dress.
The look is elevated and definitely has a high-fashion appeal. Slouchy boots are often seen worn over pants or leggings, but with a sweater dress is a great way to wear them for an unexpected look.
Final Notes
As you have seen, there are a ton of great shoes to wear with sweater dresses. Whether you choose casual sneakers, polished loafers, classic booties, or eye-catching knee-high boots, your sweater dress style is sure to turn heads.
Choose your top two looks from the post and try recreating them for yourself this season! Also, don't forget to pin your favorite outfits as well!
More Style Guides You'll Love:
What Shoes To Wear With Black Dress + Stunning Looks To Steal
11+ Dress With Stockings Outfit Ideas For A Next-Level Aesthetic
How To Wear A Sweater Over Dress: Chic Outfits + Tips To Own This Look!
Capsule Wardrobe For Fall 2022: minimal, modern + chic!
15+ Chic Fall Date Night Outfits You'll Feel Amazing In!
What To Wear With Faux Leather Leggings: Chic + Modern Outfits To Try
The Best Shoes To Wear With A White Dress + Chic Looks To Steal
What Color Shoes To Wear With a Red Dress + Chic Outfit Ideas