Looking for cute mom outfits? Get inspired with 27+ chic and elevated mom outfits from our fave fashion influencers who always look amazing!
*this post may contain affiliate links*
get the look:

Creating Stylish Mom Outfits
It's no secret that having kids changes many things and your personal style is no exception! Mom-life can look very different from life before kids.
So, if you are looking for mom outfit ideas that are cute and stylish, but still comfortable and practical for day-to-day life with kids, you've come to the right place!
Being moms ourselves, we know all about mastering chic, effortless style while juggling everything from diapers, to drop-offs, to playing outside, to errands, bath time, and beyond.
get the look:

How do you dress like a cool mom?
The easiest way to achieve the "cool mom" look is with classic and timeless clothing that is both versatile and effortless to put together. Some pieces never go out of style, so a cool mom wardrobe should contain the following items:
basic tees
knit sweaters
elevated sweatshirts
vintage-wash denim
black leggings
joggers
pull-on shorts
comfortable dresses
versatile outerwear (ie. denim jacket, leather jacket)
sneakers, sandals, boots
tote bag
sling bag/fanny pack (trust us, these are cool)
Mom Style Outfits To Inspire You
To find the best outfits for moms to inspire you, we have gone to the ultimate sources: our favorite fashion influencers who are experts at combing fashion with motherhood. These women are "mom-style pros" to say the least.
We're sure that as you browse through the following outfits you'll find mom fashion looks that you'll definitely want to recreate! And, you might just be introduced to some new stylish moms you'll want to follow on IG!
Cute Mom Outfits Summer (& Spring!)
In the spring and summer months, you'll want outfits that are light, airy, and easy to put together! Below are our favorite mom outfits to try in the warm seasons.
Half-zip sweatshirt + biking shorts.
get the look:

Bethany Menzel is a fashion and lifestyle influencer from Vancouver, Canada. She is a mama, and the c0-founder of Salty Face, and is all about chic and effortless style.
We are definitely here for this easy look combining a black half-zip sweatshirt with biking shorts and classic converse high-top sneakers.
The outfit is perfect for playing at the park, running errands, or weekend activities like the zoo or farmer's market. It's a casual, yet elevated summer outfit, and looks great on mamas of all shapes and sizes.
denim jacket, jeans + mules.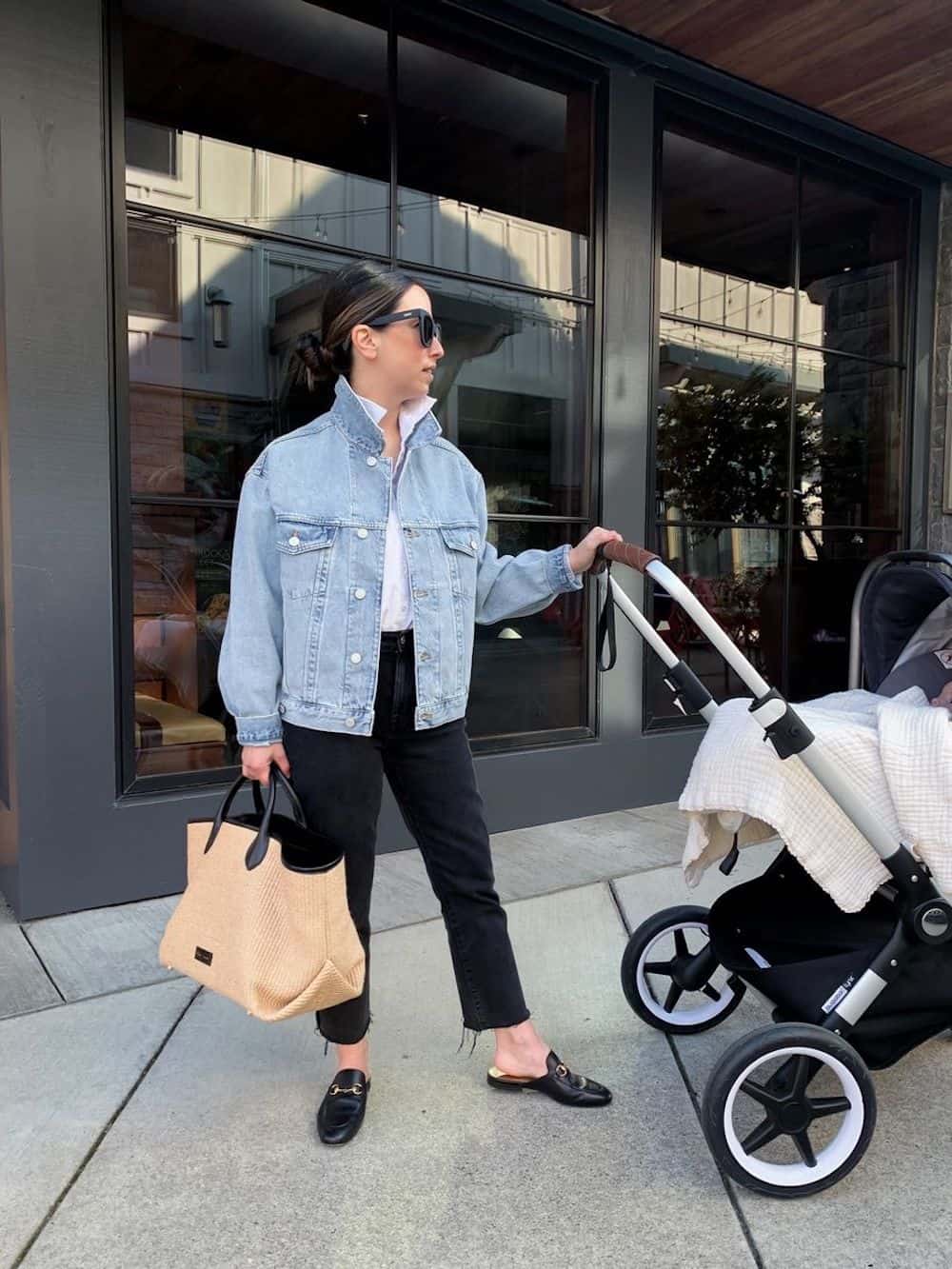 get the look:

When it comes to chic mom style, Crystalin Da Silva is a name you need to know. This mama puts together stylish and neutral-inspired outfits that look polished but are still practical for all kinds of activities and outings with little ones.
We love the oversized denim jacket with simple black jeans, classic mules, and a white button-up shirt. Wear this for an afternoon of shopping, heading out lunch, or meeting friends at the park.
A large tote bag is always a great idea as it can double as a diaper bag or place for wet wipes and fruit snacks.
basic tank + trousers.
get the look:

Emily of @emswells is an absolute must-follow for mom outfits. She knows exactly how to put together outfits that are timeless and elevated, and still wearable for life with kids.
Her daughter shows up in a lot of her photos as well, and she's pretty much as stylish as her mama. So, you'll get great kid outfit inspo too!
We love the look above with a basic white tank, black trousers, and black slides for any summer day activity. The black leather tote is practical and chic and completes the ensemble.
midi dress + sneakers.
get the look:

Shay Sweeney is a seriously stylish mama, so we definitely know where her daughter gets it from! If you are looking for a slightly dressier spring or summer mom outfit that's cute and practical, try this one.
Pair a white or floral midi dress with casual sneakers and bring along a big tote (or a sling bag) to pack the essentials. If it's going to be cooler, wear a denim jacket to complete the look.
black tank top + paper bag pants.
get the look:

Owner of Style Your Occasion, Christal, is a mom of two and a fan of minimal, neutral fashion. She is all about pairing classic pieces to create casual mom outfits that still look polished.
Light pants don't have to be a scary thing when you have little kids. Go with "ecru" or "cream" rather than stark white, and go with a casual style like paper bag-waist jeans or wide-leg trousers.
If the budget allows, try adding a designer piece like these Chloe sandals, or a nice tote bag that will elevate the outfit even more.
black midi dress + sandals.
get the look:

Dresses make great chic summer outfits for moms. A classic black or white midi dress paired with sandals or sneakers will make you feel anything but drab (we all know mom-life can be exhausting!).
If you feel like you've been living in leggings, try wearing a dress on your next day out, even if you are just heading to the grocery store or to school pick-up. Add a cute knotted headband and a simple straw tote bag to complete the look.
denim skirt + button-up shirt.
get the look:

Kristen of @raisingfivekind, is the mama of five beautiful children and she knows good style. She puts together effortless looks that are classic and timeless, and works for a busy life with school-age kids.
We love this simple summer mom outfit with a button-up shirt tucked into a denim skirt. The low-heeled sandals give the outfit an elevated look. But, if heels aren't practical for you or your stage of mama-hood (running after a toddler all day?), go with sneakers instead.
Simple swaps can easily be made to these mom outfits to make them work for your own life and stage of motherhood.
cami, wide-leg jeans + sneakers.
get the look:

Here's another cute mom outfit idea from Dileiny of @lovefashionfriends! Pair some comfortable kicks with wide-leg cropped jeans, in white or blue wash denim, and add a simple tank top for a warm summer day.
Bring along a lightweight knit sweater to tie over your shoulders which elevates the outfit even more, and is great for in the evenings when the temperature drops.
A larger crossbody bag is always great for mom-life as well. Pack along the essentials and you'll be good to go!
Sweater, shorts + rancher hat.
get the look:

Ashley Kane Harper knows how to make a mom's outfit look totally effortless. We love this simple summer look with a creamy knit sweater, loose-fitting denim shorts, and a cute rancher-style hat.
This outfit is perfect for summer days at the park, heading to a farmers market, or visiting with friends. Add a straw tote bag for all the essentials, and throw on a pair of comfortable sandals to complete the look (Birkenstocks anyone?).
Casual Mom Outfits
If you find you can't be bothered with any extra fuss at this stage of your mothering journey, don't fret! You can still look cute and polished in the most casual of clothes.
Below are some of our favorite casual mom outfits to try.
leggings, sneakers + trench coat.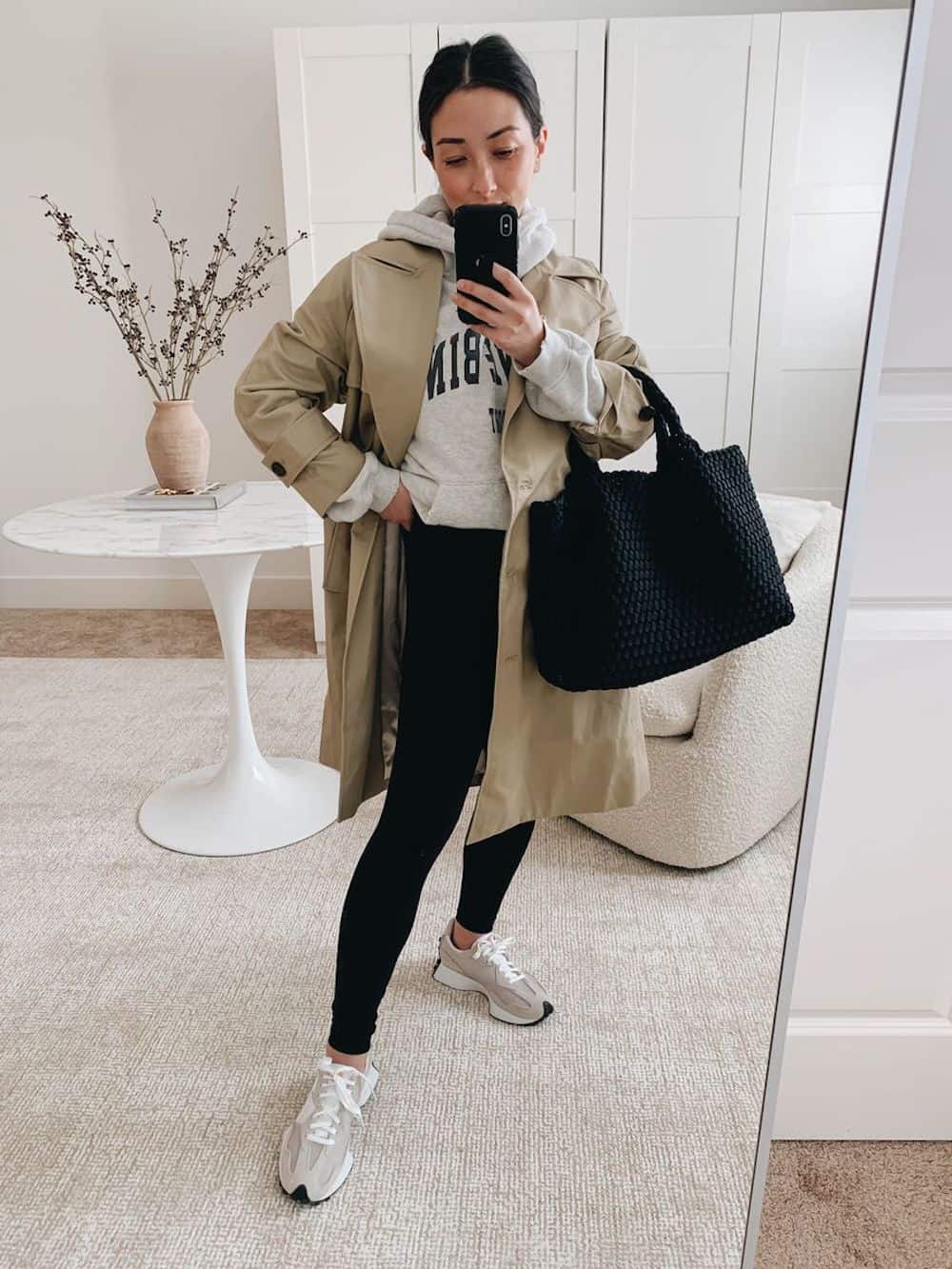 get the look:

Here's another stylish mom look from @crystalinmarie that we love! Leggings can look super cute, and actually polished when worn with the right complimenting pieces. We love the look above with leggings, an oversized hood, and sneakers.
The trench coat and leather tote bag both elevate the look, mastering the comfy-casual-classy aesthetic. This is definitely a mom outfit for the win!
linen pants + tank top.
get the look:

Meghan of @megsbustard knows how to rock the cool-casual look. We love her simple and minimalistic mom outfits and neutral aesthetic.
This outfit with breezy linen trousers, a simple tank top, and dad sandals is effortless and comfortable. A sling-style bag completes the outfit and is perfect for bringing along the essentials while keeping your hands free to help your kiddos.
distressed jeans + a cardigan.
get the look:

If you are inspired by the laid-back California style, mom Hayley Feldman is a must to follow. She inspires us constantly with her casual, no-fuss mom outfits that still look put-together.
A comfortable pair of vintage-wash jeans are a definite mom wardrobe staple in our opinion as they are a nice departure from leggings, but are still incredibly versatile and durable for mom life.
Pair your jeans with a simple white t-shirt and throw on a v-neck cardigan for a cute look that's perfect for all kinds of activities.
distressed denim + lug boots.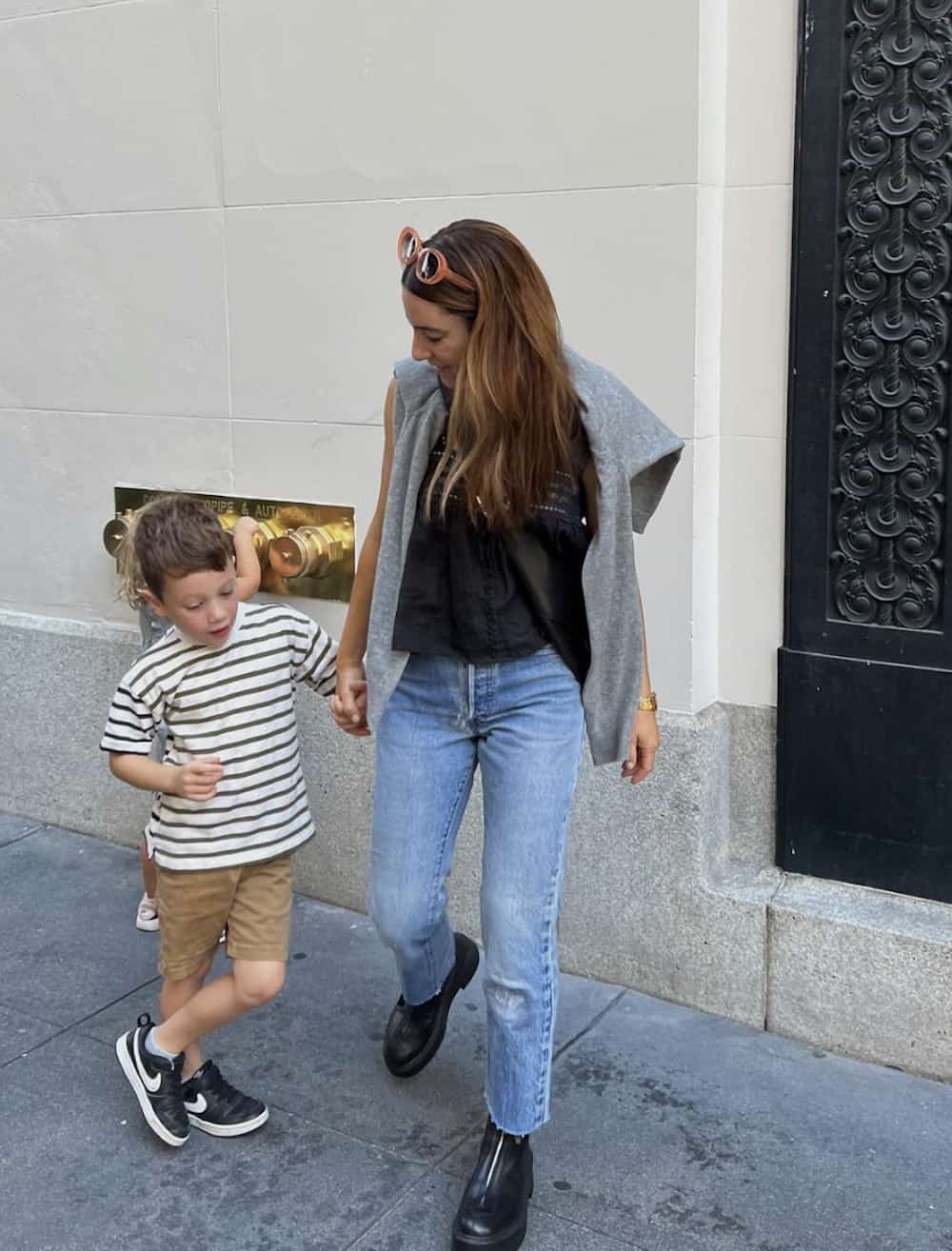 get the look:

Alicia Lund, another stylish mama, always has cute mom outfit ideas that inspire us. To elevate a simple pair of jeans, try some combat boots or lug boots, especially in the cooler seasons.
Also, if you've never tried the sweater-over-shoulders look, it's a great way to add some style and sure beats the tied-around-the-waist look.
a classic striped knit + jeans.
get the look:

Mama and interior stylist Marlot Willems is the epitome of "cool mom". She shows us it's possible to look beautiful, and put-together while taking care of kiddos, with simple and elevated looks.
If you are a fan of the scandi-inspired style, you'll definitely want to check out her feed. This outfit with a simple striped knit sweater, jeans, and flip-flops is as easy as it gets, but looks amazing.
A chic pair of sunglasses and polished crossbody bag easily elevate the whole outfit.
Chic Mom Outfits Fall + Winter
In the fall and winter months you can still dress très chic while going from school drop-offs to the grocery store and more.
Below are some of our favorite fall and winter mom outfits to inspire you!
check shirt jacket + combat boots.
get the look:

A shirt jacket or "shacket" is a mom's must-have for the fall. Throw this warm layer over a t-shirt or sweater and pull on a pair of jeans or cargo-style pants.
We love the edgier look above with the addition of combat boots and the longer-length wool shirt jacket. It's perfect for cool September days or warmer winter days if you live somewhere that doesn't get much snow.
wool knit, jeans + chelsea boots.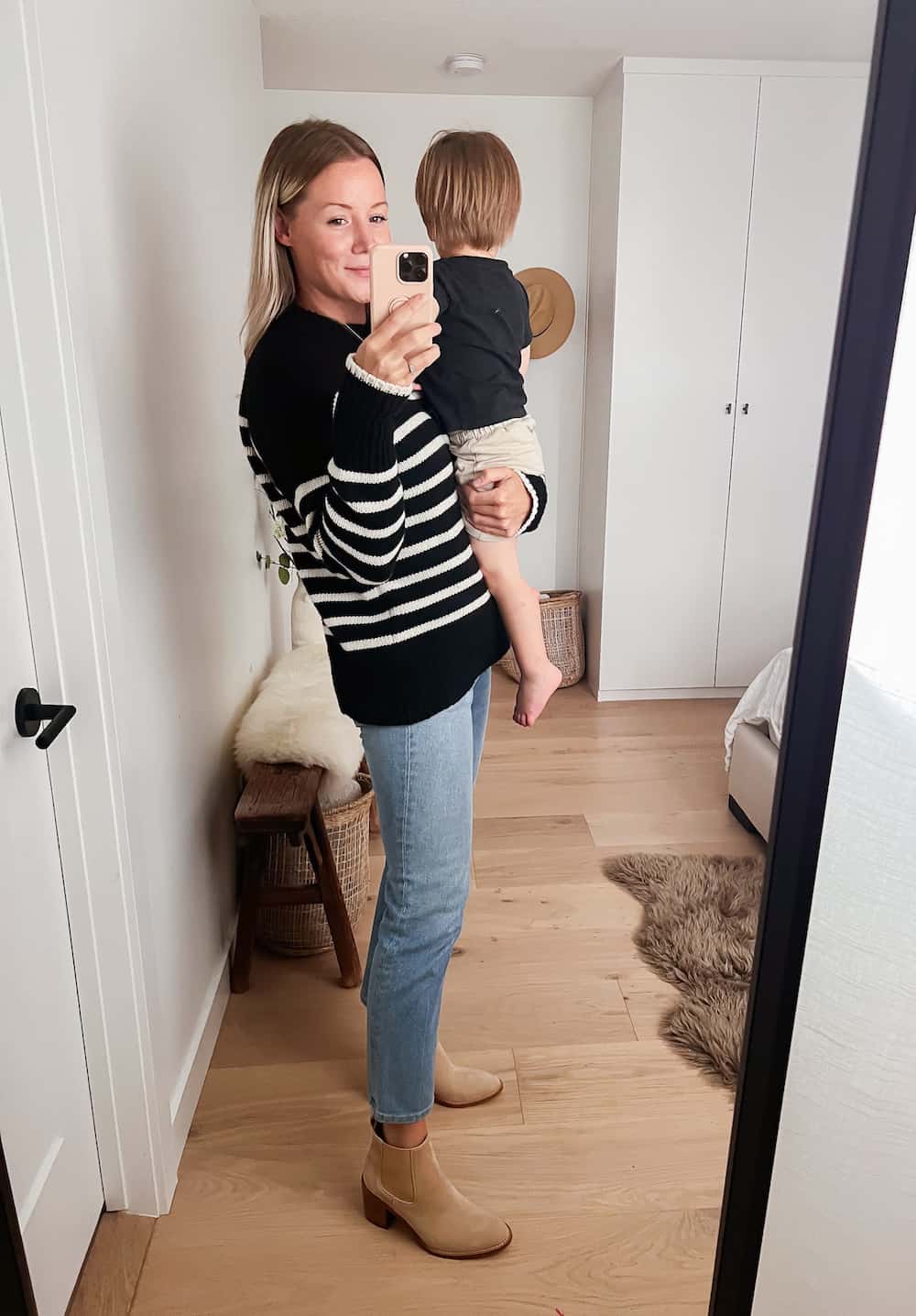 get the look:

A chunky knit sweater (stripes are our fave!) looks excellent with a simple pair of jeans and Chelsea boots. This outfit is great for days out-and-about in the fall months.
The low chunky heel on the boots elevates this mom outfit. And, the shoes are still comfortable for chasing after little ones!
Plaid shirt-jacket + chunky sneakers.
get the look:

Mary Lawless Lee knows how to create cute mom outfits and we are here for it. A mom of two serious cuties, she knows how to marry style with the busyness of having kids in the early years.
This is a perfect fall outfit to rock when visiting the park and hanging out outdoors. The plaid shirt jacket looks great over a sweatshirt with jeans and chunky sneakers.
cozy at home + beyond.
get the look:

Stephanie Trotta is definitely our style muse. She is a mom of two and always looks amazing with a mix of laid-back looks and dressier ensembles.
Her feed shows us that as a mom you can always look polished even if you are hanging around the house, or heading to a nice restaurant with the family.
The outfit above is perfect for moms who love to feel cozy but want to look put-together at the same time.
plaid blazer, jeans + sneakers.
get the look:

Mama Julia Berolzheimer is a fashion expert and shows us how to master being a mom with excellent style. We love this fall mom outfit with a slightly oversized plaid blazer, turtleneck sweater, jeans, and sneakers.
The look is laid-back and casual but still has a polished overall feel. Also, how cute is the matching look on her little one? We're smitten!
blazer, jeans + ankle boots.
get the look:

Another way to wear a blazer is with jeans and a pair of ankle boots. This outfit is great for moms of older kids who go from school drop-off, to meetings and errands, and back to school again.
It's classy, yet casual, and comfortable enough for anything the day might throw at you.
Cozy layers + mules.
get the look:

On cooler fall days or in early winter, try pairing simple black trousers or jeans with comfy loafers or mules. Add a knit sweater and layer with a long wool coat or cardigan to complete the look.
This is a classy and simple mom outfit that looks polished and classy. If you feel like an ivory coat is too risky, swap for a dark brown or dark charcoal grey color which are both more spill-friendly.
sweater dress + long coat.
get the look:

If you wore dresses often pre-kids and find you miss them now that you have little ones, don't let mom-life stop you! A midi-length sweater dress is practical and comfortable enough for days with kids but also looks very stylish.
Keep it casual with lug or combat boots and add a long knit cardigan or wool coat to complete the look when heading out.
floral midi dress + combat boots.
get the look:

Here's another way to wear a dress in the fall. Pair a long-sleeve floral midi dress with combat boots and bring along a big tote bag.
This mom-approved outfit is great for casual days out and about. And, it looks elevated and polished while still being comfortable and easy to move around in.
puffer coat and lug boots.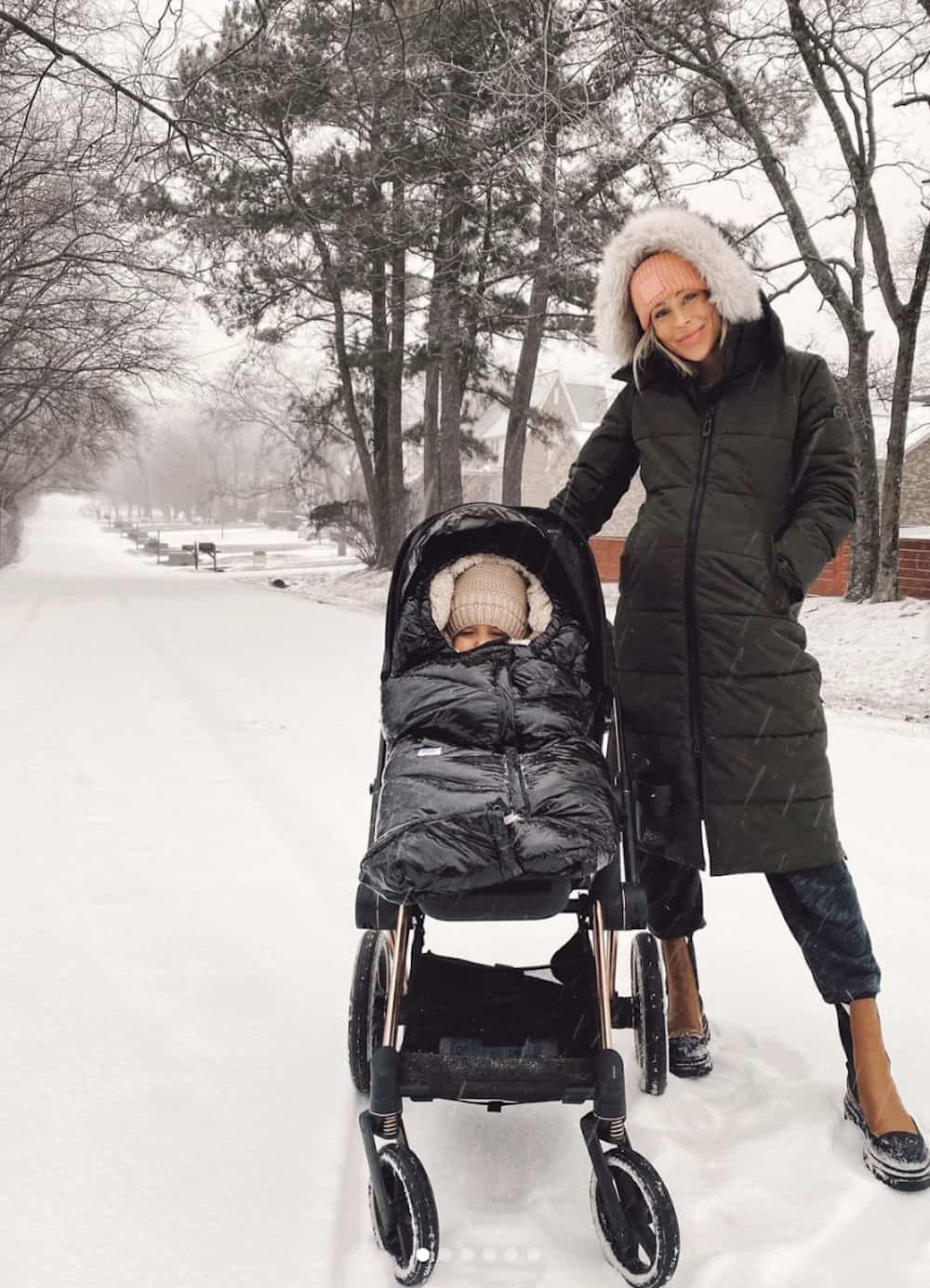 get the look:

Can you still look cute while out for a stroller walk on a blustery winter day? You sure can! Mary Lawless Lee proves it with this mom outfit that's winter-ready.
Throw on a pair of joggers and a matching sweatshirt and layer with a long knee-length puffer coat. Add a beanie, and a pair of lug boots, and you'll be ready to take on any chilly day.
get the look:

How should a busy mom dress?
A busy mom does not have a lot of time to fuss over outfits, so the best way to dress is with minimal, neutral, and timeless pieces. A small wardrobe that contains a selection of versatile clothing can make getting dressed a very fast and easy process.
This can include jeans, basic t-shirts, neutral knit sweaters and cardigans, leggings, sneakers, boots, and a large tote bag. The key is to keep it simple with less clothing that can be worn in multiple ways, so you can easily put together cohesive outfits without too much thought.
get the look:

How can a mom look fashionable?
A mom can look fashionable by wearing outfits that combine classic staples like jeans, basic t-shirts, and sneakers, with more elevated pieces like a knit cardigan and leather tote bag. Neutral, timeless pieces will help to create a more polished look.
Also, small touches of durable jewelry such as a gold herringbone necklace, chain bracelet, or croissant earrings can elevate any mom outfit without added fuss.
We hope you have enjoyed this list of cute mom outfits and feel inspired to try some for yourself. Add to your cool mom appeal with these super cute affirmation cards for kids to boost their self esteem!
More Style Guides You'll Love:
Best Beach Bag for Moms: 10 Beach Bags for Function + Style
Boyfriend Jeans vs. Mom Jeans: The Difference + How To Wear Them Both
The Best Going Home Outfit For Mom: 9 Comfy + Stylish Outfits
How To Wear A Shacket: 16+ Chic Shacket Outfit Ideas To Copy
Family Beach Pictures, What To Wear + Modern Outfit Ideas!
16+ Chic Blazer Outfits That Prove You Need One In Your Closet
18+ Modern Fall Family Photo Outfits for Outdoor + Indoor Sessions