Ever wondered what the difference is between boyfriend jeans vs. mom jeans? Learn all about each style in this post and get minimal, chic, and elevated trendy outfit ideas.
*this post contains affiliate links*
get the look:

There's no denying it: boyfriend jeans and mom jeans are two styles of denim that have been around for a long time. But what's the difference between them? And more importantly, how can you wear them both to perfection?
In this blog post, we'll break down everything you need to know about these two jean styles and show you how to wear them in different on-trend ways. So read on, and get ready to rock some serious denim!
Boyfriend Jeans vs. Mom Jeans
In order to understand the best way to style both boyfriend and mom jeans, you need to know the difference between the two and what makes each style unique.
What are mom jeans?
Mom jeans are a high-waisted, slightly relaxed-fit denim style. They usually have a straight leg or slightly tapered silhouette and can be worn cuffed or un-cuffed.
They got their "mom" nickname from the styles' popularity in the 80's. So, millennials and younger generations have attributed the style to something their moms wear. Like almost all fashion trends, mom jeans have made a strong comeback in the last decade, and are one of the most popular styles of denim for women today.
shop mom jeans:

What are boyfriend jeans?
Boyfriend jeans are a low to mid-rise, loose-fitting, relaxed-fit denim style designed to look like you've borrowed them from your boyfriend (hence the name). Boyfriend jeans usually have a straight leg or slightly bootcut silhouette and can be worn cuffed or uncuffed.
They also often have distressing details for a "worn-in", rugged look. But, not always. It really depends on different brands and how they want to present their take on boyfriend jeans.
shop boyfriend jeans:

What is the difference between mom jeans and boyfriend jeans?
On the surface, it would appear that mom jeans and boyfriend jeans are one and the same. They're both comfortable, have a more relaxed fit, and are both trendy (depending on who you ask). But if you take a closer look, there are notable differences between the two styles.
The waistline. The most obvious difference between boyfriend vs. mom jeans is that mom jeans have a very high waist that hits right at or above the belly button. While boyfriend jeans have a lower waist that sits lower on the hips. This difference in the waistline can make all the difference in how the jeans look on your body. Mom jeans can sometimes make your torso look shorter, and your legs look longer, while boyfriend jeans can do the opposite.
The bum. Mom jeans usually have a more fitted bum, while boyfriend jeans often have a looser bum and legs. This difference can again affect how the jeans look on your body type and how comfortable they are to wear.
The leg style. Mom jeans are usually straight or slightly tapered at the leg, while boyfriend jeans tend to have a looser, more relaxed leg that can be straight or bootcut.
So, when it comes down to it, mom jeans and boyfriend jeans are two different styles that can offer different benefits depending on what you're looking for.
get the look:

More About Mom Jeans:
Why are mom jeans popular?
Mom jeans are definitely having a moment – but why? While some fashion trends come and go, mom jeans seem to be here to stay. There are a few reasons for this enduring popularity.
They're flattering and lengthen the look legs. The high-waisted style and slightly tapered leg looks great on most body types and can accentuate the waistline and make the legs appear longer and more slender.
They're easy to style. Mom jeans are super versatile and can easily be dressed up or down, depending on the occasion.
They have a nostalgic appeal. Mom jeans remind us of a simpler time when we didn't have to worry about trends or what other people thought of our clothes.
In a world that feels increasingly chaotic, mom jeans offer a touch of simplicity and comfort – and that's something we can all appreciate.
How are mom jeans supposed to fit?
The key to finding the perfect pair of mom jeans is all in the fit. They are meant to sit high on your waist, so when you try them on, ensure the waistband is comfortable and not too tight or loose.
If you have a curvy body type with a smaller waist and wider hips you can buy mom jeans specifically meant for curvy women.
The goal is to find a pair that is fitted but not constricting, so you can move around and feel comfortable all day long. Once you find the perfect pair of mom jeans, you'll wonder how you ever lived without them.
get the look:

What body type do mom jeans look good on?
Mom jeans are the pretty comfortable, and they look good on just about any body type. If you've got an hourglass shape, they'll help accentuate your curves in the right ways.
They'll give you some much-needed shape if you're body type is more rectangular, or more straight up and down. Additionally, if you're pear-shaped, they'll help balance out your proportions.
No matter what your body type, mom jeans are an excellent choice for comfort and style.
More About Boyfriend Jeans:
get the look:

Are boyfriend jeans popular?
It seems that boyfriend jeans are also having a moment right now. Celebrities and fashion bloggers are rocking the relaxed, slouchy style more often than even just a couple years ago.
Recently, Reese Witherspoon, Olivia Palermo, and Selena Gomez have been spotted in a pair of boyfriend jeans! But what is it about these jeans that makes them so popular? For starters, they're incredibly comfortable.
Boyfriend jeans are loose and relaxed, so you can move and breathe easily in them. They also have an effortless vibe that can be dressed up or down depending on the occasion.
Whether running errands or going out for drinks with friends, boyfriend jeans are always a good choice. And of course, we can't forget to mention that they look great on everyone!
Whether petite or plus-size, you can rock a pair of boyfriend jeans with confidence. So if you're looking for a comfortable and stylish pair of jeans, look no further than the boyfriend jean!
get the look:

What body type should wear boyfriend jeans?
Boyfriend jeans are a wardrobe staple for many fashion-savvy ladies, but if you're unsure if they'll work for your body type, don't worry – we're here to help!
If you have a pear-shaped figure, then boyfriend jeans are definitely for you. The relaxed fit will help balance out your proportions and make your hips and thighs look narrower.
If you have an inverted triangle shape (wide shoulders and smaller hips and thighs), then boyfriend jeans also work well. The roomy fit will add a little bulk to your lower body, which will help to streamline your overall silhouette.
So whatever your body type, there's no need to shy away from this fashionable style – give boyfriend jeans a try!
Should you size down in boyfriend jeans?
If you prefer a more fitted look to your jeans then you can try sizing down as boyfriend jeans do tend to run larger. But, boyfriend jeans are intended to fit baggier so you sticking with your usual size will give you that look.
Additionally, the fit often depends on the brand. The best way to figure out what will work for you is to try on a few different pairs and see what feels best.
Remember that you can always cuff or roll the jeans if they're too long. So don't be afraid to experiment until you find the perfect fit!
Chic Mom Jean Outfit Ideas
Mom jeans have been having a moment lately, and it's easy to see why.
They're comfortable, versatile, and they make a stylish statement. But how do you wear them without looking like you've time traveled back to the 80's? Here are three ways to style mom jeans and make them look chic.
White Tee + Black Flats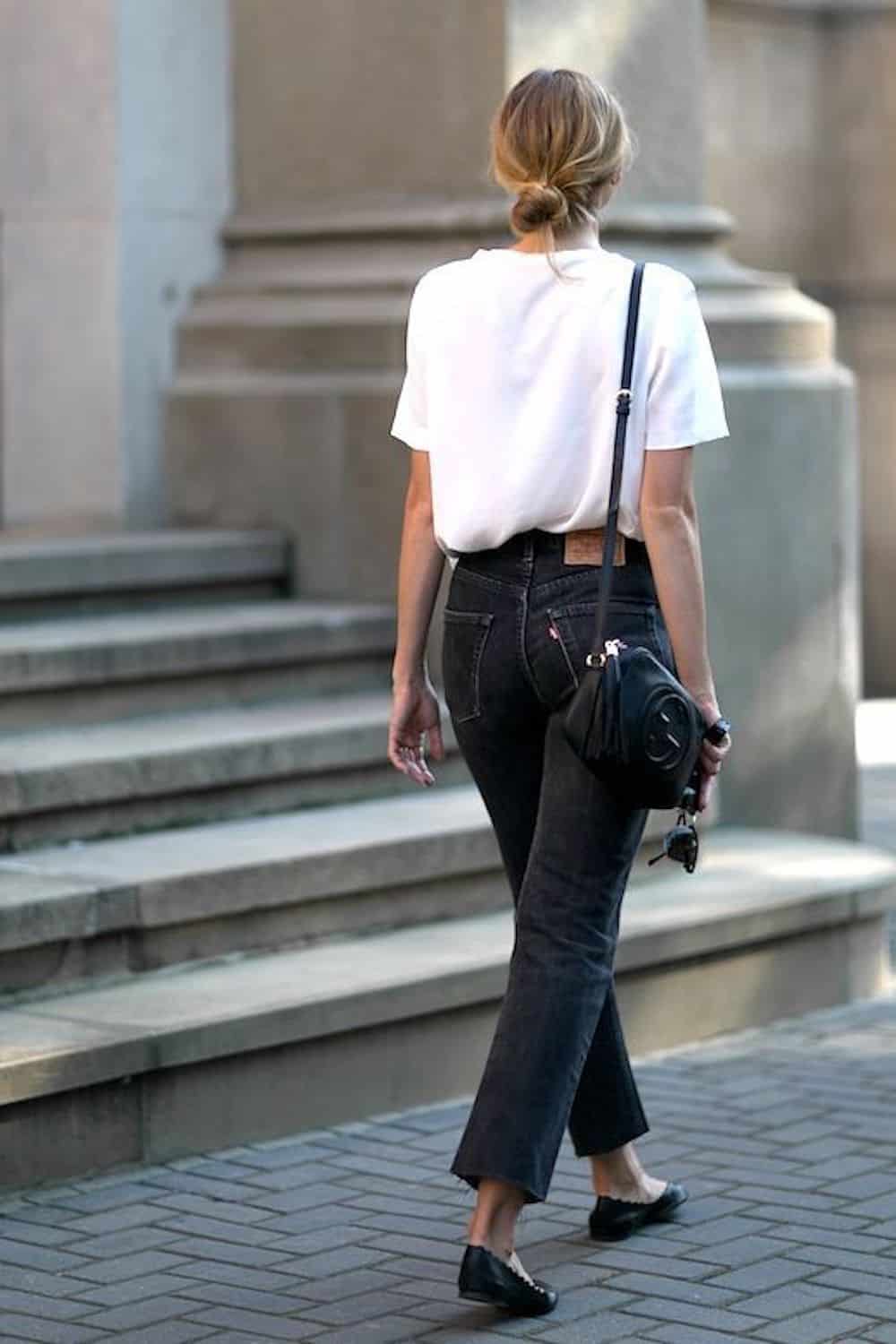 get the look:

Try pairing mom jeans with a crisp white t-shirt and black flats. This look is all about clean lines and simple silhouettes; the key is to keep the rest of your outfit fuss-free.
White Tee, Black Blazer + Heeled Sandals
get the look:

Second, try light-washed mom jeans with a low-heeled sandal and a black blazer. This look is perfect for date night or girls' night out. The blazer adds just the right amount of edge, while the sandals keep it casual.
Striped Sweater, Camel Coat + Black Booties
get the look:

Finally, try blue jeans with a striped shirt and a camel trench coat. This look is perfect for running errands or running errands in style! The trench coat adds just the right amount of polish, while the stripes add a pop of color.
Chic Boyfriend Jeans Outfit Ideas
Boyfriend jeans are a great way to add a relaxed and comfortable feel to your everyday look. They can be styled in many ways to suit your personal style, and here are three easy and chic ways to wear boyfriend jeans.
White Tee + White Sneakers
get the look:

Just like your boyfriend would wear them. This is the perfect outfit for a casual day out running errands or meeting friends for coffee. The relaxed feel of the boyfriend jeans is offset by the crispness of the white tee and sneakers.
To add a bit of personality to this look, try rolling up the hem of your jeans or tucking in your tee.
White Tee, Black Blazer + Black Pumps
get the look:

A white tee with a blazer blazer and black pumps is a perfect outfit for a more dressed-up look. The black blazer adds a touch of sophistication, while the white tee keeps it relaxed.
The black pumps help to elevate the look and make it more evening appropriate. Try adding jewelry to this outfit if you want to dress it up further.
White Boyfriend Jeans + A Button-down Shirt and Flats
get the look:

We love a pair of white boyfriend jeans. This is a fabulous, sophisticated outfit that has personality.
The key to making this look work is in the accessories. Tie the white on white together with a large dark-colored leather tote bag and simple accessories.
Boyfriend vs. Mom Jeans: Which is right for you?
When it comes to boyfriend vs. mom jeans, theres a lot to consider. Each have their own unique benefits that can make them the perfect choice for your next denim purchase.
If you're looking for a relaxed and comfortable feel, then boyfriend jeans are definitely the way to go. But if you want an edgier look with a bit more polish, then mom jeans are the way to go.
Ultimately, the choice is up to you and what you feel best suits your personal style. So try out both styles and see which one you like best!
Happy shopping! 🙂
More Style Guides You'll Love:
27+ Effortless Mom Outfits You'll Want To Copy
10+ Best Jeans For Pear Shape Figures That Are Super Flattering!
Best Jeans for Hourglass Figure + 4 Chic Outfit Ideas
What Shoes To Wear With Straight Leg Jeans For A Chic + Modern Look
10+ White Jean Skirt Outfit Ideas That Are Minimal + Très Chic!
11+ *Modern* Ways To Style A Jean Jacket With Black Dress
Christal Sczebel is an entrepreneur, published author, and content creator. Over the past decade she has worked in the digital media field building successful websites for both food and fashion. She has a natural affinity for minimal, timeless fashion, neutral home decor, and styling.
Here on Style Your Occasion, Christal is the Editor-in-chief and brain behind the aesthetic. She hopes you love the this space and the inspiration you'll find!