Are you expecting but still looking for the perfect going home outfit for mom? Check out our style guide for tips and inspiration when it comes to the best postpartum going home from hospital outfit for mom!
*this post contains affiliate links*
Choosing A Coming Home Outfit For Mom
Choosing the right "mom coming home outfit" is an important part of planning for birth and the first days of having a newborn. You want to choose an outfit that will be comfortable and easy to move around in, and that you feel confident and beautiful in!
Luckily, you don't have to sacrifice style when choosing a mommy coming home outfit. You can find pieces made of soft materials that have a comfy fit yet still show off your personality and style! And you can find a going home outfit that you can continue to wear year after year.
If you're looking for the perfect going home from the hospital outfit for mom (or maybe you're searching for a gift for an expectant mother), you've come to the right place. We have gorgeous, cozy outfits to inspire you and help you find that perfect going home outfit for Mom!
9 Perfect Going Home Outfit For Mom Ideas
We have searched our favorite style-savvy mom influencers for great options to help you choose your perfect going home outfit for mom. Whether you're bringing home your bundle of joy in warm weather or cold, and no matter your style, there are sure to be looks you'll love below!
Black Midi Shirt Dress
get the look:

A shirt dress makes a fantastic mom coming home outfit because it's comfortable and versatile. A midi shirt dress is loose-fitting, making it easy to get on and off after giving birth.
You can choose a dress that is best for the weather you'll be in when taking your newborn home – long-sleeved and thicker material for cool weather or short-sleeved and lightweight for warm days. We also recommend a shirt dress with buttons down the front for easy access if you plan to breastfeed.
We love the practicality of a black shirt dress for the trip back home that will keep you looking effortlessly beautiful!
Pull On Pants + Oversized Sweater
get the look:

Another great mommy coming home outfit is an oversized sweater and pull-on pants. This coming home outfit is roomy and easy to move around in.
Choose pull-on pants made from a soft and lightweight fabric during the summer or something thicker if you'll be in colder weather.Since pull-on pants tend to have an elastic waistband, these bottoms will easily stretch to fit you.
And, an oversized sweater is not only roomy but also easy to take off if you get too hot or need to nurse your newborn.
Flowy Dress
get the look:

Mommy coming home outfit ideas don't have to be frumpy, and this dress option proves it! You can absolutely feel beautiful and feminine when you bring your little babe home in a flowy floral dress.
Choose a dress with a button-down front or a low neckline and loose fit to make it easy to nurse. You can choose a maternity dress or bring one with an oversized fit to make sure you stay comfortable while bringing your baby home.
And one thing we love about this choice, you can keep this dress as a special keepsake that you can wear again!
What do you wear coming home from the hospital?
When choosing your perfect coming home outfit, comfort is key! Go for loose-fitting items, something that you can easily nurse in, and clothing that is weather appropriate. Here are some great picks for a going home from hospital outfit for mom:
Nursing bra or nursing tank top
Long button-up shirt or shirt dress
Pull-on shorts or pants
Leggings or joggers
Wrap dress
Flowy maxi dress (nursing friendly)
Long cardigan, sweater, or light jacket
Clogs, mules, slides, or sneakers
Maternity clothes are also a great choice for a postpartum body since they're comfy and made to stretch. In other words, you can continue to use your favorite maternity pieces after you've given birth!
Oversized Button Down & Shorts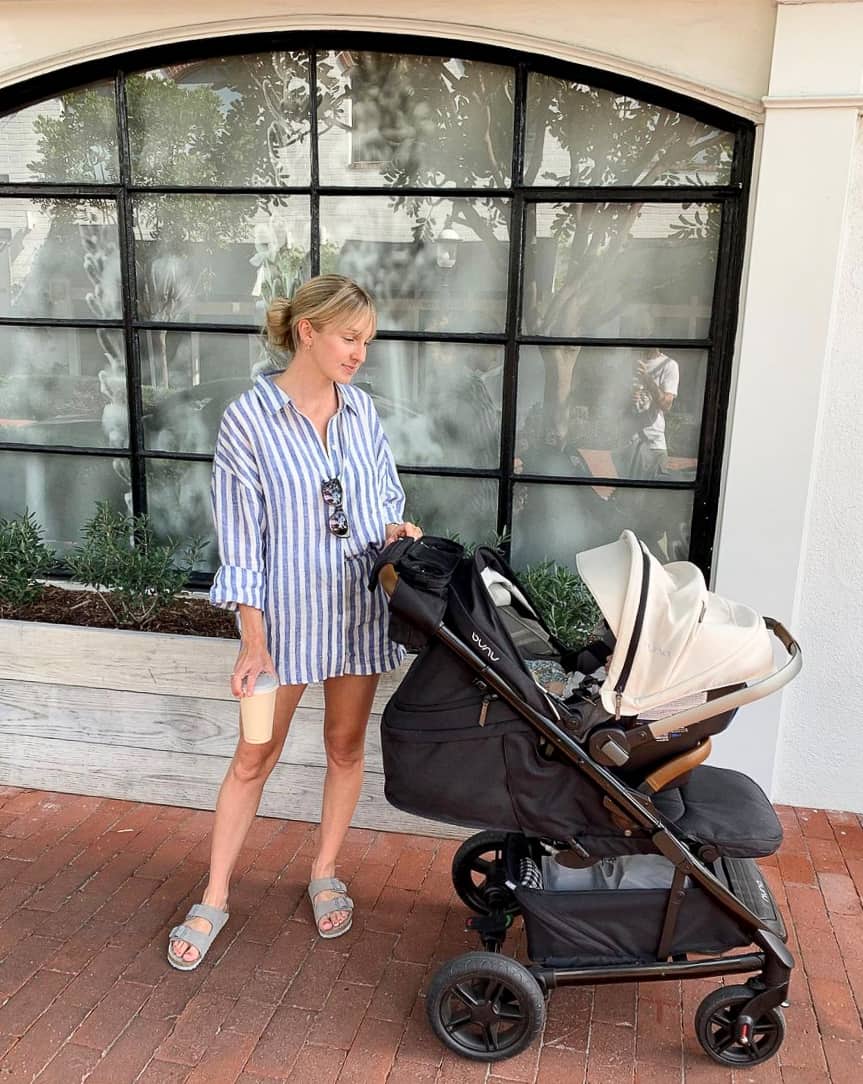 get the look:

This cozy and stylish combo makes a perfect mom coming home outfit! An oversized, loose fit will give you plenty of room to move around, and the buttons make this top breastfeeding-friendly.
Shorts are great for staying cool and comfortable, although we recommend wearing linen or spandex shorts rather than denim. You can also easily wear sneakers, clogs, slides, or sandals with this outfit.
These items will easily pack into your hospital bag and can be worn again and again. This may even become your go-to cool mom outfit!
Knit Wrap Dress or Long Cardigan
get the look:

Go for a knit wrap dress or long wrap cardigan if you want a soft and cozy outfit that is also chic and flattering. This option is adaptable, allows for easy nursing, and is made from breathable fabric that's comfy for you and your baby, and can be extra handy for postpartum healing.
We love that a wrap dress is designed to be a perfect fit for you, and you may find yourself reaching for it again and again since it can adjust to your changing body. A wrap dress or long wrap cardigan is a great piece to keep and reuse, especially if you plan to have more kiddos in the future.
Cardigan and Joggers
get the look:

Joggers and a cardigan are a stylish combo that's a perfect mommy coming home outfit. This outfit is comfy, effortlessly chic, and will also keep you warm if your baby is born in the fall or winter.
You can find joggers with a drawstring waist so that you can adjust the fit as needed, and a button-up cardigan can easily be opened whenever your baby needs to nurse. You can also wear a nursing tank top underneath this outfit to make it even easier, which is definitely important for a new mom who may still be getting the hang of it.
Cotton Pajama Set
get the look:

A cotton pajama set is definitely a perfect coming home outfit. This outfit is cozy and soft, and a matching set like this will have you looking put together while being completely comfortable.
Pajamas are a fantastic choice since the relaxed fit is roomy and can be worn for weeks after, even as your body changes. The cotton will let your skin breathe and keep you cool even when wearing a long-sleeved set like this. And the natural fibers are safe for your baby to rest their head on.
You can continue to wear these pajamas even after you're past your postpartum period, and you can even find newborn pajamas in a matching color for some adorable Mommy and baby photos.
Fuzzy Teddy Terry Set
get the look:

If you want to be as comfy as your baby on their avocado crib mattress, you'll want a Teddy terry outfit!
This is the perfect going home outfit because it's so soft and lightweight. This breathable fabric is perfect for staying cool and is definitely very comfortable and it is so soft it will give your postpartum body some well-deserved TLC.
Plus, your newborn baby will love to snuggle with you when you're in this velvety soft fabric! The relaxed fit of a terry set makes it a great choice to wear after giving birth, and you can easily find a set with an elastic waist to fit your postpartum body.
Comfortable Clogs
get the look:

Last, but definitely not least, when it comes to a going home from the hospital outfit for mom – never forget about clogs!
Clogs are an excellent footwear choice for a hospital outfit or going home outfit. These are the ultimate comfy shoes since they are lightweight, cushioned, and flexible.
These are easy to walk around in, supportive, and roomy enough for swollen feet. You can also find clogs with an anti-slip design, so you can safely wear them while in the hospital and even during labor.
Clogs are also great to wear during pregnancy, especially on hard floors like in the kitchen (hungry? Here's a list of sandwiches to eat while pregnant or postpartum).
What should I wear during Labour?
When you're in labor, you'll want something that can keep you comfortable and cool while still providing easy access for nurses and doctors. Try to avoid anything with zippers, buttons, or snaps that make it difficult to take on or off. A robe is a perfect option, or an oversized t-shirt with a nursing bra and loose-fitting pull-on shorts.
If you don't want to wear the hospital gown, there are tons of gorgeous birthing gowns that you can buy, and there are usually a variety of rich colors to choose from. A birthing gown should be made from a soft and breathable material, have a loose fit, easy nursing access, and should be able to open in the front and back if necessary.
Other pieces you can wear in labor are comfortable and supportive are nursing tank tops or a loose-fitting sleep dress.
Having a baby is an incredible and life-changing experience. It's also the perfect time to treat yourself to a comfortable outfit you can wear when bringing your sweet baby home from the hospital. There are countless options for a mommy coming home outfit that's roomy, cozy, and nursing friendly.
We hope you've found this list helpful and figured out the perfect going home outfit for you, mama! Also, if you are looking for fun baby shower ideas as you await your little ones arrival, why not learn how to host a diaper raffle!
More Style Guides You'll Love:
27+ Effortless Mom Outfits You'll Want To Copy
20+ Stunning Beach Maternity Photoshoot Ideas
18+ Spring Family Photo Outfits You'll Love
Effortless Maternity Capsule Wardrobe For Any Season
Christal Sczebel is an entrepreneur, published author, and content creator. Over the past decade she has worked in the digital media field building successful websites for both food and fashion. She has a natural affinity for minimal, timeless fashion, neutral home decor, and styling.
Here on Style Your Occasion, Christal is the Editor-in-chief and brain behind the aesthetic. She hopes you love the this space and the inspiration you'll find!