Family beach pictures, what to wear? That is the question! Take inspiration from these chic and modern family beach portrait looks for your upcoming beach family photoshoot.
*This post contains affiliate links*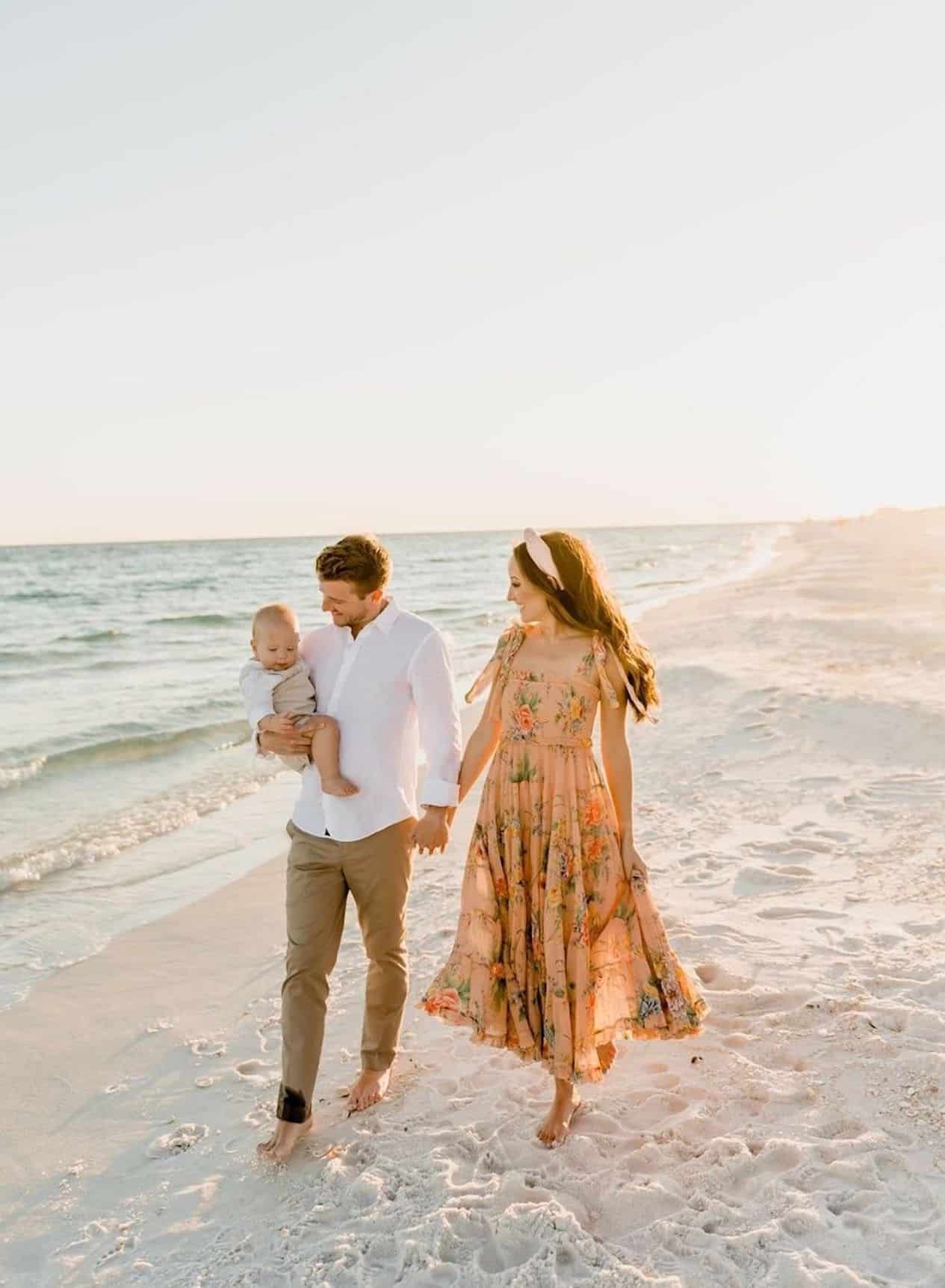 Family Beach Pictures, What To Wear?
With the holiday season quickly approaching, you might be interested in snapping a few shots of your family. Christmas cards, Happy New Year notes, art gallery walls and holiday gifts are all reasons for family beach pictures.
In this post, we are sharing our favorite modern and timeless family outfit ideas for your next beach photography session. With these outfit ideas, you'll have all the inspiration you need for stunning family photos, and when you ask the question "family beach pictures, what to wear?", you'll be set with ideas!
Additionally, if you need ideas on a color palette for your clothing, we've got you covered!
get the look:

What should I wear for a beach picture of the family?
When it comes to family beach photos, you can choose from a number of different outfits. Depending on what beach you are on, your family can opt for a breezy, lightweight look or a comfy, coastal vibe.
If you are taking photos somewhere tropical like Hawaii, sundresses, shorts, light neutral tones, and linen are great options. On the other hand, if your beach photos are being shot near the coasts of Washington or Oregon, layers will be more appropriate.
Depending on how formal you want your family beach photos to be, you can choose clothing that is a bit more dressy, or clothing that feels more laid back. Choose what makes your family feel comfortable, and play around with textures.
As long as the clothing reflects your family, you'll be looking great for your beach session!
get the look:

What is the best color to wear for beach pictures?
Neutral tones like ivory, cream, beige, or tan, along with subtle pastel colors like mist blue, sage green, and light pink are best for beach photo shoots. Whether your beach pictures will be in a tropical or coastal location, neutrals and pastels photograph very well against the sand, water, and hues of the sky.
It's also best to stick to mostly solid colors, and add in pops of subtle patterns like stripes, florals, and polka dots for interest. Overly busy patterns and bright, bold colors can be distracting and take away from the beach scene and your family.
Beach Family Photo Color Palettes
When it comes to choosing colors and clothing for your beach family photos, you'll want to make sure everyone's outfit is cohesive. Below are some color palette ideas to get you started.
White, khaki and peach

Mist blue, light brown, khaki, and cream

Black, white, and cream

White and tan

Cream, white, and mist blue

White, denim, and cream

Tan, white, and stormy blue

White, gray, and pastel pink

All white
Family Beach Picture Outfits To Inspire You
Taking our color scheme suggestions into account, below are some of our favorite outfit ideas for the whole family. These suggestions reflect more of a laid back, tropical vibe.
White, linen, barefeet and rolled up jeans, what's not to love? These outfits will have your family looking fresh and fun on a tropical beach vacation!
Breezy and white.
get the look:

Airy whites on the beach are perfect for a more formal family beach session. Have the girls in all white, linen dresses and the boys in linen button-downs with either white or very light khaki pants.
No shoes are needed for this beach look! Your family portraits will seem almost ethereal.
Neutrals with a splash of pastel pink.
get the look:

Adding subtle splashes of color to your family beach photos can add interest. Pastel pink always looks excellent against a beach sunrise or sunset.
We suggest keeping it simple with a pastel button-down shirt, or going with a pastel pink dress. Combining the pink with white and other neutral tones keeps the photo crisp and clean while still adding a little something extra.
The color and outfit combination in this photo is dressed-up enough for printables, but still has a laid-back vibe.
Creamy neutrals with straw accents.
get the look:

A color palette of beige, whites, and creams, is a great way to make your beach pictures look stunning without adding a lot of color.
If the beach location for your photoshoot has any type of grass, this oatmeal color palette is perfect. We also love the added texture of the straw hat on the mama in this photo.
Dress your little ones in neutral colored shorts, t-shirts, or rompers, and you'll instantly have a comfy, cozy beach vibe.
Linen, linen, and more linen.
get the look:

While linen can be any color, traditional linen is typically an off-white, creamy color. Mother-daughter beach photos in matching linen never disappoint.
This option is perfect when you want your photos a little less crisp and little moodier than a bright, all white photo. We love the look of the mom and her little one in this photo, as they are both sporting matching linen clothing and tan leather sandals.
Beach Family Photo Outfits with a Coastal Vibe
If your family is taking photos in a cooler coastal location, look no further than the outfit ideas we have gathered below. Coastal beach weather typically calls for layers as it can actually feel quite cool, rather than hot and humid.
A pretty dress will look fantastic layered with a knit cardigan, and you can remove it if the weather is warmer. Scroll on for stunning coastal family looks.
A silk slip dress.
get the look:

A silk or satin slip dress isn't something you would normally throw on at the beach, but we love the elevated coastal vibes that this photo is creating. Just because your kids might not be as dressed up doesn't mean you shouldn't be!
Have the little ones wear something soft and light, like a blue and white striped tee with a nautical feel. You can dress up with a classy and elegant neutral slip, then layer with a cozy knit cardigan.
The photos will have you and your family looking amazing!
Hues of coastal blue.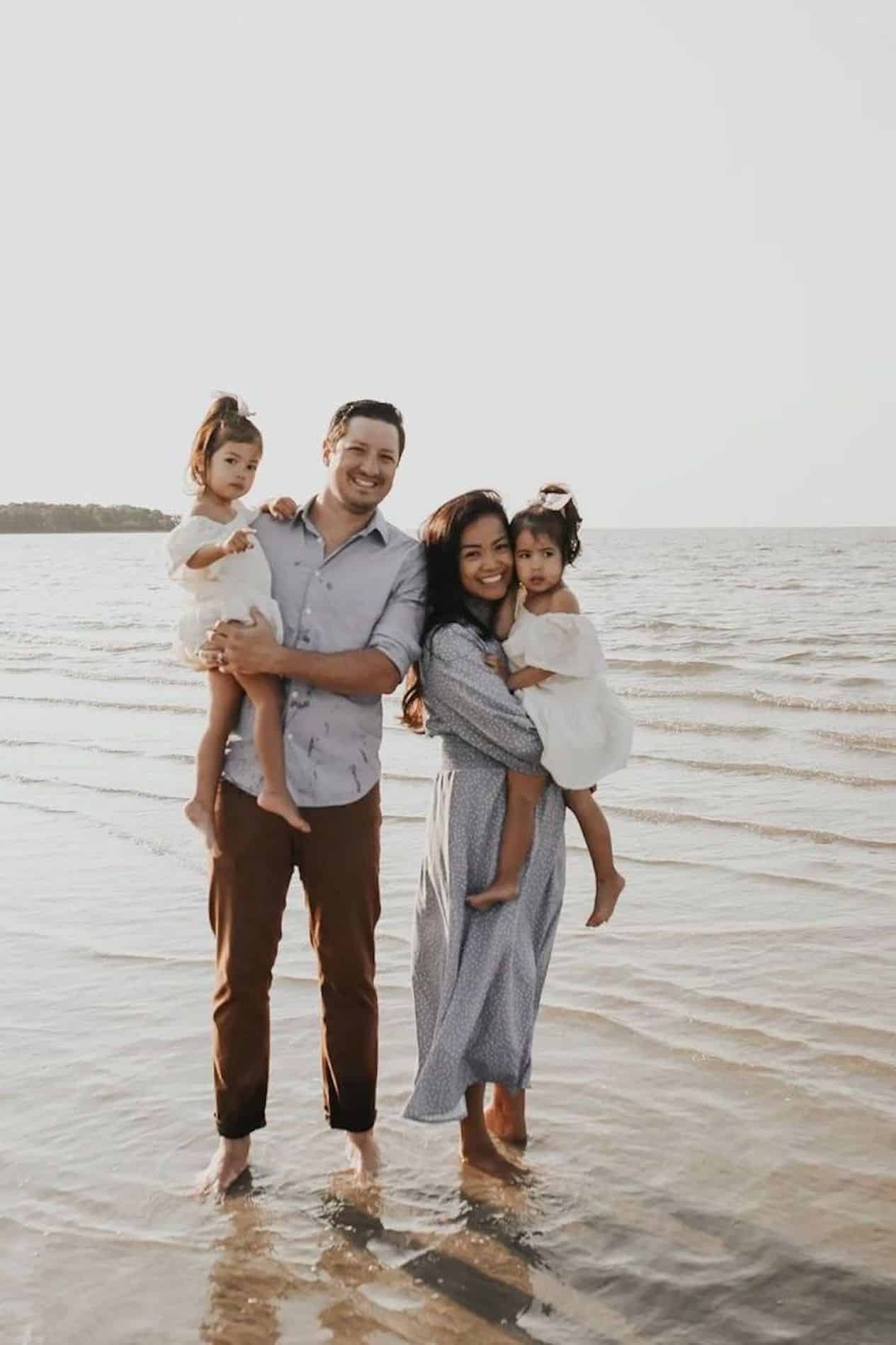 get the look:

When shooting on a coastal beach instead of a tropical beach, the water may not be quite as clear and turquoise. However, you can trick the eye into thinking the water is more vibrant by wearing various shades of blue.
We love how the dress and button-down the parents are wearing in the photo above brings out the blue tones in the water. In contrast, the super cute twins stand out in white.
This is a great way to enhance the scenery, while also making your little ones the stars of the show.
Sage green and neutrals.
get the look:

It's the obvious choice to get photos near the water during your family beach session, but the scenery leading up to the beach can be just as breathtaking. Incorporating pastel green tones in your clothing can make beach foliage really pop.
We love the sage and olive green tones the children are seen wearing here. This photo makes it look as if the family just kicked off their shoes after dinner and we are totally here for it!
Calming earth tones.
When working with neutrals, not everyone has to be in the same shades. We love how this family mixed and matched earth tones in different shades and hues.
The darker, brown pants complement with the rocks behind them, while the blues catch the water. The earthy greens and tan adds an extra calming feel to the photos.
The mix of button-up shirts, a pretty dress on mom, and the rolled-up pants gives a mix of formal and laid-back in one.
Casual Family Beach Pictures, What To Wear:
Do you want family beach photos without any fuss? We are here to help. Below are some of our favorite clothing ideas for simple, casual, and candid beach family photoshoot settings.
No doubt your kiddos will thank you for keeping their outfits simple and fuss-free so they can frolic and have fun in the sun and sand.
Laid-back in denim.
get the look:

If your family is all about being casual and candid, and it would feel awkward to be in formal attire, go with rolled up jeans and t-shirts. We love this effortless look for young families!
Matching blue tees and light-wash denim looks cohesive with the water and pops against the white sand. Have your children wear the same, or a coordinating blue outfit, and you'll have the most effortlessly chic family beach portraits.
Nautical inspired.
get the look:

We adore this casual, nautical inspired beach family photoshoot of a mother and her daughter wearing ivory knit sweaters. The look gives the impression that the family just returned from an afternoon of sailing on the open seas.
The white denim bring a casual feel to the photos, but both mom and babe still look absolutely adorable. Additionally, the neutral baseball cap adds an extra layer of casualness.
This family beach photo outfit combo is effortless, cool and put together, without being too matchy-matchy. Perfection!
Beige, denim, and a pop of peach.
While matching colors and outfits in photos can look cohesive and cute, so can wearing different outfits in coordinating colors. We love this casual, all-over-the-place look.
At first glance, it doesn't look like a lot of thought was put into these beach family photoshoot outfits. However, the peach romper really makes the child pop, while the parents look more subtle in coordinating creamy neutrals.
This is the perfect way to let your little one shine in your beach photoshoot!
White with a pop of pattern.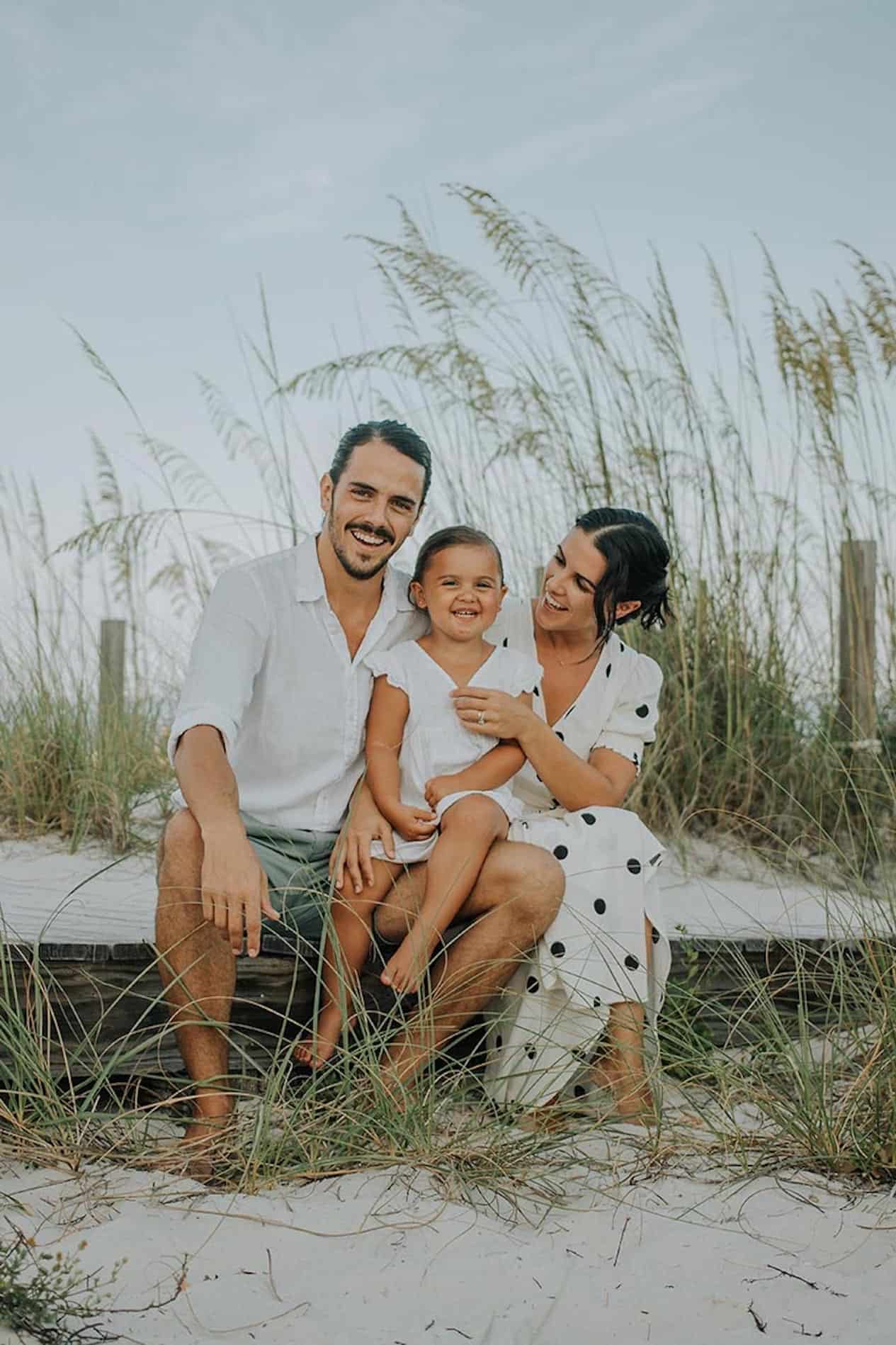 get the look:

Putting everyone in bold or busy patterns can be distracting in photos and is best avoided. Instead, go with solid neutrals and add a simple pop of pattern, like the cuties in this beach family photoshoot.
We love the polka dot dress the mom is wearing as it adds interest to the photo, but the dad and little girl in white and pastel blue also stand out too. Nobody's outfit is competing and the whole ensemble still looks cohesive, airy, and beachy.
What to wear for a beach family photoshoot?
For a beach family photoshoot, go with airy, neutral, and comfortable clothing items that have a coastal feel. Achieve a cohesive look for the whole family by choosing neutral or pastel color tones in mostly solids, with small pops of pattern. Your clothing should not distract from the breathtaking scenery or your beautiful family.
We hope you have enjoyed this list, and when it comes to the question of "beach family pictures, what to wear?", you have your answer and can feel confident choosing your family's attire.
We are certain everyone will be all smiles for your beach photography session and the photos are sure to serve as beautiful keepsakes for a lifetime!
More Family Photoshoot Ideas You'll Love:
18+ *Modern* Fall Family Photo Outfits for Outdoor + Indoor Sessions
15+ Family Photo Outfit Ideas That Are Simple + Classy
15+ Neutral Family Photo Outfits For Every Season
Summer Family Photo Outfits: 15+ Perfect Looks To Inspire You!
27+ Effortless Mom Outfits You'll Want To Copy
Best Beach Bag for Moms: 10 Beach Bags for Function + Style
Sarah is a writer, content creator and digital media expert. She earned her bachelor's degree in journalism from the University of Mississippi and her master's degree in communications from Texas Tech University.
Sarah aims to inspire readers with practical style advice and approachable guides on the latest fashion trends. Along with Style Your Occasion, you can find her works at The Daily Mississippian and The Oxford Eagle.