Are you looking for a gorgeous new nail color to rock this spring and summer? Check out our list of 21+ periwinkle nails with periwinkle nail polish inspiration and periwinkle nail designs to try at your next manicure!
Stunning Periwinkle Nails for Spring & Summer
If you've been looking for the perfect color to sport during the spring and summer, then look no further! Periwinkle nail polish is a gorgeous shade that is perfect for these seasons, and this hue is a great way to add some bright and vibrant color to your everyday outfits.
One thing we love about this shade is that it can be paired with bold and elegant details like gems, glitter, and gold flakes – or it can be used in a minimal and timeless design. Either way, this beautiful color makes a great addition to any look.
If you've been looking for a gorgeous new nail color to try, then these periwinkle nail designs might be for you. We've chosen breathtaking styles featuring this light blue violet shade, and we've got them below to inspire your next manicure!
Pastel Periwinkle + Pink Nails
Periwinkle and pink are the perfect combo to add a bright pop of color to your look. These pastel shades are perfect for spring, and the pink adds a soft and feminine touch that we love! This simple and classic design can be done with your favorite periwinkle nail polish to add some romantic vibes to your week.
Periwinkle Manicure w/ Gold Flake Accents
When it comes to periwinkle nail designs, we love the combination of cool-toned periwinkle with the warm tone of the gold flakes. This eye-catching manicure is simple yet so chic and elegant, making it perfect for anything from a casual brunch to a date night.
Lavender Blue French Tips w/ Floral Accents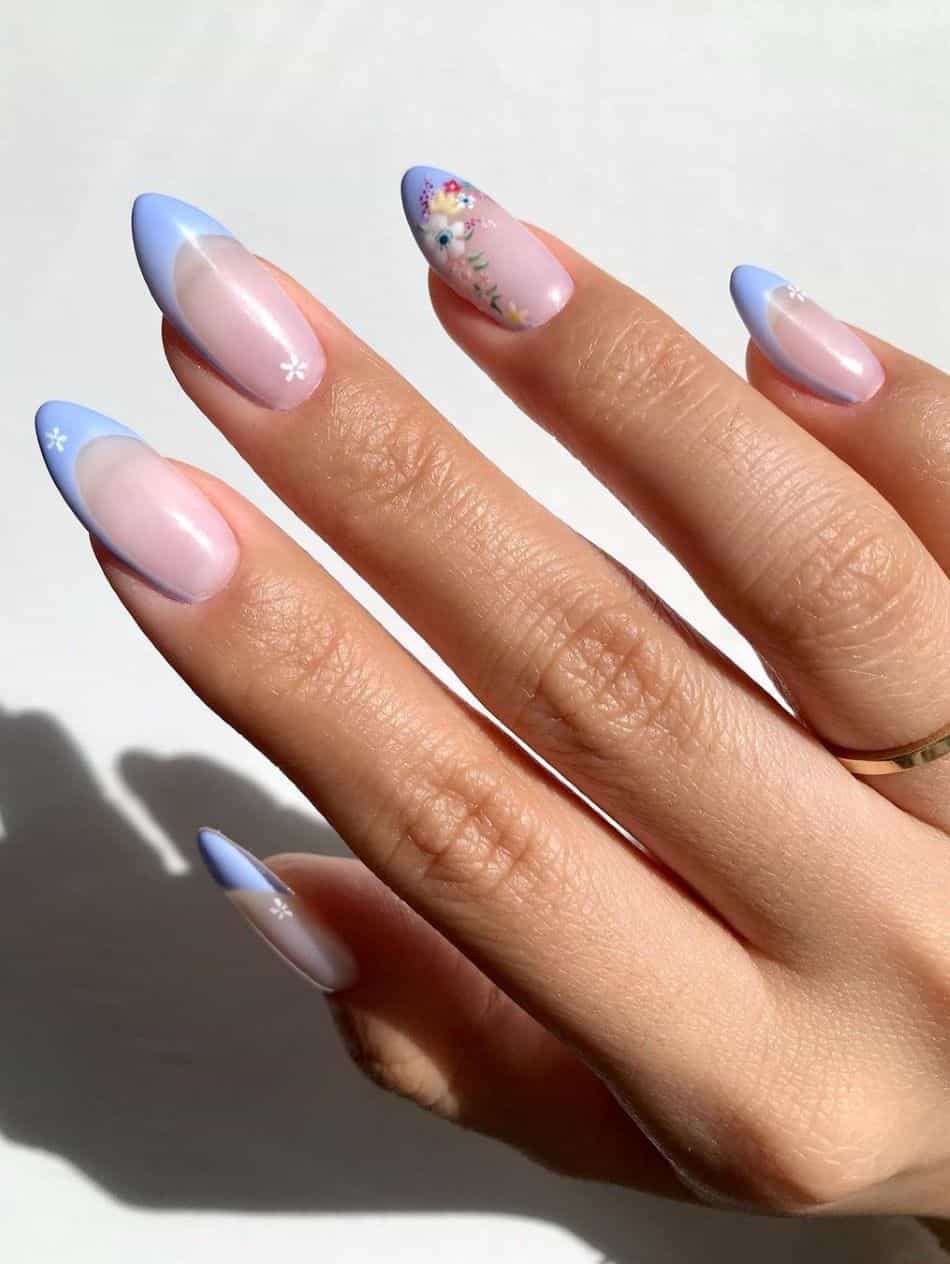 Classic and timeless French tips are perfect to pair with gorgeous floral nail art. Periwinkle is a beautiful shade that pops against the flower details to create an incredible summer nail design. You can add silver flakes or glitter if you want a more alluring look, or let the flowers be the star!
Marbled White & Periwinkle Nails w/ Cloud Nail Art
We love the whimsical and playful feel of this manicure! Periwinkle is a fantastic shade for cloudy sky nail art, and the marbled accent nails add an elevated touch to this look.
Almond Periwinkle Nails w/ Gold Borders
If you're looking for a sophisticated nail design with this gorgeous shade, this next look is for you! These warm-toned gold accents paired with the soft periwinkle create an elegant and attention-grabbing manicure that's perfect for your next anniversary dinner or weekend getaway!
Light Blue Violet + Nude Pink Nails w/ Heart Detail
Periwinkle is a perfect color for a soft and dreamy nail design like this one. The nude pink and light blue violet shades have a romantic feel, and the heart details are an adorable and flirty touch. This is an excellent choice for a date night manicure this spring or summer.
What nail color is in for 2023?
Pastel shades are set to be one of the trendiest nail colors for 2023! Periwinkle, blush pink, lilac, and baby blue will definitely be on-trend, and they're also a perfect pick for spring or summer nails.
Chrome looks and jewel accents are also set to be popular this year, so pairing periwinkle with silver glitter, gold flakes, and gemstones will add a stylish touch to your manicures!
Periwinkle Collage Nails
We love using periwinkle for a collage art manicure like this one. This pastel shade and trendy nail design would perfectly complement any outfit and add a fun vibe to your look. The floral nail art paired with this gorgeous soft shade is perfect for a springtime look, although you can use periwinkle for any nail art.
Shimmering Lavender Blue Manicure
A shimmering finish on periwinkle polish is alluring while still being simple and subtle. This is perfect if you want a minimal manicure that still has a sophisticated feel. A simple nail design like this can easily be taken from a day at the office to a night on the town!
Nude Nails w/ Periwinkle French Tips + Waves
We are in love with this beautiful nail design. Trendy wave details and classic French tips are always a fantastic pairing, and periwinkle is a perfect color for this manicure. Keep it as is for a minimal look, or add glitter for a glam vibe.
Matte Periwinkle Nails w/ Gold Accents
Soft periwinkle, gold flakes, and a matte finish are a must if you want a regal and sophisticated look. The gold flakes also add a touch of glam to this nail design, so it's a great choice for a night on the town or an intimate party with friends.
Periwinkle Gradient Nails
This gorgeous color is a perfect choice for a gradient manicure since it blends so well with other shades of blue, purple, and darker or lighter tones of periwinkle. You can go for this manicure if you want a subtle but elegant look, and it can easily be transformed into a more eye-catching manicure with accents or glittery nail polish.
Light Blue Violet Nails w/ Silver Glitter & Flakes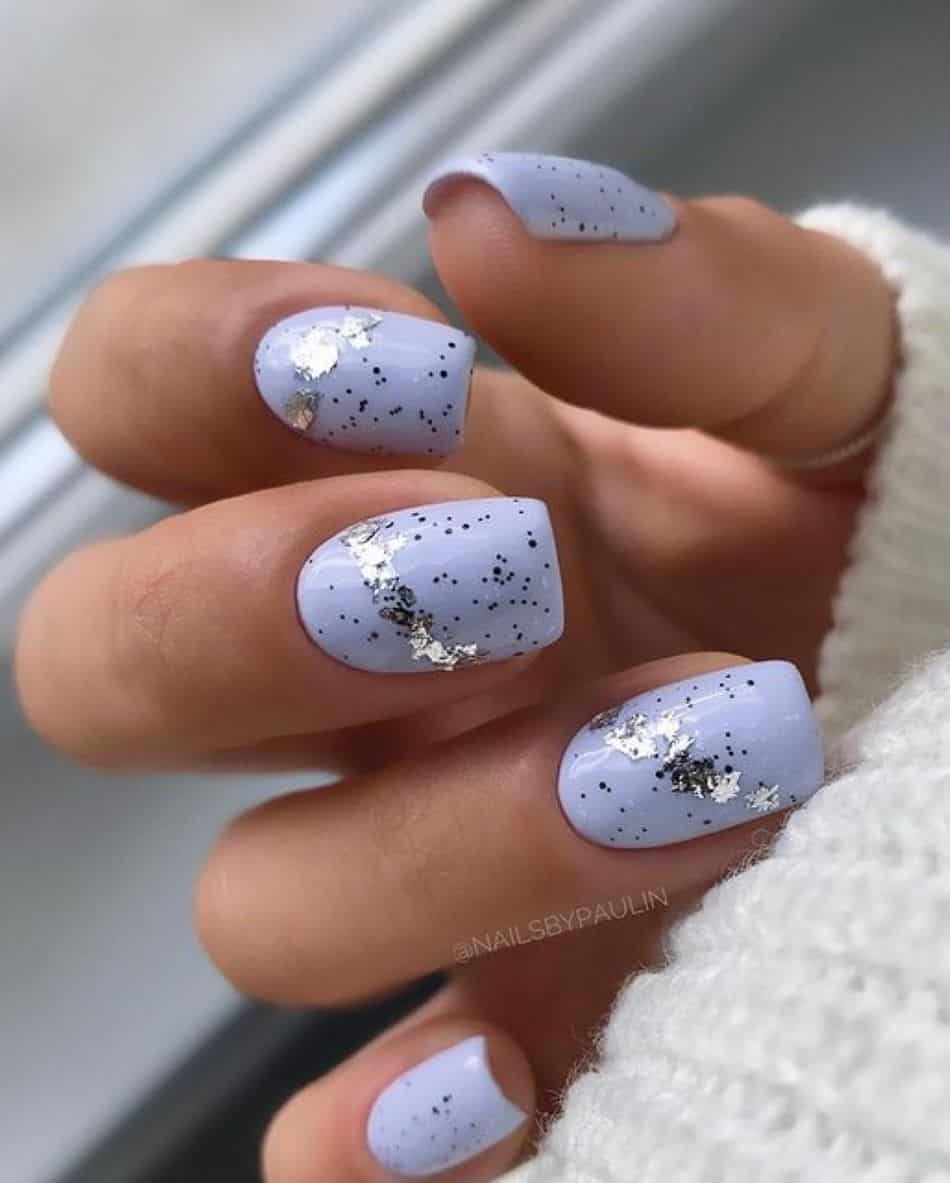 This bluish-purple shade has a whimsical and elegant vibe, and the silver flakes and glitter details definitely add to the dreamy aesthetic. You can use this nail design for an eye-catching look on your next night out or use it to add a pop of color and sparkle to your everyday style.
Nude Nails w/ Periwinkle, Pink + Gold Bands
Soft and subtle periwinkle stands out when paired with these gorgeous light pink and gold bands. These beautiful shades are perfect for adding some vibrant color to your outfits during the warm summer months. We also love how easily this design can be used for any manicure, so try it on anything from long coffin nails to short round nails.
Lavender Blue Mani w/ Pearl Accents
Periwinkle has a delicate and feminine feel that makes it a perfect color to combine with stunning pearl accents. We love how unique this design is, and this alluring manicure will quickly add elegance and glamour to your looks.
Pink + Periwinkle Nails w/ White Line Accents
We love pink and periwinkle together for a fun and flirty manicure. The white accents make this nail design pop, and the light tones make it perfect for a springtime look. If you want more of an elevated look, add some glitter along the white accent lines or use a shimmering finish on the solid-colored nails.
Matte Nails w/ Abstract Periwinkle & Gold Accents
Periwinkle and black are a gorgeous combo! The contrast between these shades makes this manicure so eye-catching, and the gold flakes add an elevated feel, making this nail design perfect for something bold yet elegant.
What do blue nails mean on a girl?
Wearing blue nails is a subtle way to indicate that someone is in a relationship, so periwinkle blue can represent the same thing for a girl.
Periwinkle is also a calming yet romantic color, perfect for adding a dreamy vibe to your looks. This soothing color will add a bright and cheery feel to your day while still being subtle enough to seamlessly match any outfit.
Long Periwinkle Nails w/ White + Black Flowers
We love the retro vibes of these flowers, and pairing them with periwinkle instantly adds a chic and modern touch. Elevate this look by adding gem accents to the flowers, or leave it as is if you prefer simpler designs.
Short Periwinkle Nails w/ Gem Accents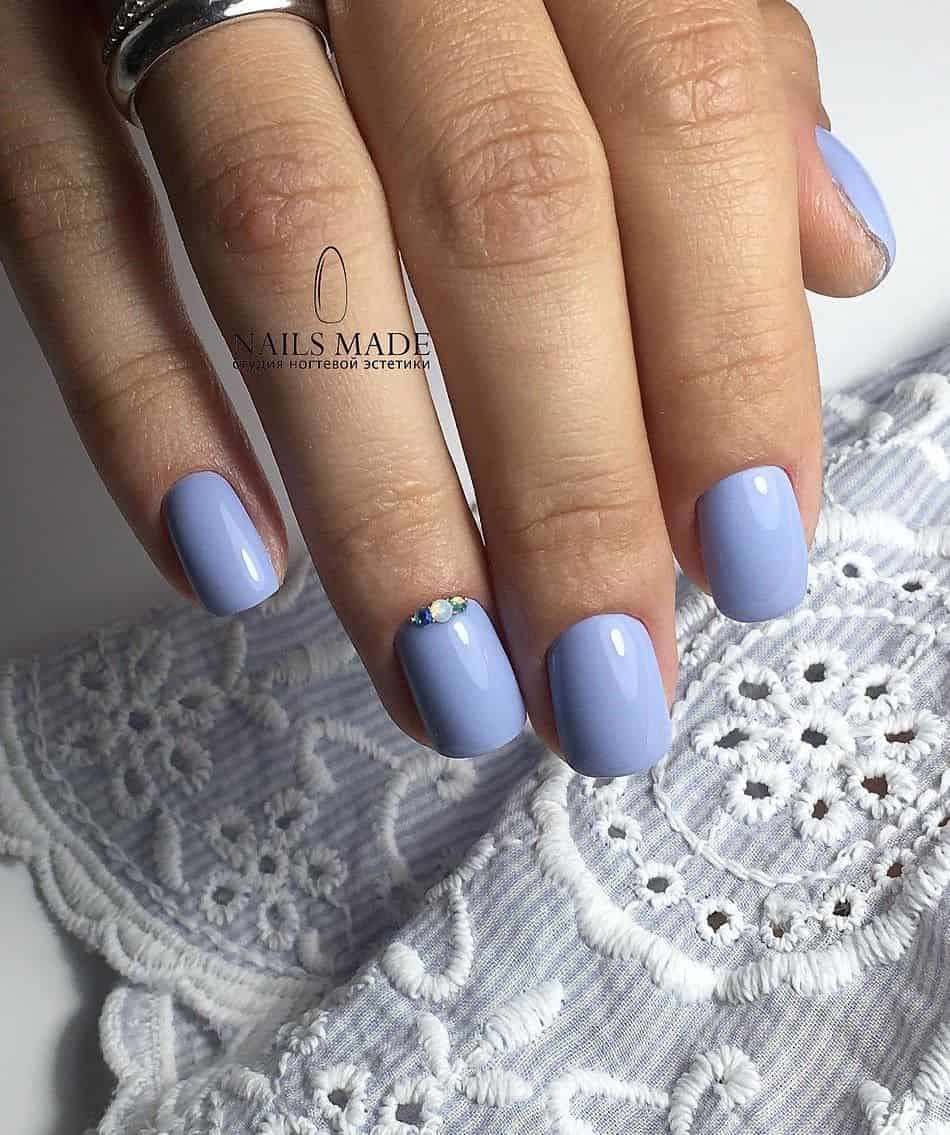 This is another fantastic choice for a simple but classy nail design. A solid-colored manicure will look fantastic on any nail length, and you can easily add as few or as many gems as you want to create a look that's perfectly suited for you!
Periwinkle French Tips w/ Half Moons & White Leaves
Since yellow is the complementary color for purple, it makes sense that a pastel yellow would pair perfectly with periwinkle nail polish. These colors make each other pop without being over the top, and the white leaf details and matte finish give these nails a sophisticated feel.
Lavender Blue & Nude Manicure w/ White Flowers
Cool, dreamy periwinkle and soft white flowers are a stunning combination, and we are so in love with it! This light periwinkle and floral details are perfect for a spring nail look, and you can wear this anywhere from the office to date night.
Periwinkle Nail Polish w/ White Sparkles + Waves
If you prefer periwinkle nail designs that are youthful and spirited, this look is perfect for you! Periwinkle and white come together again for a gorgeous look, and this playful design is a great choice to wear while spending the weekend out and about.
Matte Periwinkle Manicure + Zebra Accent Nails
Zebra print always has a bold feel to it, so we love to see it paired with a soft and subtle periwinkle nail polish. You can add even more of a vibrant and glamorous look by adding some glitter accent nails or stick with this design for something stunning and edgy.
We hope you loved this list of periwinkle nail designs to try at your next manicure!
More Nail Inspiration You'll Love:
28+ Stunning Baby Blue Nails & Light Blue Nails To Try
23+ Classic Pink and White Nails + Cute Pink and White Nail Designs To Copy
23+ Must-See 90s Nail Designs That Are Totally Nostalgic
21+ Stunning Nude Pink Nails & Nude Marble Nails You'll Love