Do you have a beach maternity photoshoot planned? Be inspired with these stunning photoshoot ideas and learn the best tips for amazing photos!
*this post contains affiliate links*
So, You Have a Beach Maternity Photoshoot Planned…
During both of my pregnancies I went to Maui for a vacation. I knew I had to seize the opportunity for a photoshoot both times and I'm so glad I did (see image of my hubby and I above!).
There's just something about the soft pastel colours of a beach sunrise or sunset, and the soothing water in the background that truly makes your maternity photos incredible.
Below are 20+ absolutely stunning beach maternity photoshoot ideas, along with some fantastic outfits to get you excited for your upcoming shoot. Along with all the inspiration you'll find tips and tricks to ensure you have a smooth session and the photos exceed your expectations.
And, if you plan to announce your pregnancy a little later like some couples do, maternity photos are perfect for a pregnancy announcement post!
20+ Beach Maternity Photoshoot Ideas
Not all beaches are the same, so I wanted to give a variety of ideas for outfits, photography styling, and beach settings. I hope you find at least one or two photoshoots that give you the perfect vision for your own shoot!
photos: @carliestatsky, @d_leilani
Delicate & feminine lace.
These two looks are both similar as the outfit of choice is a feminine and stunning, long lace gown. The lace detail is so delicate and creates a gorgeous look that blends seamlessly with the serene beach in the background.
The pretty floral crown on the mama on the right adds another element of femininity, but I also love the simplicity of the look on the left!
get the look:

Hamptons-style beach scene.
This casual Hamptons beach-inspired look is so effortless. All you need is a striped maternity swimsuit, a couple of vintage style beach chairs, a French market basket, and some Turkish-style towels to recreate this relaxed sunset beach scene for your maternity photoshoot.
If I were to do it all over again, this would be the look I'd pick for sure!
Tip: Don't forget to bring a few props along for your photoshoot. A pretty beach towel, and a woven beach tote can add interest to your photo and create candid scenes. Then you can easily toss them to the side for more minimal photos.
get the look:

Minimal black & white.
I love the minimal, vintage vibe to this beach maternity photoshoot. It's classy and laid-back, yet dramatic at the same time.
If you love a moody look… this idea is one to consider!
Tip: Take your time finding the right photographer who shoots in the style you prefer. Do you like minimal, vintage-inspired photos? Light and airy? Dark and moody? If there's a specific look you are going for, make sure to choose a photographer who is an expert at shooting in your desired style.
get the look:

photos: @sweettealdiy, @carrieelizabethphoto
Peasant-style dress.
If you love ethereal vibes, a peasant-style dress is the way to go. The flowy silhouette, ruffle details, and shirred bust-line will show off your beautiful pregnant belly and create a stunning overall look.
Tip: In my opinion, the best photos are candid in style and not overly posed. Avoid looking directly in the camera during your photoshoot, and instead pretend the photographer isn't even there. You'll find you look a lot more relaxed and natural in your photos, especially if you aren't all that used to being in front of a camera. Awkward smiles are the worst!
get the look: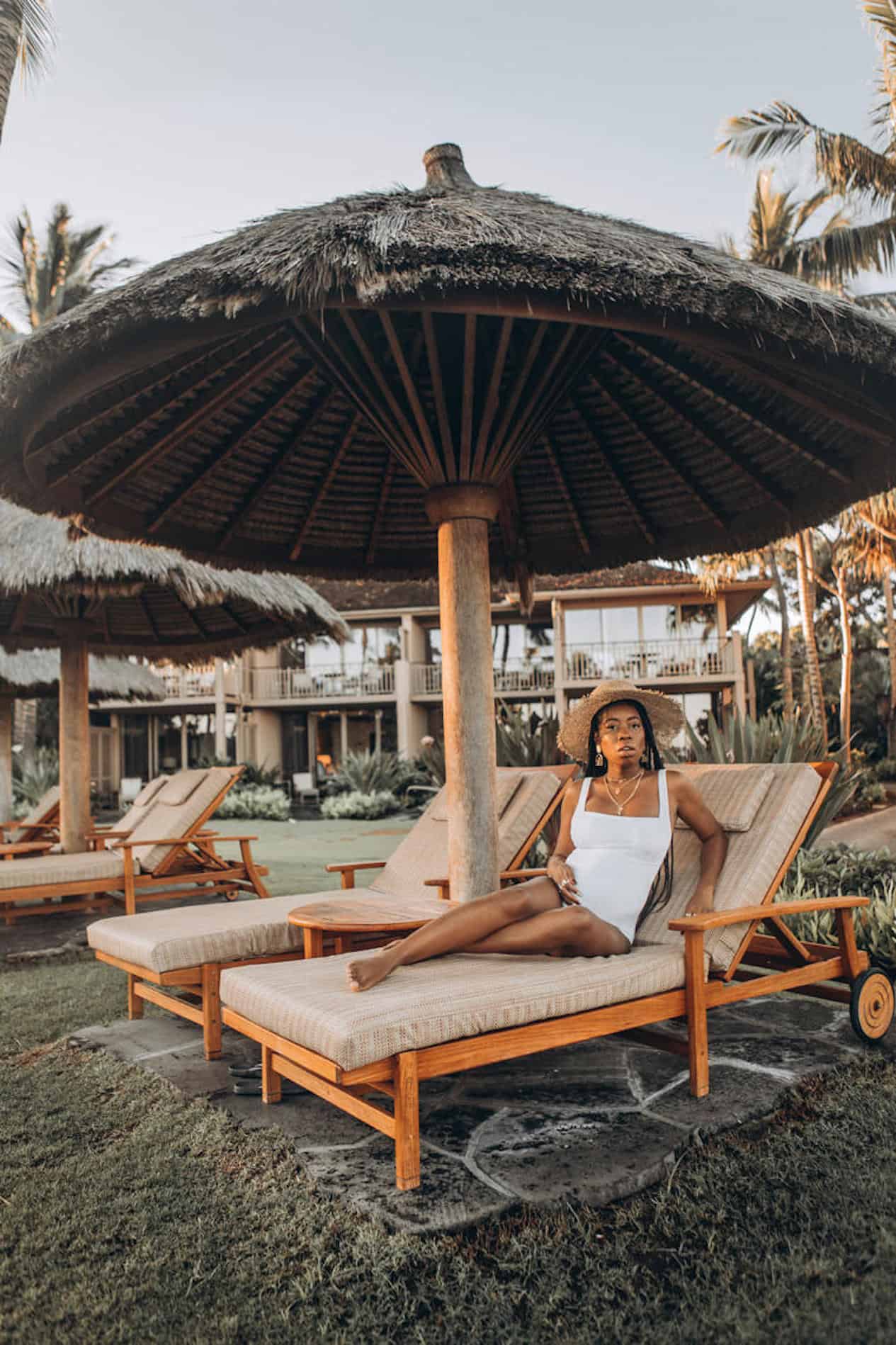 Luxury resort vibes.
You might be on a beach vacation, but that doesn't mean you have to take all of your photos right on the beach. If you are staying at a luxury resort, take advantage of it and get your photographer to use the beautiful surroundings as the perfect backdrop.
Keep your outfit simple like the one above, with a minimal white or black swimsuit and some dainty gold jewelry, and let your baby bump and that stunning location shine.
Tip: If you are shooting in a resort setting like the one pictured above, aim for a sunrise shoot when there are fewer people around versus the middle of the day or at sunset. You'll have less of a chance of people appearing in the background of your photos, and you'll get beautiful colors in the sky.
get the look:

Light and airy.
This was my second maternity photoshoot when I was pregnant with my son and we were on holidays in Maui. I chose a light, flowy, lace detail dress from PinkBlush Maternity (linked below). We did the shoot at sunrise, and I asked the photographer to keep the scene very airy and minimal.
Above was the result, and I thought photos turned out so pretty and serene – definitely frame-able!
get the look:

En Vogue.
For an edgy, modern, editorial inspired look – that seems like it belongs in Vogue magazine – go with a pair of statement sunglasses, a classic black swimsuit, and get the photographer to edit the photos in high contrast black and white. If you love this look and are still deciding on a name for your babe, you should check out these gorgeous modern girl names!
I love this beach maternity photoshoot idea as it's definitely unique and is for someone who wants to make a statement.
Tip: Bring along extra accessories like sunglasses, a sun hat, and different jewelry. You can add or remove it during the photoshoot to get variety of looks in your photos.
get the look:

photos: @sessmariee, @ashabailey_
Casual denim.
If you aren't into dresses and it feels uncomfortable or out of your personal style to wear one, then don't! Go for a pair of vintage denim with the top rolled down to create this super cute, casual look.
Besides, not every beach has warm temperatures and you might find the denim and a cute cropped sweater to show off your baby bump works much better for the weather.
Tip: Sunset is another fantastic time to do a beach maternity photoshoot. As opposed to in the daytime, the sun will look more diffused and cast a beautiful glow on your beach scene. If you are keen on sunset, be sure to choose a photographer who is used to shooting at this time of day.
get the look:

photos: @apinchoflovely, @melissamontoyaphotography
Retro inspired.
If you are a fan of the retro, pin-up girl style, go for a cute retro outfit and props for your beach maternity photoshoot. The look on the left is super simple with the mama in a striped swimsuit and retro sunnies, and the look on the right is a beach pier location with props and all.
Whether you keep it simple and minimal, or more theatrical, this look is unique and fun!
get the look: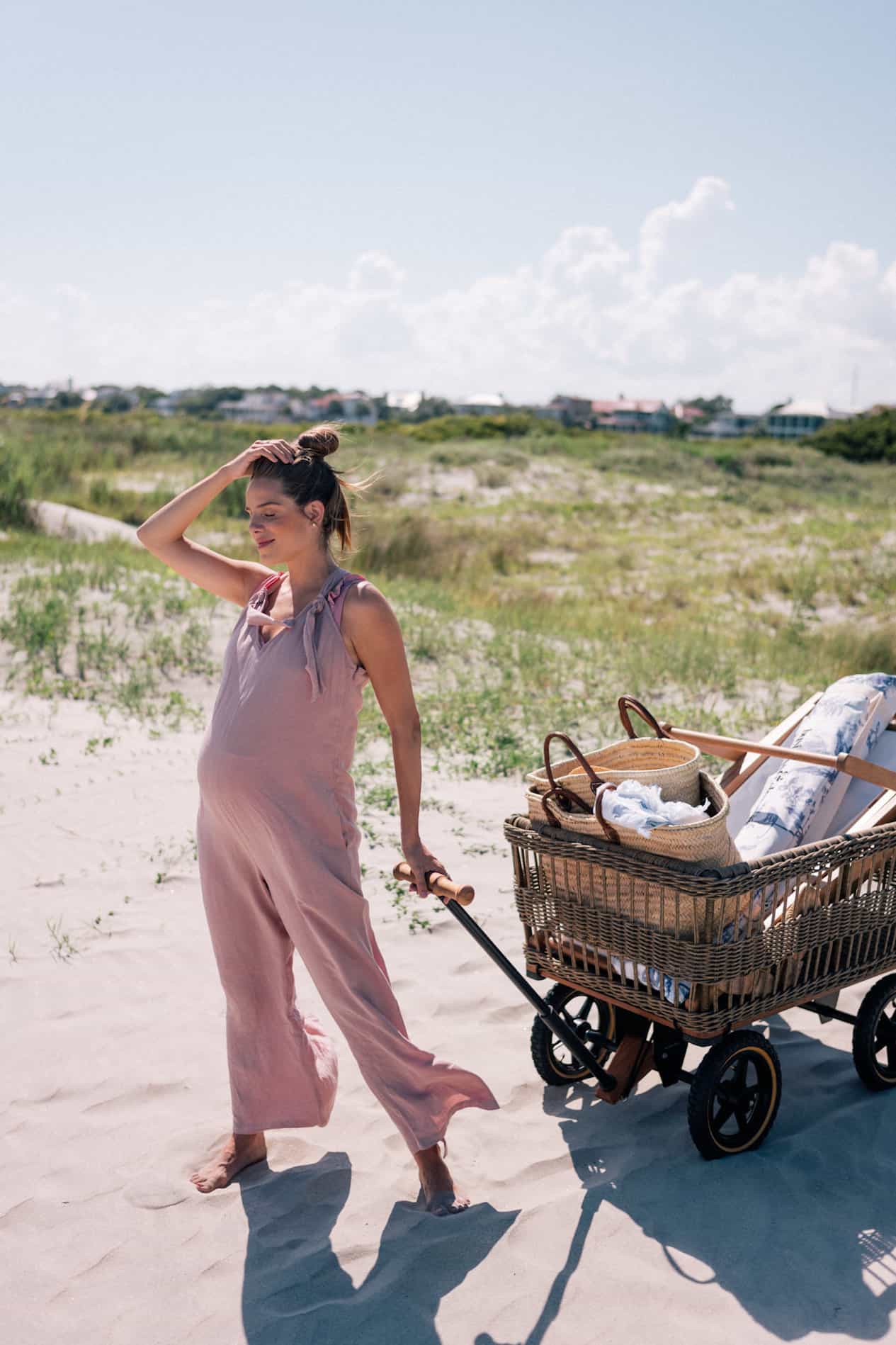 Comfy casual.
This cute look by Julia Berolzheimer is a great casual option for a photoshoot when you don't want too much fuss. The pink romper is feminine and laid-back, and the scene is perfect for a beach picnic.
Just bring along some chairs, an umbrella, and snacks and you'll be good to go!
Tip: A windy beach is not uncommon. It's almost guaranteed you will encounter wind during your photoshoot so be sure to bring along a brush to keep your hair from getting tangled and looking overly messy during your shoot. Tousled beach waves are lovely, but a tangled nest of hair is not!
get the look:

Designer chic.
If you are inspired by all the fashion influencers, this beach maternity photoshoot idea might be the right one for you! Grab (or rent!) a flashy designer tote bag, sun hat, statement sunglasses and a super cute bikini and have fun with it.
I love the pops of color and the casual, yet fun look, created here.
Tip: Be mindful of your belongings. When taking photos on a beach it's likely you'll be moving around from place to place as you get your photos taken. Remember to bring your bag, shoes, sunglasses, and any other belongings you have along with you as you move, so nothing gets lost or stolen.
get the look:

photos: unknown, @emilyanngemma
Stylish swimsuit & sun hat.
Both of these looks with black swimsuits, a big sun hat, and a cover-up are classy, stylish, and a perfect way to show of your beautiful baby bump.
This outfit is also really effortless and doesn't require much fuss. Find a beautiful beach scene, throw on your swimsuit and have a great time!
Tip: Take photos with a sun hat at the end of the photoshoot. If you plan to bring along a hat, have it off for the first several photos, and put it on at the end. You don't want to be taking it on and off during your shoot as you might mess up your hair and regret it when you see your finished photos.
get the look:

Moody blues.
This was my first maternity beach photoshoot in Maui when I was pregnant with my daughter. We wanted a soft and moody look with a vintage touch. Our photographer was so amazing and made us feel so comfortable.
The blue tones of our clothing complimented the gorgeous blues of the ocean and the result was stunning.
Tip: Never turn your back to the ocean! Sometimes during your photoshoot you get so engrossed in having your pictures taken you forget about rogue waves that can knock you over if you aren't prepared. It's happened to me before and I ended up looking more like a drowned rat than a mermaid, lol!
get the look:

Feminine florals.
Another take on blue tones, the pregnant mama in this look is wearing an airy, light blue floral wrap dress with a simple sun hat, white towel, and the gorgeous pastel beach scene in the background.
Tip: Taking photos at sunrise, while very early in the morning, will show those subtle pastel colors in the sky and prevent any harsh sunlight in your photos. It's a highly recommended time of day by photographers for beach photoshoots.
get the look:

photos: @toribrookephotography, @caraloren
Pretty in pink.
Both of the mamas in these photos are wearing a pretty shade of pink which is an excellent color choice. The pink compliments the blue of the water and can mimic the pastel hues in the sky if you do your photoshoot at sunrise. If you go with pink, keep your partners outfit minimal as to not compete with the pink.
Tip: Did you know you do not need to buy a maternity dress for your maternity beach photoshoot? There are SO many dresses out there that are not specifically "maternity" but can definitely work for a baby bump. Don't limit yourself to just the maternity section. Try on flowy dresses and go up one size if you need to accommodate a larger pregnancy bust size as well.
get the look:

Vintage Hawaiian vibes.
If your beach photoshoot is taking place in Hawaii, the simple look above is so stunning and easy to recreate. You can order fresh flower crowns at many places on the different islands in Hawaii, or you can buy a faux one ahead of time. Find a photographer who puts a vintage twist on their photos and keep it simple with a flowy open cover-up.
Tip: If you don't live somewhere with a beach and you'll be doing your photoshoot on vacation, be sure to start looking for a photographer several months in advance. Photographers in popular vacation destinations tend to fill up their calendars quickly so be sure to plan and book ahead!
get the look:

Greece vacation chic.
If you'll be visiting the beautiful turquoise waters of the Mediterranean for a babymoon, take advantage of the scenery and get maternity photos done. The surroundings, the colours, the overall vibes…. perfection!
I love this simple look with a flowy white kaftan, sun hat, and open toe sandals. Sophisticated, yet relaxed, and perfectly beachy all at the same time.
Tip: Book your photoshoot near the end of your vacation. This way you'll have a chance to get an even tan and you'll avoid having any sunburns on your skin or awkward tan lines showing in your photos.
get the look:

Beach Maternity Photoshoot FAQ's:
Now that you are full of inspiration for your upcoming beach photoshoot, here are answers to some frequently asked questions to help you further on your way.
What should I wear for maternity beach pictures?
This is truly up to you! There are no set rules for what to wear for maternity beach pictures, but I recommend going with light and airy fabrics if you are planning the photoshoot in a hot beach destination.
Flowing maxi dresses, kimono robes, kaftans, or a ruana wrap are great outfit options. You can also stick to a one-piece swimsuit or bikini, and add in some cute accessories like a sun hat, sunglasses, and dainty jewelry.
If the beach you choose is often windy, or has cooler temperatures (think Pacific Northwest), go with a pair of linen pants or rolled down denim, and a lightweight knit sweater.
Which week is best for maternity photoshoot?
In my opinion planning your maternity photoshoot between weeks 27-32 of your pregnancy is ideal. Your baby bump will be nicely showing but will still be quite "compact".
Other things like the lovely facial swelling that happens in the last weeks of pregnancy *yay* won't be present (as well as swelling in your legs and feet).
If your photoshoot is planned for the later weeks of pregnancy you'll risk looking more swollen in photos and potentially missing it altogether if baby decides to make their debut early!
How do you take maternity pictures on the beach?
This is definitely up to the photographer you choose but I highly recommend planning your photoshoot at SUNRISE or SUNSET.
These two times of day have the most gorgeous lighting and sky color, and do not come with harsh sunlight that might cause overexposure or squinty eyes in your photos.
I hope you feel even more excited about your upcoming beach maternity photoshoot! And, don't miss these other pregnancy bucket list items to do while you rock your beautiful baby bump, as well as this list of prayers for a healthy pregnancy.
Pin this:
More Style Inspiration You'll Love:
Christal Sczebel is an entrepreneur, published author, and content creator. Over the past decade she has worked in the digital media field building successful websites for both food and fashion. She has a natural affinity for minimal, timeless fashion, neutral home decor, and styling.
Here on Style Your Occasion, Christal is the Editor-in-chief and brain behind the aesthetic. She hopes you love the this space and the inspiration you'll find!