Learn how to build the perfect maternity capsule wardrobe that's chic and effortless. Get the best tips and tricks for curating a stylish pregnancy capsule wardrobe, along with a free printable checklist too!
*this post contains affiliate links*
Originally published January 19, 2022, Updated May 22, 2023
Creating A Pregnancy Capsule Wardrobe
If you are in the early stages of pregnancy (or plan to be soon), you're likely wondering how your wardrobe will change, and what outfits you can wear to rock your baby belly. We are here to help!
A maternity or pregnancy capsule wardrobe will make getting dressed a breeze, even as your body is changing. And you'll be able to put together stylish outfits no matter what season you're in.
Read on to learn all about maternity capsule wardrobes and how you can create one that works for your lifestyle.
What is a maternity capsule wardrobe?
A maternity capsule wardrobe is a small collection of clothing used specifically during the pregnancy season to accommodate your growing belly. During the early months of pregnancy you can often get away with your normal clothes. But as your body changes and your belly grows you'll need to add special maternity clothing that is both practical and comfortable.
Being a mom of two myself, I have been around the pregnancy block a couple of times, and for both of those seasons I have used a maternity wardrobe capsule.
What month do you start wearing maternity clothes?
While every woman is different (as well as the way her baby bump grows), as a general rule, it will be time to start wearing maternity clothes by the second trimester (around month 4-5).
For the first pregnancy it's common to not really "show" until you are in the second trimester. So you might find you can wear all of the same clothing until then. In subsequent pregnancies however, woman often find they "pop" sooner and need to switch over to maternity jeans even in the first trimester (I definitely did!).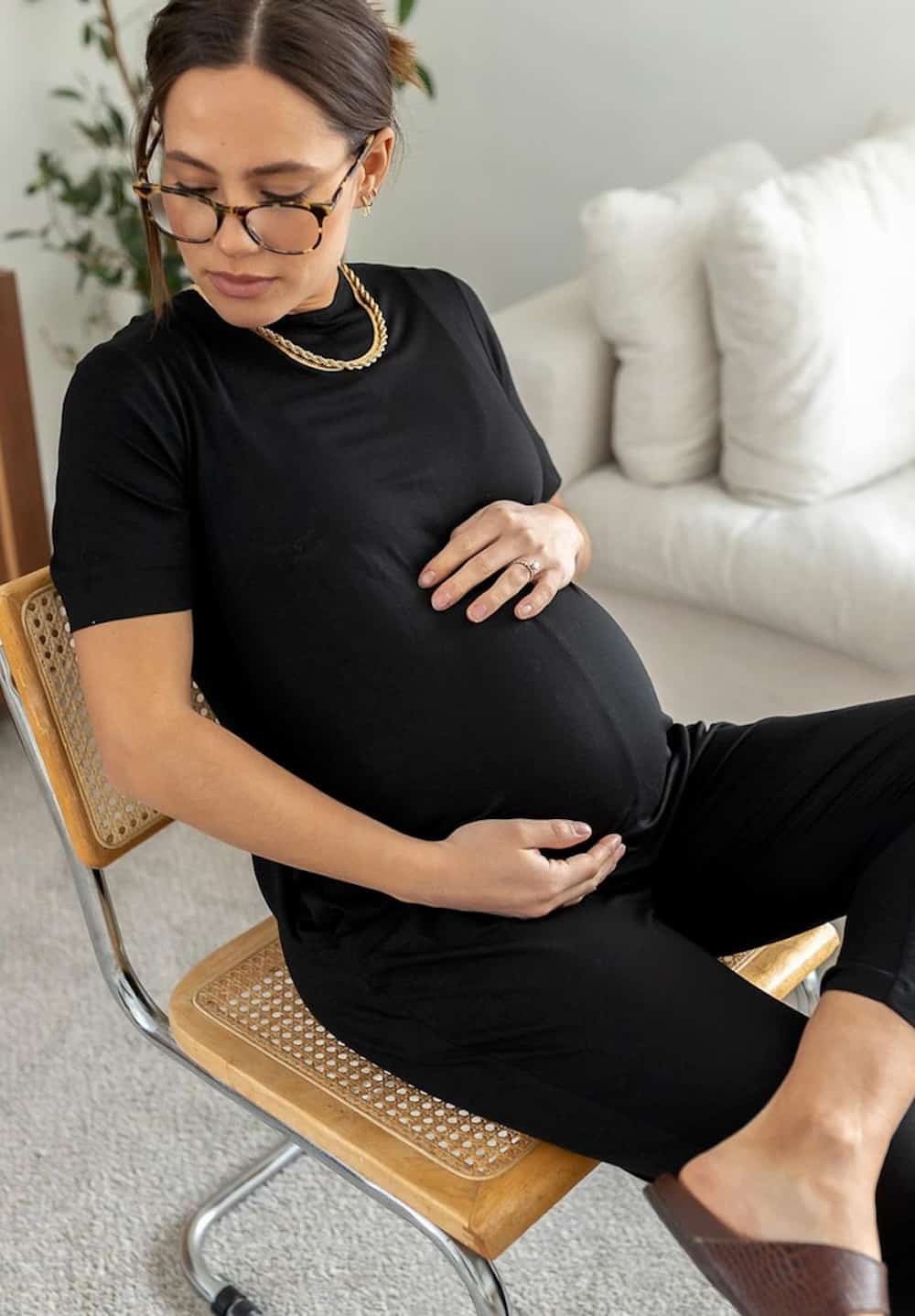 How do you build a maternity wardrobe?
Building a maternity capsule wardrobe is actually quite effortless. If you are feeling at all overwhelmed (as pregnancy in itself can often make you feel), follow these steps:
1. Figure out in what seasons you'll be 4-9 months pregnant. This is when you will need to be in maternity-specific clothing.
2. Shop your closet. Pull out any pieces of clothing that can serve double-duty because they are oversized, flowy, or stretchy enough to accommodate a growing belly. You can include non-maternity clothes in your maternity capsule so long as wearing them will not wreck the clothing. Oversized sweaters or shirts, flowy dresses, or button-up shirts work great.
3. Go through the Maternity Capsule Checklist, and check off any items you can use from your current wardrobe. You'll find the checklist at the end of the post.
4. Purchase or borrow any remaining items you need. This is a great idea if you are on a budget. I had a few friends who I swapped clothes with during our pregnancy seasons. Things like maternity jeans, shirts, and body-con dresses.
Maternity Capsule Wardrobe for Spring/Summer
shop the capsule:

The graphic above can serve as inspiration for a versatile maternity capsule for summer or spring. With just a small selection of clothes you can create many outfit combinations. Read on to learn about each item and keep these points in mind:
Comfort is key when it comes to maternity outfits. Your body is changing and stretching so much you'll find being pregnant in itself can have varying levels of discomfort so that last thing you'll need is clothes that add to that!
For summer think airy, light, breathable, and stretchy. When you are pregnant and it's hot outside, you'll be thankful for comfortable breezy clothing. Dresses and light layers are a great choice.
Oversized Button-Up Shirt
This is a perfect layering item in the spring and summer. It is long enough to cover your bum if wearing a pair of leggings, and looks great over a tank top. You can also wear an oversized button-up with jeans, smocked pants, or shorts in the summer. Or wear it tied around the top of your bump over a dress in the summer!

Long (or Short) Sleeve Maternity Tops
A couple of maternity tops go a long way in the spring and summer. Wear them with jeans, leggings, or smocked pants. Or, go with a pair of shorts if you prefer. Opt for neutral solid colors or neutral stripes for versatility.

Slip Dress
A comfortable, breathable, airy dress that has a more dressed up feel is a slip dress. This is a great choice for a pregnancy capsule wardrobe as it can be worn with heels for an evening out, or with sneakers for a laid back look. Throw a denim jacket over top and let your cute bump peak out!

Bodycon Dresses
Bodycon dress styles are perfect for pregancy as they are stretchy and hug your body in all the right ways. They are the perfect "bump showcase" dress and one or two are a great addition to a maternity wardrobe capsule. We suggest neutral colors, but stripes are cute as well as a pop of color like pink or blue.

Flowy Dress
If you will be attending a summer wedding, or have a few special dates planned, a flowy floral dress is the perfect summer maternity capsule wardrobe addition. You can also wear a pretty floral dress with sneakers for a casual mom outfit.
A dress with a loose, tier style or smocked fit works best as they provide ample room for your growing chest and baby bump. If you are not buying a maternity-specific dress, it's best to size-up one size than your usual.

Oversized Lightweight Sweaters
For cooler days or evenings in the spring and summer, oversized lightweight sweaters are a great choice. One or two should suffice for your pregnancy capsule wardrobe, and you can choose from cotton, linen, or cashmere blend.

Maternity Jumpsuit
Not only do maternity jumpsuits look super cute, they are very comfortable and a soon-to-be-mama favorite. Go with black for a versatile option that can be dressed down with sneakers or sandals, or up with heels.

Maternity Jeans (or Shorts)
Every maternity capsule wardrobe needs a great pair of maternity jeans that have elastic on the sides or an over-the-belly elastic waistband. Jeans are incredibly versatile and stylish, creating a ton of cute outfit combinations for pregnancy.
If you live somewhere that's very hot in the summer, add in a couple pairs of maternity denim shorts instead of jeans.

Maternity Leggings (or Biker Shorts)
Leggings are a pregnant woman's best friend! They are stretchy, comfortable, and provide nice support for your legs, belly, and low back.
A pair of black maternity leggings (or biker shorts) are a no-brainer for any spring/summer maternity wardrobe capsule.

Smocked Lightweight Pants
Stretchy around the belly, loose, airy, and breathable, a pair of smocked pants are a maternity capsule must. Go with a light off-white, beige, or taupe if you prefer lighter color tones, or stick with black if that is more suitable to your personal style.

Maternity Swimsuit
No matter what time of year you will be pregnant, a maternity swimsuit is a must. Whether it's the middle of summer, or you plan to go on a babymoon to a hot destination, you'll want a swimsuit that showcases your beautiful belly.

(wearing the Hunza G swimsuit made with an extra stretchy material perfect for pregnancy, postpartum, and beyond!)
Nursing Bras/Belly Band
While you may not be nursing yet, these bras are perfect for pregnancy as you will find your breasts can grow 1-2 cup sizes. So stretchy is key! Additionally, a couple of belly bands are great for adding extra support to your back and belly area.

Comfortable Footwear
Swollen feet during pregnancy are no joke! You'll want a couple of pairs of very comfortable footwear in your pregnancy capsule including sneakers and sandals for spring and summer.

Accessories
Finish all of your cute maternity outfits with practical accessories like a tote bag, sunglasses, dainty jewelry, and a sun hat or ball cap.

Maternity Capsule Wardrobe for Fall or Winter
shop the capsule:

In this capsule graphic you'll see more layers for cool weather, warmer knit materials, but still an emphasis on comfort and versatility. Also, we made sure to keep many of the same items from the Spring/Summer maternity capsule in the Fall/Winter capsule to show how easily the pieces can shift from season to season.
We also included a swimsuit in the Fall/Winter maternity capsule because in the cooler months you may still go to a pool or hot springs and you'll need a maternity swimsuit.
Rad on to learn about the different items in this pregnancy capsule wardrobe for the fall and winter seasons (all pieces in the capsule that are listed below are already listed in the spring/summer capsule section above!).
Wool or Down Wrap Coat
A cozy wool wrap coat or down puffer coat will keep you warm and toasty during the fall and winter months. The wrap style is great for maternity as you can adjust it as your belly grows.

Flannel Overshirt or Shacket
A flannel overshirt, shirt jacket (shacket), or fleece in an oversized fit will add some style and warmth to your maternity capsule. This piece is great for layering and transitional weather in the fall season.

Wrap Dress & Bodycon Sweater Dress
Long-sleeve cozy dresses with stretch will be your best friend during the cooler seasons. You can also easily wear these dresses with Chelsea boots for a casual look. Or wear them with heeled ankle boots or pumps for a date night or special occasion.

Oversized Cardigan
Another perfect cozy layering piece in a maternity wardrobe capsule is an oversized knit cardigan. We love the Jenni Kayne cashmere cocoon cardigan, but Quince has a more affordable option (both linked below!). This piece will accommodate your growing baby bump and looks great with jeans or leggings.

Oversized Hoodie or Half Zip
Like the cardigan, an oversized knit hoodie or half-zip sweater is a cozy layering piece that's perfect for pregnancy. You'll love the warm feel of this sweater over your baby bump in the fall and winter months!

Comfortable Footwear
In the fall and winter months, be sure to add a pair of comfortable boots into your maternity capsule. You can go with flat Chelsea boots, or heeled ankle booties if you like a more dressed-up look.

The Maternity Capsule Wardrobe Checklist
Below are two downloadable and printable checklists for spring/summer and fall/winter. If you find you are going to be 4-9 months pregnant during a mix of seasons (summer to fall for example) you can combine the two and make a hybrid capsule.
download checklist here
download checklist here
How much does a maternity wardrobe cost?
The cost of a maternity wardrobe is completely dependant on your own budget. You can easily create a suitable maternity wardrobe with 10 essential pieces around $400, or you can spend thousands.
There are many brands out there who make fantastic maternity clothes ranging from budget-friendly to luxury including:
Final Notes
Remember, your maternity capsule wardrobe can be adjusted to suit your lifestyle and personal taste. And it can be larger or smaller than our suggested capsules, there are no set rules.
The key is to focus on comfort, practicality, versatility, and of course, choose pieces you LOVE (make sure you love every single piece in your capsule!) so that you'll feel amazing and get ample wear out of each item.
Now that you've got your maternity capsule wardrobe covered, check out this list of more things to do when you find out you're pregnant!
Congratulations mama-to-be. You've got this!
More Style Inspiration You'll Love:
Christal Sczebel is an entrepreneur, published author, and content creator. Over the past decade she has worked in the digital media field building successful websites for both food and fashion. She has a natural affinity for minimal, timeless fashion, neutral home decor, and styling.
Here on Style Your Occasion, Christal is the Editor-in-chief and brain behind the aesthetic. She hopes you love the this space and the inspiration you'll find!