Looking for inspiration for spring family pic outfits in 2023? These indoor and outdoor spring family photo outfits are classy, elevated, approachable. You'll love this mix of spring photoshoot outfit ideas for both cool and warm weather.
*This post contains affiliate links*
Spring Family Photo Outfits for 2023
The spring is such an understated time to get family photos taken. While many people choose fall or winter photos for Thanksgiving or Christmas, the spring is truly a beautiful time to capture memories. You'll love these indoor and outdoor spring family photo outfits to try in 2023!
What do you wear to a spring photoshoot?
When it comes to dressing for a spring photoshoot, go with flowy dresses, chino trousers, rompers, linen shirts, floral blouses, loafers, mules, or sandals. Because the weather can be unpredictable, bringing along layers like a lightweight knit sweater or denim jacket.
The perfect color palette for a spring photoshoot includes neutrals like ivory, white, or cream, as well as pastels or muted tones like sage green, blush, blue, and soft yellow. You can also add in a mix of floral, stripes, or gingham patterns for interest.
Here are 18+ spring photoshoot outfit ideas for different weather conditions that are beautiful, classy, and perfect for a casual shoot or one that is a little fancier.
Creamy neutrals.
shop the look:

Creamy neutrals are always a good choice for spring family pictures outfits. The light and airy colors will give the photos a breezy look for spring and everyone looks good in light neutrals.
Below are more of our favorite neutral family photoshoot ideas for inspiration!
Can you wear white in family photos?
Absolutely! Light, airy whites tones are tried and true when it comes to family photos. Everyone looks good in neutral colors, including white, and these tones always have a classy and polished feel. Unless you are doing a beach photoshoot, it's best to combine whites with other neutrals or pops of color to avoid a washed-out look in the photos.
crisp white & neutrals
Chantel Moorhouse
We love whites when it comes to spring photoshoot outfit ideas!
The crisp whites mixed with earthy neutrals makes for a lovely combination of tones for this spring look. There is a level of casualness to it but the dresses bring in a touch of fancy and We love the market basket and floral props.
Nautical vibes.
Julia Berolzheimer
These outfits are perfect for a cooler spring day at the beach. When the weather is breezy it's nice to combine warm creamy neutral knits with airy whites. This look is casual but still perfect for capturing family memories.
Cable knit sweaters add a cozy feel to the outfits, but the crisp whites keep the outfits looking fresh for spring!
light and airy.
Alyssa Taylor
Next on the list of spring photoshoot outfit ideas is a precious family photo that shows just how perfectly neturals can work.
The cherry blossom tree makes for the most beautiful backdrop to these spring family photo outfits that are natural and earthy. Linen and cotton keep the look light and airy and the matching brown shoes tie it all together.
Feminine lace.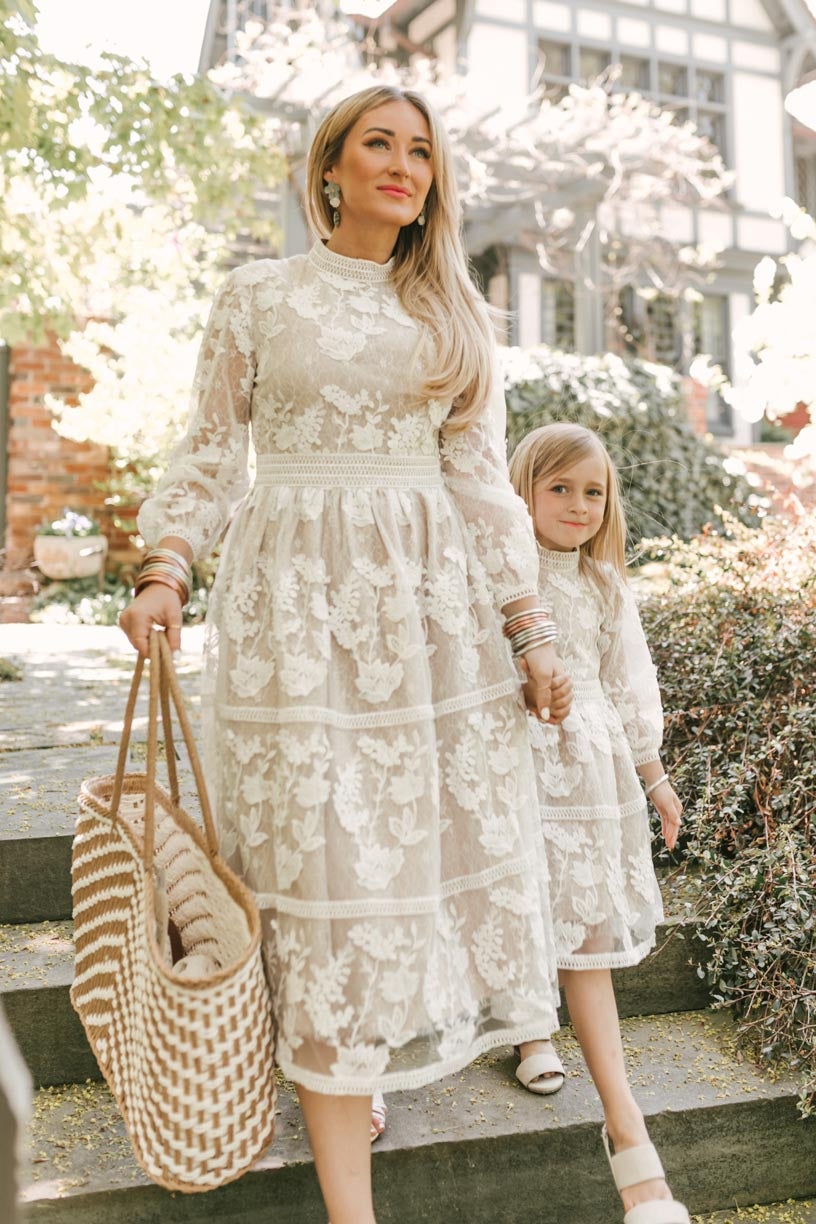 Ivy City
This mom and daughter matching combo is so precious and the cream floral dresses are a perfect look for spring. You can get these exact dresses from Ivy City Co. and bring in other neutral colours to pull the look together.
A lot of families choose to get Easter photos done and these dresses would make the perfect Easter outfits. Get your little one excited for the photos by gifting her the dress on Easter morning along with one of these printable Easter scriptures for kids!
shop the dresses:

Shades of blue.
shop the look:

Blue can add that perfect pop of color to your spring photos and it melds wonderfully with light spring green tones if you are taking photos outside. Try mixing different shades of subtle blue (avoiding neon or overly bright tones) and balance the color with neutrals.
Take a peek at our list of the best family photoshoot dresses!
subtle patterns.
Bethany Paige Photography
The blues in this look are muted but still make a statement with subtle patterns and the overall look is casual with the addition of denim. We love how the blue dress and shirt brings richness to the photo and the added stripes and dots are just right.
blues and greys.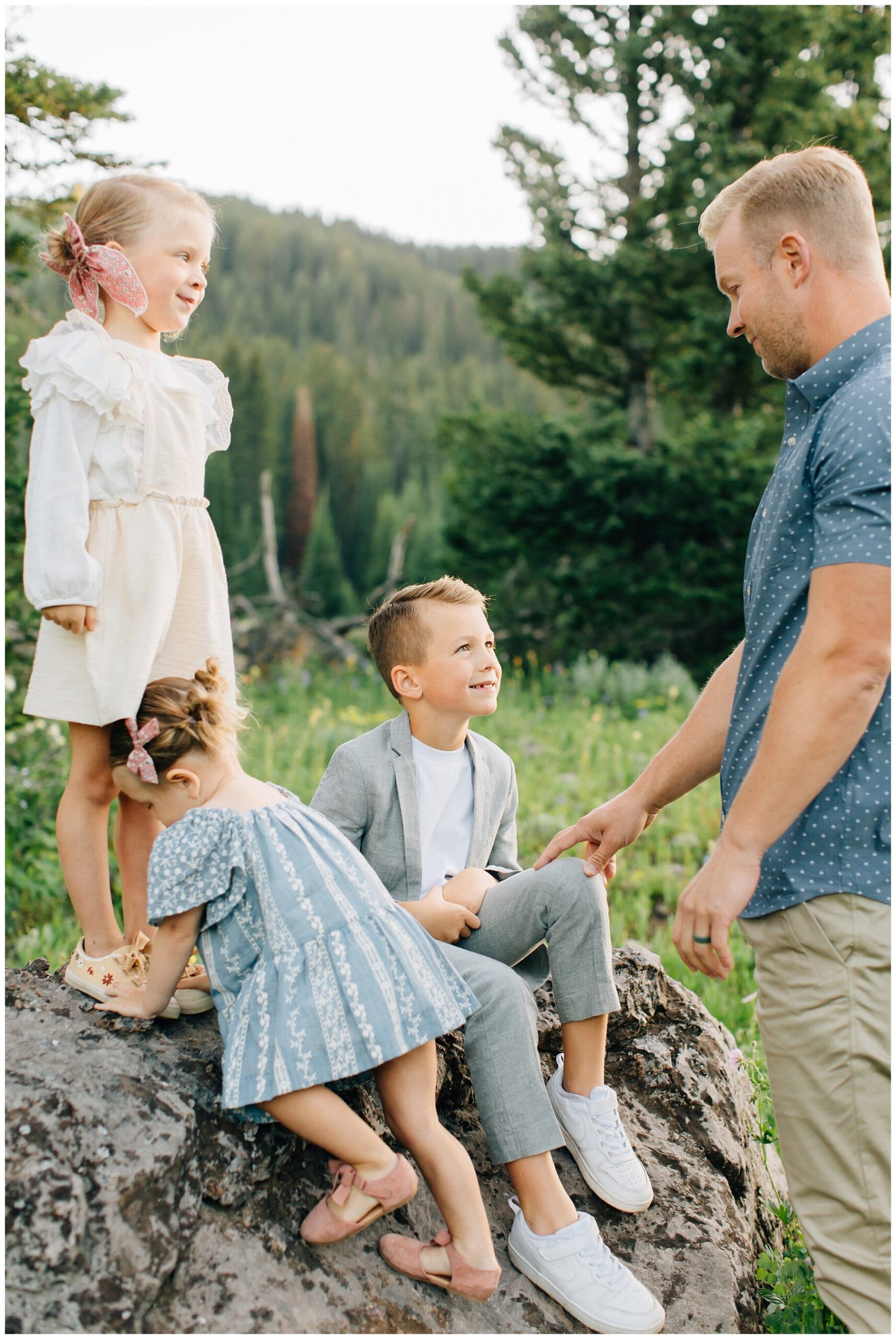 Brianne Weston Photo
Faded blue tones blend perfectly with grey and white for these spring family photo outfits. The look has a dressy vibe with the girls outfits but added playfulness from the boys sneakers. A lovely little family combination here.
Not pictured in this photo, mom is wearing a creamy ivory jumpsuit to balance out the blues.
beautiful baby blue.
Julia Berolzheimer
First of all, we can't get enough of Julia's looks. As you'll see her photos turn up three times in this post because she has an incredible knack for style. This look is so precious and a great option for spring photos.
The feminine blue dress with all of the delicate details along with crisp white sandals creates such a fresh overall feel. For our mood board above, we paired a blue floral dress with more white tones and muted navy to bring together a whole family ensemble.
Feminine florals.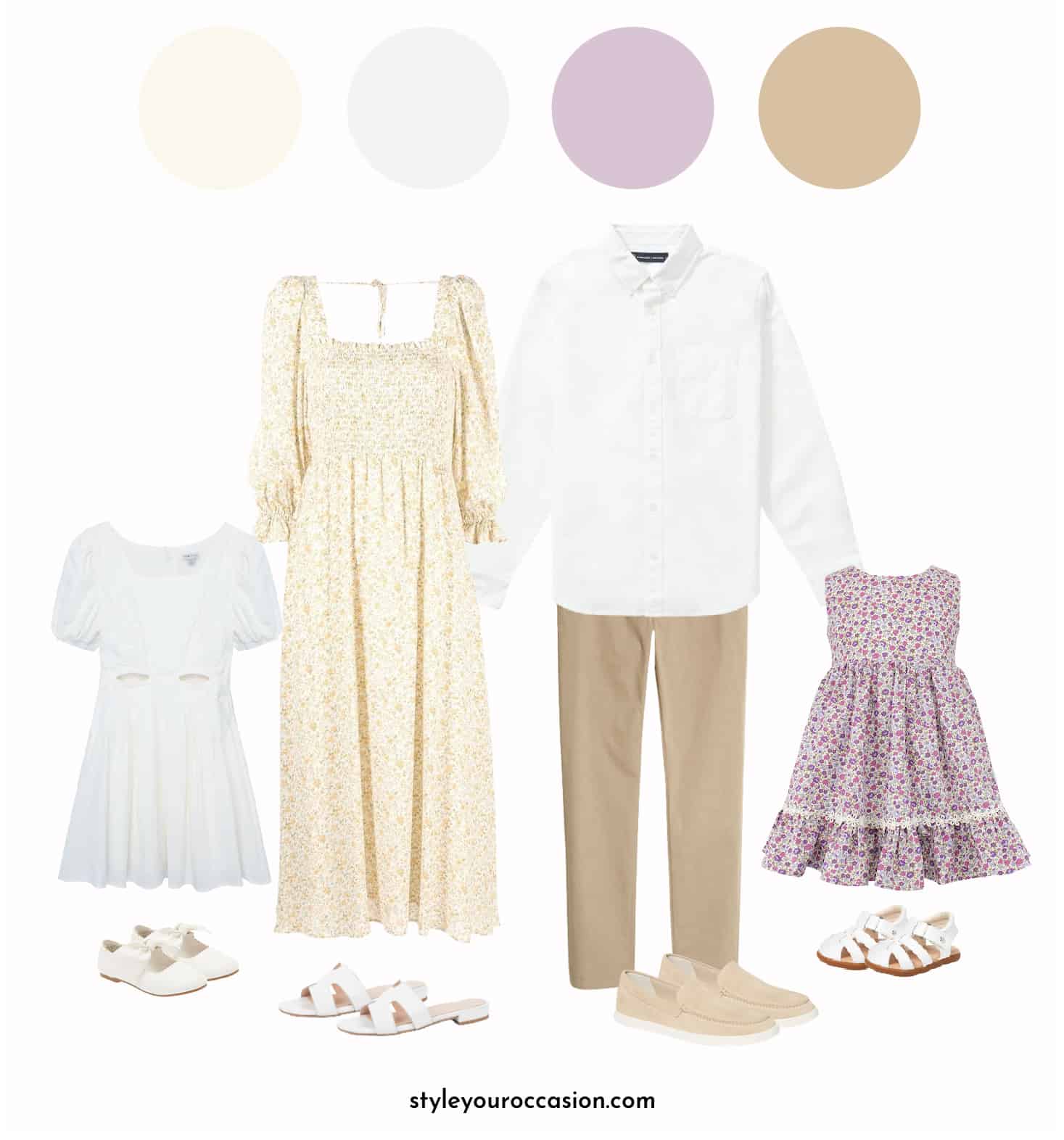 shop the look:

Floral patterns are a no brainer for spring family photo outfits – it is spring after all!
These looks bring in pops of floral along with solid colors, creamy neutrals, and other patterns like plaid. Combining a subtle floral with neutral stripes or polka dots is a great way to add even more interest without being overwhelming.
blush and neutrals.
Keetch Miller Photography
Next up on the list of outdoor spring family photo outfits, we love the combination of floral and plaid in this photo and the look has a modern and slightly edgy feel. With the cityscape backdrop this outfit combo is perfect, fun and playful while still elevated and classy.
neutral + pastel yellows.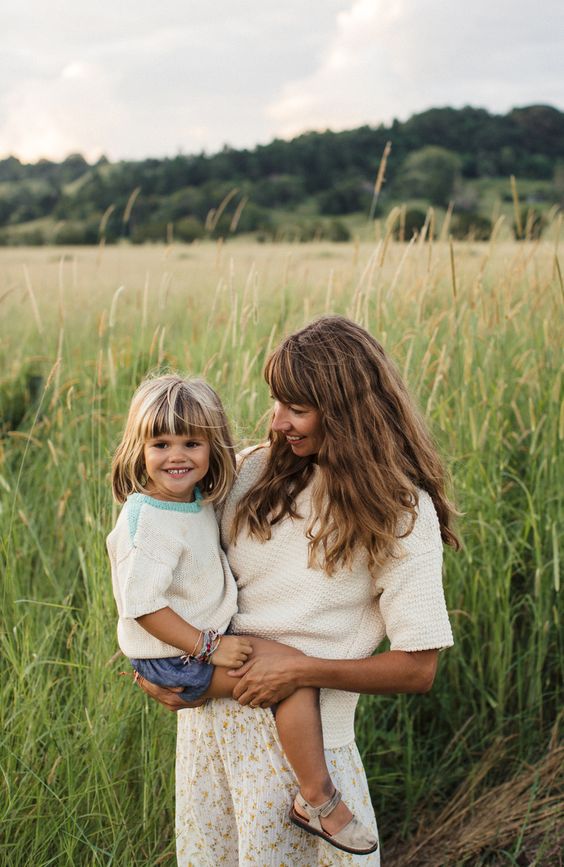 Babyccino Kids
One of our favourites on the list, this subtle mix of floral and knits is perfect for a cooler spring day. The look is relaxed and casual but still has an elevated feel.
florals + earth tones.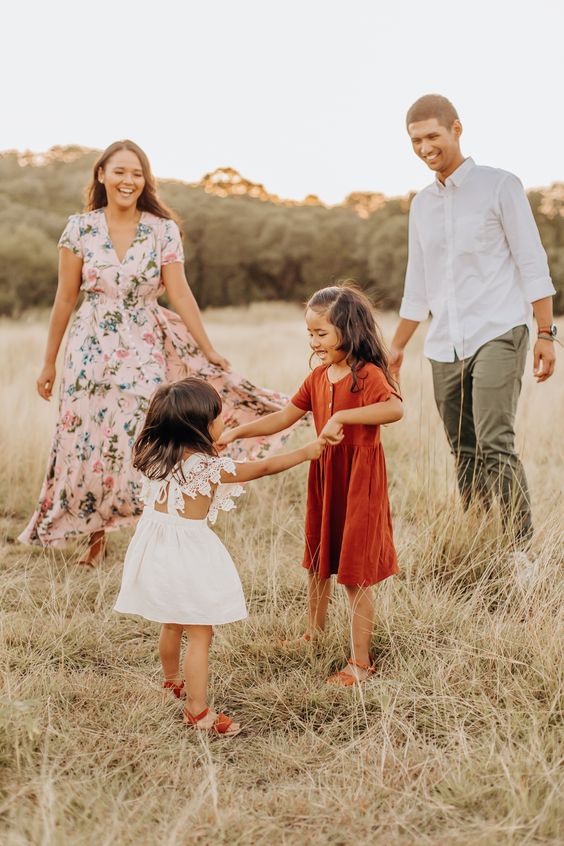 Bianca Flanagan
How cute is this family?! The girls are wearing solid white and red while the mom dons a gorgeous flowing floral dress. Dad is dressed in crisp white and light olive green to tie the look together.
When it comes to spring family pic outfits, don't be afraid to add in a pop of bold color. The key is to combine bolder colors with more subtle tones so you don't have one outfit that is distracting from the rest.
Neutral stripes or gingham.
shop the look:

Blending different variations of subtle stripes or muted colored gingham is a wonderful way to add interest to outdoor spring family photo outfits. Gingham definitely feels springy to us and is such a pretty pattern, it's definitely one we are drawn to often.
sage green + neutrals.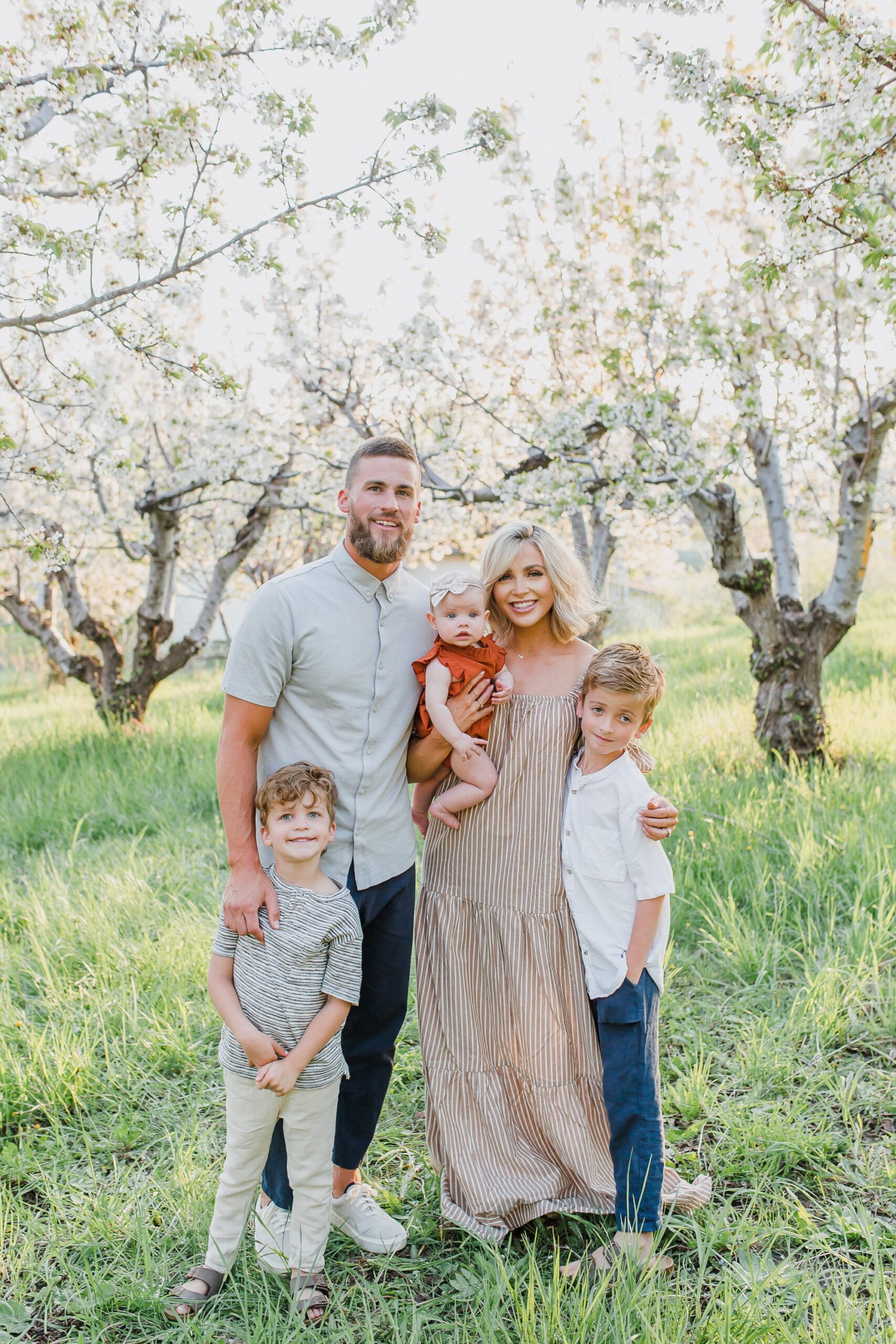 Cara Loren
The warm tones work wonderfully for this spring family photoshoot and we love the addition of stripes. Even though there are two variations of stripes it totally works and this crew looks incredibly cute together.
shop the look:

matching in gingham.
Off-on Clothing
We are always a fan of mom & mini matching when it comes to beautiful dresses and outfits like this. These gingham dresses are so sweet, fitting for spring, and have a perfect touch of whimsy. You can get these exact dresses at Offon Clothing.
For spring family pic outfits don't be afraid to match, just go with subtle patterns and colors when choosing pieces that match exactly. And, be sure to add in other outfits as well!
shades of pink.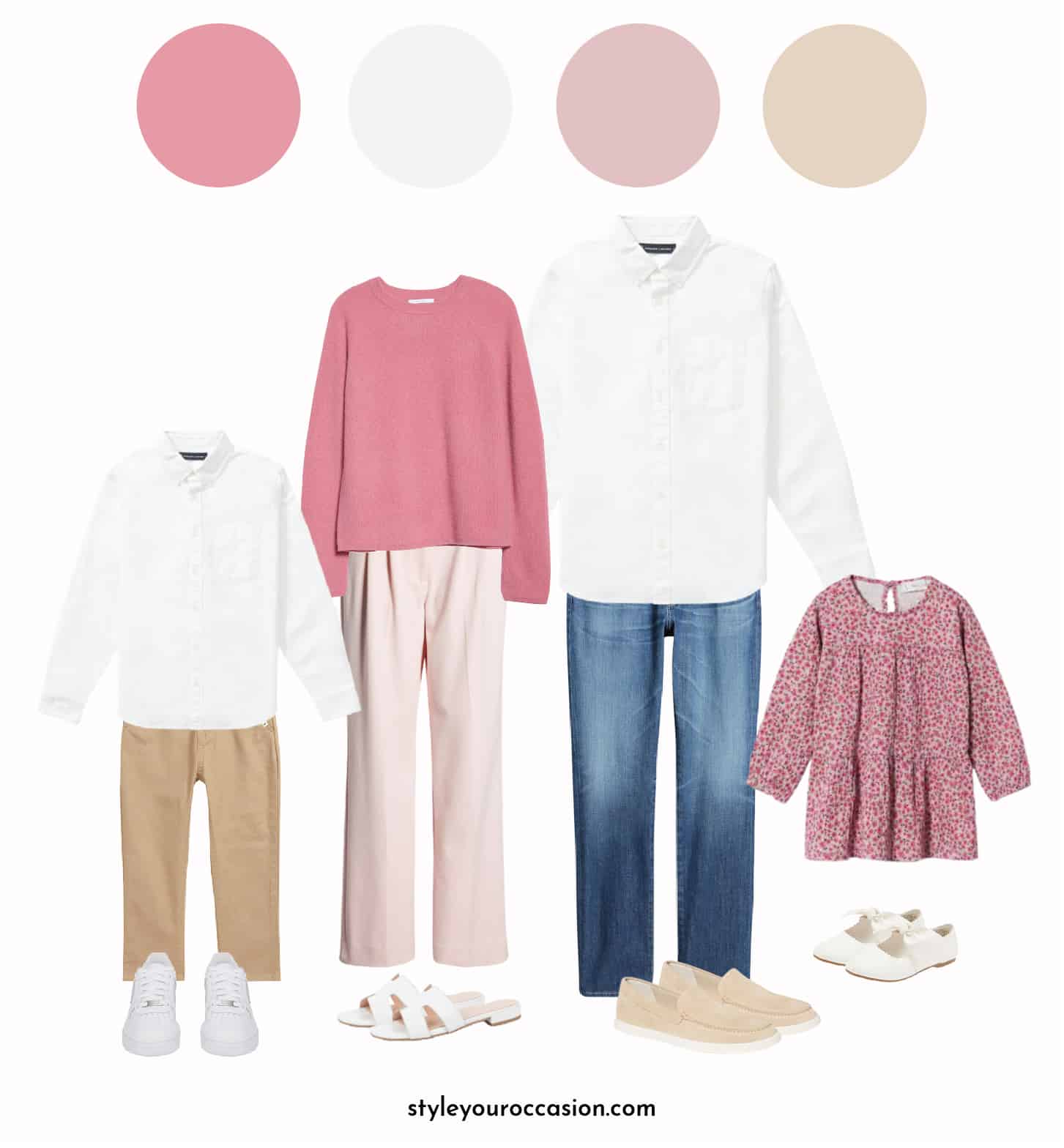 shop the look:

When it comes to spring family pic outfits, pink is a great go-to shade. Muted blush pink tones combined with darker pink like dusty rose gives a springy vibe, and these shades of pink blend wonderfully with neutrals.
mauve + blush.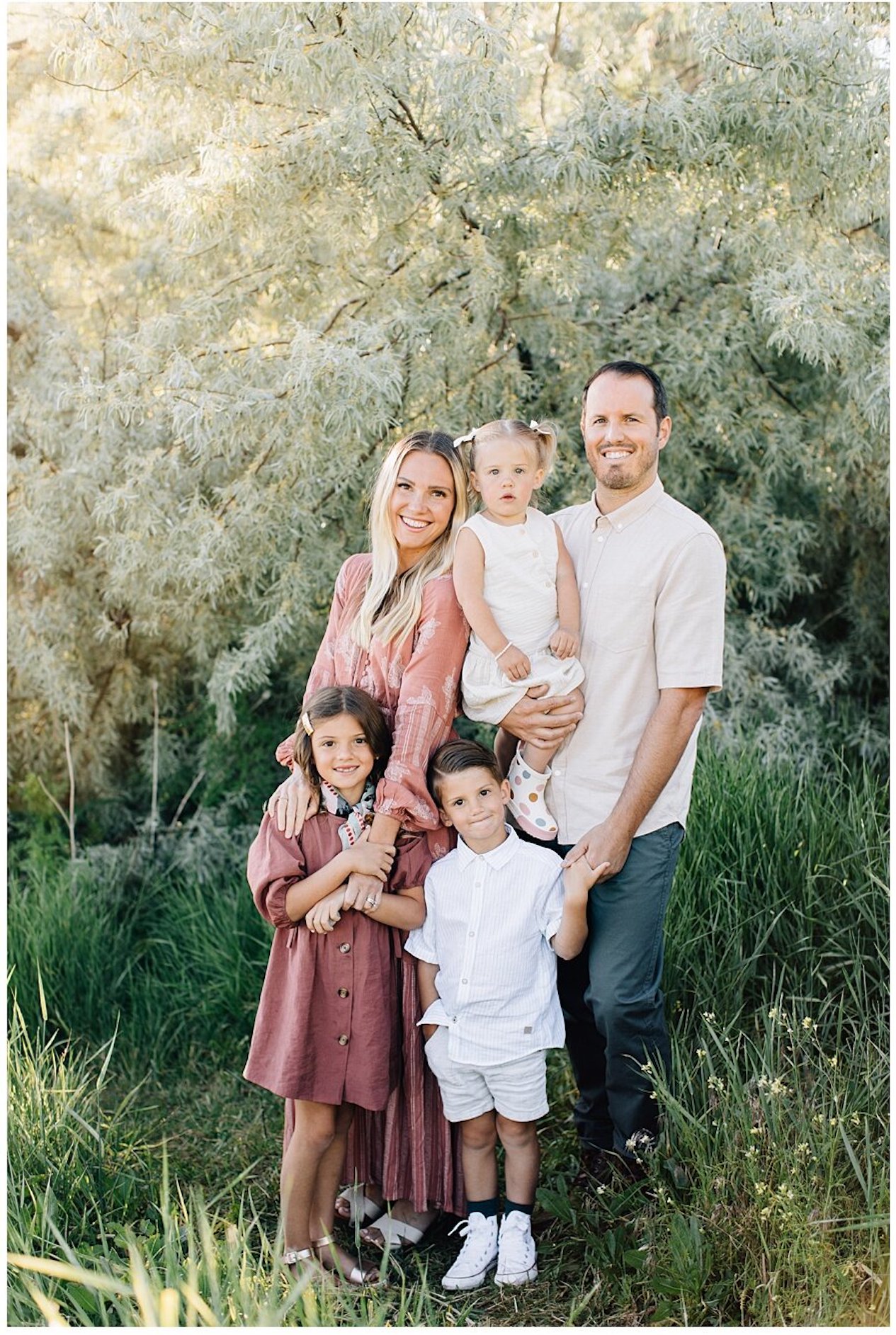 Breanne Weston Photo
This family of five looks absolutely wonderful in this outfit combination of light pink, medium pink and darker dusty rose. The colors blend well with the pops of white and the charcoal blue pants on dad definitely works.
beautiful baby pink.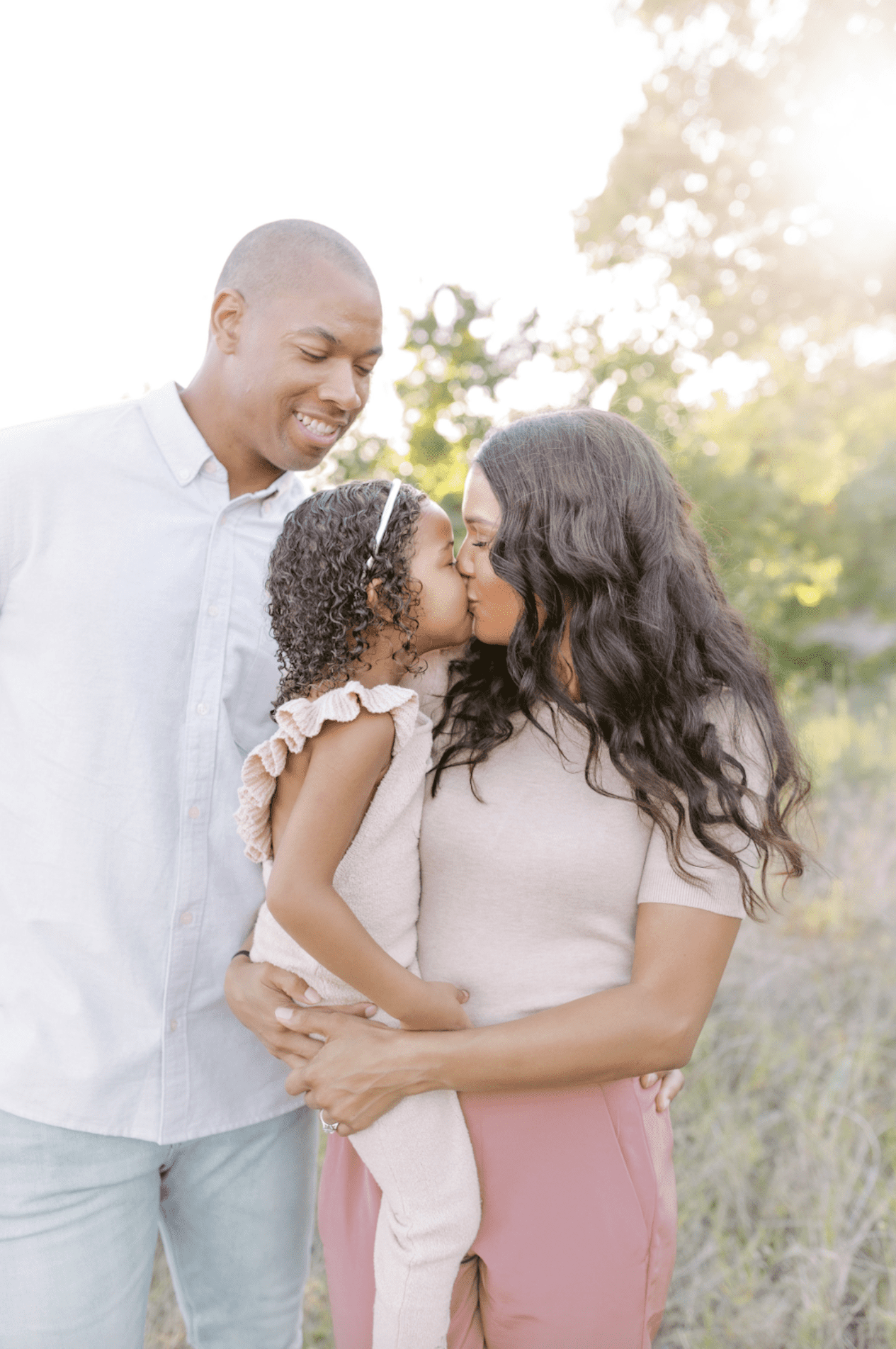 photo: Lauren Marks Photography
This lovely little family looks fantastic in this spring photoshoot outfit ideas option, and we love the pink-on-pink in different shades. It works really well here and has a great spring feel to it.
When wearing pink for spring family photos, be sure to add in other neutrals. And, if you want to go with more colors, choose subtle shades like light green or baby blue.
Casual in denim.
shop the look:

Good news – a spring family photoshoot does not have to be formal!
If you find putting on a flowy dress isn't your thing, and you know your kiddos will be into dressing up, go with a more casual look. Nice jeans, sneakers, a pretty cotton shirt, and fine knits can look just as great and will reflect your laid back family vibe.
spring showers.
Olivia Jeanette
Next on the list of spring photoshoot outfit ideas, we love this spring look for a fun, casual photoshoot while out and about exploring the city. The denim, sneakers, and coats keep it casual but also practical should rain roll in.
You also don't have to worry about the little ones dirtying up their clothes with this style, just have fun and enjoy the shoot!
crisp whites + denim.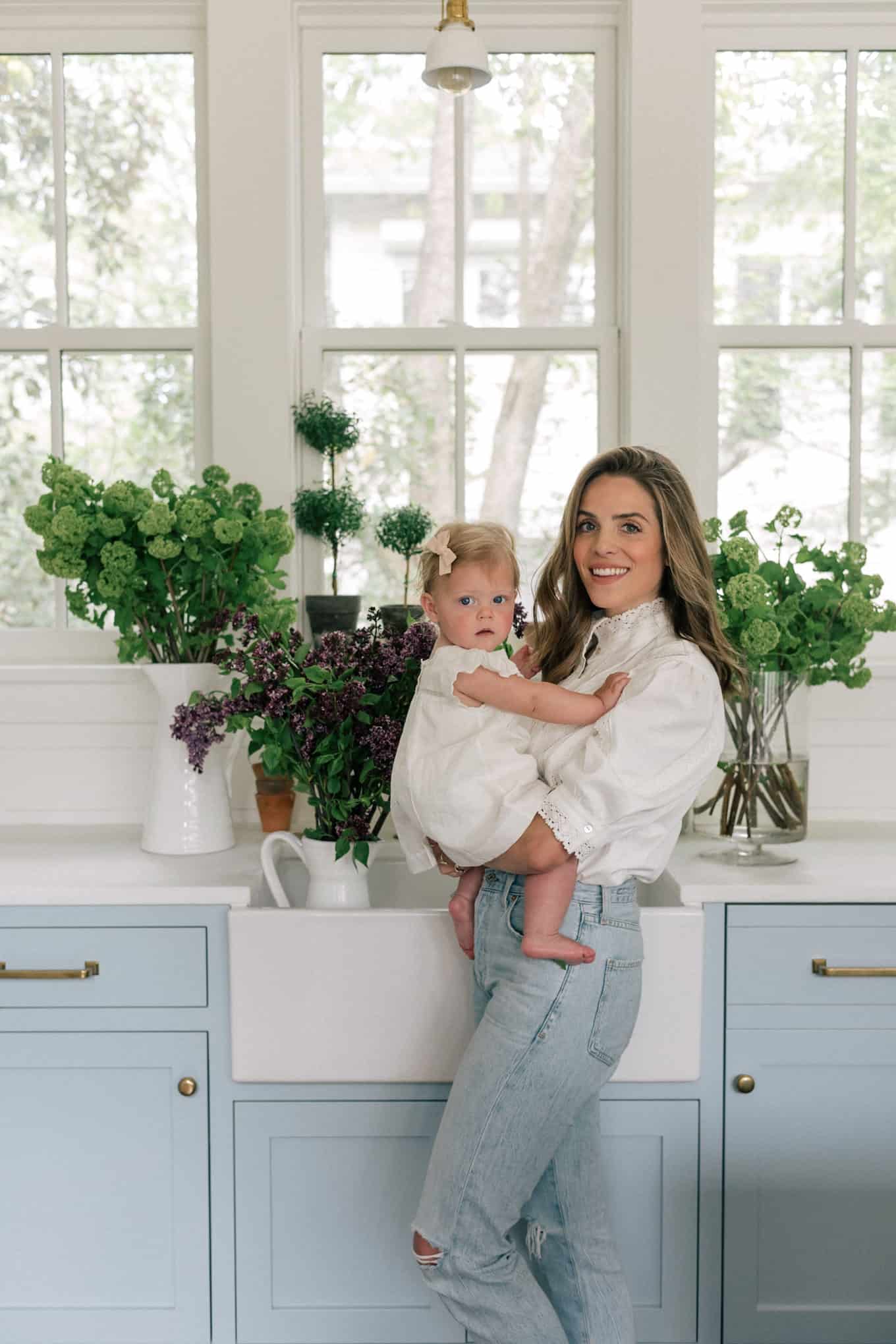 Julia Berolzheimer
Ah, Julia again. This spring look is another one of our favourites on the list and definitely meets our sense of style. Worn-in vintage style jeans look great with the prettier eyelet cotton top. The little girl in a simple white linen dress and fresh spring flowers in the background — perfection!
We improvised this look for a bigger family photoshoot in the style board above, bringing in more denim, casual knits, and a pop of warm muted yellow.
We hope you have enjoyed this list of indoor and spring family pic outfits and feel inspired for your upcoming spring photoshoot! Which look is your favorite?
More Photoshoot Outfit Inspiration You'll Love!
Family Photo Outfits Summer Edition: 15+ Perfect Looks
18+ *Modern* Fall Family Photo Outfits for Outdoor + Indoor Sessions
15+ Neutral Family Photo Outfits For Every Season
20+ Stunning Beach Maternity Photoshoot Ideas
What to Wear to Engagement Photos: A Guide for Neutral, Minimal Style
Winter Family Photoshoot Outfits
15+ Classy Boudoir Outfit Ideas
15+ Classy Birthday Photoshoot Ideas
Christal Sczebel is an entrepreneur, published author, and content creator. Over the past decade she has worked in the digital media field building successful websites for both food and fashion. She has a natural affinity for minimal, timeless fashion, neutral home decor, and styling.
Here on Style Your Occasion, Christal is the Editor-in-chief and brain behind the aesthetic. She hopes you love the this space and the inspiration you'll find!