Pink and white nails are chic, classy and a perfect manicure pick! If you are looking for inspiration you'll love these 23+ pink & white nail designs including a mix of pink and white ombre nails, classic pink & white nails, and fun pink and white gel nails.
Chic Pink and White Nails You'll Love
Pink and white nails are one of our favorite color combos. This classic pairing can be soft and feminine or bright and bold, and everything in between. And, since Pantone announced "Viva Magenta" to be the Color of the Year for 2023, we expect to see plenty of stunning manicures with these gorgeous shades.
We've gathered 23+ breathtaking pink and white nail designs to inspire you to try out this chic color combination. We've got classic pink & white manicures as well as bold looks to choose from, so keep reading and discover new nail designs to try!
Classic Pink and White Acrylic Nails & Gel Nails

Pink and white nails have the classy and elegant style of a French manicure with a more colorful, feminine touch. Check out our top picks for classic pink and white nail designs.
French Manicure w/ Pearl Accents
These pearl bead accents are a gorgeous way to upgrade the classic style of a 'pink & white' French manicure. This stunning look has an elegant, feminine touch that we are so obsessed with.
You can sport this pink and white beauty any time of the year, while attending a wedding, during a Christmas party, or just if you want a beautiful and unique look to show off during the week.
Rounded Nude Pink Nails w/ White Tips
This lovely pink & white manicure has a classy, minimal style that would add a chic touch to any look. We love the modern twist on the French manicure using rounded tips of squares.
This look proves that sometimes simple is the way to go. A timeless and stunning classic like French tips will forever be a look we can depend on, and we love seeing modern variations of this timeless style.
What does pink and white mean at a nail salon?
Asking for pink and white nails at a salon usually implies a gel French-tipped mani with a pinkish nude base. While you can use these colors for any nail design, classic pink and white gel nails are a modern twist on the timeless style of a French manicure.
Pink Square-Shaped French Manicure
We love the soft pink paired with French tips and how it adds a lovely pop of color to a classic nail design.
You can't go wrong with a timeless style like a French manicure, and this stunning shade of pink elevates these nails. This elegant style can be worn year-round for a chic and refined look.
French Tipped Nails w/ Gem Accents
The crystal accents on these gorgeous pink & white nails are so eye-catching. We love the glamorous look of these nails, from the almond shape to the French tips and the crystals.
If you're looking for a sophisticated pink and white style to wear to an event this year, these stunning nails are a must.
What is the difference between French manicure and pink and white?
The colors and nail techniques used are the main differences between these styles. A French manicure is a classic style using a nude or pink nude nail polish base with white polish on the tips. Pink and white are similar, but the base is always a shade of pink, and the manicure typically uses gel polish.
These styles are gorgeous and timeless, so you can wear either for a refined look. But French manicures are better if you prefer a classic style with basic polish, while pink and white nails are best to add more color or if you prefer gel nails.
Pink and White Ombre Nails

Ombre is another gorgeous and classic manicure style that we come back to time and time again. Pink and white are the perfect colors for a gorgeous ombre look, and we've got some stunning nail designs here to prove it.
White Nails w/ Pink Glitter Ombre
We love the contrast of the creamy white nail polish and the shimmering pink accents.
The ombre effect and hot pink flakes give these nails a modern look. This manicure is a beautiful fusion of elegant and playful, perfect for anyone who wants to add some spice to a classic nail look.
Pastel Pink & White Ombre Nails w/ Gems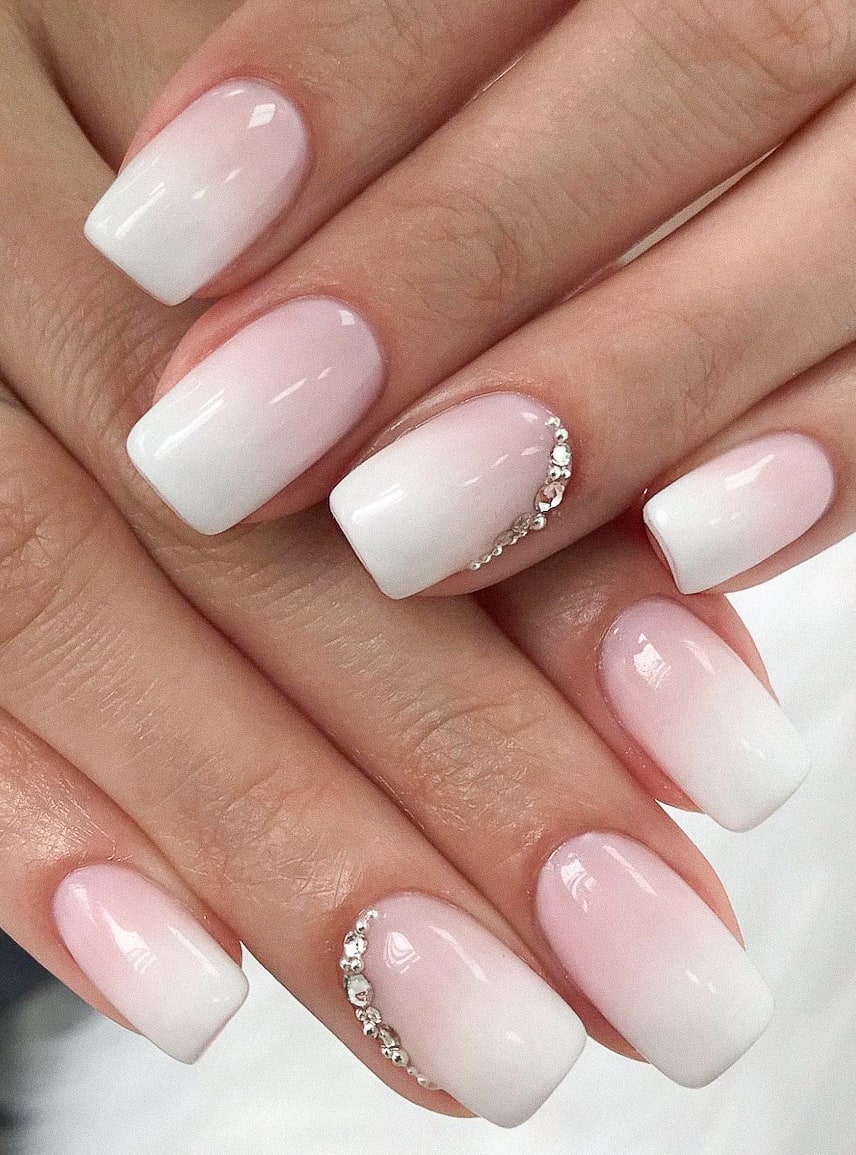 The blend of pastel pink and white gives off a subtle ombre effect, and the gem accents add a glamorous touch.
This gorgeous nail design is so refined, and the accents create a dazzling and unique look. This manicure could be worn for any occasion, from an everyday look to stunning bridal nails.
Pink Coffin-Shaped Nails w/ White Accents
We love a unique twist on a classic style. This ombre pink and white manicure is a stunning design, and the soft pink tone with asymmetrical white tips is an alluring look.
Coffin-shaped nails are an excellent choice for this style and add even more of a distinctive style. If you want to spice this look up even more, try using a silver glitter polish to add accent lines along the white tips.
Cute Pink and White Nail Designs

French tips and ombre designs aren't the only ways to rock these beautiful shades. Pink and white can be used for any nail style, so check out these stunning manicures to find inspiration for your next nail look.
Almond Shaped Nails w/ Pink & White Waves
Waves are a popular design for nails, and this lovely manicure shows you exactly why. These wavy accent lines are a cute and playful look on these nails, and the bright pink tones add a flirty feel.
These nails are definitely giving us Barbiecore vibes, so complete the look with these cute Barbie hair styles.
White Nails w/ Hot Pink Text
Hot pink and white are a vibrant and trendy combo, and the word print design has a cool and edgy feel to it.
The bright shade of pink makes these nails really pop, although you could use a lighter shade for a more subtle style. You can definitely rock these nails in the summer for a bold beach day look.
Bright Pink & White Negative Space Nails
Negative space nails are one of our go-to looks because you can style the design however you want. The rich shade of pink paired with the nude and white is eye-catching and chic, and the long almond-shaped nails look so elegant.
This mani is a perfect choice for a fun and flirty date night look, and you can mix and match shades of pink however you want to create your own style.
Salmon Pink + White Wavy Nails
This gorgeous shade of salmon pink is a unique touch for pink and white nails and really makes this manicure stand out.
We love the combo of thick pink swirls and delicate white accent lines. If you want these nails to pop even more, add some silver accent beads or a solid-colored accent nail.
Pink + White Polka Dots
Baby pink is the perfect color to pair with white for this polka-dot manicure. This timeless pattern and the soft pink shade give these nails a 1950s vibe, although the French-tipped accent nails add a modern edge.
The light tones of pink and white give these nails a spring aesthetic, so try these nails for a cute look in the springtime.
Pink & White Abstract Nails w/ Black Accents
These nails have a modern and edgy feel that we absolutely adore. The bold, bright pink is such a fun and gorgeous shade, and the abstract style accent nails are a chic touch.
The black splatter on each accent nail makes this manicure stand out from the rest. This is another great choice for lovely summer nails, or you could wear it any time of the year to add some vibrant color to your everyday look.
Soft Pink + White Almond Nails w/ Waves
We are so in love with the pairing of this soft shade of pink and the translucent light pink with white. This gorgeous manicure is perfect if you want a classy yet dreamy nail design.
The combo of solid nails and wave accents make these nails so alluring, and the light tones make it a great look to wear anywhere from weekend brunch to the office.
Pink + White Cow Print Nails
Talk about a trendy combo. Pink and white are such a chic color combination, and it makes perfect sense to pair it with a popular style like cow print.
These vibrant nails have a captivating look that makes them ideal for the bold fashionista or anyone looking for a daring and youthful aesthetic.
Pink & White Geometric Nails
Geometric nails will always be an excellent choice for a stunning nail look. The different shades of pink pair together perfectly, and the white accents add a brightness that helps this manicure pop.
You can really play around with this style and make it your own. Use bright or dark shades, try a white base with pink accents, or go for a more intricate geometric design.
White Flowers on Pink Nails
Vibrant pink and dainty white flowers are a sweet and dreamy design that will always be in style.
This bright shade of pink and the adorable white flowers could be worn in spring or summer. Pair it with a cute and feminine dress for the ultimate fun and flirty look.
Pink Nails w/ White Half Moons
This manicure has a gorgeous iridescent look, and we are here for it. The stunning metallic pink accent nail is a bold addition, and the white half-moon details give this manicure a chic aesthetic.
This nail design has a cool and daring feel, making it perfect for a night of drinks and dancing with the girls.
Swirling Pink + White Nails
Swirling accent lines are the perfect pattern to use with such beautiful colors. The swirls and different shades of pink make this playful manicure look so intriguing, and we love the addition of solid nails to mix things up.
This nail design is perfect for long nails so that we can see plenty of swirly lines and black speckles. You can wear this look on the classic square shape or go for your preferred shape.
Pink Nails w/ French Tips + Hearts
Pink and white are great colors for such a sweet and romantic look. The combination of matte pink with the glossy French-tipped nails is so stunning and eye-catching.
This is a gorgeous look for Valentine's Day or even for your next anniversary. Go with the bright pink used here, or choose your favorite shade.
Pink + White Grid Manicure
These nails have a laid-back street-style vibe that we love. If you want to rock some pink and white nails but don't want a look that is too girly, this is definitely the manicure for you.
Even though this design is simple, it still has a sleek and edgy vibe. If you want the pink to be more subtle, try a lighter shade or swap the color and use crisp white for the base and pink for the grid lines.
White + Pink Nails w/ Rose Art
This beautiful style has a charming fairytale vibe that we adore. The long almond nails and rose details give this manicure a sophisticated feel, and the nude pink makes the perfect canvas for this nail art.
The combination of white and cream accents elevates this look and makes it even more dreamy. This gorgeous floral design is definitely a spring look, so wear this romantic design for a date night this spring or during Valentine's Day.
Retro Pink & White Nails
We are so in love with the retro vibes of this manicure. The different patterns add a cute and playful look to these nails, but the light tones of pink and white make this nail design subtle.
These trendy nails are perfect for a fun look this summer, or you can try this nail design before your next night out.
It's obvious, pink and white nails are a gorgeous pairing! You can choose a timeless design or go for something bold and unique. Use this style guide as inspiration for your next manicure with your favorite shade of pink!
More Nail Inspiration You'll Love:
21+ Pink and Red Nails For A Fun & Flirty Vibe
21+ Stunning Mauve Nails With A Feminine & Youthful Vibe
17+ Gorgeous Sage Green Nails To Inspire Your Next Manicure
21+ Stunning Nude Pink Nails & Nude Marble Nails You'll Love
21+ Chic Neutral Nails For A Classy, Minimal Aesthetic
18+ 70s Nails That Have A Groovy Yet Elevated Vibe
21+ Perfect Periwinkle Nails for Spring & Summer
21+ *Stunning* Purple Ombre Nails To Copy in 2023
Christal Sczebel is an entrepreneur, published author, and content creator. Over the past decade she has worked in the digital media field building successful websites for both food and fashion. She has a natural affinity for minimal, timeless fashion, neutral home decor, and styling.
Here on Style Your Occasion, Christal is the Editor-in-chief and brain behind the aesthetic. She hopes you love the this space and the inspiration you'll find!