Wondering how to master the grey pants, brown shoes outfit combo? Get inspiration for how to wear brown shoes with grey pants in a modern and stylish way for men. Brown shoes, grey pants never looked so good.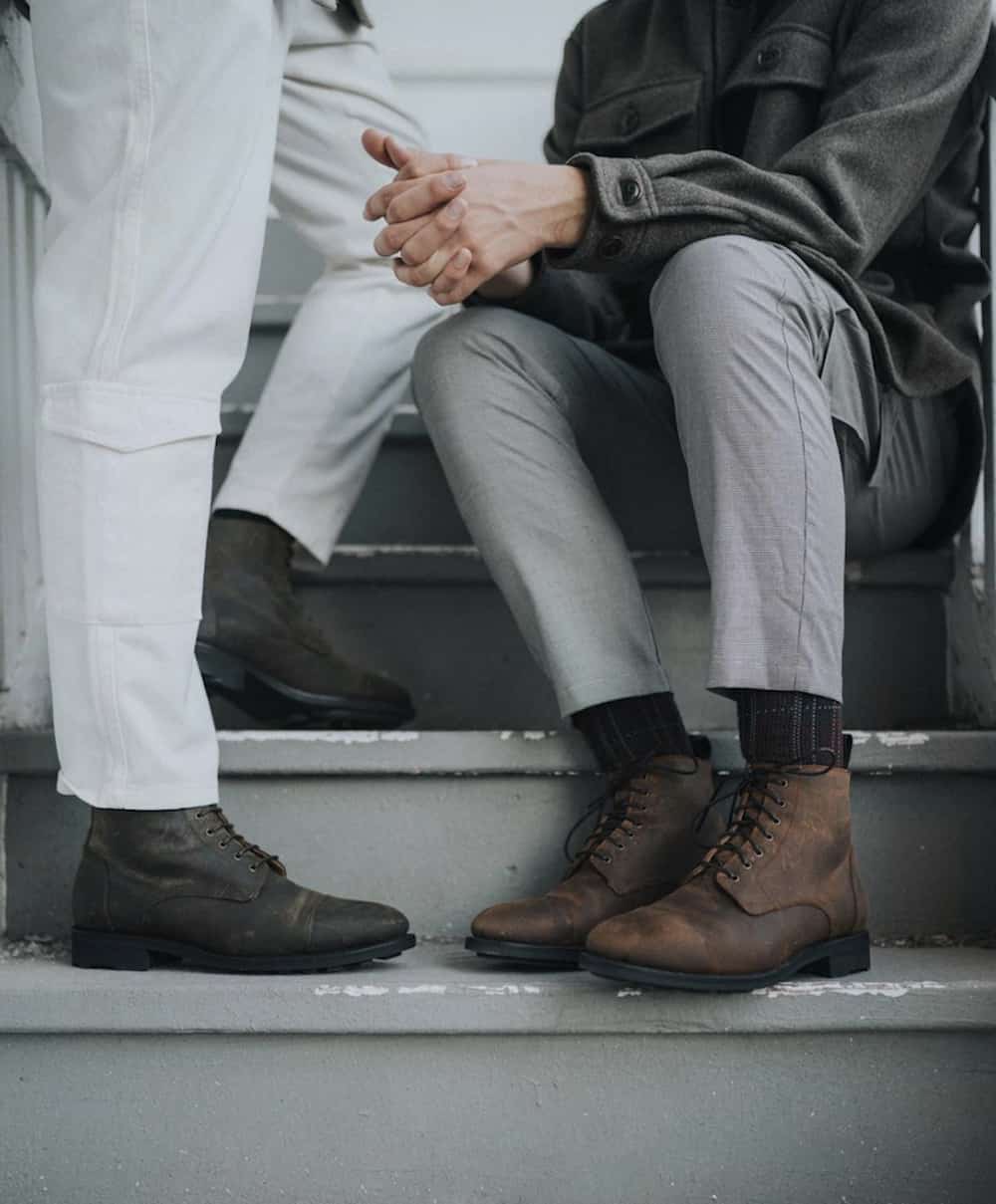 Grey Pants Brown Shoes: A Classic Look
If you're a fashion-forward gentleman and questioning whether grey pants and brown shoes match, it's time to settle it once and for all. Yes, they do and they look fantastic together!
The grey pants and brown shoes combo is becoming increasingly popular, so don't be surprised if you start seeing it more often. There are a lot of ways that this outfit can be mastered. With the right type of pants and shoe styles, you can combine grey pants with brown shoes for both casual and formal occasions.
Read on to learn more and get modern and stylish outfit inspiration.
get the look:

Can you wear brown shoes with grey pants?
Yes, you can! The key is to match the right shade of grey pants with the right brown shoe to create a bold style that is both modern and classic.
The type of grey pants and shoes matter depending on which event you're going to. For something more casual, a pair of grey chinos or jeans and brown sneakers are a good match.
If you need a business-casual look, try grey chinos with brown Chelsea boots or loafers. Your friend's wedding? Better pair your Italian leather, handmade dress shoes with some nice grey slacks and you've all but sealed the deal for having the sharpest outfit.
Pairing brown shoes with grey slacks creates a look that stands out from the crowd and adds flair to an outfit. The sharp contrast is sure to draw attention and compliments.
Which shoes are best for grey pants?
There are many different shoe styles that work with grey pants, including:
Oxfords, Loafers, and Derby shoes – Brown dress shoes are a great combo with grey slacks. This pairing is suitable for business-casual or more formal occasions.
Chukka boots – Chukka boots aren't something most men would think to put here but trust us when we say they're a fantastic addition to any outfit with casual grey pants.
Chelsea boots – Brown Chelsea boots are a timeless addition to a mans wardrobe. They've been around for a while and are still considered some of the most fashionable footwear to own due to their appeal and versatility. They look great with both grey dress pants, and more casual styles like grey jeans or chinos.
Pairing brown shoes with grey pants is a classic example of timeless fashion.
Brown Shoes, Grey Pants Outfit Ideas
If you want to put your best foot forward, you should have a nice pair of brown shoes on to pair with those grey pants! If you're having issues deciding on an outfit, don't worry – we have you covered.
Just take a look at a few examples below.
Charcoal Pants, Brown Shoes + Blazer
get the look:

This outfit is great for occasions where you need to dress up a little, but not to the nines. This combo will make you look fantastic with charcoal grey pants, brown Derby shoes, and a blazer or sport jacket. Also, the charcoal grey pants outfit is trendy in up-scale neighborhoods.
A nice polished pair of brown dress shoes, whether you go with loafers, Derby shoes, or Oxfords, always look excellent next to charcoal grey pants. You can go with a cognac brown, or a deeper brown color to master the combination.
Grey Suit + Brown Loafers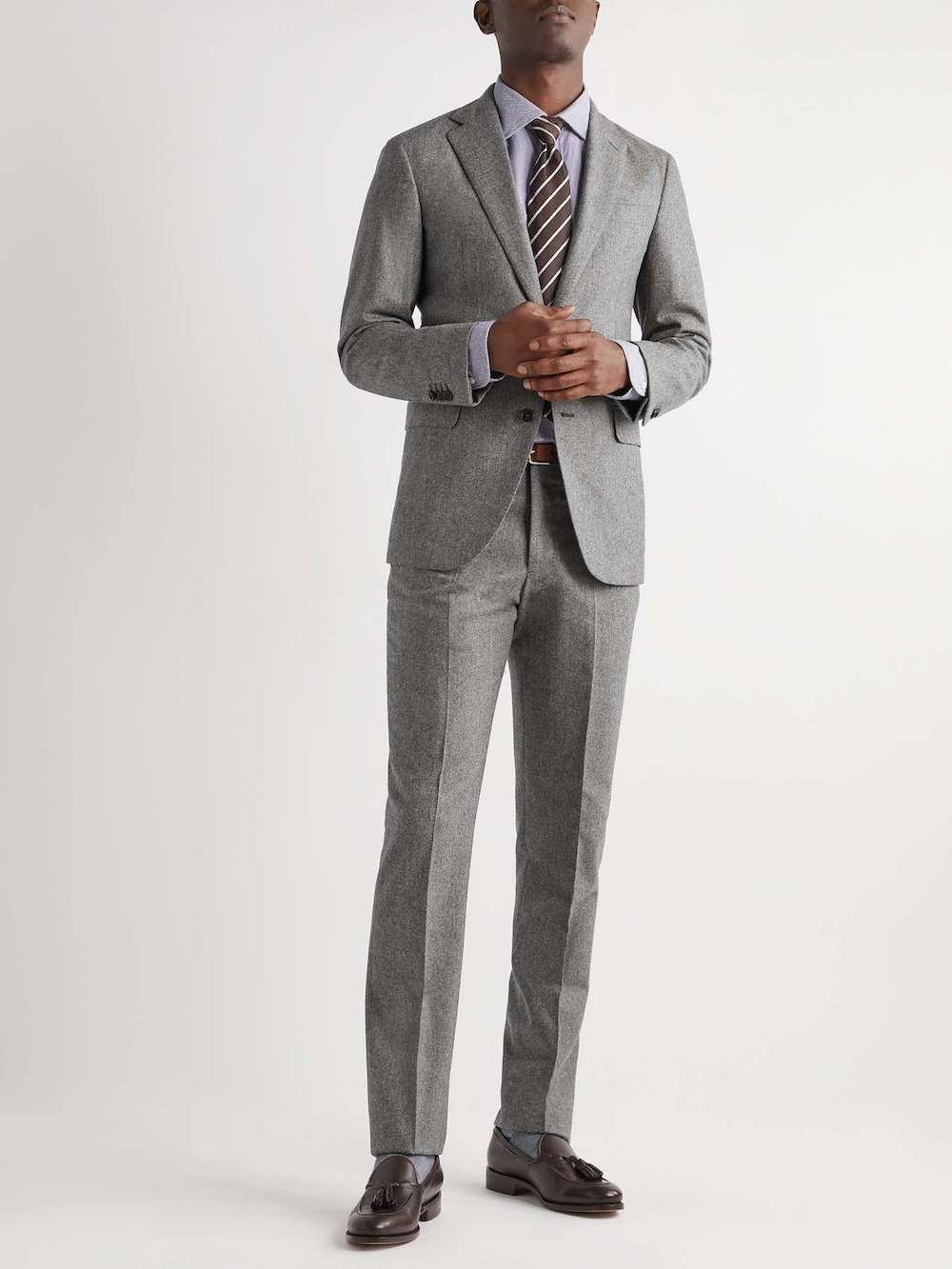 get the look:

For a formal occasion, like a wedding, try pairing a classic grey suit with polished brown loafers. Different shades of grey and brown can create a classy vibe and tie the outfit together.
This is probably why grey pants and brown shoes work so well together. The style can range from a simple, clean-cut look to a sophisticated and elegant fit.
Grey Chinos + Brown Shoes
get the look:

Chinos are an extremely versatile style of pants with a plethora of shades of grey that can work with brown shoes, like in this particular outfit. Likewise, a denim jacket paired with a basic t-shirt can make your outfit complete.
This outfit is perfect for everyday activities and is both stylish and laid-back.
Grey Chinos + Brown Sneakers
get the look:

This is another example of a great laid-back outfit that combines grey chinos with brown shoes. Brown suede sneakers are very fashionable and give white sneakers a run for their money.
Paired with casual grey chino pants, brown suede sneakers give the whole outfit a stylish and elevated vibe.
Light Grey Dress Pants + Brown Boots
get the look:

Light grey slacks and brown boots are a great combination for business-casual and some more formal events. Also, this particular outfit is flexible enough for some less formal occasions.
Swap the sweater for a matching suit jacket, or plaid sport coat to create a more formal appeal. Or, keep the sweater for something more casual.
These brown Rome Boots from Taft are one of our favorite choices when it comes to brown boots. They are extremely well-made, classic, and incredibly versatile.
It's no wonder they have over 1,400 5-star reviews. For the price, it's hard to pass them up!
Grey Slacks + Light Brown Chelsea Boots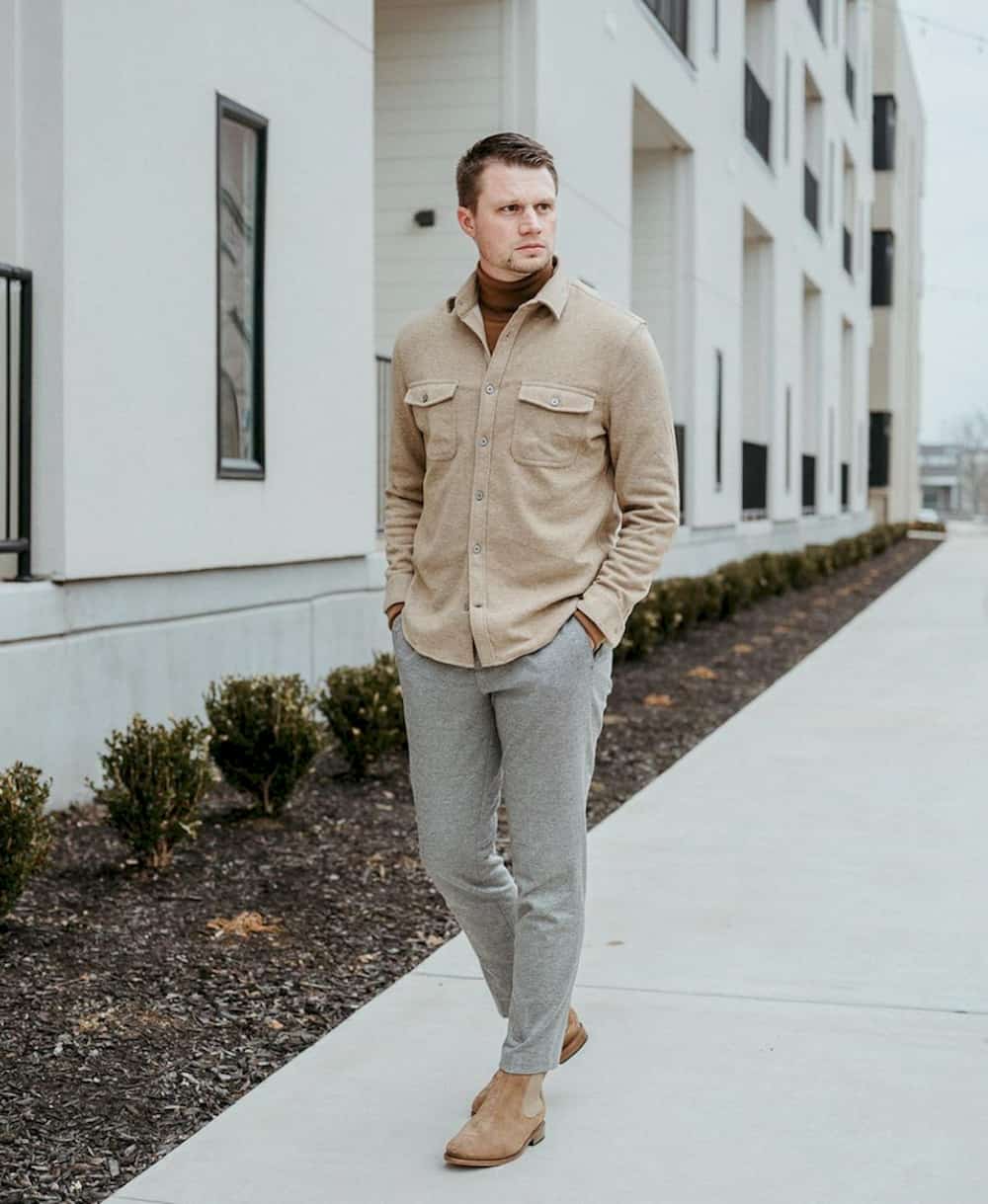 get the look:

When you want a casual outfit that's great for everyday wear, but you still want to look stylish, this is one to try. Pair light grey slacks with light brown Chelsea boots and a fleece button-up shirt for an outfit that is laid-back, but still elevated.
The light tones of they grey and brown complement each other, creating an almost monochromatic look to this easy-to-wear outfit.
Dark Grey Trousers + Dark Brown Boots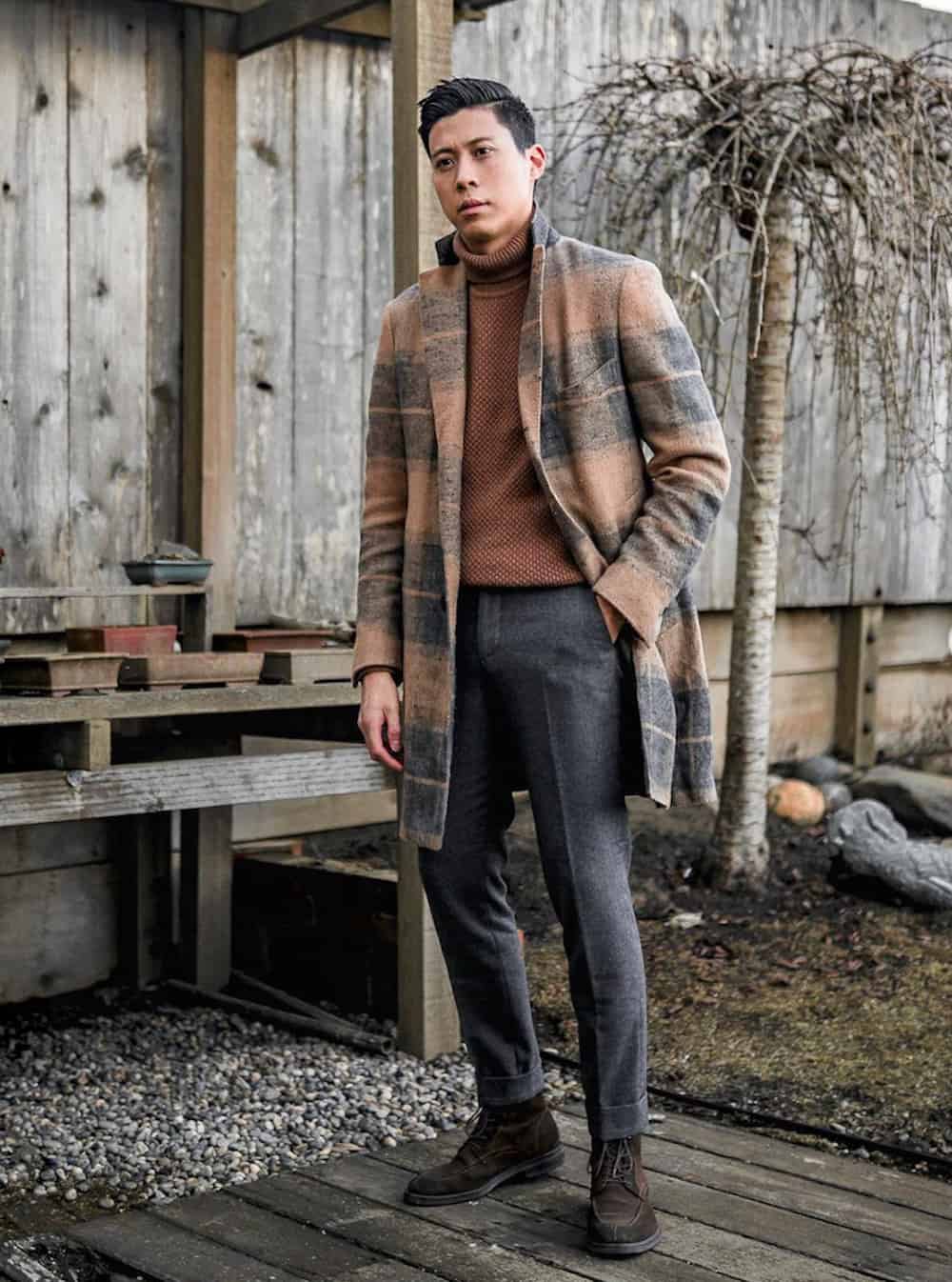 get the look:

Opposite to the last outfit, combining dark grey trousers with dark brown boots also creates a look that is modern and classic. This outfit combination would be great for an occasion you want to dress up a bit for.
The dark-on-dark has a masculine vibe and looks great with complementing colors like camel and rust brown.
Why do grey and brown look good together?
Since grey is a neutral tone, it works really well with other neutral colors. While grey comes in several different shades, it can work with brown and not clash. Additionally, since opposite-toned colors tend to look good together, the warm tone of brown pairs well with the cooler tone of grey.
Matching Brown Shoes with Grey Pants
Since the two colors have opposite tones, it's easy to match them if the shades don't clash. The versatility of the colors allows for easy pairings as well.
Brown can come in shades as dark as a French roast coffee, all the way to a light tan, while grey can be as light as a dusty marble countertop or dark like charcoal and everything in between. The important thing to remember is to have a contrast in the colors.
If you're going with dark grey pants, it's best to pair them with some lighter brown shoes or boots. If the grey pants are lighter, bold cognac brown (maybe shiny polished leather) shoes or boots would be attention grabbers.
These are only two possible combinations, there are hundreds- if not thousands of ways to mix and match the different shades of grey pants with brown shoes. The only limit is your imagination!
Final Words
We hope you are feeling confident about combining your favorite pairs of grey pants with different types of brown footwear. Once you start getting comfortable with the look, you can start experimenting with different shades and styles.
You can go to events dressed to the requirement for the level of formality and still rock brown shoes with grey pants. When you start settling into your style and favorite shades of brown and grey, that's where the real magic happens and you'll be well on your way to being a pro!
More From The Men's Edit:
10+ Simple Outfits With Light Blue Jeans For Men
What Shoes To Wear With Chinos + 11 Modern Mens Chino Outfits
What Color Shirt Goes With Khaki Pants? A Foolproof Guide For Men
6+ Best Mens Bootcut Jeans and How to Wear Them
11+ Stylish Vegas Mens Outfit Ideas For All Sin City Has To Offer
8+ Mens Country Concert Outfit Ideas (That Aren't Too Cowboy!)
Christal Sczebel is an entrepreneur, published author, and content creator. Over the past decade she has worked in the digital media field building successful websites for both food and fashion. She has a natural affinity for minimal, timeless fashion, neutral home decor, and styling.
Here on Style Your Occasion, Christal is the Editor-in-chief and brain behind the aesthetic. She hopes you love the this space and the inspiration you'll find!