Looking for chic Kpop concert outfit ideas for an upcoming show? We've got you covered with our list of 14+ Kpop concert outfits so you can look trendy and stylish while dancing the night away!
*this post contains affiliate links*
Creating Stylish Kpop Concert Outfits
Kpop has taken the world by storm in the last several years. Not only have we fallen in love with the dynamic songs from bands such as BTS, BLACKPINK, and Big Bang, but we've also got it bad for the bold and retro-inspired fashion of these Korean bands!
If you're planning on going to a Kpop show this year and looking for the perfect Kpop concert outfit, then look no further! We've gathered looks that are edgy, trendy, and perfect for rocking all night!
Check out our top picks below to find stunning Kpop concert outfit ideas that will make your night even more unforgettable!
What do you wear to a K-pop concert?
Kpop style takes inspiration from the 90s and Y2K fashion eras, so comfy, wide-leg pants, mini skirts, and cropped tops are a perfect choice for a Kpop concert. Here are some simple ideas for what to wear to a Kpop concert:
jeans with a cropped jacket and chunky loafers
wide-legged pants and a corset top
a pleated mini skirt, graphic tee, and chunky sneakers
cargo pants with a tank and cropped cardigan
plaid mini skirt with a button-up and leather jacket
joggers with a tube top and sneakers
a mini denim skirt with corset top and knee-high boots
Perfect Kpop Concert Outfit Ideas
Of course, the above choices aren't the only Kpop concert outfits to choose from. There are so many ways to style a look for a Kpop concert, and we're going to show you some great Kpop concert outfit ideas below!
the corset top
get the look:

This trendy look is one of our top picks for a Kpop concert outfit!
This look takes a page out of the BLACKPINK playbook with black and white tones, a mini skirt, and cropped corset top. The oversized faux leather jacket and tall white boots add an edgy touch and are perfect pieces to pair with this chic corset top.
A corset top is always a trendy piece to add to any outfit. You can pair it with denim shorts instead of a mini skirt if you prefer, and you can also go for chunky boots instead of heeled ones for a comfier fit. Don't forget a stylish handbag to carry your essentials throughout the show.
play with checkers
get the look:

Next on the list of Kpop concert outfit ideas, we are in love with this fun and playful look. Checkered pants are definitely the star of this outfit, and this daring piece takes this fit from simple to stunning. Wearing neutral tones makes it easy to pair bold pieces like this together, although don't be afraid to add some color with a bright top or colored shoes.
If you want to add checkered print into your look but want something more subtle, go for a checkered handbag or sneakers. Or you can wear a basic pair of jeans and add a checkered coat for a similar look.
denim on denim
get the look:

Denim on denim is definitely a Y2K look, although this outfit has a modern twist. Wide-leg jeans and a crop top make a chic and trendy pair, and we love the corset-style of the denim top.
Jeans and sneakers are a classic combo, and these chunky sneakers are great for staying comfortable during any concert. You can wear a monochromatic outfit like this or pair different shades of denim.
This is a perfect Kpop concert outfit for summer, but you can still pull off a denim-on-denim look in the fall or winter by using a denim jacket instead of a crop top.
BLACK + PINK
get the look:

Going to a BLACKPINK concert? Try this perfect option on our Kpop concert outfit ideas list.
The mini skirt paired with a sweater and scarf definitely has a 90s feel, and the flats with socks add some Korean flair to the outfit.
We love the feminine look of this outfit too, it's flirty and fun. Stick with a mini skirt and wear a pink tank for a summer outfit or go for black jeans if you want something better suited for cold weather.
Either way, you can't go wrong when you combine these shades for a Kpop concert!
cargo pants
get the look:

Cargo pants were a wardrobe staple during the Y2K era, so naturally, we had to include a Kpop concert outfit with this functional and fashionable piece. We love the muted green paired with black and white pieces, and these pants are sure to keep you comfortable during the concert.
You can also go for a pair of cargo pants in a different tone, like black, white, or brown. The white button-up and cropped sweater are great for an outdoor venue in colder months or swap it for a cropped tank if you're going to a summer show.
the denim dress
get the look:

Another perfect option when it comes to Kpop concert outfit ideas, a button-down denim dress. We love the youthful aesthetic of this look, and it's so easy to put together but still very trendy and stylish.
Everything about this look has a retro feel, from the dress to the hoops and the shoulder bag. Chunky sneakers or a pair of combat boots would be perfect for this outfit and will definitely add to the vintage vibes.
You can wear a long dress if that's more your style, although this mini strappy denim dress is a great look for spring or summer.
argyle prints
get the look:

Argyle print gives off retro schoolgirl vibes, a trusty staple in Kpop fashion! The cropped length and high-waisted pants add a modern touch to this look, so it's a perfect blend of vintage and current trends.
The cargo pants are a great piece to pair with this tube top, and the choker and rectangle sunglasses add to the aesthetic. You could easily use an argyle sweater for a warmer outfit and add some trainers or boots to complete the look.
sweatshirt mini skirt
get the look:

(wearing the Cheesecake Mule from Jinnipick)
Next on the list of Kpop concert outfits, a sweatshirt and a mini skirt are an iconic combo in Korean fashion. This combination has a flirty and youthful aesthetic and is a perfect look for a Kpop show.
We love the casual cargo skirt and sweater paired with feminine pieces like the bowtie heels and pink purse. You can stick with neutral and muted tones like the ones here or opt for pastel shades and long tube socks to get the same iconic look as the Kpop group Red Velvet.
Either way, this cute and cozy combo is a must if you want a look with effortless style.
baddie vibes
get the look:

Baddie vibes are a key element in Kpop fashion. Edgy styles and unique silhouettes are part of what we love about this Korean style, and this look captures that baddie aesthetic.
The cropped tube top is perfect for a look like this, and the joggers will highlight your curves while keeping you comfortable during the show. These chunky sneakers are fantastic for this outfit, although boots would also look great.
Add on some retro shades, and don't forget a cute and trendy hairstyle to go with your look.
graphic tee animal print
get the look:

Animal print and a graphic tee is a no-fail choice when dressing for a concert, and Kpop is no exception. A mini skirt is a great piece to add in some animal print, though pants would look just as stylish.
Big hoops, skater shoes, and a cropped jean jacket are perfect pieces to elevate this outfit and add a 90s vibe to the look. This outfit is excellent for a summer show, especially if you plan to go out for late night dinner and drinks afterward.
Oh, and make sure you are wearing a graphic t-shirt of the Kpop band you are seeing – that's a truly dedicated fan move.
school girl grunge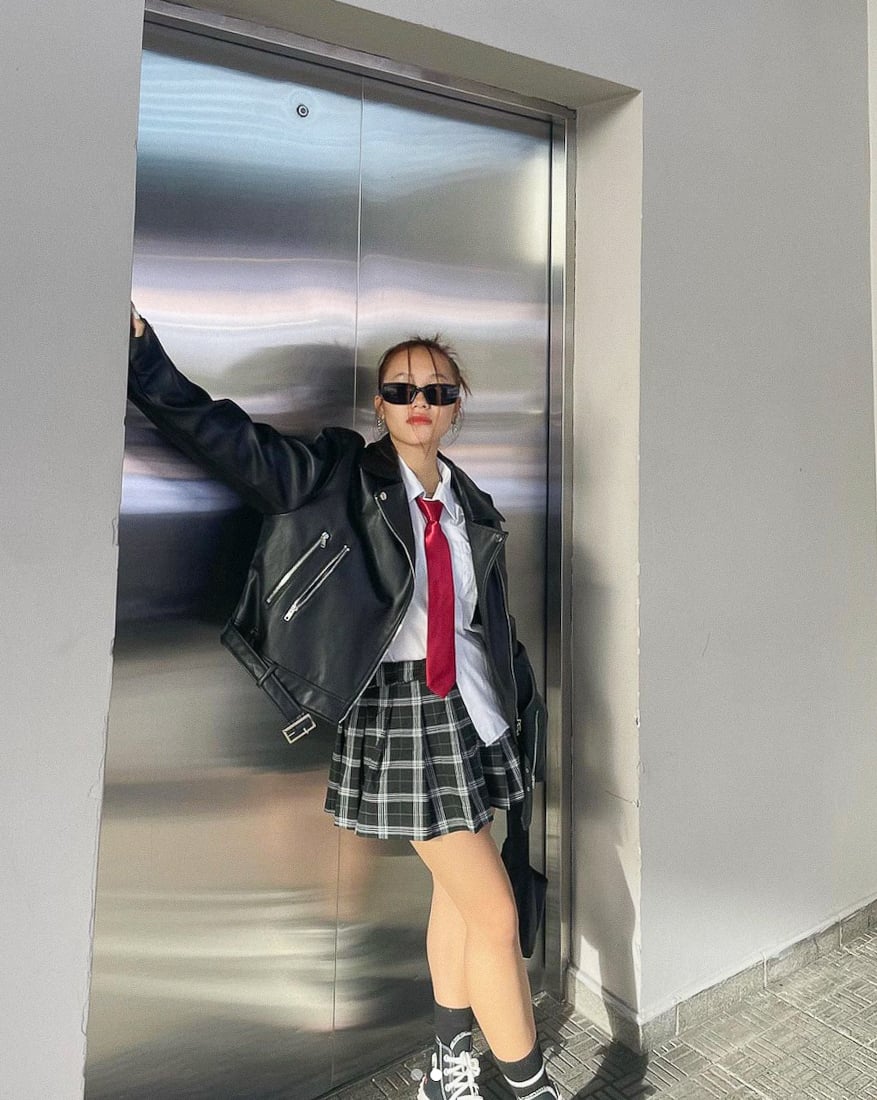 get the look:

A pleated schoolgirl skirt is another trendy and iconic piece seen in Kpop group outfits, and grunge style is just as popular – making this a perfect pairing for a Korean pop concert.
Groups like BLACKPINK and ITZY are known to rock this style while they perform, so this outfit is a must if you plan to see one of these bands. The uniform style is perfect for that schoolgirl look, and the faux leather jacket and high-top sneakers add the 90s grunge aesthetic.
chic street wear
get the look:

Korean street fashion is known for neutral colors and casual yet edgy pieces, and this outfit incorporates all the right elements to embody this style. Baggy black pants and a cropped black tank are perfect for this street-style outfit, and we love that it's so easy to put this look together with pieces you already have.
Other pieces you can use for a chic streetwear look are denim shorts, ripped jeans, a trench coat or bomber jacket, boots, or sneakers like the ones pictured here. This outfit is simple but stylish and perfect for an easy kpop concert outfit. Plus, it is definitely a comfortable outfit that's perfect for a night of dancing.
corset over shirt
get the look:

Corsets are always a trendy piece, and they're also commonly seen in Kpop fashion. This outfit has a minimal and chic look, but the black corset adds a bold touch.
A white button-up is a classic piece to pair with a black corset, and this combo can easily be dressed up or down to match the aesthetic you're going for. We love the wide-legged black pants with this look, although jeans or a mini-skirt would also work here.
cute and classic
get the look:

We're always fans of using simple pieces to create a stylish look. The pink jacket adds a cute aesthetic and elevates the entire outfit.
This is a perfect outfit to spend a concert day in. You'll stay comfortable in basic pieces and sneakers and still look trendy. You can also wear jeans in a bright color and wear a neutral jacket. But either way, you can't go wrong with a cute look like this!
What to bring to a K-pop concert 2023?
When heading out the door to go to your Kpop concert, you should have an outfit and shoes that you can comfortably wear for the whole night. You'll also want to bring a bag to carry essentials like your phone, wallet, and keys, along with extra cash for merchandise, a backup charger, snacks, chapstick, and anything else you need.
Check the rules of the venue you'll be going to, and make sure to bring a clear bag if required; otherwise, add a chic handbag or mini backpack that complements your outfit.
Going to a Korean pop concert is an unforgettable experience, and it's also a perfect opportunity for fans to wear a stylish and trendy Kpop inspired outfit. Use this style guide to find the perfect kpop concert outfit, and don't forget to take plenty of pictures!
More Style Guides You'll Love:
11+ Chic Winter Concert Outfits That Just Make Sense
How To Wear A Bodysuit With Jeans: 14+ Chic Looks To Copy
17+ Chunky Loafers Outfit Ideas + How To Style Chunky Loafers
13+ Harry Styles Concert Outfits For The Perfect Glam-Rock Vibe
Christal Sczebel is an entrepreneur, published author, and content creator. Over the past decade she has worked in the digital media field building successful websites for both food and fashion. She has a natural affinity for minimal, timeless fashion, neutral home decor, and styling.
Here on Style Your Occasion, Christal is the Editor-in-chief and brain behind the aesthetic. She hopes you love the this space and the inspiration you'll find!