In need of an elevated nail design for winter in 2023? You'll love my list of 31+ elegant classy winter nails that are sophisticated and perfect for the snowy season!
Elegant & Classy Winter Nails You'll Love
Winter is on its way, and as the temperatures drop each week, we're getting closer and closer to this snowy season. And with the approach of winter comes the stunning and elevated winter nail designs!
If you're looking for winter nail ideas and want a classy and elegant manicure – you're in the right place! I've compiled a list of gorgeous and refined nail designs that are perfect for winter.
From icy blues to deep reds and shimmery metallics, there are so many styles below to inspire your next DIY manicure or trip to the salon. Whether you're looking for a classic French mani or modern ombre nails, each nail look below definitely has a sophisticated aesthetic, so these manicures won't disappoint!
Classy Winter Nails List:
These elegant classy winter nails are a must for this 2023 winter season! Whether you want elevated Christmas nails or a tasteful winter manicure for bringing in the New Year, there's a nail design on this list that you're sure to adore.
Deep Green & Gold Glitter w/ Leaf Nail Art
According to Glamour Magazine, "sheer sparkle nails are the glazed donut's cute little sister", and I love how the sheer sparkle blends into the botanical nail art in this manicure. Each accent nail reminds me of a Christmas wreath!
Green and gold are a stunning color combo, and not only does this pairing have a wintery vibe, but it's incredibly refined as well.
Shimmering Silver Stiletto Nails
Simple but so gorgeous – these glittering silver nails have a winter glam aesthetic that I just can't get enough of! And I love the bold vibe from the stiletto nails, although you can rock this polish on almond nails, coffin nails, or anything in between.
Gold Snowflakes on Nude Nails
Adding snowflakes to any mani is an easy way to give it a wintery feel, in my opinion. Nude nails are classic and chic, while the gold polish used for these snowflakes adds to the elegant vibes.
Glittery Black Frenchies & Snowflake Accents
A timeless neutral color like black is perfect for refined nails, and this dark shade on nude pink nails creates an eye-catching contrast that's very tasteful.
I also think that snowflakes and glitter are subtle additions giving this mani a winter aesthetic, so you can't go wrong adding these to your nail design!
Glitter Ombre French Tips
I love these classy winter nails that use a silver and blue glitter for an ombre French tip. The subtle sparkle detail gives this manicure a winter feel while keeping it minimal and elegant.
Pine Nail Art + Gold Specks
In my opinion, pine instantly evokes thoughts of winter and Christmas. So this subtle nail art is a must for a winter manicure!
The gold flakes add an elevated touch, while the nude base is perfect for a classy nail design.
Snowy White Nails w/ Gem Accents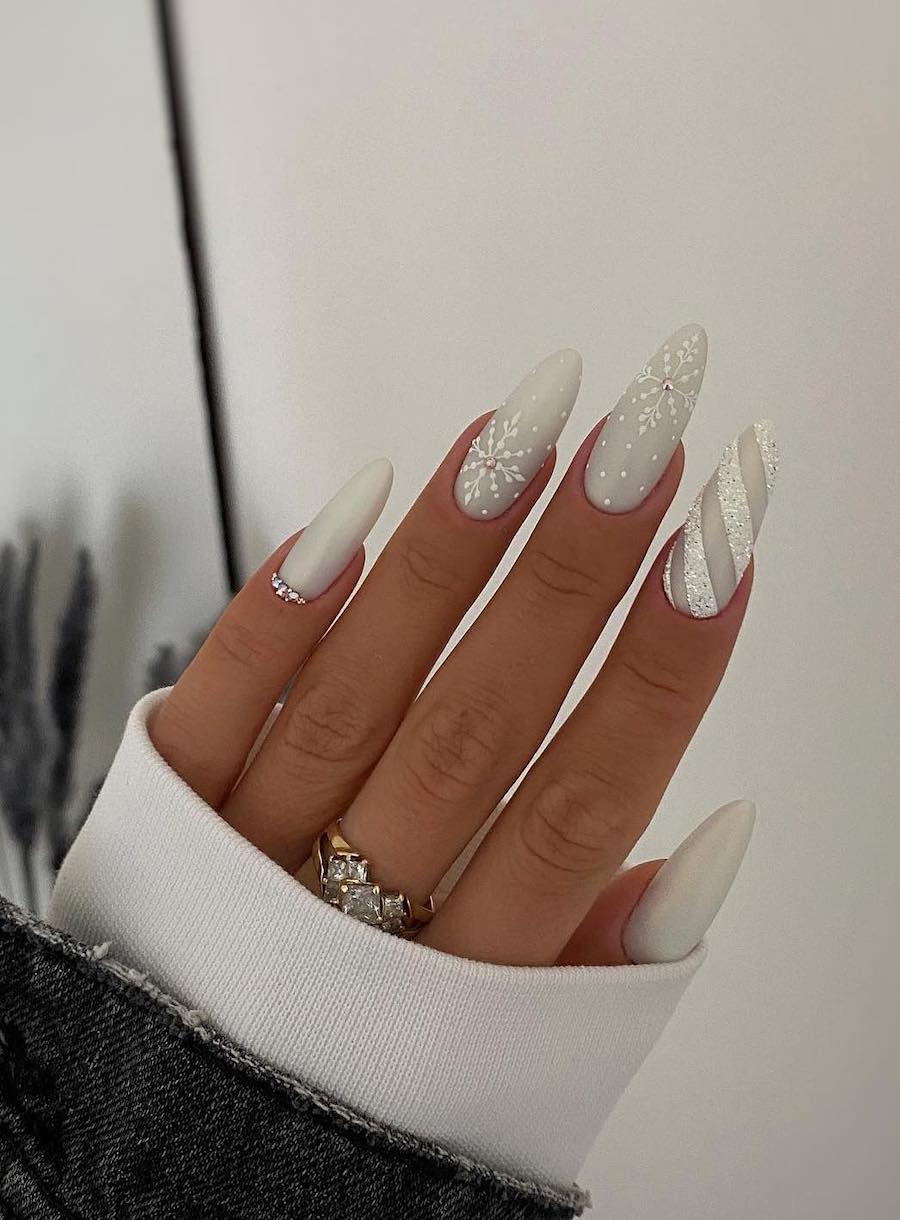 When it comes to elegant winter nails, you can go for a bolder nail design and still keep it classy by choosing a monochromatic look! The combination of different designs and textures makes this manicure so eye-catching, but the all-white look keeps it looking elegant.
While the white looks very snowy in this nail design, I would also recommend trying this same look with black polish and glitter for a dark winter look.
Chrome Christmas Red Nails
According to Cosmopolitan Magazine, "chrome nails are *the* trendiest manicure for 2023", and I absolutely love this bold red chrome mani.
In my opinion, a solid-colored manicure is always a classic, making it an excellent choice for an elegant aesthetic. Then, the chrome finish adds an eye-catching appeal.
I'd wear these nails to a holiday party or Christmas ballet like The Nutcracker!
Beige Mani w/ Sweater Nail Art
Beige is a neutral color that works in any season, and using this shade as part of an argyle pattern definitely gives this mani a cold-weather feel!
Grey Mani w/ Snowflakes + Cable Knit Details
When it comes to winter nails, I love to keep it simple and subtle with grey and white polish. This mani is the perfect example!
The texture and brightness of the snowflake and cable knit sweater accent nails make this an excellent choice for a winter nail design.
Black French Tips + Glittering Pink
Black French tips have a way of standing out while still looking so chic and classy, and I am in love with this soft, glittering pink polish. It adds a lovely pop of color and a glamorous feel, making this mani an easy go-to for a holiday party in 2023!
If you want more winter nail inspiration with pink, take a peek at my list of Pink Winter Nails!
Shimmering Gold Frenchies w/ White Accents
I'd definitely rock this nail design during Christmas or for New Year's Eve! The shimmering gold French tips have an elegant and sophisticated look, while the addition of crisp white is clean and classic.
Blue & White Sweater Nails w/ Snowflakes
Classic patterned Christmas sweaters are always so cute during the holidays, and you can sport that adorable design for weeks with a stylish and elegant nail design like this. I'd sport this nail design for the office, a night out, or a holiday party with friends.
Classic French Manicure w/ Gold Bows
How cute is this nail design??
Ribbons and bows always make me think of Christmas, so these golden bow details instantly add a wintery vibe to a classic and refined French manicure.
Holiday Wreath Mani
In case you were wondering, you can definitely use classic Christmas colors like red and green in your nail design and still keep it elegant. This mani proves that red, green, and white polish are the perfect palette for a Christmas wreath nail design.
I would also recommend adding some gold foil for a pop of glam!
White Nails w/ Black Speckles + Snowflakes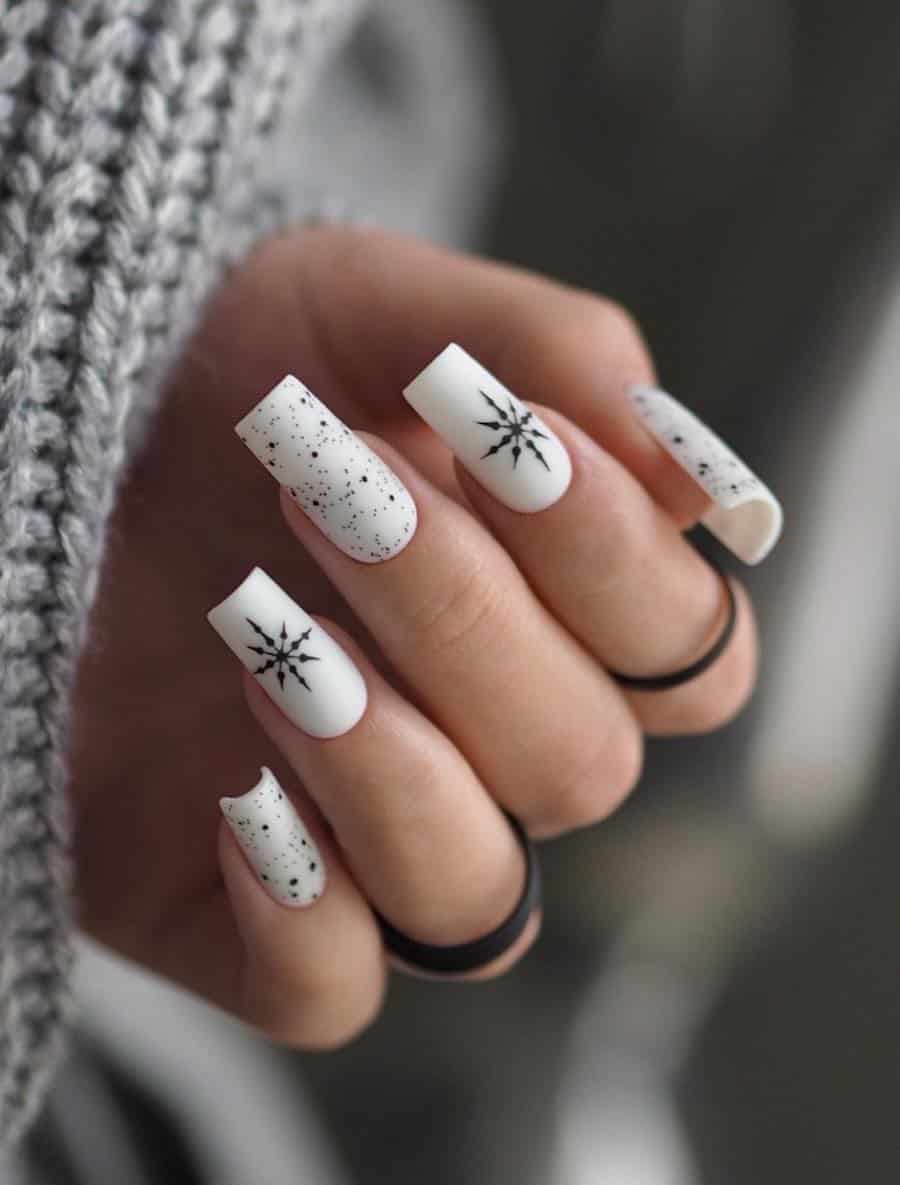 When it comes to elegant and classy winter nails, I believe neutrals like black and white always give a sophisticated aesthetic. I love how the speckled black details look like snow against the white base, and the snowflake art definitely adds a wintery touch!
Green Manicure & Winter Botanical Art
If you love vibrant hues, go for winter nails that add a pop of color to your outfits! According to Byrdie, dark green is a perfect winter manicure color, and this stunning look shows how solid green mixed with a Christmasy accent nail is both elegant and on-trend.
Bright Red Polish & Silver Flakes
In my opinion, short red nails are great for days at the office or a holiday work party. This polish is so fitting for the snowy season, and the accent nail with silver flakes adds a tasteful touch.
Blue Nails w/ White Snow
I have to say these are my favorite nails on the list!
Dark blue and white snow details are not only classy and perfect for winter, but they have a stunning contrast that make this nail design a total head-turner!
Nude Nails + Gem Accents
When it comes to elegant winter nails, opt for sophisticated glam by adding shimmering crystal accents to nude nails. This would definitely be my top choice for a subtle winter nail design that can still elevate any look.
Glistening Gold Manicure
Next is another elegant mani that would work for either Christmas or New Year's Eve. Metallics are an easy way to dress up any look, and this solid-colored nail design is a classic that you can't go wrong with, in my opinion!
Icy Blue Ombre + Snowflakes
While I love the deep, rich shades that come with winter, I'm still a sucker for pastels!
This icy blue ombre is so stunning and gives this manicure a winter feel even though it's a light shade. But you can always add these lovely snowflake details to add to the winter look.
Milky White Nails w/ Pink & Gold Flakes
Looking for the nicest holiday party nails? This manicure is the perfect inspiration for any Christmas gathering with family, friends, or co-workers!
I think pink and gold metallics look incredible together and I love how this design looks like confetti, making them very party appropriate.
Black +White Plaid Nails w/ Gold Details
I love this simple and elegant nail design! The white and black plaid definitely give this nail design a winter vibe, and the gold flakes add a refined touch.
Frosty Nails w/ Glitter Reverse French Tips
Milky white nails are the perfect base for this nail design, and the shimmering silver reverse Frenchies are exactly what this manicure needs to take it to the next level!
I'd wear this elegant nail design to a winter wedding.
Pink, White + Gold Winter Nails
If you want a stunning and feminine winter nail design to wear on Christmas Day (you know, the nails that will be in all those holiday pictures!), I recommend opting for a stylish mani like the one above!
A sweater accent nail, plaid details, gold glitter, and crystals add an eye-catching touch that makes these nails so alluring, but the combination of dusty pink, white, and gold gives these nails a classy, feminine look that won't be distracting in photos.
Christmas Polka Dot Nails
Polka dots are a timeless style for manicures, and I love that this design also has a playful feel without straying away from that elegant aesthetic.
The combo of classic Christmas colors works so well here, but you can mix it up by going for blues and silver if you want.
Silver French Tips w/ Snowflakes
I've found another all-silver manicure that is sure to earn you compliments all winter long! I love the solid-colored accent nail to break up the French tips, and the snowflakes are a must for that elevated winter aesthetic.
White & Rose Gold Frenchies
Rose gold and white are a color match made in heaven for any winter manicure! Choosing a glittery rose gold polish definitely adds a refined feel to these nails, and you can't go wrong with classic French tips.
Red Nail Polish + Crystal Embellished Accent Nails
This deep red manicure is seriously gorgeous! And the nude pink accent nails with crystal embellishments will have you holiday party ready in no time.
Silver Flakes on Nude Nails
Next on my list of classy and elegant winter nails, this manicure uses metallic foil flakes as the focus. Foil is really one of my favorite ways to accent a nail.
I also love that you can change the color of the foil flakes to change the aesthetic of these nails. Add a warm touch with gold flakes, or try a colorful look with red, green, or blue metallics!
Navy + Rose Gold Waves
My last pick for elegant classy winter nails is this lovely nude pink mani with navy and gold waves. I love the pairing of gold with this deep blue hue. It's a perfect way to mix things up and add some feminine flair to this winter mani!
Which nail color looks elegant?
As you've seen above, there are a lot of nail colors that give off an effortlessly elegant look. The shades below are my top picks for classy and elegant nail designs:
Crimson red
Emerald green
Navy blue
Light blue
Black
White
Beige or Nude
Gold
Rose gold
Silver
These classic shades have a refined feel, so you can choose one or more of these colors when deciding on a palette for your nails.
In summary, winter is the perfect time to go for an elegant nail design. And luckily, there's no shortage of elevated winter manicures to get inspiration from! I hope you love these winter nails as much as I do and have found the perfect look for Christmas, New Year's, or both!
More Inspiration You'll Love:
26+ Stunning Pink Winter Nails You'll Love This Season!
24+ Simple Black Christmas Nails To Try This Holiday Season
24+ Black and Silver Nails For A Next-Level Aesthetic
22+ Beautiful Winter Ombre Nails
21+ Stunning White Christmas Nails
How To Get The Old Money Aesthetic + Outfit Ideas To Recreate