Be inspired with these 15+ classy, sexy, and stunning boudoir outfit ideas that aren't what you might expect. Whether you want a more casual look or to get all dolled up, you're sure to love one of these boudoir outfits!
*This post contains affiliate links*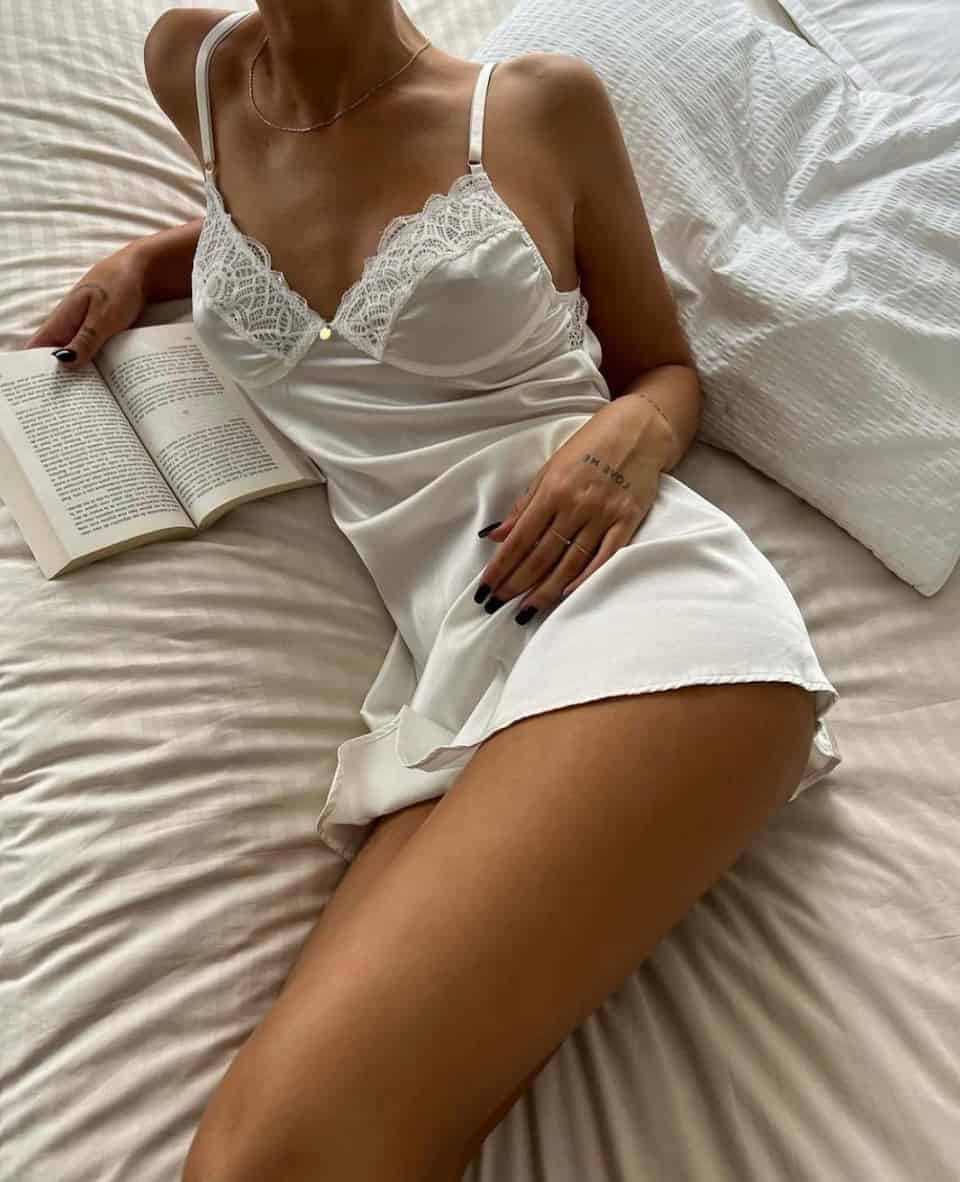 Choosing A Boudoir Outfit
So, you have a boudoir shoot coming up (or you are considering one) and you don't know what to wear? Don't fret! When it comes to boudoir outfits there are so many options to choose from. There are really no set rules but in our opinion, less is more.
Boudoir photography is really meant to focus on the subject (that's you!) and the natural beauty of the model, so an outfit that isn't overly busy or ornate is often the best choice. These boudoir outfit ideas include options other than lingerie because often the unexpected can be really sexy!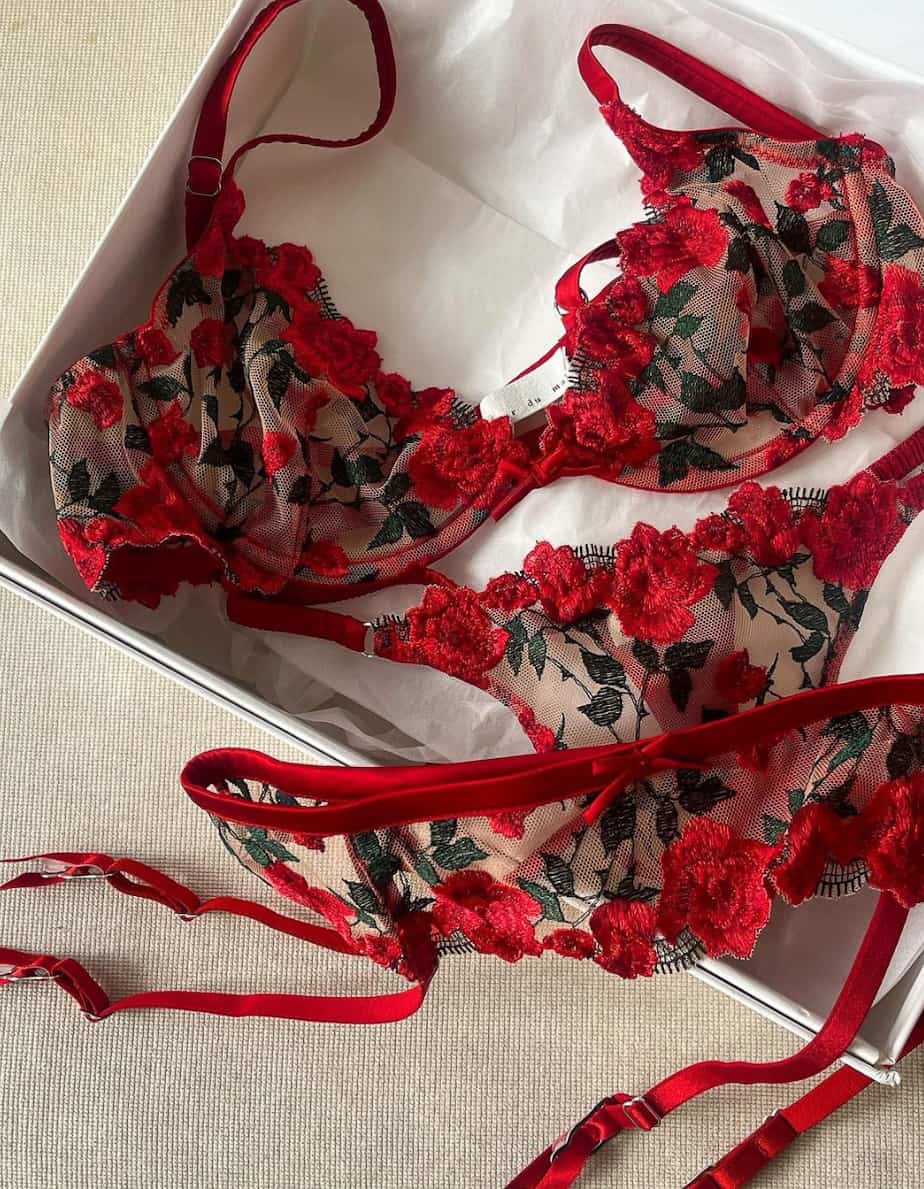 shop the look:

What do you wear to a boudoir?
The most common choices for boudoir outfits include lingerie, silk robes, and sexy or ethereal dresses. But, you can also wear a bodysuit, corset, jeans, knitwear, loungewear, an oversized button-down shirt, or go completely nude.
The key is that you feel confident in whatever you choose to wear for a boudoir photoshoot. This will look different from person to person, so have a scroll through our boudoir outfit ideas below and choose whichever option speaks to you most!
Looking for even more sexy outfit ideas to wear for date nights, going out, and more? Check out this post!
Boudoir Outfit Ideas List
Below are our top boudoir outfits that include slinky options and ones with more coverage! We hope you'll love this list as much as we do.
Simple black bodysuit.
get the look:

This outfit option is so classic, beautiful and sleek. If you don't love the idea of baring your midsection a bodysuit will provide you the coverage you desire while still creating an incredibly sexy look.
This boudoir outfit has a ballerina vibe that is sultry and polished. Add a little more to the look with some dainty gold jewelry, and if you prefer, lace-top stockings.
Oversized sweater or cardigan.
get the look:

Next on the list of boudoir outfits is a look we absolutely love. Choose simple lacy panties and a bra, and wear an oversized knit sweater or cardigan on top for a draped, cozy look that is soft, feminine and super sexy.
Wrap the cardigan all around you for more coverage, or let it slouch off your shoulders or sit open for a seductive vibe.
Classic corset.
get the look:

A corset has a more classic look and is perfect for a boudoir session. You can opt for a simple white corset for a bridal boudoir session or go with black or a pretty pastel color, whatever suits your fancy!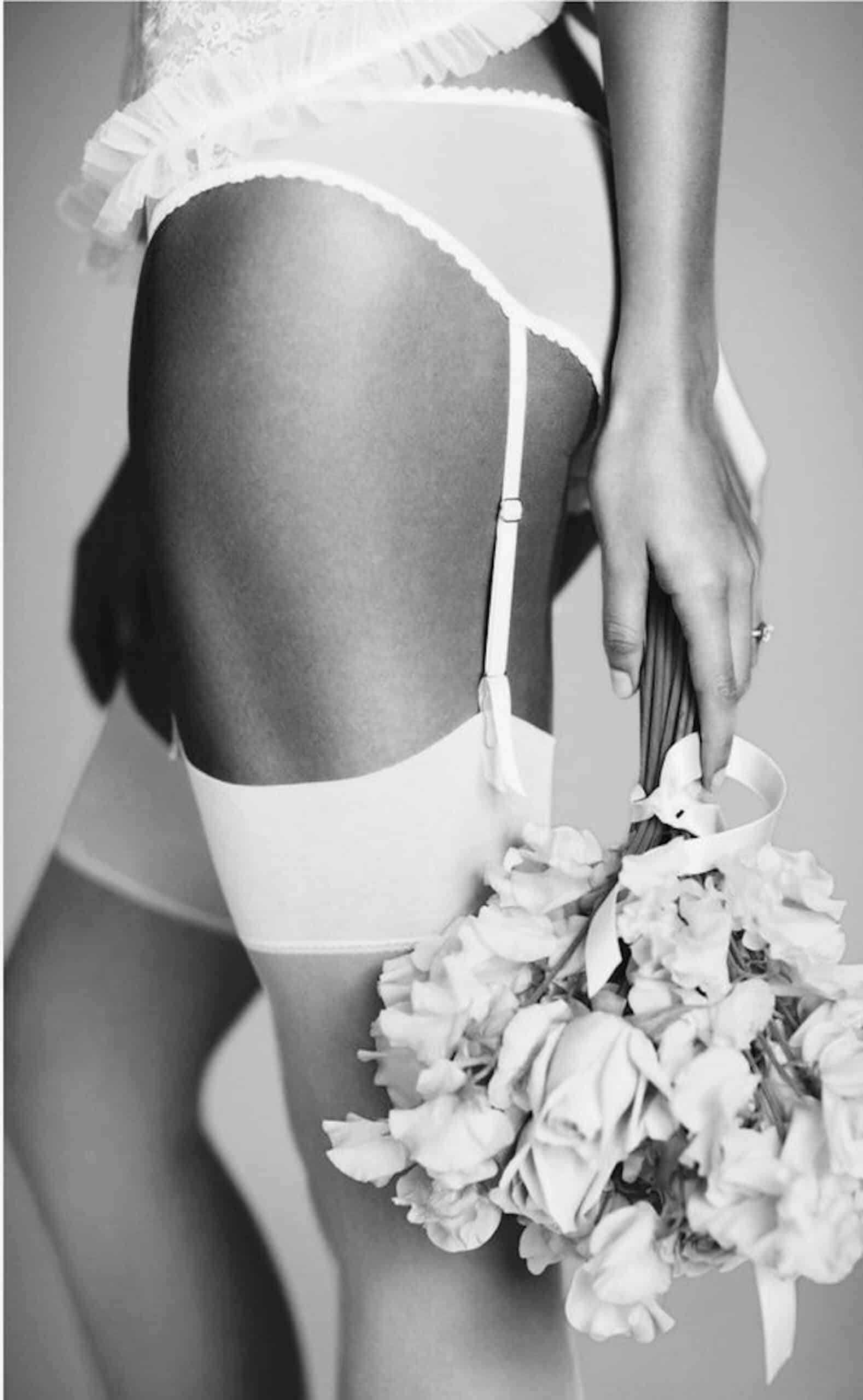 What do you wear to a bridal boudoir?
A bridal boudoir session is done for the bride-to-be. When it comes to outfits, the more traditional choice includes white lingerie such as a lacy white bra and panties, a lacy white body suit, or a white corset.
If you want to opt for something with more coverage you can choose a silky white robe (floor length is stunning!), or an ivory silk dress. If you don't want to wear white, that's totally OK! This is your shoot so wear what you feel comfortable and sexy in.
White bra & panties set.
Black lace bra & panties set.
get the look:

Va-va-voom!
This classic, sexy boudoir outfit idea is like the "little black dress" of boudoir. You can find so many variations of black lace lingerie and go with a set that feels best on your body.
A one piece, two piece, or three-piece set like the one pictured above will give you that serious sex appeal. We also love the idea of a black and white photoshoot with the black lingerie that gives an almost vintage vibe. Trés chic!
Business casual goes sexy.
get the look:

We love the idea of a role-play inspired boudoir photoshoot with a business casual look that's turned a little naughty.
Put on a pair of black trousers and grab a black blazer. Keep the blazer open and don a gorgeous lace bra underneath. You can lose the blazer altogether, or lose the bra and let the blazer sit open, just enough to show your cleavage lines.
Classic bathrobe.
get the look:

A bathrobe? For boudoir? You bet!
This unexpected look on our list of boudoir oufits gives that just-rolled-out-of-bed tossled, yet sexy look. It's a great option for a boudoir session you might decide to book while traveling and staying in a luxury hotel or unique Airbnb.
If you are staying in a luxury hotel, you'll definitely want to take advantage of the cushy robes, so go ahead and give this option a try!
Silk slip dress.
get the look:

Next up is one of our fave boudoir outfits. There's something so sophisticated about a silky slip dress with thin dainty straps.
This boudoir outfit idea is classy, dressy, and minimal and perfectly sultry. Not to mention you can pop on a pair of heals and a leather jacket and head out for a fancy dinner post-shoot.
White 'boyfriend' tee.
get the look:

Guess what? A boudoir photoshoot does not have to be fancy!
Often the most casual, natural photos are the sexiest. Like the bathrobe boudoir outfit idea, this basic t-shirt option is a curated just-rolled-out-of-bed look that goes perfectly with tousled hair, natural makeup, and dewy skin.
If your partner loves your laid-back, down-to-earth vibe, this is likely just the look for you!
White button up shirt.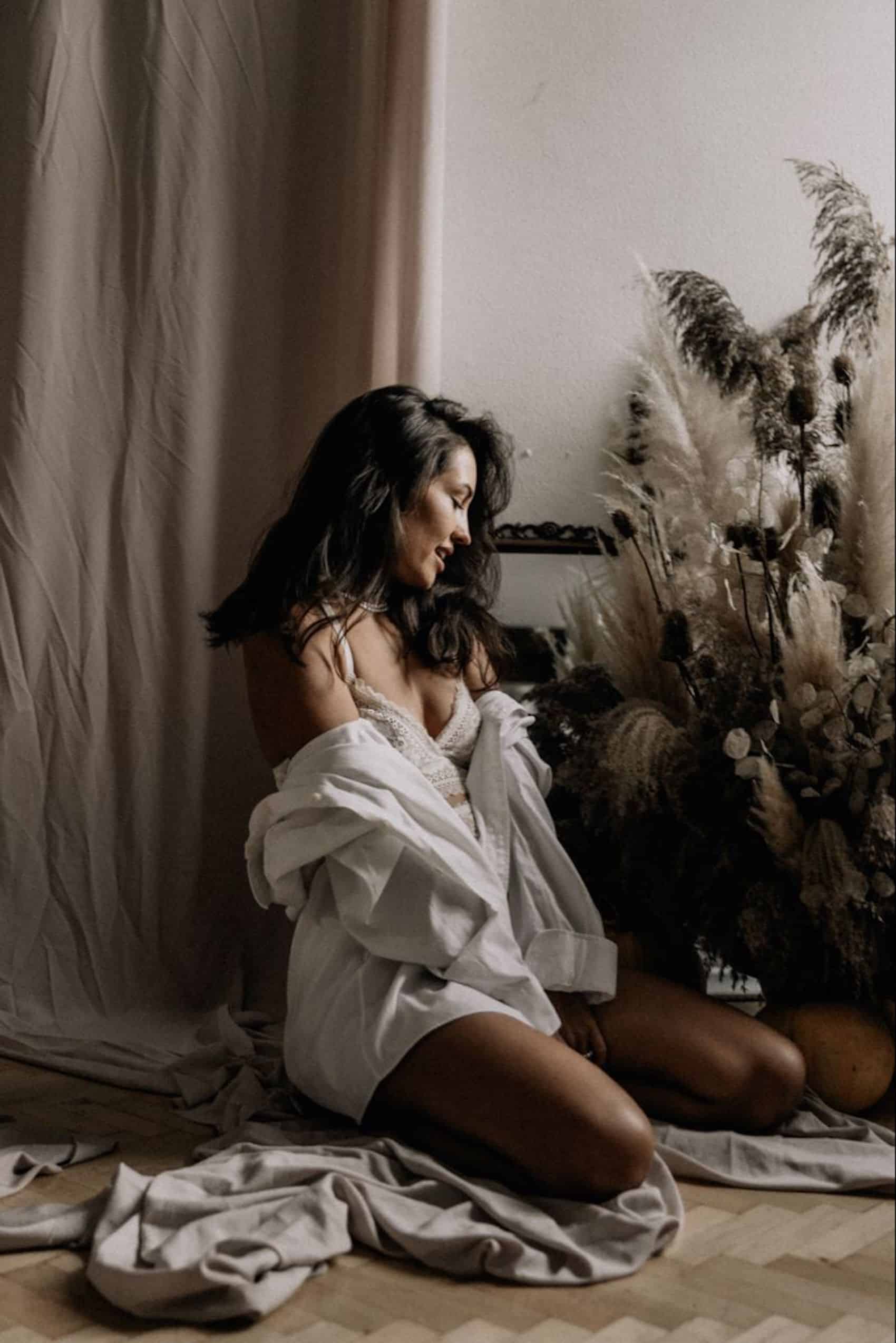 get the look:

Another version of the white t-shirt with a 'Risky Business' vibe, is a classic oversized white button up shirt over top of a dainty lace lingerie set. This look is super sexy and gives you the ability to show more or less, depending on your mood.
When it comes to laid-back boudoir outfits that still have a ton of sex appeal, this is it.
Stockings and faux fur.
get the look:

Get cozy in your boudoir shoot with a faux fur coat, feather coat, or shearling coat. This gives the outfit a whole bearskin-rug-in-front-of-the-fire vibe.
We love this combo of white lace tights (Gucci, of course) with the faux shearling coat. You could go topless with this look or opt for a simple white bra.
Ballerina tulle skirt.
get the look:

One of the prettiest looks on our boudoir outfits list, this ballerina-inspired look caught our eyes immediately. Pair a delicate lace bra or bodysuit with a light and airy tulle skirt for this stunning look.
Ballet slippers add that extra touch but are totally optional. Dainty heels or bare feet with this outfit would be perfect too!
The babydoll.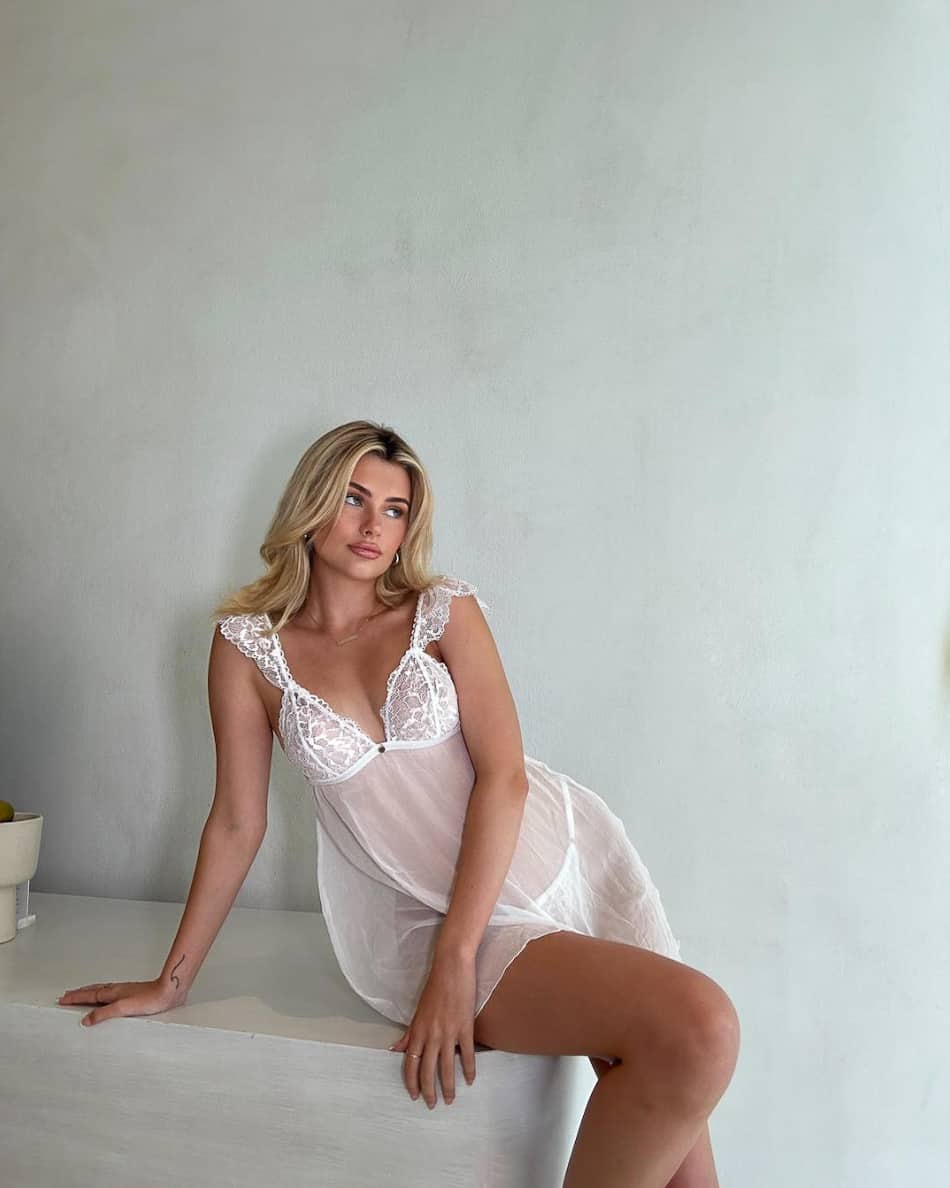 get the look:

A babydoll dress is the perfect boudoir outfit choice when you want to look sexy but still have a little coverage when it comes to your midsection. We understand the feeling of not want to bare it all, so this is the perfect compromise.
Go with a pretty white babydoll with lace details, or opt for black or a pretty color.
Pair of jeans…and nothing else.
get the look:

For this boudoir outfit idea, simply trow on your favourite pair of denim and you're set!
There's something unexpected and yet still super attractive about this simple boudoir outfit. It's casual but playful and perfect for a laid-back boudoir shoot.
Valentine's day pink.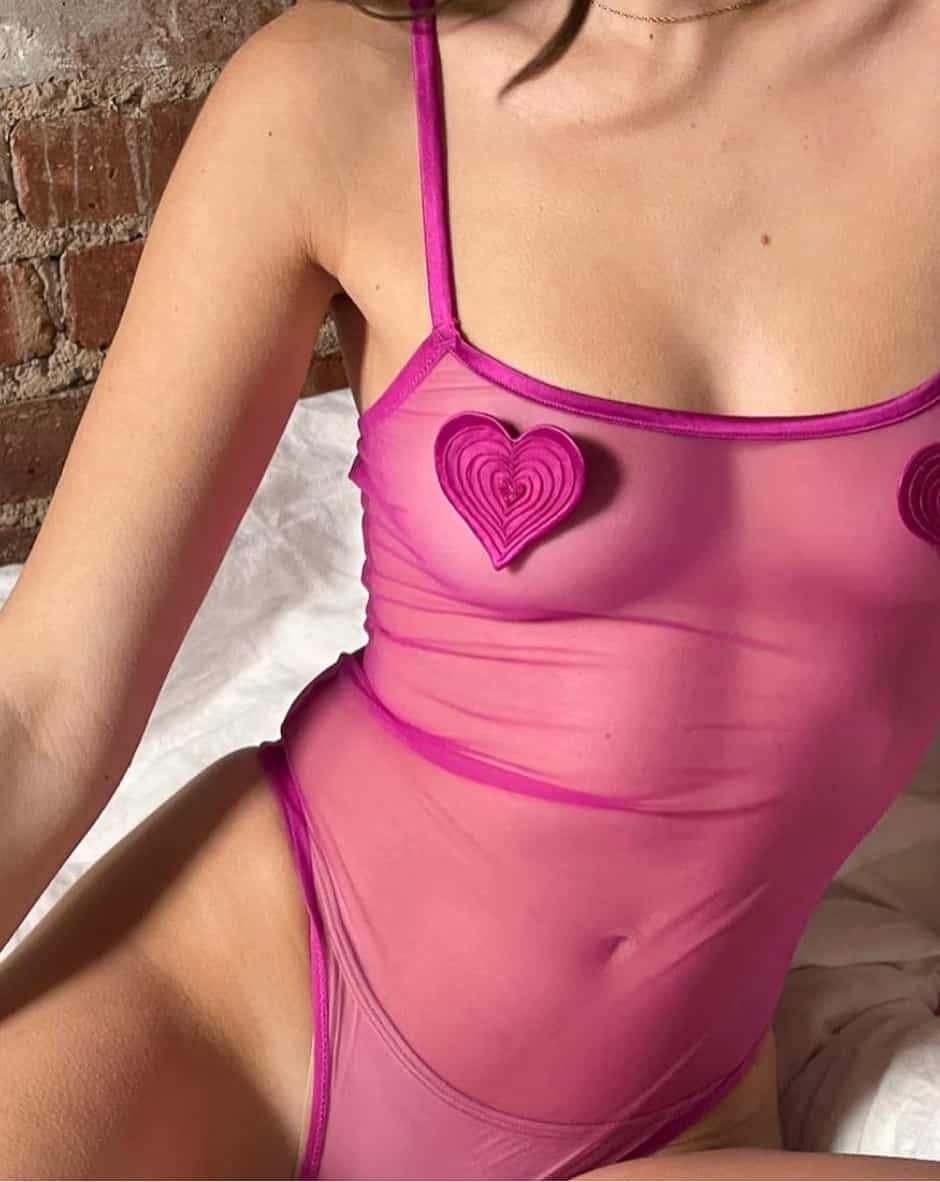 get the look:

If you are planning your boudoir shoot for Valentine's Day and want the theme to be apparent, opt for pink or red lingerie. We love this mesh bodysuit with heart accents from Fleur Du Mal.
Pink is such a pretty, feminine color, and can be worn in so many ways. Red, on the other hand, is bold and fiery, and also a great color choice for a boudoir photoshoot with a Valentine's Day theme.
Add some red lipstick as the cherry on top! Got fair skin? Check out this list with the best red lipstick for fair skin.
Linen apron.
get the look:

You might be wondering why we are putting a linen apron in a boudoir outfit roundup, but hear us out…
Imagine a pretty linen apron with nothing but a lace pair of panties underneath… in the kitchen. Yep, we just turned traditional into a super sexy boudoir shoot.
If you're a granola girl or simply love to cook, don't write this option off your list!
Classic in my Calvin's.
Get The Look:

There's nothing more iconic than Calvin Klein underwear. Recreate the quintessential CK look with a simple bra top and bottoms for this classic, laid back, and sexy look that's perfect for your next boudoir shoot.
Floral kimono robe.
get the look:

A pretty floral kimono robe with a subtle pattern is a beautiful feminine choice for a boudoir photoshoot. You can pair it with your favourite lace set or go au natural underneath.
Another option if you love floral patterns, is a floral embroidered lingerie set. They have such a delicate feminine appeal we love.
Leather jacket.
get the look:

A classic black leather jacket over top of a lace set or topless with a pair of sexy panties is another unexpected but super sultry look. It brings in an edgy vibe and is perfect if the soft and feminine look is a little too bland for your personal style.
Nude with flowers.
(image via)
Last but not least on our list of boudoir outfits (well kind of the least — clothes that is), this option is so pretty and very minimal. You simply go nude and cover yourself with floral arrangements or plant leaves.
Perusing Pinterest we found so many pretty versions of this boudoir outfit idea (if you want to call it that), we knew we had to include it in the list!
Get the look: head to the nearest florist!
shop the post:

We hope you have been inspired by these lovely, simple, and classy boudoir outfit ideas for Valentine's Day, your wedding, or any occasion that calls for lingerie!
Pin this: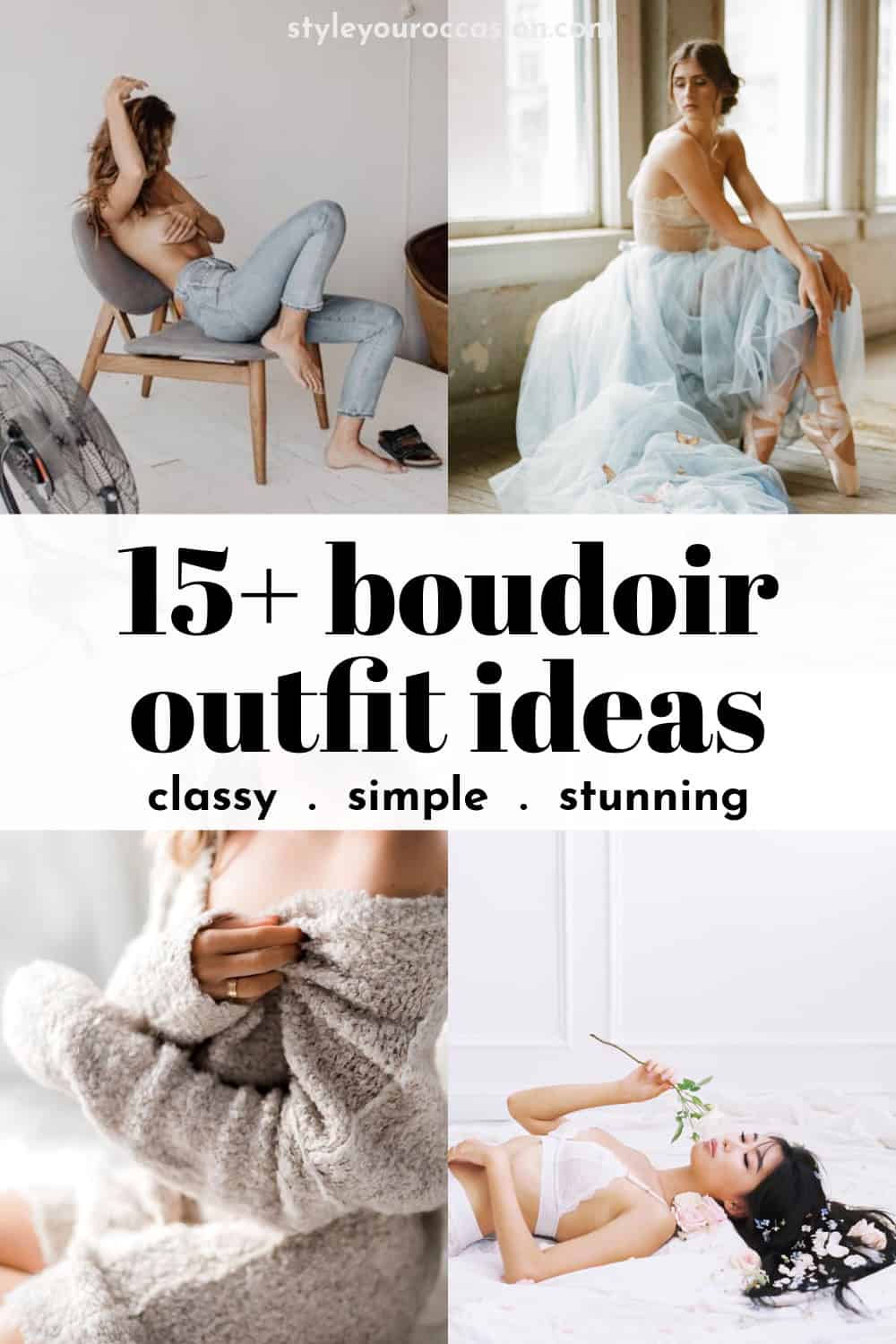 More Outfit Inspiration You'll Love: