Be inspired with these 15+ classy, sexy, and stunning boudoir outfit ideas that aren't what you might expect. Whether you want a more casual look or to get all dolled up, there's sure to be an option you'll love!
*This post contains affiliate links*
(image via)
What do you wear to a boudoir?
So, you have a boudoir shoot coming up (or you are considering one) and you don't know what to wear? Don't fret! When it comes to boudoir outfits there are so many options to choose from. There are really no set rules but in my opinion, less is more.
Boudoir photography is really meant to focus on the subject (that's you!) and the natural beauty of the model, so an outfit that isn't overly busy or ornate is often the best choice. These boudoir outfit ideas include options other than lingerie because often the unexpected can be really sexy!
Shop The Post:

Boudoir Outfit Ideas List
Simple black bodysuit.
This outfit option is so classic, beautiful and sleek. If you don't love the idea of baring your midsection a bodysuit will provide you the coverage you desire while still creating an incredibly sexy look.
Get The Look:

(photo via)
Oversized sweater or cardigan.
I absolutely love this boudoir outfit idea. Choose simple lacy panties and a bra and put an oversized knit sweater or cardigan over top for a draped, cozy look that is soft, feminine and super sexy.
Get The Look:

Classic corset.
A corset has a more classic look and is perfect for a boudoir session. You can opt for a simple white corset for a bridal boudoir session or go with black or a pretty pastel color, whatever suits your fancy!
Get The Look: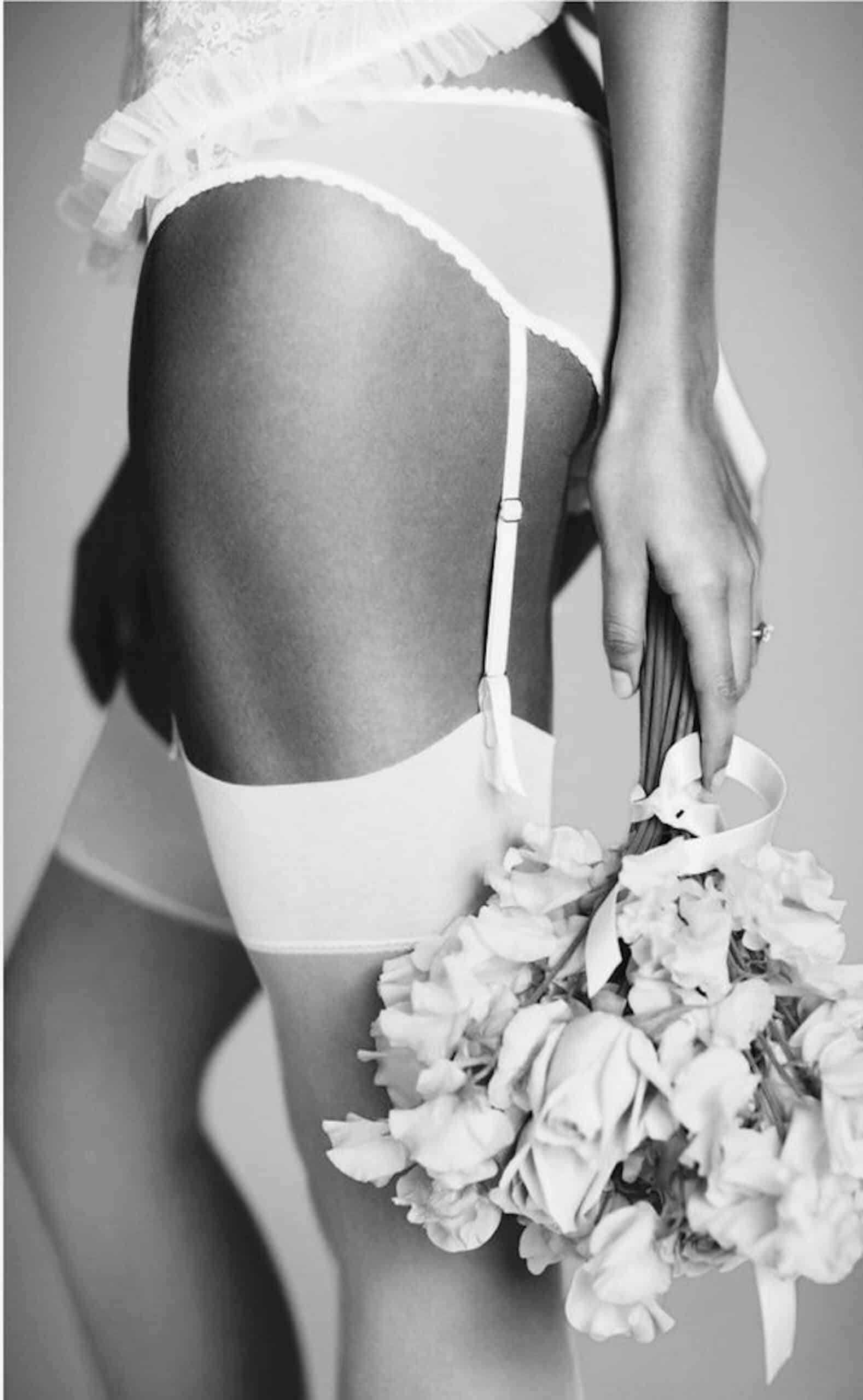 (photo via)
What do you wear to a bridal boudoir?
Speaking of bridal boudoir, this is a specific boudoir session that is often done for a bride-to-be. On the more traditional side you can choose from any type of white lingerie including a lacy white bra and panties, a lacy white body suit, or a white corset like above.
If you want to opt for something with more coverage you can choose a silky white robe (floor length is stunning!), or an ivory silk dress.
If you don't want to wear white, that's totally OK. This is your shoot so wear what you feel comfortable and sexy in!
(photos via Amelia Soegijono Photography/Max Libertine)
(photo via)
Black lace bra & panties set.
This classic, sexy look is a perfect boudoir outfit idea…it's like the "little black dress" of boudoir. You can find so many variations of black lace lingerie and go with a set that feels best on your body. A one piece, two piece, or three-piece set like the one pictured above will give you that serious va-va-voom.
Get The Look:

Classic bathrobe.
A bathrobe? For boudoir? You bet! This unexpected look gives that just-rolled-out-of-bed tossled yet sexy look and it's a great option for a boudoir session you might decide to book while traveling and staying in a luxury hotel or unique Airbnb.
Get The Look:

(images via/The Zoe Report)
Silk slip dress.
There's something so sophisticated about a silky slip dress with thin dainty straps. This boudoir outfit idea is classy, dressy, and minimal and perfectly sultry. Not to mention you can pop on a pair of heals and a leather jacket and head out for a fancy dinner post-shoot.
Get The Look:

White 'boyfriend' tee.
A boudoir photoshoot does not have to be fancy. Often the most casual, natural photos are the sexiest. Like the bathrobe, this is a curated just-rolled-out-of-bed look that goes perfectly with tousled hair, natural makeup, and dewy skin.
Get The Look: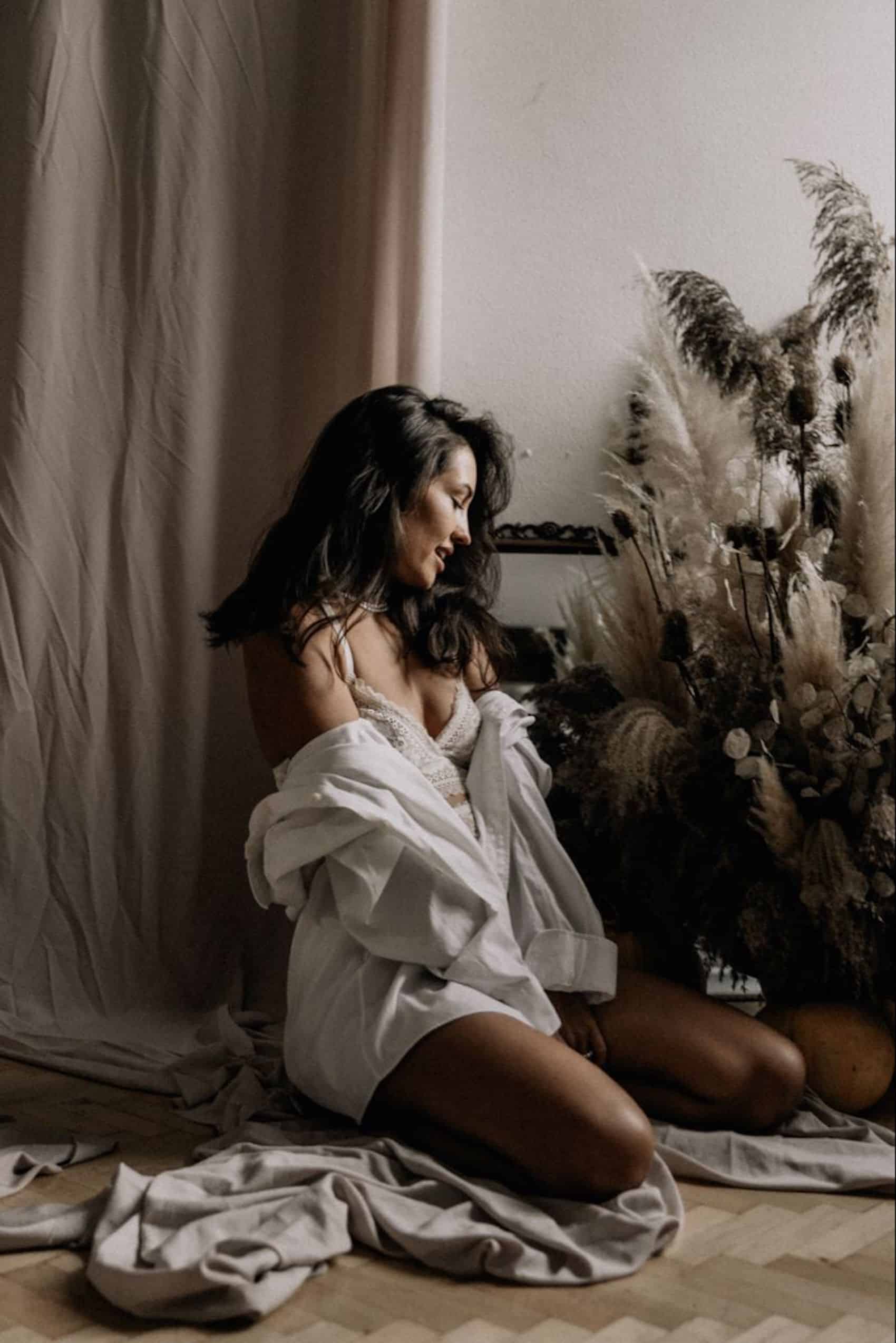 (image via)
White button up shirt.
Another version of the white top with a 'Risky Business' vibe is a classic oversized white button up shirt over top of a dainty lace lingerie set. This look is super sexy and gives you the ability to cover more or show more, depending on your mood.
Get The Look:

Ballerina tulle skirt.
One of the prettiest looks on the list, this ballerina inspired boudoir outfit caught my eye immediately. Pair a delicate lace bra or bodysuit with a light and airy tulle skirt for this stunning look. Ballet slippers add that extra touch but are totally optional, as I also think bare feet with this outfit would be perfect.
Get The Look:

Pair of jeans…and nothing else.
Throw on your favourite pair of denim and you're set. There's something unexpected and yet still super attractive about this simple boudoir outfit idea. It's casual but playful and perfect for a laid back boudoir shoot.
Get The Look:

Linen apron.
Ok, stay with me here, you might be wondering why the heck I'm putting a linen apron in a boudoir outfit roundup… but hear me out. Imagine a pretty linen apron with nothing but a lace pair of panties underneath… in the kitchen. Yep, we just turned traditional into a super sexy boudoir shoot.
Get The Look:

Calvin Klein.
There's nothing more iconic than Calvin Klein underwear. Recreate the quintessential CK look with a simple bra top and bottoms for this classic, laid back, and sexy look that's perfect for your next boudoir shoot.
Get The Look:

Floral kimono robe.
A pretty floral kimono robe with a subtle pattern is a beautiful feminine choice for a boudoir photoshoot. You can pair it with your favourite lace set or go au natural underneath.
Get The Look:

Leather jacket.
A classic black leather jacket over top of a lace set or topless with a pair of sexy panties is another unexpected but super sultry look. It brings in an edgy vibe and is perfect if the soft and feminine look is a little too bland for your personal style.
Get The Look:

(image via)
Nude with flowers.
Last but not least… well kind of the least — clothes that is. This option is so pretty and veerrry minimal. You simply go nude and cover yourself with floral arrangements or plant leaves. Perusing Pinterest I found so many pretty versions of this boudoir outfit idea (if you want to call it that) I knew I had to include it in the list!
Get the look: head to the nearest florist!
Shop The Post:

I hope you have been inspired by these lovely, simple, and classy boudoir outfit ideas!
Have you ever done a boudoir photoshoot in the past? What did you wear? Tell me about it in the comments and be sure to pin the photo below to save this post for later.
Pin me!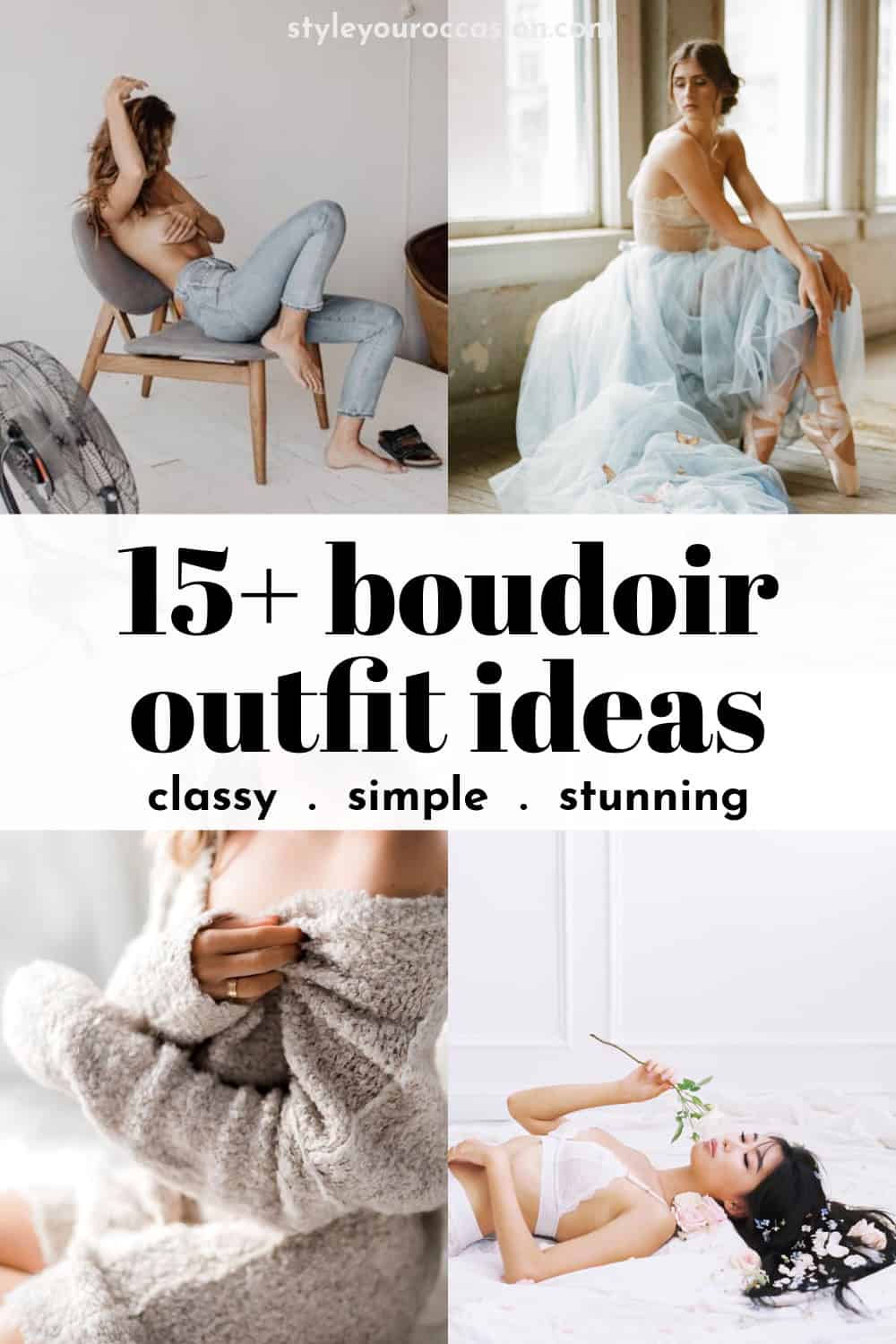 More Outfit Inspiration You'll Love: