Wondering what to wear to a museum on a date? You'll love this list of chic and classy museum date outfit ideas that will have you looking like a work of art yourself! These art museum outfits are on-trend yet timeless.
*this post contains affiliate links*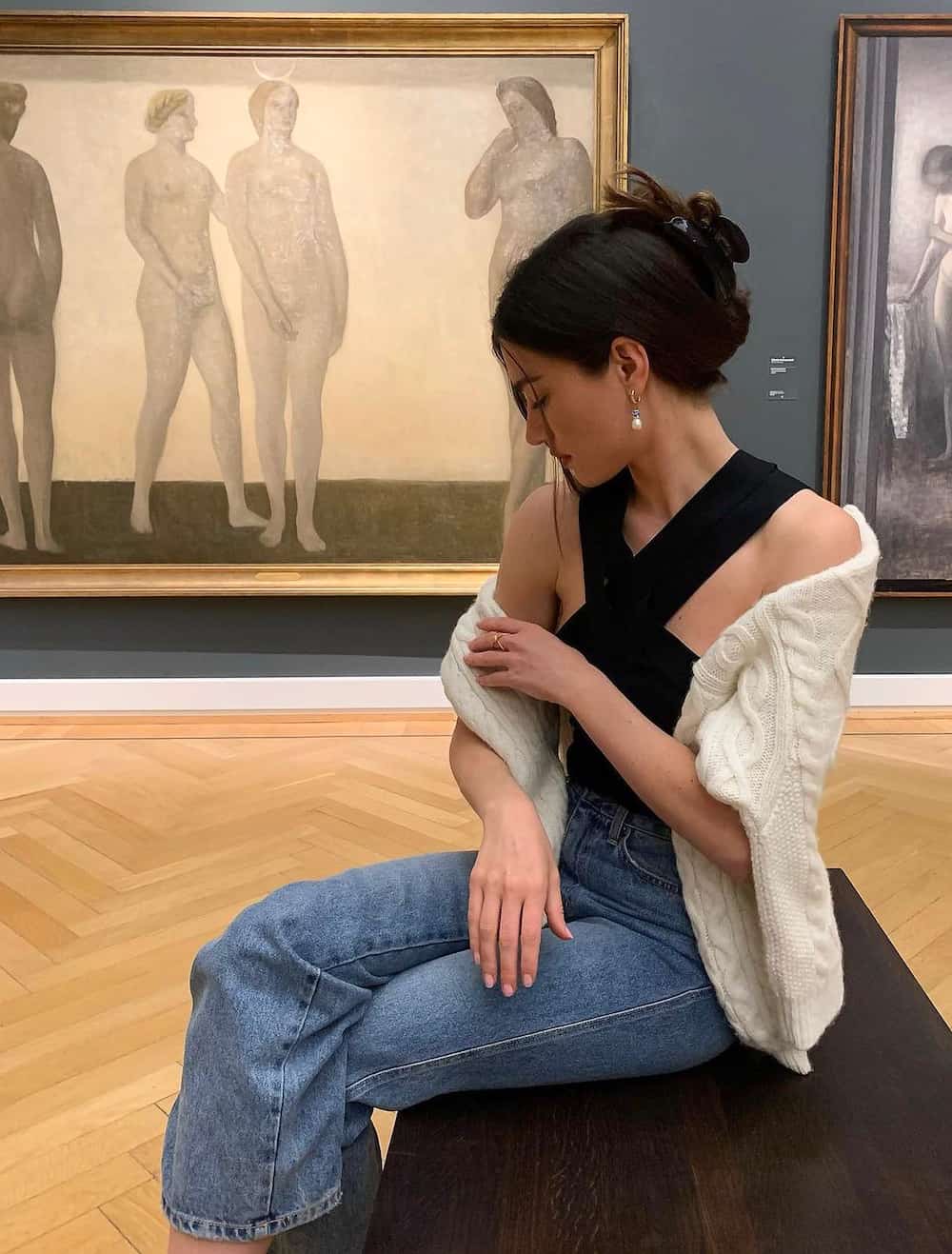 get the look:

What To Wear To A Museum on a Date
In our eyes, few dates are more picture-perfect than an art museum date. Whether it's a first date or the eighth, this relaxed setting lets you admire great works of art while others admire your IG-worthy OOTD.
But seriously, choosing a date outfit can be tricky. Add on the fact that you'll be in a museum surrounded by pristine paintings and beautiful architecture, and coming up with the perfect look becomes even more challenging.
To help you find the right outfit for your next museum date, we've compiled 12+ chic outfit ideas that will fit any vibe you're going for.
Chic Museum Date Outfit Ideas
Below, you'll find some of our favorite art museum outfit ideas ideal for any date.
White tee, blue jeans + blazer.
get the look:

We love the casual sophistication of this look. It's not trying too hard with the classic white jean and denim combo, yet the accessories take it to the next level.
A coordinating blazer, sunglasses, belt, and handbag transform this relaxed style into something more polished – perfect for an art museum date. Finish with your favorite black booties to tie everything together.
slip skirt, leather jacket + sneakers.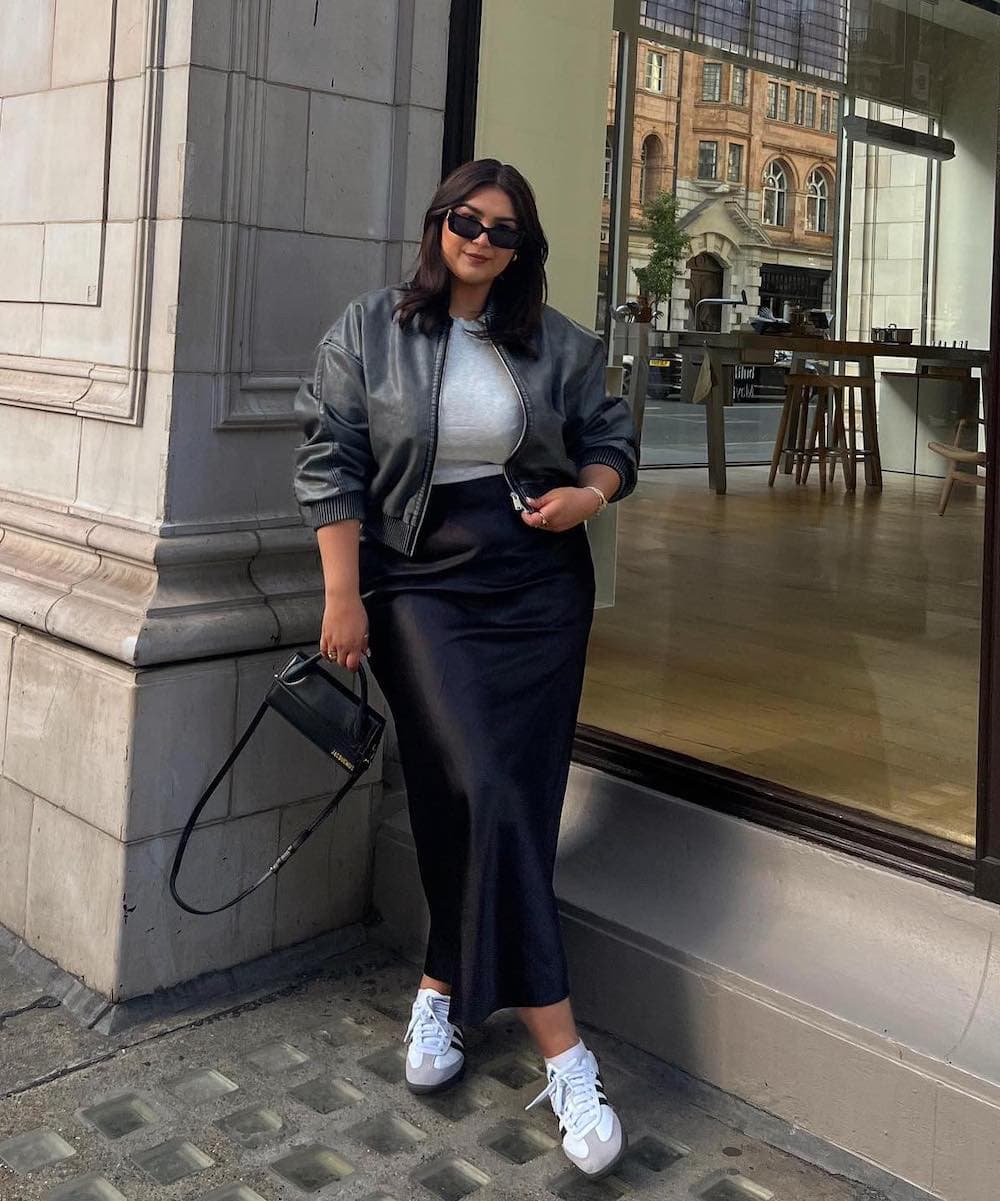 get the look:

This museum date outfit gives off an effortlessly cool vibe with its satin skirt and gray tee combo. The casual tee shirt and comfortable sneakers balance the elegance of the skirt and ensure you're comfy all day long.
Mixing textures is a great way to elevate a basic outfit: like pairing your trusty leather jacket with a satin skirt. The vintage-looking jacket will not only keep you warm as you explore different exhibits but adds an edgy detail that looks so stylish.
Leather pants + chic jacket.
get the look:

Our next outfit idea is for women who want to look polished and modern for their art museum date. To get a streamlined silhouette that's classy yet sexy, pair a basic bodysuit or tank top with high-waisted leather pants.
Accessorize with black boots and a small statement bag, or you can opt for comfort and swap the boots for loafers. To finish the look, add a cropped jacket like the one pictured that will instantly elevate your outfit and keep you warm from the AC.
Midi skirt + tall boots.
get the look:

Midi skirts are one of those closet essentials you can pull out anytime you want to be stylish yet comfortable. For an art museum date, wear your longer midi skirt with tall boots to elongate your legs and look incredibly fashionable. Proof that you don't need to bare it all to feel (and look) ultra chic.
While we love the camel tones in this outfit inspo, feel free to play around with other neutrals or colorways. Bonus points if your outfit colors match the works of art you're strolling by.
How should I dress for a museum date?
When going on a museum date you should dress smart-casual, with an outfit that is professional but still relaxed. While you want your outfit to reflect your personality and individual style, a museum is the perfect setting for a classy outfit that is respectful to the great artists whose work you're admiring.
All the museum date outfit ideas on our list center around neutral clothing—for a good reason! You want to avoid wearing something too flashy or colorful to an art museum, as it can distract people from the works on display.
It's worth noting that museums tend to be chilly, so having some layers to keep you warm is key. Since you'll likely be doing a lot of walking, it's also wise to wear comfortable shoes you can roam for hours in.
Trousers + silk top.
get the look:

Nothing says classy and cultured like a trouser and silk shirt combo. Beige, neutral trousers pair well with basically anything in your closet and are comfy enough for long hours spent at a gallery (consider them sophisticated sweatpants).
We love how the cream pant sandwiched between a black silk top and loafers provides a subtle yet stylish contrast.
Stick with loafers for a comfortable flat shoe option. Or, if you want to dress up the look even further, some heeled sandals will do just the trick. We can't get enough of the statement purse shown here, but any shoulder bag will give a similar vibe.
Wool coat + straight-leg jeans.
get the look:

Throwing a wool over any outfit is one way to look cool, chic, and cozy. A long coat is a timeless silhouette made modern when paired with straight-leg jeans and ankle boots, though you could swap in a pair of colorful sneakers for a laid-back feel.
We love the orange undertones in this camel coat, but any neutral color will help you achieve this streamlined look. On cooler days, bundle up with a wool scarf and sweater underneath.
Is there a dress code for museums?
Most major museums and art galleries don't have a dress code for guests unless it's a special event or opening night. Though when in doubt, it always pays to check the museum's website ahead of time for dress code recommendations.
While you won't need to follow a strict dress code for most trips to a museum, you still want to look nice and put together. This means keeping your super casual denim shorts and flip-flops at home and sticking to elevated basics, like swapping those cut-offs for well-fitted blue jeans.
Blazer, leggings + sneakers.
get the look:

A blazer is a perfect addition to art museum outfits. Throw on this easy layer to make everyday pieces, like leggings and sneakers, look smart and sophisticated. This is a great date outfit if you want a relaxed look that isn't trying too hard.
Wide leg pants + off-the-shoulder top.
get the look:

If you want to be feminine and subtly sexy for your next date, an off-the-shoulder top is exactly what you need. We can see this outfit going from a day spent exploring art galleries to a romantic dinner in the evening.
The head-to-toe monochrome and wide-leg jeans create a sleek, well-balanced silhouette that flatters any body type. While we live for an all-black moment, feel free to try this outfit combo in other neutral tones or add a pop of color with a fun handbag.
Crop top + long denim skirt.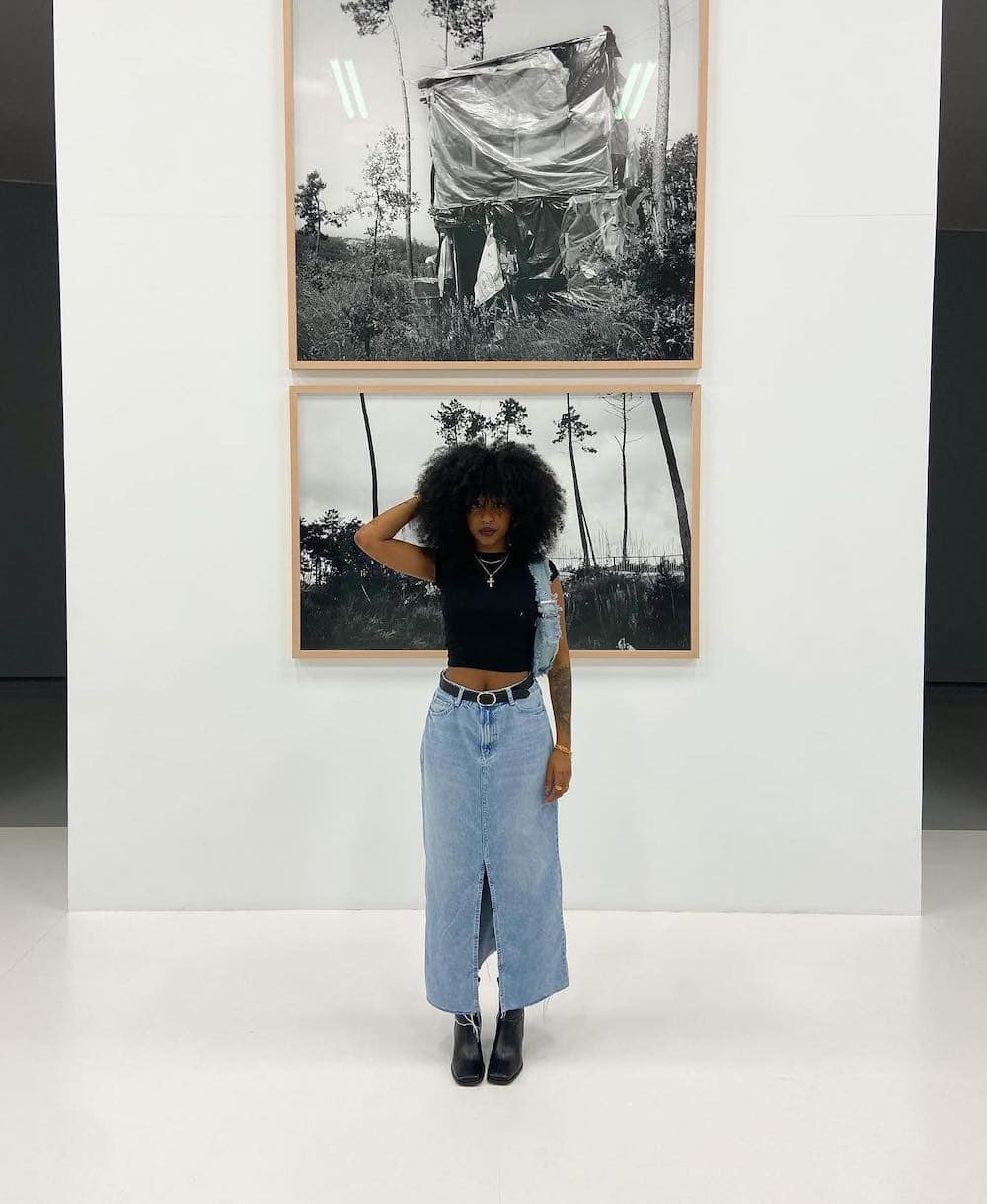 get the look:

Denim maxi skirts were one of 2023's biggest fashion trends, and they're not going anywhere just yet. This art museum outfit pairs a '90s-inspired long denim skirt with a cropped tee for a fresh, seasonless ensemble you can wear all year long.
Pair it with combat boots and chunky accessories for a grungy look or keep it sleek with dainty jewelry and a waist-cinching belt. This look is an ideal choice for a hip, contemporary art gallery.
Can you wear a dress to a museum?
It is acceptable to wear a dress to a museum, and encouraged —as long as the dress is appropriate. Avoid very short lengths or styles with cut-outs. Instead, opt for a mini, midi or maxi dress that fits the formal setting but still gives a romantic look perfect for date night.
Knee-length dress + sneakers.
get the look:

If you're really stuck on what to wear to a museum, go for a flowy dress you'll feel comfy and cute in. Whether you prefer a mini, midi, or maxi dress, this effortless ensemble is perfect for spring and summer days when you want to feel playful and breezy (and avoid any heavy layers).
You can stick with the classic white dress shown here or experiment with floral patterns, soft blues, and pinks. For added flair, style it with trendy sneakers and a fun handbag. Keep a denim jacket on hand in case the gallery is chilly.
Striped cardigan, mini dress + knee-high boots.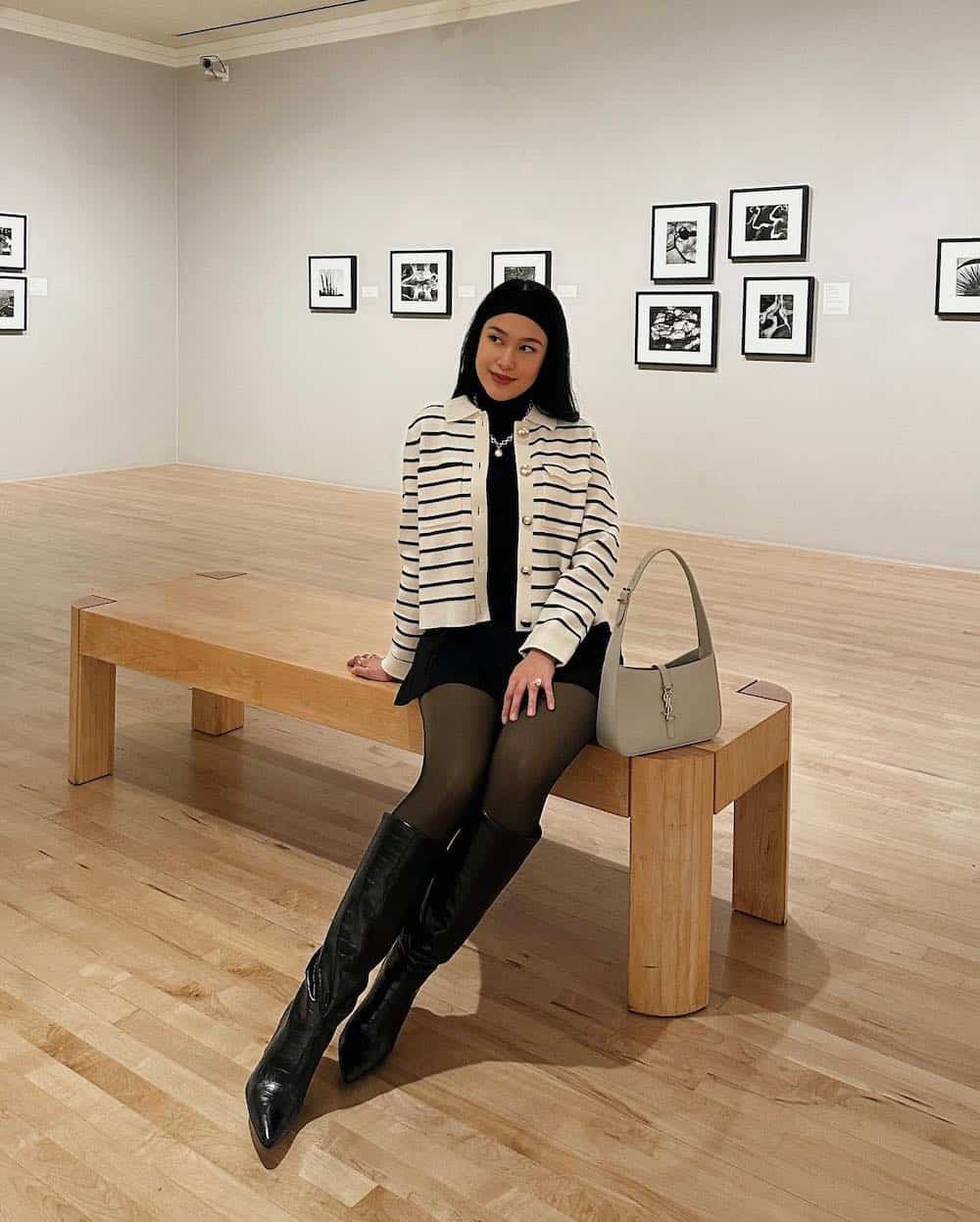 get the look:

You can never go wrong with an LBD, especially one as cute as this. The A-line structure and mock neck give a preppy feel, while the dark colors have an academic vibe perfect for an art museum date.
Layer it with a striped cardigan (so timeless), tights, and knee-high boots for a more polished look. Our favorite part of this date outfit? The black headband that ties everything together.
Slip dress + kitten heels.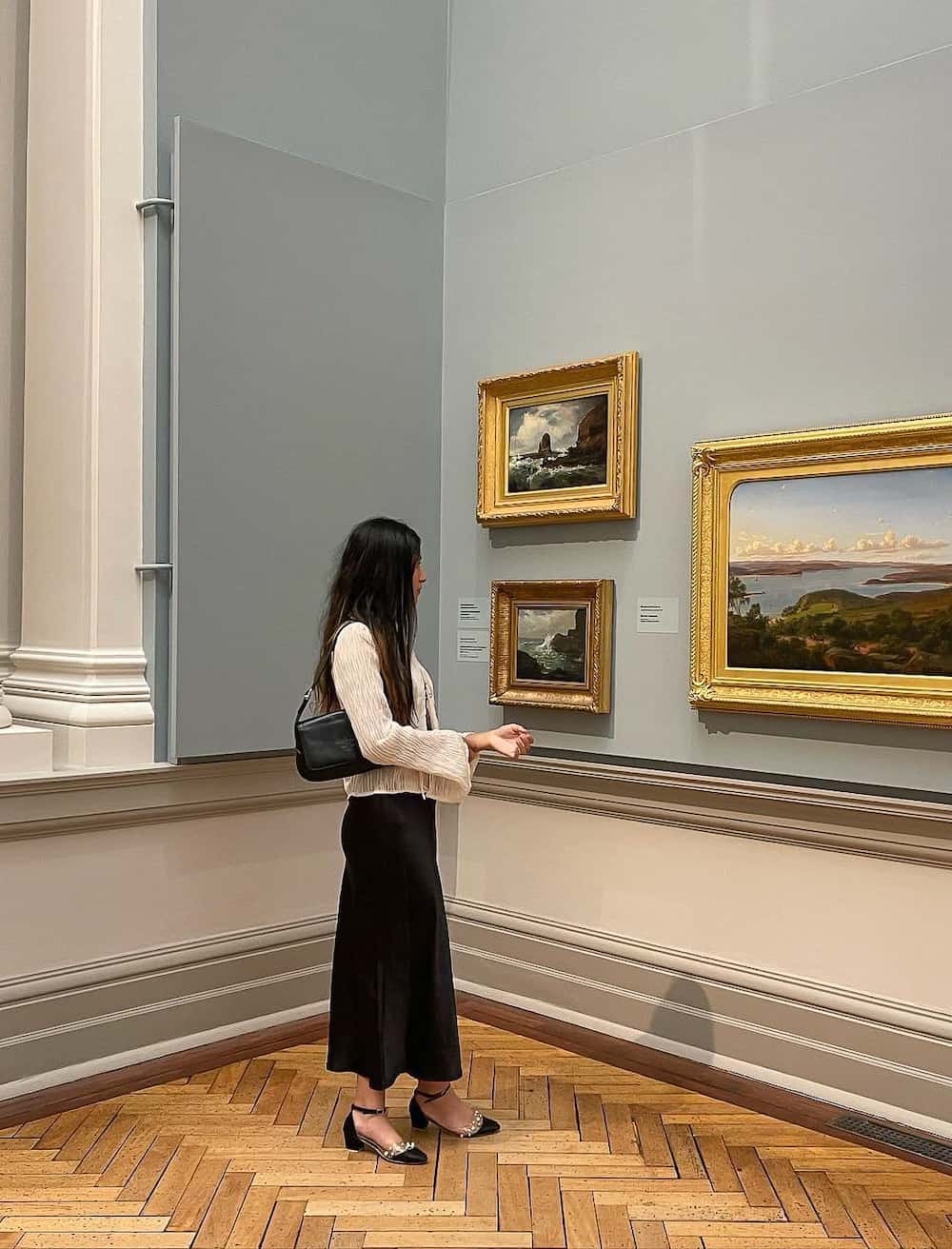 get the look:

If you want to master French-girl style and achieve effortless elegance when it comes to art museum outfits, wear a slip dress. The combo of dainty kitten heels and a silky midi dress is a date-night-approved way to be dressy yet comfortable.
While we adore kitten heels, we've also seen ballet flats re-emerge with a fresh feel, and they would work so well in this classy museum date outfit. Throw a silky shirt or lightweight cardigan over your shoulders to keep you warm as you stroll through the museum's vast halls.
Button-up shirt + white jeans.
get the look:

For art museum outfits that will never go out of style, you can't go wrong with this coastal grandma-inspired outfit. We're obsessed with the combination of classic looks – a striped sweater, white denim, and a pale blue button-up – with effortless vibes.
The black belt and loafers bring balance while amplifying the look's confident, 'cool girl' aesthetic. Play around by swapping the white jeans for trousers or the striped sweater for a red cardigan.
No matter how you change it up, this go-to outfit formula will stand the test of time.
More Stylish Art Museum Outfits
Tank top, midi skirt, and denim jacket
Leather skirt, tank top, and heeled boots
Slip dress, denim jacket, and heeled sandals
Striped sweater, jeans, and kitten heels
Sweater dress and sneakers
If you're wondering what to wear to a museum, we hope you've found endless inspiration from these outfit ideas (we certainly have). For any date, you want to feel comfortable and confident, whether that's in a girly dress or a casual pair of blue jeans.
No matter your route, these art museum outfits are undeniably chic.
More Style Inspiration You'll Love:
20+ Chic Fall Date Night Outfits You'll Feel Amazing In!
15+ Coffee Date Outfit Ideas That Are Classy & Casual
What To Wear To The Ballet: 11+ Chic and Elegant Looks To Try