Have you been watching too much Emily in Paris and now feel like your wardrobe needs a little Je ne sais quoi? Here are 13 Paris outfits that will inspire you to incorporate the Parisian style into your closet. These Paris outfit ideas are inspired by the top french fashion influencers, so they are legit!
*this post contains affiliate links*
(wearing the Floral Embroidered Cardigan)
What is the fashion style in Paris?
Parisian women have inspired trends since the dawn of time and are admired to this day for their minimalistic and effortlessly chic approach to style. Paris outfits are usually simple, yet stylish. Staple pieces are paired with basics and neutrals and clean makeup and hair.
Whether taking a stroll along the Seine or having dinner in a hip restaurant, for French women, when it comes to style, less is always more.
What to wear in Paris so you don't look like a tourist?
Red lips + beret + striped top? Jamais! Don't go overboard with French style references, pick a staple – like the trench coat or ballet flats – and pair it with great basics and neutrals for the epitome chic French girl style. Here are some simple ideas:
jeans, white t-shirt, trench coat, and loafers
midi dress with ballet flats
knit cardigan with wide leg jeans and heels
cropped tweed jacket with straight-leg trousers and loafers
oversized blazer and silk slip dress with ballet flats
straight leg jeans, t-shirt, blazer, and sneakers
Think romantic and minimal, Parisians keep their outfits relatively simple with wardrobe staples and always add an element of seduction. And (please!) don't wear an Eiffel Tower bag charm, we all know how that can end…
13 Paris Outfits by French Women
We've stalked our favorite french fashion it-girls for quintessential Paris outfit ideas that are very easy to recreate. Wearing any of these Parisian looks will ensure you don't stand out like a sore thumb…aka tourist.
just like a ballerina
get the look:

A staple in every French woman's closet? Chanel ballet flats, of course! Pair this classic with tailored trousers and a chunky knit and you'll be feeling like a true Parisian.
If you can't budget for Chanel flats, don't worry – any neutral pair of ballet flats will do. Another easy way to recreate the same Paris outfit is with Chanel two-tone slingback heels or a look-alike option (see our favorite Chanel dupes here).
Keep it simple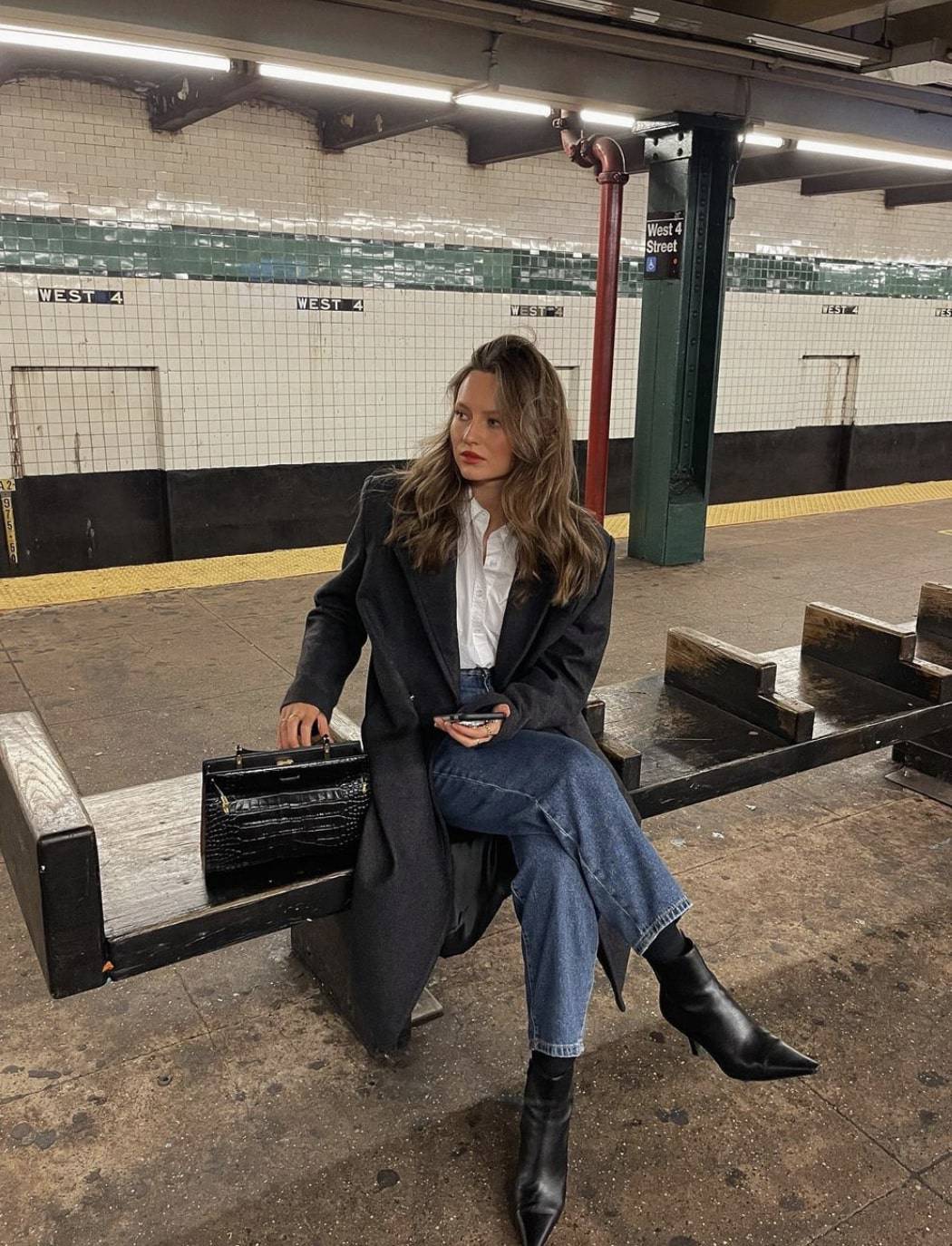 get the look:

Nothing says chic french girl style more than blue jeans and the perfect white button-down shirt. A foolproof combination, for any french inspired wardrobe, that paired with the perfect accessories can turn simple into simply chic.
Whether you intend to look like a Parisian or not, you should always have a white button-down shirt, classic blue jeans, and a pair of sleek black ankle boots in your wardrobe. These pieces are so versatile and can be the foundation for many of your Paris outfits.
And, if you are visiting Paris in the fall or winter, you'll find this outfit perfectly practical.
Monochromatic moments
get the look:

One of the most iconic french wardrobe staples? The trench coat of course! And why not make it the pièce de résistance of the look by color coordinating everything else with it?
We love this long brown version of a trench with a warm feel to it. It is a perfect option for visits to Paris when the weather is cooler.
Another aspect of this Paris outfit that makes it so… Parisian, is that is has an elevated and timeless appeal. No matter the decade, this outfit would be in style.
Oversized blazer, downsized heels
get the look:

A simple combination that screams french style? A minimalist dress and an oversized blazer. Pair it with kitten heels for the ultimate Parisian style.
This outfit may seem like it's dressier, but it wouldn't be at all uncommon to see a Parisian woman wearing this for a simple coffee date. They do everything in style.
Wear this for a dinner out, browsing the galleries, or shopping. However, if you are planning on doing a lot of walking, swap the heels out for a pair of New Balance sneakers (another french woman fave).
The french beret
get the look:

How do French women do winter fashion? With a beret and black tights, of course. This timeless combination is the ultimate french girl option for the cold days, and looks especially chic with a Chanel inspired tweed suit.
When it comes to looking polished and sophisticated, french woman have it down pact. This outfit may feel a little more posh than what you're used to, but it will make you fit right in when you're in Paris.
Recreate the look with any tweed or wool skirt set or tweed dress. Then, add a thick pair of tights and choose a simple pair of neutral heels. Oh, and don't forget – the beret!
The cardigan
get the look:

Looking for French inspired spring outfits ideas? This one is foolproof! Pair a light knit cardigan with simple black tailored trousers and statement kitten heels and you'll be feeling like a true Parisian.
One thing french women aren't afraid of it a statement piece. While you'll see many timeless outfits in Paris, it's not unusual to see bold shoes, bright bags, and fur or feathers.
When wearing a statement piece that pops, be sure to keep the rest of your Paris outfit nice and simple, and opt for a sleek bun and dainty jewelry to finish the look.
Take me anywhere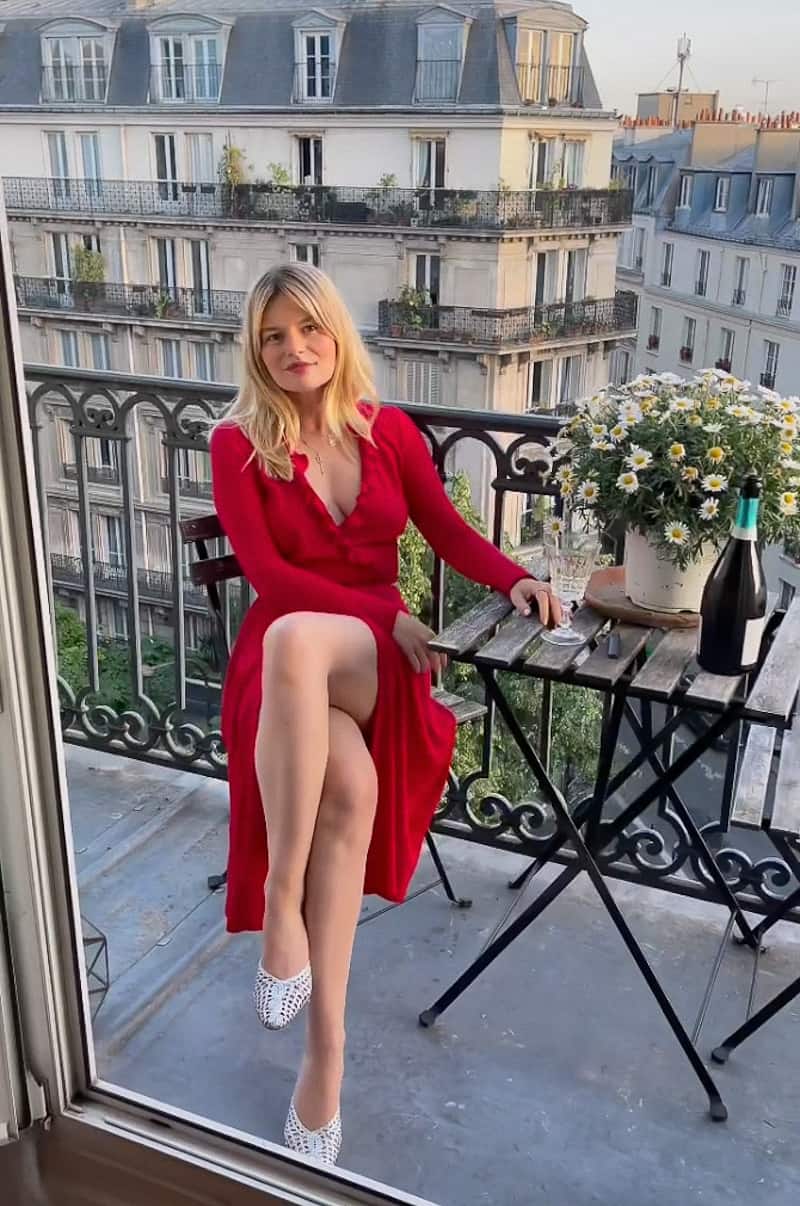 get the look:

The perfect chic french girl style? A red dress and pumps. An effortless statement, perfect for any occasion, from weekend plans to a date night.
You can opt for any style of red dress to get the Parisian vibe. Or, if red isn't your color, navy blue or champagne would be a perfect substitute.
That being said, we think red looks good on every women. It's worth a try — when in Paris!
Tie it with a bow
get the look:

When it comes to Paris outfits, never underestimate feminine touches.
Achieve the ultimate chic french girl style with a hair ribbon. Combine it with bootcut jeans and a little basket (for the baguettes of course!) and walk anywhere feeling like a true Parisian.
While we still have lots of love for straight leg jeans, bootcut jeans have been seen on our favorite fashion influencers, especially the French women, as of late. Opt for a pair of wide-leg or flared jeans to recreate this feminine look on our list of Paris outfit ideas.
The perfect accessories
get the look:

A trench coat, cap-toe Chanel pumps and a silk scarf: the epitome of chic french girl style. Be sure to pair this combination with a great pair of blue jeans and, of course, a classic bag.
While we would all love timeless Chanel pieces in our closet like many French women, it's totally ok to wear more budget-friendly alternatives when in Paris. The A.P.C Grace Bag, for example, is another French-made piece that is at a much lower price point, yet still has a classic feel.
And, we love these Vaneli cap-toe heels that look very similar to the Chanel slingbacks.
Statement pieces
get the look:

French fashion is synonymous with minimalistic statement pieces – like cropped bootcut blue jeans and an oversized blazer. Style this combination with classic accessories, like ballet flats and a woven leather bag, for the ultimate Parisian style.
The oversized blazer makes a statement, but the outfit still has a feminine feel with the dainty shoes and cut of the jeans. If you feel an oversized blazer is a bit much for your style, swap it for a cropped tweed jacket to keep the outfit looking chic and French-inspired.
Double denim
get the look:

You shouldn't wear denim with denim? French women disagree.
Bring a little bit of Paris into your wardrobe and invest in a great pair of jeans and a denim jacket in the same color. This monochromatic appearance keeps the outfit feeling timeless and adds an overall elevated appeal.
We also love the brown glove boots that keep the outfit neutral, but bring warmth and charm.
In other words, this option on the list of Paris outfit ideas should not be overlooked!
Hello sailor!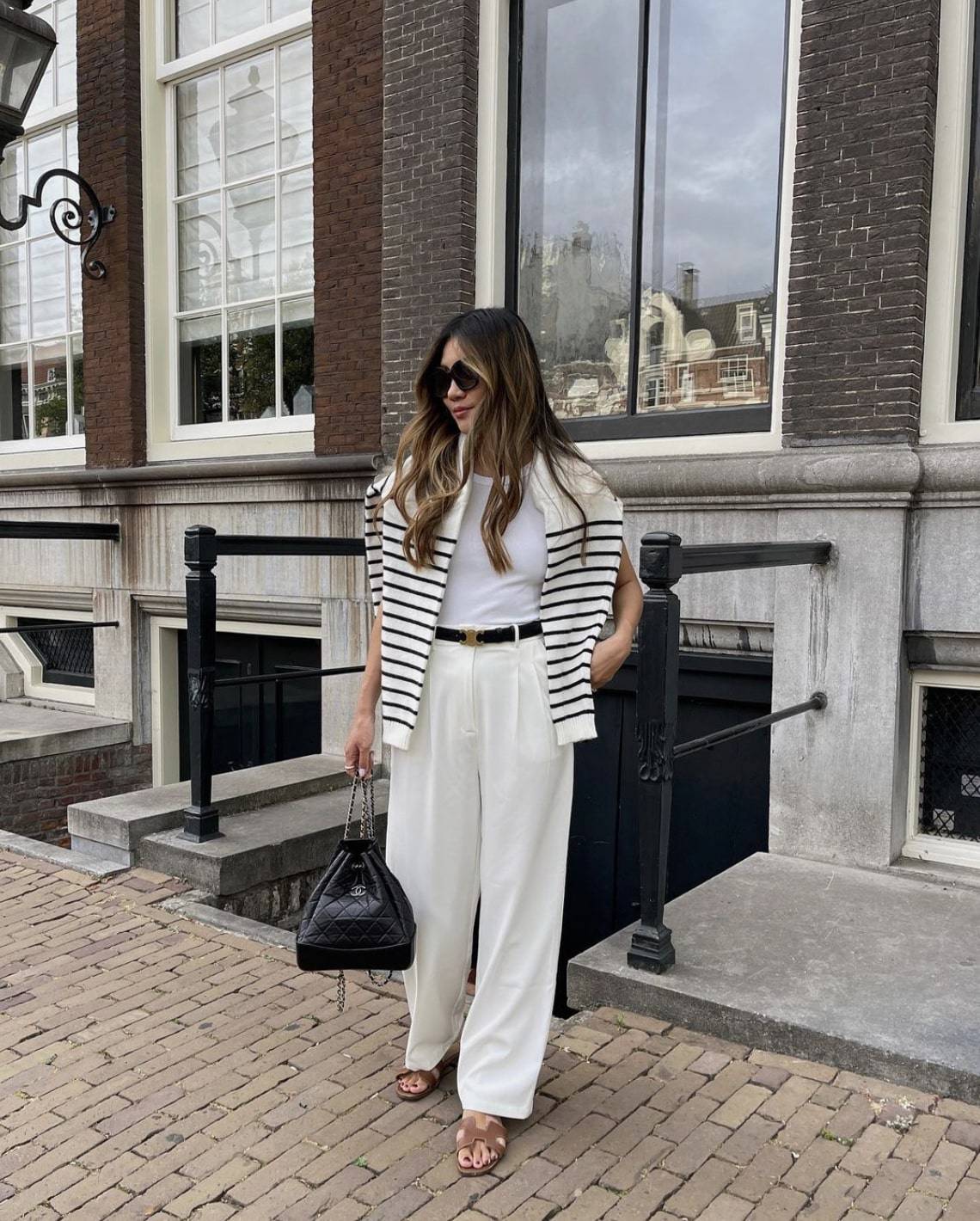 get the look:

Fact: every woman needs a striped knit in their closet.
This quintessential french wardrobe staple looks perfect when paired with tailored trousers and brings a Parisian Je ne sais quoi to any look. This Paris outfit idea is perfect for the spring or summer when you want a breezy, effortless look.
The white and ivory tones add an elevated and timeless appeal, and the brown Hermès sandals add a touch of French luxury. They might just be the one splurge item you want to invest in for your trip!
Basics and neutrals
get the look:

Last on the list of Paris outfits, another quintessential french style staple; combining jeans with neutrals. Go with a chunky knit or a crisp button-down shirt and pair it with a classic pair of straight-leg or wide-leg jeans.
Keep the outfit casual with sneakers or dress-up the look with a pair of kitten heels or ankle boots. This Paris outfit is undoubtedly casual, yet it has a refined feel we love.
For a french woman, basics and neutrals go together like croissants and coffee.
How should I dress for Paris?
Simplicity is key to achieve the perfect Parisian style. Quality minimalist pieces and accessories are part of any french woman's wardrobe, and especially combined with clean makeup and effortless hair.
Your packing list should include wardrobe basics like straight-leg jeans, a white button-down shirt, basic t-shirts, a black belt, a knit sweater, a classic slip dress, a trench coat, and a blazer. Add in ballet flats or loafers, a sleek pair of heels, and a comfortable pair of sneakers. Don't forget a black leather bag and black cat-eye sunglasses for style and practicality.
Invest in classic staples and combine them with neutrals and basics to achieve the best Parisian look.
We hope you have enjoyed these Paris outfit ideas and feel inspired for your trip to the Ville d'Amour.
More Style Guides Like Paris Outfit Ideas You'll Love:
10+ French Lingerie Brands That Should Be On Your Radar
13+ Elevated Black Blazer Outfit Ideas For Women
16+ Fresh & Chic Trench Coat Outfit Ideas
What To Wear To The Ballet: 11+ Chic and Elegant Looks To Try
18+ Modern Womens Gucci Loafers Outfit Ideas
Chanel Slingback Dupe: 9+ Stunning Look-alikes For *Way* Less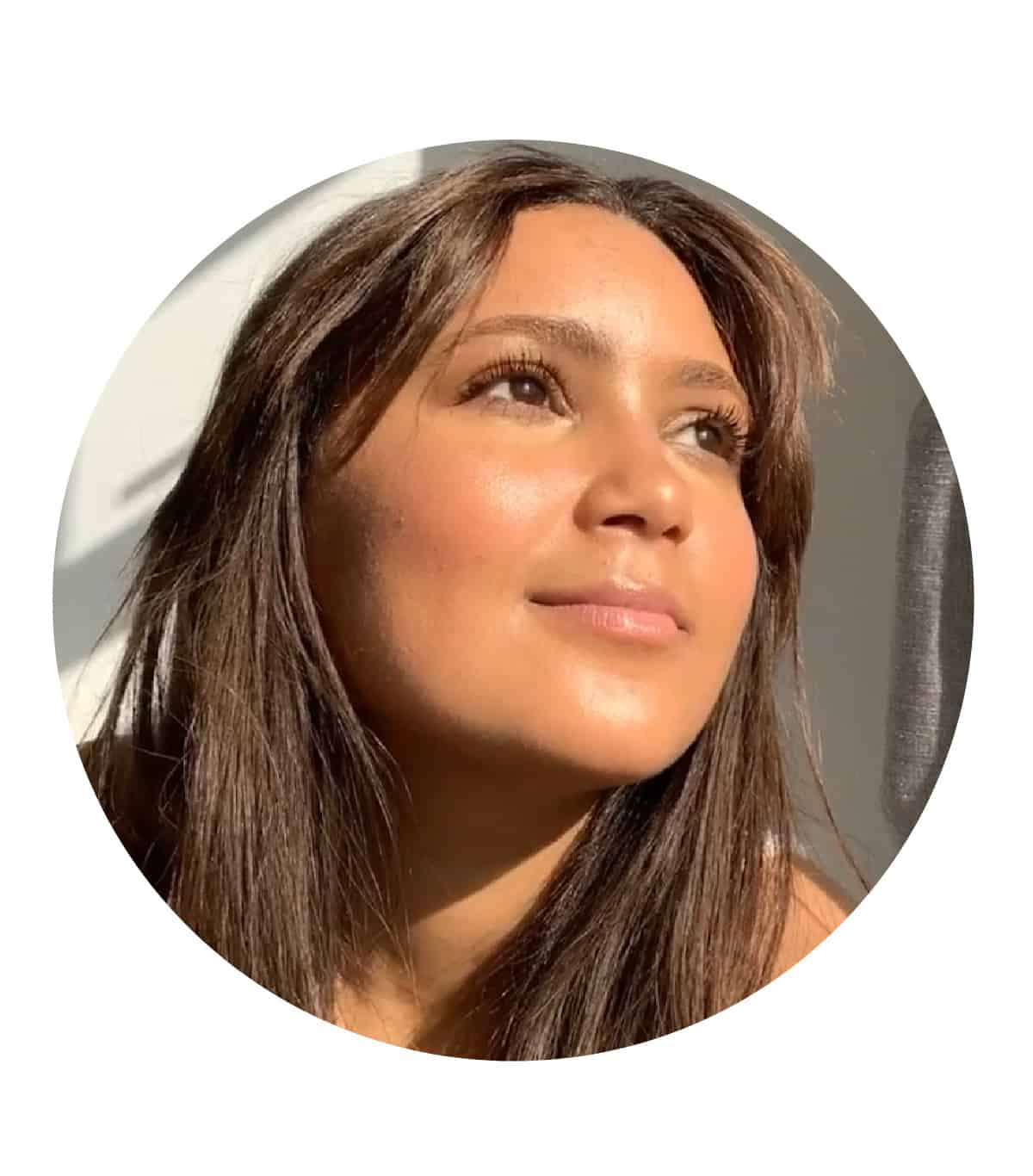 As an ever so opinionated child, especially when it came to the way people dressed, it made only sense that I'd follow a path of words and style. After completing a postgraduate degree in Fashion & Lifestyle Journalism, I've worked as a fashion PR assistant, as writer for Vogue Portugal and a styling assistant for Net-a-Porter. Today I help people with content for their websites and their wardrobes.