Looking for gorgeous black nail designs to inspire your next manicure? You'll love our list of 26+ black nails with everything from bold black nail art to classy nude and black nail designs!
Eye-Catching Black Nail Designs
Black is a chic, bold shade perfect for a gorgeous new mani. We love that this color is timeless and versatile enough for any outfit! Plus, black is an excellent choice for classic solid-colored nails, intricate nail art, glittery accents, and everything in between.
So if you've been looking for a stunning nail design in 2023, we're here to show you why black nails should be a top choice for your next manicure.
We've gathered gorgeous black nail designs and listed them below to prove how many different ways you rock this eye-catching shade. Whether you're looking for short black nail designs, nude and black nail designs, or black nail art – we have a look you'll love in our lists of black nail ideas below!
Black Nails + Sparkle Details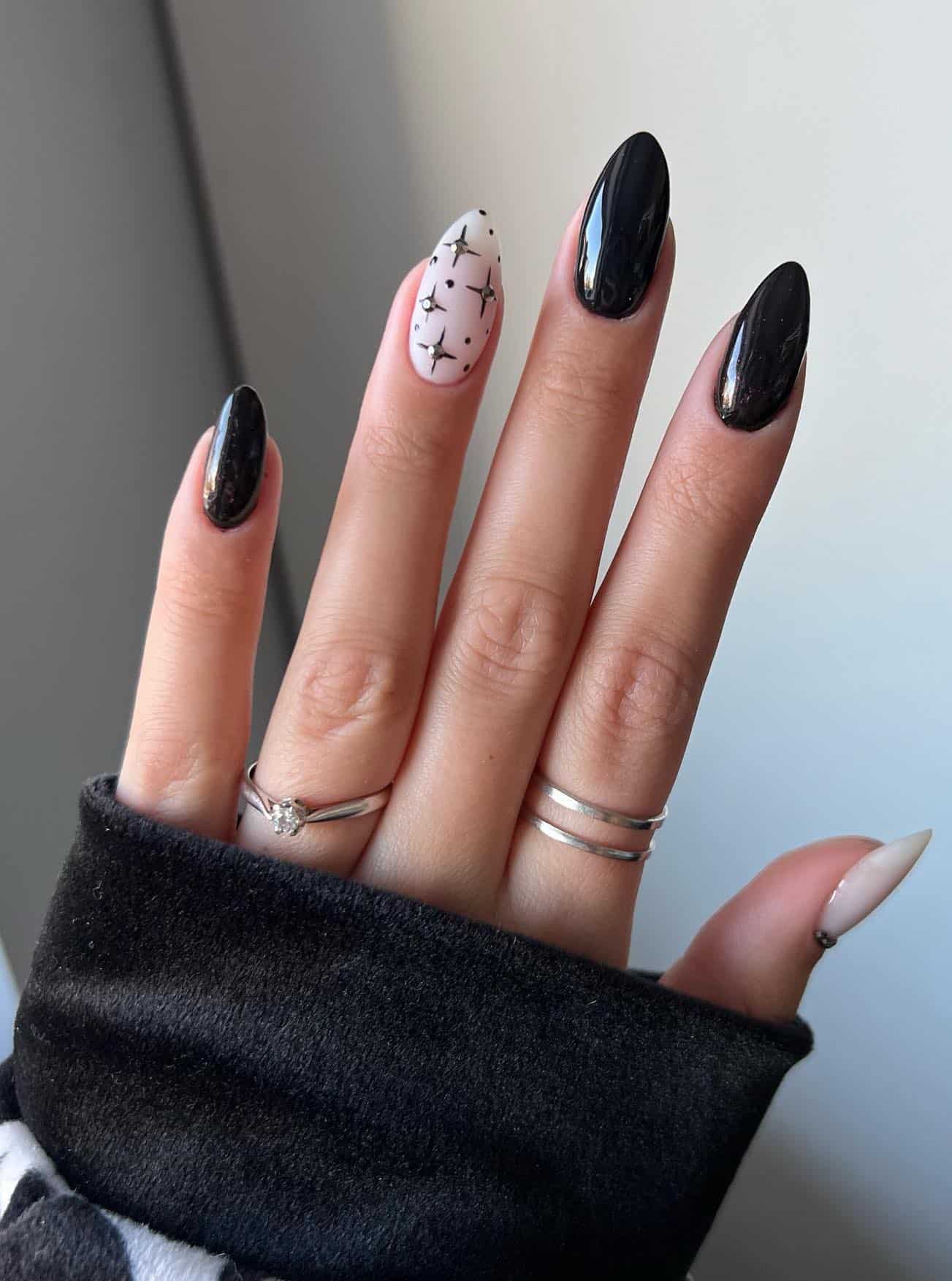 Go for modern glam with glossy black nails, sparkle nail art, and gem accents! We love the contrast between the black and white polish. This nail design is perfect for anyone who loves to add a little flair to a classic look.
Matte Black Nails w/ Glossy French Tips
Matte nails tend to have a more refined feel, so adding a matte finish to black nails will definitely give you an elegant aesthetic. The glossy black French tips are also elevated but still have a modern and playful vibe.
Pink Nude + Black Polish w/ Gold Glitter
Soft pink nude is perfect for adding feminine flair to any manicure, and we love the combo of this shade with bold black polish. The gold accents are an eye-catching touch, making this black nail design perfect for anything from girls' night to date night!
Do black nails look classy?
Black nails are sleek, bold, and stylish – but do black nails look classy?
We're happy to inform you that black nails are definitely classy! This color is timeless and sophisticated, exactly what you want for elegant nails. And being a neutral shade, black will pair well with any other nail color and effortlessly accent any outfit.
Black Chrome Nails
Black chrome nails are a must for a simple yet alluring mani. This nail design can go from a day at the office to a night on the town in an instant, so this is a great choice for anyone who wants a chic and versatile look.
Black + Nude Marbled Nails w/ Gold Flakes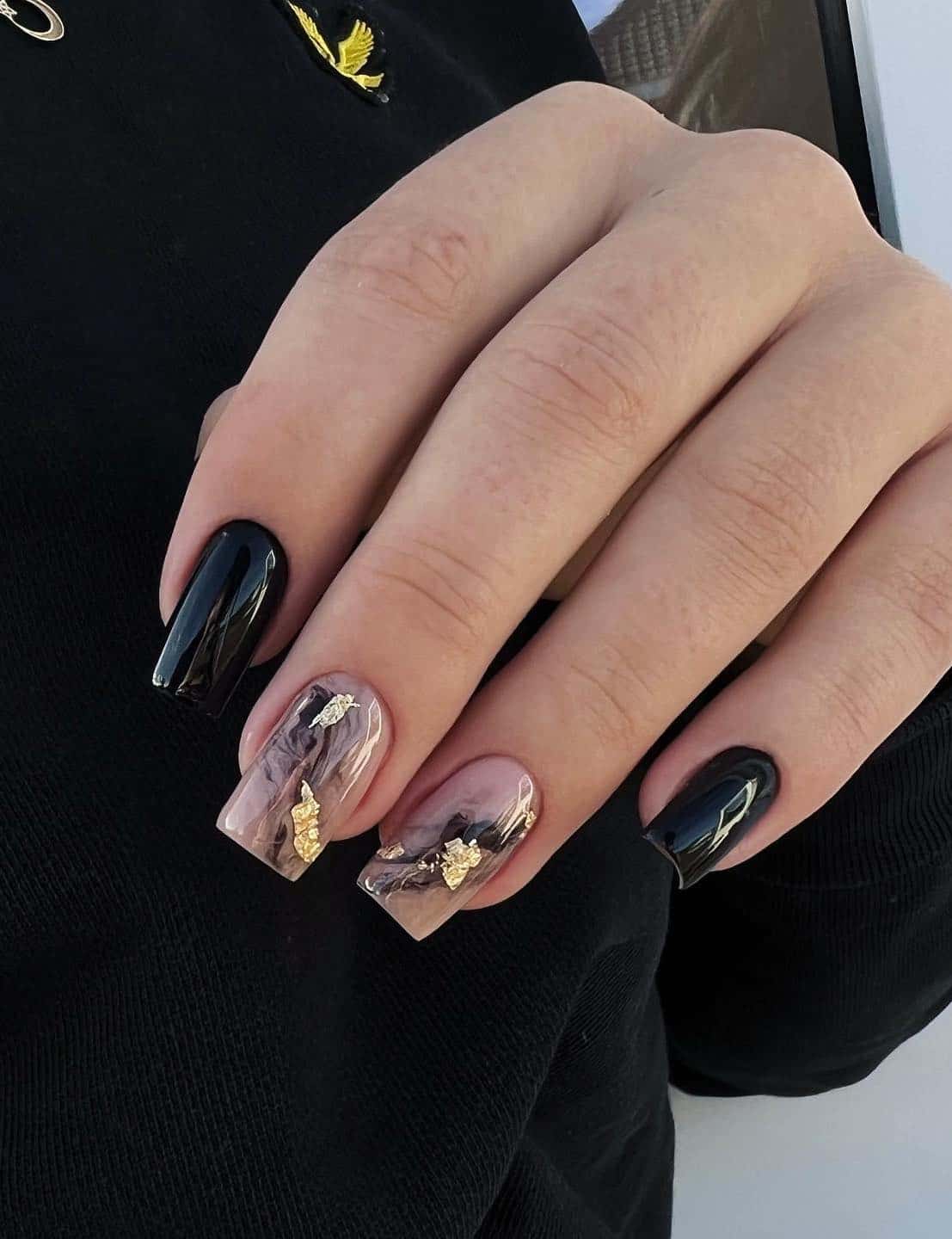 We love elegant marbled details, and adding gold flakes is another elevated touch. The nude polish breaks up the darkness from the black, and the gold flakes are perfect for a playful pop!
Black Polish w/ White French Tips
Solid black nails with white Frenchies are so stunning, and this mani is the perfect combo of classic and modern! You can add some glitter or metallic accents if you want a more lavish aesthetic, but this nail design is definitely attention-grabbing as is.
Can anyone wear black nail polish?



Anyone can wear black nails, so this gorgeous color should definitely be a front-runner when looking for chic nail polish. This color is classic and refined, and if you want to tone down the bold feel of solid-black nails, you can easily pair it with different shades and accents for a softer look. Or go all in with black nail polish for a daring and edgy vibe.
Either way, a black nail design can elevate anyone's style!
White & Black Ombre Nails w/ Gold Flakes
Go for a gorgeous ombre nail design with white to black ombre and gold flakes! We love the ombre as accents to this classic manicure, and the gold bead detail is the perfect finishing touch.
Shimmering Black Nails w/ French Tips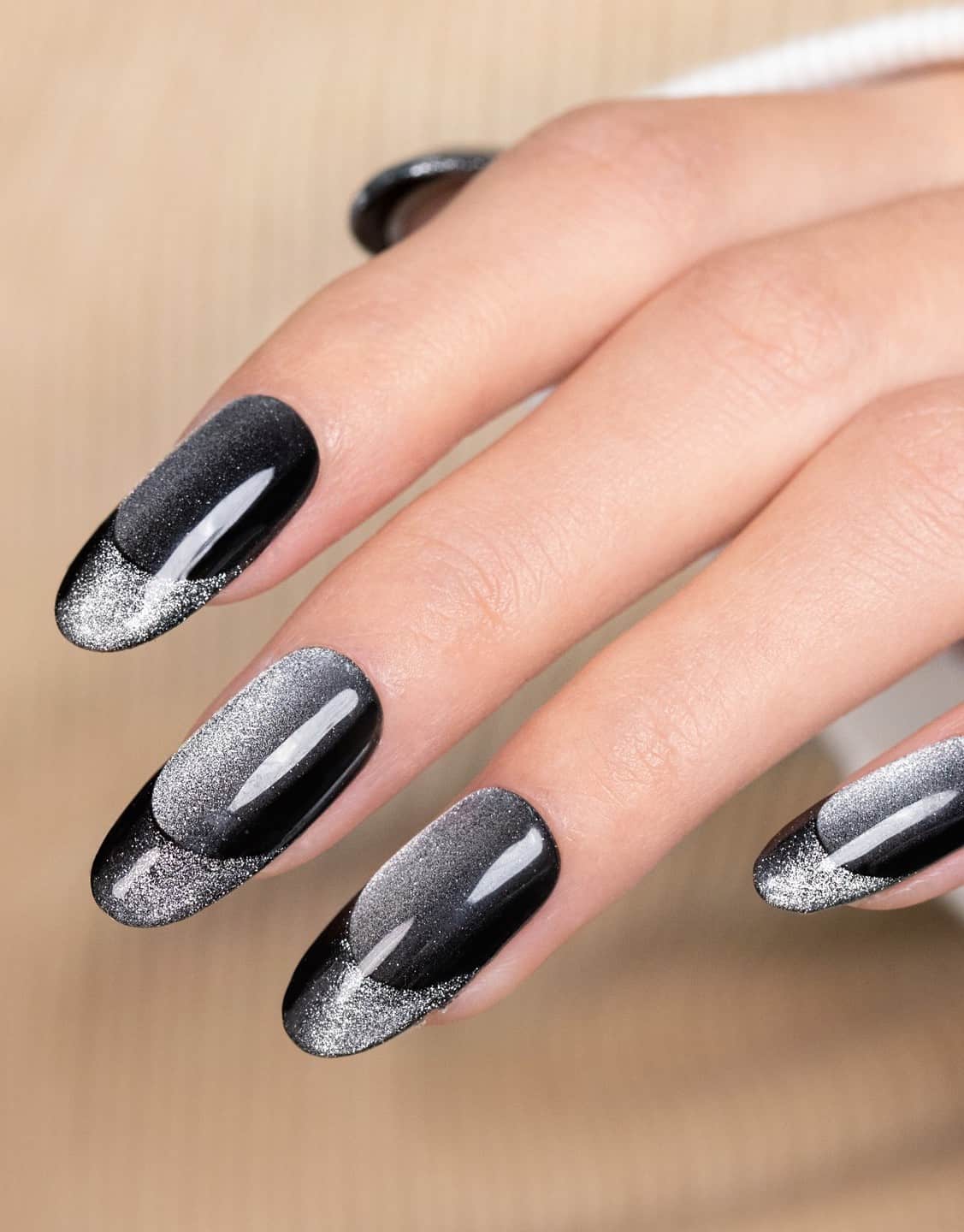 A shimmering finish is an easy way to upgrade any nail design, and the subtle French tip takes this manicure to another level! These black nails have an effortless elegance that will easily upgrade your everyday outfits.
Black Nail Art Ideas
Nail art is perfect for adding a chic and playful touch to your manicure, and the black nail art ideas below will definitely give you some inspiration for your next nail design!
Black Cow Print Nails
Cow print has been a popular pattern over the last couple of years, so black cow print nails are a cute and trendy choice. Go for black nail art on unpainted nails, or opt for a brighter look with a white nail base. Or you can add a splash of color with a pastel pink or nude polish.
Black Polish w/ Flames + Checkered Nails
If you want an effortless cool-girl vibe, black collage nails are definitely the way to go! This nail art has a retro vibe that we love, and the playful design is a must for anyone who loves to show off their bold sense of style.
Nude Pink + Black Polish w/ Retro Flowers
This is another gorgeous retro nail design. The black floral art pops so well against the soft pink, while the white flowers have the same striking contrast against black nails.
This black nail design is a must for anyone looking for bold, fun, and feminine nails!
Black Frenchies + Wave Accents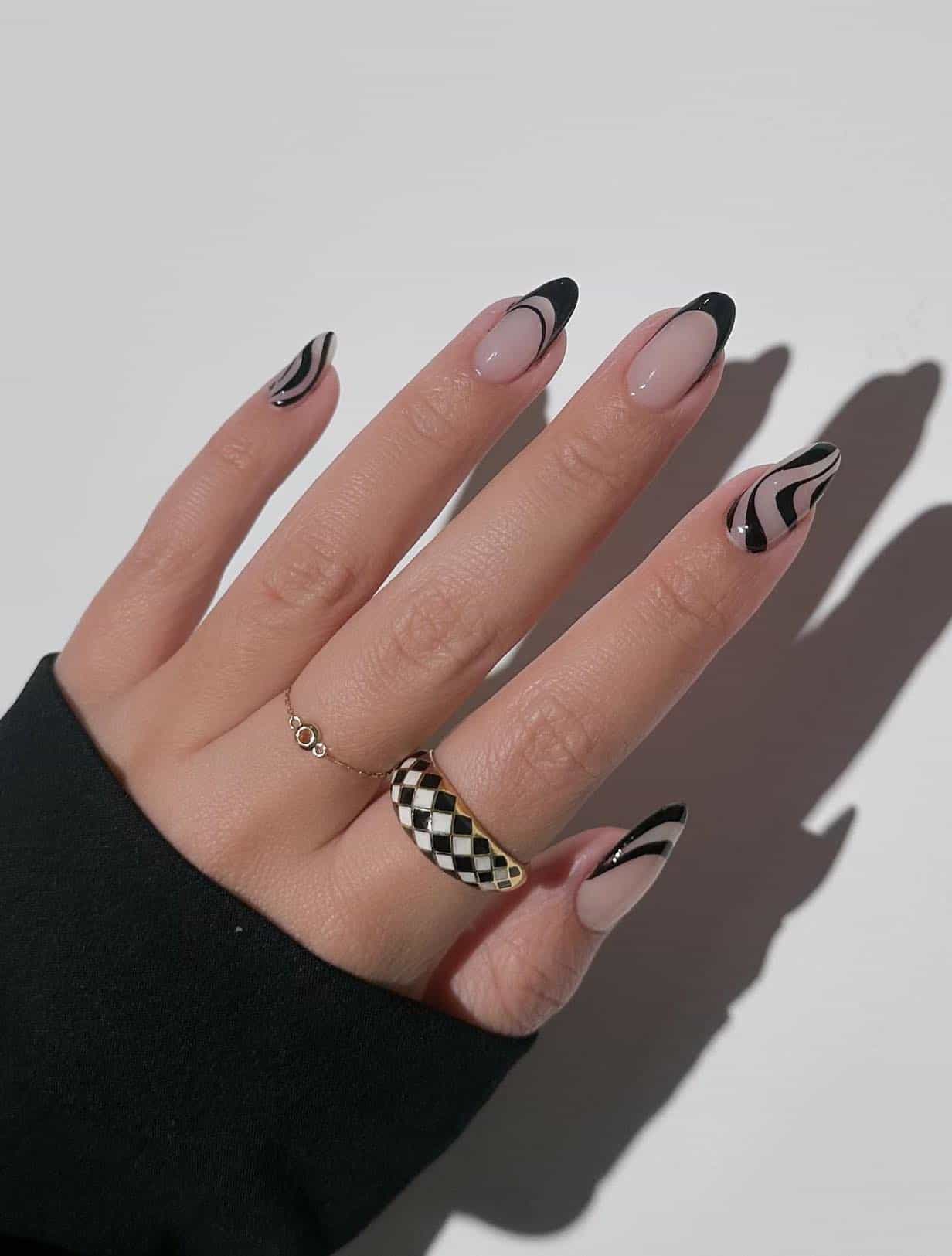 Go for a simple, elegant design with a black French manicure and wave accents. The waves and line details add a modern feel to this timeless design but are still perfectly chic and refined!
Black Mani w/ Sheer Nails + Hearts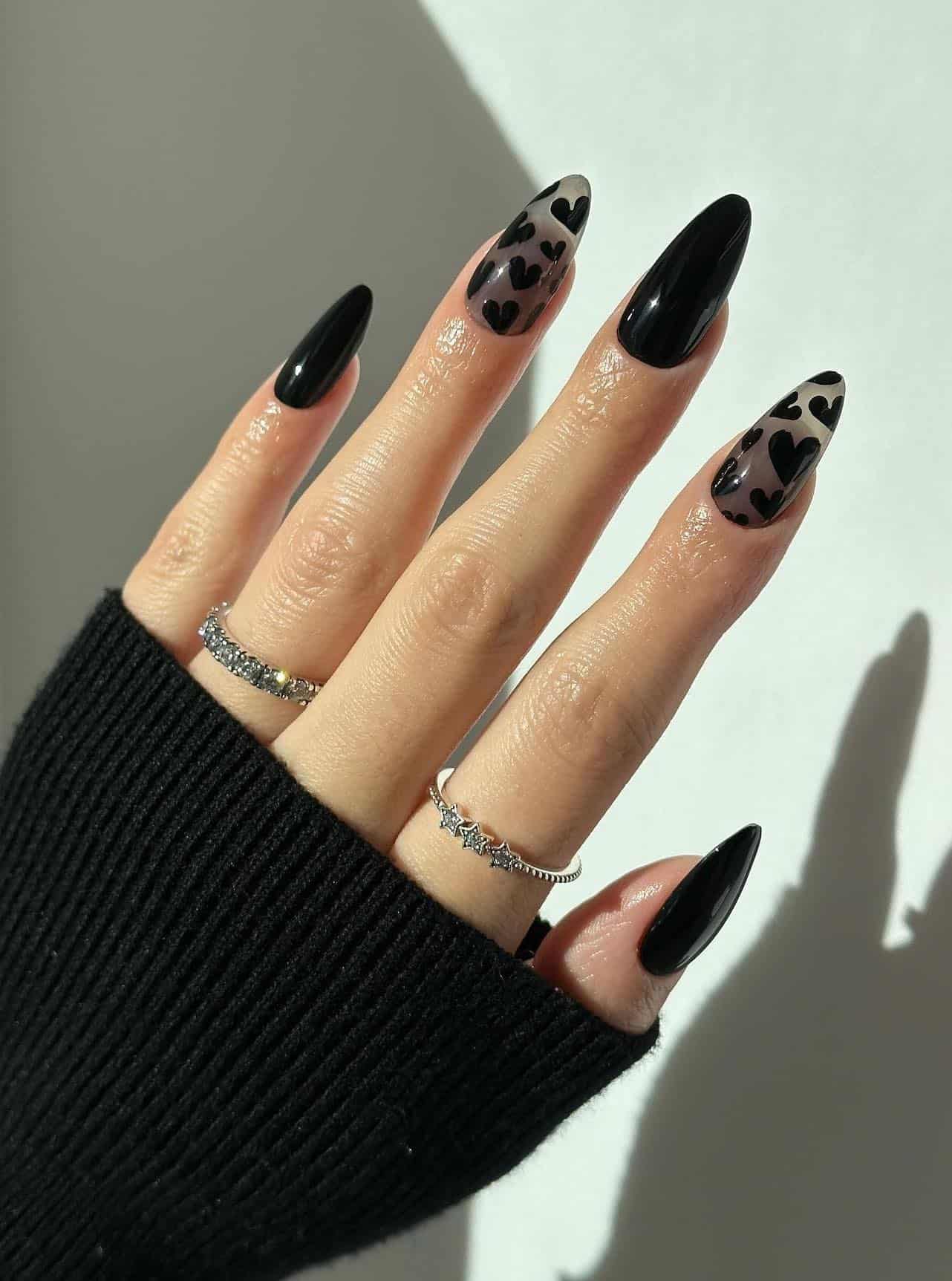 We are so in love with the combo of solid-colored nails with sheer black accent nails! This combination is so cute and gives this manicure a unique look. The heart details are sweet, girly, and perfect for a bold anniversary nail design.
Short Black Nail Designs
Black nail designs will look just as stunning on short nails as they will on long nails! So if you prefer to keep your nails neat and trimmed, the looks below are for you.
Short Matte Black Nails
Don't underestimate a classic manicure on short nails. This design is classic for a reason, and using a matte finish gives this mani a modern, refined feel that is so stunning!
Black Stiletto Nails w/ Floral Art
We cannot get enough of this beautiful floral nail art! The dark tones of the flowers and leaves pair perfectly with the black nail polish, and gold accents add a glamorous pop.
Glossy Black Nails & Gold Flakes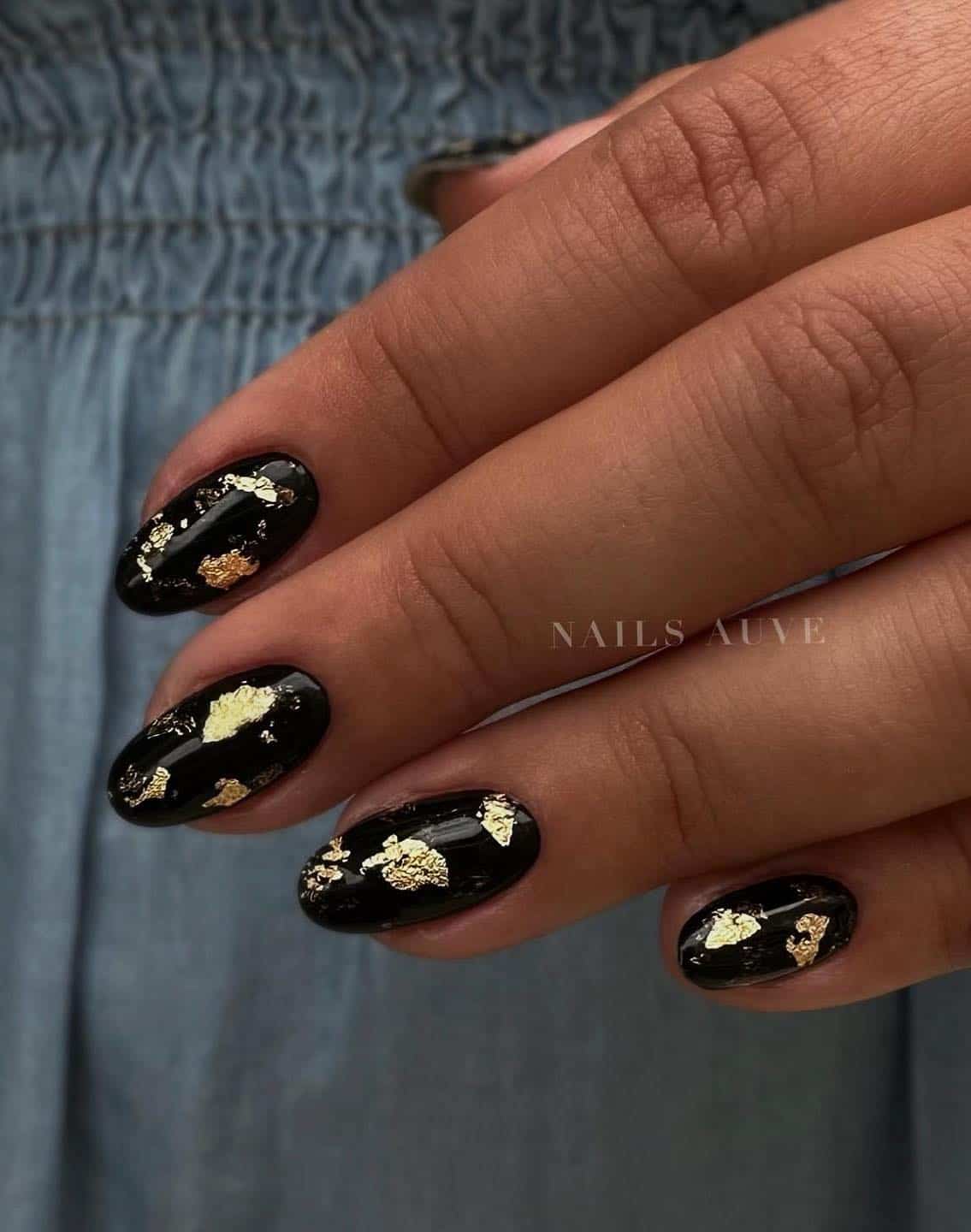 Gold flakes are one of our favorite ways to accent a manicure. A minimal glossy nail design is always a great choice, and the shimmering gold details instantly transform this mani from simple to stunning!
Black Polish + Wrapped Present Nail Art
If you're looking for chic, eye-catching birthday nails – a glossy mani with present nail art is not only cute but so unique! You can also rock this for a subtle and elegant Christmas nail design during the holidays.
We love the gem detail here, although glitter accents would also look stunning.
French Tips, Floral Accents + Gem Accents
Floral nail art and crystal accents are the perfect way to elevate classic French tips. The retro flowers are cute and trendy, and the gems are a must if you want to add a bold and alluring aesthetic to your nails.
Speckled Black Polish
Speckled nails may be simple, but they're definitely still a fantastic choice for a chic nail design. This mani is great for a more subtle look, but you can still rock this while hitting up happy hour or during a dinner date!
Nude and Black Nail Designs
Nude and black are a stunning color combo, so we had to give you some inspiration for a nail design with these shades. The looks below are polished and chic and perfect for your next mani!
Marbled Black Mani w/ Nude Accent Nails
This manicure has the perfect blend of playfulness and elegance. The nude pink shade looks so good with bold black, and we love these colors marbled together.
French tips and dot details are terrific accents that don't take away from the classy aesthetic of this nail design.
Nude Almond Nails w/ Teardrop French Tips
Nude and black nail designs tend to have a sophisticated feel, and this teardrop French tip design fits that vibe perfectly. The delicate nail art, nude pink base, and almond shape give this nail design an elevated aesthetic, so you can't go wrong with a chic mani like this!
Nude & Black Animal Print Nails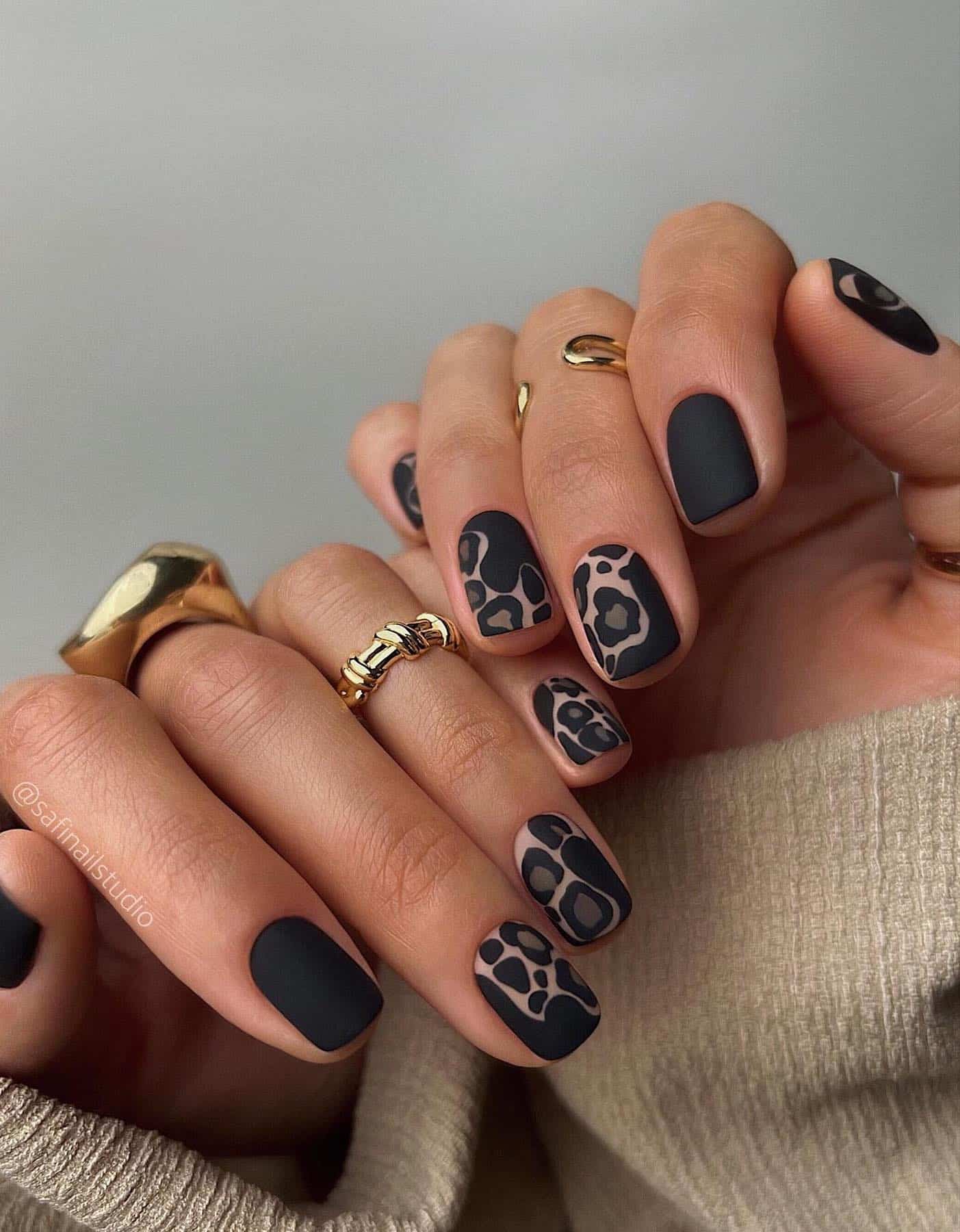 Pairing bold nail art with this bold shade is a must for stunning nails! Nude and black are the perfect colors for animal print, and the matte finish gives these a classy look without taking away from the playful pattern.
Nude Nails w/ Glitter Waves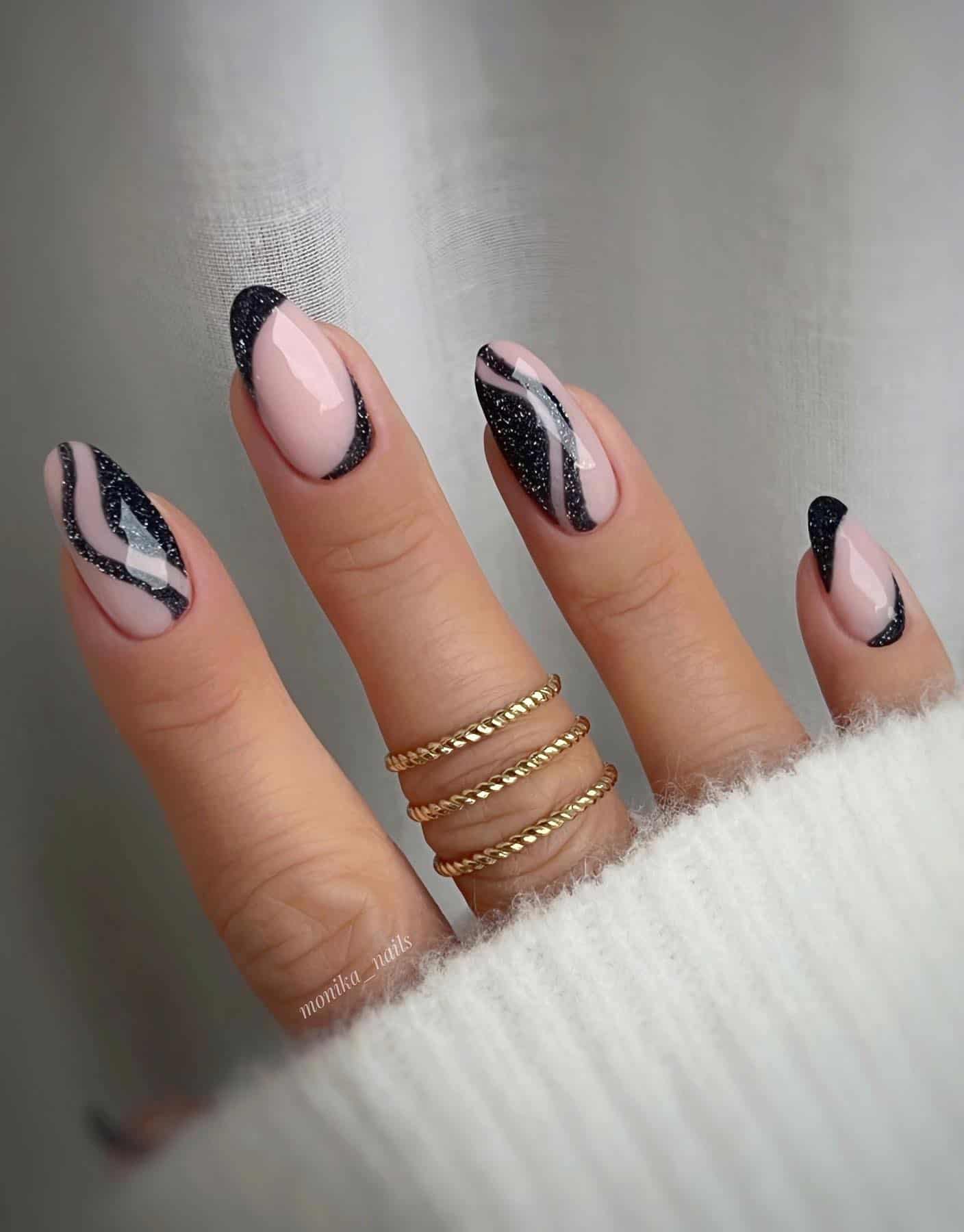 Glittery black waves on nude nails are a lovely modern design that's also elegant. We love the feminine feel of these nails, and the glitter polish makes this manicure so attention-grabbing!
Shimmering Nails + Pointed Frenchies
A shimmering nude base will quickly elevate your manicure, even for a simple design like French tips. The slanted French manicure adds a contemporary vibe to this nail design, so this is an easy go-to for a refined and modern look.
Nude Nails w/ Black & Gold Accents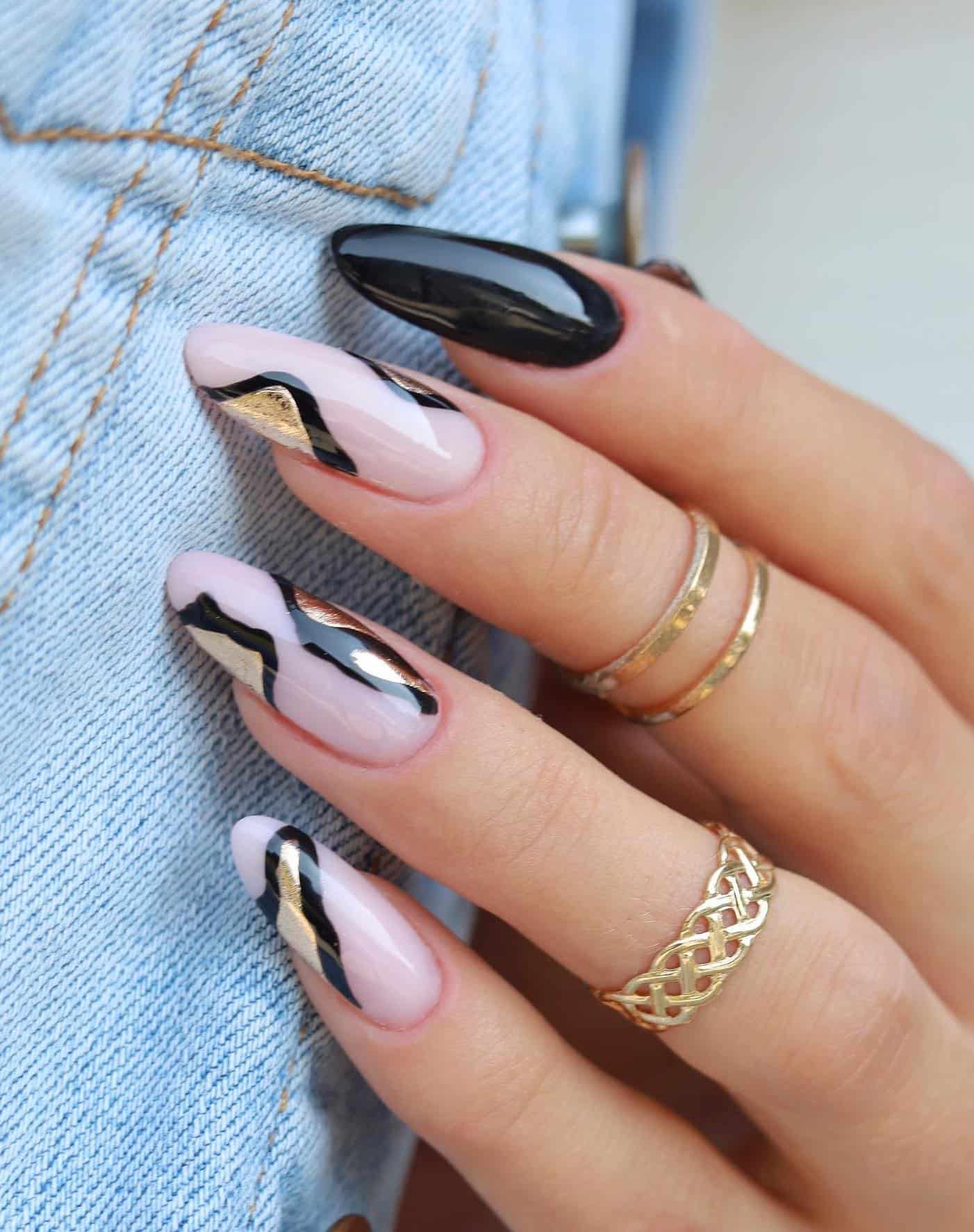 Gold is a gorgeous color that perfectly accents nude and black nail designs! We love the abstract feel of the nude and black nails. The gold details add a regal vibe, making this mani an excellent choice for a night out.
Pink Nude Nails w/ Black French Tips + Hearts
And last on our list of black nail designs is this fun and flirty mani! The combo of French tips and reverse French tips is bold and playful, and the heart details add a cute, romantic vibe that we can't get enough of.
We love the pops of white here, although you can use glitter polish instead for a bolder look.
Black nails are so chic and timeless, and we love that this shade can be used in countless nail designs! No matter what aesthetic you love, black nail polish will easily elevate your manicure and outfits.
More Nail Inspiration You'll Love:
32+ Classy Short Nail Designs & Ideas For Every Season
21+ Chic Neutral Nails For A Classy, Minimal Aesthetic