Want to create a sexy outfit that still looks sophisticated? Check out our list of 15+ sexy outfit ideas and seductive outfit ideas that are polished and classy!
*this post contains affiliate links*
get the look:

What should I wear to look seductive?
To achieve a seductive look, the key is to wear something that you feel confident in. A slinky dress is always a great option if you're going for a sexy style, but you don't have to feel limited to just that. You can wear easily wear a glamorous top and pair it with jeans or a slip skirt to get a seductive vibe.
You should look for pieces that have sexy details, like a body contouring fit, lace accents, silk elements, or animal print. These little details will add to the sex appeal of any outfit.
Creating A Sexy Outfit That's Classy Too
Below are outfits that use key pieces that are sexy, but also all-class. You can combine these pieces in different ways to create an elegant and seductive ensemble. Whether you are looking for Valentine's Day, date night, or a night out with the girls, you'll find a look you love here!
Looking for Boudoir Photoshoot outfit ideas? Check out this post!
the slip dress.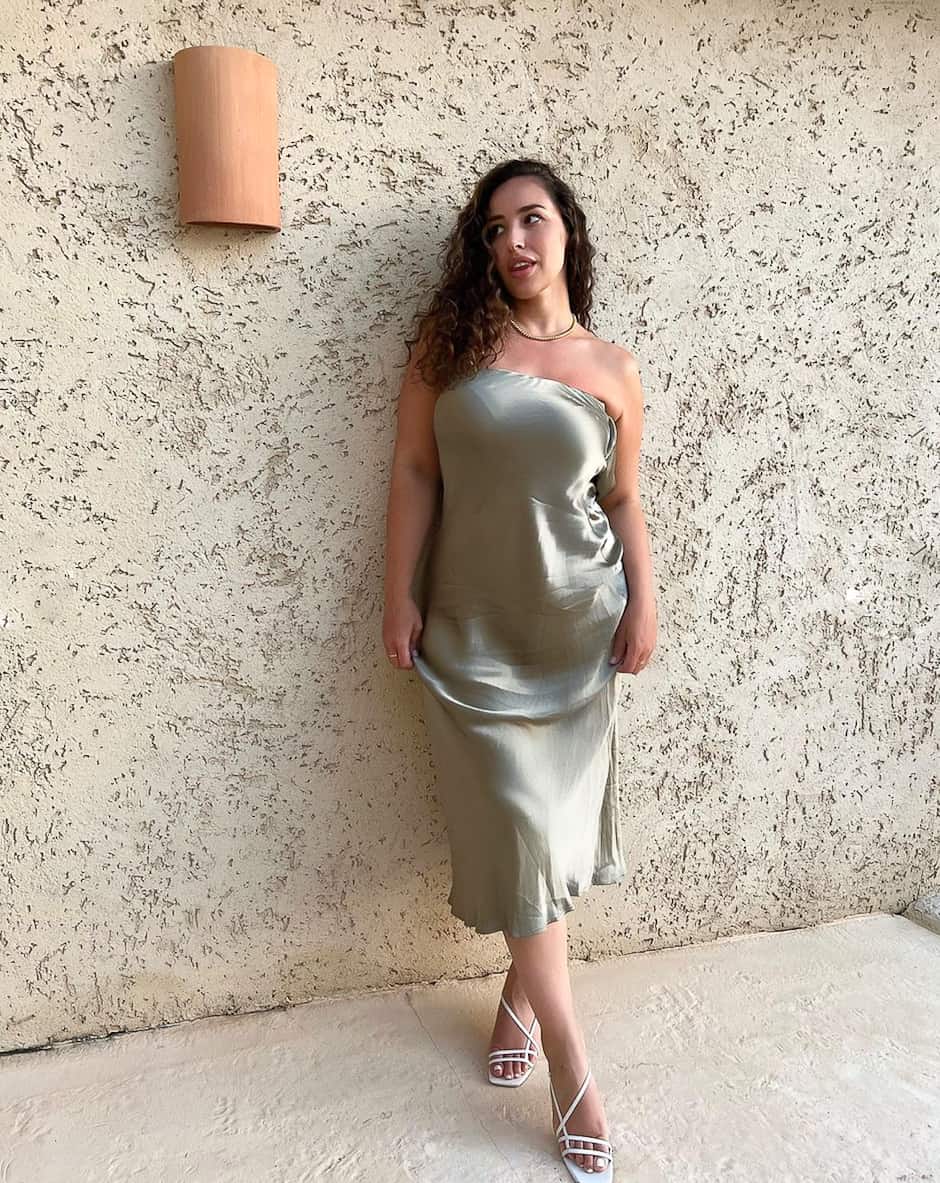 get the look:

A slip dress has a sexy and refined look that we love. The glossy, silky material adds a sensual vibe to the outfit while still looking gorgeous and put together.
This outfit is a stunning choice if you want something with sex appeal (learn all about the romantic essence for clothing here). We love the strappy heels paired with the dress and how it adds elegance to the look. You can wear a slip dress with a neutral tone like this or opt for something soft and feminine like pink or purple.
A slip dress is also a great choice because it can be dressed up or dressed down however you want. You can wear bold and sexy heels or a classic pair of pumps, and this dress would look amazing with any jewelry.
cottagecore dress.
get the look:

Hello, Bridgerton! Another excellent choice for a sexy outfit is a charming and romantic bustier dress. This dress style is a great pick for a seductive but chic look because they tend to give oomph to the bust and have a very flattering silhouette for all body types.
The thigh-high slit and the gorgeous pink color of this dress add to its dreamy feel. We love this look for a picnic date in the park, but this dress can be worn anywhere. You can add more sexiness to the outfit with heels or go for flats if you want something more casual.
the little white dress.
get the look:

Everyone's heard of the little black dress, but we can't forget about the little white dress. This stunning piece has a sophisticated feel but also looks so sexy. The mini length, v-neck, and cinched waist are all subtle touches that add to the seductive vibe.
This dress is perfect for your next girls' night out, and you can easily change it to fit your style. If you want something a little more reserved, you can wear a pair of tights under the dress or even a lacy top underneath.
Add a bright pair of heels or a glittery belt around the waist if you want something bolder.
the silky slip skirt.
get the look:

If you want to create a sexy outfit that's casual and comfortable, opt for a midi length slip skirt and pair it with a cropped tank to t-shirt and sneakers. This outfit has a playful vibe but the cropped top and silky skirt bring in the sex appeal.
To add a little more, swap the sneakers for heels, but keep the cropped t-shirt. You can easily take the look from day to night with this simple switch.
the bodycon dress.
get the look:

This sexy outfit is perfect if you want something sleek and simple. The figure-hugging fit of the bodycon dress is so alluring, and the addition of the blazer makes it look sophisticated.
We love this outfit for a classy lunch date at a new restaurant. The black blazer adds a dark feel that we love, but you could also swap the blazer for a cardigan to give this outfit a softer feel.
The strappy heels keep this look feeling sexy, or you could opt for a pair of heeled ankle boots.
the red midi dress.
get the look:

Leave it to French fashion it-girl Sabina Socol to give us some major sex appeal! Red is a go-to color for a sexy look, and this beautiful midi dress is a perfect example.
The fiery red and the low v-neckline add a spicy touch to this outfit, although the dress is still chic and elegant. This outfit is perfect for an alluring look while spending the day in a trendy spot.
This dress is also an excellent choice for a sexy fall look. You can easily add a cardigan or a long coat to add more warmth. We love the addition of the boots, but you could always wear a classic pair of heels to complement a dress like this.
This shade of red would look great with gold or silver-toned jewelry so that you can dress it up with your favorite pieces for an elevated look.
Sexy Birthday Outfits
If you are searching for inspiration for sexy birthday outfits, you'll love these looks below! They have a party vibe but are still very seductive and sexy.
the mesh dress.
get the look:

There's nothing like getting dressed in a glamorous outfit to help make your birthday feel even more extraordinary. This Instagram-worthy rhinestone mesh dress from Meshki is perfect for a night out celebrating.
This dress is so versatile and can be styled in so many ways. We love the look of the black two-piece set here, but you can use a mini or midi bodycon dress underneath if you prefer more coverage.
Heels are a timeless sexy piece to add to this look, and you can choose a pair you love. Strappy heels, stilettos, or a classic pair of pumps would all complement this dress.
glittery mini dress.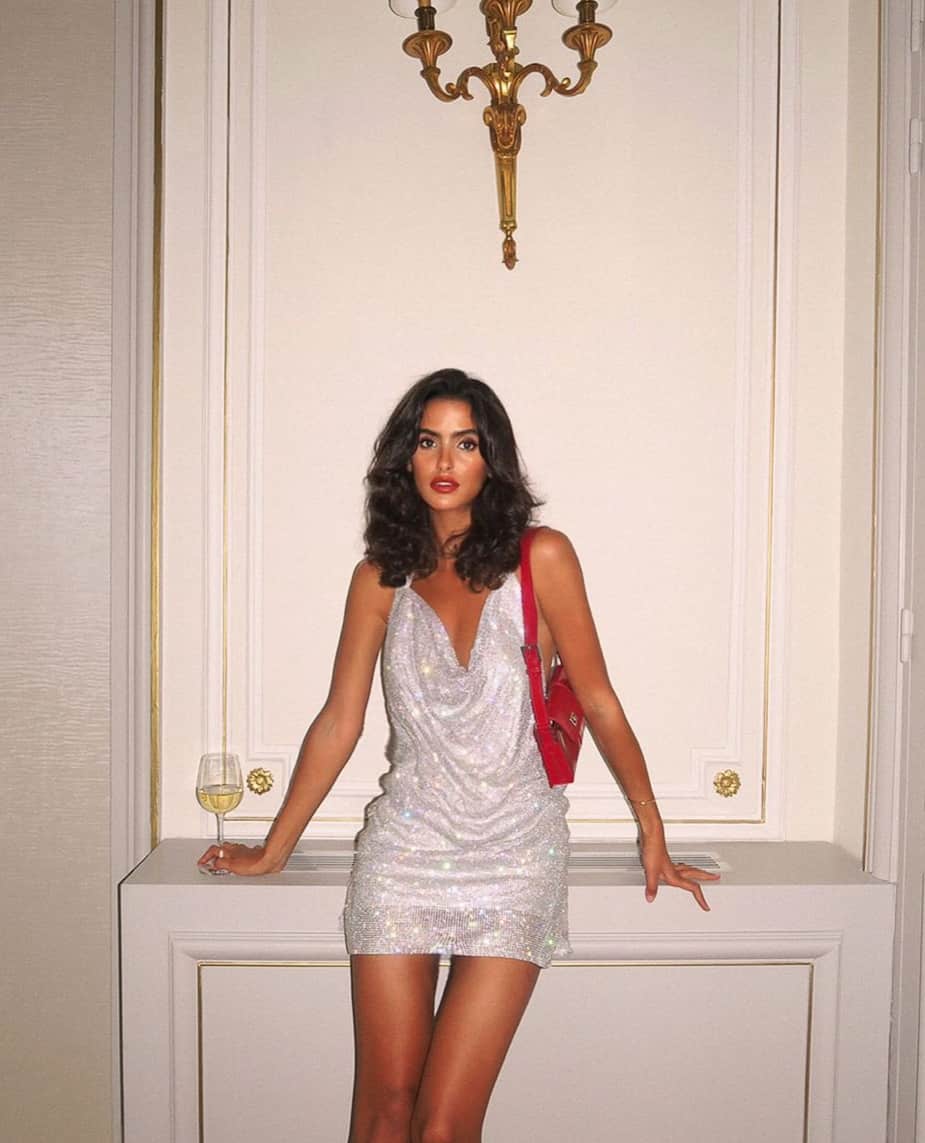 get the look:

When it comes to sexy birthday outfits, there's no such thing as too much sparkle.
Here's another gorgeous shimmering dress perfect for a night out on your birthday. We love the cowl neckline of this mini dress and how it adds a sexy touch without being too low.
The silver color looks so classy, and we adore that pop of color from the red purse. You could also use a different color for this look and go for a glittery mini-dress in blue, green, or red.
A pair of long, dangly earrings would look amazing with this outfit, and strappy heels would be a perfect way to complete this look. If you want something with a little more coverage, add a blazer or long coat to this outfit.
Want to take your sex appeal to the next level? Check out this guide on how to Glow Up overnight!
go for animal print.
get the look:

Animal print is a no brainer when it comes to creating a sexy outfit. This hip-hugging cheetah print maxi dress is so stunning and definitely has a seductive feel to it.
This outfit is perfect for a spicy look to wear on a birthday date night. You could add a simple black belt around the waist to highlight your curves and add another sexy touch.
Animal print is also great to incorporate into an outfit with just a printed top, skirt, or even pants. The print adds sex appeal that can make any outfit look hot.
How can I look hot without revealing clothes?
Women don't need to wear any revealing clothing to create a hot outfit. Here's how you can look hot with full coverage:
Wear something you feel confident in
Choose body contouring pieces that provide full coverage, such as a long-sleeve bodysuit with leather pants
Go with less-revealing clothing that has a sexy pattern like leopard print
Go with a bold red color on a full-length dress that provides more coverage
Choose pieces with subtle details that can add to the sexiness of your outfit like lace trim, a v-neck, or a slit on a skirt
When in doubt, add stockings – they add more coverage but have major sex appeal
the sheer top.
get the look:

Next on the list of seductive outfit ideas, we have this gorgeous street-style outfit perfect for a birthday weekend getaway. We love the sleek look of the all-black outfit, and the sheer lace top adds beautiful texture.
This is another excellent choice for a versatile look. You could use a patterned sheer top like the one here or a simple one for a minimal look. You can also swap the bra top underneath with a crop top for a more reserved look.
A sheer top is also perfect for layering over your favorite mini or midi dress to add a sexy vibe to it.
More Seductive Outfit Ideas
Below are more seductive outfit ideas to try when going for a sexy, yet classy look. You can wear these for all kinds of casual occasions.
cut-out body suit + jeans.
get the look:

Sexy and fun, a cut-out bodysuit is a fantastic choice for something classy that has a sexy feel to it as well.
The bodysuit and jeans combo has a laid-back vibe that is perfect for a night out with your friends. But this sexy cut-out bodysuit could easily be paired with a mini skirt midi slip skirt for a more alluring look.
A bodysuit, jeans, and pair of heels is a sexy combo any woman can pull off.
classic lingerie.
get the look:

Of course, a gorgeous and classic lingerie set creates the ultimate sexy look and perfect for a boudoir photoshoot. A small pop of delicate lace and embroidery is always a detail that makes a look alluring and seductive.
Lingerie can easily be styled into an everyday outfit. You can wear a low-cut tank top, tee, or mini dress that shows off the sexy details along the top of your bra. You could also use a classic button-up shirt with a couple of buttons left undone to show off just a little bit of the lingerie.
A stunning lingerie set is a great choice to add a sexy and feminine feel to a look without wearing clothing that is too revealing. Check out our list of French Lingerie Brands that need to be on your radar.
Pro Tip – Try Obagi Nu Cil eyelash cerum in the months leading up to your photoshoot to get supercharged lashes!
the corset top.
get the look:

Like lingerie, a corset top is a great way to add sexy details to any look. You can wear a corset top with lace accents or go for something simple and sleek. We adore a classic black corset top with boning details for something seductive but elegant.
A corset top can also be worn in so many ways. You can pair the top with jeans for a casual vibe or pair it with a silky skirt or dress pants for a more refined look. We also love the look of a blazer layered over a corset top for a chic and sexy aesthetic.
a vest tank + jeans.
get the look:

Next on the list of sexy outfits is a casual and simple look. Even though it has a laid-back feel, this outfit is definitely sexy. It's a perfect choice for a hot look to wear while grabbing an iced coffee and taking a stroll in the park.
The vest tank and jeans combo is a classic look that can be styled however you want. You can wear a bright color or patterned top and pair it with your favorite jeans.
A vest tank would also look so stunning with a jean skirt for a flirty feel with the same denim look.
little black dress + printed stockings.
get the look:

Last on the list of seductive outfit ideas, you really can't go wrong with a little black dress. This dress is a classic sexy style, and the printed tights add another layer of sexiness to this look.
A little black dress and tights can be worn with a blazer for a put-together look. We love the tall cowboy boots for sexy outfits, but a pair of modern boots or even heels would also work with this look.
Also, you can easily swap the blazer for a sleek, long coat or wear the dress without anything on top.
get the look:

We hope these stunning sexy outfits and seductive outfit ideas inspire you to create your own classy yet sexy looks. You can build any outfit with gorgeous pieces, like a mini dress or a lacy top, for a seductive look while still being refined and polished.
More Style Guides You'll Love:
15+ Classy Boudoir Outfit Ideas
15+ Chic Fall Date Night Outfits You'll Feel Amazing In!
How To Wear A Bodysuit With Jeans: 14+ Chic Looks To Copy
16+ Pink and Red Outfit Ideas: A Chic Take On This Color Combo
11+ Dress With Stockings Outfit Ideas For A Next-Level Aesthetic