Are you looking for bold pink and red outfit ideas for ever day, or the perfect Valentine's Day red and pink outfit? Check out our list of 16+ pink and red outfits for a chic and modern take on this popular color combo.
*this post contains affiliate links*
Pink And Red Outfits; A Color Combo Comeback
Pink and red has always been a stunning color combo. This gorgeous pairing has been featured in fashion week and is often seen in popular street styles. In fact, this color combination was one of the top color trends last year!
We know these shades will continue to be popular this year, so we've chosen a selection of stunning pink and red outfit ideas to inspire you to try this bold combo.
Can you wear red and pink together?
Yes! Wearing red and pink together in one outfit will instantly elevate any look. The combo of these colors can add a feminine and romantic feel to an outfit. Go with muted tones for a more subtle outfit, or choose pink and red shades that are bright and bold.
Either way, you can't go wrong with adding these hues to your looks. Below are some of our favorite red and pink outfits to inspire your own look!
go with a classic look
get the look:

You can't go wrong with a classic outfit like this one. The sweater and long coat are ideal for cold days, and the blue jeans add a relaxed vibe.
You can always play around with the look and use your favorite shades of red and pink. No matter what, this timeless outfit will always be a stylish choice, and it can be worn to so many occasions, from a casual lunch to date night and anything in between.
romantic vibes
get the look:

Red and pink are the colors of love, so it's fitting to sport these shades on such a feminine and romantic dress (this particular dress is sold out unfortunately, but we have found similar looks linked above!). The pink heels and red purse are the perfect accessories to pair with this look, and they add to the dreamy vibe.
This gorgeous look is also a great choice for Valentine's Day. Just make a card for your sweetheart with this list of 100 reasons why I love you and put on a dress like this… they'll be completely smitten!
add a scarf
get the look:

Adding a scarf is a quick and easy way to elevate an outfit and add a gorgeous pop of color. This look has a casual feel from the jeans and sneakers, but the combo of bright pink and red makes the outfit alluring and stylish.
The warm and cozy feel of this hot pink Ganni cardigan and scarf make this an excellent choice for chilly days, especially if you love to sport colorful looks during the fall and winter.
a pop of pink denim
get the look:

Jeans and a sweater are the ultimate casual combo, but these vibrant colors completely elevate the look into something fun and eye catching.
The wide-leg jeans and sweater have a comfy feel, perfect for spending a day exploring new boutiques downtown. You could also swap the pink loafers for a pair of boots for an elevated look that's still great for cold weather.
go for leather
get the look:

Red is a bold color on its own, but red leather has an extra daring and edgy feel we love. The combo of rich red and leather makes this outfit a bold beauty.
The pretty pink top and heels add a feminine feel to the look adding balance with the bold red pants.
This outfit has a flirty feel that makes it perfect for a date night look. And, you could easily swap the long-sleeved top for a short-sleeved blouse to make this a spring or summer look.
keep it subtle
get the look:

Soft baby pink and bright red make a gorgeous color combo in this outfit. We love the vintage vibe from the wide-leg pants, and the soft pink adds a sweet and feminine touch to the look.
This stunning outfit is perfect for Valentine's Day, or you can wear it year-round to add color to your everyday outfits.
How do you pair pink and red?
When it comes to wearing pink and red together, keep red and pink as the stars of your outfit, and avoid adding other overly bright colors to your look. Pairing this color combo with neutral tones is guaranteed to keep your outfit modern and chic, or you can opt for light or muted shades of pink and red.
You can also go for a subtle look by adding small pops of color using handbags, shoes, scarves, and other accessories. Or, keep it simple by having only one colorful piece in your look, like a top, coat, or skirt.
Another great way to keep your look balanced is by pairing neutral-colored accessories with your outfit. Keep these simple tips in mind when styling your stunning pink and red looks, and you'll have a bold and chic look in no time.
just a pop of red and pink
get the look:

Adding a pop of color is a simple way to liven up your outfits (especially if you lean to neutrals) and give them a fun vibe. A scarf is a perfect accessory to add some color, but you can also use a handbag, shoes, or a colorful top to add the pink and red combo to your look.
This outfit has a perfect mix of casual and chic. The trench coat and scarf make it a great choice to wear out on a cool day, and the bright scarf adds a vibrant touch.
90s vibes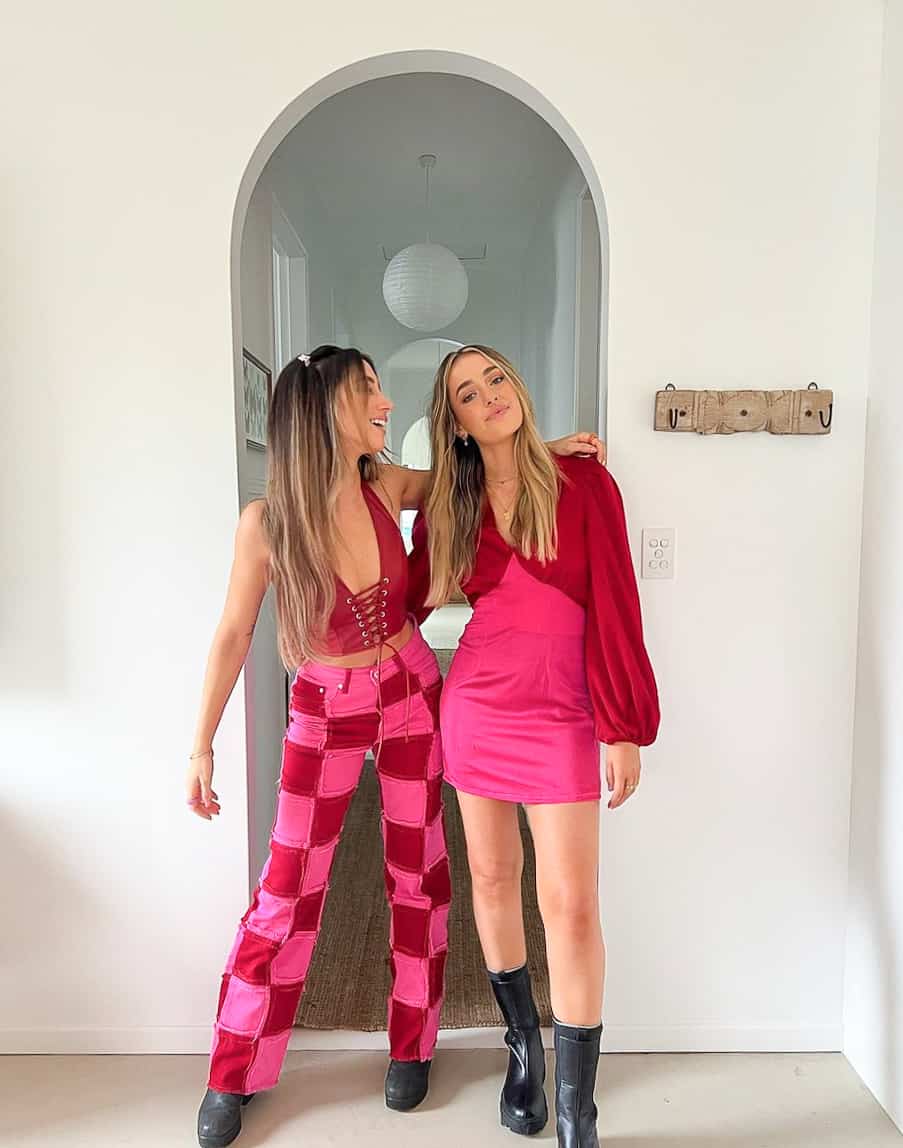 get the look:

This color combination is bold and youthful, making it an amazing choice for a 90s inspired party. These outfits definitely have a vintage feel, but the black boots add an edgy modern vibe that elevates these playful looks.
If you're single and plan to spend Valentine's Day with your closest friends, go for matching shades of pink and red to add some fun to your look.
the colorblock sweater
get the look:

The color combination in this outfit is all out, and we're here for it! We love the different shades of pink in this look, although the colorblock cardigan would also look great with a classic pair of blue jeans.
These gorgeous shades take simple pieces and make them incredibly chic and trendy. A colorblock sweater or cardigan is a top choice if you want a fun and lively outfit to wear while running errands around town.
take it to work
get the look:

You can always make work more fun by wearing a stunning outfit like this one. The chic color combo adds gorgeous color to this sophisticated look, making it bold and playful while still being a perfect office outfit.
We love the red heels as they help balance out the vibrant colors on top. You can also use a soft pink and a muted shade of red if you want something colorful but a bit more subtle and refined.
Stunning Pink and Red Dress Looks
Red and pink are the perfect colors for a dressy look, so we included some of our favorite picks featuring these stunning shades and some gorgeous dresses.
the pink blazer
get the look:

This pretty pink blazer is the perfect piece to complement a cute red mini dress. The ruffled hem and feminine colors add a flirty and romantic feel, making it an excellent choice to wear on Valentine's Day.
A pink blazer can also easily be added to any outfit to spice it up, so you can pair it with jeans, a skirt, or even shorts. The neutral sandals are a great addition and don't forget to add a chic handbag before you head out the door.
pretty and professional
get the look:

Next on the list of pink and red outfits is another colorful way to spice up your work week. It is fun and vibrant, and it definitely has a bright and cheery summertime feel.
The long skirt and high neckline easily make this playful look work-appropriate, but it still showcases a bold and fun-loving personality. You can mix the colors up and go for a pink skirt and red blouse too!
What color goes with hot pink and red?
Rich and vivid shades like hot pink and red can are best paired with neutral tones like black, white, ivory, beige, cream, and tan for a balanced and chic look. You can also wear classic blue jeans to pair with these vibrant tones.
go with similar shades
get the look:

Deep shades of pink look so incredible paired with ruby or cherry red. The similar shades create a polished and refined look instantly.
This combo with the knee-length dress and heels makes it a great look for Valentine's Day or a casual date night. And, the jacket adds a laid-back and youthful vibe.
You can match similar shades like these in any outfit and create a gorgeous look for any occasion.
take it on vacation
get the look:

Going on vacation is always a good time to dress your best, and this beautiful Fresia Rossa dress from Bird Of Paradise is a perfect vacation look. This outfit has a breezy feel that makes it perfect for walking around and exploring a beach town, but it still looks so elegant and chic.
We love how the gorgeous pink embroidery stands out against the vibrant red. This dress definitely has a summer look, and the sandals and sunglasses will have you ready to spend your days out in the sunshine during your next vacation.
This pink and red floral dress is another linen vacation-ready alternative for less!
cute in colorblock
get the look:

Color blocking is a fashion trend that we're always on board with. We love the pairing of bright red and soft pink, and this figure-hugging dress by STAUD is such a fantastic choice for a girls' night out.
Such a bold and sexy dress is perfect to pair with neutral heels, and the chic handbag elevates the look even further. If you want to give this outfit a casual feel, swap the heels for sneakers or strappy sandals.
burgundy and blush
get the look:

Last on the list of pink and red outfits, we love the refined appeal of this silky midi skirt in a rich wine-inspired color. Burgundy and blush is a perfect play on the red and pink color combo for Valentine's Day as these beautiful shades look romantic and chic.
This look is simple yet elegant, and the blush sweater is a great choice for transitional weather like early spring or fall.
At the end of the day, pink and red outfits are a great way to look bold and trendy. There are so many ways to add these gorgeous colors to your wardrobe! So, use these looks as inspiration and start experimenting with this combo!
More Style Guides You'll Love:
14+ Pink Sweater Outfit Ideas That Are Sweet, Chic & Modern
21+ Pink and Red Nails For A Fun & Flirty Vibe
15+ Sexy Outfit Ideas That Are Seductive & Classy
What Color Shoes To Wear With a Red Dress + Chic Outfits
Christal is an entrepreneur, published author, and content creator. Over the past decade she has worked in the digital media field building successful websites for both food and fashion. She has a natural affinity for minimal, timeless fashion, neutral home decor, and styling.
Here on Style Your Occasion, Christal is the Editor-in-chief and brain behind the aesthetic. She hopes you love the this space and the inspiration you'll find!