Wondering how to style shorts with tights? This is the perfect transitional style for changing seasons, and the look combines the casual charm of shorts with the vintage allure of tights. Read on for a modern take on this beloved hipster-chic look.
*this post contains affiliate links*
How To Wear Shorts with Tights
Whether you rocked shorts and tights back in the day, or are just jumping on this trend, you'll find awesome inspiration for how to style the look here. Good news for newbies! This trend is effortless to achieve, and super versatile.
Though primarily a fall staple, shorts with tights can be styled for any weather or season. This combo can go from day to night and casual to elegant.
Still wondering if you can pull off this look? Browse these modern outfits ideas to take on the trend with confidence!
Can I wear shorts with tights in winter?
Absolutely! Shorts with tights is a stylish look that is perfect for colder months. Many style influencers and celebrities have been seen wearing this look, so you can easily ditch the jeans and sweatshirt for this sharp and classy alternative.
The key to styling shorts and tights for winter is picking tights, and other clothing items, that are warm enough to protect your legs from the weather so you can flaunt your cute shorts all day long.
Winter Outfit Ideas
Check out some of our fave winter shorts with tights looks below.
tights with shorts + riding boots.
get the look:

To achieve a successful look in the colder months, it's all in the accessorizing. These black riding boots were made for walking…and this simple shorts and tights outfit is totally transformed by this classic touch.
Choosing light neutrals for the shirt and jacket makes this look perfect for a downtown stroll in search of a hot cup of coffee.
layers and lug boots.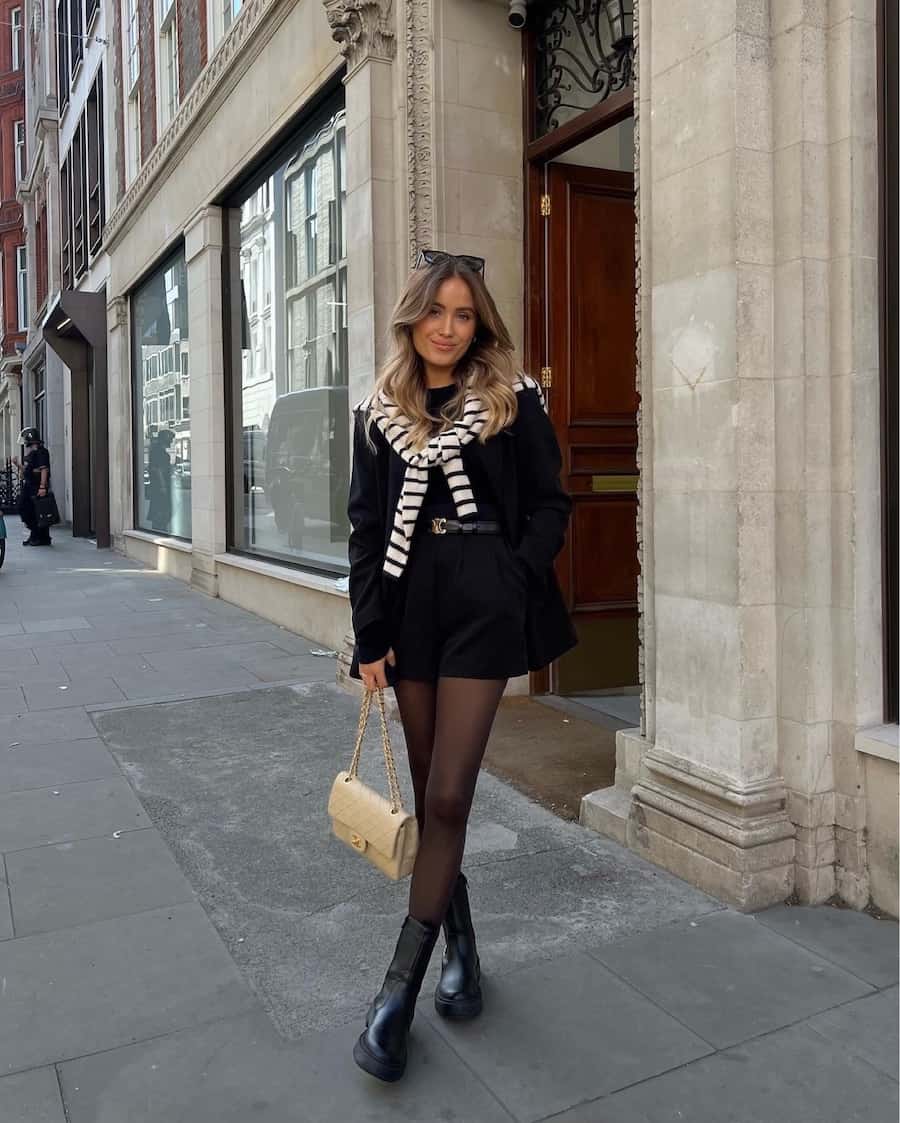 get the look:

Another warm boot for winter, black lug boots can handle a little after snow slush so you can scope out a lunch spot in comfort. Black shorts and tights look luxuriously comfy with lots of layers.
Combine a sweater with a wool blazer, and layer with a chic striped sweater over-the-shoulders, then accessorize with a cream purse.
combat boots + long wool coat.
get the look:

This winter shorts with stockings look takes basics to a new level with edgy and bold black combat boots. Leather shorts are a chic and modern choice, and the camel sweater with long sweeping coat give this outfit depth.
We love the combination of neutrals as it always creates a timeless, classy, and confident look.
high-rise shorts, turtleneck & knee-high boots.
get the look:

This outfit is stylish and sexy. The navy-blue button shorts are a call back to hipster trends while still looking fresh.
Keep warm in knee-high leather boots and a navy turtleneck sweater. Additionally, the cognac brown handbag is a nice contrast against navy blue and keeps this look feeling casual and fun.
monochromatic styling.
get the look:

Black is the new black. In other words, black never goes out of style.
This monochromatic look is chic, modern, and sophisticated. If you're new to the shorts and tights trend, an all-black style is a great place to start.
Pair stockings with an all-black outfit such as leather shorts and a black sweater. Swanky lace-up boots also give this ensemble a little something extra.
Spring + Fall Outfit Ideas
In warmer months and transitional seasons like spring and fall, shorts and tights also look great together. Check out our fave ways to style this look for warmer seasons.
fishnet stockings & oversized blouse.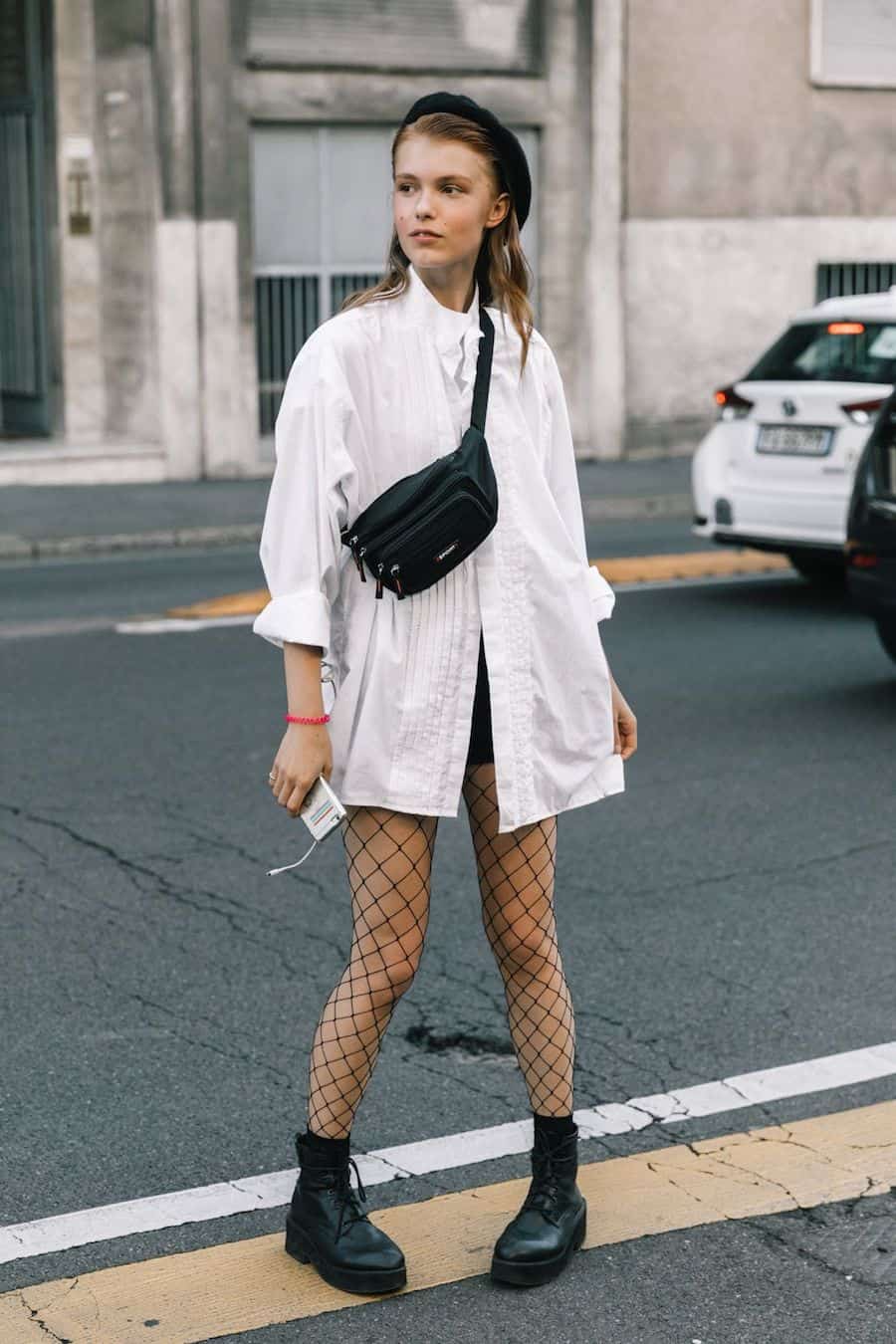 get the look:

This edgy look is an artsy take on the shorts with tights style. Fishnet stockings look perfect paired with black combat boots.
The fishnets and shorts can be tricky to style in a way that feels contemporary and grounded. But, pairing with an oversized white top is a smart choice that gives this look a breezy and confident energy.
A black beret and crossbody bag complete the outfit.
cropped jacket + loafers.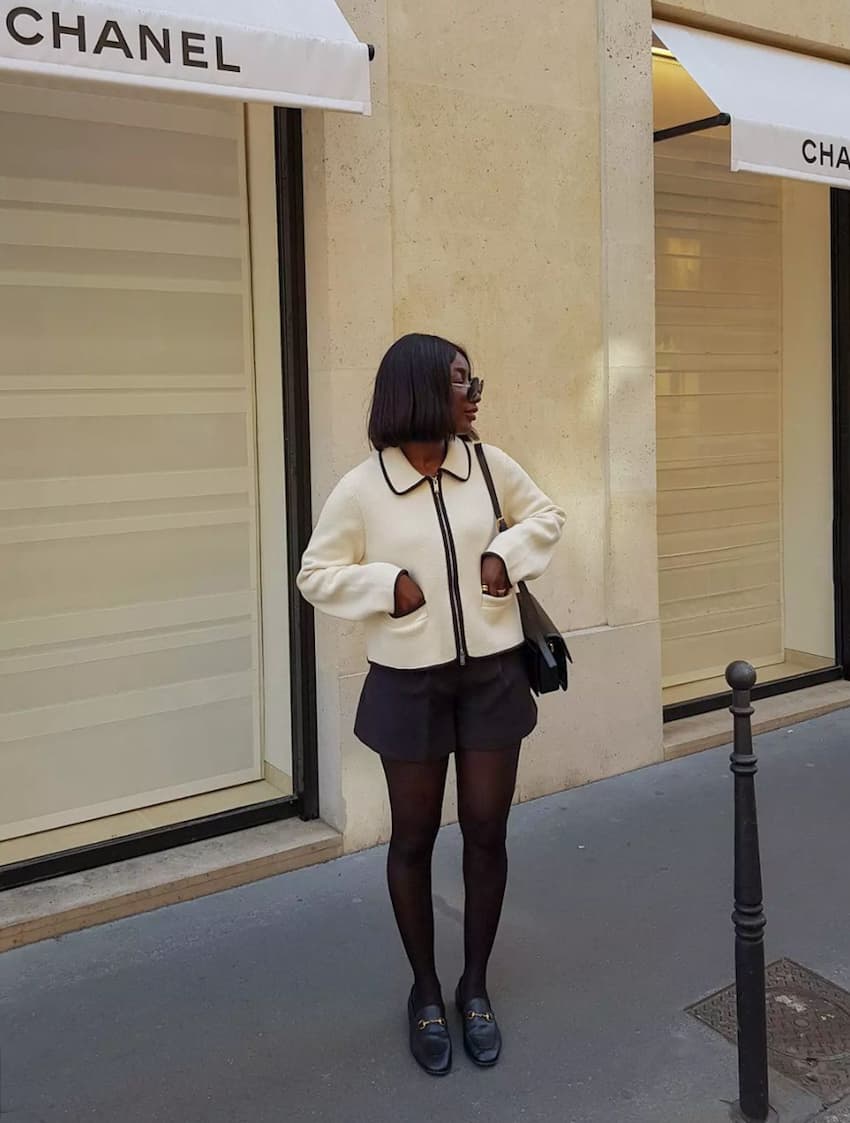 get the look:

This cute spring-inspired style pairs black shorts, tights, and a cream cropped jacket with black loafers. The outfit has vintage vibes while remaining super approachable.
The adorable cropped jacket is the stand out piece in this look. The lighter color gives the eye a focal point, while black detailing makes this simple style timeless.
Can you wear tights with jean shorts?
Yes! In fact, tight and jean shorts is a popular choice for those trying to achieve a 90's aesthetic or grunge vibe. Denim and tights is also a cute swap if you're getting bored of your skinny jeans.
And, depending on the style of your jean shorts, this look can easily be worn dressed down, or dressed up.
Denim Shorts with Tights Outfit Ideas
Below are some chic ways to style denim shorts with tights.
black denim high-waist shorts with sneakers.
get the look:

Faded black wash jean shorts are cool and classic with a paperbag style. Pair these shorts with black tights and add some interest with contrasting neutral colors. The casual white sneakers and handbag add a pop to the outfit.
The cozy neutral pullover keeps this style from looking too monochromatic, and adds softness. This comfortable and effortless feminine look is perfect for a day out.
vintage denim shorts & black.
get the look:

Chic and modern, these light wash jean shorts pop against black stockings, a black shirt, and a blazer. From the cool beret to trendy combat boots, this shorts and stockings look is consciously accessorized.
It elevates what would-be-casual shorts for a more contemporary feel.
Are shorts with tights business casual?
Yes! With thoughtful styling, you can create a chic business casual outfit with shorts and tights. The key is to select shorts that are appropriate for a work environment in both material and length.
Avoid denim shorts and go with leather, tweed, and wool-blend fabrics instead. And, avoid shorts that are mini-length. Instead, choose shorts that hit mid-thigh or longer. Pair the look with a knit sweater, blouse, or blazer.
Business Casual Shorts with Tights Outfit Ideas
Below are our favorite conservative and classy business casual outfit ideas for the office and beyond.
cream shorts and top with navy blazer.
get the look:

This business casual style is pleasantly coordinated with corduroy cream shorts and a matching cream sweater. Pairing with a navy blazer and purse brings this look up a notch for a workplace style that is both comfortable and stylish.
The sweater bell sleeves peeking out from the blazer also adds a playful touch.
matching blazer and shorts set.
get the look:

Pair thick black stockings with a matching blazer and shorts "suit" for a posh business casual style. A black turtle neck and combat boots keeps this look modern and non-conventional.
For a dressier look, swap the combat boots or low pumps or heeled ankle boots. And finish the look with a simple handbag and minimal jewelry.
printed stockings with shorts + heels.
get the look:

Shorts with stockings has an elegant, up-town feel. You could wear this outfit to work, and for happy-hour or a night out.
Scalloped black shorts and polka dot tights give a charming femininity. And, a chic black blazer and pumps add a classy flair and keep your look appropriate for more formal occasions.
printed neutral shorts + loafers.
get the look:

These stylish designer shorts with a leather waistband are incredibly cool with sheer black stockings. The simple black sweater and black loafers give this style an academia-inspired sensibility.
This outfit can easily be worn to the office, or for other formal occasions like a family gathering or holiday party. Simply swap the loafers for pumps to create an extra dressy look.
printed tights + leather shorts.
get the look:

These patterned stockings dress up this leather shorts business casual outfit. A slighter longer short length keeps the leather fashion classy and grounded for the work place.
The oatmeal sweater adds some color palate interest, and chunky loafers with an oversized black blazer tie the whole look together.
leather shorts + button-down shirt
get the look:

The last look on the list is equally stylish for the workplace and beyond. A crisp and simple cotton button-down shirt makes this look timeless, while Chelsea boots add a modern and edgy punch.
We love the cable-knit camel cardigan around her shoulders for a cozy addition to this sharp look.
Are shorts and tights still in fashion?
Shorts with tights was a popular and edgy look in the 90s', but does it still hold up? The answer is a big yes! The look has been popping up again with celebrities, fashion influencers, and everyday women styling this combo with a modern approach.
Earlier this year, Beyonce rocked denim shorts with black tights at the Superbowl! The updated version of the shorts with tights combo leans to neutral colors and simple accessories for a timeless and classic take on a long-time favorite.
We hope you are inspired to try this look yourself!
More Style Guides You'll Love:
17+ Leather Pants Outfit Ideas That Prove You Need A Pair
11+ Classy Paper Bag Shorts Outfit Ideas
15+ Chic & Modern Gucci Belt Outfits You'll Want To Copy
What to Wear to a Baptism + 15 Elegant Baptism Guest Outfit Ideas
Christal Sczebel is an entrepreneur, published author, and content creator. Over the past decade she has worked in the digital media field building successful websites for both food and fashion. She has a natural affinity for minimal, timeless fashion, neutral home decor, and styling.
Here on Style Your Occasion, Christal is the Editor-in-chief and brain behind the aesthetic. She hopes you love the this space and the inspiration you'll find!