Wondering if you can pull off a pair of leather pants? This style is definitely having a moment in 2022 + 2023, and we are here to show you some seriously chic leather pants outfit ideas. Whether you want black leather pants outfit inspiration, or brown leather pants outfit ideas, you'll love these looks!
*this post contains affiliate links*
How To Style Leather Pants
Leather pants are definitely having a moment right now. They seem to be the chic, fresher, more modern take on leather leggings that have been all the rage for the last few years.
We are absolutely loving the new styles of real and faux leather pants coming in straight-leg cuts, jogger-inspired looks, and a variety of neutral hues. Paired with the right top and shoes, leather pants can easily be dressed up or dressed down.
If you don't have a pair in your closet yet, these leather pants outfit ideas are sure to inspire you to get some!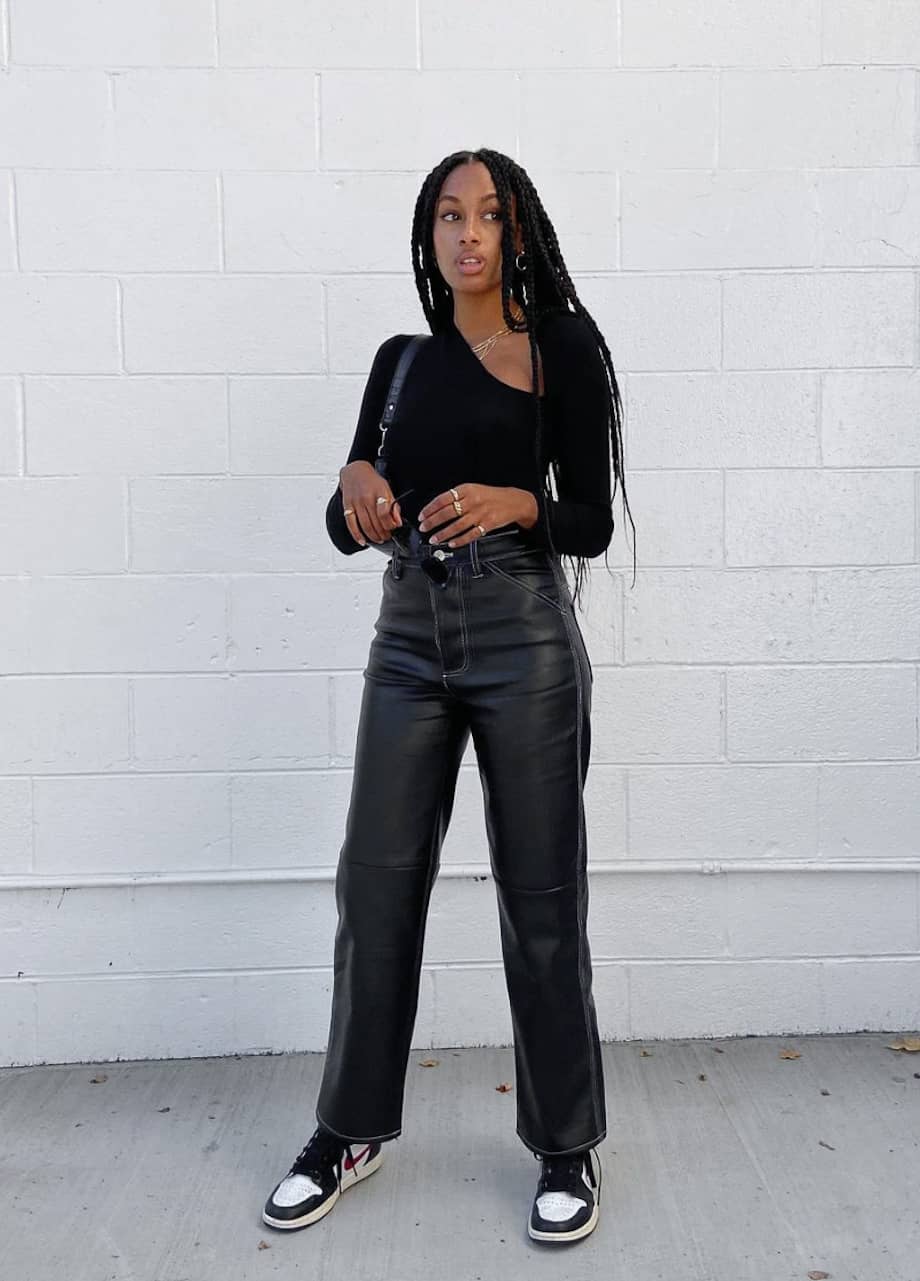 get the look:

Leather pants are very versatile as they can be worn with many different styles of clothing. They look great dressed up with a nice blouse, camisole top, or tank top, along with a pair of heeled sandals, pumps, or ankle boots.
You can also dress down leather pants by wearing them with sneakers or flat sandals, and a casual t-shirt, sweater, or denim jacket. If you choose black leather pants, there are endless outfits you can create that look both chic and modern.
Read on to see our fave leather pants looks from the top fashion influencers.
Whether you are dressing up for a date night or holiday dinner, or simply running errands and want to look très chic, leather pants are a great option. Try any of the outfit ideas below!
leather trousers + a shirt jacket.
get the look:

This is a perfect outfit for meeting friends for brunch, or heading out for happy hour. It's chic and classy, while still being casual with the green shirt jacket.
If you wanted to dress this leather pants outfit down, you could easily swap the pumps for black sneakers and go for a basic white t-shirt under the shirt jacket.
perfect for the holidays.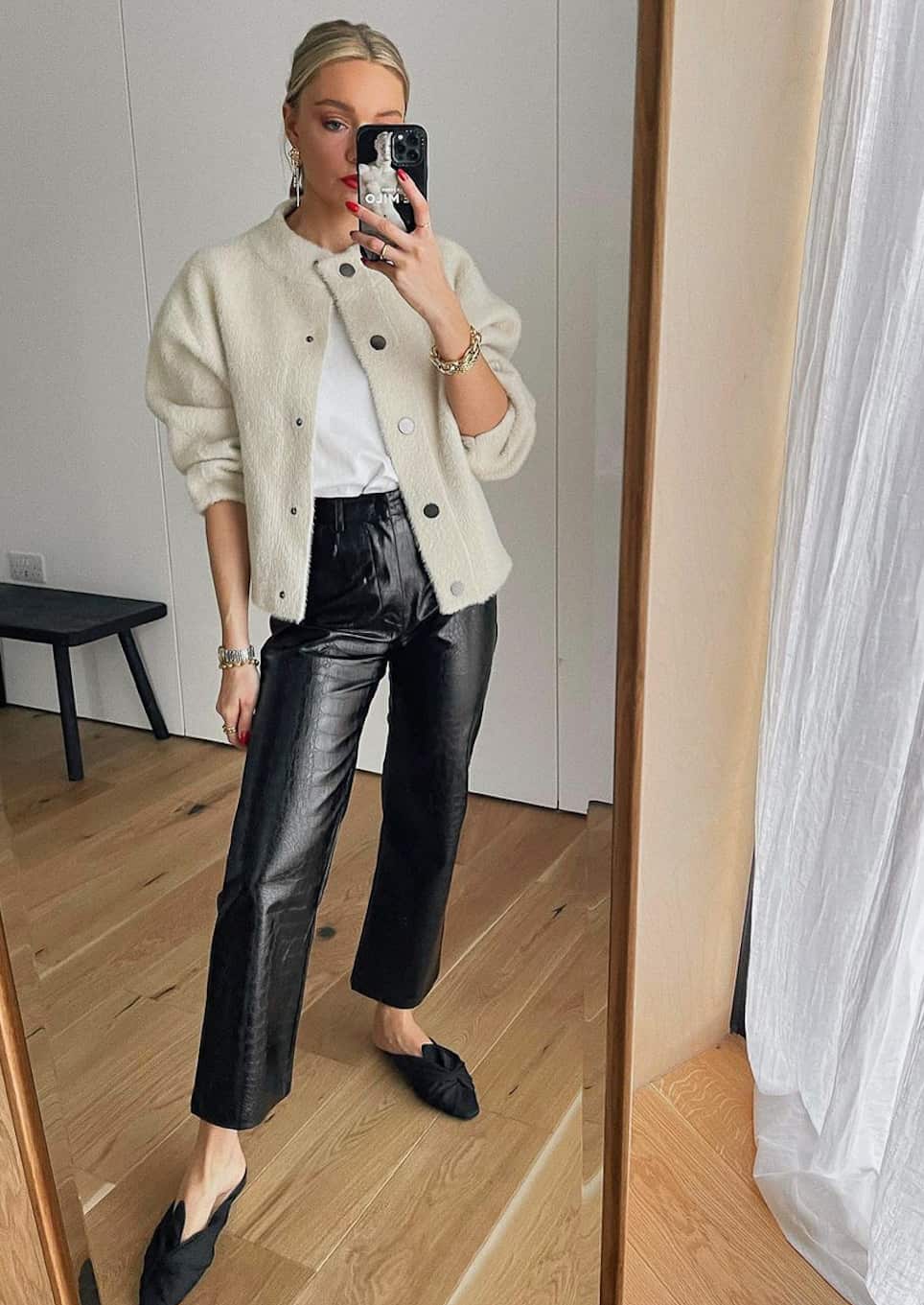 get the look:

We love this outfit for the Thanksgiving or Christmas holidays. It's chic, classy, and yet still laid-back enough for lounging at home with friends and family.
If you are hosting a dinner party, try this look with straight-leg leather pants, a shearling top, and black flats. Add some pretty jewelry to elevate the outfit even more, and put on some red lipstick for color!
camel cardigan + leather trousers outfit.
get the look:

In the fall and winter months, this outfit is definitely one to try. Wear a long cardigan or wool coat in a rich camel color and pair it with a ribbed black top, leather trousers, and ankle boots.
The outfit is stylish and chic, but still comfortable enough for many different occasions. You can opt for straight-leg leather trousers, or change it up with wide-leg or a flared crop trouser.
leather pants for the office.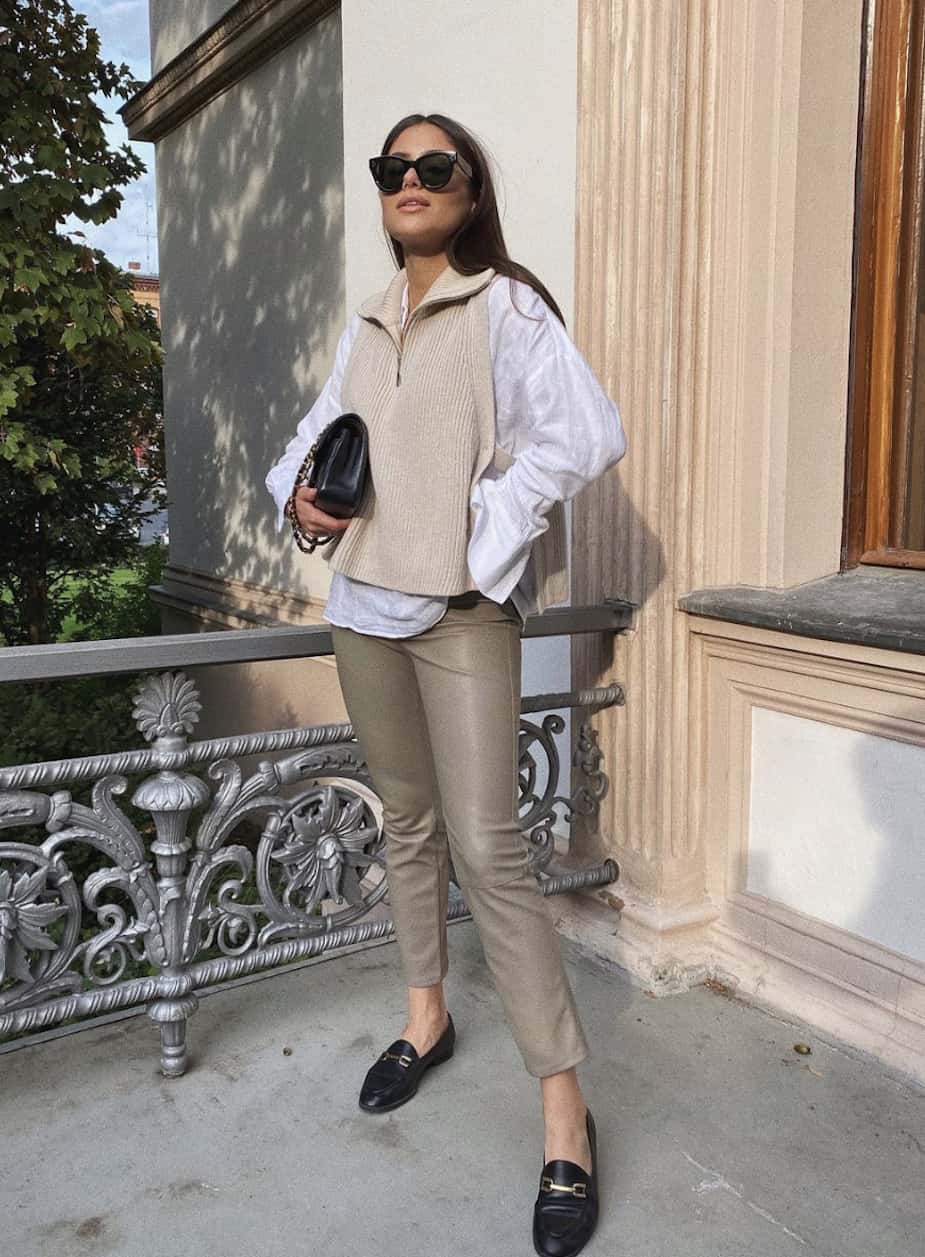 get the look:

If you want to try leather pants in a more professional setting, go with a pair of taupe or beige leather trousers with a slim cut. Wear them with loafers and a knit top or sweater vest to complete the look.
This outfit is chic, polished, and perfect for a business meeting, a day at the office, or luncheon. Another option would be to switch the sweater vest for a neutral or plaid blazer to make the outfit even more office-approved.
leather joggers outfit.
get the look:

A pair of leather joggers with an elastic waistband and straight or elastic cuffs, look excellent with trainers or basic sneakers. It gives off a cool-casual vibe and the outfit can be worn comfortably all day while out and about.
We love the look above with the leather joggers, New Balance sneakers, an oversized blazer, and a casual ball cap. It's stylish, cool, and laid-back all at the same time.
monochromatic simplicity.
get the look:

In the spring, late summer, or early fall, try this simple and sleek monochromatic leather pants outfit. Pair a knit tank top with cropped ankle-length leather pants, and a chic pair of black loafers.
You can wear this outfit pretty much anywhere, and you'll turn heads (in a good way!). If the weather is cooler, add a knit sweater worn over the shoulders, a denim jacket, or a chic wool blazer.
a hint of green.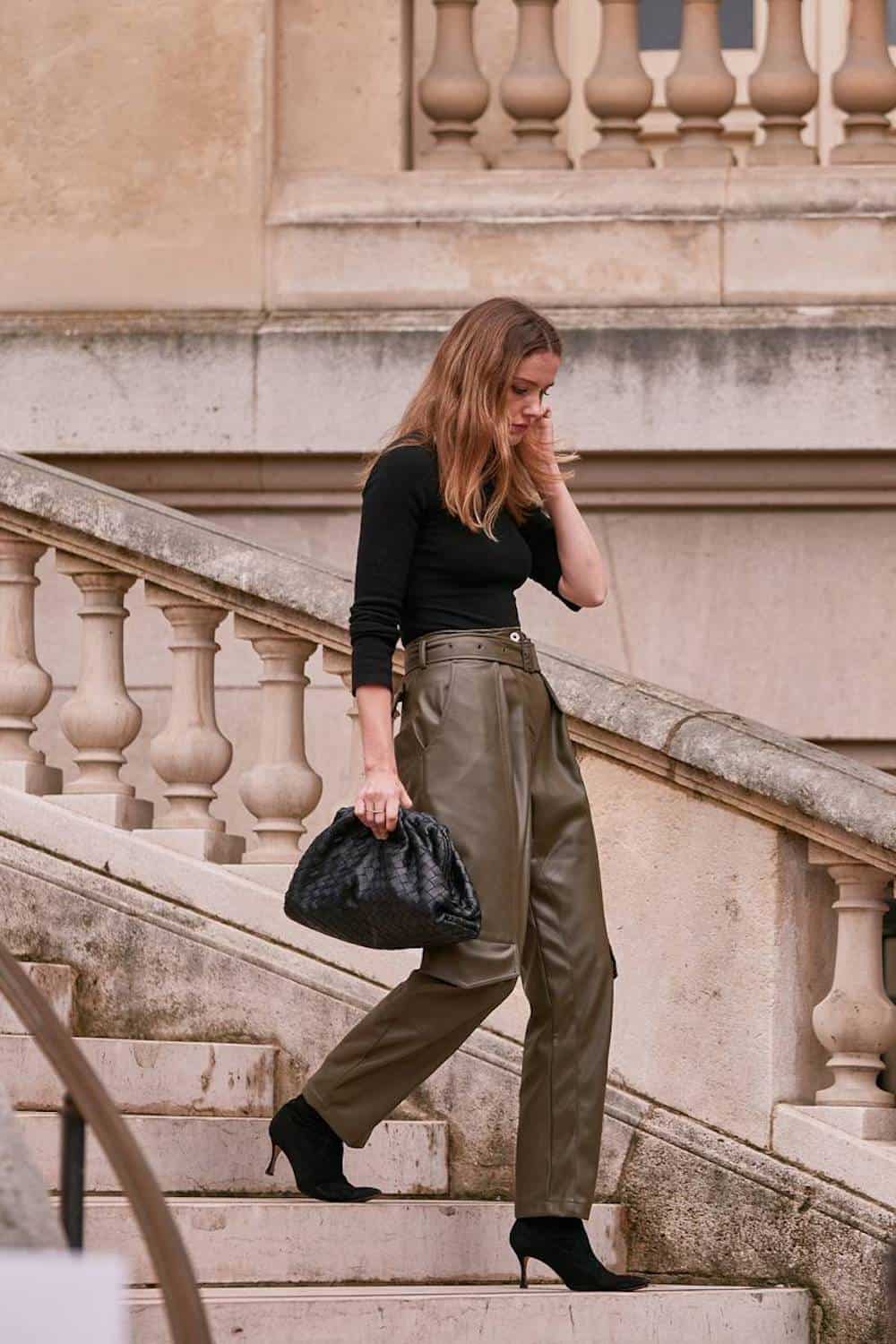 get the look:

If you want a change from the usual black leather pants, try another hue like army green. Leather pants look great in any subtle shade and green is no exception.
Paired with a simple black top and chic black ankle booties, this look is both professional and put-together. You could easily wear this outfit to the office and for a happy-hour to follow!
casual leather pants outfit.
get the look:

If you are looking for casual outfits that have leather pants, this is one to try. Pair Converse high-top sneakers with straight-leg leather pants for a cool, laid-back vibe that is great for running errands, school drop-off, and lunch with friends.
A button-up shirt looks great with the leather pants and elevates the outfit, but you could also go with a chic sweatshirt, or a basic long-sleeve top.
What kind of tops go with leather pants?
Leather pants can be worn with a variety of tops including basic t-shirts or long-sleeve shirts, button-up blouses, camisoles or tank tops, knit sweaters, sweatshirts, denim jackets, blazers, or leather jackets. You can dress up leather pants with a fancier or more professional top, or you can dress them down with a casual top and a denim jacket.
chic black leather pants outfit.
get the look:

We love this outfit for a date night or drinks with friends. It's sexy and chic, while still being classy and put-together.
The black leather pants look excellent with a fitted black top that has a henley detail. Dainty sandals finish the look perfectly.
But, if the weather is too cold for sandals, swap them out for ankle boots with a higher heel. This outfit would look fantastic with a teddy jacket for a night out in the fall or winter.
Brown Leather Pants Outfit
If you want to give another shade of leather pants a try, go with brown. This rich color adds warmth to any outfit and looks so great with creamy neutrals and earth tones.
casual in brown suede pants.
get the look:

Give us all the suede! We absolutely love this elevated and stylish suede brown leather pants outfit.
Suede pants are soft and warm and look excellent with a cashmere knit sweater or cardigan. We also love the use of sneakers in the outfit to keep the look casual and comfortable, but still very chic.
What goes with brown leather pants?
Brown leather pants look excellent with clothing in a neutral color like ivory, beige, or cream, and with the color black. You can wear brown leather pants with a knit sweater or long-sleeve blouse, and a neutral plaid blazer or coat.
Or, go with a matching brown leather jacket for a chic monochromatic look.
brown leather pants + plaid coat.
get the look:

This brown leather pants outfit is definitely our fave. It is cool, casual, and chic with a tailored and polished look.
The brown leather pants look excellent with the ivory knit turtleneck sweater and long plaid trench coat. The sneakers keep the overall outfit looking laid-back, but not too casual.
You could easily wear this outfit for a day of running errands, school drop-off, a casual meeting, or 'Casual Friday' at work.
creamy neutral layers + brown leather.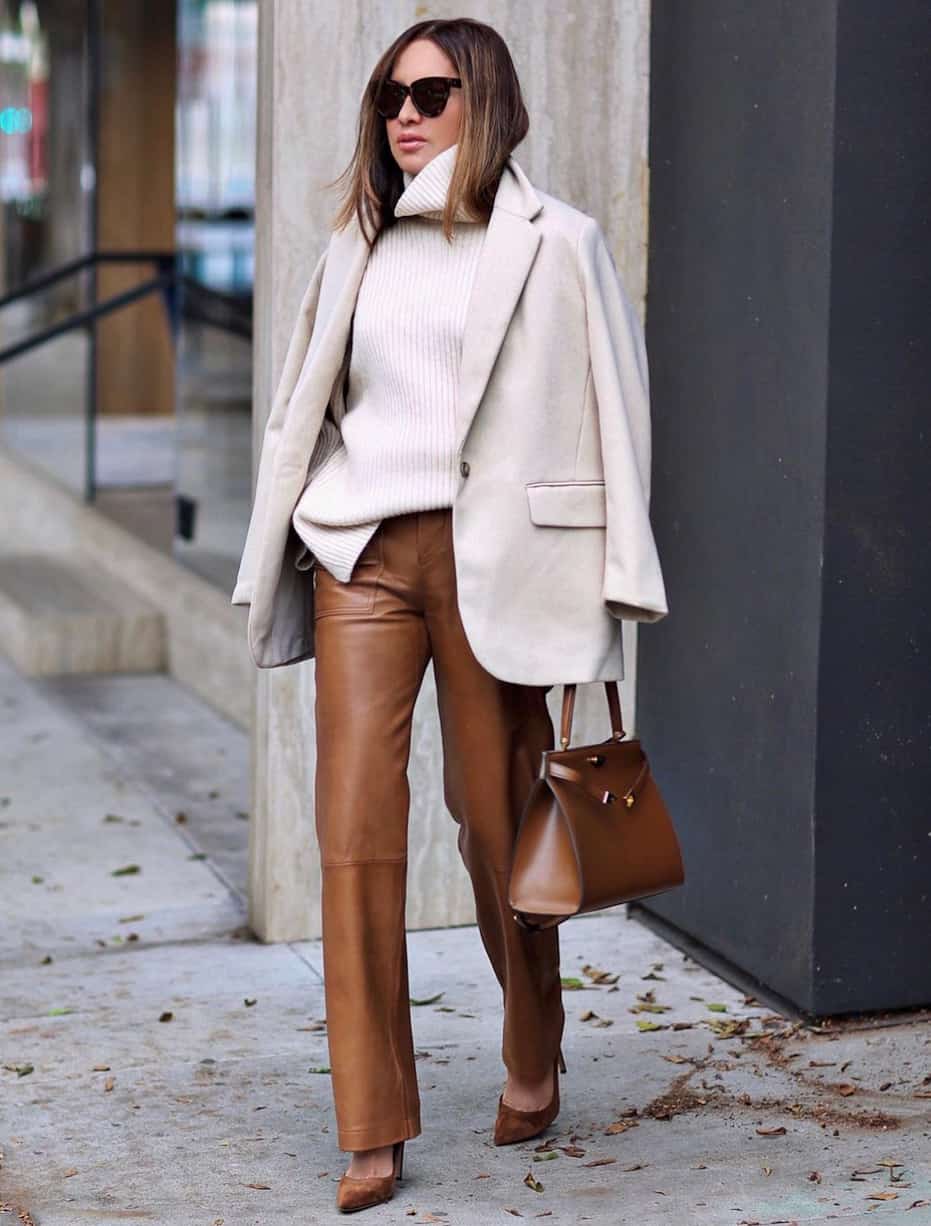 get the look:

Warm, cozy, and classy – this look has it all. This outfit proves that in the fall or winter, brown leather pants are a must.
We love the layering of a knit turtleneck sweater with a wool blazer coat, and the rich cognac leather pants. The suede brown pumps complement the pants and elevate the whole look.
get the look: