If you love the classy designs at Boden, check out these 12+ brands and stores like Boden for chic British-inspired fashion!
*this post contains affiliate links*
12+ Stores Like Boden
Boden is known for gorgeous, preppy, playful, and classy apparel. The British brand is seen on top fashion influencers and celebrities alike, so it's no wonder the pieces are highly sought after.
Lucky for us (and you!) there are a ton of stores like Boden that carry gorgeous styles with a similar aesthetic that we love just as much!
What is similar to Boden?
There are many brands and stores that are similar to the much-loved brand Boden. Budget-friendly options include H&M, ASOS, and Marks & Spencer, while mid-range options include J. Crew, Massimo Dutti, & Other Stories, Sezane, Ralph Lauren, and more!
Keep reading to discover all of our top picks for brands like Boden.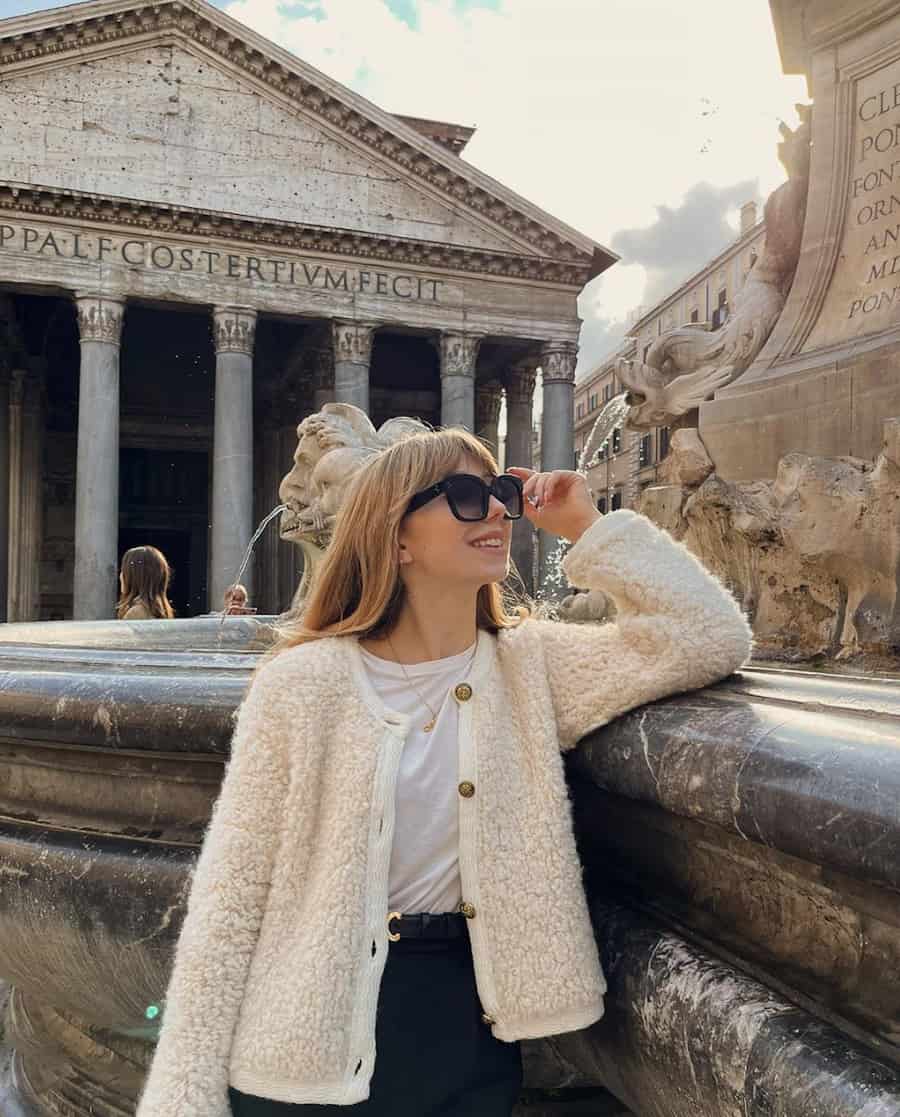 This Spanish clothing brand is well-known for using high-quality fabrics. Massimo Dutti designs gorgeous apparel, shoes, and accessories for both men and women.
This brand creates clothing that has more of a minimalist feel compared to Boden.
They have a great mix of pieces with neutral tones as well as bright colors. You can find plenty of basics in black, white, and brown for a versatile wardrobe. They also carry vibrant pink, green, and blue pieces that feature charming details like lace, embroidery, and fun prints.
This company also falls into the same price range as Boden, so you can expect to get the same chic and long-lasting quality for the same price.
& Other Stories is always a fashion favorite of ours. This brand is a perfect place to find beautiful and unique clothing and accessories for women.
This brand designs clothing from three iconic cities – Paris, Los Angeles, and Stockholm. Regardless of where each piece was designed, these gorgeous clothes have the same elegant and timeless feel of classic British style.
& Other Stories also prides itself on being an ethical company, using responsibly sourced and recycled fabrics in its clothing. They are more expensive than Boden, but you'll be able to use these pieces for years to come.
This next brand is well-known in the fashion world for its trendy styles and affordable pieces. H&M is a Swedish company that sells a wide range of styles, from casual clothes to formal wear. They also keep the brand inclusive with a large selection of plus-size items.
H&M designs clothes with a fun and vibrant feel that we can't get enough of. And while they have tons of bold pieces to choose from, the clothing also has a classy and chic look that matches the aesthetic at Boden.
H&M has some expensive pieces, but the clothing and accessories here are generally very budget-friendly.
La Ligne NY is a luxury fashion label that was founded in 2015. This company designs apparel similar to the British clothing found at Boden.
This high-end fashion brand creates clothing with flattering cuts, feminine details, and tons of stripes, making them a great alternative to Boden. The apparel is chic and elegant, and they have tons of versatile pieces that can be worn for a night on the town or a casual breakfast with friends.
It's worth mentioning that La Ligne NY has higher price tags than Boden, with items typically costing a couple hundred dollars.
Is Boden a high-end brand?
Boden's commitment to creating sustainable and thoughtfully crafted apparel, shoes, and accessories make it a high-end brand. The brand designs beautiful clothing and is very transparent about its creation process, including where fabrics are sourced and which factories produce its clothing.
While it started as a mail-order clothing company in the 1980s. This fashion label has since become popular due to its high-quality clothing that is not only gorgeous but ethically made.
We love the stunning and sophisticated apparel this brand designs. We know we can also feel good about buying clothes from a company that focuses on creating durable, timeless, and high-quality clothing rather than fast fashion.
J. Crew has been a beloved fashion brand since it was founded in 1983. This retailer sells apparel and accessories for men, women, and children.
We love the stunning and timeless designs found at J. Crew. They carry a wide selection of items, from casual to work wear, classy dresses, and maternity clothing. This brand has a similar look to Boden, with ruffled sleeves, lace details, and vibrant prints seen throughout their collections.
You can easily find pieces in the same price range as Boden, although they carry some more expensive items as well.
Next up, we have Ann Taylor. This fashion retailer sells stunning and classy clothing, shoes, and accessories for women.
Ann Taylor designs clothing with a soft and feminine feel but still elegant enough to wear to work or in other formal settings. The rich colors, fun prints, and classic silhouettes make this an excellent alternative to Boden.
Ann Taylor also sells its gorgeous clothing for the same price as Boden and is an affordable brand for high-end clothing.
Banana Republic has been a popular brand in fashion since it began as a travel fashion company in the 1970s. We know we can always count on this brand for high-quality pieces that have a sophisticated look.
The apparel at this company is elegantly designed and has a high-end, glamorous feel. They have a great selection of both casual and formal wear, and the pieces have flattering silhouettes that create a refined and elevated look.
Banana Republic has the same prices as Boden, and their apparel can be easily found in major stores or bought online.
Ralph Lauren is a mid-range luxury brand with chic and tasteful apparel and accessories. Even though this fashion retailer is an American brand, the designs feature iconic British designs.
This brand has many clothes with the same styles and silhouettes as Boden, although Ralph Lauren keeps it a bit more minimal with classic colors and fewer prints. Even the casual wear from Ralph Lauren has a high-class feel to it.
Ralph Lauren is another brand on this list that is more expensive than Boden. This company has pieces in the low hundreds, but the prices also go into the thousands.
Tory Burch is another mid-range luxury brand that creates styles similar to Boden. This major fashion retailer is well-known for its stunning apparel and handbags.
Tory Burch takes timeless designs and adds a playful and preppy touch, using vibrant prints and gorgeous colors. We love that the apparel here is a mix between classy and fun. The designs are perfect for a chic work outfit or even for date night.
Like Ralph Lauren, Tory Burch tends to be more expensive than Boden, although the beautiful high-quality pieces are worth every penny.
Next on our list of top brands like Boden is the French-based retailer Sezane. This brand creates charming vintage-inspired apparel and accessories for women.
The designs at Sezane are a mix of classic British fashion and romantic Paris style. You can find elegant and timeless tops, sweaters, dresses, and more that have the same feel as apparel from Boden. But you can also discover gorgeous feminine clothing featuring soft pastel shades, embroidered details, and stunning patterns.
You can expect to pay a similar price at Sezane as you do at Boden, although some of their items are a bit pricier.
ASOS is another British fashion brand, and this retailer has become one of the most popular in recent years. You can find stunning styles for both women and men in this e-commerce store.
This company sells its own brand and third-party brands, meaning they have a huge selection of pieces available. It made our list of brands like Boden as you can easily find clothing matching Boden's classy and chic style.
ASOS is one of the more affordable options, with prices ranging from $10 up into the hundreds, and they ship worldwide.
Anthropologie is well-known for having the latest trends in bohemian-style clothing. This brand also carries tons of classic and high-end designs that we adore.
The apparel at Anthropologie is stunning and so chic. There are dozens of delicate and feminine designs with lace and floral patterns, while you can also find more minimalist and refined designs.
This fashion retailer has the same price point as Boden and can be found in stores or online.
Last on our list of brands like Boden is Marks & Spencer, a British-based retailer that creates beautiful and luxurious apparel and accessories for women, men, and children.
This brand evokes the feeling of classic British clothing. They have a seemingly endless selection of stylish designs with playful details like puffed sleeves and bold patterns. Marks & Spencer is perfect if you want to add an elegant feel to your outfits.
Marks & Spencer carries items with a wide price range, so you can easily find prices similar to Boden, as well as more expensive or more affordable pieces.
Final Words
Boden is a fantastic brand that features playful yet classy apparel. We love picking up new pieces at this British brand, but there are also tons of great brands like Boden that carry gorgeous styles that we love just as much.
Each brand offers something unique, so check out a few and find your favorite on the list of stores like Boden for classy British-inspired apparel.
More Shopping Guides You'll Love:
14+ Brands Like Tory Burch For Mid-Range Luxury Bags + Apparel
15+ Brands Like Free People & Why They Should Be On Your Radar
18+ Stores Like Lucy In The Sky for Stunning Dresses & Apparel
15 Stores Like H&M for Chic Budget-Friendly Fashion