Do you love the boho chic style of Free People? Check out this list of 15 brands like Free People that are less expensive and similarly priced so you can add even more boho pieces to your wardrobe!
*this post contains affiliate links*
The Best Brands Like Free People
Bohemian style has been around for centuries, and became very popular in the U.S. during the '60s and '70s. Boho style is comfortable, fashionable, and self-expressive.
To many, bohemian fashion represents feminine energy, creative souls, and free spirits. Think hippie-vibes.
So, if you are shopping for boho style clothing, it's likely that Free People is one of the first brands that comes to mind. But, did you know there are dozens of brands similar to Free People that offer high-quality boho clothing items?
We are here to help you broaden your bohemian style horizons! Read on to discover our fave 15 brands like Free People.
What clothing style is Free People?
Free People is a clothing brand that offers bohemian and vintage style clothing and accessories. Their clothing focuses on free-flowing fits, stunning and creative patterns, and unique details that set them apart from other brands.
Trendy hippie-vibes is what Free People is definitely going for, so if you are drawn to the boho style, you'll love their dresses, tops, loungewear sets, and more.
Our Top Free People Picks:

Is Free People an Anthropologie brand?
Although many people think they are related, Free People is not an Anthropologie brand. But, both Free People and Anthropologie are owned by the same parent company, URBN. The company owns both brands, as well as several others.
What stores are similar to Free People but less expensive?
There is a good number of stores similar to Free People that come in at a lower price point, including Urban Outfitters, American Eagle, Three Birds Nest, Francesca's, and more. Read on to learn about each brand and why they should be on your radar!
Founded in the '70s, American Eagle is a well-known brand with a fun and youthful clothing line meant for teens and young adults. The brand creates everyday wear that is stylish but also comfortable.
American Eagle has trendy designs for both women and men, and you can find many boho style pieces here for an affordable price. Check out our top picks below!
Our Top AE Picks:

H&M originated in Sweden and now has over 5,000 stores worldwide. The brand carries everyday wear as well as gorgeous formal pieces.
H&M offers a selection of bohemian inspired styles and accessories that have the Free People vibe at a lower price. So, if you're looking to explore your personal style without breaking the bank, this brand is a great choice.
H&M is also striving towards a more sustainable future for their clothing, which is a plus in our books!
Our Top H&M Picks:

Urban Outfitters is an iconic Californian brand with a wide range of bohemian style clothing and accessories for both men and women. Founded in the '70s, this company is known for being youthful and trendy.
Urban Outfitters sells dozens of brands so there is a wide price range available to fit any budget. Additionally, their store has classic wardrobe staples that will perfectly fit your bohemian style.
Also, if you love boho style home decor, the UO Home section is definitely worth checking out!
Our Top UO Picks:

This boho boutique shop first opened in the '9os and now has over 400 locations due to it's popularity. Francesca's offers beautiful bohemian clothing, jewelry, shoes, and accessories.
You can find casual outfits as well as great formal options for dressy occasions. Many of their pieces are made with lace details, beautiful patterns, and trendy designs.
We guarantee that when you shop at Francesca's you'll be able to find amazing boho pieces that are also affordable!
Our Top Francesca's Picks:

Three Bird Nest is a small Californian based business that began as a one woman shop in 2011. This company has grown into a bohemian style online clothing store.
3BN sells anything from graphic tees and denim jeans to beautiful dresses and kimonos. In their online shop you can find minimalist bohemian style as well as fun patterned pieces.
This brand offers adorable and comfortable boho clothing at a reasonable price, and is worth checking out if you want that Free People vibe for less.
What Stores are similar to Free People and similarly priced?
There is a great selection of brands similar to Free People that come in at around the same price point, including Doen, Faithfull the Brand, Anthropologie, Christy Dawn, and more. Read on to learn about each brand and why these should also be on your radar!
When it comes to finding a brand like Free People, Anthropologie usually makes the list. Founded in the '90s, this company has since become a beloved clothing line.
Anthropologie offers a wide variety of boho chic styles for any occasion. Wear their timeless and classic pieces in everyday outfits or even at work.
If you want to dress it up, they offer stunning statement pieces that will make an impression at any event. Their uniquely designed dresses have no shortage of fun patterns and vibrant colors.
Our Top Anthro Picks:

Created by two sisters in Santa Barbara, this company is a woman-owned and run business. Doen's clothing celebrates women and all that they do in their everyday lives.
These inspired designs have a vintage, slightly boho vibe and coastal California aesthetic. If you are searching for pieces with a relaxed fit, gorgeous floral patterns, and embroidered details then Doen is for you.
Another big plus, the brand is dedicated to crafting beautiful bohemian pieces that are 100% sustainably made.
Our Top Doen Picks: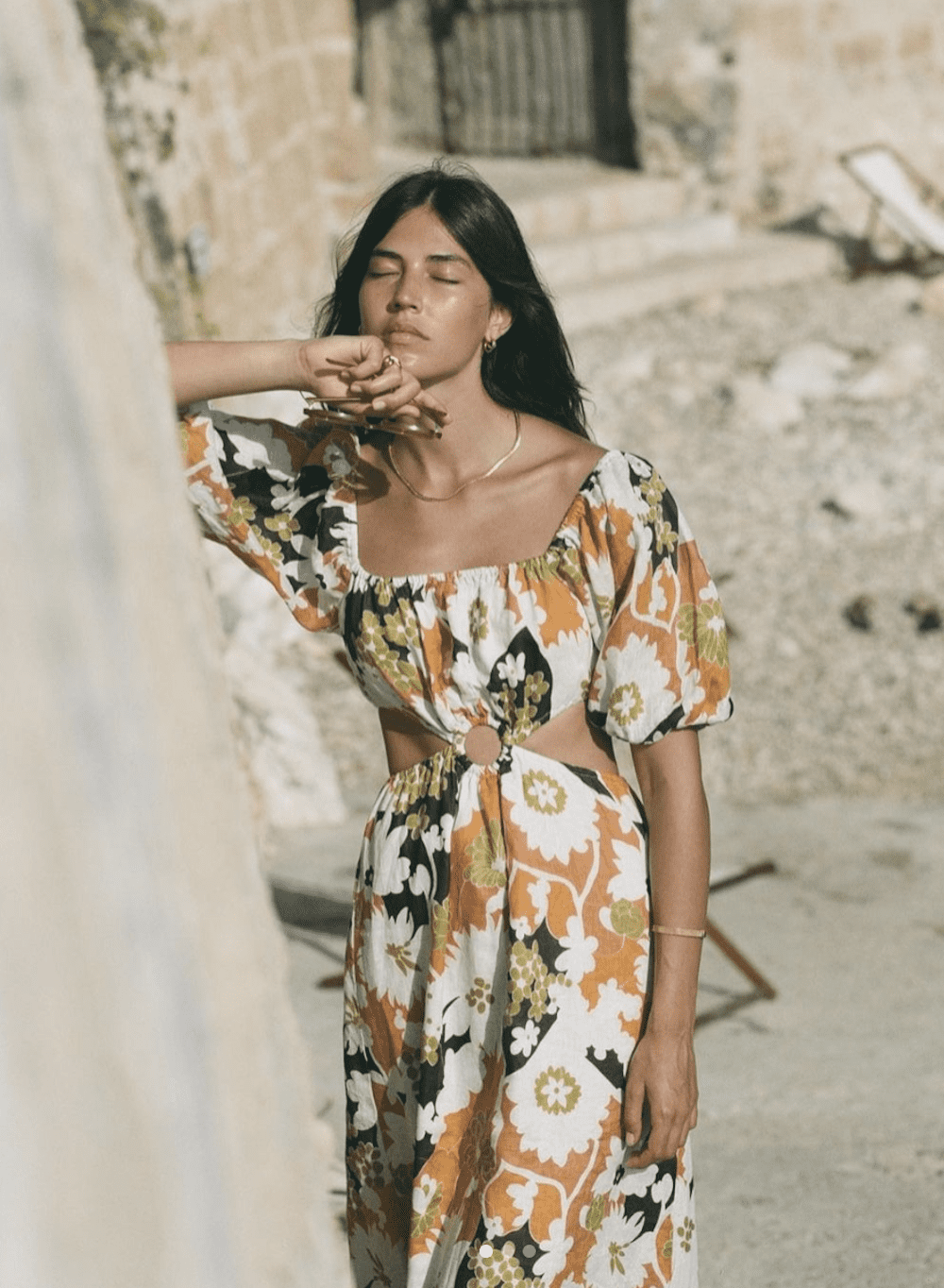 Founded in Indonesia in 2012, this boho brand is committed to creating gorgeous and high-quality pieces. They work closely with the community to create handmade garments made from superior fabrics.
Faithfull The Brand produces clothing with flattering silhouettes and vintage inspired prints. This sustainable company uses thoughtful designs that inspire feelings of adventure, romance, and a free-spirit.
No matter what you are searching for, Faithfull The Brand is guaranteed to have unique and fun pieces for you to choose from.
Our Top Faithfull Picks:

Spell Co. is a boho fashion label that produces inspired pieces similar to Free People clothing. Based in Australia, Spell Co. designs spirited and whimsical clothing that is made to last.
Explore their shop to find floral and lace dresses in lovely pastel shades, as well as in elegant neutrals. This company also proudly uses circular fabrics to sustainably produce their clothing.
Our Top Spell Picks:

Established in 2000 in Australia, this boho clothing brand has grown to be a popular global company. One Teaspoon offers a wide range of casual boho and rock n' roll style pieces.
Look no further than One Teaspoon to find comfortable and flowy bohemian dresses, as well as edgy rockstar-inspired outfits. This glamorous brand is also popular amongst celebrities and influencers.
One Teaspoon offers clothing for women, men, and children, so you can easily achieve that boho vibe for the whole family.
Our Top OT Picks:

Farm Rio began in the '70s at a local fashion market in Brazil. Over 20 years later and this boho fashion brand has become adored in Brazil and beyond. Their clothes have a distinct style that is inspired by nature.
Farm Rio has stunning designs that embody femininity, positivity, and happiness. Their boho clothing is unmatched when it comes to vibrant patterns and rich colors.
The brand has a wide range of clothing available such as dresses, rompers, pants, swimwear, accessories, and more. Additionally, Farm Rio responsibly sources their materials and gives back to the Earth with each purchase (win, win!).
Our Top Farm Rio Picks:

Another on the list of brands like Free People is Christy Dawn, an eco-friendly boho brand that produces timeless and classic pieces. They sell a variety of styles, such as swimwear, dresses, lounge wear, and more.
Christy Dawn even has maternity clothing! Their designs have a nostalgic, whimsical, and romantic feel.
The pieces are sustainably produced using materials such as dead-stock fabrics and organic cotton. It is obvious that Christy Dawn creates durable and high-quality clothing that looks good and is good for the planet.
Our Top Christy Dawn Picks:

This classic brand has been keeping people well-dressed since the '90s. Known as a denim company, this brand actually offers a wide variety of styles.
So, you can easily fill your closet with beautiful bohemian pieces whether its dresses, cardigans, tops, or jeans from Lucky Brand. The designs include stunning clothing featuring relaxed fits, floral prints, and embroidered details.
As a bonus, Lucky Brand is committed to producing high-quality clothing and accessories that are meant to last.
Founded in Australia in 2005, this clothing brand has become popular worldwide. The clothing is designed in Sydney and has an effortless modern bohemian vibe. Wear the pieces for everyday activities or go with the dressier items for special occasions.
MINKPINK is also a great place to shop for outfits to wear on vacation, as they produce superior bohemian beach wear, along with gorgeous floral-patterned maxi dresses and skirts.
Founded in Bali, Indonesia, Cleobella carries boho pieces that are ethically hand-made by local artisans. Featuring relaxed silhouettes, this brand combines comfort with style.
Cleobella uses gorgeous colors and bold bohemian prints to stand out above the rest. Additionally, the brand offers a full clothing line of tops, bottoms, and outerwear, as well as a variety of super cute accessories.
Lastly, we've decided to add Reformation to this list! While the main theme of this brands clothing line isn't bohemian, it does have a great selection of clothing that is a hybrid of boho-elegance.
At Reformation you'll find tons of gorgeous dressed with puff sleeves, floral prints, and linen fabric, as well as feminine and romantic blouses, vintage-inspired denim, and chic accessories.
If you love feminine silhouettes and a subdued bohemian vibe, then you definitely need to check out Reformation!
Our Top Reformation Picks:

When shopping for unique and trendy bohemian inspired clothing, there are many brands like Free People to choose from. We hope you have enjoyed this list of brands and have discovered some new favorite places for pretty boho style pieces!
More Posts You'll Love:
17+ Stores Like Reformation To Swoon Over + Cheaper Options You'll Love
14+ Brands Like Tory Burch For Mid-Range Luxury Bags + Apparel
12+ Stores Like Boden for Classy British-Inspired Style
15+ Stores Like Mango for Chic & Modern Euro-inspired Clothes
12+ Stores Like Hollister + Why You Need To Check Them Out!
13+ Websites Like Wayfair You Need To Know About
What To Wear To A Rodeo For Style and Function
10+ Stores Like Zumiez For Apparel That Is Seriously Lit
Christal Sczebel is an entrepreneur, published author, and content creator. Over the past decade she has worked in the digital media field building successful websites for both food and fashion. She has a natural affinity for minimal, timeless fashion, neutral home decor, and styling.
Here on Style Your Occasion, Christal is the Editor-in-chief and brain behind the aesthetic. She hopes you love the this space and the inspiration you'll find!