Looking for the perfect Celine bag dupe in 2023? Check out these stunning dupe Celine bag options (Celine box bag dupe) that'll make you do a second take!
*this post contains affiliate links, updated for 2023*
The Search For The Best Celine Bag Dupe
Celine, the name that is on every fashion it-girls lips. If you dream of owning a Celine bag, you're in good company!
The goal of owning a very chic authentic Celine bag is one that many have, but few achieve. For most, the goal is out of reach because of the high price tag attached. Genuine Celine bags can easily cost upwards of $2,000 to $4,000, and other pieces like the Celine sunglasses, hats, and apparel are also up there in price.
But, don't fret, you've come to the right place! We've scoured the fashion world for beautiful and stunning Celine dupes, and have come up with 10 fantastic options that are definitely more budget-friendly.
Below you'll find bags ranging from $100 to $600, made with leather and very similar in appearance to the Celine box bag. We also have a great belt bag dupe you can check out too!
Celine Box Bag Dupe: 10 Stunning Options
Read on to discover our top dupe Celine bags for 2023!

Ordicle is a store based in New York, and they also have an Etsy shop that sells stunning Korean-style clothing and accessories. The Brown Calfskin Leather Box Bag is a spitting image of the Celine teen box bag.
The outer leather is genuine calfskin leather with a "liege" finish, giving it a slightly textured surface that is more durable and scratch-resistant than smooth calfskin. The interior of the bag is microfibre leather.
It's hard to believe this dupe is just $100 (the small size is $85), but it is, and it also has rave reviews! Customers have given the bag excellent 5-star ratings, plus you can view images of the bag in action on many of the reviews.
*2023 update – Ordicle also now carries limited edition colors for spring including Berry, Matcha, and Pink!

Another excellent dupe Celine bag from Etsy is this stunning Smooth Italian Leather Box Bag from seller MerakiLeatherStudio. Like the previous option, this bag is a spitting image of the Celine box bag and it comes in two sizes, small and medium. And it comes in Black, Burgundy, Brown, Off-White, Green and Beige (currently sold out).
The bag is made with genuine Italian leather with a smooth finish and gold hardware. It can be worn crossbody, as a shoulder bag, or as an oversized clutch when the adjustable strap is removed.
One reviewer mentioned that she had visited the Celine boutique multiple times to check out the Celine box bag and in terms of quality, with this dupe bag you cannot see or feel the difference!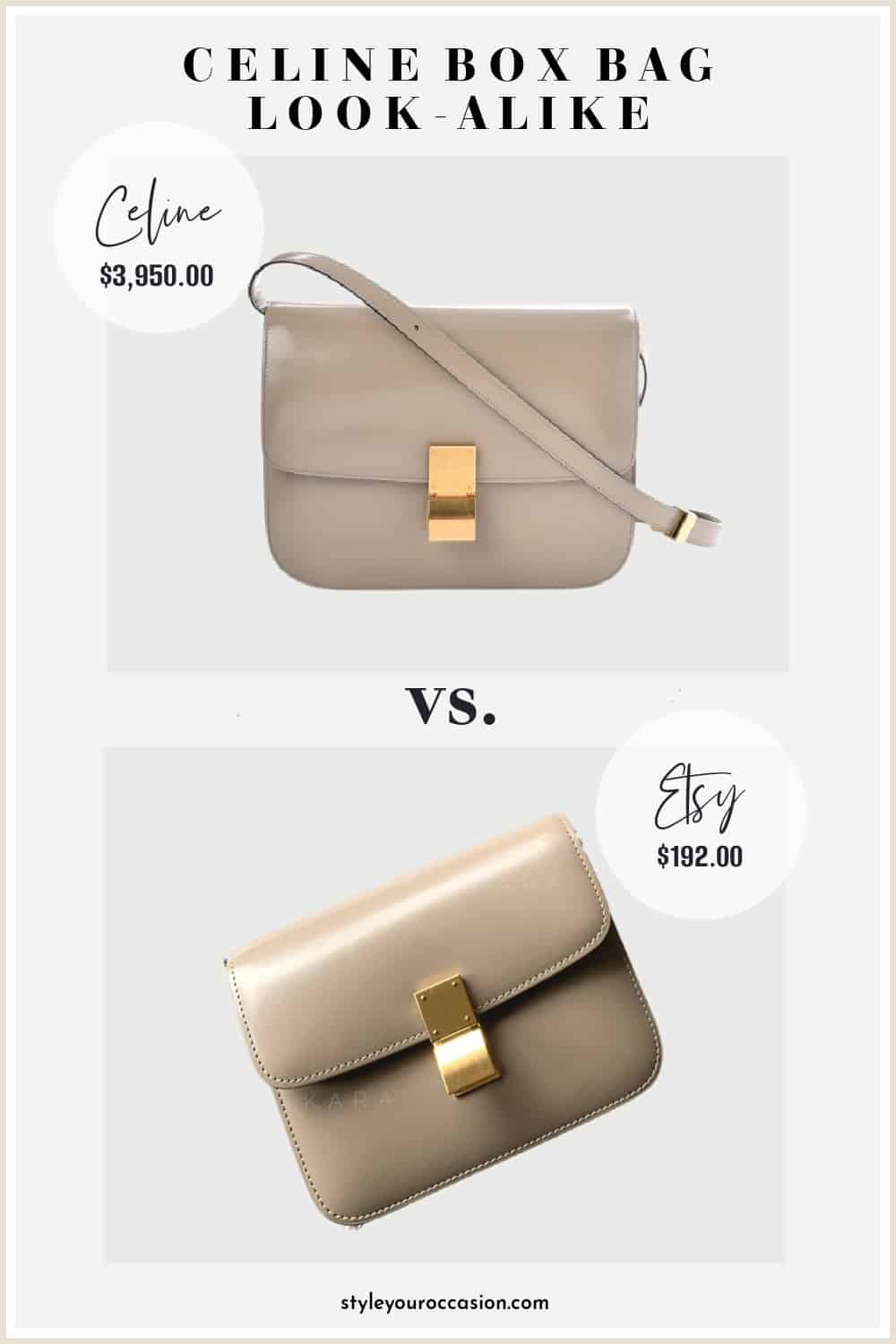 One of our favorite options for 2023 is this stunning Genuine Leather Minimal Box Bag from Etsy seller KaraLeatherStudio. The bag is made of hard-structured genuine cowhide Italian leather with gold hardware.
It has an adjustable strap so that it can be carried crossbody, as a shoulder bag, or as an oversized clutch, making it versatile and suitable for so many different outfits and occasions.
The leather is smooth and the bag comes in multiple colors including taupe, burgundy, toffee, black, beige, white, red, yellow, and blue. The reviews are fantastic and there are multiple customers who purchased one bag, and immediately bought another when they saw the quality in person!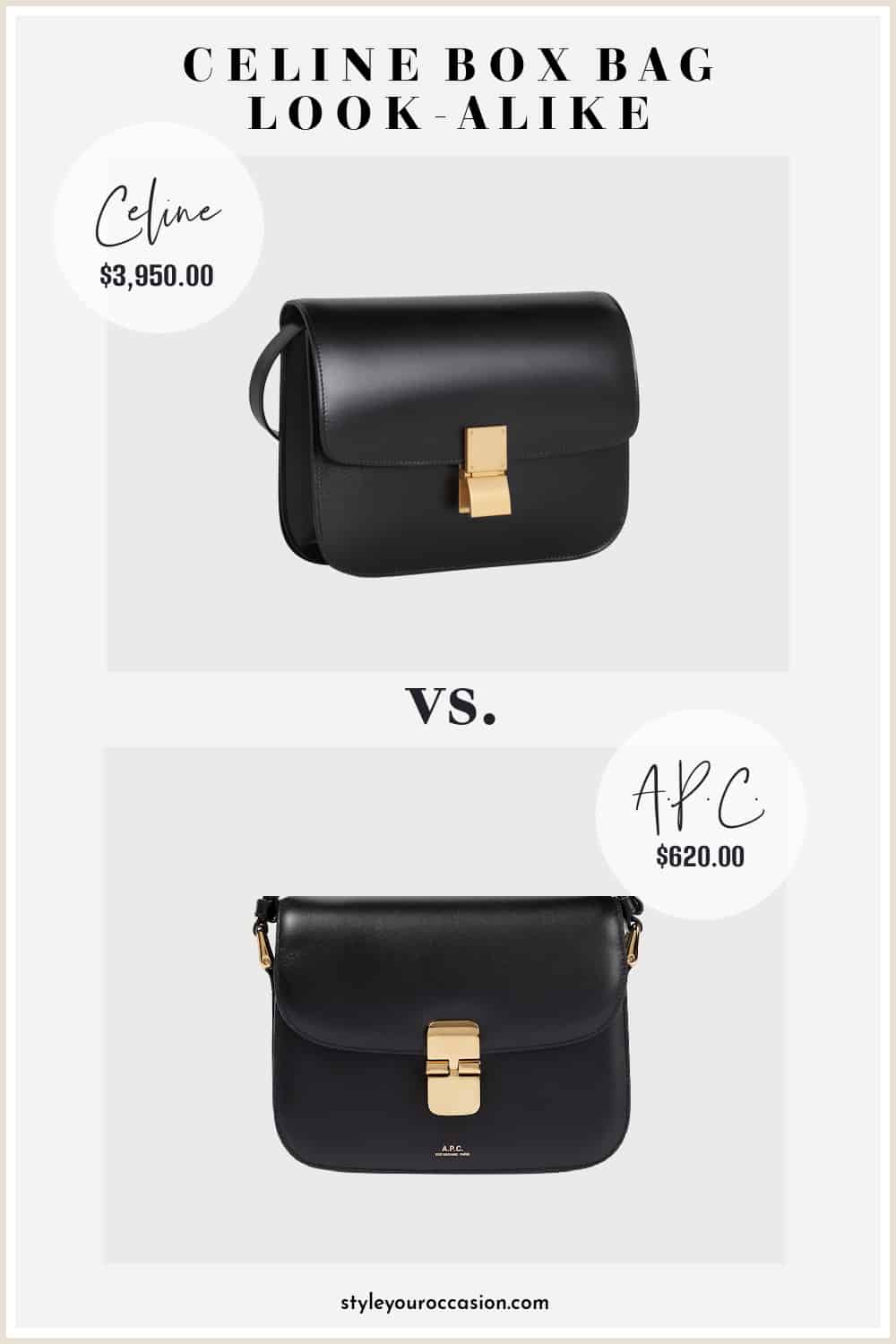 The brand A.P.C. is another French luxury clothing brand with a focus on minimal and timeless fashion. A.P.C.'s Grace Bag is a great alternative to the Celine box bag as it has a very similar look but comes in at less than 1/4 of the price.
While the price is higher than the Etsy dupes, this bag is from a luxury brand name and is made with impeccable quality. The shape and size is very similar to the small Celine box bag, as well as the placement of the gold hardware.
If you have a slightly bigger budget to spend in 2023, but not thousands, this Celine bag look-alike should definitely be a contender.

We had to include the cappucino colorway of the A.P.C. Grace Bag on our list as it's equally as beautiful as the black. This gorgeous neutral tone is very versatile and would look excellent with many different outfits.
A pair of vintage-wash jeans, a basic t-shirt, some dainty Mejuri jewelry, and the A.P.C. Grace bag, and you'll look just as good as if you were wearing Celine!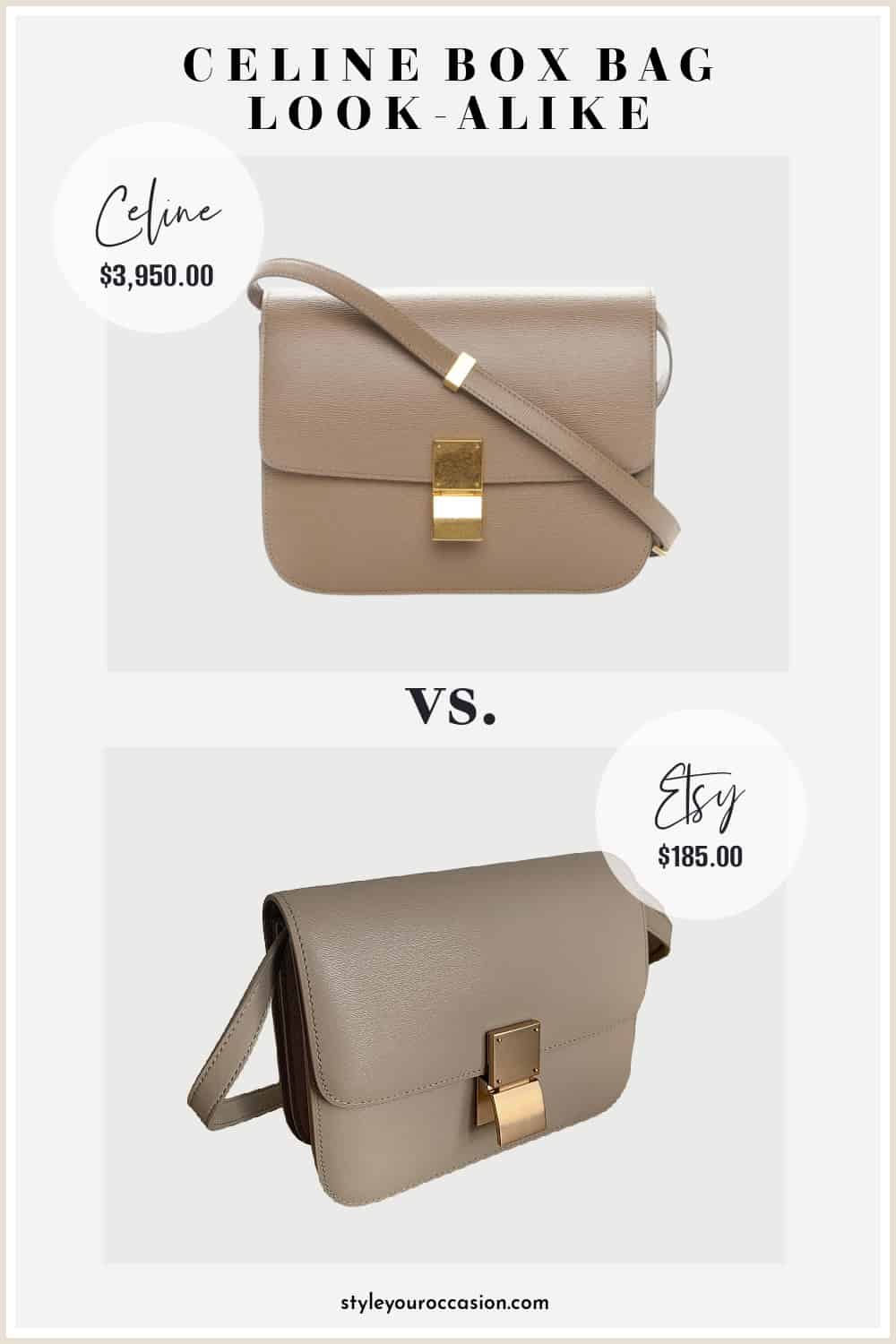 Back to the trusty MerakiLeatherStudio store from Etsy, this is a textured Saffiano leather taupe dupe for the Celine box bag. We wanted to include it separately in the list to show how similar it looks to the Celine box bag in the taupe colorway.
This bag also has the textured look versus the smooth, but it makes the bag more durable and matches the Celine box bags that come in the leige finish. This finish will not show scratches or marks nearly as much as the smooth leather, so it worth considering if you plan to wear the bag often.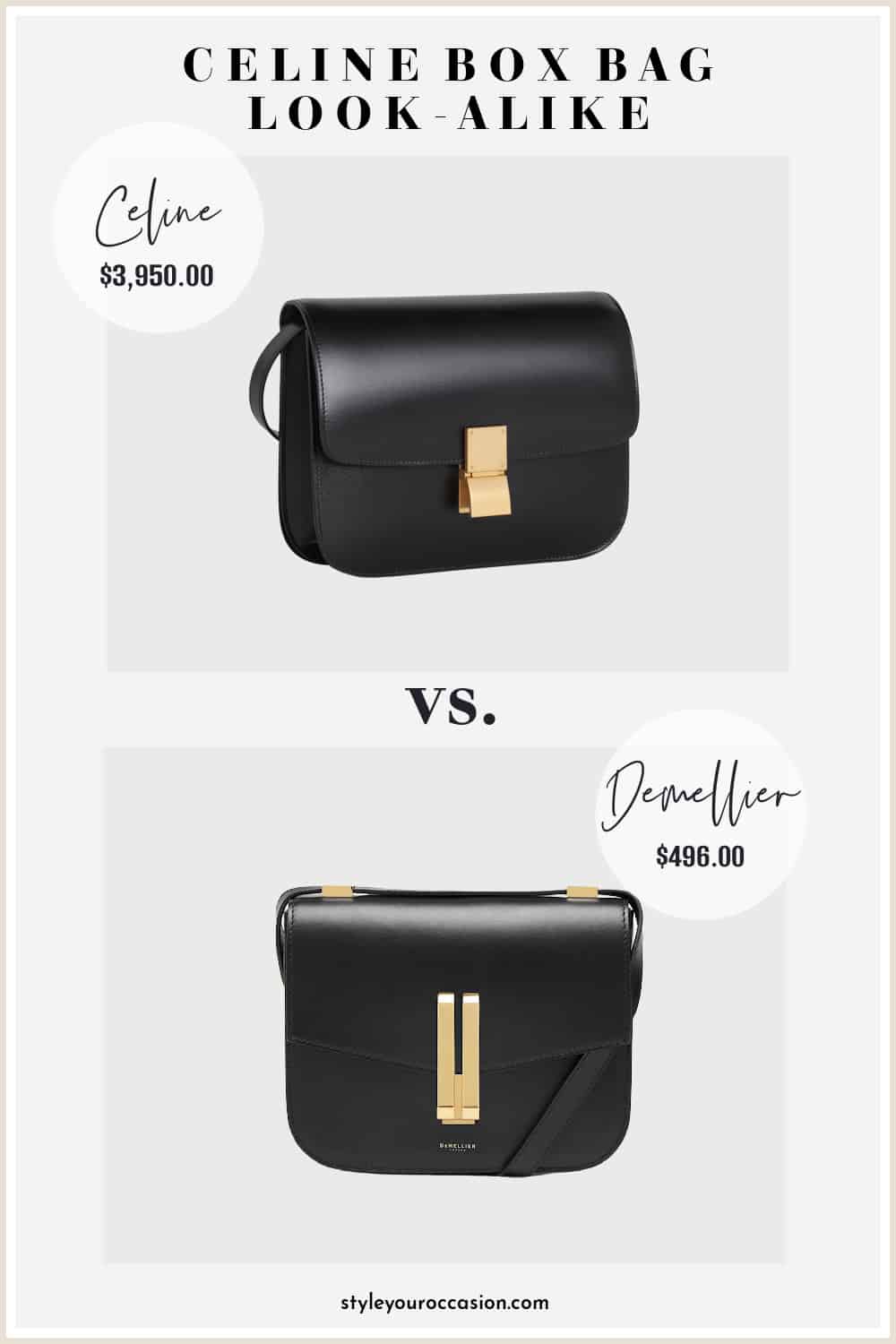 Another stunning luxury option and still very popular with fashion it-girls in 2023, the Vancouver Bag by Demellier. While there are distinct differences between this bag and the Celine box bag, the overall style and aesthetic is similar.
Demellier is a London-based luxury brand that specializes in beautifully handcrafted bags. In terms of craftsmanship and quality, you get what you pay for with Demellier.
If you want a luxury bag that comes in at less than $1,000 and has the same vibe as the Celine box bag, this is it!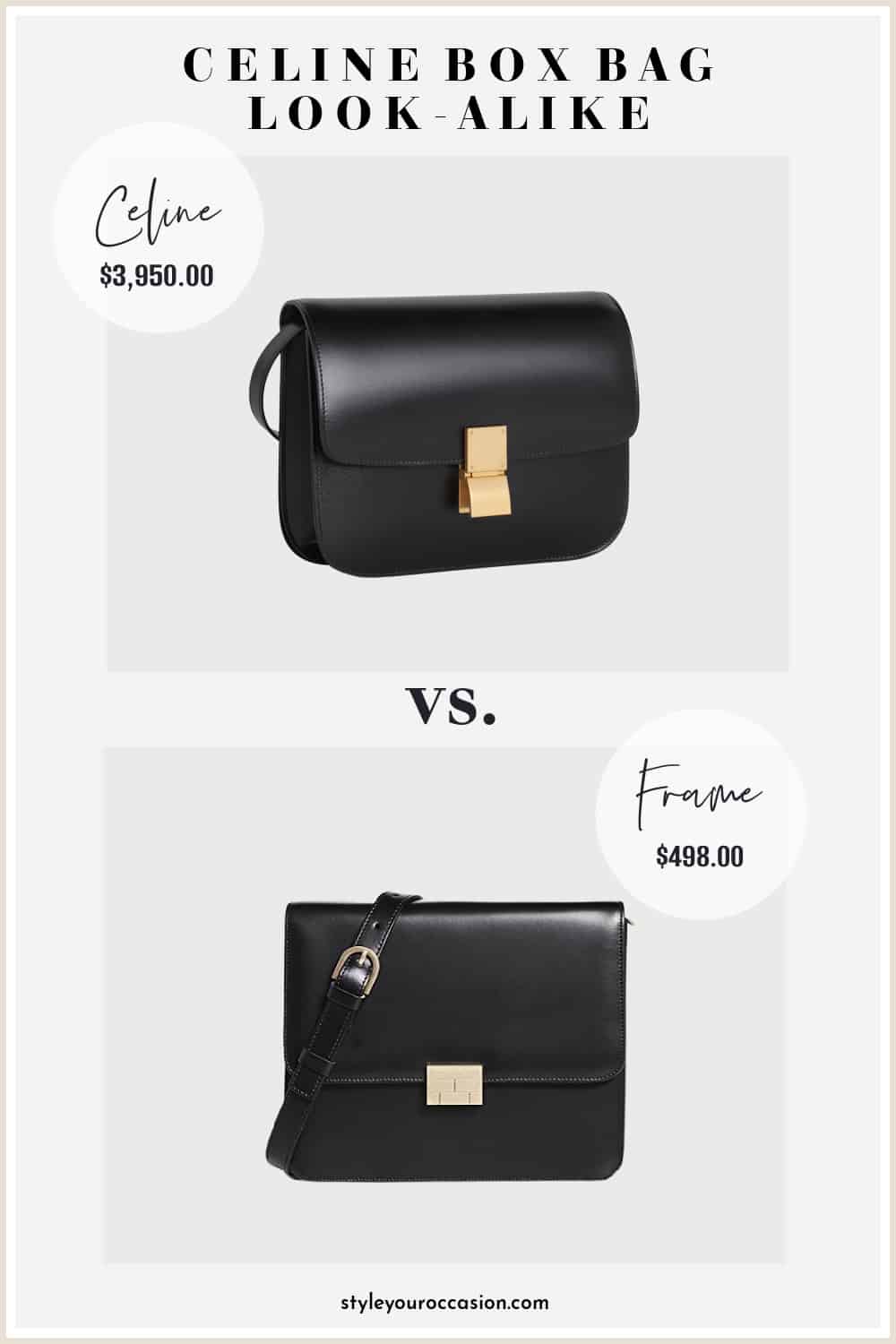 Next on the Celine bag dupe list is the Le Signature bag from the brand FRAME. It is on the pricier side, coming in at just under $500, but Frame is an upscale brand that is known for its high-end clothing and accessories.
The Le Signature Bag has a boxy shape, flap style, and gold hardware at the center giving it a Celine box bag vibe. While it has unique and distinct details, it makes a great budget-friendly alternative.
This bag also comes in a camel color in a smaller size which we also love. The look is casual, yet refined, and perfect for every day wear.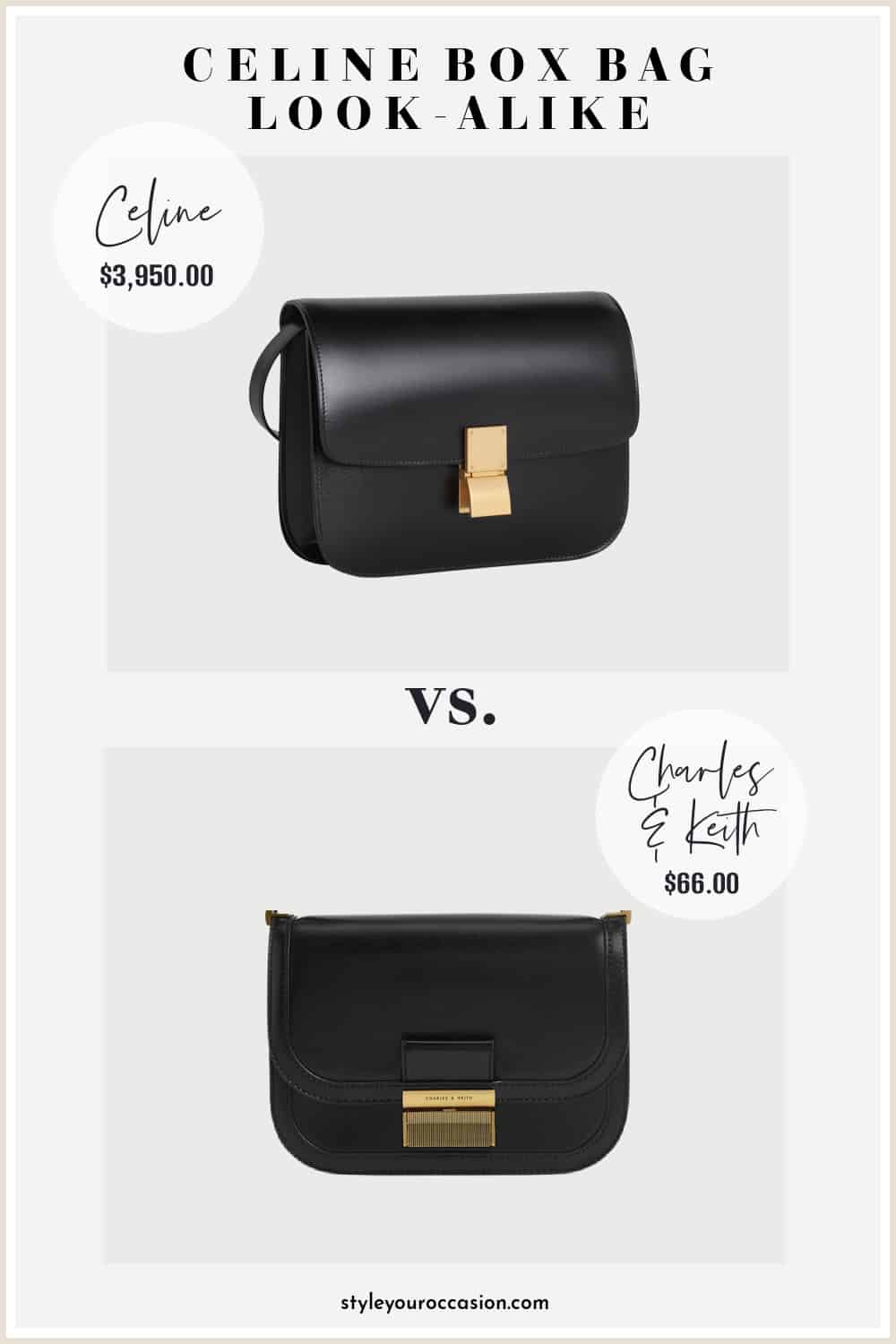 At just $66, this next Celine bag dupe is a steal of a deal! The Charles & Keith Charlot Bag is made with faux leather, this bag is at a much lower price, but still has a beautiful design that mimics the Celine box bag.
The shape and hardware give the bag a sophisticated feel, while the curved corners add a feminine touch. The bag comes in multiple colors including black, ivory, brown, navy, and taupe.
If you can't spend more than $100, but still want a chic and stylish bag, this Charles & Keith option is worth consideration!
Nearing the last on the list of Celine dupe bags is this cute Flap Crossbody Bag from Mango (which is looking like it may be sold out very soon for 2023!). While it is different in many ways from the Celine box bag, it does have a boxy shape, flap, and gold hardware at the center.
It is made from faux leather, but priced at just under $70, it is a fantastic budget option. The faux leather is smooth and shiny and gives the bag an elevated appeal. Take our advice and get it while you can!
An affordable and excellent Celine bag dupe, this faux leather box bag from Marks & Spencer had to be added to our list for 2023. While the black is sold out, the bag is still available in this rich camel color and a stunning light khaki colorway.
We love the white stitching detail and the brushed gold hardware, which is very reminiscent of the Celine box bag. At just $61, this bag is the perfect budget option that will still provide an elevated and polished appeal to any outfit.
One more stunning and high-quality addition to this list is a gorgeous bag from French brand Sezane. The Milo bag is Italian made with genuine leather and a cotton lining. Not only is it so timeless and chic, it has a very similar overall look and style to the Celine box bag.
This bag comes in black, brown, python, and blue snakeprint, so it will fit many different styles. So many fashion influencers and celebrities love Sezane for the quality and chic Parisian-inspired style. For $475 (a worthwhile investment) you can have your cake and eat it too!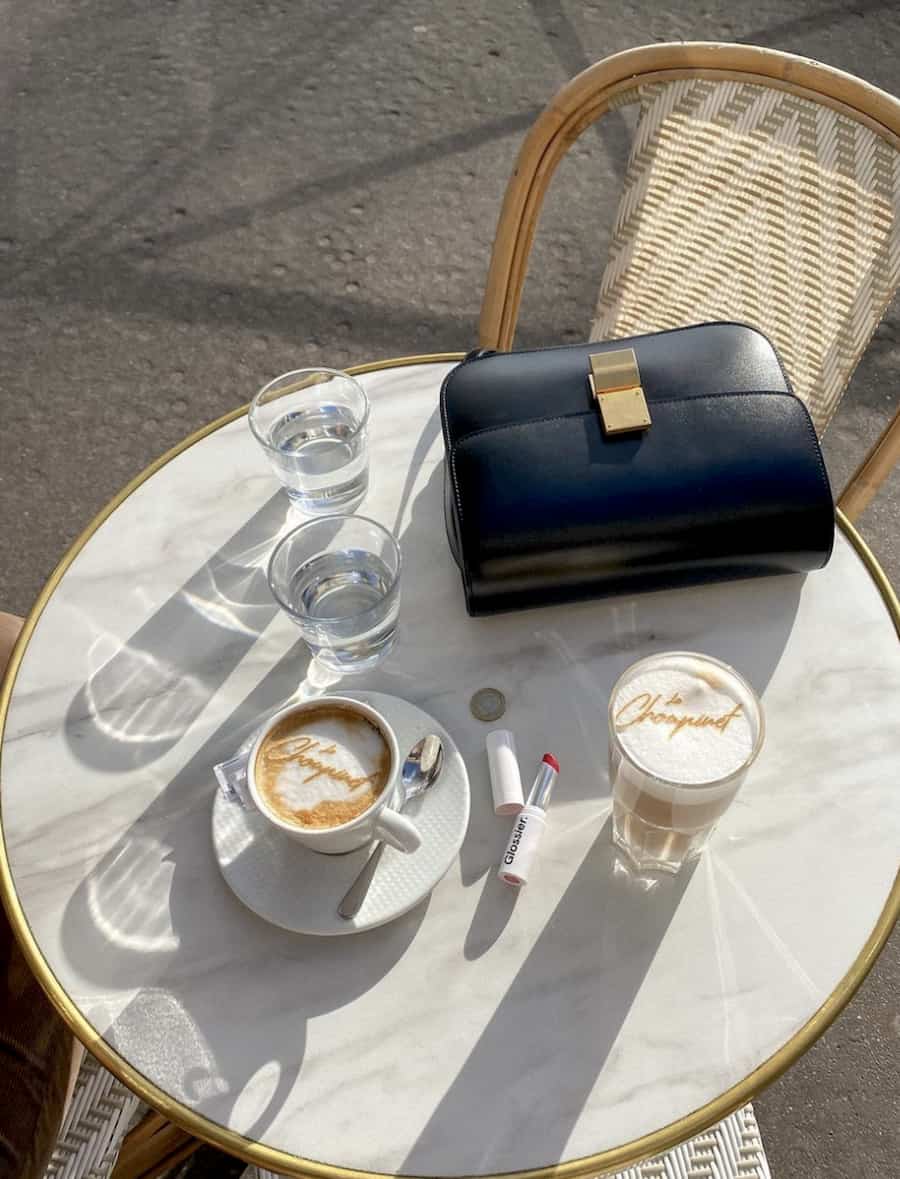 Celine bags are a true investment as they have a good resale value. When you purchase a Celine bag, you are investing in excellent craftsmanship and quality. Like all luxury bags, you are paying for the name, but also stunning pieces that will last you years to come.
If a genuine Celine bag is in your budget, it is worth making the investment. If the price isn't in your budget, don't overextend yourself. Instead, opt for one of these excellent dupe bags so you can get the timeless Celine aesthetic for less!
More Designer Dupes You'll Love:
6+ Dior Book Tote Dupe Bags That Are Very Budget-Friendly
7+ Best Louis Vuitton Dupe Bags: Neverfull & More LV Dupe Bags
Bottega Veneta Dupe: 5+ Look-alikes You Need To See
Cartier Love Bracelet Dupe: 10+ *Stunning* Options You'll Love
11+ *Really Good* Valentino Dupes (heels, rockstud, and more!)
Chanel Slingback Dupe: 9+ Stunning Look-alikes For *Way* Less