Learn how to curate an effortless and elevated minimalist wardrobe capsule for 2022. This capsule is incredibly versatile with a multitude of chic outfit possibilities and will leave you feeling stylish and chic all year long.
*this post contains affiliate links*
An Effortless Minimalist Wardrobe Capsule
Are you here because the thought of being a capsule wardrobe minimalist is really appealing to you? If so, you are in the right place!
If you are a fan of minimal, neutral style, and want to streamline your wardrobe so that you can reduce stress, time getting dressed, and save some moola, this guide for you will help you create the perfect minimalist capsule wardrobe that can be enjoyed year round.
Before we get into the capsule itself, let's go through some common questions about minimalist capsule wardrobes below.
Is a capsule wardrobe minimalist?
Generally speaking, yes. The whole concept of a capsule wardrobe is to utilize a smaller selection of clothing for a season (or several seasons) and get ample use out of each item. This is in contrast to having a closet full of clothing you don't really wear.
The main philosophy behind a capsule wardrobe is minimalism, and people also use capsule wardrobes to save money, have less of an environmental impact, or reduce the time it takes to get ready.

How do you make a minimalist capsule wardrobe?
There is no specific number for how many pieces need to be in your capsule. Rather, each piece should be versatile, able to be worn multiple times a week, and good quality.
Our minimalist wardrobe capsule contains 17 pieces of clothing, six pairs of shoes, and three bags. Your minimalist capsule wardrobe might need to be larger depending on your lifestyle, or it might be smaller too!
So, the key is including neutral staples that can be layered, and having the right footwear for each season. This way you can adapt your outfits for cold and hot weather, and temperatures in between.
A nice selection of accessories to choose from is good so you can elevate your overall look. This way you'll feel stylish and sophisticated even for a grocery run or school pickup.
What's not included in the minimalist wardrobe capsule?
In a capsule wardrobe we usually do not include the following:
undergarments (bras, panties, socks, etc.)
pyjamas and lounge wear (sweats, hoodies, etc.)
workout wear (leggings, sports bras, tank tops, etc.)
These items are considered every day essentials and can be kept to a minimum as well.
What Should Be in a Minimalist Wardrobe Capsule?
Here at Style Your Occasion we have busy lives with kids and careers combined. So, creating polished daily looks needs to feel effortless.
This is why our minimalist capsule wardrobe is simple and neutral, so multiple outfit combinations can be created with ease.
Read below to understand how each piece in the capsule has been thoughtfully chosen and can carry you from season to season.
We've separated the items into The Basics, which can be worn almost all year round, Seasonal Swaps, that can be pulled into the capsule specific to the season, as well as Accessories.

Wool Coat
A wool coat is a perfect capsule item that can be dressed up or down and worn Fall through to the start of Spring. It is a versatile layer that is essential in the winter months. Choose a neutral color like camel which has a chic and stylish look, or go with navy, black, or grey.

Leather Jacket
A leather jacket is a great layering option for spring, summer, and fall. It also has an edgy look that can be perfectly paired with a pair of vintage wash denim, loafers, and a tank top, or throw it over a slip dress and put on a pair of sneakers to keep the look more casual.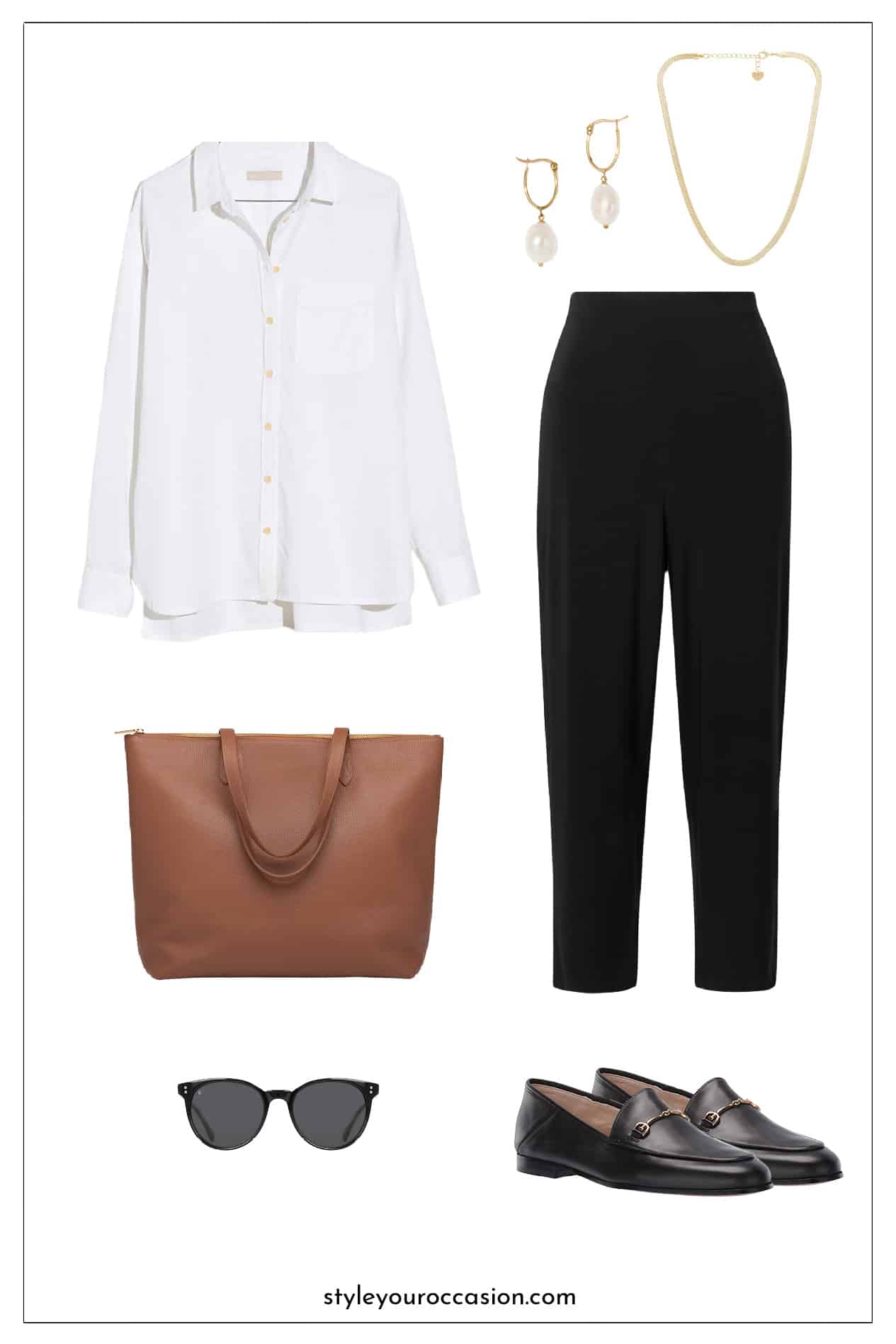 Button Up Shirt
A crisp button-up shirt belongs in every capsule in our opinion. This lightweight and airy staple is so versatile. It can be dressed up or down and in a slightly oversized fit it can be worn over jeans or trousers for a more casual look. I prefer white, but a light blue or neutral striped pattern is an option as well.

Knit Crewneck Sweater
On a cooler day from winter to summer a knit crewneck can keep you feeling cozy but also has an elevated look and feel. I'm a huge fan of Jenni Kayne, and you really can't go wrong with the fisherman cashmere sweater and a pair of jeans and mules. If cashmere isn't in the budget, a linen, cotton, or wool blend is great too!

Knit Cardigan
Layered over a t-shirt, tank top, or dress, a knit cardigan is another wonderful layering piece for all year round. I love the oversized Jenni Kayne cashmere cardigan included in the capsule, but a more affordable (and still high quality option is from Quince). You can also go for a cotton or linen cardigan if you prefer one that doesn't give as much warmth.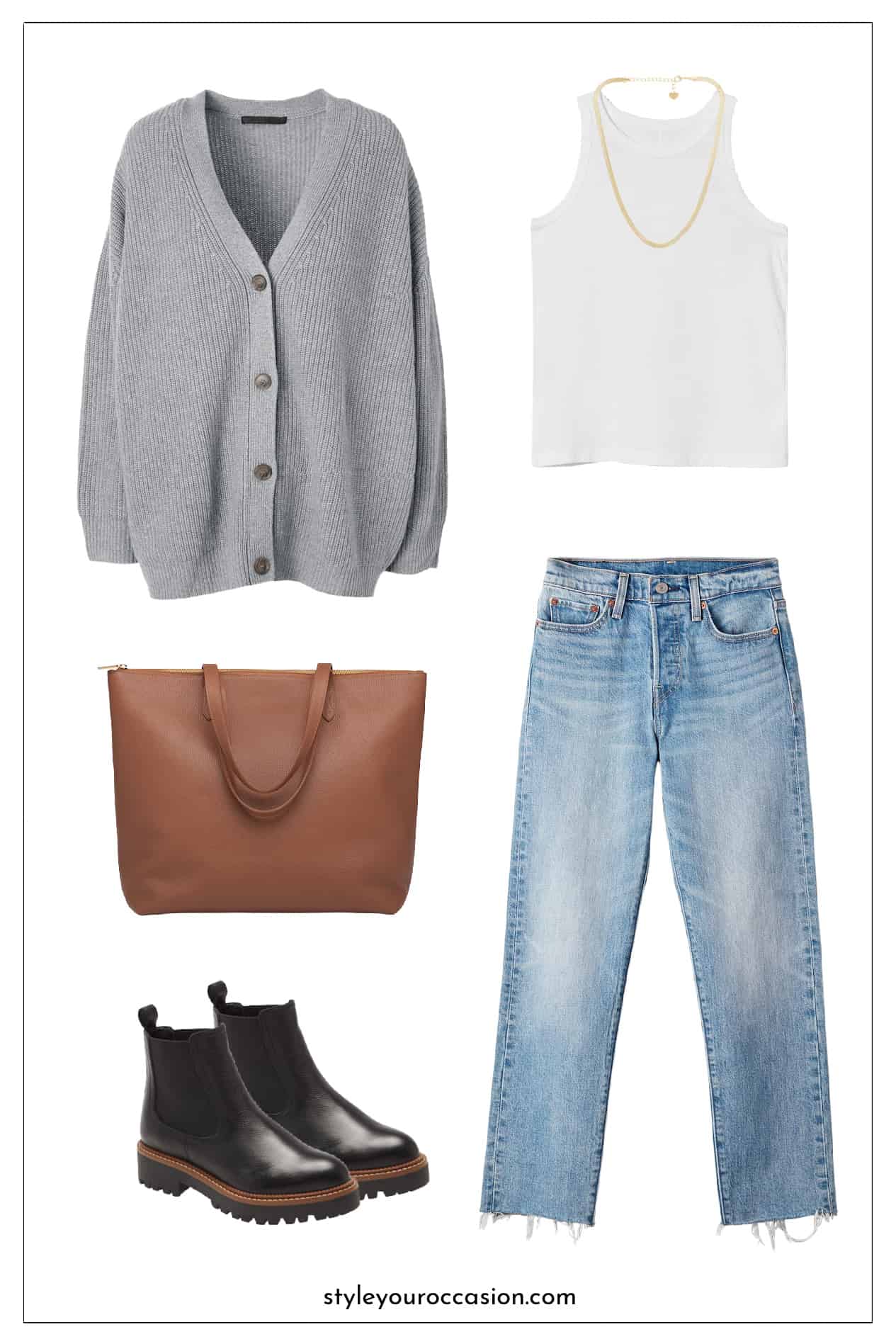 Black & White Tank Tops
These staple pieces can be worn multiple times a week with a layer over top (sweater, cardigan, denim jacket), or on their own if the weather is warm. The classic, polished look of a simple black or white tank can be elevated even more with layered dainty pendant necklaces.

Neutral T-Shirt(s)
A neutral t-shirt (or a few) is a staple in a minimalist wardrobe capsule. Dress them up or down, and wear them over and over again all year long. I chose to add the J.Crew cashmere t-shirt to this capsule for a more elevated option, as well as the organic cotton crewneck from Everlane.


Slip Dress
In this capsule wardrobe we included a minimal, chic, and stylish slip dress. Slip dresses can be easily dressed up or down, worn with heels and a leather jacket for a date night, or sneakers and a denim jacket for brunch with friends. You can swap the slip dress for t-shirt dress as well if you prefer a dress with more coverage.

Vintage Wash Jeans
A staple in any capsule is a pair of lightly distressed vintage wash jeans. When you find the perfect pair, you will wear them multiple times a week. We are huge fans of the Madewell Perfect Vintage Jeans (in multiple washes), but Levi's, Agolde, and Everlane, are all fantastic brands to choose from as well.


White Jeans/Pants
A light ivory or white pair of jeans, utility pants, or trousers is a great staple to have for every season. You can easily dress them down with sneakers and a cardigan, or up with a pair of heels and a nice top. The light color has a fresh feel and is super versatile.

Black Trousers
Classic black trousers or utility pants (for more casual capsules) are a great addition for their versatility and ability to be dressed up or down. They can have a polished look with the right top, shoes, and accessories, and can take you from running errands to date night.
If you prefer you can swap this item out for a nice neutral solid or patterned midi skirt.

Leather Boots
If you live where the winter brings snow, a classic pair of warm leather boots are a must when it comes to the footwear in your capsule. I love simple, ankle height boots for practicality and style. Not every outfit works with knee-high boots, so ankle boots are much more versatile and they also look great styled for the fall and spring.


Sneakers
A great pair of white or ivory sneakers are a must for a minimalist capsule wardrobe. Pair them with just about everything – jeans, trousers, t-shirt dress, etc. and be on your merry way!

Loafers or Mules
To elevate any outfit a pair of loafers add that bit of sophistication and class while still maintaining comfort and versatility. But, if you can't justify a pricey pair of Gucci loafers like all the fashion influencers (I sure can't, lol!), then try the polished look-alike pairs below.

Classic Pumps
While you might not be wearing heels every other day, it's always a good idea to have a pair of classic pumps for date nights, dinners out, and dressier occasions. Because we love our neutrals, we recommend going with classic black or a beige tone for versatility.

Leather Tote Bag
A tote bag is a perfect, minimal, and practical addition to a minimalist capsule wardrobe. A simple leather tote is a wonderful every-day bag that can be dressed up or down and is great for someone on-the-go a lot.

Crossbody Bag
A crossbody purse that can be dressed up or down is another great capsule staple. When you are not running from place to place with a tote full of things, opt for a smaller crossbody that can hold just the essentials.
If you are able to, I recommend investing a little more in accessories to elevate moderately priced clothing items in your capsule. An investment bag goes a long way and can be worn every day of the week.

Seasonal Swaps & Accessories
Now that we've covered the basics, it's time to talk about the seasonal swap-in items. If you live in a climate that varies quite a bit, you'll need to make adjustments as you move from season to season. Swapping out the wool coat for a trench coat for example, or adding in a couple pairs of shorts and a summer dress when it's hot.
You also want to make some swaps with footwear, the boots can go and summer sandals can be added, and so on. Below are the seasonal swaps we've chosen to include in this minimalist capsule wardrobe.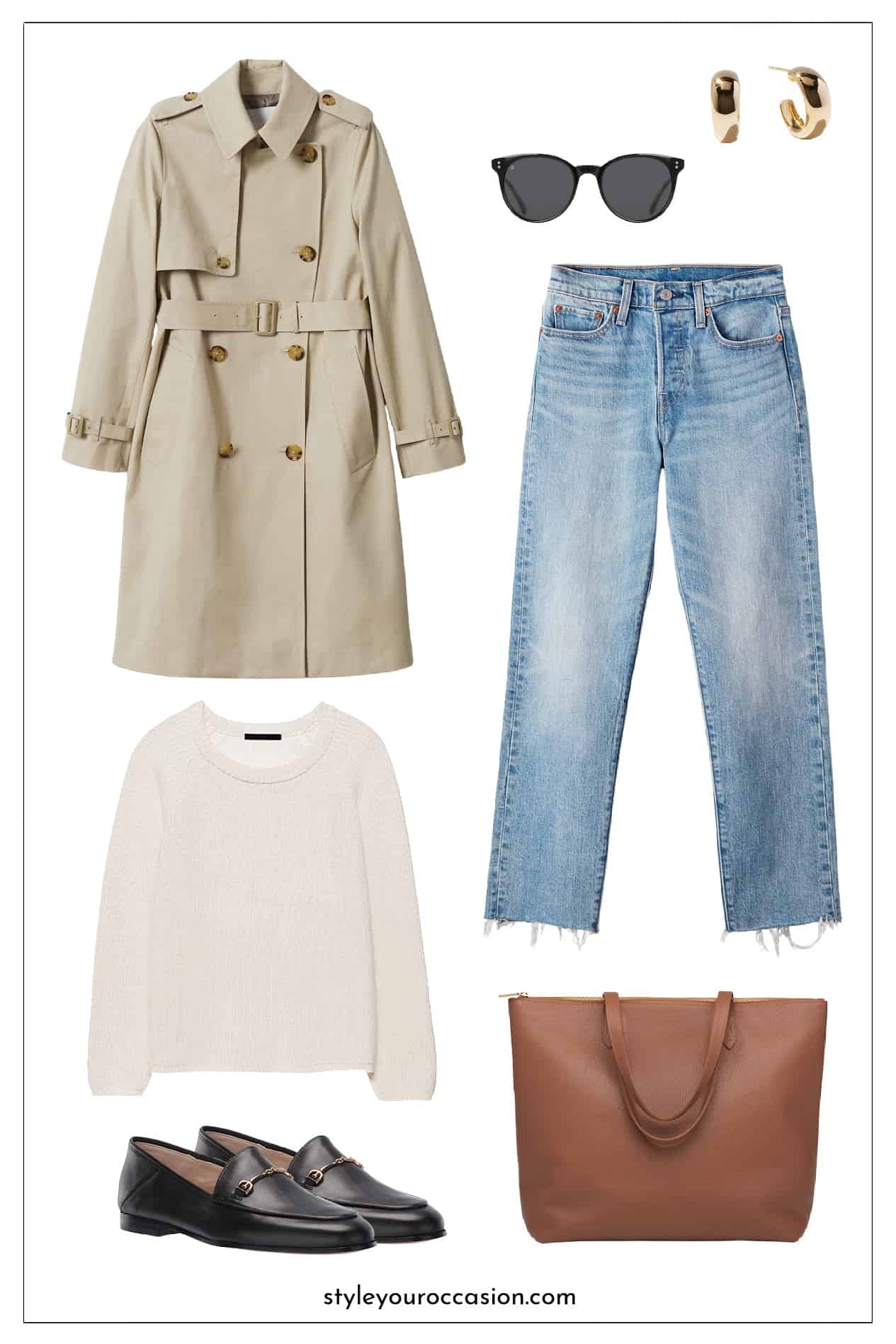 Trench Coat
A classic trench coat is a great staple for any minimalist capsule wardrobe. It can be dressed down with sneakers and a great pair of jeans, or dressed up with a dress and heels. Because some seasons can be cooler and rainy, this top layer is a sophisticated way to handle the weather and look great doing it.

Denim Jacket
Another essential layer for cooler days, a denim jacket is a perfect addition to the capsule. It can take you from day to night and you can go with a classic blue wash denim or with black or ivory. Also, a slightly oversized denim jacket will elevate any look.


Sun Dress
In the spring and summer bring a pretty sun dress into your minimal capsule to wear on breezy warm days. And, you can layer it with a cardigan or jacket, or on it's own and dress up or down with different footwear and accessories.

Shorts (2+ pairs)
When warmer weather arrives you likely won't want to be wearing jeans or trousers. So, add a couple pairs of shorts to your capsule to wear with the tanks and t-shirts, then you can layer on a sweater or jacket if needed.
A good pair of denim shorts and a dressier pair of black or ivory shorts will give you a lot of outfit options.


Sandals (2+ pairs)
For warmer weather footwear you'll want to swap in a couple pairs of sandals to your capsule wardrobe. So, a pair of flat comfortable sandals are great for day-to-day and a pair of dressier heeled sandals are good for evenings out, special events, and dressier occasions.

Woven Tote Bag
For sunnier days and warmer weather, a woven tote bag is a great add-in or swap for your capsule wardrobe. It can become your every day catch-all bag that takes you from day to night.

Sunglasses & Accessories
Lastly, adding in a selection of classy accessories to your minimalist capsule wardrobe will tie everything together.
We love a great pair of sunglasses, neutral hair accessories like clips and scrunchies, and dainty gold plated jewelry. Subtle, classy pieces that are the cherry on top of every great outfit.

Final Notes
Becoming a capsule wardrobe minimalist and curating the capsule of your dreams takes time *years even*! So, don't rush the process. Take time to hone in on your personal style and discover which clothing makes you feel amazing.
Narrow down your closet slowly to contain only the staples you love, then play around with mixing and matching to create endless outfit combinations.
Creating a minimal capsule wardrobe can be a challenge as it will force you to look at consumerism differently, but give yourself some grace and little by little you'll build a minimal wardrobe you absolutely love!
Pin this:
More Capsule Wardrobes You'll Love: