Love the gorgeous and sleek designs of Hermes handbags? You'll love this list of Hermes bag dupes, including Birkin dupe bags, Kelly bag look-alikes, and Picotin dupes for way less in 2023!
*this post contains affiliate links*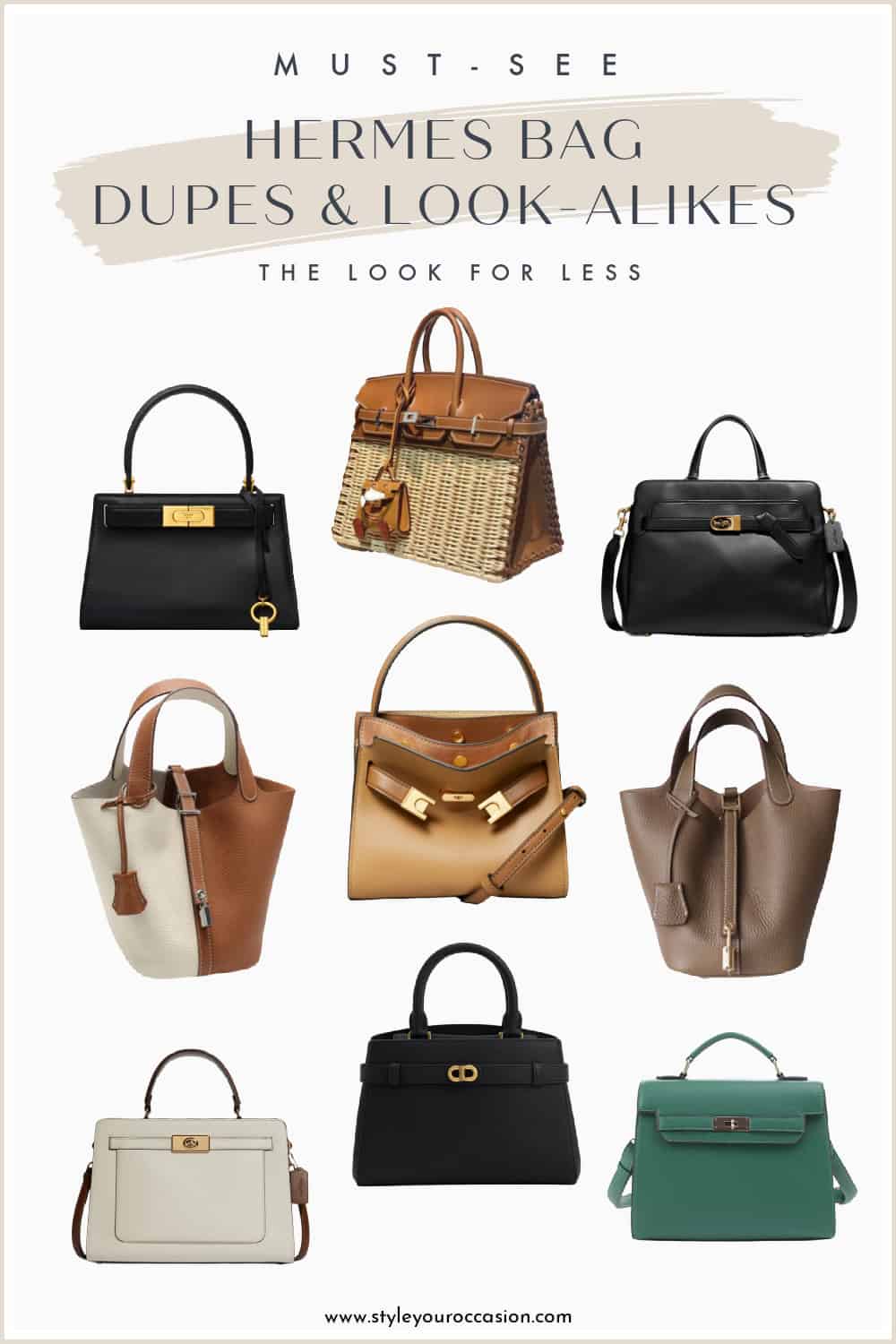 The Best Hermes Dupe Bag
Hermes is a well-known brand that makes gorgeous designer handbags. These bags are sleek, sophisticated, and the epitome of high-end fashion! And while we're always a fan of Hermes stunning designs, we know that these bags cost thousands, making them unattainable for most.
Fortunately, there are tons of gorgeous Hermes bag dupes and look-alikes to help you upgrade your wardrobe without breaking the bank! So if you've been drooling over a Hermes purse, you're sure to love this list of Hermes bag dupes! We have look-alikes for the Kelly, Birkin, and Picotin bags, and we're going to break down what we love about each dupe.
Hermes Bag Dupe List:
If you're ready to add a beautiful and classy handbag to your closet, then these purses below are a must! Whether you prefer the iconic Birkin, the classic Kelly bag, or the laid-back style of the Picotin purse, there's a perfect Hermes dupe for you below!
Hermes Kelly Dupe Bags
The Hermes Kelly bag features simple and clean lines that makes this bag the perfect timeless and elegant accessory. We have look-alikes that will cost a fraction of the price so that you can still be chic on a budget!
If you're a fan of the Hermes Kelly bag but don't have the cash to splurge on one, the Aubrielle bag by Charles & Keith might just be the perfect dupe for you!
The Aubrielle bag has a similar look to the Hermes Kelly Birkin bag, with its structured silhouette, trapezoid shape, and sleek top handles. It also has a gold-toned metallic buckle and belted detail, giving it the same modern and sophisticated look as the Kelly bag.
But of course, a good dupe isn't just about looks – it's also about quality. And the Aubrielle bag doesn't disappoint! It's made with high-quality vegan leather that's both durable and soft to the touch. This bag also comes with a removable faux leather crossbody strap, making it easy to go from tote to shoulder bag, much like the Hermes Kelly bag.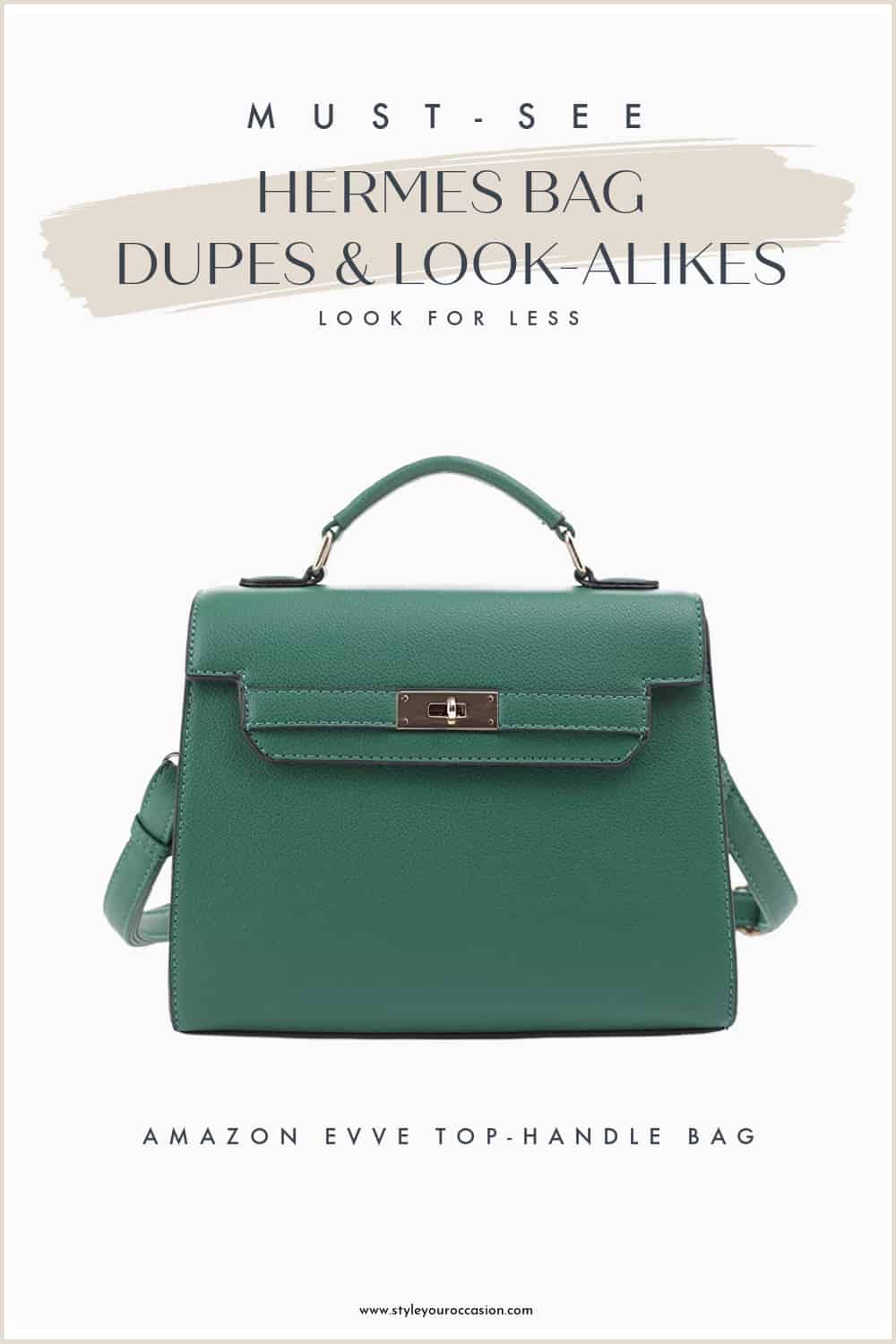 The Evve Top Handle Satchel from Amazon is one of our favorite Kelly dupes on this list!
Made with faux pebbled leather, this look-alike has that same classic silhouette that the Kelly is known for. And the top handle gives it that chic, elegant look we want. Plus, we love that it comes in a variety of colors while still having a classic and timeless look, making it easy to find one that suits your style.
The Evve handbag is a well-made bag that will last you for years. And buyers have loved everything about this purse, from the vibrant colors to the soft vegan leather.
If you prefer a Kelly dupe made with real high-quality leather with a smooth finish and gold hardware, this other Amazon option is a must! It's also perfect for everyday wear and has the designer aesthetic we want in any dupe.
The Lee Radziwill from Tory Burch is another fantastic dupe that should be on your radar!
Not only does this bag have a similar design to the iconic Kelly bag, but it also features the same elegant top handle and structured shape. Plus, the warm-toned brown color and gold hardware add that designer touch without breaking the bank.
We love that this dupe is made of high-quality leather that will stand the test of time but only costs a few hundred compared to a few thousand. And buyers have said that despite its small size, the double bag feature gives you plenty of room to store all your essentials (and maybe even some extra).
So, if you're looking for a stylish and practical alternative to the Hermes Kelly, the Lee Radziwill is worth considering. Plus, your bank account will definitely thank you!
The black and gold Petite Lee Radziwill Leather Bag from Tory Burch is not only gorgeous, but it's also another great dupe for the iconic Hermes Kelly Bag.
The black and gold color combination is classic and simply stunning. And since the Kelly Bag is known for its sleek and structured design, the Petite Lee Radziwill Bag's frame silhouette delivers that same look. Additionally, this Tory Burch dupe features a top handle and a detachable shoulder strap, giving you the option to wear it in different ways.
With smooth Italian leather and gold lock-and-key front hardware, this bag is the perfect mini Kelly dupe. It's also perfect for dressing up your everyday looks and adding an elegant touch to your outfits.
How much is a brand new Kelly Hermès?



If you're anything like us, you're probably in love with the gorgeous design of the Kelly Hermès bag. But, I'm sure you're wondering, how much does it cost to snag one of these beauties brand new?
The price of a brand new Kelly Hermès depends on a couple of factors, like the size, material, and color of the purse. But in general, the starting price for a basic Kelly Hermès in the United States is around $10,000 and can even go into the hundreds of thousands.
That's a hefty price tag for a handbag, but for some fashion lovers, it's worth every penny. However, with our bag of Hermes dupes, you definitely won't have to pay that price to get the same designer look!
Hermes Birkin Bag Dupe List:
The Birkin is a bag that needs no introduction. This stunning handbag is one of the most coveted bags around the world, known for its timeless design and luxury feel. If this is your favorite Hermes bag, the dupes below are the ones for you!
If you've been a fan of the chic Birkin bag from Hermes, you'll love the Tate Carryall 38 from Coach! This bag is a fantastic dupe for the iconic Hermes Birkin bag but without the hefty price tag.
Not only does the Tate Carryall 38 share a similar silhouette and structure to the Birkin, but it also boasts the same level of luxury and quality craftsmanship. The bag is made from genuine leather and features gold Horse and Carriage hardware, adding another touch of refinement.
This bag has a roomy interior and plenty of pockets, so you can easily stay organized on the go. Plus, this Hermes dupe has a detachable shoulder strap and two top handles, so you can carry it whichever way you prefer.
Whether you're just running errands or going to the office, this bag is sure to elevate your look. Plus, you can feel good about treating yourself to a stylish gift knowing that you didn't break the bank to achieve such that timeless look.
If you love the clean and modern look of a white leather Birkin, Coach has another stylish bag for you! The Lane Carryall is so beautiful and has both pebbled and smooth leather for a unique design.
The Coach Lane Carryall shares tons of similarities with the Birkin, including the structured shape, top handles, and gold accents. It's also made from authentic leather, and the combination of white and tan tones gives this dupe a luxurious look that's perfect for any occasion.
This is another dupe option that can be worn as a crossbody or carried as a tote, and the versatility makes this a great option to wear every day. Plus, since this bag costs only a few hundred, you probably won't find a better deal!
We absolutely love the look of the crocodile Birkin bags, and if you do, too, you'll definitely love the Enisa High Society Satchel from Guess. This stylish and affordable alternative to the iconic Hermes bag has all the classic Birkin elements you love. The Enisa High Society Satchel features a rectangular shape with a top handle and has an open-top closure with a turn-lock, a signature feature of the Birkin.
One main difference is that the Enisa bag is made from vegan leather, so it's much more affordable than the Birkin. But don't let the lower price fool you – this Birkin dupe is still a high-quality accessory that will elevate any outfit and comes in sleek black or chic Egyptian brown to match any style.
Plus, it's much easier to find and purchase than the elusive Birkin, which can have waiting lists that stretch for years!
The picnic-style Birkin is loved for its boho-chic aesthetic that will easily transform any look from simple to stunning! If you've had your eye on this leather and rattan handbag, we're happy to tell you we've got a dupe for that as well.
The light tones of the rattan paired with rich brown leather have such an eye-catching and gorgeous look. And everything from the front metal hardware to the stitched detailing to the belted strap gives this Birkin bag dupe from Etsy a timeless look of a Birkin without the high price tag!
Hermes Picotin Dupe Bags



If you're in love with the sleek and simple bucket bag design of the Hermes Picotin bag, we have the best dupes that will elevate your style without costing you thousands!
Of course, we had to add some gorgeous dupes for the Hermes Picotin bag! The Kara Genuine Cowhide Leather Bag from Etsy is a hidden gem that's a perfect look-alike for this iconic Hermes bag but at a fraction of the cost.
The Kara bag is made from genuine cowhide leather, which means it's durable, soft to the touch, and will age beautifully over time. And the quality of the leather is impressive, especially considering the price point.
It has the same well-known bucket shape and size as the Picotin, and it even features the same belted detail with a lock. We also love the two-tone leather look of the Kara bag; it's chic and modern with a bold and unique vibe.
Not to mention that buyers are raving about this gorgeous, high-quality leather bag – so you can feel confident when treating yourself and buying this stunning dupe.
If you prefer neutral tones for a classic look, we have a Hermes dupe for that as well!
We love the muted brown tone of this leather bucket bag, and the pebbled finish gives this purse an alluring aesthetic that will look amazing with any outfit.
Everything from the shape to the belt details to the hardware and lock gives this bag the same look as the Picotin. And fortunately, it doesn't cost into the thousands, making this a perfect alternative to the Hermes bag without sacrificing any style!
Which brand is comparable to Hermès?
There is an excellent selection of brands that compare to Hermes by offering similar high-quality materials, attention to detail, and iconic designs. Below are some great luxury brands with a similar aesthetic to Hermes:
Burberry
Chanel
Louis Vuitton
Saint Laurent
Goyard
Prada
These brands are renowned for their luxurious products and have a reputation for being at the top of the fashion game. But while these brands might share some similarities with Hermès, they each have their own unique styles and flair.
So whether you choose to snag a beautiful bag from one of these designer brands or you opt for a Birkin dupe on our list, you can absolutely get the same gorgeous aesthetic as Hermes without breaking the bank!
More Designer Dupe Posts You'll Love:
YSL Bag Dupe: 11+ Affordable Look-alikes You'll Love
The Best Gucci Dupe List: Belt, Bag, Shoes + More
7+ Amazing Hermes Sandals Dupes: A Très Chic Look For Less!
Best Van Cleef Dupe: 12+ Thrifty Necklace & Bracelet Look-alikes
8+ Best Louis Vuitton Dupe Bags: Neverfull & More