Looking for chic Ugg Tasman slippers outfit ideas or Ugg Tazz outfit inspo? You'll love our list of 15+ modern Ugg Tasman outfits (& a few Tazz looks) that will have you stylish and cozy in 2023!
*this article contains affiliate links*
Ugg Tasman Outfits You'll Want To Try
Ugg Tasman slippers have been a hot trend on social media for all of 2023, and we can definitely see why!
Made from soft suede and plush sheepskin, these cozy slippers have the perfect balance of comfort and style. Plus, the sleek and minimalistic design paired with embroidered details can elevate any outfit. So, while these shoes were made for lounging, you can easily style them into a chic outfit for running errands, a coffee date, and more.
If you've been looking for ways to style your Ugg Tasman slippers (or Ugg Tazz slippers – the platform version of the Tasmans), you've come to the right place. We have stunning looks from our favorite influencers to show how easily you can create Ugg Tasman outfits that will have you turning heads this fall and winter.
Stylish Ugg Tasman Slippers Outfit Ideas
Whether you're looking for simple and casual Ugg Tasman slipper outfit ideas or you want to dress these slippers up, the looks below will give you the perfect outfit inspo!
stick with neutrals
get the look:

You can easily mix and match pieces in your wardrobe for a trendy yet timeless look by choosing neutral colors. Sticking with neutral tones like white, black, beige, brown, and grey makes it easy to build an Ugg Tasman slipper outfit that is effortlessly chic.
We love the black and off-white combo for a casual look with eye-catching contrast. And the brown slippers and brown Anine Bing baseball cap add warmth without taking away from the elevated aesthetic of this cute fit.
slippers + a turtleneck
get the look:

What goes better with soft and comfy Ugg slippers than a soft cashmere sweater? Not much in our opinion.
An oversized turtleneck is a wardrobe staple for fall that you can always rely on for an elevated vibe. And we love the laid-back look of the striped boxer-style shorts, although you can opt for striped pull-on pants for extra coverage on cooler days.
This rolled-out-of-bed-looking-chic ensemble is a must for a casual day of shopping or grabbing a latte at your fave coffee shop.
Can you wear Ugg Tasman outside?
Yes, you can wear Ugg Tasman slippers outside! These cozy shoes aren't just for indoor wear; they are also suitable for outdoor wear. Ugg Tasman slippers have a chunky rubber sole that makes them suitable for outdoors, and the high-quality suede exterior is easy to clean.
So whether you're taking a quick trip to the store or hanging out in your backyard, Ugg Tasman slippers can keep your feet comfy and stylish both indoors and out!
casual chic
get the look:

Looking for elevated Ugg Tasman slipper outfit ideas? We've got you covered!
Adding a black blazer to any outfit is an easy way to transform it from relaxed to refined. And we love the combo of black and brown tones here – it's sophisticated with a warm autumn vibe that we adore.
The blazer paired with basic black pieces creates a polished look that you can wear to lunch, a dinner date, or anything in between!
add some color
get the look:

Don't be afraid to wear bright colors in a fall or winter look!
We are in love with this vibrant, floral quilted jacket. The embroidered details on the Ugg Tasman slippers paired with the stitched details on the jacket give this outfit a cohesive look. And both pieces have that plush and cozy feel that's perfect for cold days.
Additionally, the off-white jeans add the perfect neutral element to balance out the colors.
quilted comfort
get the look:

We love a good quilted jacket – and this on-trend piece is a must when it comes to creating a comfy Ugg Tasman slipper outfit. This quilted coat is stylish but has the same soft and snuggly vibes as the slippers, making them a perfect match for one another.
The muted tone of the jacket works so well with the Ugg Tasman slippers in Driftwood, although you can go with any quilted coat in a neutral color for a chic look. Add the jeans to keep it casual, and you'll have the ultimate cozy fall or winter outfit!
soft fall vibes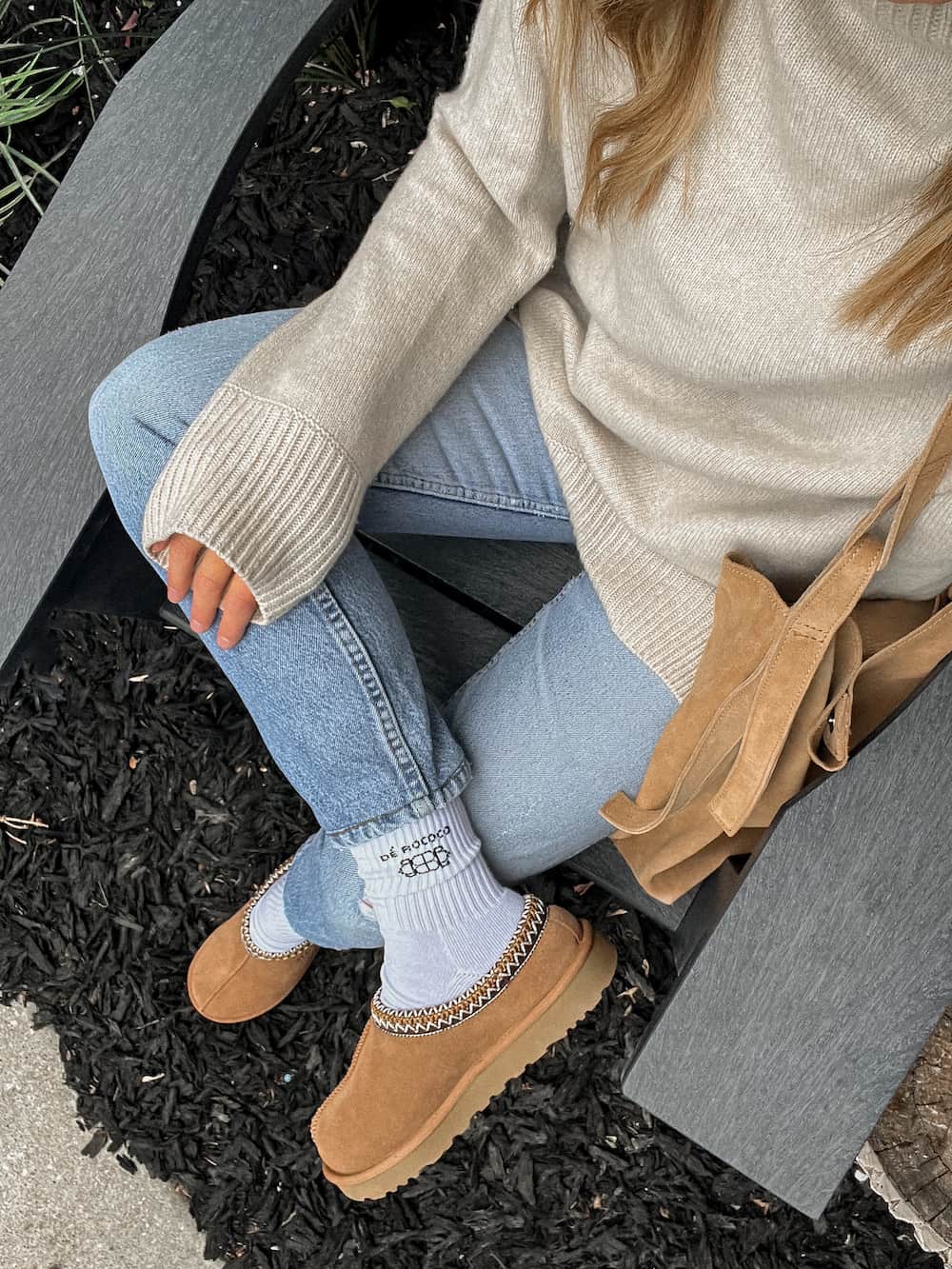 get the look:

These soft brown slippers are obviously perfect for fall, so why not go for a chic autumn ensemble that you can look and feel great in?
A cozy, oversized beige cashmere sweater is an easy go-to on chilly fall days, and the Levi's jeans and Ugg slippers will also keep you warm while creating a relaxed aesthetic. This brown suede tote from Mango matches the slippers perfectly and brings the whole outfit together.
Why is the Ugg Tasman so popular?



The Ugg Tasman slippers have taken the fashion world by storm and are popular for many reasons. Firstly, they are being worn by many of the top fashion it-girls on Instagram, lending to their popularity. Secondly, the high-quality materials used in these shoes make them soft and luxurious, while the thick rubber sole keeps them supportive and perfect for all-day wear. And lastly, the Ugg brand is already such a well-known brand, it seems most pieces they release end up topping the charts in terms of popularity.
Not to mention, the lovely embroidered collar on these slippers is so eye-catching and unique. Overall, the Tasman slippers are pretty, practical, and, best of all – versatile! But, if the real slippers don't fit your budget, check out this list of Ugg Tasman look alikes!
make it edgy
get the look:

These slippers really can be styled any way and this outfit proves it.
We are in love with the combo of simple and edgy pieces for this bold but casual look. Leggings, slippers, and a hoodie have a laid-back vibe that's perfect for running errands, and the leather biker jacket is stylish and modern.
Plus, this outfit is excellent for staying warm on a winter day.
stripes + denim
get the look:

Our editor-in-chief knows that the Ugg Tasman slippers can quickly become a staple in any wardrobe. So it makes sense to pair this chic piece with other timeless closet staples – like a denim jacket and a striped knit sweater.
You can't go wrong with a black and white striped sweater in fall or winter, and an oversized denim jacket adds another layer while keeping the outfit laid-back. Ugg Tasman slippers finish this outfit perfectly by adding a cozy, stylish, and casual touch.
winter ready
get the look:

Use your Ugg Tasman slippers to style a minimal and chic winter outfit.
Long ecru-toned jeans, an ivory or cream cardigan, and a black coat make a great for a cold-weather outfit – and Ugg slippers are the perfect footwear to finish with! Stick with neutrals for a timeless look, or add a pop of color with a bright coat.
warm weather friendly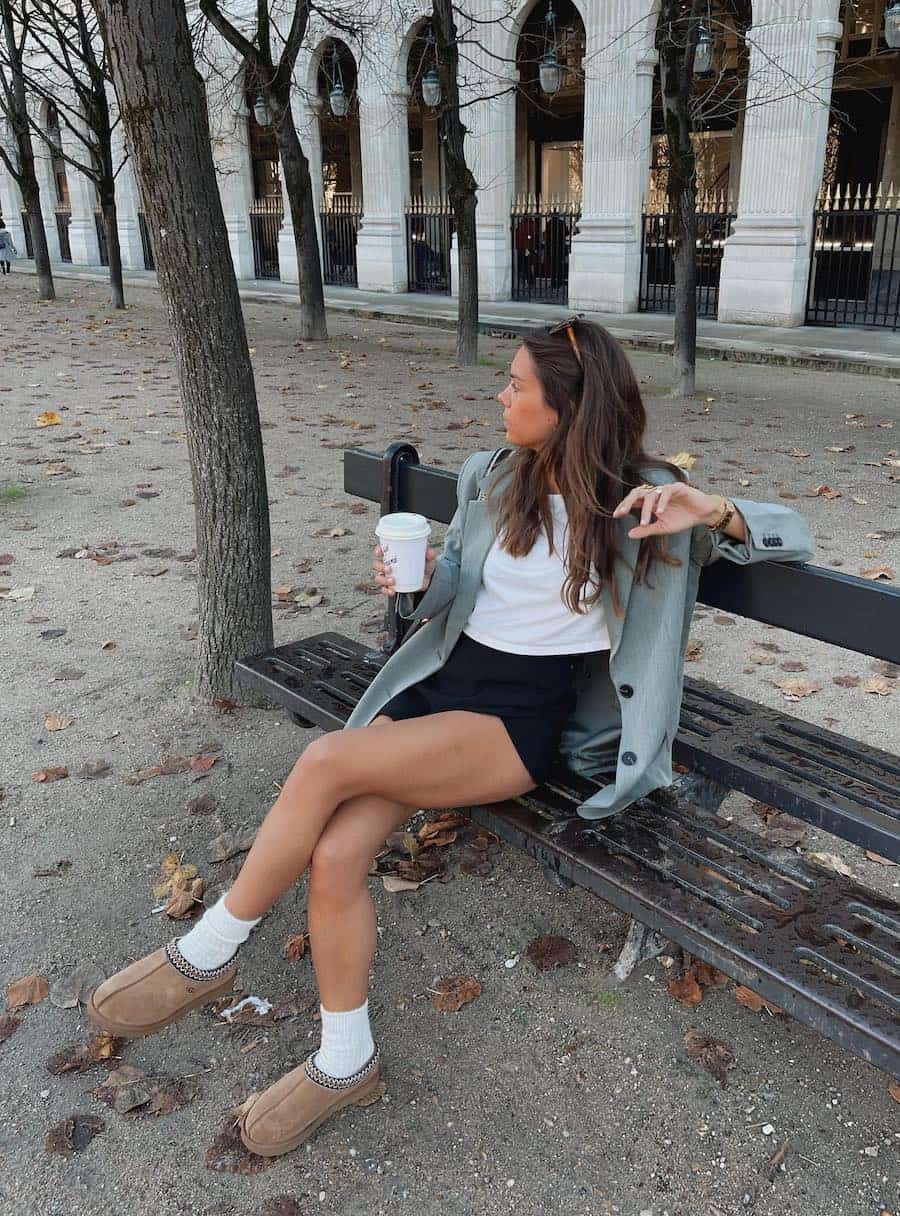 get the look:

If you can't wait to rock these shoes and want to break out your Ugg Tasman slippers as soon as fall starts (we get it!), you can easily combine them with warm weather pieces. A mini skirt or skort is so chic and adding a blazer over this look is another refined touch.
Stick with a lightweight blend if it isn't too cold where you live or go for a heavier fabric if it's starting to get chilly. Either way, these slippers will add a casual yet stylish vibe to your outfit.
Ugg Tazz Outfit Ideas
The Ugg Tazz slippers are just as popular as the Tasman slippers and have a chunky platform to give you some height. Here's how fashion it-girls are styling theirs.
denim skirt + shearling vest
get the look:

Go for a perfectly on-trend look by pairing Ugg Tazz slippers with a denim midi skirt.
This skirt is great for early fall when the air is just starting to get cold. Pair it with a long-sleeve tee for a comfortable and casual outfit and layer a shearling vest like this one for an extra cozy vibe.
add a shearling coat
get the look:

This is one of our favorite Ugg Tazz outfit ideas.
What goes better with brown sherpa slipper than a brown sherpa lined coat? These pieces look like they were made for each other.
Wear a lightweight long-sleeve tee or fine knit sweater underneath in case you want to take your coat off. And finish with classic blue jeans and a beanie for a comfy and casual ensemble that you can easily spend a winter day in.
cozy on cozy
get the look:

Next on our list of Ugg Tazz outfit ideas is this ultra-comfy look! A plush white cardigan pairs perfectly with the cozy vibes from the Ugg Tazz slippers, while the sleek black jeans and high-end handbag dress it up enough for a day on the town.
If you want to rock your Uggs in early fall when it's not cold enough for a cardigan, go for a fluffy or cable knit sweater vest to get the same aesthetic with extra breathability.
Ugg slippers + a long coat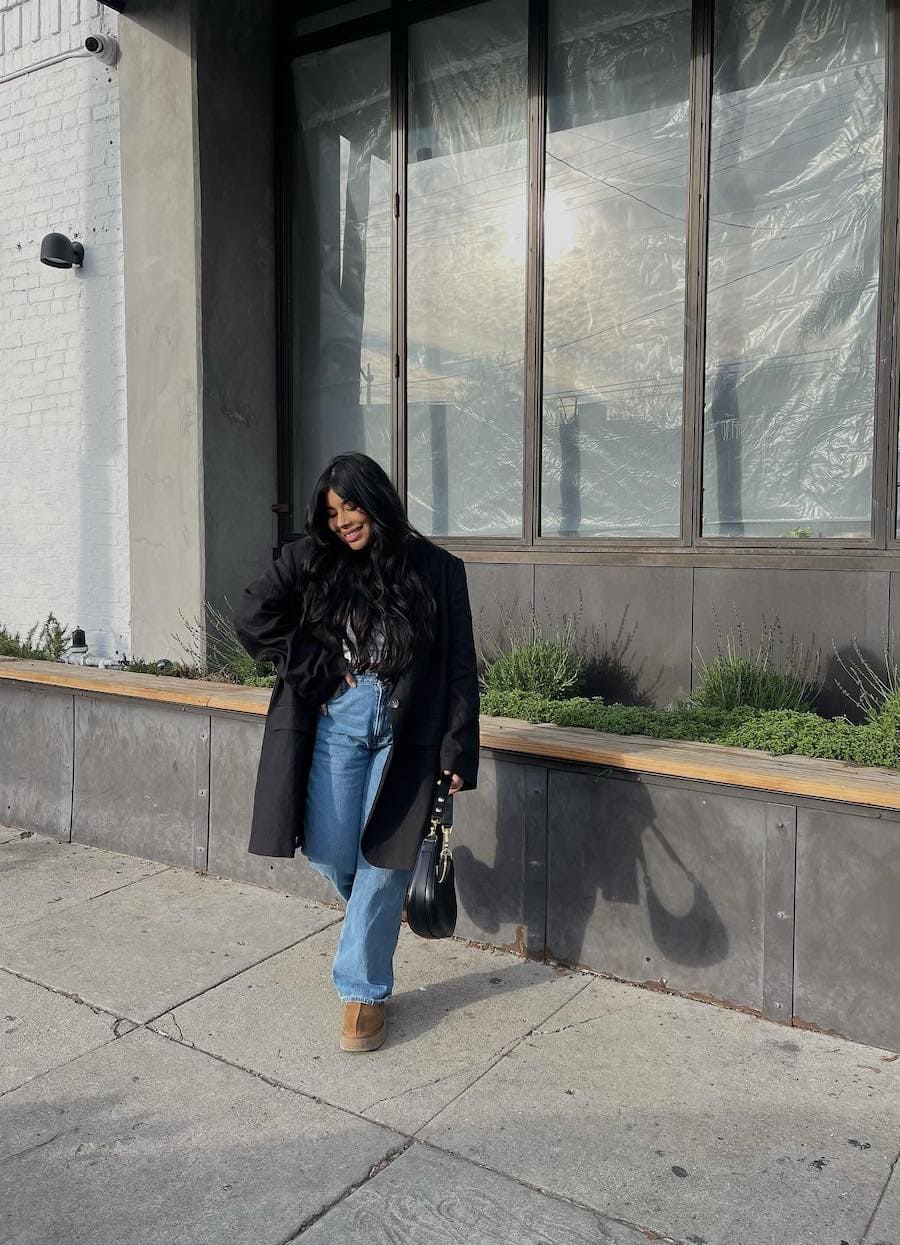 get the look:

If you don't have a long coat in your closet already, this is your sign to get one! This coat and slippers combo has a refined look while still being comfortable enough to spend a whole day in.
Start with your favorite pair of jeans and a classic white tee before layering your coat over top. This Ugg Tazz outfit is perfect for staying warm in early fall with the option to relax in just your tee if it gets too hot.
go for cable knit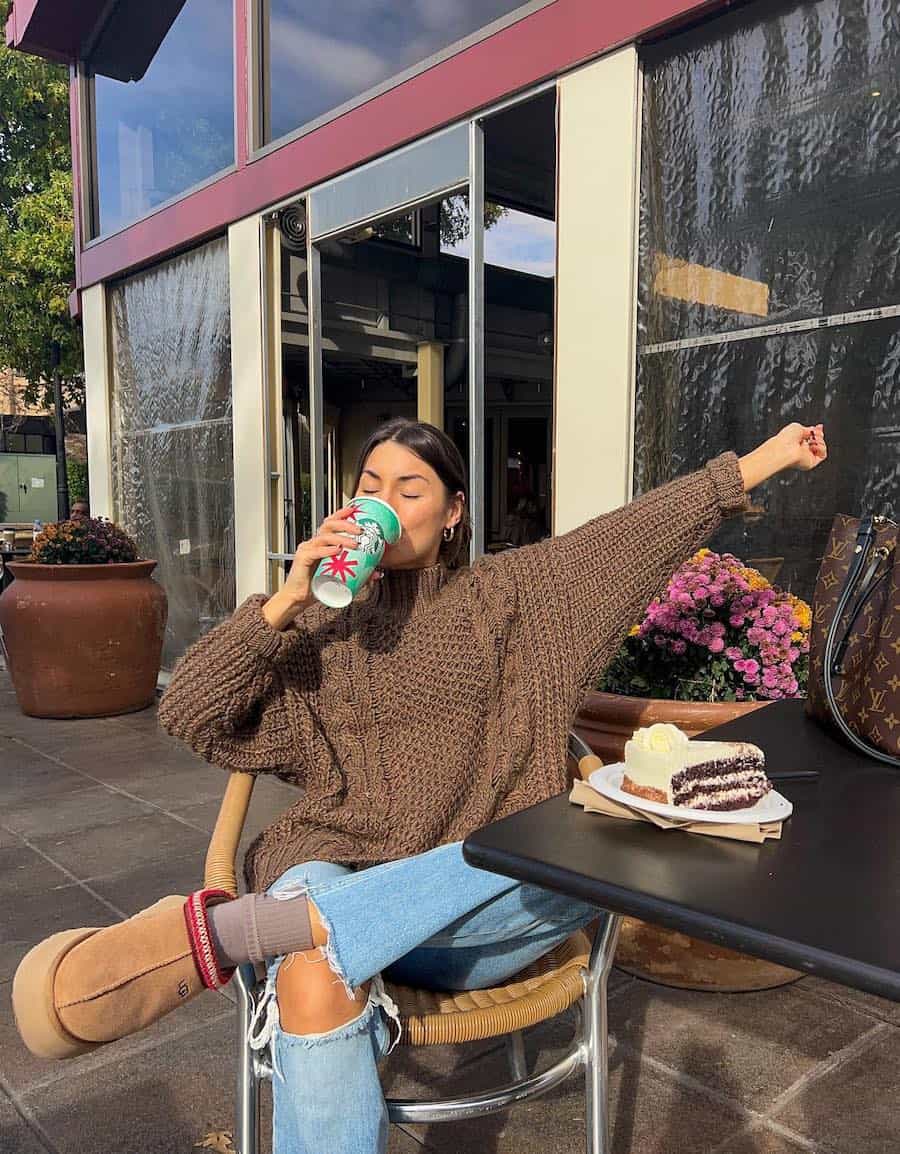 get the look:

If you're anything like us, fall and winter instantly evokes thoughts of soft cable knit sweaters and yummy, warm drinks. So, you really can't go wrong by pairing your Uggs with a chunky sweater and a warm latte for the perfect cozy combo.
This Ugg Tazz outfit is obviously a great choice for a coffee date with a friend or for wearing to a pumpkin patch, but you can rock this ensemble just about anywhere.
When it comes to creating the perfect Ugg Tasman slippers outfit or Ugg Tazz outfit, there are endless possibilities! These shoes are so versatile and you can quickly build Ugg Tasman outfits to fit the vibe you're going for without sacrificing comfort!
More Style Inspiration You'll Love:
16+ Chic Cozy Outfits That You Can Easily Wear On The Go
The Best Shoes To Wear With Sweater Dresses + Outfit Ideas
How To Wear A Sweater Over Dress & Chic Outfits