Looking for the ultimate capsule wardrobe for fall 2022 that's minimal, modern, and effortlessly chic? Look no further than this gorgeous neutral fall capsule wardrobe that will take you easily through this transitional season into winter.
*this post contains affiliate links*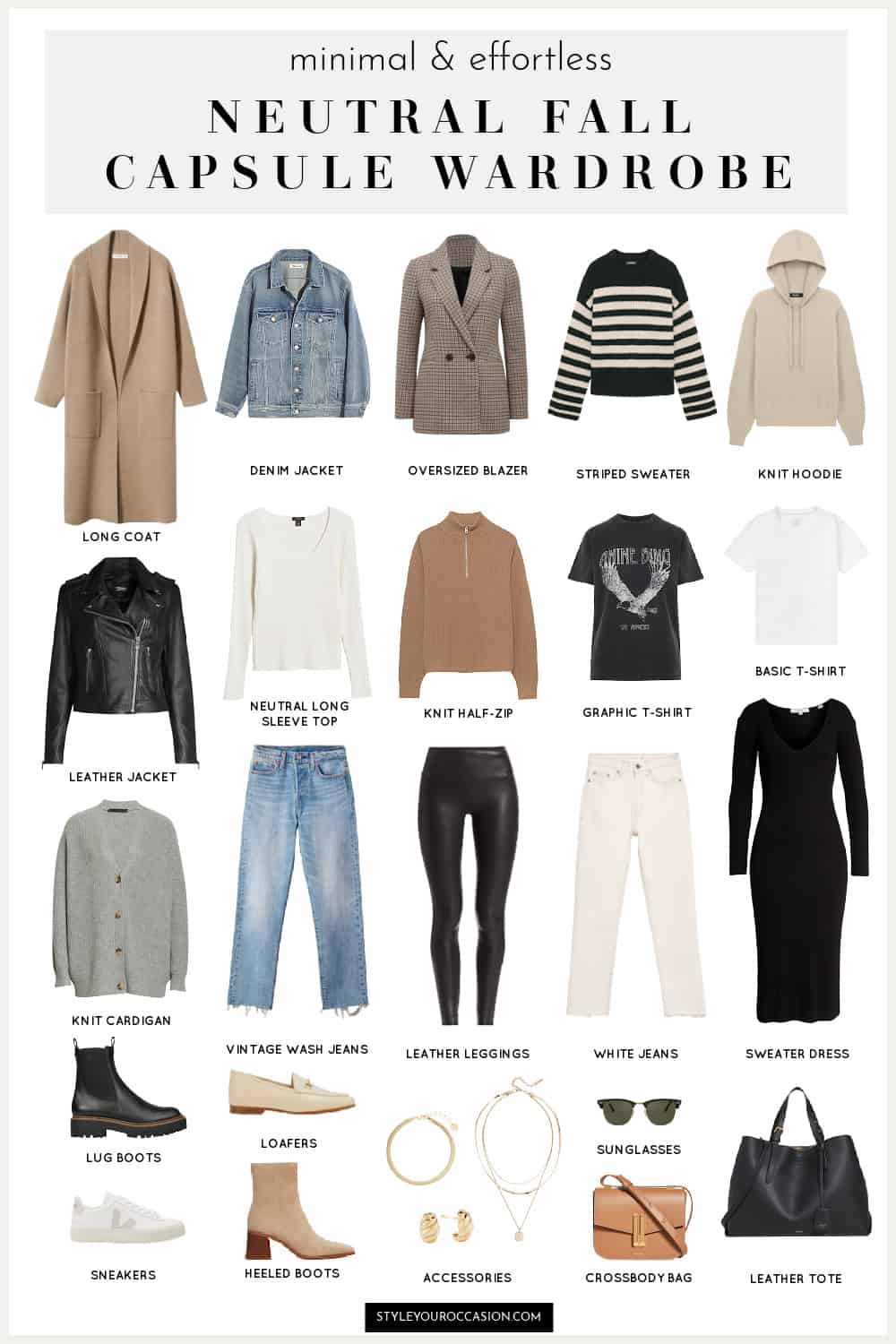 An Effortless Fall Capsule Wardrobe for 2022
Even though summer is still in full swing, fall is just around the bend. So, if you are already dreaming of "sweata-weatha" it's a perfect time to curate your effortless autumn capsule wardrobe.
A capsule wardrobe for fall is ideal if you are a fan of minimal, neutral style, and want to streamline your wardrobe to reduce stress and the time it takes to get dressed. Oh, and you can also save some moola as you won't be buying new clothing all season!
The weather in the fall can be quite varied depending on where you live, so a thoughtful fall capsule wardrobe needs to contain items that can be worn on warm, sunny days, as well as cooler, rainy days that bring in that fall vibe.
How do you build a capsule wardrobe in the fall?
The best plan is to start building a capsule wardrobe for fall before the season begins. Or, use the month of September to start the transition as the weather can still be quite warm. The following steps will help you build your capsule wardrobe for fall:
Start by removing the summer items that you will no longer be needing from your closet and put them into storage bins (sandals, summer dresses, tank tops, shorts).
Keep any pieces that are good for transitional weather such as light sweaters, jeans, basic t-shirts, sneakers, and a leather or denim jacket.
Make a small list of items you'd like to add to your fall capsule, such as a long wool coat or cardigan, combat boots, thicker knit sweaters, and heeled ankle boots.
Stick to mostly neutrals as these pieces are the most versatile and can easily create a plethora of different outfits.
Are capsule wardrobes still a thing?
Yes, in 2022 capsule wardrobes are still very much a thing! In fact, the concept of capsule wardrobes continues to gain traction and popularity as many people aspire to be more conscious consumers through buying less and reducing overall consumption of goods.
Not to mention, the cost of living is steadily rising so many millennials and the older Gen Z crowd are looking for ways to minimize and buy fewer items.
What should be in a fall capsule wardrobe?
Versatile and transitional pieces that work for both warm and cooler weather are what should make up a capsule wardrobe for fall. Outerwear such as a leather jacket, denim jacket, and long cardigan coat is perfect for changing weather. Additionally, a few pairs of versatile bottoms such as vintage wash jeans, a pair of neutral pants, and black faux leather leggings will work to create many outfits.
A fall capsule wardrobe should be simple and neutral but also fit your lifestyle. If you work from home or are a stay-at-home mom (or both!), you can get away with more laid-back clothing. If you don't have kids or have a socialite lifestyle, you will likely want more dressy or formal options.
Read below to understand how each piece in the capsule has been thoughtfully chosen and is perfect for fall. And, learn how you can adapt the pieces to suit your individual needs.
Long Wool or Trench Coat
A long coat is a great staple for any fall wardrobe capsule. Depending on where you live, if the weather is warmer, rainier, or cooler in the fall, you can choose from a wool coat, a "coatigan", or a trench coat. This piece can be dressed down with sneakers and a great pair of jeans or dressed up with a sweater dress and ankle booties. Because fall gets cooler and often rainy, this layering piece is a sophisticated way to handle the weather and look great doing it.
shop coats:

Denim Jacket
When it comes to wardrobe staples, a denim jacket is an essential and very versatile layer. It can easily work from day to night and depending on your classic blue wash denim or go with black or cream. We love a slightly oversized denim jacket to elevate any look.
shop denim jackets:

Leather Jacket
A leather jacket is another great layering piece for changing weather in the fall. It also has a modern, edgy look that looked great paired with vintage wash jeans, sneakers, and a ribbed long-sleeve top. Or, throw it over a graphic t-shirt, or a sweater dress with a pair of ankle booties.
shop leather jackets:

Oversized Blazer
An oversized blazer doubles as a blazer and a jacket in the fall. If you prefer a tailored fit you can go with that option as well, but a slightly oversized fit works great for layering and has a slightly longer length.
Go with an earth tone plaid pattern or stick with a solid neutral like black or camel. The blazer can be dressed up or down and can be worn over leggings for a more casual look or with a pair of jeans or trousers.
shop blazers:

Knit Hoodie
On a cooler fall day, a knit hoodie can keep you feeling cozy but also has an elevated look and feel versus a sweatshirt. We love the look of a cashmere or wool blend hooded sweater with a pair of jeans and sneakers.
You can easily layer this piece under a wool cardigan for extra warmth. Or, wear it under a leather jacket or blazer for an edgy look.
shop hoodies:

Long Sleeve Tops (2)
Basic long-sleeve shirts are staple pieces that can be worn multiple times a week in the fall with an extra layer over top (kong coat, leather jacket, denim jacket), or on their own if the weather is warm. Go with ivory, white, black, or grey to keep them versatile.
Additionally, you can go with a ribbed detail that adds interest and looks even more elevated with layered dainty pendant necklaces. If you need more formal items in your capsule, swap the basic long-sleeve shirt out for a button-up blouse.
shop tops:

Striped Sweater
One of the wardrobe essentials that will stay in your closet from season to season is a striped knit sweater. This style of sweater can be worn so many ways and is another great layering piece in a fall capsule wardrobe.
It has a sophisticated and classy vibe that definitely draws the right attention. If you live somewhere that has cooler fall weather (maybe even snow!), opt for a warmer fabric like wool or cashmere. On the other hand, if you live where the fall is warmer, go with cotton or a cashmere blend.
shop striped sweaters:

Knit Half-Zip Sweater
They don't call it "sweata-weatha" for nothing! That's why we have lots of sweater options in this capsule wardrobe for fall. Another great knit piece is a half-zip sweater that can be left unzipped for a chic and laid-back look, or zipped up when the temperatures drop.
We love the half-zip cashmere knit from Jenni Kayne, but if it's out of your price range you can try the half-zip from Everlane! Both are of fantastic quality.
If a half-zip style reads a little too '70's for you, try a deep V-neck knit sweater instead. See some options linked below!
shop sweaters:

Graphic Tee
A graphic t-shirt is a great addition to a fall capsule wardrobe as it's laid-back and great for everyday wear, but also a fun option to dress up for a date or girl's night out.
We love the fun and iconic graphic t-shirts from Anine Bing as they take neutral to a new level, without being too bold.
shop graphic tees:

Basic White Tee
A white t-shirt (or a couple in neutral colors) is a staple in all capsule wardrobes. In any season you can dress it up or down, and wear it over and over again.
Go with classic cotton, or if you prefer extra warmth in the fall try a cashmere tee like this one from J. Crew.
shop basic tees:

Knit Cardigan
Layered over a t-shirt, long-sleeve top, or dress, a knit cardigan is another wonderful piece for fall. We love the oversized Jenni Kayne cashmere cardigan included in the capsule, but a more affordable (and still high-quality option) is from Quince.
A cardigan is one of those items you'll live in during the fall season. At home and beyond, it's a great throw-on-and-go fall wardrobe capsule piece.
shop cardigans:

Vintage Wash Jeans
A staple in any fall wardrobe capsule is a pair of lightly distressed vintage wash jeans. When you find the perfect pair, you will wear them multiple times a week.
We love the Madewell Perfect Vintage Jeans (in all washes), but Levi's, Agolde, and Everlane, are all fantastic brands to choose from as well. And, if you prefer darker tones you can opt for black jeans or a dark blue denim wash as well.
shop jeans: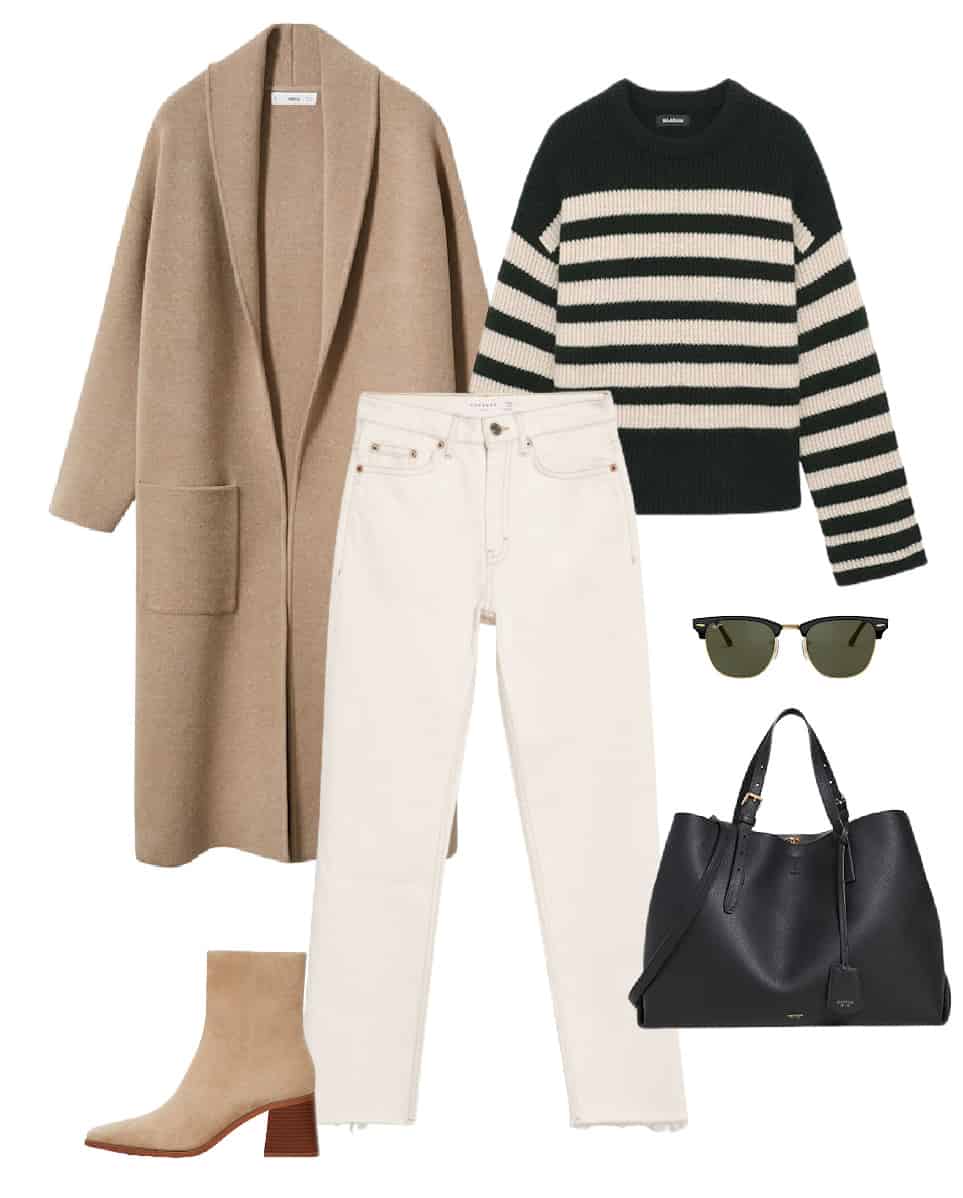 White Jeans/Pants
Don't worry about not wearing white after Labor Day! A light pair of jeans, utility pants or trousers go a long way in the fall. Rather than stark white, go with an ecru or cream tone which looks stunning when paired with the camel color.
Dress them down with sneakers and a leather jacket. Or, dress them up with a sleek pair of ankle boots and a striped knit sweater. The light color brightens up darker autumn tones and is very chic and versatile.
shop white jeans:

Black Faux Leather Leggings
Sleek black leather leggings are a great addition to fall wardrobe capsules for their versatility and ability to be dressed up or down. They have a polished look that with the right top, footwear, and accessories, can take you from running errands to date night.
We also love that they are naturally thicker so will be warmer than your typical pair of leggings. If leather leggings are a bit much for your style, you can easily swap them out for a neutral slip skirt or subtly patterned midi skirt.
shop leggings:

Sweater Dress
In this capsule wardrobe for fall, we included the elevated Vince ribbed midi dress which comes in a solid black ribbed fabric that is incredibly versatile. But, you can choose any long-sleeve dress to add to your capsule.
Stick with neutral color tones, patterned or solid (leopard print is fantastic this time of year), and a style that can be dressed up or down for versatility.
shop dresses:

Lug/Chelsea/Combat Boots
In the fall there can be everything from rain to snow, so a classic pair of sturdy boots are a must when it comes to the footwear in your capsule. We love the look of ankle-height lug boots for practicality and style.
If you lean towards edgier fashion trends, try a pair of lace-up combat boots. Additionally, not every outfit works with knee-high boots, so ankle boots are much more versatile in a capsule
shop boots:

Sneakers
A great pair of white or ivory sneakers are a must for any season. You can pair them with just about anything; jeans, leggings, dresses, etc. and be on your merry way!
Opt for a pair of leather sneakers that can be wiped clean instead of canvas sneakers in the fall months. Particularly because the weather conditions may make it more challenging to keep them free of mud and dirt.
shop sneakers:

Loafers
To elevate any fall capsule wardrobe outfit, a pair of leather loafers add a touch of sophistication and class while still maintaining comfort and versatility. If you can't justify a pricey pair of designer loafers like all the fashion it-girls, then go for the polished look-alike Sam Edelman style in our capsule or one of the options below!
shop loafers:

Heeled Boots
Just like loafers, heeled ankle boots add that extra polished appeal to any fall look. They are also a great option for any time you need to get a little more dressed up.
Warm, autumn-inspired colors like cognac brown leather or earthy brown suede are stunning. Or, go for a simple pair of black heeled boots for even more versatility. If you do go for suede, don't forget the shoe protector spray!
shop heeled boots:

Leather Tote Bag
A classic, large tote bag is a perfect, minimal, and practical addition to any capsule wardrobe. Black, brown, or taupe leather is versatile and practical for the season.
Think of this as your catch-all carry-everywhere bag for fall!
shop totes:

Crossbody Bag
A crossbody purse that can be dressed up or down is another great staple in a capsule wardrobe for fall. When not running from place to place, opt for a smaller crossbody that can hold just the essentials.
If you can, we recommend investing a little more in accessories to elevate moderately priced clothing items in your capsule. An investment purse goes a long way and can be worn daily.
shop bags:

Sunglasses & Accessories
Lastly, adding in a selection of classy accessories to your fall capsule wardrobe will tie it all together. We adore a great pair of sunglasses, neutral hair accessories such as clips and scrunchies, and dainty gold-plated jewelry.
You can never go wrong with subtle, classy pieces that are the cherry on top of every great fall ensemble.
shop accessories:

What goes in a fall capsule wardrobe?
In a well-executed fall capsule wardrobe, you'll find transitional outerwear, knits, basic tops, jeans, leather leggings, a sweater dress or midi skirt, ankle boots, sneakers, loafers, and chic, minimal accessories. It's truly amazing how just a small selection of versatile pieces can make endless outfit combinations.
Your fall capsule wardrobe should reflect your lifestyle, whether it's laid-back and casual, or polished and dressy. Choose pieces you know you will wear again and again, and resist the urge to buy more than you truly need.
Follow the links below to check out more options for a neutral capsule wardrobe!
More Capsule Wardrobes You'll Love: