Be inspired with these 15+ chic, stylish, and precious summer family photo outfits that will make your photos that much more amazing and memorable!
*this post contains affiliate links*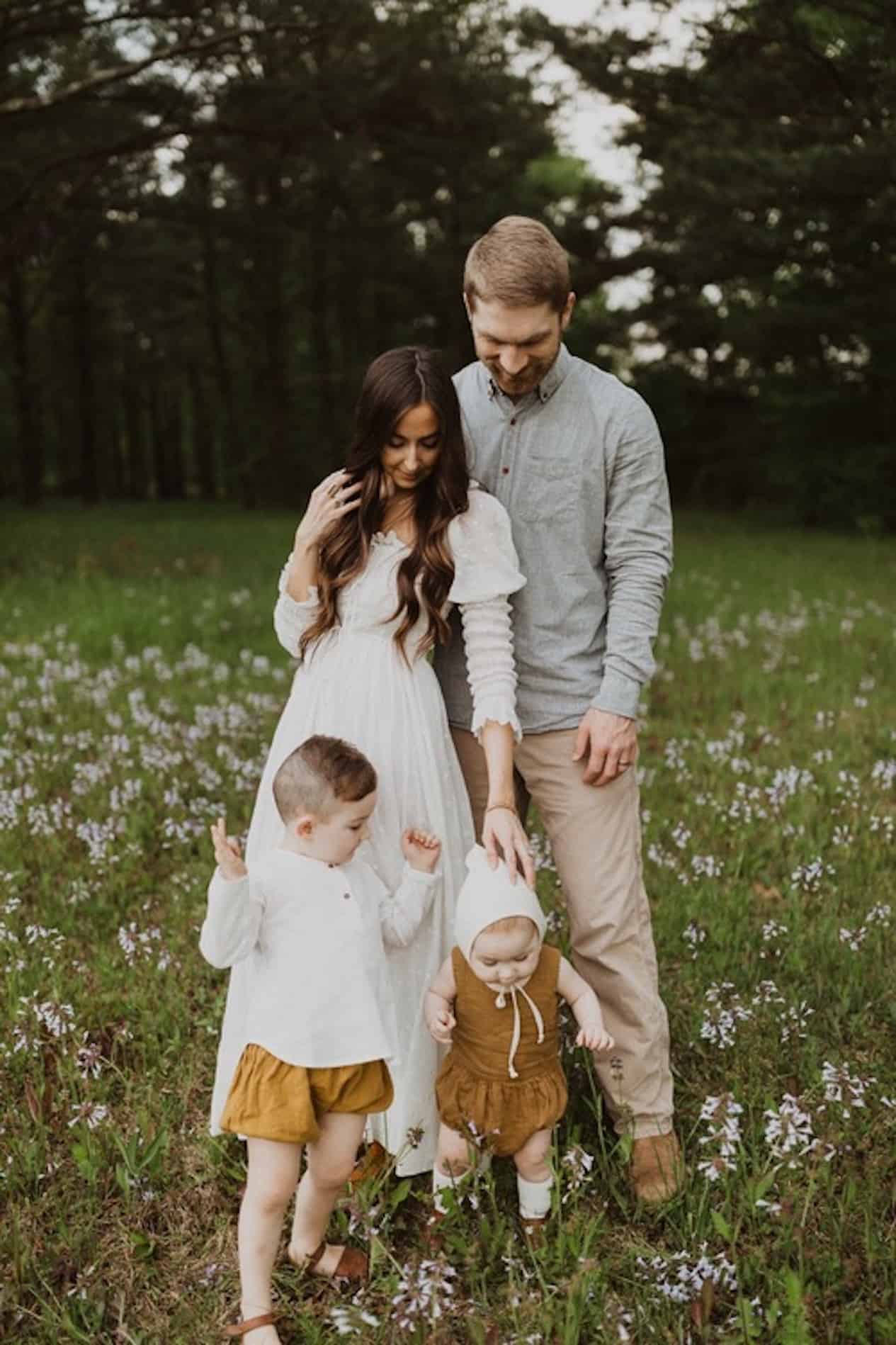 15+ Summer Family Photo Outfits
It's that time of year…the weather is warming up, daily sunshine is in full force, and the magic of summer is on it's way!
If you are thinking of scheduling a family summer photoshoot session this post will inspire you with the best outfit ideas that are stylish and perfectly curated for the whole family (nothing tacky that will make you cringe in years to come, lol!).
Looking for year round inspiration? Check out these Spring Family Photoshoot Outfits and Winter Family Photoshoot Outfits.
What should I wear for a family photo in the summer?
When it comes to summer photoshoot outfits, there are many options to choose from. Opt for simple pieces like summer dresses, basic blouses, and tailored pants or shorts. Select clothes made with light and airy fabrics like linen and cotton. And, go with neutral and muted colours with minimal patterns as they don't appear too overwhelming in photos. For accessories, dainty and subtle jewellery is great!
Whether you love the light, neutral colours of the season or prefer to add in pops of color and floral patterns there's an idea here for you!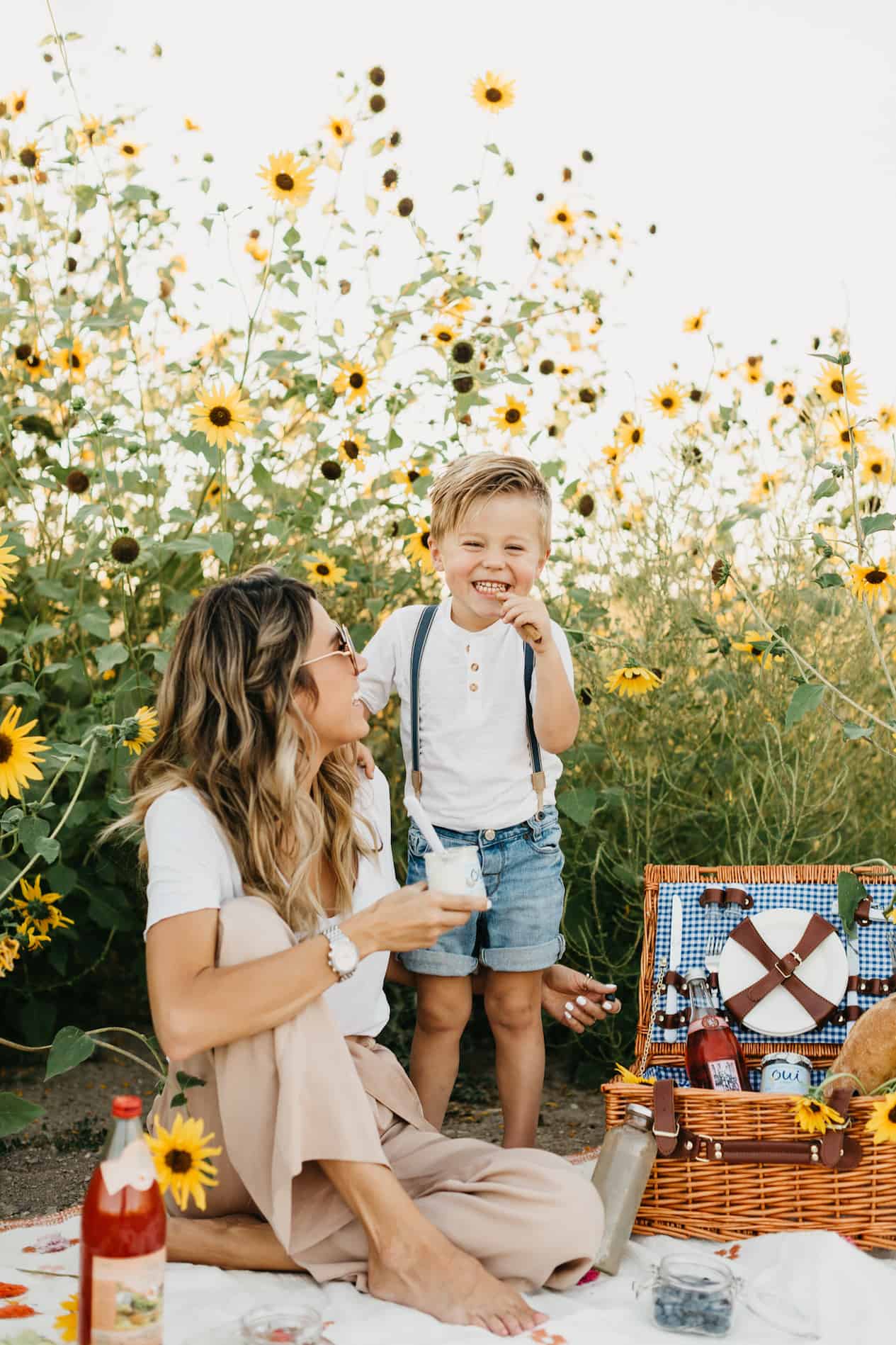 Family Summer Photoshoot Outfit Ideas:
I've split the photo ideas below into a few different categories – airy neutrals, pops of color, summer florals, and the unexpected, for something a little different than what you might expect for summer family photos (but it totally works!).
What are the best colors to wear for outdoor family pictures?
When it comes to making color choices for family photos, stick to neutrals or muted color tones like blush, sage green, mist blue, or faded marigold. Pastels and neutrals are so pretty against the bold green hues of trees in full bloom during the summer, and they won't overpower the photos.
Overly bold or neon colors along with busy patterns can draw too much attention in photos and take away from the family and the overall scene. If you really love color, there are ways to add "pops" of color in a great way, you'll see below!
Airy Neutrals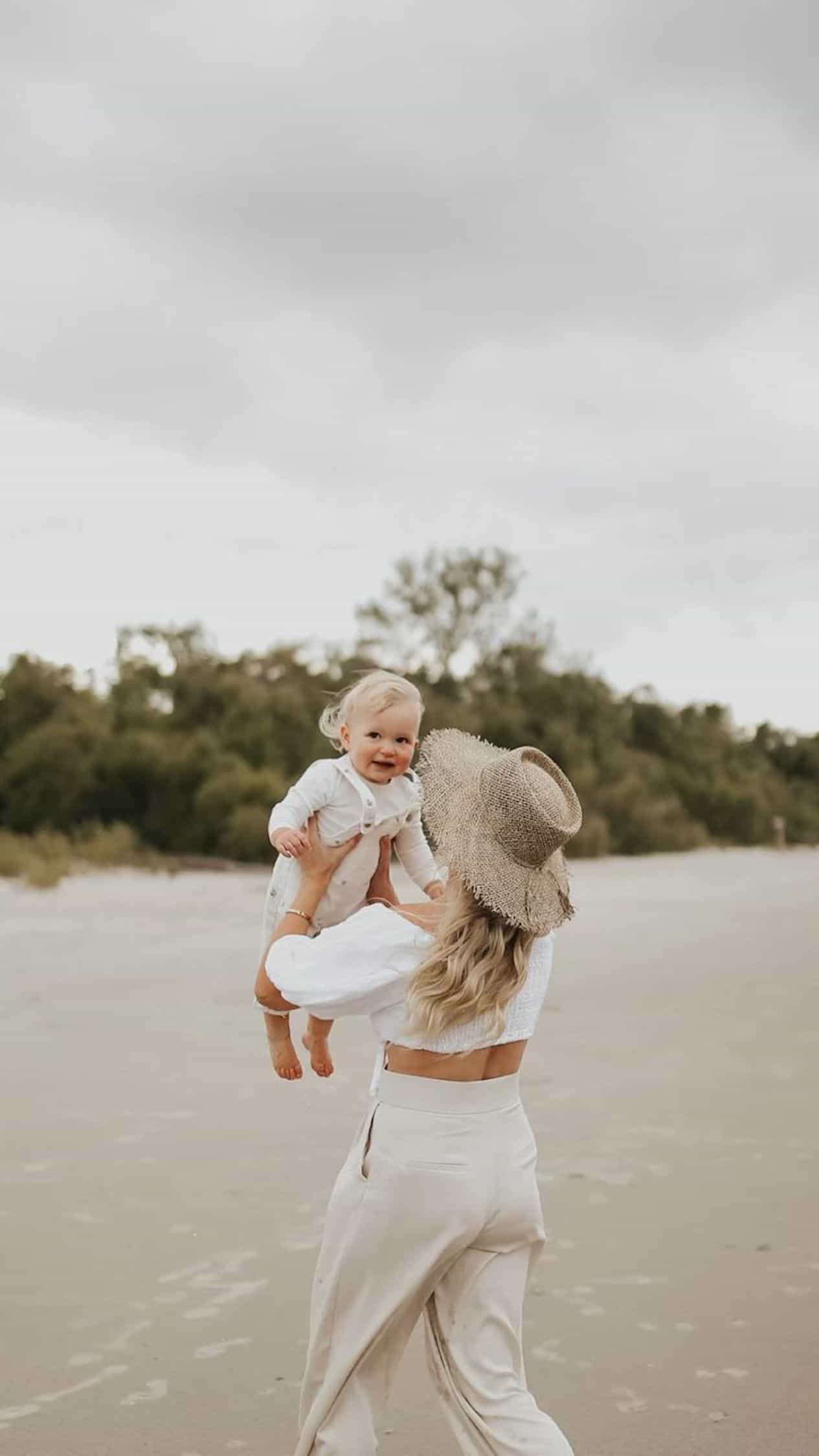 I love the light, creamy colors on mom and baby in this photo. The look gives a summer vacation vibe that is relaxed and casual.
If you aren't a fan of dresses, this is a pretty and feminine look that features pants instead, and makes for a great outfit combination for a summery beach photoshoot.
create the look:

This family photoshoot is absolutely precious and combines airy neutrals perfectly. The mamas outfit pops with her white flowing dress, and the gingham pattern combined with light tan and subtle greys creates a great mix of tones.
The overall look can be lightened up even more if you put dad in light tan pants or shorts.
create the look:

Bright and airy neutrals blend perfectly with a blush color in this family summer photoshoot. I love how the clothing is delicate and subtle making the greenery in the background really pop.
This is a lovely lakeside look or one for a summer family picnic.
create the look:

Here is another combination of neutrals in this sweet summer family photoshoot at the beach in California. The mix of tan and beige tones with subtle pops of white blends beautifully with the beach scene, and I love the casual barefoot look.
If you live near a beach you should definitely take advantage of it and take your summer family photos by the water!
create the look:

This mama and daughter summer photo is absolutely captivating. I love the peasant-style matching dresses that give an ethereal and vintage look against the lavender field in the background.
You can tie this whole look together for a family with other siblings in light neutral tones and linen fabrics, and dad in a white linen button up shirt with khaki chino pants.
create the look:

Pops of Color
For this next set of photos, I've chosen outfit combinations that combine neutrals with subtle summery pops of color.
I do not recommend overly bright colors as they can be too distracting in family photos, instead go with subtle and muted color tones as they work really well with neutrals.
The little pops of green here is the perfect way to add color to your summer family photos. Green is such a summery and earthy color and can really compliment the surroundings.
This family outfit combination is casual and relaxed while still looking polished enough for memorable photos.
create the look: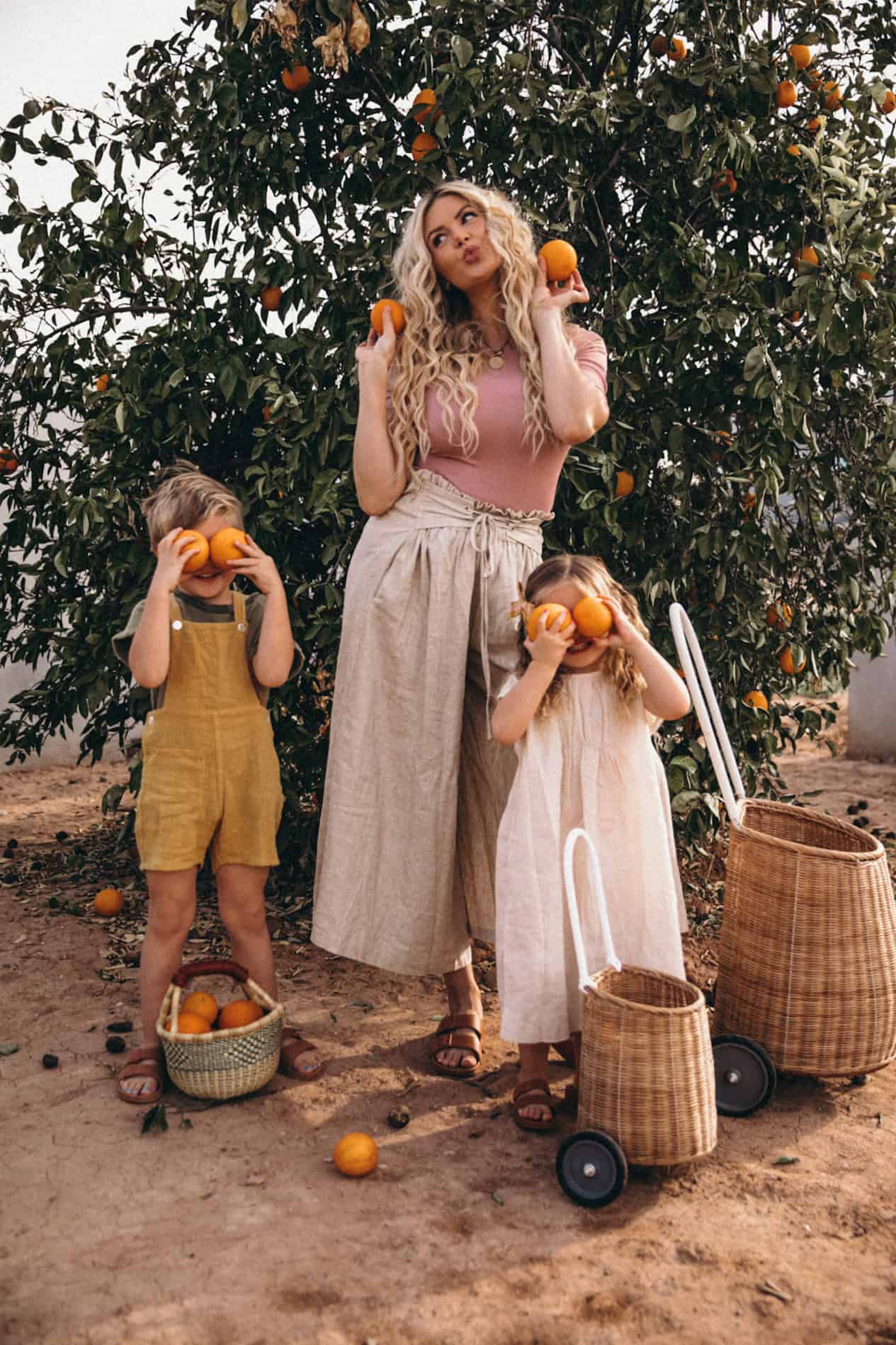 For a fun and casual summer photoshoot, linen fabrics with subtle hints of color is the way to go. I love the combination of the mustard jumpsuit, pink top, and neutral linens along with matching sandals.
Tip: If you aren't used to being in front of a camera, plan your family photos to involve an activity like fruit-picking so you get more candid images and don't feel overly posed.
create the look: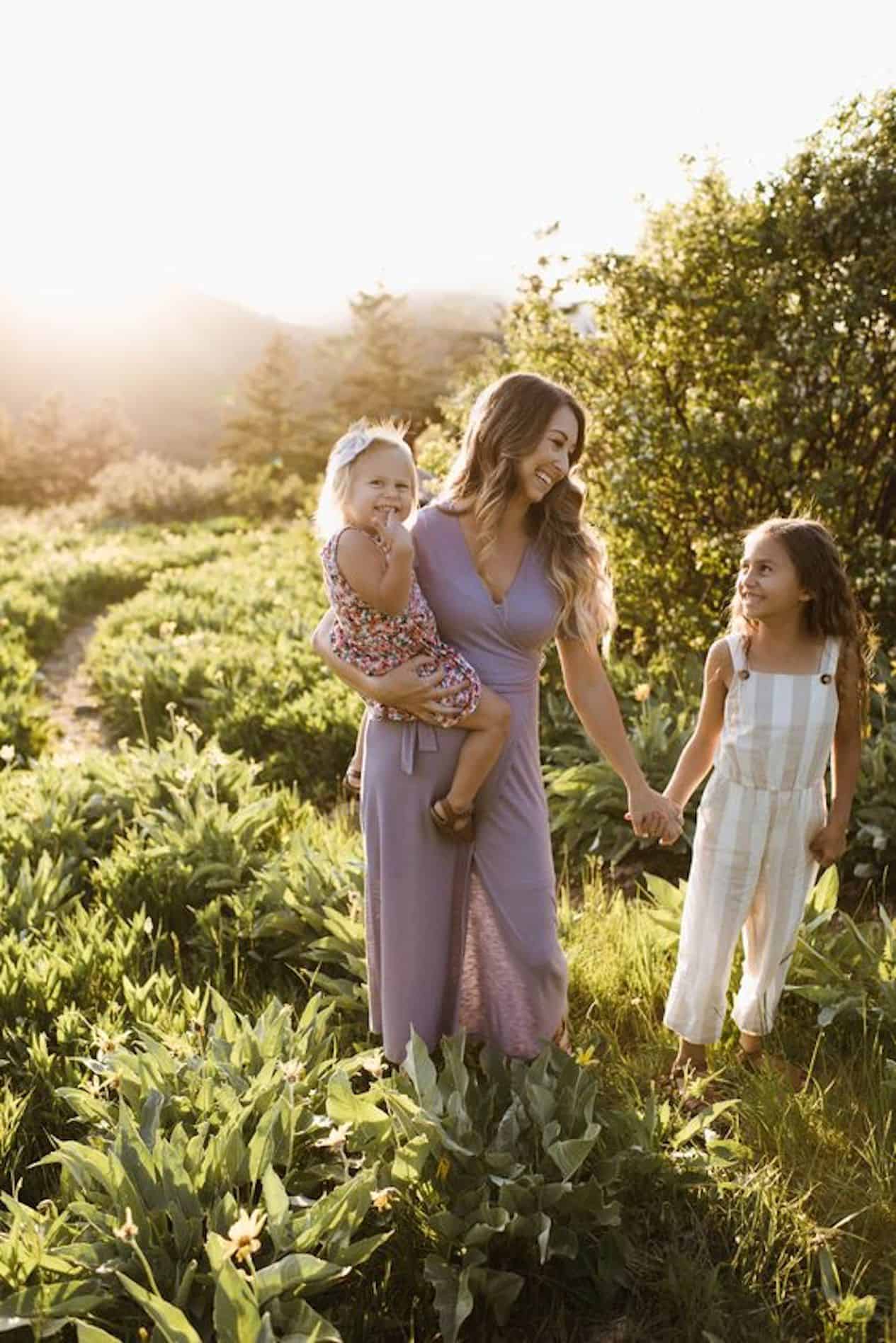 The gorgeous shade of purple here goes really nicely with the neutral stripe and floral dress on the little girls, and the colors pop against the summery green meadow.
While we can't see another parent in the photo, I would dress them in a neutral top and tan or denim bottoms.
create the look: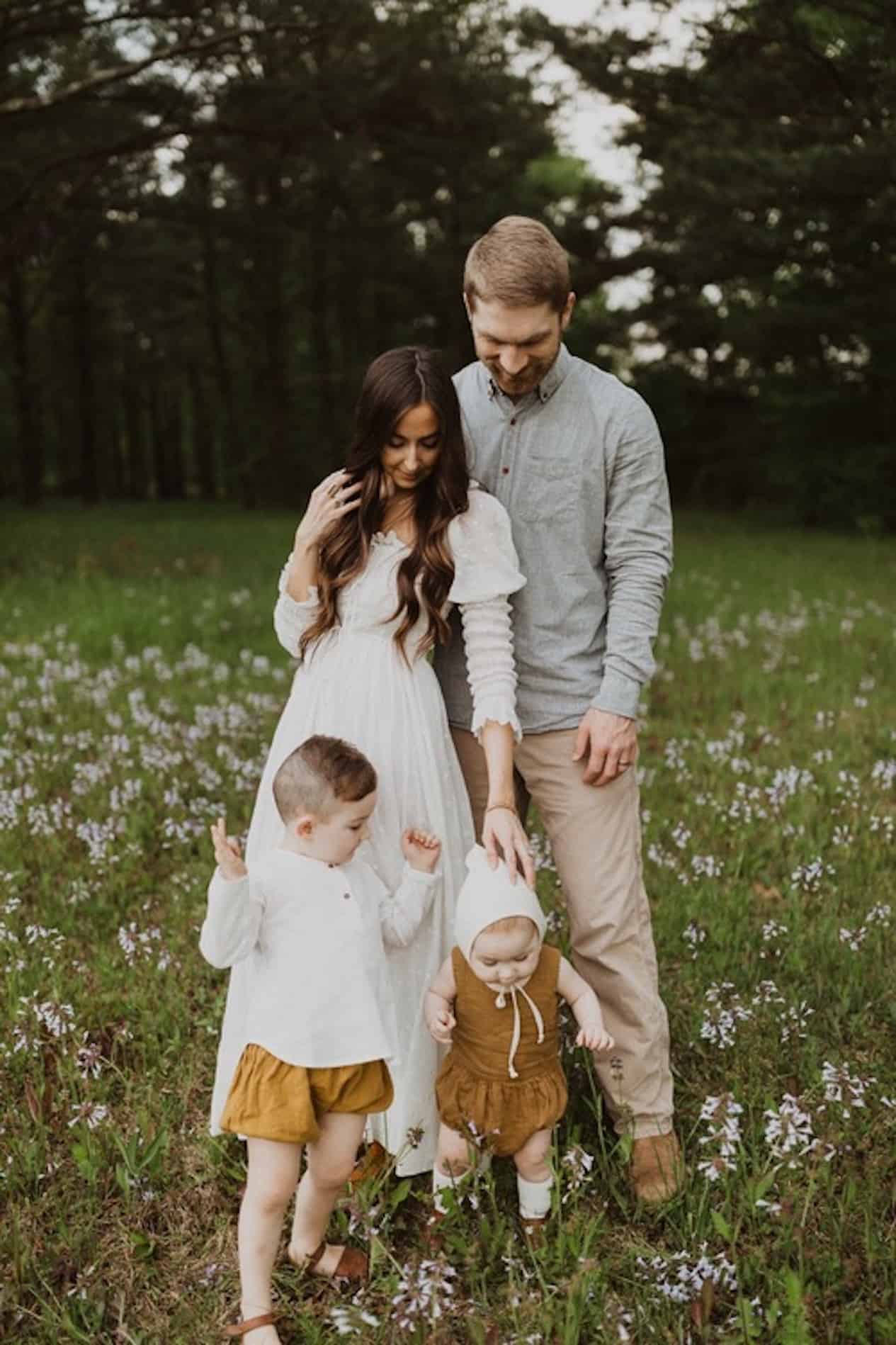 I love this vintage-inspired family photoshoot outfit combination for summer. The white dress works to anchor the earthy neutral tones on dad and the pops of mustard on the little ones.
A simple summer meadow is all you need for a successful photoshoot. The deep greens of the trees make the perfect natural backdrop and I love the little flowers in the photo as well.
create the look:

Summer Florals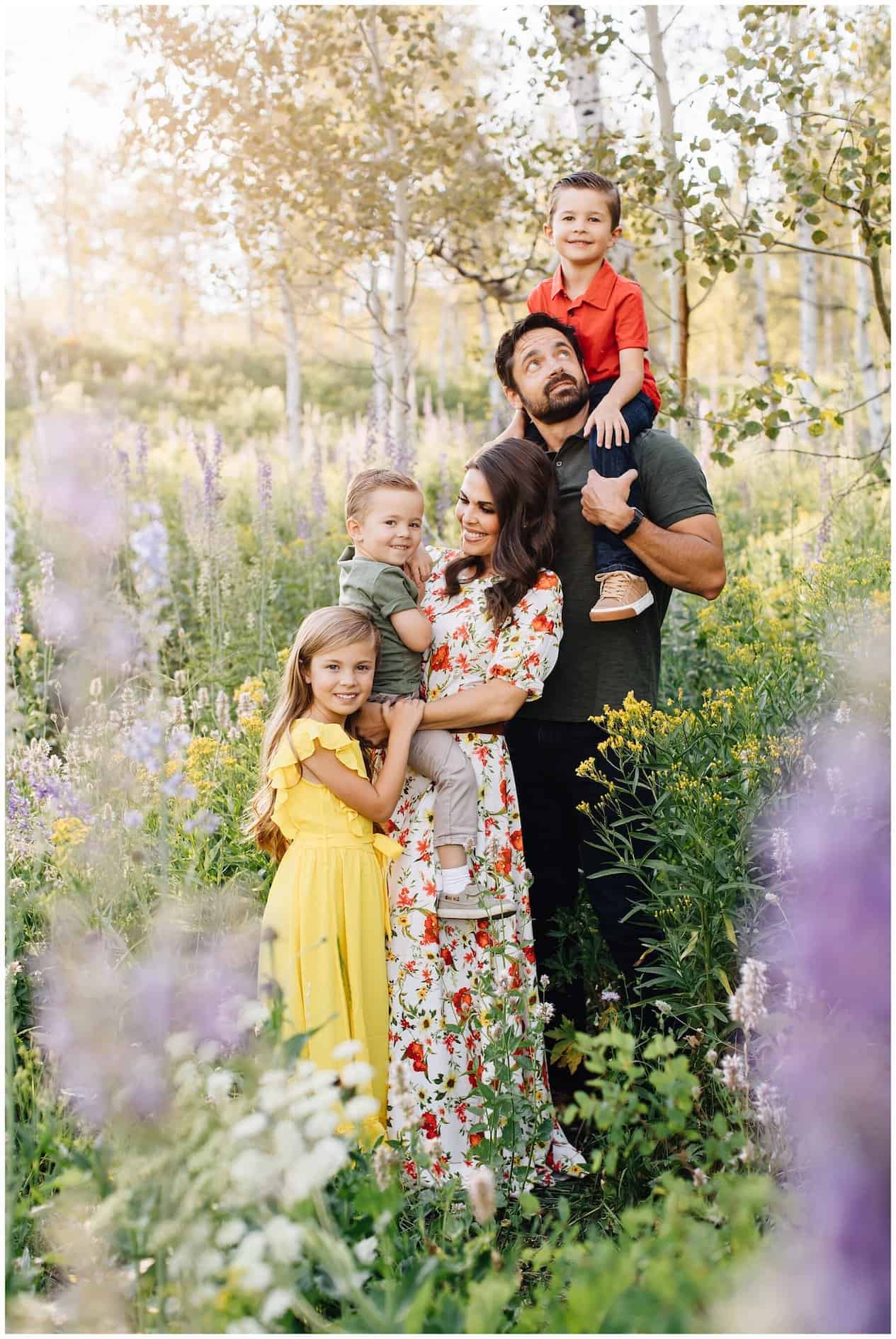 This family summer photoshoot outfit combo is more bold than the other looks, but it works so well with the flower fields as the backdrop.
The mom wears a bright flower print dress which compliments the solid colors on the kids. The dad is in dark neutral tones which helps to anchor the whole look.
create the look:

Florals, on florals, on florals is the theme for this sweet family photoshoot. I love the combination of different colours and patterns, while it might seem like it could clash, the patchwork mix of florals really works here!
Remember, there are no set rules for outfits when it comes to your summer family photos, just go with what speaks to the personality of you and your family, and you'll feel most comfortable.
create the look:

Never be afraid to match exact patterns when it comes to family photos. The "mommy and me" look can be so cute and you can bring in neutrals tones on other family members to balance the look.
These matching citrus pattern dresses are so summery and the added lemons are the perfect accessory!
create the look:

The feminine floral pattern and pops of subtle color create a lovely look in this summer family photo. The blue and teal tones of the girls dresses compliments the floral pattern on mom, and the boys are in light earthy brown tones.
I love how the overall look reflects the stream of water in the background — so light, summery, and pretty!
create the look:

The Unexpected
The last few looks aren't what you might expect from summer family photos, but they totally work!
I love going with a more unique look that makes a statement, but still has a feminine and family-friendly appeal. Maybe you'll find your favorite look below!
Yes, you can totally wear black for summer family photos! I love this look for a sunset photoshoot as the sun goes down and gives off that stunning glow. The black pops against the vibrant green background and the dresses are so feminine and pretty.
I would pair the black dresses with neutrals on other siblings or a partner, in earthy beige and greys. Or, have the others wear some black as well.
create the look: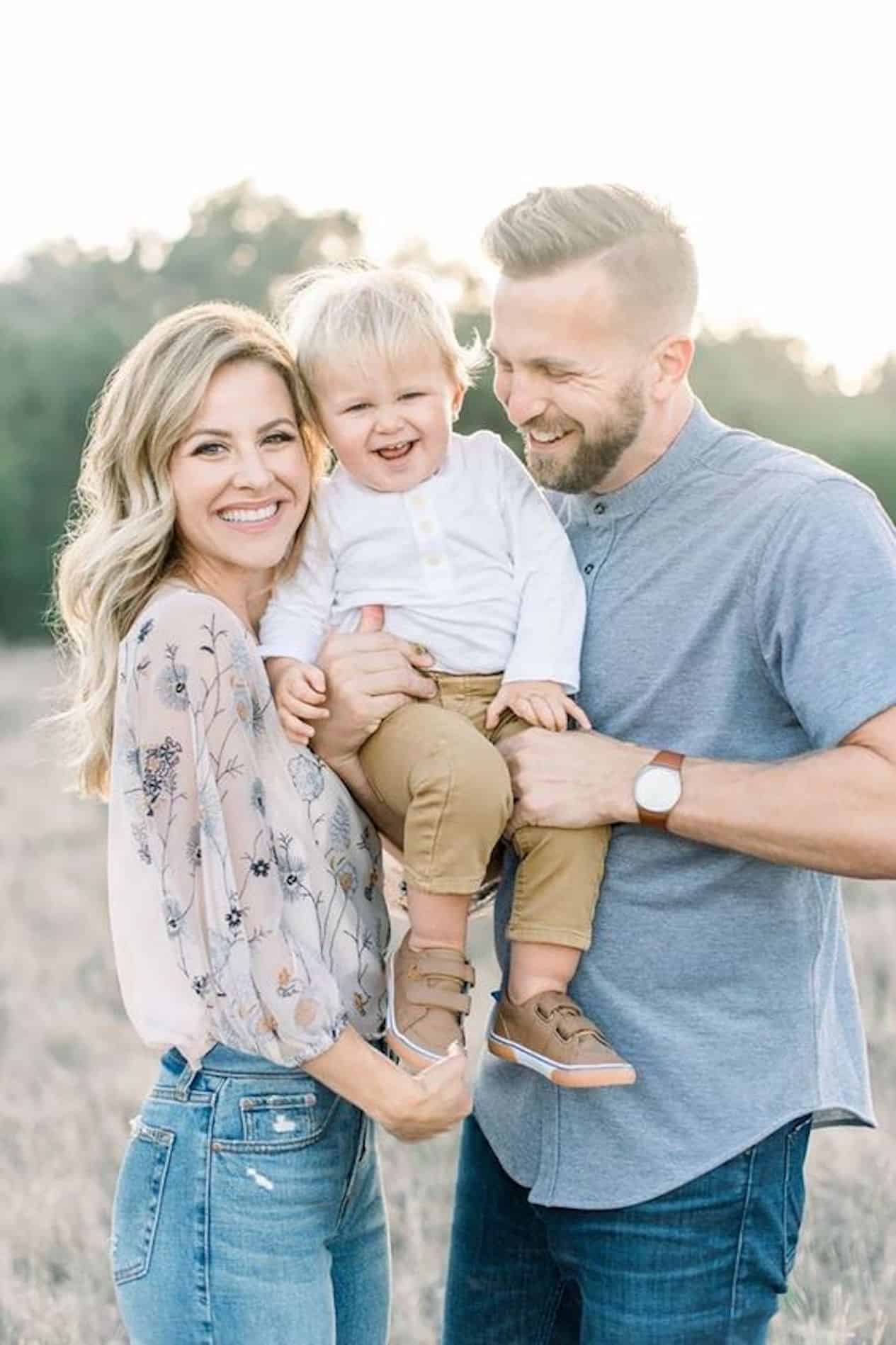 Jeans might seem too casual for family photos. But, summer pictures don't have to be overly formal! I love the jean combination with the light and airy floral top on mom here.
The jeans on dad also look nice with a polished shirt, and baby is beyond cute in all neutrals.
create the look: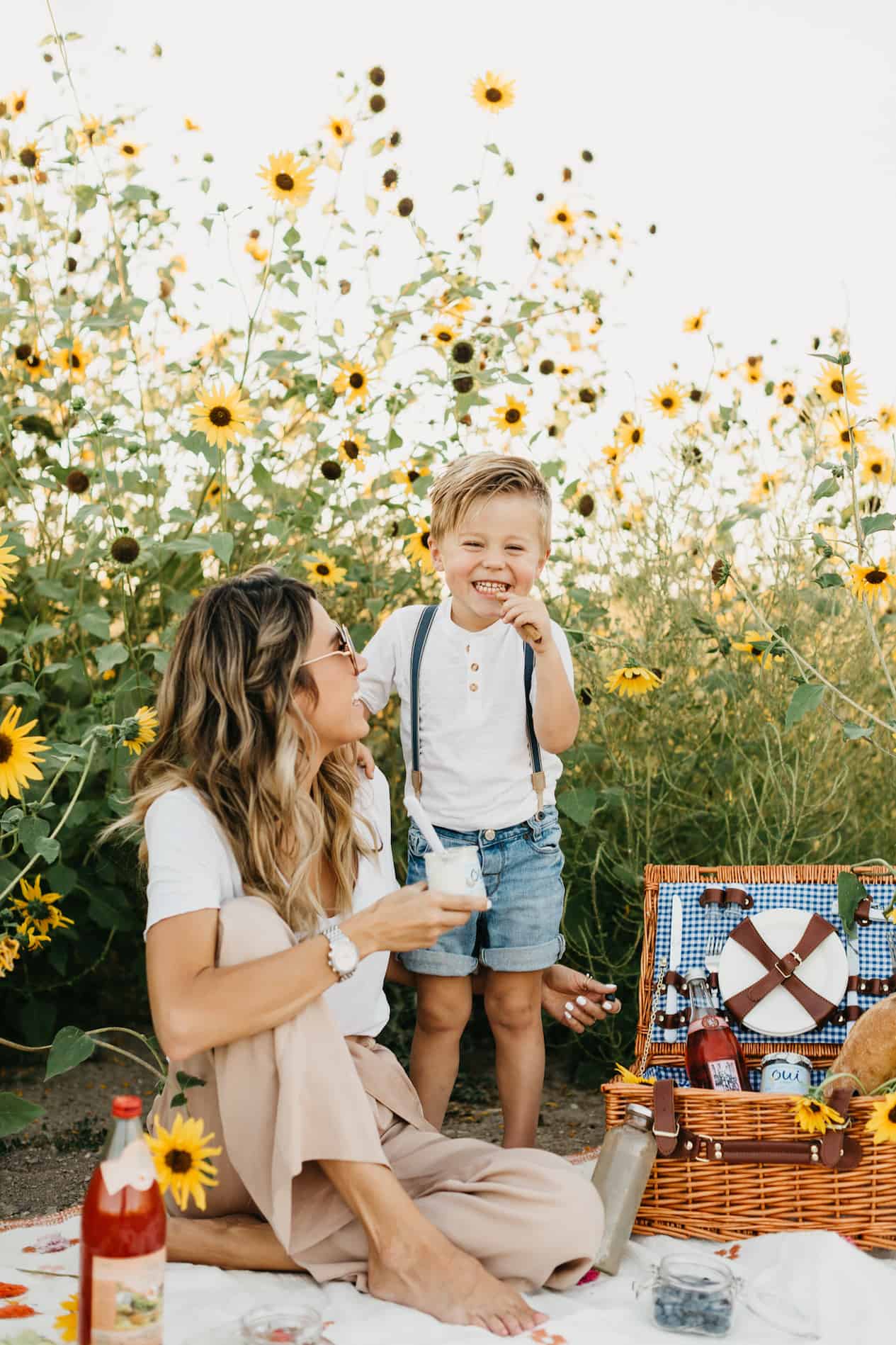 Lastly, we have another wonderful casual look for a family photoshoot in the summer. The scene is a picnic, and there is a mix of denim, white, and blush. We see how a white t-shirt can go a long way when paired with the proper bottoms. Here, it works so well on the mama and her little one.
create the look:

Which Summer Family Photo Outfit Was Your Fave?
I hope you have been inspired by these chic, stylish, and laid-back looks in our family photo outfits summer edition! Which outfit was your favorite?
Be sure to pin the photo below to save this post for later and check out our other family photoshoot posts for other seasons!
Pin me:
More Photoshoot Outfit Ideas:
18+ *Modern* Fall Family Photo Outfits for Outdoor + Indoor Sessions
18+ Spring Family Photo Outfits You'll Love
Winter Family Photoshoot Outfits
Photoshoot Ideas for Birthday Celebrations
15+ Neutral Family Photo Outfits For Every Season