Wondering what to wear to Universal Studios in 2023? Check out this list of 12+ Universal Studios outfit ideas for inspiration and tips on what to wear to this world-renowned theme park!
*this post contains affiliate links*
What To Wear To Universal Studios
California and Florida are well-known for having sunny skies, gorgeous beaches, and incredible theme parks! Both of these beautiful states are home to a Universal Studios theme park, a hot spot for tourists and locals alike.
Whether you're the former or the latter, spending a day or a weekend at a theme park is an unforgettable experience! But it's also really important to wear an outfit that's weather and theme-park-appropriate for your day at Universal Studios.
Since Universal Parks are filled with thrilling rides, incredible shows, delicious foods, and more, you really don't want to miss out on any of the action because your outfit is uncomfortable! So, as always, we're here to help you out!
Universal Studios Outfit Ideas
We've put together a theme park style guide filled with tips and chic looks to help you pick the perfect outfit for Universal Studios. Whether you'll be in the Golden State or the Sunshine State, these outfits are fantastic options for what to wear during your day at Universal!
biking shorts + graphic tee
get the look:

You seriously cannot go wrong when choosing spandex biking shorts for a comfy but chic look! These shorts are easy to style, breathable, and will definitely keep you comfortable as you spend the day exploring Universal.
Pair biking shorts with a graphic tee to create a perfect casual outfit, and even better if it's a themed shirt like this Harry Potter one here. A denim jacket is great for cooler days or if you plan to stay at the park into the evening, and a belt bag is the perfect hands-free accessory for keeping your essentials.
Comfortable walking shoes are a must at theme parks, and trainers are perfect for exactly that. And like most of the fashion world right now, we are all about New Balance 574's!
denim shorts + a breezy button-down
get the look:

Denim shorts and a tank top are an obvious choice to wear to a theme park, but you can easily elevate this combo by adding an oversized button-down to the mix! Leave it unbuttoned for a laid-back look, and pair it with classic white sneakers for a clean and chic outfit.
Go with 100% cotton or breezy linen to keep you cool on a hot California or Florida day, but still provide protection from the sun. Additionally, you can upgrade a simple look like this even more by adding some simple gold jewelry and a belt bag or cute backpack.
midi skirt + a tank
get the look:

We love a look with a laid-back vibe that is still chic and feminine. A floral midi skirt and tank top are a perfect look for the heat. This breezy outfit will keep you cool and comfy while walking around the theme park.
Strappy, cushioned sandals are great shoes for a day filled with walking, and they still pair perfectly with the girly aesthetic. Finish your look with gold jewelry, a stylish belt bag, and, of course, sunglasses!
get the look:

What is the dress code for Universal?
Universal Studios does not have a strict dress code, although there are some guidelines to follow when choosing an outfit for the theme park.
Themed outfits and costumes are OK, but the costumes shouldn't be too large or include a mask or veil.
Clothing that has obscenities or offensive language should be avoided.
Outfits that resemble the uniforms worn by theme park employees and emergency personnel are not allowed.
go for a themed look
get the look:

Speaking of themed outfits, this here is a perfect example of how to add that playful touch to your theme park look!
A Harry Potter-inspired outfit is perfect for strolling around Universal Studios, sipping on frozen butterbeer, and checking out the Hogwarts castle. You can tell that these outfits have that magical flair to them, but they're still comfortable and great for a warm summer day.
Whether you want to show off your love for Harry Potter or Jurassic Park, you'll definitely have the chance to do so at Universal. Just don't forget to choose a costume or themed outfit that will keep you comfy all day. Opt for sneakers and weather-appropriate pieces, and you'll be ready for your theme park adventure in no time!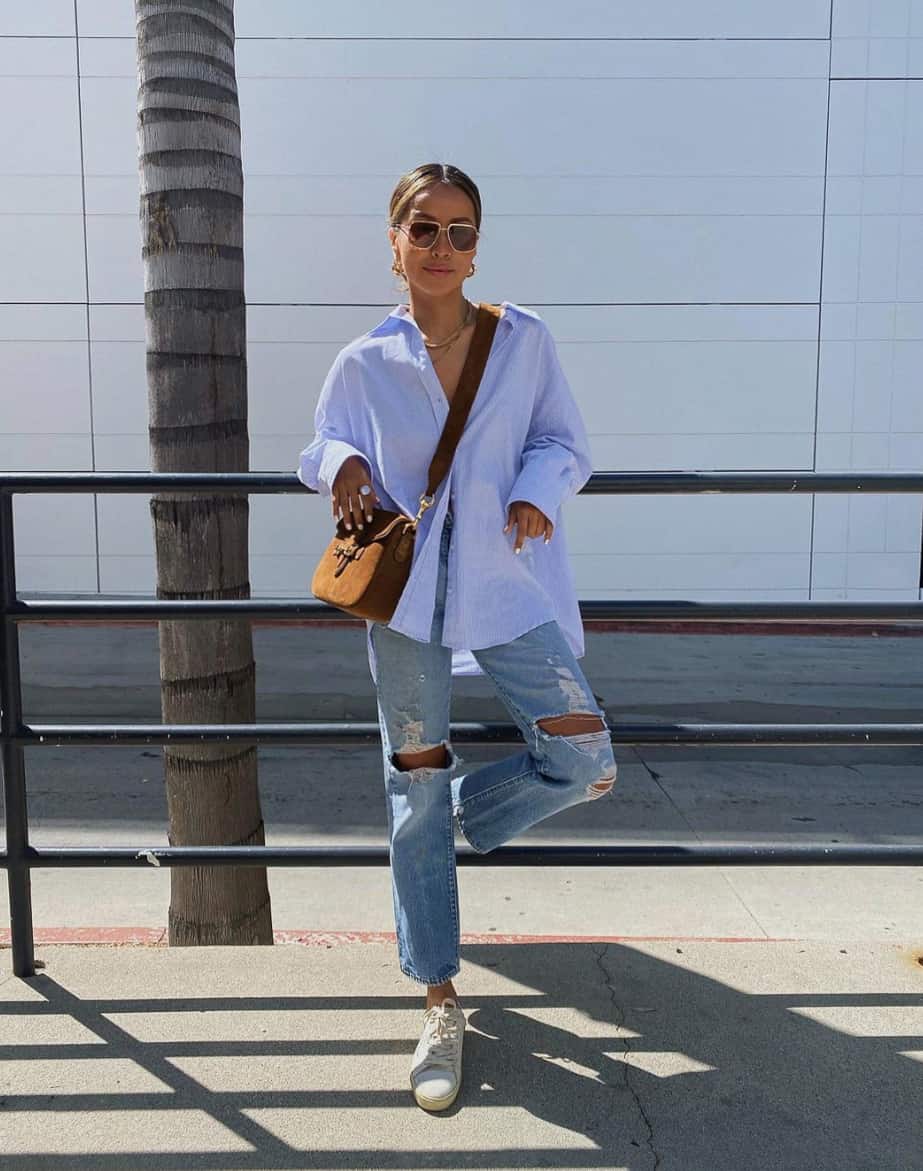 get the look:

What do you wear to Universal Studios Hollywood?
If you're visiting Universal in Hollywood, below is a list of what to wear that is both practical and cute:
shorts – perfect for warm weather and easy to style
a mini or midi skirt – comfortable and cool for a chic, feminine outfit
sneakers or sturdy, cushioned sandals (

do not wear flip flops!

) – comfortable for all that walking you'll be doing
a tank top or tee – ideal for warm sunny days
a dress or romper – simple but seriously cute and comfy
an oversized button-up shirt – great for sun protection but cool enough for hot weather
a belt bag or fanny pack – the perfect hands-free accessory for carrying all your essentials
sunglasses
a matching summer set
get the look:

Who doesn't love a simple but chic matching set? If you don't already have one in your closet, consider this your sign to get one!
A cotton set has serious summertime vibes, so this look is a perfect choice if you'll be visiting the park when it's warm and sunny out. And if you plan on hitting up some of the water rides at Universal, you can easily wear this over your bathing suit for an elevated summer look.
A matching set like this is also an excellent choice to bring along if you're spending a weekend at the park. You can create multiple outfits from just this one set, so you can pack light but still look stylish every day.
rock a romper
get the look:

A romper is easily one of our favorite pieces for a summer outfit! I mean, it's cute, comfortable, and easy to style – what's not to love?
Go for a simple romper like this if you prefer a clean and minimal look, or try a romper with a floral pattern if you want something more eye-catching. Bringing a sweater along is a great idea if you're going to Universal during transitional weather, although you can go for an oversized cardigan for a relaxed boho vibe.
This outfit would work well with both sneakers or sandals, and don't forget a stylish bag to carry essentials like your phone, wallet, a refillable water bottle, and sunscreen!
get the look:

What Not To Wear At Universal Studios
While we're talking about what to wear at Universal Studios, let's take a second and talk about what not to wear to this theme park!
Don't wear clothing that isn't weather appropriate! If you'll be going in spring or summer, make sure you're bringing clothes that will keep you cool all day; and if you plan to visit in the fall or winter, you definitely want to bring some extra layers along. And keep an eye on the weather report so that you can be prepared if there's a chance of rain.
Don't wear anything with offensive images or text, or that goes against the dress code. You don't want to make it into the park only to be kicked out for wearing inappropriate clothing.
a cool weather look
get the look:

While you might think it's best to visit Universal Studios in the summer, we know that Hogwarts is even more magical during the holidays (plus, the theme park isn't as crowded in the winter months).
So if you'll be one of the visitors during fall or winter, you'll need an outfit that matches the weather. A classic pair of jeans and a long-sleeved tee are casual pieces that will help keep you warm on cold days.
You can bring a coat if you need an extra layer, but this simple look is perfect to wear as the weather is changing. Throw on comfortable walking shoes and a chic handbag, and you're ready to go!
cozy and casual
get the look:

Another great look for cool weather is a stylish matching sweatsuit set. This look is definitely laid-back and comfy, but the high-end handbag and stylish sunglasses transform this set from simple to chic.
You can rock this colorful look or go for classic neutral tones. Either way, a cozy set like this is a must if you'll be checking out the newest attractions at Universal in the wintertime.
boots + leather
get the look:

Want to stay warm and comfortable while showing off your bold style? Go for black boots and leather for an edgy look that's still perfect for a day at Universal Studios California in the cooler months.
Start with simple pieces, like blue jeans and a plain tee, before adding a leather jacket and black Chelsea boots. These pieces will be easy to spend a day in, and they'll keep you from shivering while you wait in line for your favorite rides!
What To Wear At Universal Studios
Whether you'll be in Hollywood or Orlando, you'll have a blast spending a day at this theme park. Go for breathable clothing that's easy to spend a day walking around in. And bring along a small bag to carry some important items.
If you're really feeling it, add some themed pieces to your look to give it that something extra. But, most importantly, don't forget to have fun and take lots of pictures!
More Style Guides You'll Love:
15+ Cute Disneyland Outfits For The Perfect Park Aesthetic
What to Wear to Disney World + Cute Disney Outfits You'll Love
14+ Chic Desert Outfit Ideas For Your Next Desert Getaway