Looking for New Balance 550 outfits or a New Balance 574 outfit? If you don't own a pair yet, these chic New Balance outfit ideas will prove you need to get some, stat!
*this post contains affiliate links*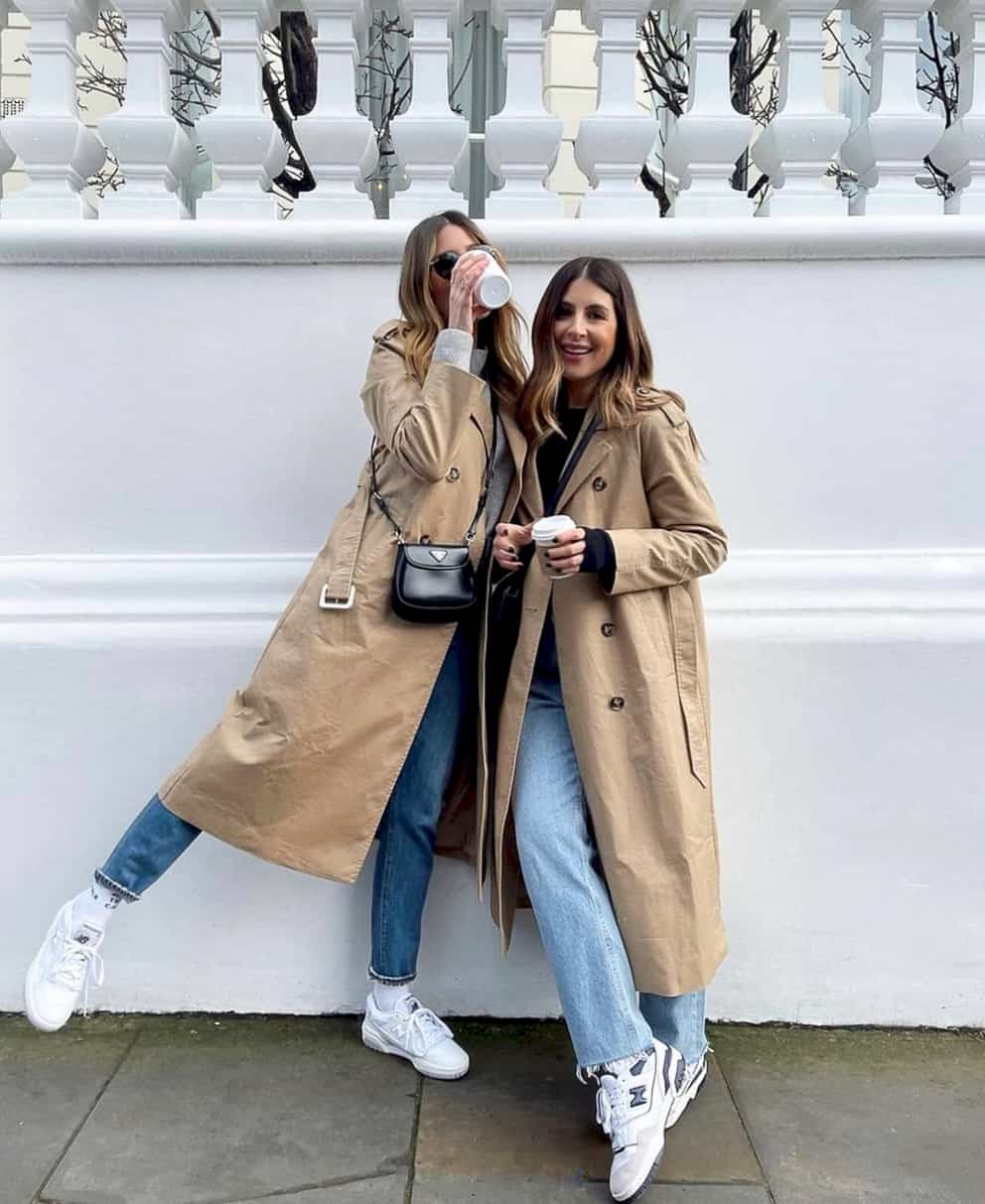 Do people still wear New Balance?
Yes, they do. And in 2023, more so than ever! The power of influence is real, and over the last couple of years we have seen a resurgence of New Balance sneakers on the feet of fashion it-girls, celebrities, and supermodels. So, it is no surprise that women everywhere are adding New Balance sneakers to their wardrobes.
But, how do you style a pair of NB's in a chic and modern way? We're here to show you exactly that.
We've created and sourced 16+ chic and modern (street style approved) New Balance outfit ideas that show these sneakers can be worn just about anywhere. And, if you already have a pair of the most popular styles, you can also recreate our fave New Balance 550 outfits, and New Balance 574 outfit ideas.
16+ Chic New Balance Outfit Ideas
There are many different styles of New Balance sneakers, but it seems the most popular among women are the 550s and the 574s. Below you'll find our favorite looks with these styles, along with other New Balance outfits with other styles.
These sneakers can easily be dressed up or down, and when styled with modern, minimal, elevated clothing, you can create an outfit that will turn heads (in all the right ways).
New Balance 550 Outfits
The 550 style was relaunched in 2021 and has been the most popular, by far. We love this slightly chunky low-top sneaker paired with everything from jeans, to skirts, to loungewear. While we always prefer to err to neutrals, the different colorways of the 550's are fun and add a playful vibe to any outfit.
What to wear New Balance 550s with?
When it comes to styling the New Balance 550s sneaker, it is best to choose outfits that are more casual or laid-back. Because the sneakers have a slightly chunkier appearance, they look best with straight leg or loose jeans, sweatsuits, denim or cotton shorts, t-shirts, sweatshirts, and oversized coats.
You can also easily style the 550 sneakers with crew socks, as this complements the the chunkier style of the sneakers.
Below are our fave New Balance 550 outfits.
for the coffee run
get the look:

For a casual coffee run, meeting friends, or going to the park, this New Balance outfit is one to copy. We love how the green of the New Balance 550 sneakers play off the green and white stripes of the simple long-sleeve crewneck.
Distressed jeans keep the outfit casual and the sleek bun and sunglasses give this look an elevated vibe we love.
chic, cozy + casual
get the look:

We are so very happy that the matching sweatsuit and loungewear-on-the-go trend is still around. I mean, what's not to love about wearing comfortable clothes out and about and still looking chic?
The white New Balance 550 sneakers and socks add a fresh pop to this neutral outfit and bring home the sporty vibe. Matching sets in a neutral color palette always give an elevated appeal, so we love the tone of this sweatsuit and the black wool coat adds a refined feel.
This gorgeous sweatsuit is from the WAT The Brand collection (by @wearetwinset) but you can recreate this look with a matching set from any brand.
the oversized trench + 550's
get the look:

Leave it to Felicia Akerstrom, an icon when it comes to elevated fashion, to give us an effortless, cool, and approachable New Balance 550 outfit. This look is casual yet elevated with the gorgeous Celine bag and ball cap (drool).
But, if you can't spend that kind of money on a designer handbag and hat, you can still easily recreate this outfit with more affordable options. An Anine Bing hat perhaps? Or a classic NY ball cap will do.
The sneakers with the oversized trench and elevated accessories gives the whole look a chic vibe and makes it the perfect spring or fall outfit.
perfect for summer days
get the look:

In the summer months when it's hot and humid, and you just want to feel cool and comfy, try this New Balance 550 outfit. It's cool, effortless, and has an elevated look with the black shoulder bag and dainty jewelry.
New Balance sneakers always pair great with casual shorts, but longer length denim shorts and the addition of socks gives this outfit an extra cool vibe. The green ball cap complements the green of the 550 sneakers, and the whole look is minimal and easy.
New Balance 574 Outfit Ideas
The most recognizable style and 'unlikeliest icon' according to New Balance, are the 574 sneakers. They are slimmer and more lightweight than the 550s with an EVA foam sole.
We love how versatile these sneakers are and our editor had to get a pair for herself. See her top New Balance 574 outfit choices below, along with a couple of our fave fashion influencers.
the midi skirt + sneakers combo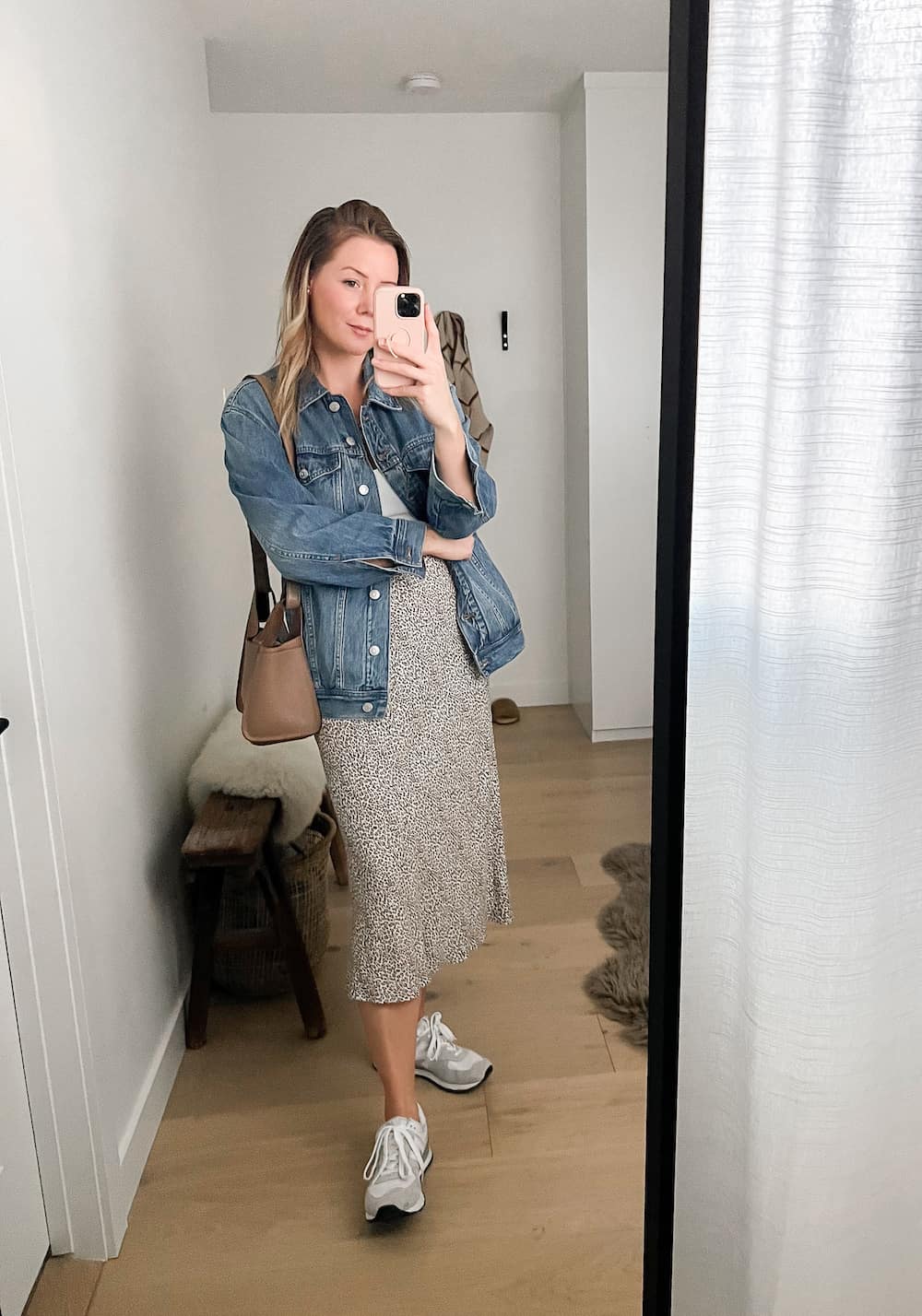 get the look:

When the editors at Elle say "there's nothing more trustworthy than a good oversized denim jacket", we believe them. This outfit is perfect for running errands, school pick-up, or meeting friends for lunch. It has a feminine appeal with the midi skirt, but is still super comfortable.
The 574 sneakers (in the gorgeous neutral colorway Nimbus) bring a laid-back vibe and the oversized denim jacket adds a modern edge to the look. Add some gold huggies and a neutral leather bag and you'll be set for whatever the day brings.
the 'cool mom' outfit
get the look:

If you spend most of your days in leggings, don't worry, we are not judging you.
In fact, our editor spends most of her days in leggings too (toddler life). That doesn't mean you can't look chic, and this outfit New Balance 574 outfit proves it.
The 574s look great with simple black leggings, folded crew socks, and a neutral sweatshirt. The oversized quilted jacket elevates this leisurewear look and the dark camel Anine Bing hat is the cherry on top.
Also, never forget that a little splash of jewelry always goes a long way when wearing a casual outfit to add a subtle refined feel.
Do New Balances go with jeans?
Yes! New Balance sneakers are a great choice to pair with jeans, especially straight-leg or loose-fit jeans. Because jeans have a casual feel, they work great with sneakers for a stylish, yet laid-back outfit.
Pairing sneakers and jeans is a trend that is no longer just for dads. In fact, New Balance sneakers with jeans has become a staple look in the fashion world and is not going anywhere anytime soon.
cashmere, denim + 574s
get the look:

A knit sweater can elevate any look. This outfit is comfy yet polished, even with the New Balance 574s.
Any pair of jeans will go with this outfit, but we especially love a vintage-wash with an ankle-length straight-leg. The cropped cut of the denim gives the sneakers all the attention, and the soft sweater keeps the outfit looking put-together.
Full-length wide-leg jeans would also work here and give a french flair to the outfit.
transitional weather essentials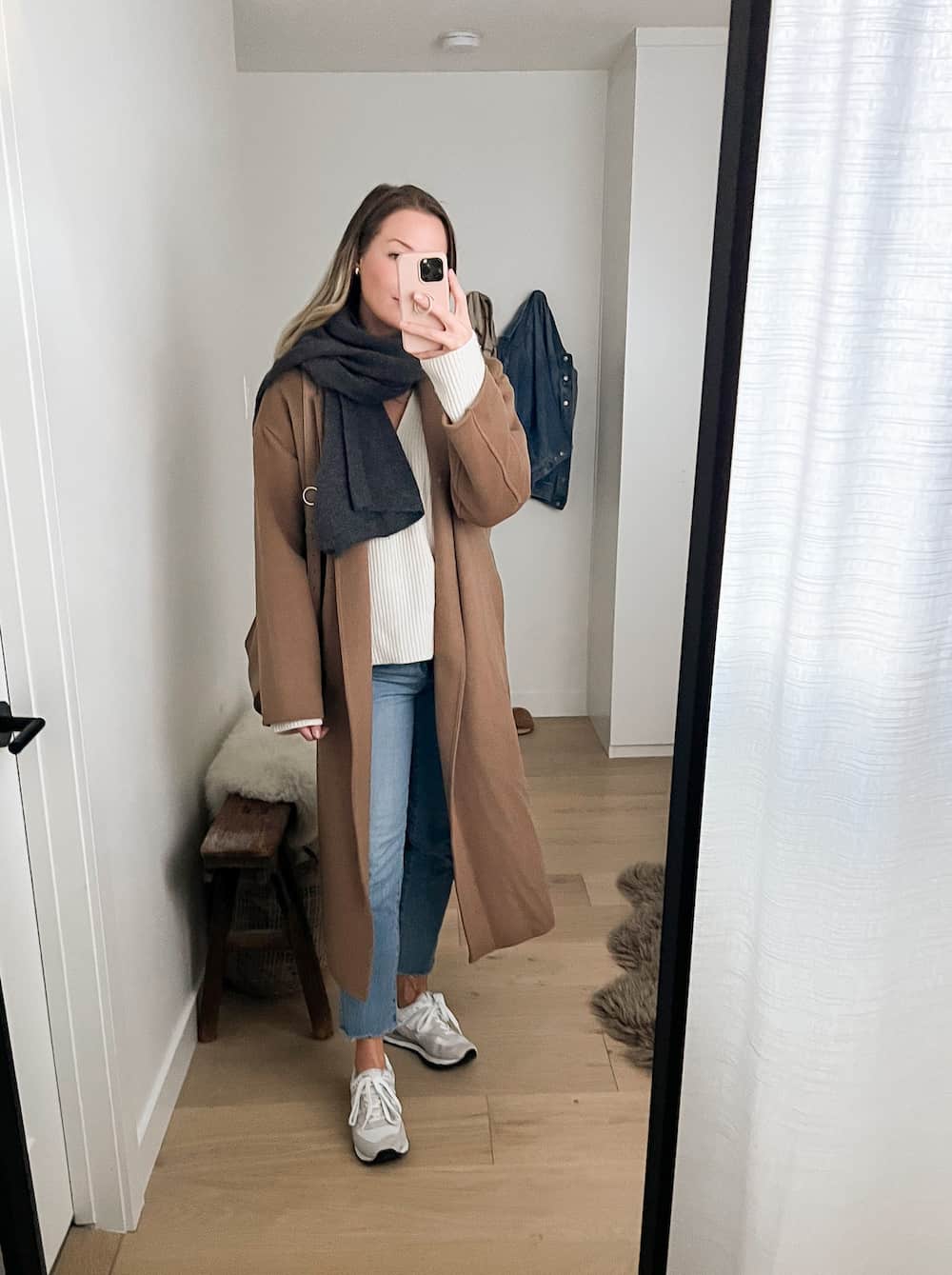 get the look:

When winter turns to spring, or summer turns to fall, you'll get a lot of wear out of your sneakers. This New Balance 574 outfit is perfect for those days when the weather is chilly but you don't need to put on boots.
We love how a long camel coat gives an elegant feel to any outfit, even one with sneakers. And, let's not forget that neutrals are always a good way to look expensive, even on a budget.
elevated sporty
get the look:

Can you look sporty and chic at the same time? Yes you can.
This Hailey Bieber inspired look is comfortable, stylish, sporty, and yes, chic. The black biker shorts look great with an oversized white sweatshirt, which balances out the light-colored 574s.
A belt bag is the perfect hands-free accessory for busy days and finishes the outfit perfectly. Stick with ankle socks or go with chunkier crew socks for a more of a statement (or go socks-free!).
Can you wear New Balance 574 to the gym?
You can definitely wear the New Balance 574 sneakers to the gym, but they aren't the best choice for a long run on the treadmill or an intense strength-training session. The 574s are best suited for a light workout as they are considered a 'lifestyle sneaker' rather than a workout shoe.
In short, if you are going for a HIIT session or circuit training, you'll be fine in the 574s, but they won't provide the support needed for a longer or more intense workout at the gym.
easy breezy in all white
get the look:

Heading to the farmers market?
Put on a pair of 574s, an oversized white button-down, and straight-leg jeans and you'll look just like French style icon Lorna
(aka @symphonyofsilk)
.
This chic outfit, with perfect Parisian girl vibes, shows just how easily New Balance sneakers can be elevated. We also love the monochromatic look with all white. For a modern feel, go with off-white, cream, or ecru colored pants when recreating this look.
go for the grey
get the look:

The grey New Balance 574s have been very popular this last year, and we can see why. This cool, neutral tone is super versatile and a bit unique with the different shades of grey and pops of white.
They look excellent styled with a long dark grey cardigan coat (another popular piece we love from Mango), and simple black leggings. This New Balance 574 outfit is effortless, and will make you look chic on those dont-want-to-wear-anything-that-isn't-stretchy days.
More New Balance Outfits
While we love the 550s and 574s, there are so many other New Balance sneaker styles that look incredible when styled in chic and modern ways. Check out more of our fave New Balance outfit ideas below.
all dressed up
get the look:

This outfit is a total head turner and we're here for it. We love the feminine vibe it gives while still having a cool, laid-back feel.
This is also why we can't stop following fashion influencer Aylin Sengul. Her style is always on-point and we want to recreate every single outfit she wears. This New Balance outfit is no exception.
The 530s in light link look so cute with the slip skirt and oversized ivory knit. And, the statement bag adds the perfect pop of color.
sneakers + blazer for the win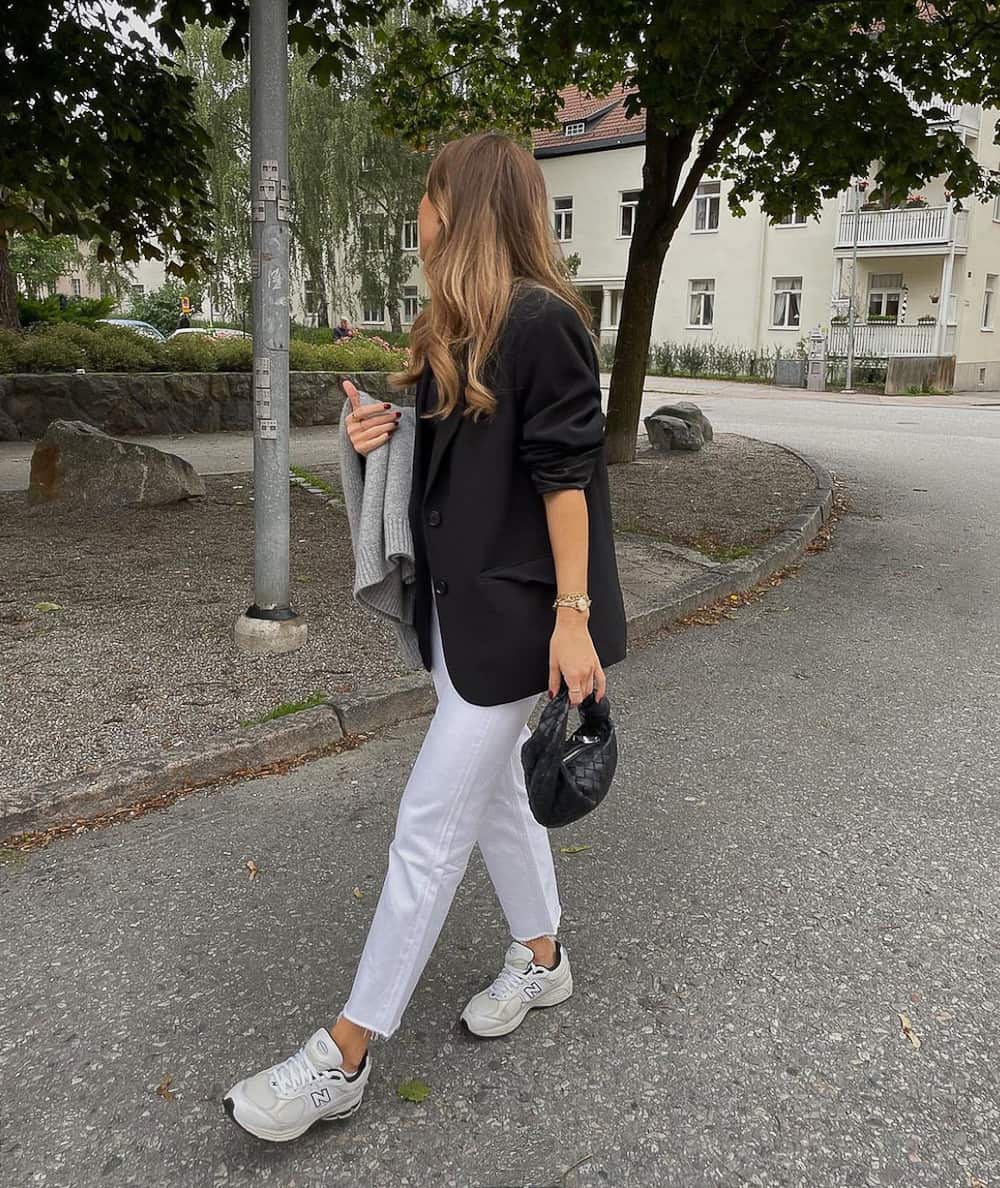 get the look:

Business casual turned sporty. This look is fresh, clean, and makes us think of spring.
We love the combo here with the oversized black blazer, slim white jeans, and New Balance 2002R sneakers with a vintage appeal. The outfit is classic, refined, and has a country club feel that's very on-trend.
casual weekend vibes
get the look:

Here's another New Balance outfit that shoes how to take the 530s and make them look chic. While these sneakers do have a Dad vibe, they look awesome with a sporty outfit like this one.
Paired with crew socks, an off-white spandex onesie, and an oversized denim jacket, the sneakers look sporty and fashionable. This is the perfect outfit for a casual Saturday starting with a light workout followed by brunch with friends.
sneakers like a boss
get the look:

The final New Balance outfit on the list is one of our favorites.
We love the business casual look of this whole outfit, and the surprise of the sneakers. There are so many pieces that give this outfit an elevated appeal like the sleek bag, but the shoes keep the look approachable and a little playful.
We are seeing wide-leg pleated trousers on everyone in the fashion world right now, and the cable knit sweater adds a touch of coziness, making this a perfect early spring or late fall look.
We hope you have been inspired by these chic and modern New Balance outfits. If you want to switch it up from your usual Adidas or Nike shoes, you'll be pleased to know that New Balance sneakers are super affordable too. So, which look will you recreate first?
More Style Guides You'll Love:
The Best Shoes To Wear With Long Dress for Any Occasion
12+ Chic Black Joggers Outfit Ideas To Copy in 2023
What Shoes To Wear With Straight Leg Jeans For A Chic + Modern Look
17+ Chunky Loafers Outfit Ideas + How To Style Chunky Loafers
9+ Seriously Good Gucci Loafers Dupes (& Mules!)