Looking for the best dresses for broad shoulders in 2023? Start here! You'll learn about the best dresses fir wide shoulders for a balanced and flattering look, and get some outfit inspiration too!
*this post contains affiliate links, updated for 2023*
Choosing The Right Dresses for Broad Shoulders
If you've been blessed with broad shoulders, shopping for dresses may prove to be a challenge. The same styles that look ultra-chic on your friends might emphasise your upper body more than theirs.
Fortunately, there is a solution! The key is to dress in a way that complements every part of your gorgeous figure, so all of the traumatic fitting room mishaps remain a thing of the past.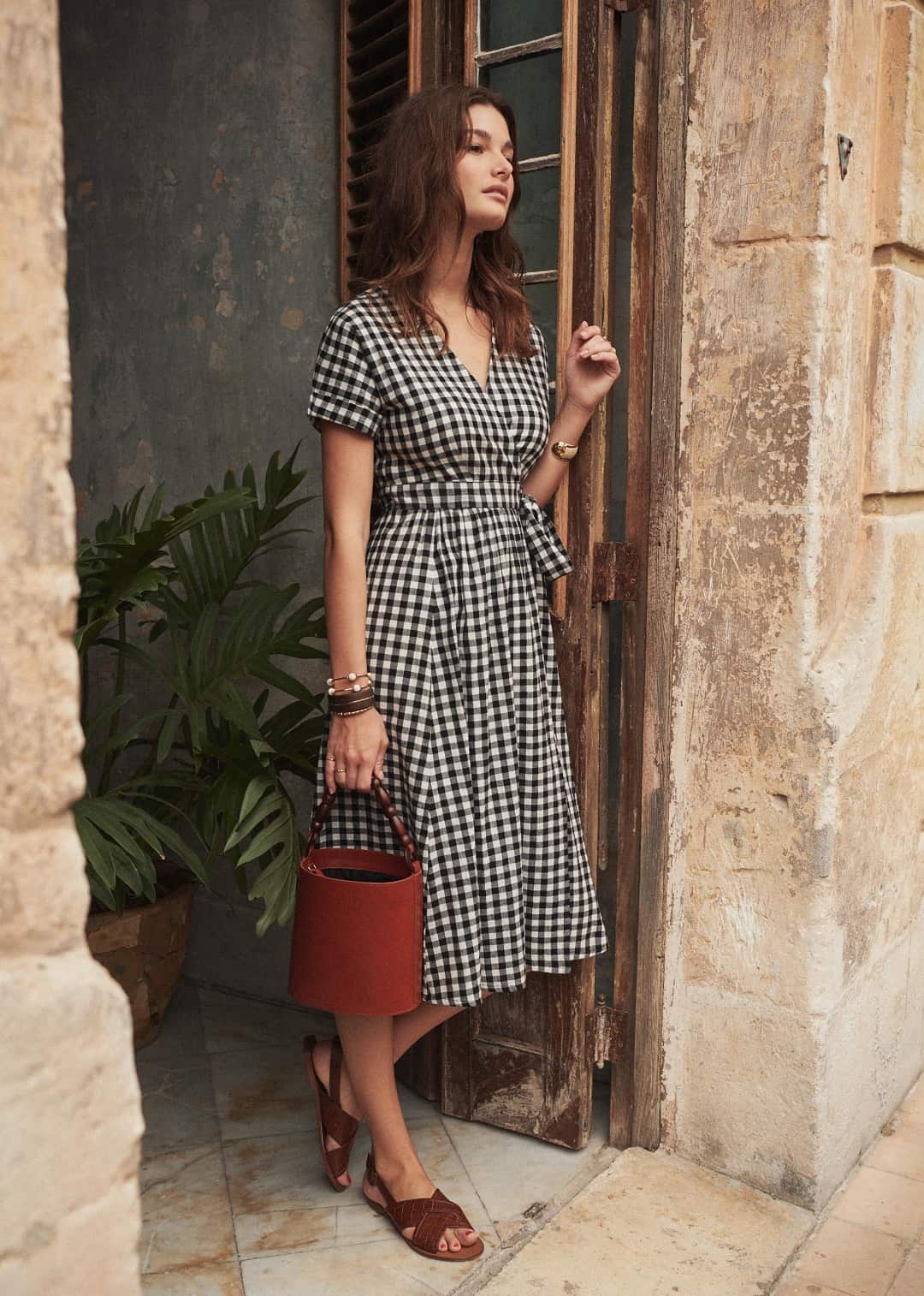 How to Determine if You Have Broad Shoulders
The first step in finding that perfect-fitting dress is determining your body shape. Those of you with broad shoulders may identify with the inverted triangle body shape. At the risk of sounding like a geometry teacher, an inverted triangle figure is defined by:
Wide shoulders
Small hips

(or shoulders are noticeably wider than hip line)

No defined waistline
"V" body shape
If these features resonate with you, you likely have an inverted triangle body shape. This figure is typically associated with athletes and supermodels, so you're in good company!
When shopping for dresses, you want to find silhouettes that balance your proportions. Fortunately, there are a variety of styles that will appear flattering on broad shoulders. Continue reading to learn more about tips for dressing your body type; you'll also discover a broad selection of dresses to suit your beautiful broad shoulders.
What is the best dress style for broad shoulders?
If you have broad shoulders, it's best to stick with certain styles of dresses that will compliment your body and not over-emphasize your wide shoulders. The best styles include:
Peplum dresses
V-neck dresses
A-line dresses
Dresses with an asymmetrical neckline
Cowl-neck dresses
Kimono-sleeve dresses
All of these styles have features that draw the eyes away from the shoulders and to other parts of the body and dress. Or they work to create an overall balance that works with the shoulders, not against them.
1. Peplum Dresses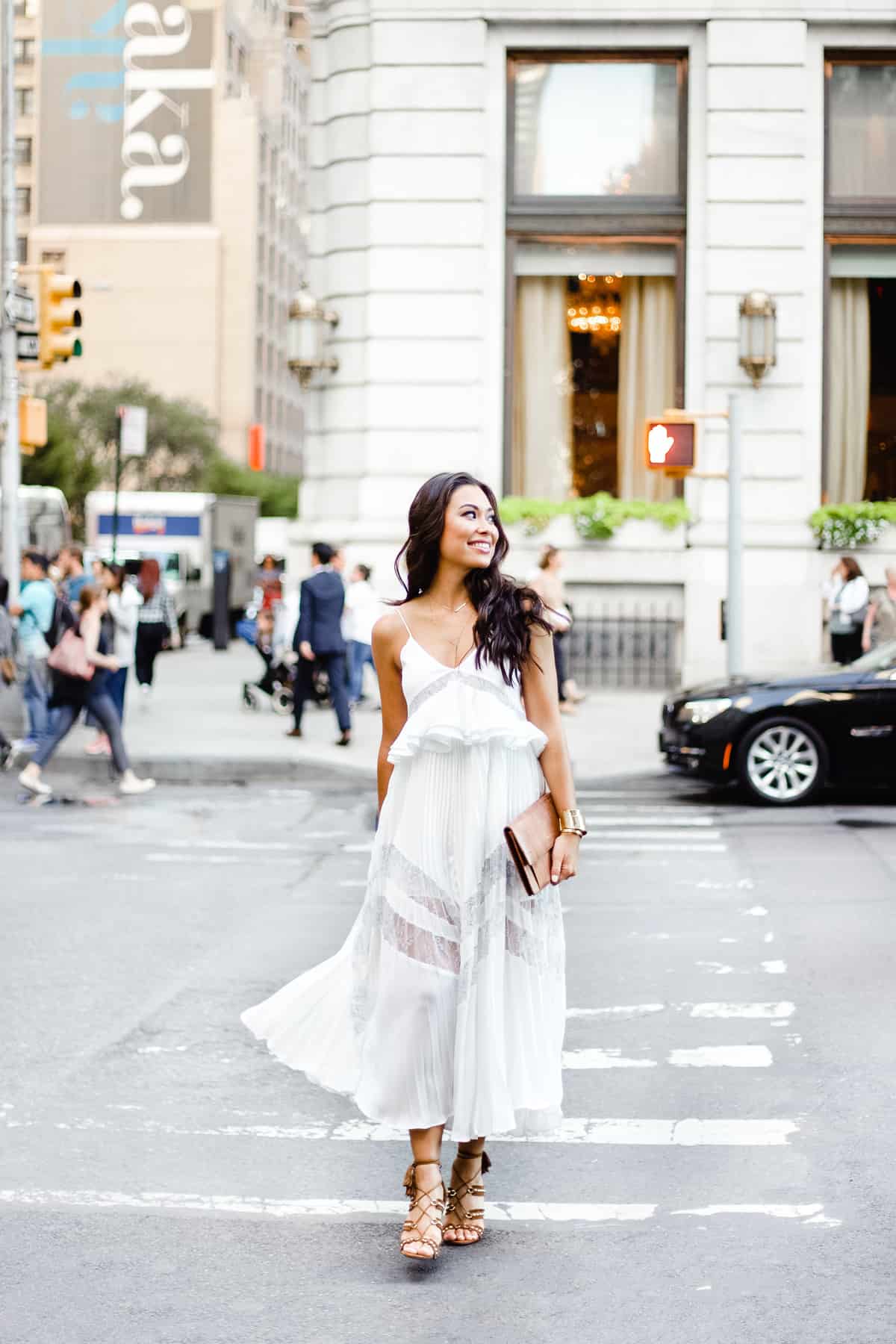 shop peplum dresses:

Peplum dresses are a must-have for every woman with broad shoulders. The pleated fabric at the ribs or waistline flares out and delivers more balance to your figure by drawing attention away from the upper half of your body.
This style also generates volume below the waist, further balancing your proportions. So if you have big shoulders or a big bust (or both), this style of dress will draw the attention away from your shoulders.
Peplum dresses also have the ability to make the waist appear smaller and give you a curvier appearance, which is great for women who are more athletic or have a rectangular body shape.
2. V-Neck Dress
shop V-Neck dresses:

When it comes to dresses for broad shoulders, a dress with a V-neckline is an excellent option because the deep neckline directs attention vertically rather than horizontally.
The "V" will help create a more balanced silhouette and naturally narrow the look of the shoulders. Try a dress featuring a deep V-neck and short or long sleeves, which will help mitigate the focus on your upper body.
If you don't like how revealing a v-neck dress feels, you can always layer with a contrasting undershirt layered underneath. This way you will still get the v-neck effect without the cleavage.
3. A-Line Dress
shop A-line dresses:

If you have broad shoulders, you should consider adding an A-line dress to your wardrobe. A-line dresses are fitted at the bust or the hips and gradually widen towards the hem, resembling the shape of a capital letter A.
With an A-line dress, the flared skirt delivers extra volume, thereby creating the appearance of a well-balanced figure. And the result? You end up showcasing your gorgeous curves and flattering the inverted triangle (aka wide shoulder) body type.
A-line dresses come in all different styles so you can opt for a casual dress or go with something more formal.
4. Dress with Asymmetrical Neckline
shop asymmetrical dresses:

Not only does this style look super chic, but it's especially effective at creating visual interest that diverts attention away from broad shoulders, making them less noticeable.
In addition, its unpredictable design helps to restore balance to your figure. A one-shoulder neckline is perfect for making broad shoulders appear less prominent.
5. Kimono Sleeve Dress
shop kimono-style dresses:

The last on the list of dresses for wide shoulders, inspired by traditional Japanese dresses, a kimono sleeve dress is ideal for helping shoulders look more petite. These dresses are lightweight and feature a billowed appearance, as the sleeves are cut with a deep armhole.
The kimono sleeves drape effortlessly over your arms creating a seamless look and taking emphasis away from broad shoulders. This draws the eyes to the widest part of the arms, being the end of the sleeves.
For a dramatic effect go with a long-sleeved dress, and for a more subtle look, opt for short sleeves. But make sure the sleeves are not too short (above the elbows), as this will add emphasis to your shoulders instead.
6. Cowl Neck Dresses
shop cowl neck dresses:

Similar to the v-neckline style of dresses, cowl neck dresses work to draw the attention inward and away from the shoulders. The draping neckline helps create the illusion of a more narrow chest and shoulder area.
We also love how sexy and feminine cowl neckline dresses are, and they provide more coverage than a deep-v style.
What Should You Not Wear With Broad Shoulders?
Next time you go shopping for dresses for broad shoulders, it's best to avoid the following styles:
Strapless or off-the-shoulder necklines – Dresses with strapless and off-the-shoulder necklines will emphasize your shoulders due to the lack of coverage they provide. Instead opt for a wide scoop neckline with cap sleeves.

Shoulder pads –

Ah, a throwback to the 80s. Shoulders pads are pieces of foam or fabric sewn inside the garment at the shoulder. Unsurprisingly, they bring attention to broad shoulders.

Ruffle or Puffed Sleeves –

Ruffled or puffed sleeves will also draw attention to your shoulders due to the extra fabric gathered in the area. Stick to long sleeves, half sleeves, raglan, or cap sleeves to soften their appearance.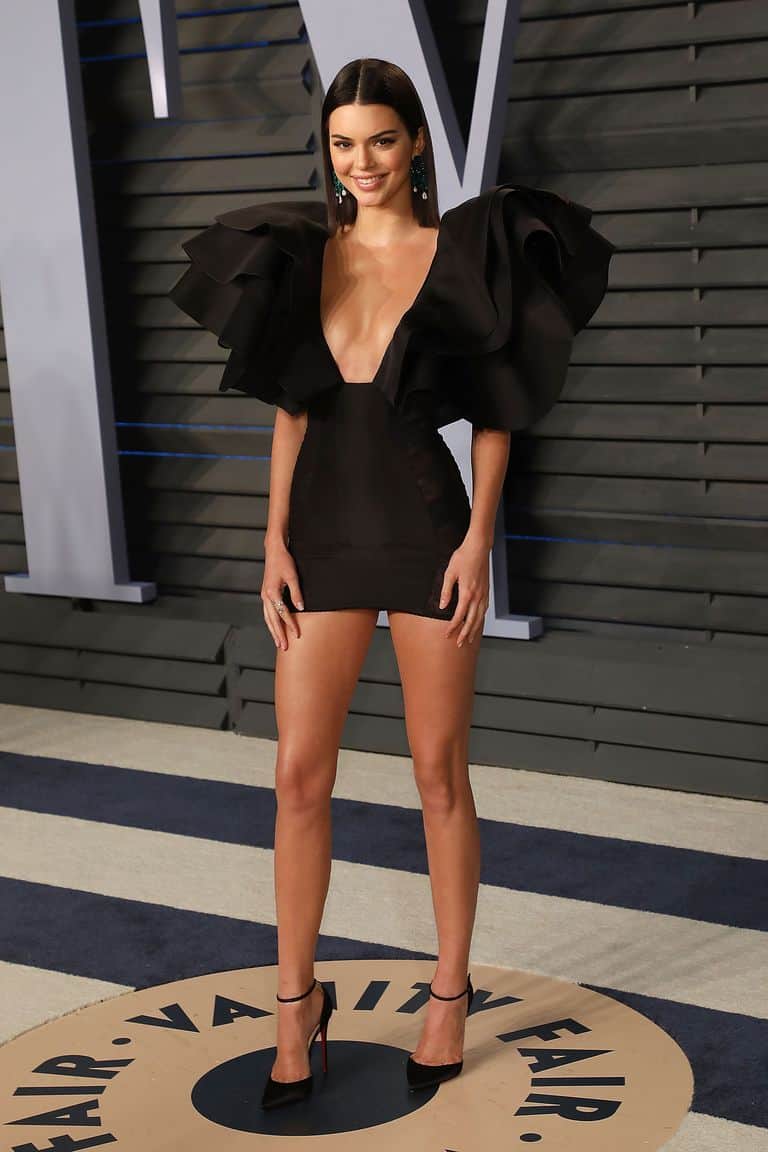 Unless you are Kendall Kardashian who can rock shoulders for days – case in point above – you're likely trying to minimize the emphasis on your shoulders so these are the specific styles you should steer clear of.
Remember, the key to minimizing your broad shoulders is to find dresses that balance your proportions. Since your upper body has already been blessed, focus on adding volume to your lower half.
And if you ever find yourself at a loss, refer back to this article about dresses for wide shoulders…and feel the weight literally lift from your shoulders (no pun intended!).
More Style Inspiration You'll Love:
Best Jeans for Hourglass Figure + 4 Chic Outfit Ideas
How To Wear A Sweater Over Dress: Chic Outfits + Tips To Own This Look!
Best Jeans For Apple Shape + Outfit Ideas You'll Love
What To Wear To A Broadway Show
What Color Shoes to Wear With A Red Dress
Incredible Zimmermann Dress Dupes
17+ Stores Like Reformation To Swoon Over
Christal Sczebel is an entrepreneur, published author, and content creator. Over the past decade she has worked in the digital media field building successful websites for both food and fashion. She has a natural affinity for minimal, timeless fashion, neutral home decor, and styling.
Here on Style Your Occasion, Christal is the Editor-in-chief and brain behind the aesthetic. She hopes you love the this space and the inspiration you'll find!