Do you love the Chanel slingback aesthetic, but don't want to drop that much on a pair of heels? Check out this list of stunning Chanel Slingback Dupe options, look-alikes and cheaper alternatives for 2023. Some of these Chanel slingback dupes will make you do a double-take!
*this post contains affiliate links, updated for 2023*
9+ Stunning Chanel Slingback Dupe Options
The updated Chanel slingback heels were launched in 2015 and instantly became a sensation. Compared to the original two-tone slingback of the 1950s, Karl Lagerfeld's version boasts a rounder top and a very practical chunky 2.5" heel.
Since 2015, the Chanel slingbacks have maintained popularity, and unsurprisingly, they've increased in retail price over the years. A pair of classic two-tone Chanel slingbacks will now run you at least $1,000 if you can even get your hands on them brand new.
If you love the aesthetic of classic Chanel slingbacks, but can't afford an authentic pair, you've come to the right place! We've scoured the fashion world for 9+ great look-alike alternatives for this coveted chunky pump.
The 2023 Chanel Slingback Dupes List
Below are our favorite Chanel slingback look-alikes for much less than $1,000. We think you'll love them too!
The Baton Heels from Tuckernuck are a great option if you want a high-quality, leather heel that has many similar features to the Chanel slingbacks. They are classic, timeless, and have the same two-tone coloring.
These heels have a round toe that looks slightly rounder than the Chanels and are set on a chunky block heel. The slingback detail is the same and the shoes are made with a leather lining and sole.
At less than $200, these gorgeous Chanel slingback dupes are a total steal. They are definitely on our wish list!
The next Chanel slingback dupe is the Tarra Heel by Sam Edelman. While this shoe does have some distinct differences, the overall look is definitely giving us Chanel vibes.
Set on a lower heel, at 2″ (vs. 2.5″ on the Chanel), the heels are practical for lots of walking. They also have more of a square shape on the toe and a small cutout detail at the top.
Aside from the small differences, the two-tone color, slingback strap, and overall shape makes these heels a great alternative for less. We also love that they are made from genuine cowhide leather.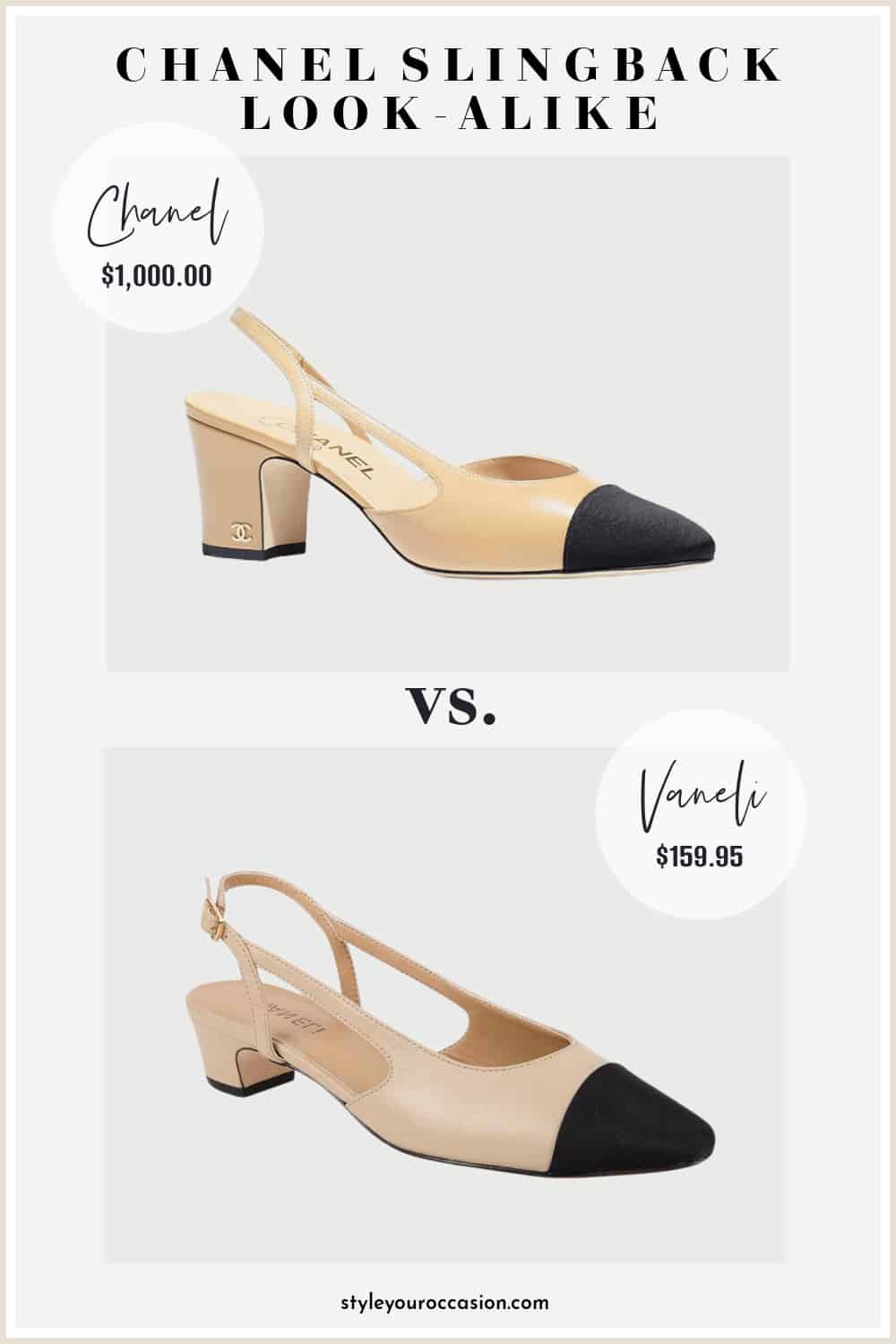 Next up is the Vaneli Aliz Slingback Pump. These gorgeous Chanel dupes are sold at Nordstrom and are at a great price point of just $159.
Made with a leather upper, leather lining, and leather sole, these pumps are excellent quality and have a stylish color-block cap toe that mimics the Chanel slingback heels.
These pumps are also at a lower height of just 1 1/2″, which makes them great for day-to-day wear, at the office, and out and about. The slingback strap has an adjustable closure which is also a positive as some reviewers have said that the slingback strap on the Chanel pumps is prone to sliding off.
At just under $100 is the Marc Fisher Laynie Block Heel Pump, another excellent Chanel slingback dupe. Marc Fisher is known for great quality footwear at a lower price, and we are all for that!
These heels are slightly higher than the Chanel, at 2.95″, and have a sleek overall look and vibe. The upper material is genuine cowhide leather, while the lining and outsole material is synthetic.
The block heel pumps look very similar in shape, style, and color. They had to be included on our list!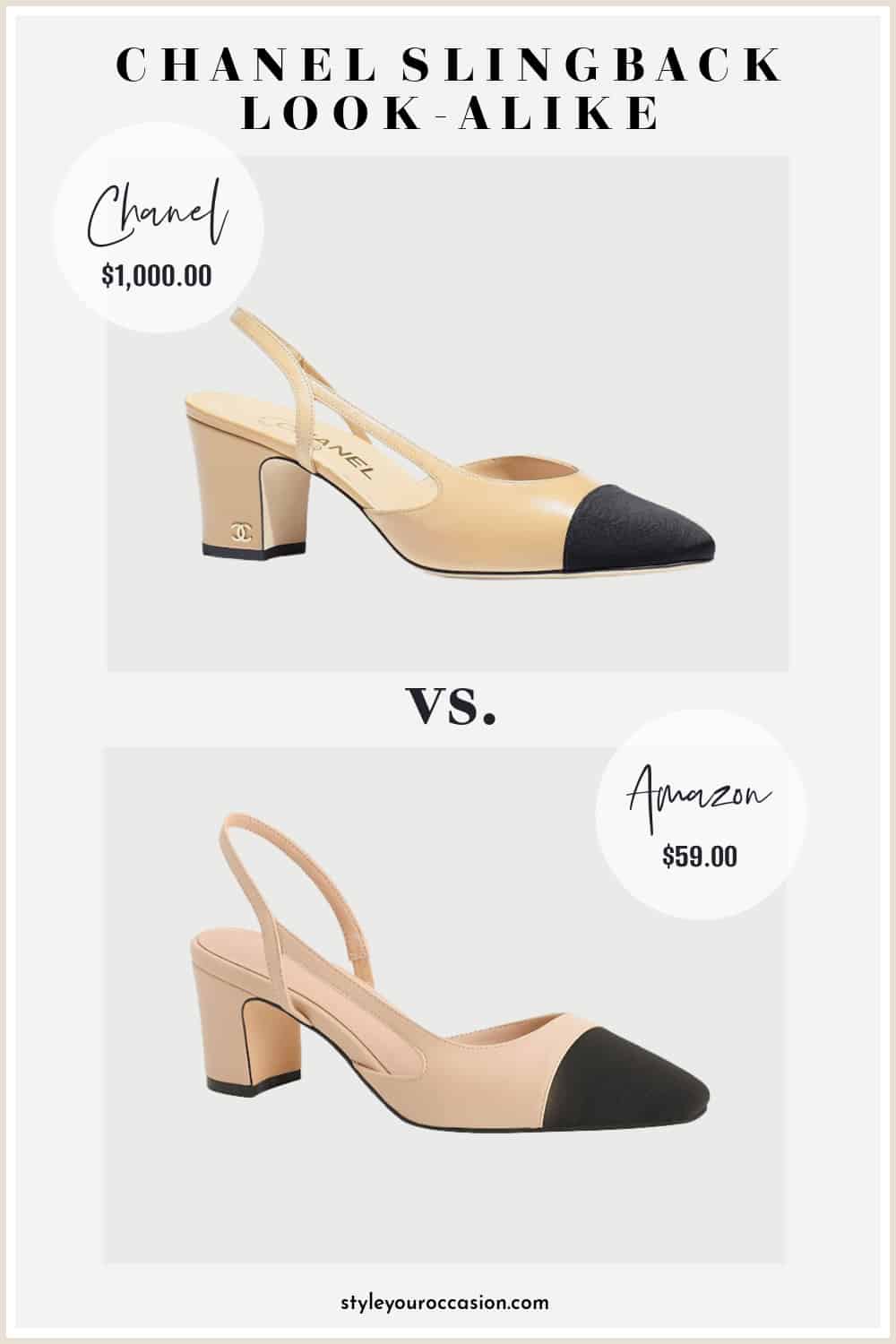 The next Chanel slingback dupe is a very affordable option from Amazon. The Slingback Pumps from retailer Miraazzurra are just $59 and have a 4.5-star rating.
The pumps have a round toe with a chunky heel set at 2.6″, just slightly higher than the Chanel slingback. They have a two-tone coloring and come in multiple shades including black, white, nude, and apricot.
There is no detail on what material the shoes are, so we are assuming they are synthetic, due to the lower price. But, if you are on a tight budget, these Chanel slingback dupes might be the ones for you!
Just to note, many reviewers say that the sizing is slightly off, so it's best to read the reviews and check the size chart to make sure you get the best size that works for you!
Next are the Sam Edelman Leah Cap-Toe Pumps. These Chanel slingback dupes are available at Shopbop (though currently sold out), as well as other retailers.
This style was so popular that the shoes sold out quickly, but you can often find them secondhand on sites like Poshmark, and we are holding out for a re-stock.
The Leah pumps are made with cowhide leather, have a 1.75″ heel, and have an adjustable buckle on the slingback strap. They have the gorgeous two-tone coloring and a rounded toe, making them an excellent Chanel dupe.
*2023 update – these shoes are still currently out of stock, but keep checking back to see if they re-stock for this season!
If you prefer the lower version of the Chanel slingbacks, then you'll love these dupes from Amazon. They come in both a low and regular heel height.
These shoes have a good 4.5-star rating, and most reviewers are very pleased with the look and quality, especially for the price. While we are assuming these shoes are made with synthetic material, they still have a look that is very similar to the Chanel heels.
The Lehoor heels also come in black, beige, and white. Since the Chanel slingback heels come in black (and many other colorways) we wanted to include an image comparing the higher version of these heels in black to the Chanel heels.
As you can see, the appearance of the leather is slightly different, likely because the Chanel shoes are made with genuine leather and the Lehoor dupes are not.
At the end of the day, if you are looking for an affordable dupe in multiple colorways, this Amazon option is worth checking out!
If you prefer the look of the old Chanel slingback style, you'll love these excellent dupes from Bandolino. These pumps have a minimalistic look with a pointed heel rather than a chunky heel.
The slingback strap is also thicker and the toe is more pointed than round. The two-tone coloring is classic and timeless, and these heels would look excellent with so many outfits.
At just under $80, these heels are an excellent option!
*2023 update – these slingbacks are also out of stock currently, but we are holding out for a re-stock soon!
Lastly, is the Vaneli slingback pump in the black leather colorway. This gorgeous heel is set at a 1.5″ height, making it a great hybrid between the high Chanel slingback pump and the low Chanel slingback.
The heels are made with genuine leather and have an excellent 4.5-star rating on Nordstrom, with over 90 reviews. For a minimal style and timeless appearance, these affordable Chanel slingback dupes are worth a look!
There are mixed reviews on whether the Chanel slingback heels are comfortable. Many people absolutely love them and say they are incredibly comfy to wear, but others have complained about the slingback noting that the strap is prone to slipping.
There are plenty of firsthand reviews available on YouTube that are worth checking out before investing in a pair of Chanel slingback heels.