Wondering what to wear with a white skirt? Here are 10+ chic white jean skirt outfit ideas that are a refreshing change from the usual!
*this post contains affiliate links*
get the look:

The Perfect White Jean Skirt Outfit
A white denim skirt is a great wardrobe staple as it can be worn season to season and there's nothing more versatile than a neutral color. So, if you have a white jean skirt sitting in your closet being neglected, it's time to pull it out and get styling!
As fashion trends have changed over the years, so has the way we wear white denim skirts. A jean jacket is a safe bet, but perhaps you didn't think about a sweater and combat boots in the fall, or a monochromatic look with a crisp white button-up shirt.
The options are endless for the perfect white jean skirt outfit, and we can guarantee if you browse through this article, you'll find at least one look you love.
shop white jean skirts:

Are jean skirts out of style?
No, jean skirts are not out of style. While they might remind you of the '90s or early 2000s, they have come a long way from the Britney Spears era. Denim skirt outfits are very much in fashion in 2022 and can be done in so many ways throughout the seasons.
In the spring and summer pair a jean mini skirt with a simple t-shirt and sneakers, or kitten heel sandals for an elevated look. In the fall wear a plaid blazer over a neutral shirt with your jean skirt and a stylish pair of loafers. And, in the winter, combine a denim skirt with combat boots, thick tights, and an oversized knit sweater.
get the look:

What can I wear with a white jean skirt?
A white jean skirt is very versatile because it's a neutral color. So, you can wear a white jean skirt with a lot of different clothing including a t-shirt, button-up shirt, sweater, denim jacket, suede jacket, or black leather jacket.
Additionally, You can combine your white denim skirt with various colors. But our favorite options, for a more chic and elevated look, include other neutrals like black, grey, brown, ivory, and white.
For shoes, you can choose sandals in the summer or sneakers for a casual look. Or, opt for heeled sandals or pumps for a night out. In the cooler seasons try combat boots or ankle booties.
get the look:

What To Wear With a White Skirt
When it comes to styling a white skirt, the options are endless. Below we will focus on white denim skirts, but you can interchange a jean skirt with most other white skirt styles as well with these looks.
For an elevated, classy look we recommend you wear neutrals more often than bright, bold colors. Neutrals are truly timeless and will keep your white denim skirt outfit looking polished and complete.
White Denim Skirt Outfit Ideas
The white jean skirt outfit ideas below are some of our favorites from the top fashion influencers and bloggers. Recreate the outfit yourself by shopping the links below each look.
black leather jacket + sneakers
get the look:

This outfit is simple and stylish. A black leather jacket is a great contrasting item for a white jean skirt and the sneakers keep the overall look casual.
Elevate the outfit with designer items like those worn above, or re-create the same outfit with more budget-friendly options that have the same vibe. A black faux leather jacket works just as well and won't cost you hundreds of dollars.
white denim skirt winter outfit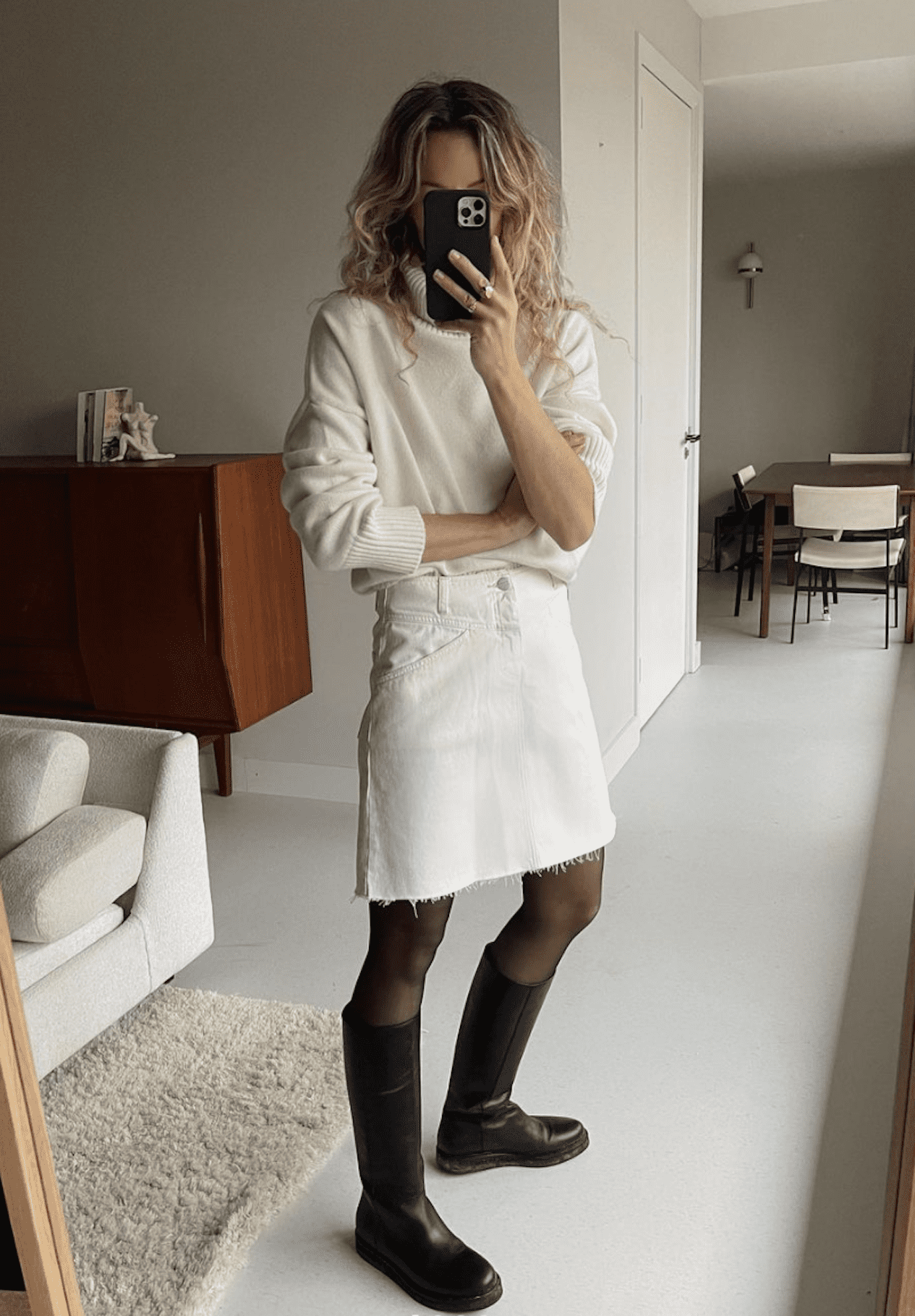 get the look:

This is a perfect white jean skirt outfit for fall or winter months when the weather is chilly. Throw a pair of thick tights on under your skirt and go for a warm boot that hits mid-calf.
Add a warm knit turtleneck sweater in ivory or another neutral tone, and finish the outfit with a leather tote bag. If it's quite cold you can also wear a long wool coat in camel or charcoal color.
white shirt and denim skirt outfit
get the look:

For a monochromatic take on a white jean skirt outfit, go with a crisp white cotton button-up shirt. Leave the shirt unbuttoned at the top and roll up the sleeves for an edgy appeal.
Go for a pair of heeled sandals or keep it classic with neutral leather loafers. This outfit is chic, polished, and timeless.
flats and a blazer
get the look:

From business meetings to brunch with friends, this outfit is effortless and versatile. The gingham check blazer adds a formal touch to the look as denim skirts are often seen as being overly casual.
We also love the buttons on the skirt to add that extra detail. The pointed leather flats are perfect for running errands while still looking sophisticated.
Can you wear a denim skirt with sneakers?
Yes! Sneakers are a great match for a denim mini skirt when going for a comfortable, cute, and casual look. Opt for simple white sneakers to complement a white jean skirt. Or, go with a pair of black sneakers with a black leather jacket for an edgy look.
try these pieces:

White sneakers pop and pair great with a crisp white mini skirt for a summer-friendly look. A blue denim jacket will keep the outfit casual while adding an extra layer of warmth for the evening.
Go with a black t-shirt too add some contrast to the outfit, and finish with black designer sunglasses and a leather tote bag.
fall white jean skirt outfit
get the look:

In the fall, wear a white jean skirt with a cozy knit camel sweater to bring in those autumn vibes. Add a pair of black combat boots and put on tights if the temperatures are cooler.
This look is chic, polished, and proved that you can absolutely wear white after Labor Day!
chunky cardigan and kitten heels
get the look:

Elevate a white denim skirt with a chunky cropped cardigan in an ivory tone and a pair of low-heeled sandals. This chic combination is stylish and unexpected but totally works.
For spring or summer, this white jean skirt outfit can easily take you from day to night.
How do you style a MIDI white denim skirt?
Denim midi skirts are definitely having a moment as we've recently seen them worn by celebrities and fashion influencers alike. While a denim midi skirt has a traditional appeal, styling it with edgy pieces can give the skirt a fresh look.
Try a black leather jacket, heeled sandals, and a black tank bodysuit. Or, go with square-toe ankle boots and a chunky knit sweater.
The three outfits below styled by fashion influencer @lydiajanetomlinson shows just how chic a white denim midi skirt can look.
get the outfit details here
graphic t-shirt and sneakers
get the look:

The perfect white denim skirt outfit summer edition! Wear a white denim mini skirt with some canvas sneakers, a graphic t-shirt, and belt bag or bumbag for a day of exploring or heading to a festival.
We love the cute and flirty look above for a fun weekend. But, if you want a more conservative take on this outfit, simply switch the mini skirt for a white denim midi skirt and you'll be good to go!
A Refreshing Take on the White Denim Skirt
So, there you have it! A great selection of trendy, chic, and fun white jean skirt outfit ideas to try this year. If you were on the fence about pulling out your white denim skirt, we hope we've convinced you to just go for it!
Remember, for a timeless look, a white jean skirt is best paired with neutrals and subtle pops of color. Keep the accessories simple and let the jean skirt be the star of your ensemble.
Be sure to check out our other style guides below and pin your favorite looks from the post!
More Outfit Guides You'll Love:
12+ Elevated White Skirt Outfit Ideas: A Fresh Take On This Classic
17+ Chic Long Denim Skirt Outfits Making Us Love This Trend
How To Style A Baseball Jersey: 8 Chic & Stylish Looks
Boyfriend Jeans vs. Mom Jeans: The Difference + How To Wear Them Both
Capsule Summer Wardrobe: Checklist + What To Wear
11+ *Modern* Ways To Style A Jean Jacket With Black Dress
The Best Shoes To Wear With A White Dress + Chic Looks To Steal
Christal Sczebel is an entrepreneur, published author, and content creator. Over the past decade she has worked in the digital media field building successful websites for both food and fashion. She has a natural affinity for minimal, timeless fashion, neutral home decor, and styling.
Here on Style Your Occasion, Christal is the Editor-in-chief and brain behind the aesthetic. She hopes you love the this space and the inspiration you'll find!