Wondering how to wear a jean jacket with black dress? Get 11+ chic and minimal outfit ideas that can take you from day to night!
*this post contains affiliate links*
(images: @lucywilliams02, @eliffilyostezer, @sincerelyjules)
How To Style A Jean Jacket With Black Dress
In the past few years, we've seen the classic combo of a jean jacket with black dress a ton. The look is so easy to pull together and both pieces are wardrobe staples that can be worn again and again.
But, if you are wondering how to rock the look in 2022, we've got some perfect outfit combinations for you to try. And, we'll also show you how to change up this classic combination for a more unexpected (but still super chic) ensemble.
Does a denim jacket go with black?
Yes, absolutely! A denim jacket is a perfect choice for pairing with black clothing. Because black is a super versatile neutral tone, you can wear a denim jacket of any color with it.
Try a vintage-wash light blue denim jacket or a dark wash denim jacket. Or, go with a crisp white denim jacket for contrast. You can even go with a black denim jacket while wearing black clothing for an edgy monochromatic look.
shop jean jackets:

Can you wear a denim jacket with a dress?
Yes, it just depends on the style of dress. Even though denim jackets are considered casual, they can still look fantastic with a dress when done the right way. For example, you wouldn't pair an evening gown with a denim jacket. But, an everyday dress or even a slightly formal dress, like a slip dress, can look really chic with a jean jacket.
How do you pair a jean jacket with a dress?
When wearing a jean jacket with a dress you want to follow a few guidelines to help you achieve the right look:
Choose a blue, white, or black jean jacket in a classic or oversized fit.
Pair it with a casual or semi-formal style of dress like a midi-length shirt-dress, body-con dress, mini tank dress, neutral slip dress, or a skater dress.
Choose casual or semi-formal shoes like sandals, sneakers, or combat boots to keep the look laid-back. Or, try heeled ankle boots or pumps to dress up the outfit for a night out.
shop black dresses:

11 Jean Jacket With Black Dress Outfits
Below are our favorite, minimal and stylish looks that combine a jean jacket with black dress in all the right ways!
long black dress with jean jacket + white sneakers.
get the look:

For this outfit, wear a maxi long-sleeve body-con black dress with a light-wash jean jacket. Keep the black dress and denim jacket looking laid-back with a bright pair of casual sneakers.
Add a stylish bag to elevate the look, as well as the sunglasses for that extra touch of cool. This easy outfit is simple to pull off (any neutral purse will do!), and can be worn for all kinds of daily activities.
the black denim jacket.
get the look:

Seriously chic! This is the perfect way to style a mini black tank dress with an oversized denim jacket in faded black for an edgy monochromatic look.
We love the black boots that dress up the outfit but still keep that edgy appeal. You could easily add some dainty gold jewelry and a stylish crossbody purse to complete the look for a night out with the girls.
casual and comfortable.
get the look:

A perfect summer look for women, we love this combination with neutral woven accessories and a denim chore jacket over a black button-front dress.
This outfit is perfect for brunch with friends, running errands, and heading out on a daytime date. Switch from day to evening by swapping the flats for heeled nude sandals.
the white denim jacket and a pop of color.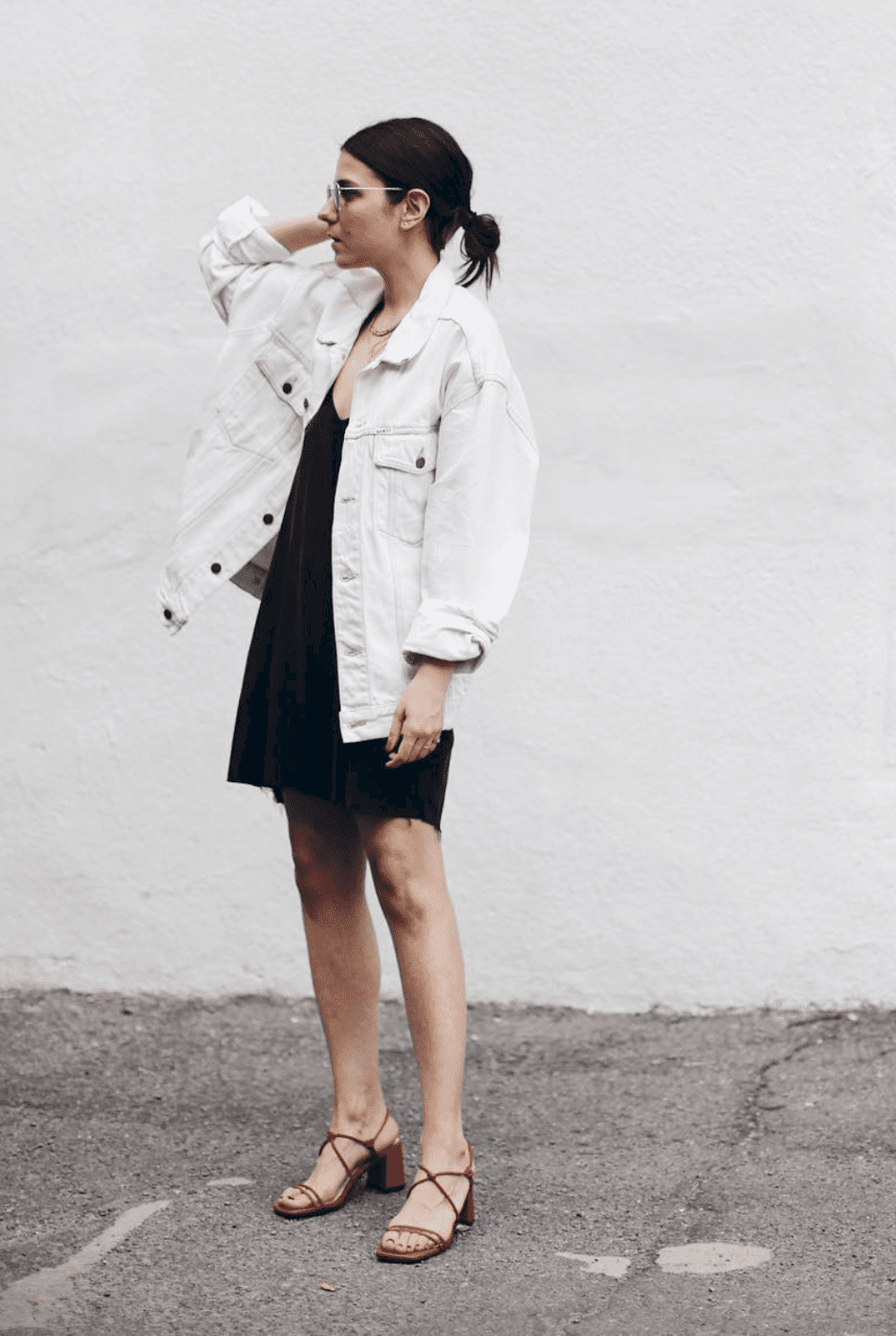 get the look:

When creating denim jacket outfits you don't have to always stick with blue denim! This outfit shows just how chic and flirty an oversized white jean jacket can look with a black mini slip dress.
The red-heeled sandals add that perfect pop of color and are an unexpected addition to the neutral outfit. This outfit can easily work both day and night.
layered with a sweater.
get the look:

Cute and classic. This outfit is casual and laid-back but totally eye-catching. We love the simple high-neck black long dress with a classic denim jacket. And, for extra warmth, you can wrap a sweater around your shoulders.
The black high-top Chuck Taylor sneakers add an edgy appeal and a designer bag elevates the look (but you definitely don't need a designer purse to get the same vibe).
the slip dress and popped collar.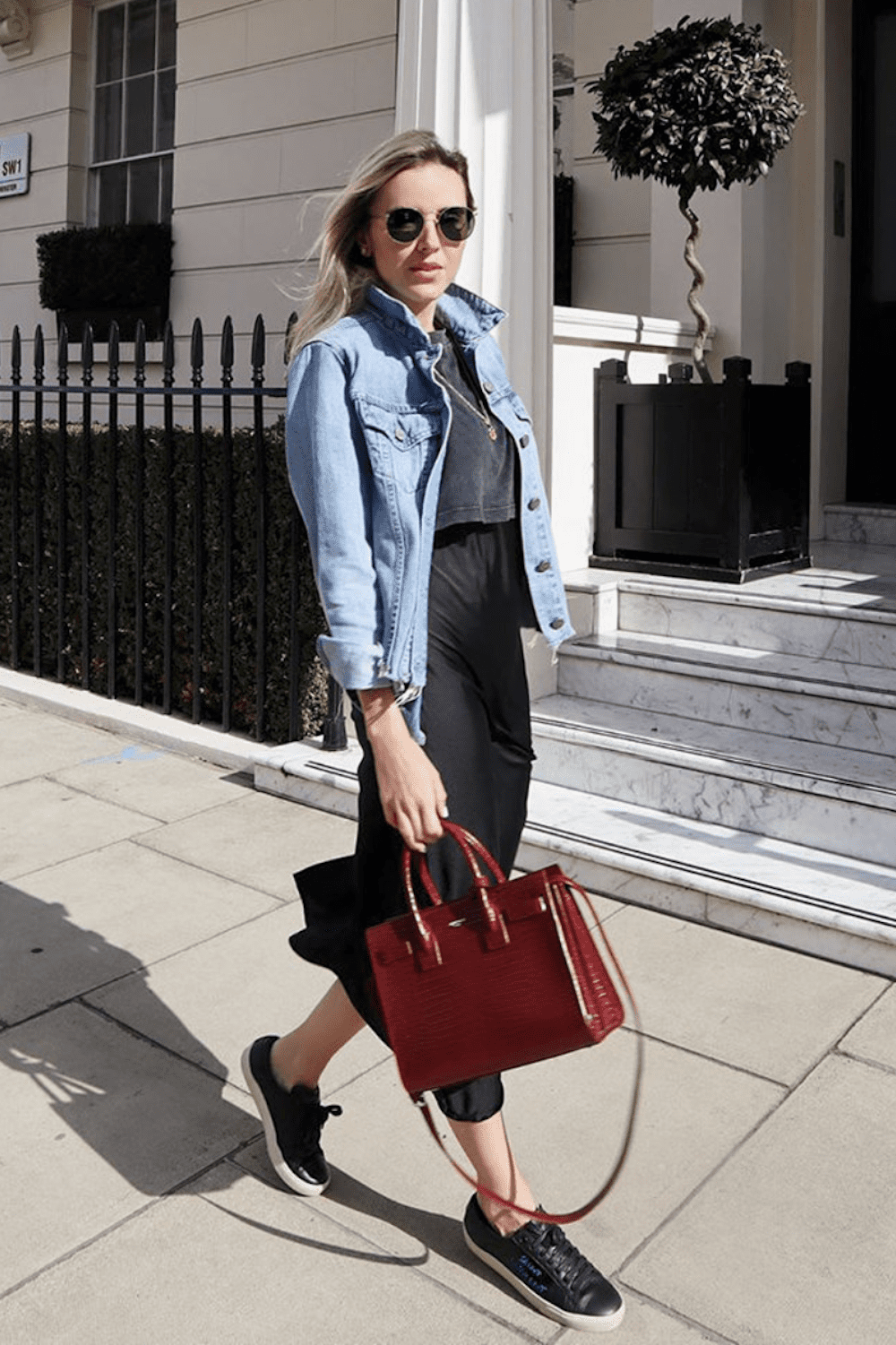 get the look:

This stylish and trendy combo shows just how cool one can look in a jean jacket with black dress. Hannah combines a simple slip dress layered with a cropped t-shirt under her light blue classic denim jacket.
Paired with designer shoes and a chic red designer bag for a pop of color, the look is edgy and fun.
dressed up for date night.
get the look:

For date night, this simple jean jacket with black dress outfit is a perfect choice. We love the classic white denim jacket over a black slip dress (she's wearing a tank and black slip skirt in the photo, but a slip dress works just as well!) paired with dainty white heeled sandals.
This outfit utilizes the "sandwich effect" with white on top and bottom, and black in the middle. This gives the outfit a balanced and sophisticated look.
jean jacket "drape" and high heels.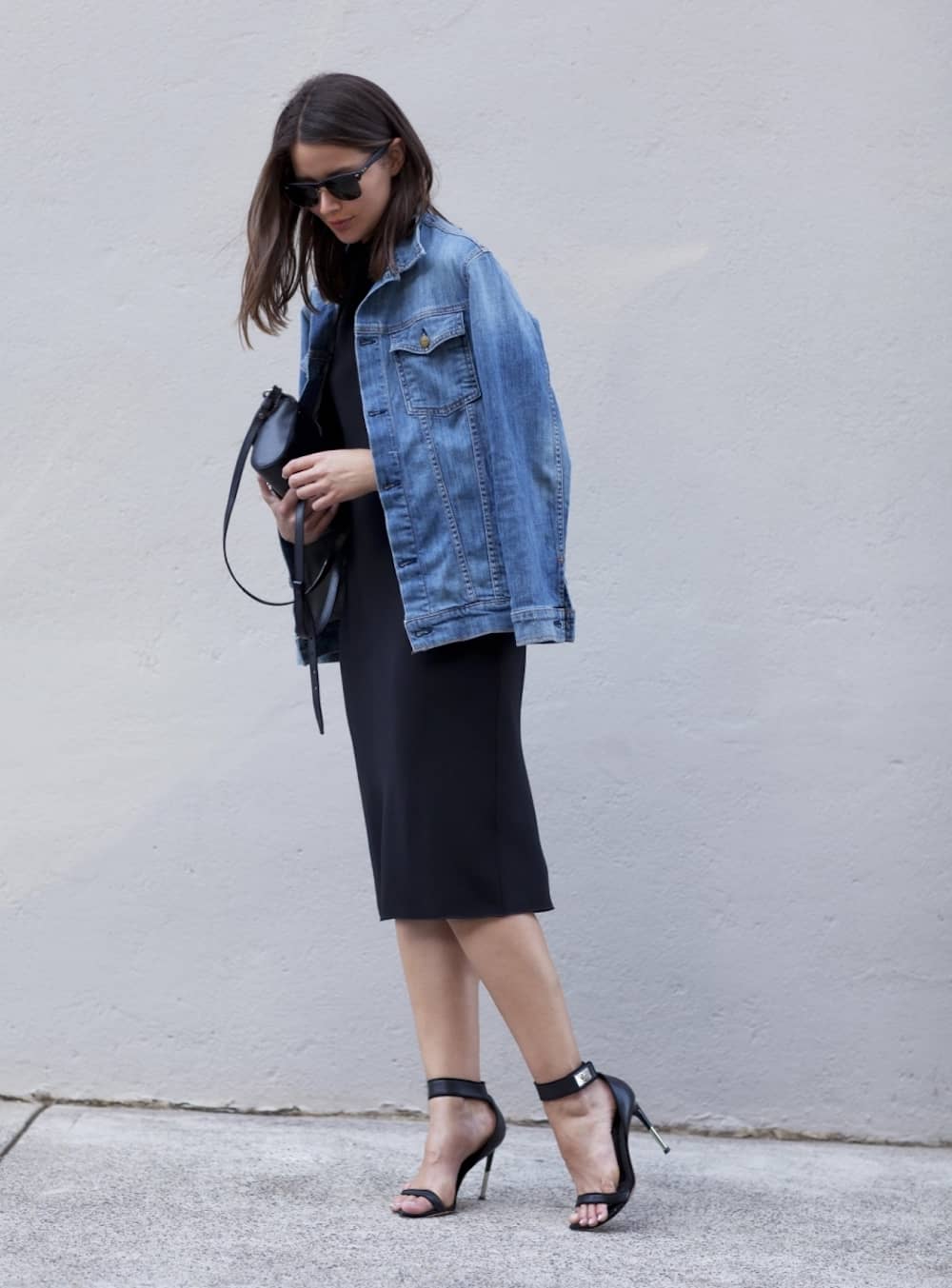 get the look:

This is a perfect example of another way to elevate a jean jacket with black dress. Drape the jean jacket over your shoulders and go with a simple black midi dress as well as a pair of chic black-heeled sandals.
This outfit is dressy enough for a casual wedding or a night out for a date or with the girls!
snake print + a flirty mini.
get the look:

Add a western vibe to your jean jacket with black dress outfit by bringing in a pair of snake print ankle booties. Or, go for a cute pair of western boots.
We love this look with a black, flirty mini dress and a simple blue denim jacket. It's fun, casual, but still cute enough for a night out on the town.
contrasting stripes + a white jean jacket.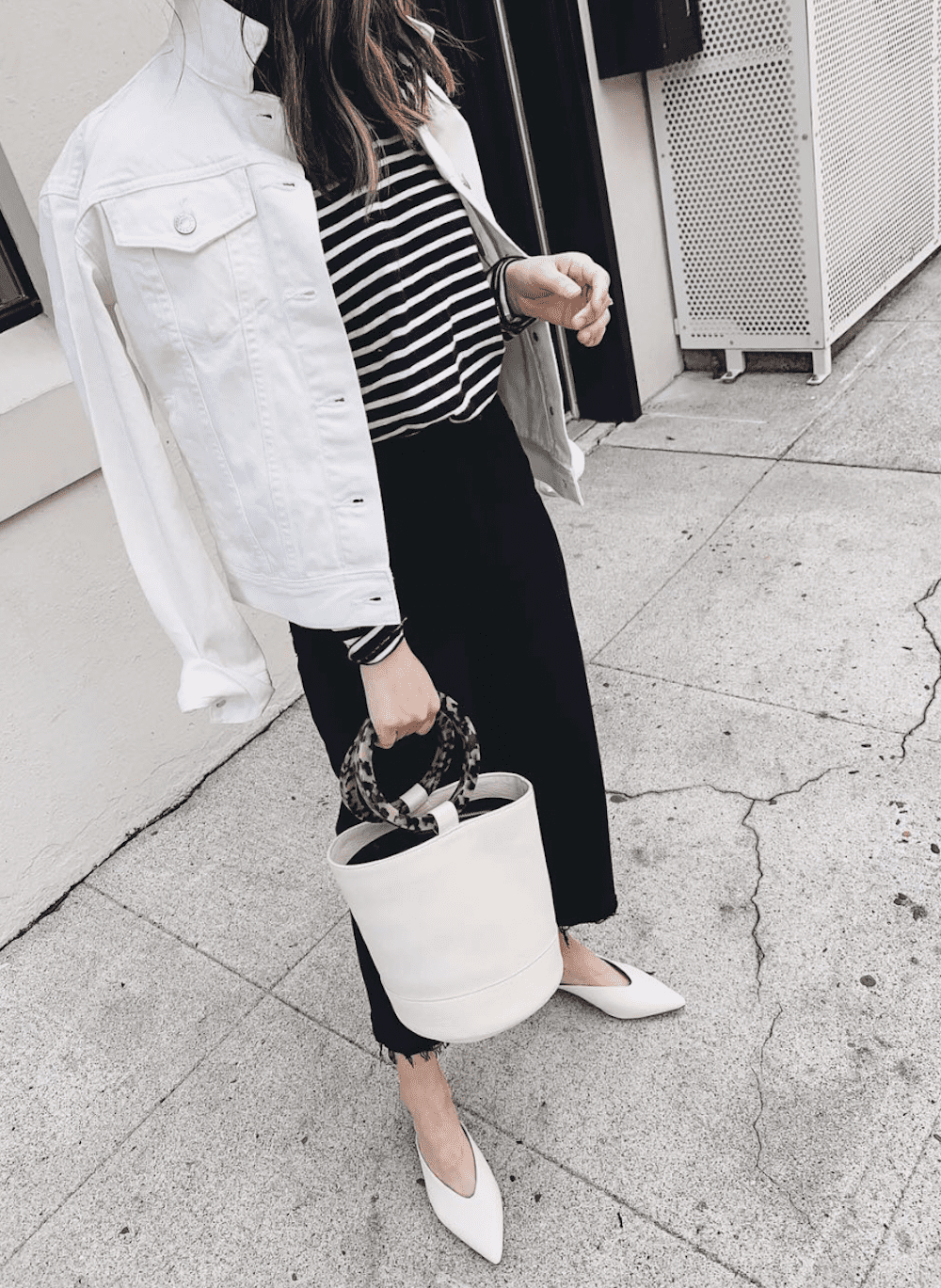 get the look:

Never be afraid to layer over a black dress to add interest to your outfit. While we are pretty sure she's wearing wide-leg pants in this photo (or a skirt), imagine the outfit with a black maxi dress, layered striped knit sweater, white jean jacket, and pointed flats.
The outfit is classy and combines neutrals perfectly for a chic day to evening look.
tied around the waist.
get the look:

When it comes to casual denim jacket outfits, this one should be a go-to. A pair of black sneakers with a simple black tank dress and a jean jacket around the waist. It's chic, laid-back, and comfortable.
Elevate the look with a designer bag and off you go to take on the day!
How To Rock a Black Dress with Jean Jacket
When it comes to styling a jean jacket with black dress the options are endless! Stick to the basic guidelines of going with a casual or semi-formal style of dress, a white, black, or classic blue jean jacket, and the right footwear to complete your look.
Pairing a black dress with a denim jacket is nothing new, but you can definitely make the combo current and on-trend with these super chic outfit ideas.
So, which will you try first?
More Denim Style Guides You'll Love:
10+ White Jean Skirt Outfit Ideas That Are Minimal + Très Chic!
15+ Pink and Black Outfit Ideas That Prove This Combo Is Still Hot
How To Wear A Sweater Over Dress: Chic Outfits + Tips To Own This Look!
Boyfriend Jeans vs. Mom Jeans: The Difference + How To Wear Them Both
10+ Best Jeans For Pear Shape Figures That Are Super Flattering!
Best Jeans For Apple Shape + Outfit Ideas You'll Love
15+ Baddie Winter Outfits for Next-Level Aesthetic When It's Cold
Christal Sczebel is an entrepreneur, published author, and content creator. Over the past decade she has worked in the digital media field building successful websites for both food and fashion. She has a natural affinity for minimal, timeless fashion, neutral home decor, and styling.
Here on Style Your Occasion, Christal is the Editor-in-chief and brain behind the aesthetic. She hopes you love the this space and the inspiration you'll find!