Looking for jeans that will work with your curves? You need to see this list of the best jeans for hourglass figure, plus four gorgeous outfit ideas to inspire you!
*this post contains affiliate links*
Originally published April 6 2022, Update June 19 2023
Finding the Best Jeans for an Hourglass Figure
Finding the perfect fit for jeans can be a difficult feat, regardless of what your body type is. If you've ever grabbed your jeans by the belt loops and performed a series of jumping squats to tug them on and get the most comfortable fit, don't feel bad – we've all been there!
The truth is our bodies are so different, so finding the perfect denim really is a matter of trial and error. Fortunately, there is a way that you can make it easier to find your perfect fit – by working with your body type! By learning about your body shape, you can find the cut and style of jeans that best flatters your shape.
There are five body types overall, but in this post, we'll focus on the hourglass shape. So if you have a curvy hourglass figure, we've found the best jeans for your body type, and we also have chic outfit ideas to help inspire your everyday outfits in 2023!
What is an hourglass body shape?
An hourglass figure is defined by:
Large waist to hip ratio, defined waistline
Hips and shoulders of equal width
Full bust and booty
You consider yourself curvy
If these characteristics sound familiar to you, you have an hourglass figure! The following tips will help you find your ideal jeans that never fail to deliver comfort and confidence.
Which type of jeans is best for hourglass figure?
The best jeans for hourglass figures have the following features:
High-waisted:

A high waistline works like a charm on hourglass figures. They accentuate the smallest area

(your waist)

and sit comfortably on your curvy hips, providing shape and definition.

A bit of stretch:

If you have voluptuous curves, denim with some stretch is definitely helpful. Unless non-stretch jeans are specifically designed for an hourglass shape in mind, the added stretch is a plus. You want your jeans to move with you, delivering a comfy fit you can wear all day.

Contoured waistband:

Jeans made with a contoured waistband are a godsend, especially for those with hourglass shapes. A contoured waistband is curved and hugs your body in all the right places, fitting your waist's natural shape for a sculpted effect. Contoured waistbands will also help you avoid that frustrating

"waist gap"

issue.
Best Jeans For Hourglass Figure 2023 List:
Below is our list of the best jeans for an hourglass figure. We've found jeans that will work with your curves for a perfect fit so that you can feel chic and confident every time!
These Curvy Kick Out Jeans by Madewell are definitely a top pick for anyone with an hourglass figure, and these jeans are designed for women with curves.
Madewell uses a narrow, contoured waistband so that you won't have any awkward gaps around your waist. And these jeans have a higher rise than other jeans to ensure plenty of coverage all around!
Here's another great pair of denim jeans for curvy gals from a favorite brand of ours – Everlane! We love the vintage style of these jeans, and the smaller waist makes this design a perfect fit for hourglass shapes.
The 90s Curvy Jeans also have the perfect waist-to-hip ratio for curves, so you can have the chic figure-hugging jeans of your dreams.
The Hustler Fray Ankle Bootcut Jeans make our list of best jeans for hourglass figures for a couple of reasons.
The slim, high-rise waist accentuates the thin waist of someone with an hourglass shape without any of the unwanted waist gap. Plus, bootcut-style jeans look amazing on those with an hourglass figure since it helps to balance out your curvy shape.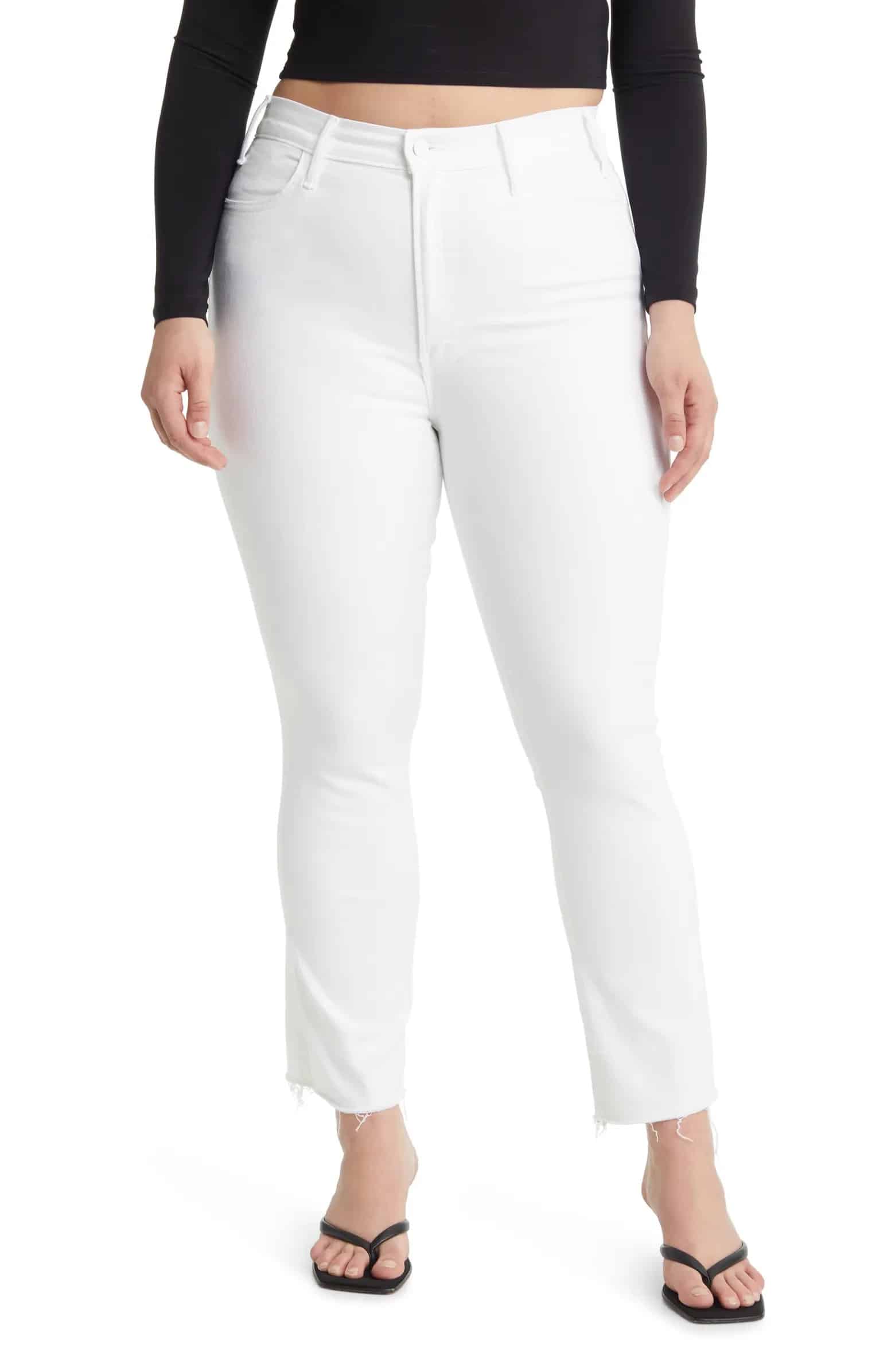 Like the Hustler Bootcut Jeans, the Hustler High Waist Fray Hem Jeans from Mother have a sleek, high-rise design that highlights your hourglass figure. And these jeans are made from a stretchy material that's perfect to fit around your curves while still being comfortable.
90s-style jeans are definitely on-trend in 2023, so this pair from Abercrombie are perfect if you want a fashionable pair of jeans that also works with your curves. And we love that these jeans have been thoughtfully designed with a high-rise and stretchy design so that they sit perfectly at your waist with no gap and still hug your hips the way you want them to!
Abercrombie earns a second spot on our list of best jeans for an hourglass figure with these slim-cut high-rise jeans. These highly-rated jeans have a built-in stretch and have been designed to fit both your waist and hips perfectly!
Flannels: SALE: UP TO 70% OFF +10,000 LINES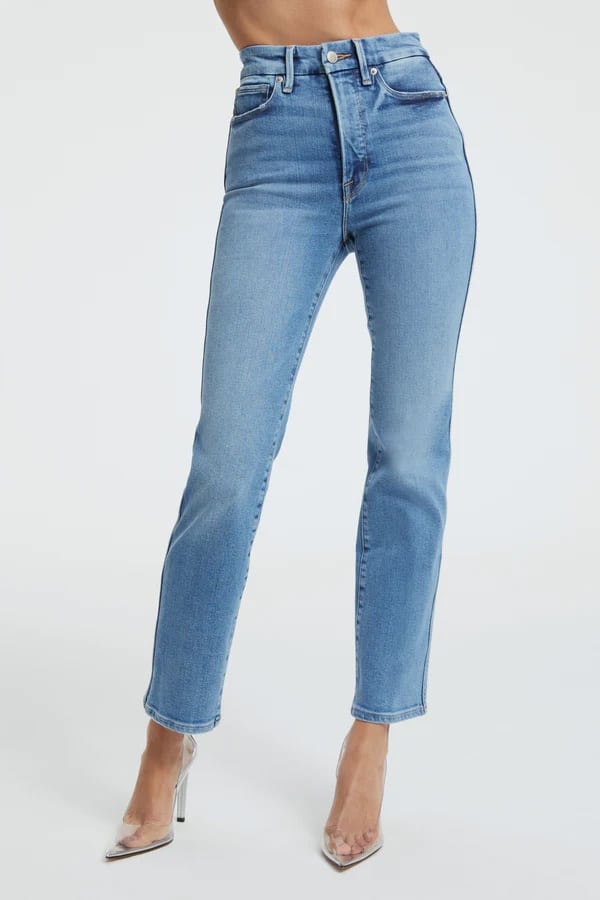 Good Curve Compression Jeans from Good American are another fantastic pick for anyone with an hourglass shape.
This brand is well-known for designing jeans made to fit real bodies, and these jeans feature a high-rise and contoured seam that not only fits your curves but also enhances them. The compression denim also keeps your looking your best all day long!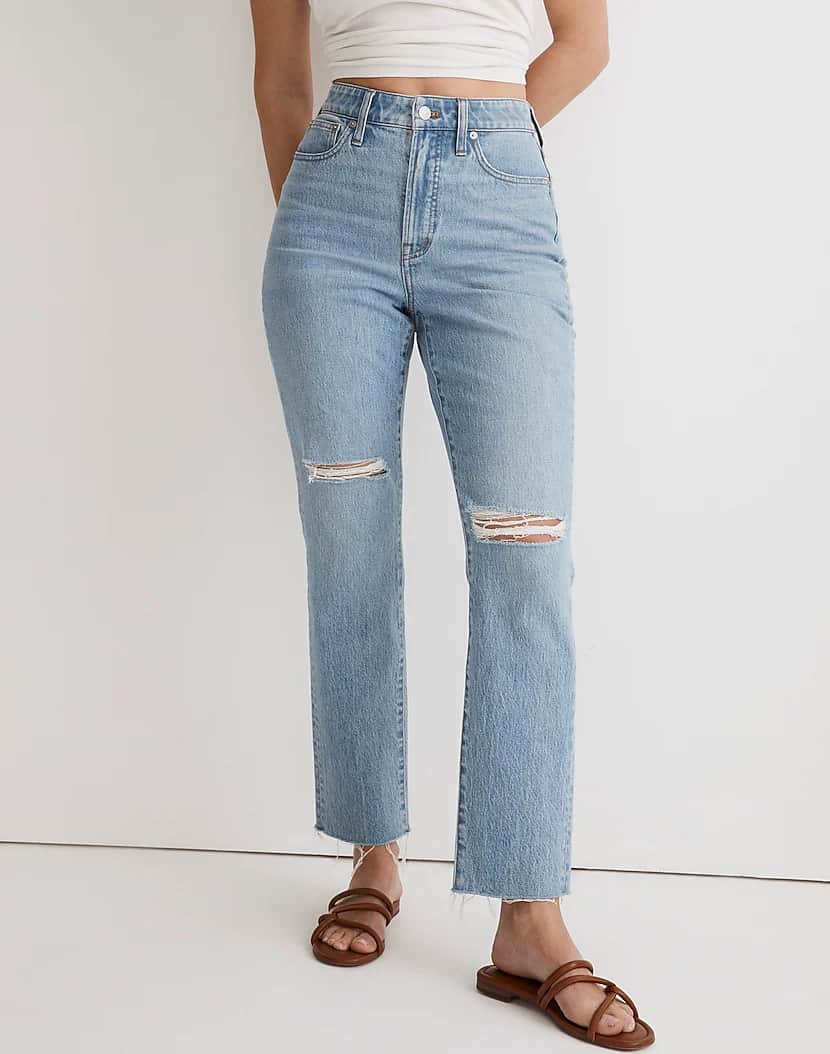 If you love a pair of jeans with edgy ripped details, the Curvy Perfect Vintage Jeans from Madewell are a must!
With a slim-fitting waist and extra room for your hips and thighs, these jeans are a dream for anyone with an hourglass shape. And if you prefer jeans in darker shades, there also have a version in a black wash that's just as amazing!
Good American has another pair of denim that's great for curves!
These jeans have an ultra high-rise and are made from stretchy material that allows the jeans to fit you perfectly without being too tight. And these jeans have the same contoured seam that accentuates your natural figure to really show off your figure!
Chic Jeans Outfits for Hourglass Figures
Now that we've covered our top jeans for hourglass shapes, we have some stylish outfit ideas for curvy gals. Pair your favorite curvy jeans with the pieces below to create gorgeous outfits that will make you look and feel your best!
1. High-Rise Jeans, Bodysuit + Trench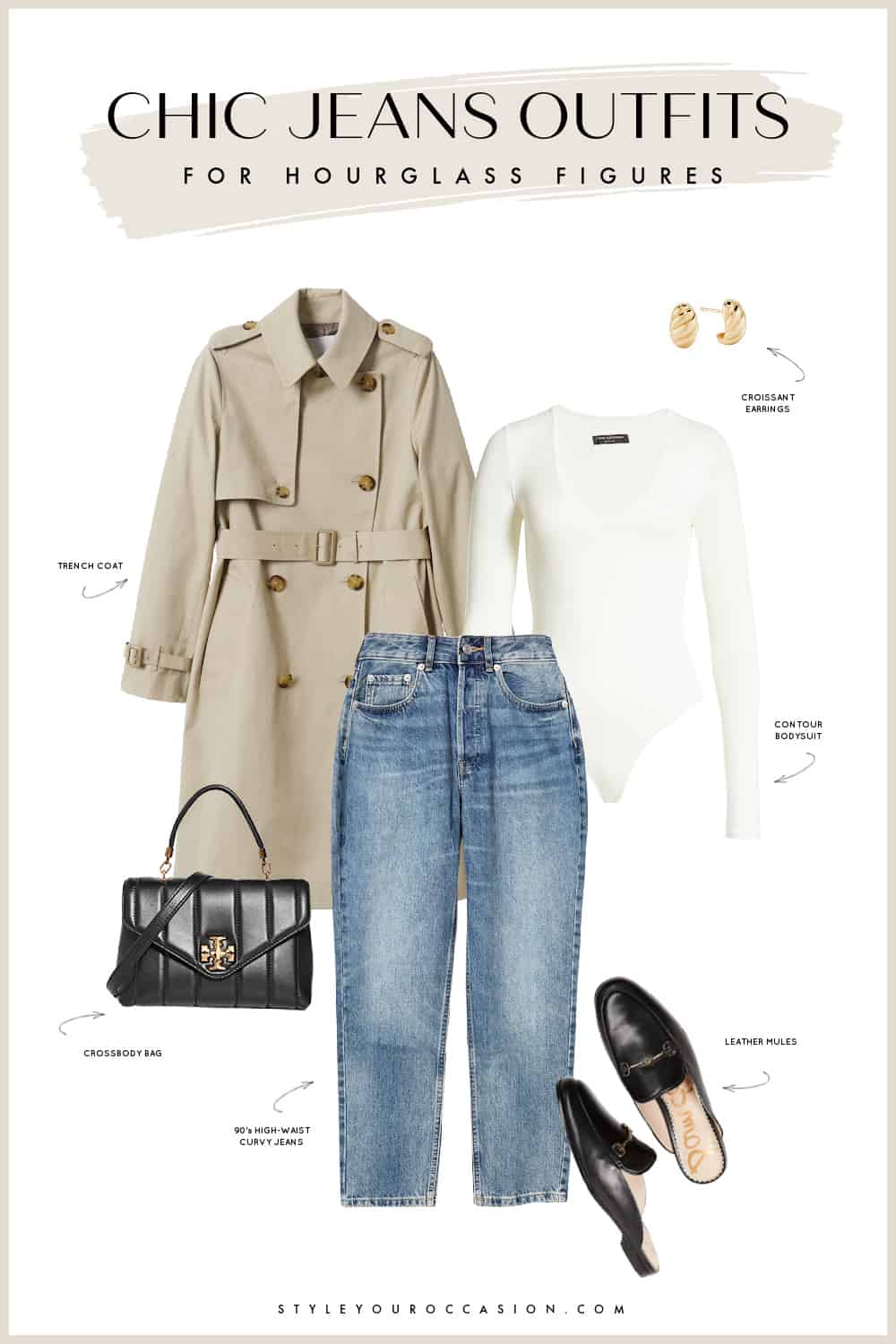 get the look:

High-waisted jeans are one of the best jeans for hourglass figures as they accentuate the waist and highlighting those curves. We love the addition of a sleek contoured body suit, and this piece will also draw attention to your gorgeous, curved waistline.
A belted trench coat adds a chic touch that elevates the outfit, while the accessories are great finishing touches.
2. Curvy Jeans w/ Cardigan + Sneakers
get the look:

If you're looking for a trendy and casual-chic outfit with curvy jeans, this look is perfect for you! A pair of stretchy and curve-enhancing jeans pairs so well with a fitted v-neck cardigan to show off your defined midsection.
Add a laid-back touch with a pair of classic Converse shoes, and don't forget to accessorize with layered pendants and a handbag for a chic look!
3. Curvy Jeans, Silk Blouse & Slingbacks
get the look:

Go for curvy jeans with a narrow waist and high-rise design to highlight your curvy hips and thighs while still fitting perfectly around the waist. Tuck in a silky v-neck blouse to accentuate your slim waist even more while adding a chic and elegant touch. Slip on a pair of loafers or heels to turn this into an effortlessly put-together outfit.
Madewell carries a huge variety of jeans in their "curvy" line you can check out here!
4. Wide-Leg Jeans w/ Blazer + Slides
get the look:

Wide-leg jeans are excellent for hourglass shapes since they balance out your curves and give an all-over chic look. We love that this leg shape adds a trendy element to the look as well!
A knit tank with a fitted blazer will emphasize your curvy silhouette, while calf hair slides or mules and simple gold accessories will instantly elevate the look.
FAQ's
We've also compiled a list of the most commonly asked questions to help you with choosing the best jeans for hourglass figures and elevate your style!
Do skinny jeans look good on hourglass figure?
Yes, they do! Skinny jeans with a high-rise waist and contoured waistband will absolutely accentuate and flatter an hourglass figure. So don't be afraid to rock your skinny jeans with confidence!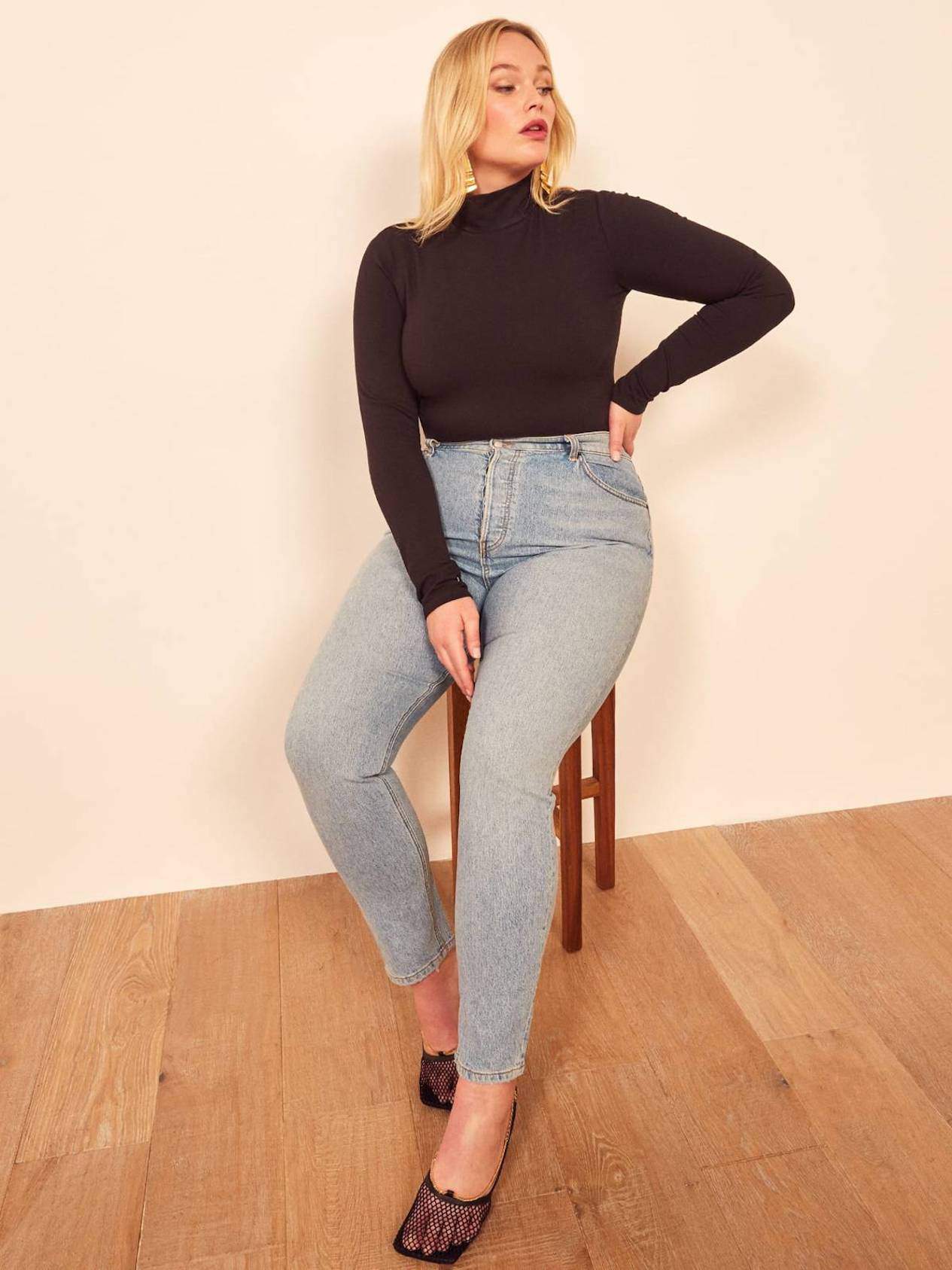 What hourglass should not wear?
There are tons of styles that look great on women with curves, but there are also some styles you want to stay away from! Those with an hourglass figure should avoid the following styles of jeans because they don't flatter an hourglass shape as much as other styles:
Low-rise jeans – these jeans will emphasize your hips instead of your waist, highlighting the widest portion of your body and creating an unflattering illusion
Rigid denim – stiff fabric is a common culprit of the dreaded waist gap where the jeans gap from your lower back, so opt for stretchy denim instead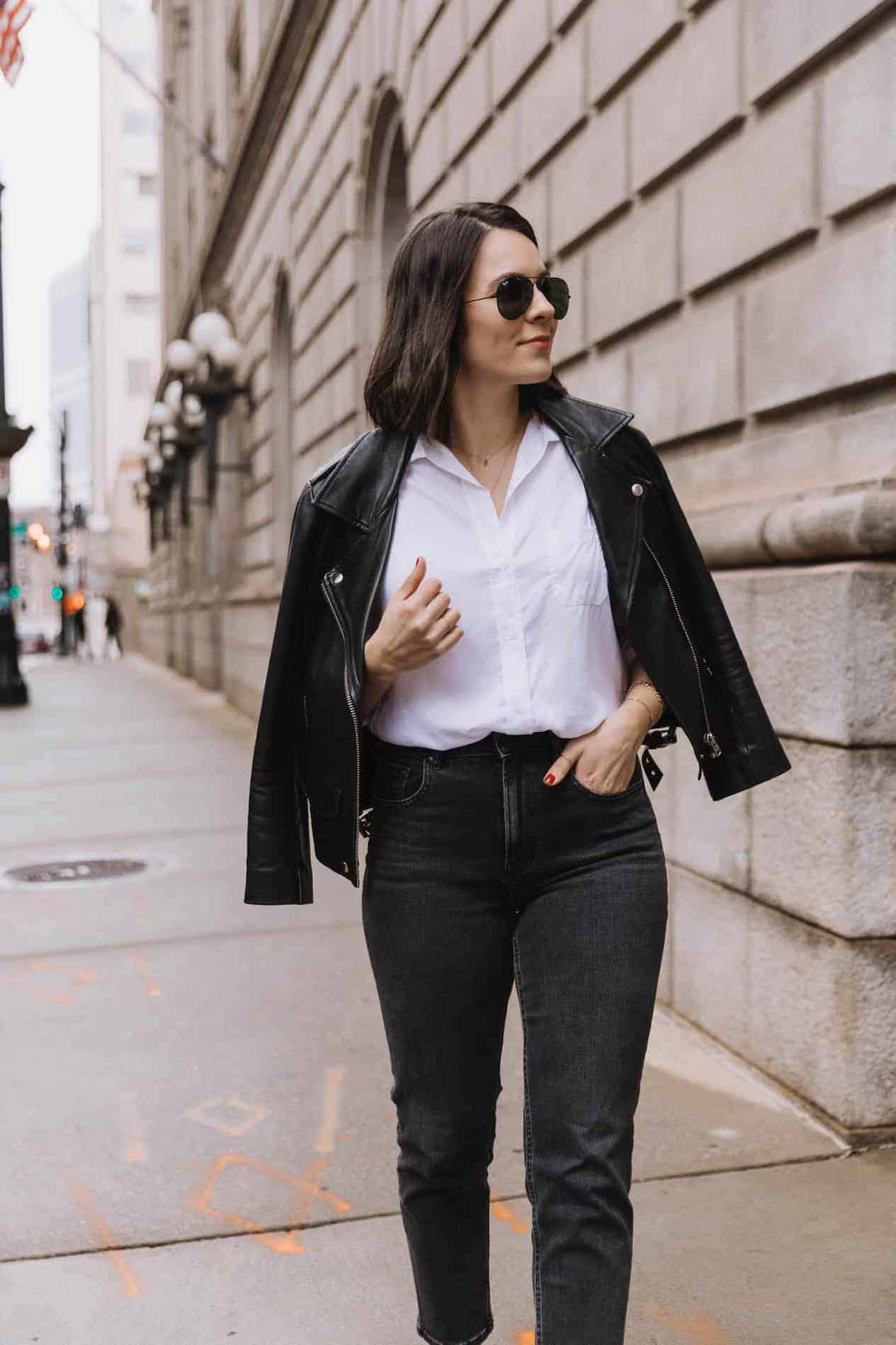 Final Notes
If you've been blessed with an hourglass body type, you shouldn't have to struggle to find the right jeans. With this style guide with the best jeans for hourglass figures, you'll be pulling on the perfect pair in no time and rocking that gorgeous curvy figure of yours!
Just remember to look for jeans that have been designed with an hourglass figure in mind, and switch up your look with different leg styles and denim washes.
Happy shopping!
Pin this:

More Style Guides You Need To Read:
Best Jeans For Pear Shape Babes
What Shoes To Wear With Straight Leg Jeans
Boyfriend Jeans vs. Mom Jeans: The Difference + How To Wear Them
Best Dresses For Broad Shoulders