Do you have a curvy body type and are on the hunt for jeans? Find the best jeans for hourglass figure and get inspired with four chic outfit ideas!

*this post contains affiliate links*
Best Jeans For Hourglass Figure
Shopping for jeans can be a difficult feat, regardless of your body type. If you've ever pulled on your jeans from the belt loops and performed a series of jumping squats to get the most comfortable fit, don't feel bad – we've all been there.
The truth is, our bodies are so different, and finding the perfect pair on the first go is nearly impossible for anyone. Fortunately, by learning about your body shape, you can find the style of jeans that flatters your shape best. Today, we're focusing on those with an hourglass figure.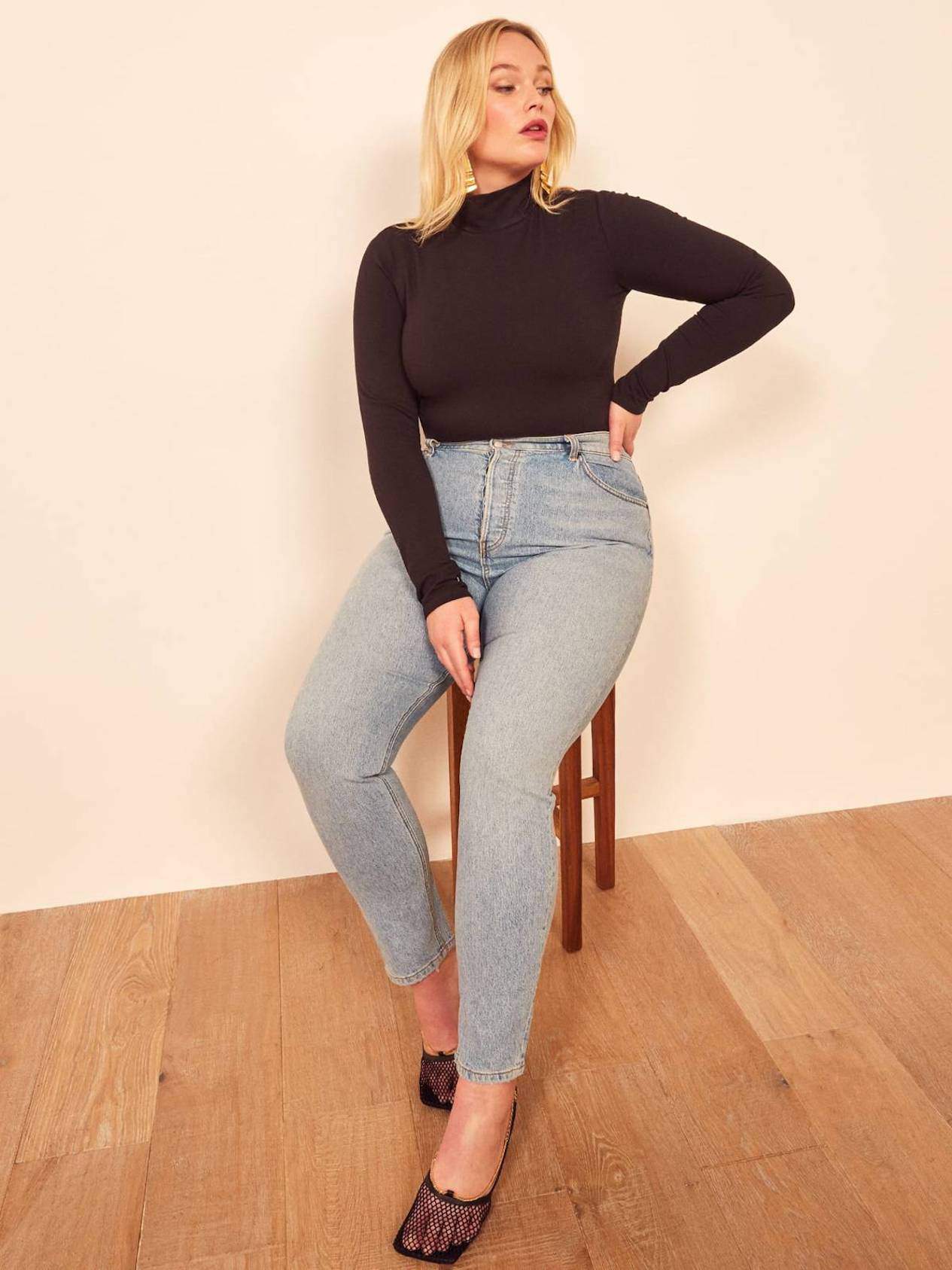 What is an hourglass body shape?
To save you the time you would otherwise waste scrolling through endless websites looking for the perfect jeans, take a moment to determine your body shape.
An hourglass figure is defined by:
Small and defined waist
Hips and shoulders of equal width
Full bust and booty
You consider yourself curvy
If these characteristics sound familiar to you, you have an hourglass figure! The following tips will help you find your ideal jeans that never fail to deliver comfort and confidence.
Which type of jeans is best for hourglass figure?
There are dozens of different jean styles, and while some may be considered more trendy than others, the ideal look is the one that makes you feel your best. The best jeans for hourglass figures feature the following:
High-waisted:

A high waistline works like a charm on hourglass figures. They accentuate the smallest area

(your waist)

and sit comfortably on your curvy hips, providing shape and definition.

A bit of stretch:

If you have voluptuous curves, denim with some stretch is definitely helpful. Unless non-stretch jeans are specifically designed for an hourglass shape in mind, the added stretch is a plus. You want your jeans to move with you, delivering a comfy fit you can wear all day.

Contoured waistband:

Jeans made with a contoured waistband are a godsend, especially for those with hourglass shapes. A contoured waistband is curved and hugs your body in all the right places, fitting your waist's natural shape for a sculpted effect. Contoured waistbands will also help you avoid that frustrating

"waist gap"

issue.

4 Chic Jeans Outfits for Hourglass Figures
Below are some of the best jeans for hourglass figures out there. You'll also find tips on how to style them to create an Instagram-worthy outfit.

Everlane The Curvy 90's Cheeky Jean
These stylish, and ethically produced jeans by Everlane are specifically designed for hourglass body types. While they are made from rigid non-stretch organic cotton, they have an adjusted hip-to-waist ratio that creates a form-hugging fit through the hips and thigh.
How to Style: Pair with a contoured long sleeve bodysuit and a belted trench coat to accentuate your gorgeous curved waistline.

Everlane Classic Curvy Cheeky Jean
If you prefer a little added stretch to your jeans, these high-rise, straight-leg jeans from Everlane are made for hourglass body types with an adjusted hip-to-waist ratio, and they have specially engineered "Happy Pockets" that give the booty a lifted look. No waist gap with these jeans!
How to Style: Wear with a fitted v-neck top or cardigan to showcase your full chest and draw attention toward your defined midsection. You can also pair these jeans with sneakers for a casual, laidback outfit.

Madewell The Curvy Perfect Vintage Jean
Madewell knows jeans and makes some of the comfiest out there! These have a tapered style engineered for those with an hourglass shape. They provide a narrower waist with a contoured waistband, and have a longer rise for a fuller booty.
How to Style: Pair these jeans with a silk blouse that has a deep neckline to enhance your bust and tuck the blouse into your jeans to accentuate your waist. Slip on a pair of loafers or heels for an effortlessly put-together outfit.
Madewell carries a huge variety of jeans in their "curvy" line you can check out here!

Joe's The Blake High Rise Wide Leg Jean
These stretchy jeans feature a cropped wide-leg shape that complements hourglass figures by reinforcing your balanced proportions. The high-rise waistband sits comfortably above your hips, while the leg shape adds a trendy element to the look.
They come in an ivory color or blue denim wash as well!
How to Style: Pair with a knit tank with a blazer that has a structured waist to reinforce your hourglass silhouette. Add calf hair slides or mules and simple gold accessories to help elevate the look.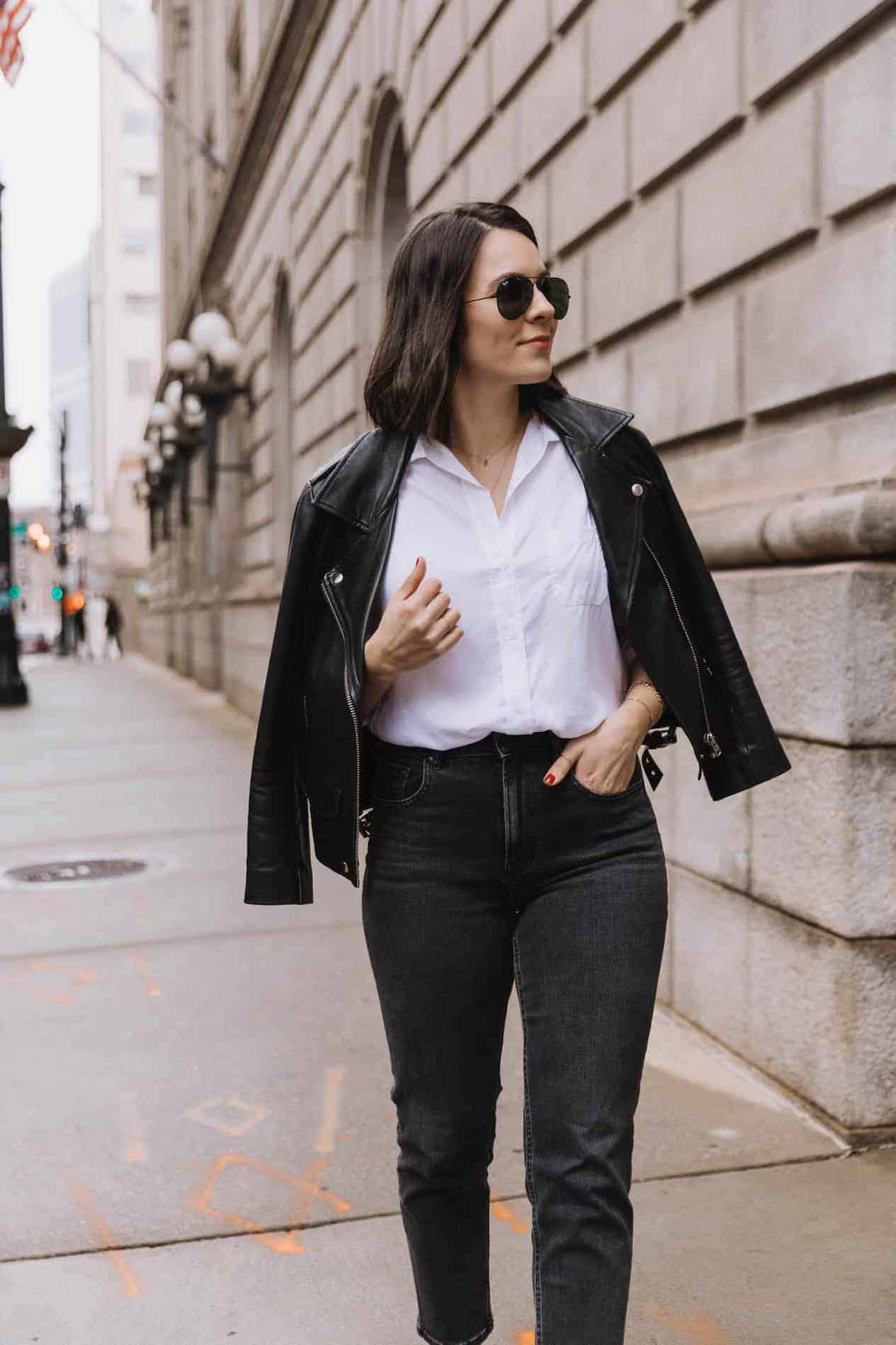 Do skinny jeans look good on hourglass figure?
While I encourage you to wear whatever style makes you feel most beautiful, this is still one of the most common questions among those with hourglass figures.
The good news is yes, they do! So if you find a pair with a high waist and a contoured waistband, feel free to rock your skinny jeans with confidence.
Try Madewell's Curvy High-Rise Skinny Jean on for size!
What hourglass should not wear?
Those with an hourglass figure should avoid low-rise jeans because they will emphasize your hips rather than your waist.
You should also avoid rigid denim that isn't specifically made for curvy figures as this could lend to the dreaded waist gap where the jeans gap from your lower back.
Final Notes
If you have been blessed with an hourglass body type you shouldn't have to struggle finding the right jeans. With these tips you'll be pulling on the perfect pair in no time and rocking that gorgeous curvy figure of yours!
Just remember to search for jeans that have been engineered with an hourglass figure in mind, and try different leg styles and denim washes for variety.
Happy shopping!
Pin Me:

More Style Guides You Need To Read:
What Shoes To Wear With Straight Leg Jeans For A Modern Look
Boyfriend Jeans vs. Mom Jeans: The Difference + How To Wear Them
Best Dresses For Broad Shoulders