Looking for the best jeans for pear-shaped body? If you are searching for style advice, this guide will help you find the best jeans for pear shape body types so you can rock that denim in 2023!
*this post contains affiliate links, updated for 2023*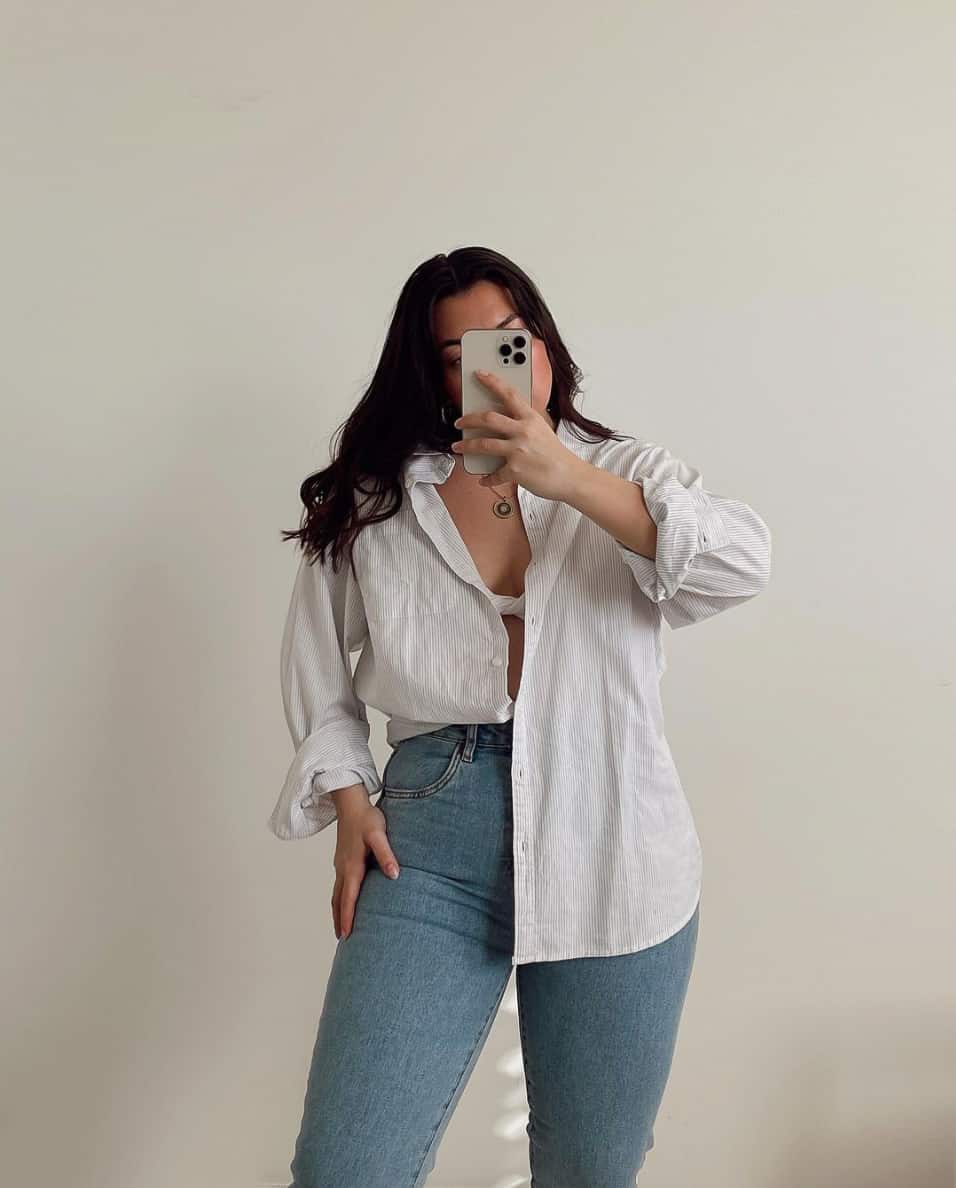 The Best Jeans for Pear Shape
Trying to find the perfect style jeans can often feel like a huge feat. It takes time, patience, and sometimes a lot of misses before you find a hit!
Our bodies are all so different so what may look great on your friend may feel totally off on your body. If you have a pear shape you are blessed with beautiful wider hips but you might feel like it's a curse when trying to find that perfect pair of jeans. Luckily, it's not – you can rock those hips, your natural curves, and jeans too!
Rest assured that your perfect, flattering pair of jeans is out there. And, rather than leaving you in the dust to find them on your own, we are making this process a whole lot easier for you as we've gathered 10+ pairs of the best rated jeans for a pear shape body.
What is a pear shaped body?
This body type is defined by a figure the following features:
Hips are the widest part of the body
Bust and shoulders (upper body) are smaller than hip width
Smaller bust and narrow shoulders
Waistline is more narrow than hips
May have wider, sturdier thighs and legs (but not always!)
If these characteristics sound familiar to you, you likely have a pear shape body. While you may not feel that thrilled about it, curves are to be celebrated and embraced and we are certain you can feel amazing in any one of the jeans listed below!
You can also check out this capsule wardrobe for a pear shaped body to help you curate a perfect closet for your curves.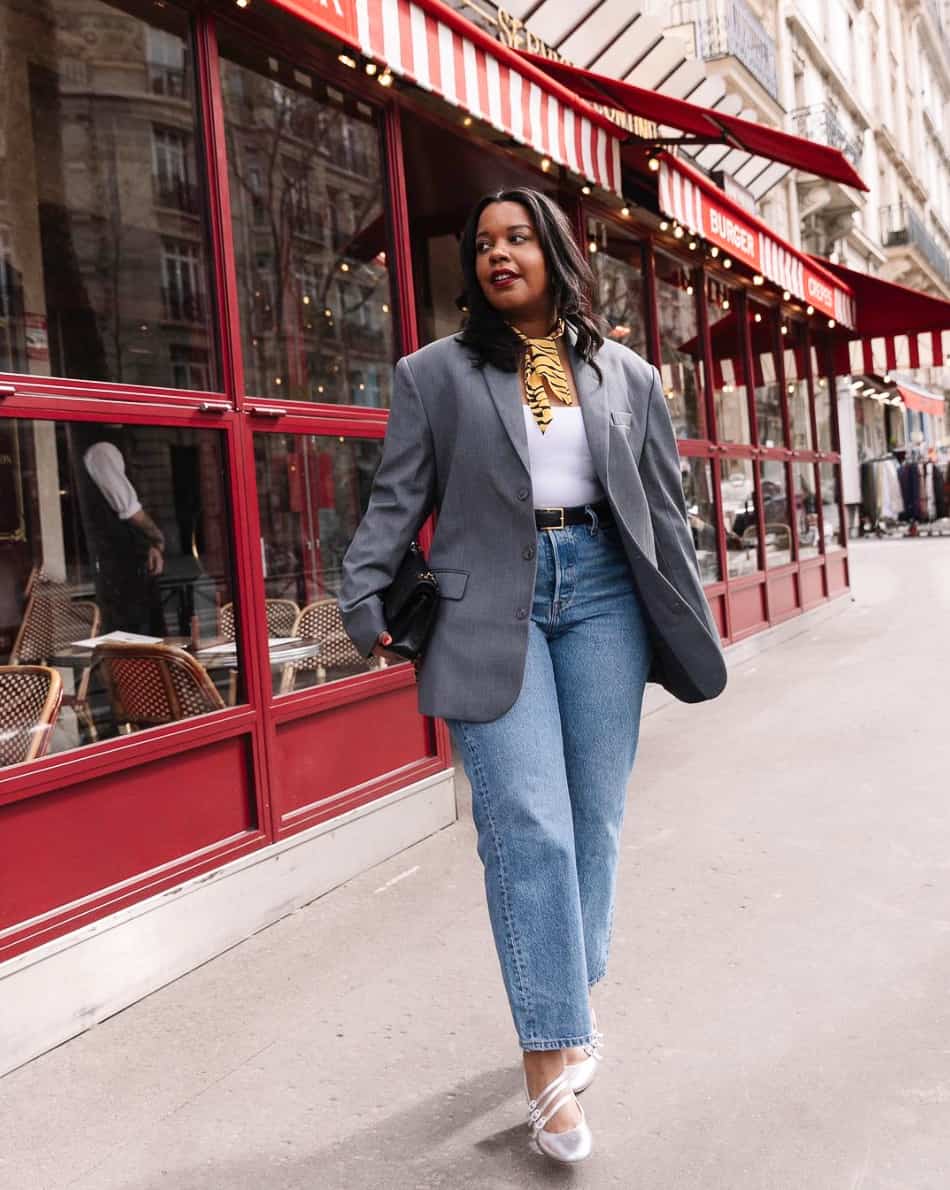 What jeans are best for pear shapes?
When it comes to a pear shape figure we highly recommend going for a high rise "curvy" fit of jeans offered by many different brands. These are specially formulated for women with a smaller waist-to-hip ratio and often have a contoured waistband to prevent gapping at the waist.
You can opt for straight leg, wide leg, flare, bootcut, or go with a boyfriend jean or mom jean style. Let's look at our favorite pairs for 2023!
shop here:

We just love Madewell jeans because they consider women of all body types! The Madewell "curvy" line is engineered to hug all curves and the contoured waistband prevents any gapping at the back of the waist.
This particular jean comes in a beautiful medium wash that is super versatile and the straight leg balances out the width of the hips.
shop here:

Another style of the "curvy" jeans from Madewell, this stovepipe pair is a must-try! We love the slight worn, vintage look and high rise waist.
The material is 95% cotton with a high stretch and the jeans hug the body in all the right ways. They also have "magic pockets" for a rounder booty plus extra room in the hips and thighs. And, the straight leg shape will help balance out the width of the hips.
Pair these with a simple white t-shirt, dainty jewelry, and a pair of sneakers and you'll be good to go!
shop here:

Another great aspect of the Madewell brand is that they are very inclusive when it comes to sizing. These perfect vintage jeans come in plus size for women with a plus size pear shape figure and they look oh-so-flattering!
They have the contoured waistband, and are made with a premium denim that combines structure and stretch for superior comfort. The dark worn-black Lunar wash is also naturally slimming and flattering for all body shapes and sizes.
Do straight leg jeans suit pear shapes?
Yes! The great thing about a straight leg is that it brings balance to the wider hips on a pear shape figure. Rather than tapering at the leg and drawing more attention to the hips, the straight leg has a wider opening at the bottom and brings more symmetry to the whole body.
shop here:

Dark washes are incredibly flattering on pear shapes. This dark wash denim has the ability to diffuse the size of the hips just enough. And, the black is a super versatile color making it easy to pair with plenty of outfits.
These kick crop jeans from Madewell are made for women with a bigger bum and the slightly flared crop leg adds balance to wider hips. Throw on a crisp white button up shirt and a pair of sandals for a minimal and classy look that's sure to turn heads.
shop here:

Everlane is another brand that knows what's up when it comes to curvy figures and "hippy" women. These "curvy" jeans are specifically designed for pear shapes with an adjusted hip-to-waist ratio. This creates a gorgeous form-hugging fit through the hip and thigh with no waist gapping!
The 90's cheeky jean comes in several different washes including black, light blue, medium blue, and dark wash.
shop here:

Another winner from Everlane, if you love a wide leg denim, these stylish and flattering jeans are worth a try. Designed with a specifically engineered curvy fit for wider hips, these jeans run straight all the way down from the thighs for a modern, clean look.
They are made with premium organic cotton with a touch of stretch for comfort and ease. You'll want to wear these again and again.
shop here:

Another great style of jeans for pear shapes is a bootcut or flare as the widening around the bottom of the legs helps to create symmetry with the hips.
Mother makes incredible jeans and the Hustler style is great for pear shape body types. With the boot cut style leg and soft stretch denim, these jeans will all your curves perfectly!
This style is available in all kinds of washes so you can go with light, medium, dark, or a cute color.
shop here:

This Good Curve denim from Good American is designed to enhance and hug curvy bodies for a perfectly flattering fit. With a high rise waist and straight leg, the jeans accentuate your smaller waist while drawing attention down past the hips to lengthen the legs.
We also love the split hem detail to add interest and create a slight boot cut at the bottom. The stretchy material still maintains comfort and is another reason these jeans made our best jeans for pear shape list!
shop here:

Another pair of bootcut jeans perfection, these crop step-hem jeans from Mother have a high waist, comfort stretch (but still a lot of structure to hold you in), and a subtle flare at the leg.
The dark wash is flattering, versatile, and current, making these jeans perfect for virtually any casual outfit. Brunch, lunch, errands, date night – you can style them every which way.
A staple for the closet of all pear shaped women in our opinion!
shop here:

Abercrombie is another brand that has a whole line of "curvy" jeans made for women with pear shapes or hourglass figures. These high-rise ankle cut jeans feature an additional 2″ through the hip and thigh to help eliminate the dreaded waist-gap that pear shaped women often deal with.
With an elevated, vintage vibe from top to bottom, the jeans are cropped to show a little ankle and come in this pretty white wash as well as a variety of denim washes you'll love.
shop here:

The last on our list of best jeans for pear shapes is another pair from Abercrombie. We love the unique cross zipper detail at the top which gives the waist a cinched look and accentuates the hips without over-emphasizing them.
The jeans are also made with the "curve love" design which features the extra room in the hip and thigh and are made with a gentle stretch for structure, support, and comfort.
FAQ's:
Now that you've reviewed our list of best rated jeans for pear shapes, below are a few more tips and answers to FAQ's when it comes to finding the best pair of jeans for your curvaceous figure.
Are mom jeans good for pear shaped?
Yes! Mom jeans can work wonderfully on a pear shaped body if they have a small amount of stretch. The beauty of mom jeans is that they have a high waist which helps hug your curves. And, while the leg on mom jeans does taper, they do not have a super skinny fit which isn't the most flattering on pear shapes.
As long as the mom jeans you buy have some stretch and aren't made from completely rigid denim (which can cause waist gapping) they are a great option to try. Check out these Curve Love Mom Jeans from Abercrombie!
Are boyfriend jeans good for pear shaped?
Boyfriend jeans can be worn on a pear shape but they aren't the most flattering. Because bigger hips are the hallmark of a pear shape body type, the slouchy nature of boyfriend jeans can give the illusion of an even bigger lower body — from the hips down all the way to the ankles.
We think it's best to choose cuts and styles of jeans that have some structure and hug the hips thighs to accentuate your curves.
What pear shapes should not wear?
Women with a pear shape figure should avoid the following:
Super skinny jeans, as they they will bring even more emphasis to the hip area rather than balance to your overall look.
Low-rise jeans, as they also have the tendency to emphasize your hips even more rather than bring attention to your smaller waist.
Rigid denim, as they often lend to the dreaded waist gap where the jeans create a gap in the lower back area.
Best Denim Washes for Pear Shapes
Just as there are many jeans styles, there are also denim washes to consider when searching for the best jeans for a pear shaped body.
For those with a pear-shaped figure, often a dark or medium wash denim is the best option. A darker or medium wash will narrow your hips and waist while accentuating your legs to create a slimming effect versus a very light denim wash which can do the opposite.
The exception here is a white or ivory wash. As long as you opt for a sturdier cotton material, with minimal stretch, this wash can look super classy with a pear shape.
Whichever style you decide to go with, make sure you feel comfortable in the jeans you choose. Ultimately, if they aren't comfortable, you aren't going to reach for your jeans very often.
Happy shopping!
More Style Guides You'll Love:
Best Jeans For Apple Shape + Outfit Ideas You'll Love
What Shoes To Wear With Straight Leg Jeans For A Chic + Modern Look
Best Jeans for Hourglass Figure
Boyfriend Jeans vs. Mom Jeans: The Difference + How To Wear Them Both
11+ *Modern* Ways To Style A Jean Jacket With Black Dress