If you're looking for a chic and modern nail designs with lines to try, you need to see our list of 23+ line nail designs. There's colorful line nail art and nude nails with white lines that will elevate your everyday looks!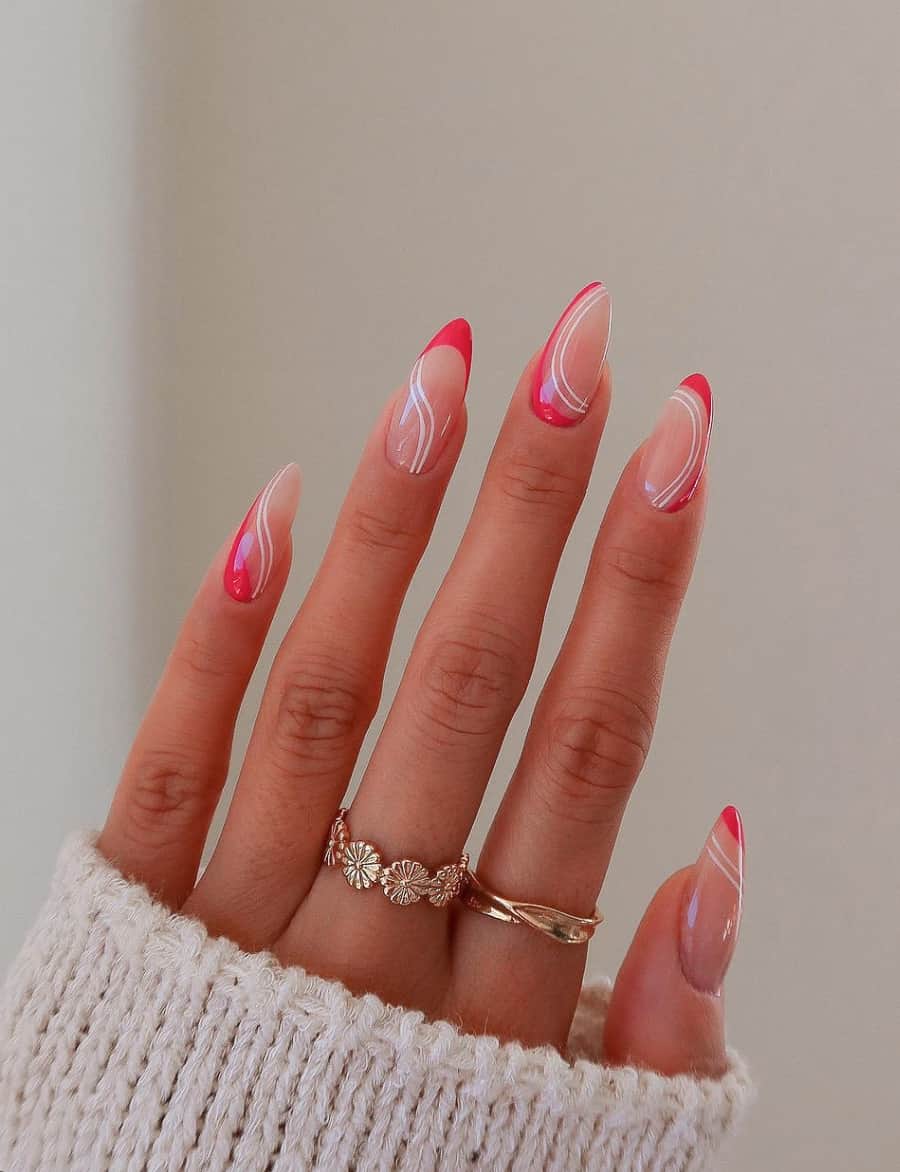 Chic Nail Designs With Lines
Line art has become one of the most popular nail trends over the last few years, and we are here for it! These gorgeous accents add a chic and modern feel to a manicure and easily elevate a classic or simple nail design.
We love that these line accents will work on any manicure. You can add them to gel nails, acrylics, or natural nails, and they look amazing in both neutral tones and colorful shades.
So, if you've been looking for a stylish new mani, we have so many stunning nail designs with lines below that you'll definitely want to try!
23+ Line Nail Designs To Copy
We have some of our favorite nail designs with lines below, and we're sure these gorgeous looks will inspire your next manicure!
Black French Tip Outlines on Nude Nails
We're starting our list of nail designs with lines with this classy manicure! French tip outlines are an easy way to add line details to your nails while having a timeless and refined design.
Stick with black for a chic neutral look, or go bold with red, green, or blue nail polish instead!
Milky White Nails w/ Black French Tips + Line Accents
This stunning design has a polished aesthetic that will instantly elevate any outfit! The translucent white base makes the black nail art stand out even more, and this eye-catching design is playful while still being so chic.
An elegant design like this would look amazing on anything from short to long nails and from square to stiletto.
Colorful Matte Nails w/ Black Zig Zags
These nails definitely have a retro feel, and we are loving it! The matte finish adds a refined touch, while the nail design is bold and playful.
You can go for thicker black lines if you want them to pop a little more, or add some glitter accents for a shimmering finish.
Pastel Grids + Gold Flakes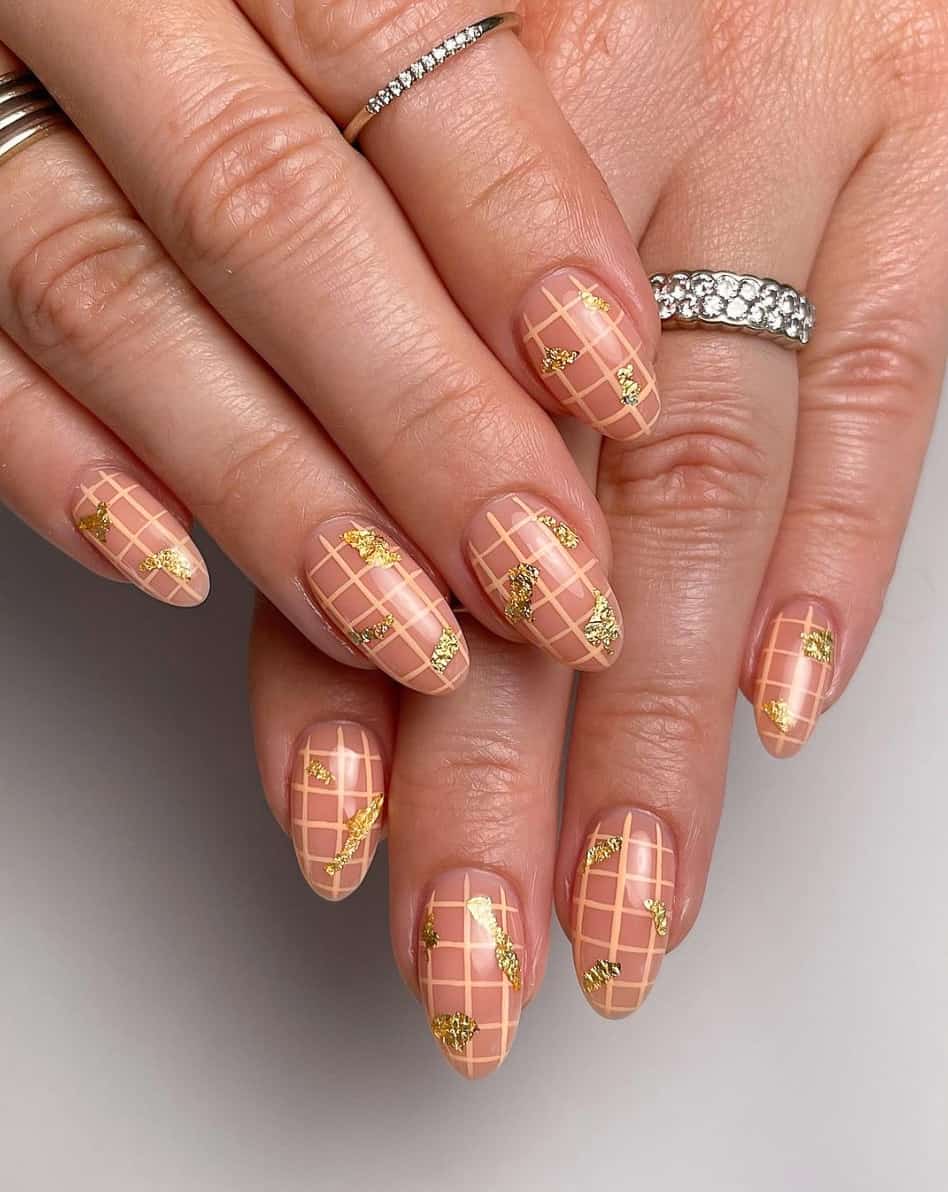 Who knew that nude nails and pastel grids made such a great pair? The gold flakes are a fantastic addition and give these nails a very chic aesthetic.
If you want a more colorful manicure, you can use blue, purple, or green for a vibrant look!
Pink Almond Nails & Blue Wavy Lines
Light pink and blue really do belong together, and using this color combination in a manicure is an excellent choice. These nails have serious summer vibes and a youthful feel.
You can use this fun nail design to add a playful touch to your outfits or rock them on your next beach day.
French Mani w/ Wavy Gold Lines
We love a simple and sophisticated nail design that we can wear to anything from work to a date to a wedding! Gold waves are stunning paired with classic white French tips, and they make this manicure so alluring.
You can add delicate lines if you want more accents, although this look is a fantastic choice just how it is.
Rainbow Lines on Almond Nails
This cute and playful line nail design is perfect for someone with a bright, fun-loving personality. You can use your favorite colors or stick with this stunning color combo, but either way, you'll definitely be getting compliments all week with this one!
Matte Nails w/ White + Gold Accent Lines
These luxurious nails are so breathtaking! The matte white paired with the white and gold accent lines is a winning combo we can't get enough of.
This elegant design can easily elevate your outfits and would be an excellent pick for a formal event.
Matte Nude Nails w/ Black Line Details
This has to be one of our favorite line nail designs! We love the matte finish, and the unruly feel of the black line details adds an edgy vibe to the manicure. You can spice up your night out with this chic nail design or use it to add a bold touch to your looks.
Black Square Nails w/ White Line Accents + Heart Detail
Bold black polish is always a stunning look, and we love the contrast from the white line details. The heart accent is cute and flirty and pairs so well with the elegant matte black polish.
Go for this manicure for an alluring look during a weekend away with your SO.
Almond Nails w/ Delicate Black Lines & Dot Accents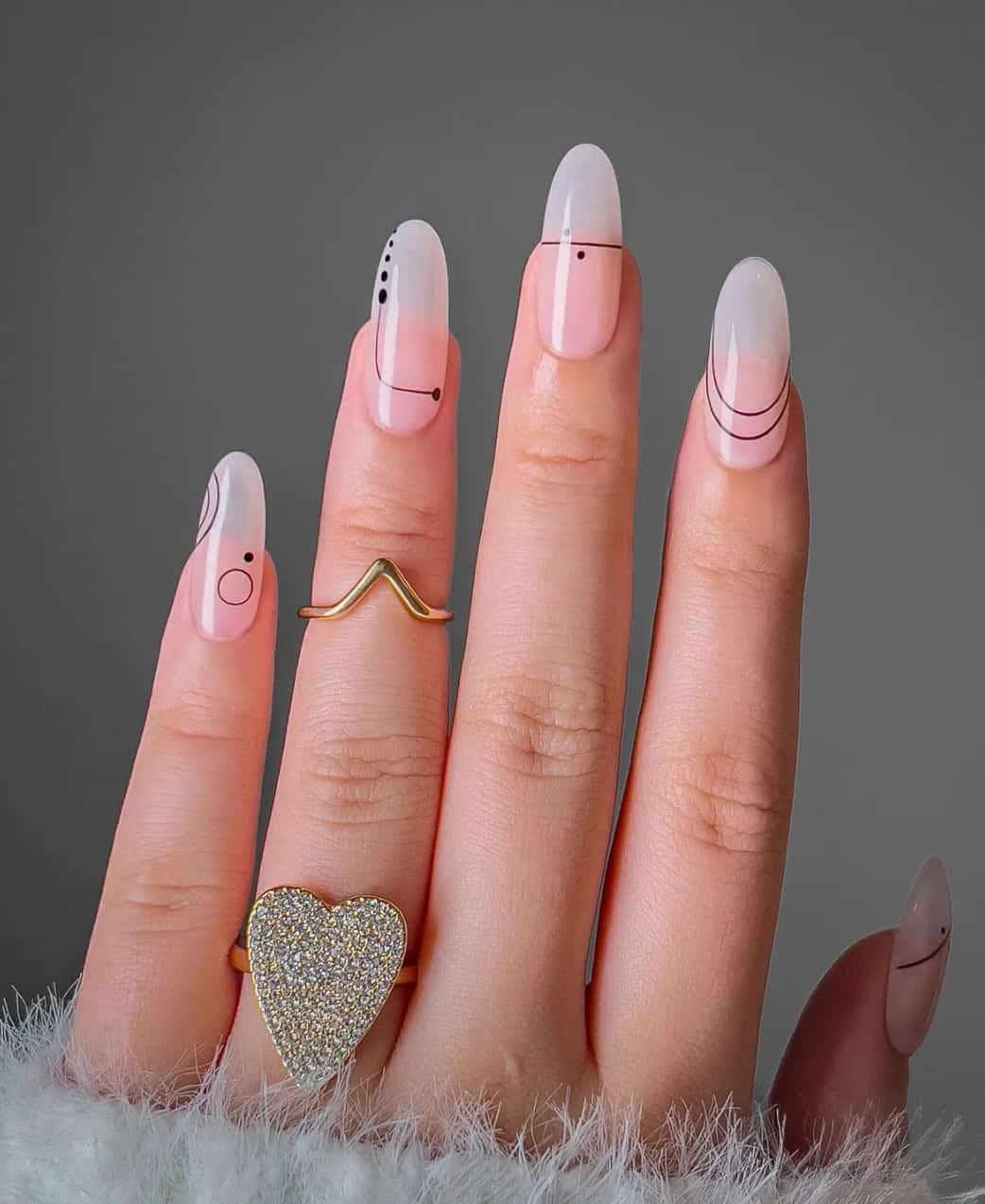 We love the combo of long milky white nails with a sleek black line design. It's simple and subtle but so chic!
You can add as much or as little detail as you want here, so play around with the design to make it your own or keep it as is for a stylish and stunning manicure.
How do you make lines on your nails?
A nail line brush or a dotting tool are the most common items used by nail artists the add these delicate details, and these tools will also give you a clean line that looks like salon quality. A glossy or matte coat will perfectly finish your look and protect your gorgeous nail design.
Geometric Rainbow French Tips
Colorful geometric lines are a gorgeous addition to these simple nude almond nails, and these vibrant colors are so eye-catching. We love how the line details resemble French tips, like a playful and modern French manicure.
This nail design is a must for anyone who wants to show off their bold style!
Neon Lines + Gold Accents
How can you not love a little pop of neon colors? Bright pink, yellow, and orange are perfect for this nail look. They add a youthful feel to this manicure, while the milky white base and gold accent lines give it a refined feel.
This is a great choice to wear for your next girl's night out or just to add some color to your week!
Short Mahogany Nails w/ Gold Accent Lines
We are so in love with this gorgeous shade. This rich mahogany polish pairs perfectly with the gold accent lines and has such a luxurious look.
The high-class feel of this nail design makes it a fantastic choice for a night out at your favorite restaurant. And, short nails are so low maintenance, which is never a bad thing!
These also have a beautiful fall vibe we love. If it's fall as you are reading this, don't miss our pumpkin nails list!
Matte Almond Nails w/ Pastel Lines
These long almond nails are so stunning, and the colorful pastel lines make this manicure perfect for summer. The combination of soft shades and the matte finish gives these nails a refined look, although you can go for a glossy topcoat for a more vibrant design.
Matte Nude & Blue Nails w/ Black Accent Lines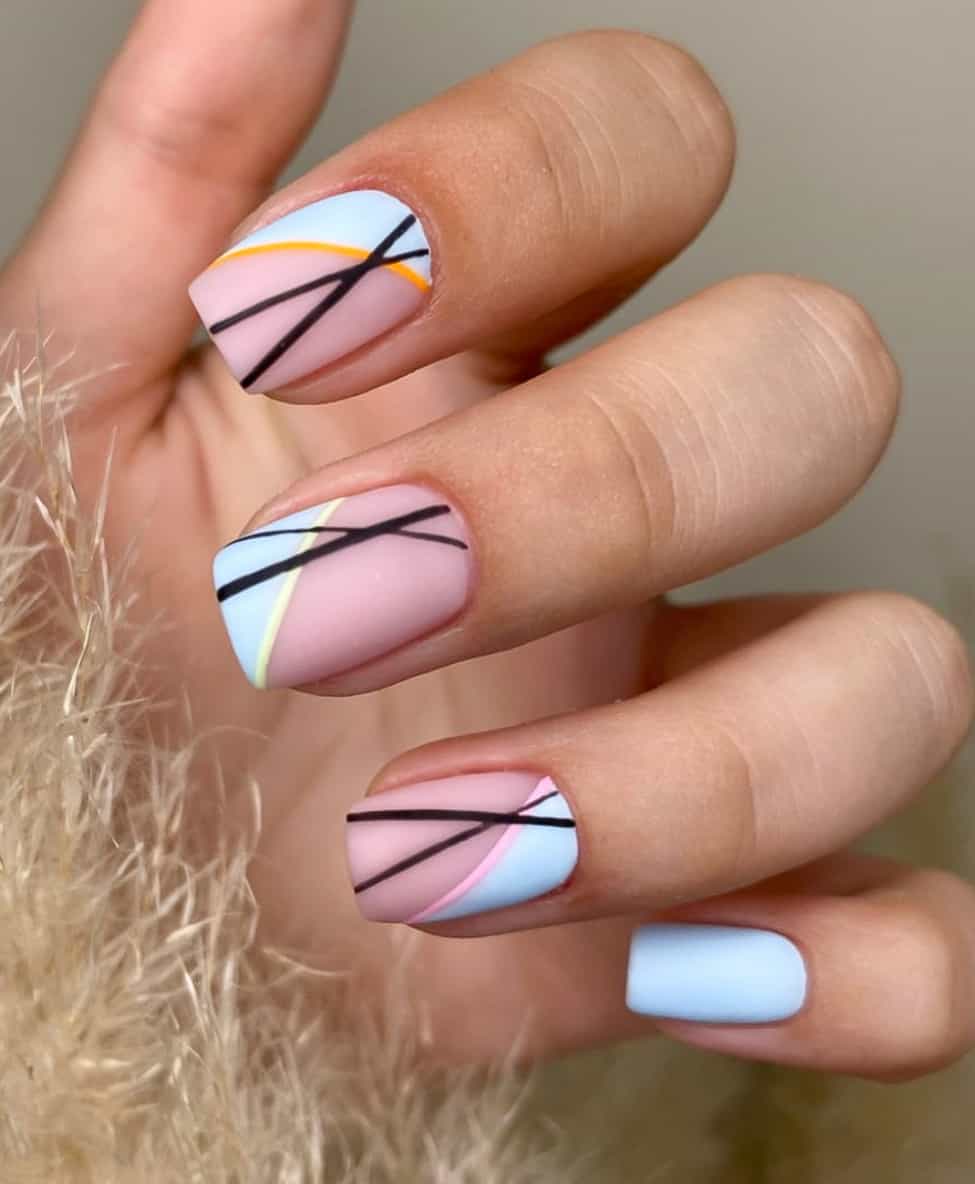 Nude pink and baby blue come together for a stunning nail design, and the black line details really make this manicure pop! We love the colorful lines that accent this gorgeous blue polish, although you could use white instead if you want more of a neutral look that's still attention-grabbing.
White Tips w/ Bold Line Nail Art
If you're a fan of long nails with a captivating design, this one is for you!
The timeless look of white French tips is quickly elevated with the addition of bold black line nail art making waves across them. It's simple but so dynamic and chic, perfect for adding a stylish touch to your outfits.
White, Brown + Beige Nails w/ Wave Accents
Line details are an easy way to elevate a simple manicure, and these wavy lines add a playful and laid-back feel to such a chic nail design. We love the combination of gorgeous neutral tones here, and these shades would pair perfectly with gold accents if you want to add a shimmering and eye-catching detail.
Short Matte Nails w/ Line Nail Designs + Gold Details
Bold black polish, an eye-catching line pattern, and gold accents make for a gorgeous nail design. The gold details and matte finish give this manicure an elegant look, while the nail art definitely makes it unique.
While we love the short square nails, this design would look absolutely stunning on anything from stiletto to coffin nails.
Pink Nails w/ White Accent Lines
Pretty pink nails are definitely one of our top go-to designs because they always look cute and chic. White lines add a modern and playful aesthetic to these stunning glossy nails, and you can even add gold accents for a bolder nail design.
Either way, this flirty manicure is sure to turn some heads during the day or on a night out!
Nude Nails With White Lines
Nude nails and white nail polish are definitely a classic pairing. If you're a fan of this timeless color combo, these next nail designs with lines are for you!
Nude Almond Nails w/ White French Tip + Accent Lines
Nude nails with white French tips will have you looking put-together and stylish in any outfit, and adding delicate white lines makes this nail design even more alluring. This is a perfect manicure that can be worn year-round to add a chic touch to your look.
Round Nude Nails + Thin Line Nail Art
Stripes are a classic pattern, but this nail design makes them look modern and stunning! Matte nude nails add that refined touch, while the thin white lines are so eye-catching.
This is definitely a simple design that will look great at the office, brunch, or anywhere in between!
Nude Nails With White Lines & Black Lines
We love a playful mani with contrasting colors, and this black-and-white nail design is definitely a stunner. The wave accent lines easily transform this classic French manicure by adding a fun and modern twist, making it the perfect nail design to spice up your everyday looks.
Line nail art is a stunning option that adds a playful and alluring look to any manicure. Use these gorgeous nail designs with lines as inspiration for your next visit to the nail salon!
More Nail Inspiration You'll Love:
25+ Gorgeous Green French Tip Nails You'll Love
25+ Stunning Beige Nails That Are Anything But Bland
21+ Chic Neutral Nails For A Classy, Minimal Aesthetic
23+ Must-See 90s Nail Designs That Are Totally Nostalgic