Looking for a bold and chic color to spice up your next nail design? You'll love our list of 27+ forest green nails and forest green nail designs that will elevate your everyday style in 2023!
Stunning Forest Green Nails
Summer is the time to go bold with color, and a dark green shade is a great choice to add some flair to your style. Forest green is a timeless, sophisticated shade that adds a bold feel to any outfit – making this color perfect for your next trip to the salon!
So to help inspire your next mani, we've found chic forest green nail ideas that will match any look or any occasion. Whether you want something glossy and glamorous or an elegant matte nail design, we have something for everyone on our list.
Forest Green Nail Designs List
This beautiful color is versatile enough to wear in any season. So whether you prefer gorgeous dip powder nails, stunning acrylics, or classic natural nail designs, you'll find the nail inspiration you're looking for below!
Forest Green Polish + Leaf Nail Art
Forest green nail polish and leaf nail art is a classic and gorgeous combo for a chic manicure. We love the matte nude paired with glossy green for some eye-catching contrast.
This subtle tropical design would be perfect for a day at the beach or your next weekend getaway!
Dark Green Nails w/ Cheetah Print
Pair this elegant, rich color with some bold and trendy animal print for a gorgeous and unique nail design. Go for a chic and daring manicure like this for your next girls' night out for a subtle yet playful look.
Forest Green Nails w/ White Flowers & French Tips
Add a spring or summer vibe to your forest green nails by painting some dainty flowers on them.
This manicure is simple but so cute and stylish. It also has a feminine touch that we love, and you can easily rock this anywhere from the office to a weekend date night!
Are dark green nails in style?
When it comes to nail colors, dark green is definitely having a moment!
This gorgeous color is absolutely on-trend in 2023, and we love the chic forest green nail designs we've been seeing all over social media. So if you want to rock something stylish, bold, and trendy – a dark green manicure is a must.
Sparkly Forest Green + Gold Details
Sparkly forest green polish and elegant gold details are a fantastic choice for a glamorous yet refined manicure.
This color combo looks so beautiful together. And this pairing has a holiday feel that makes this nail design perfect for simple but stunning Christmas nails!
Chrome Earthy Green Nails
We can't get enough of this bold and trendy nail design!
Forest green is chic and elevated, while the chrome finish adds a youthful vibe. These nails are minimal enough to wear to the office but still alluring enough for a night out, giving you the best of both worlds.
Forest Green Polish & Silver Flakes
You can go for a chic nail design like this for something that's simple but so gorgeous. A classic manicure is quickly elevated with a nude accent nail and silver flake details. This lovely mani is great if you want something classy with subtle boldness.
Gold Animal Print + Forest Green Polish
Gold and forest green are back again because this color combination is always so elegant and alluring.
The colors definitely give off a sophisticated vibe, while the animal print adds a bold and youthful feel. Go for a look like this for your next vacation or a night of bar and club hopping.
What does dark green nails mean?
Not only is forest green an excellent way to add a stylish touch to your look, but dark green shades also have a deeper meaning. Dark green nails are often associated with earthiness, adventure, growth, and harmony. So this color is a must if you want to show off your bold sense of style in 2023!
Metallic Green + Gold Flakes on Dark Green Nails
If you're looking for an elegant nail design with forest green, this look here is for you.
We are in love with the combination of green metallic and gold flakes, and these shimmering details definitely add a refined touch to this manicure. And since forest green is a classy color already, these elevated accents make this nail design a top choice for a formal event.
Forest Nail Art + Blue Accent Nails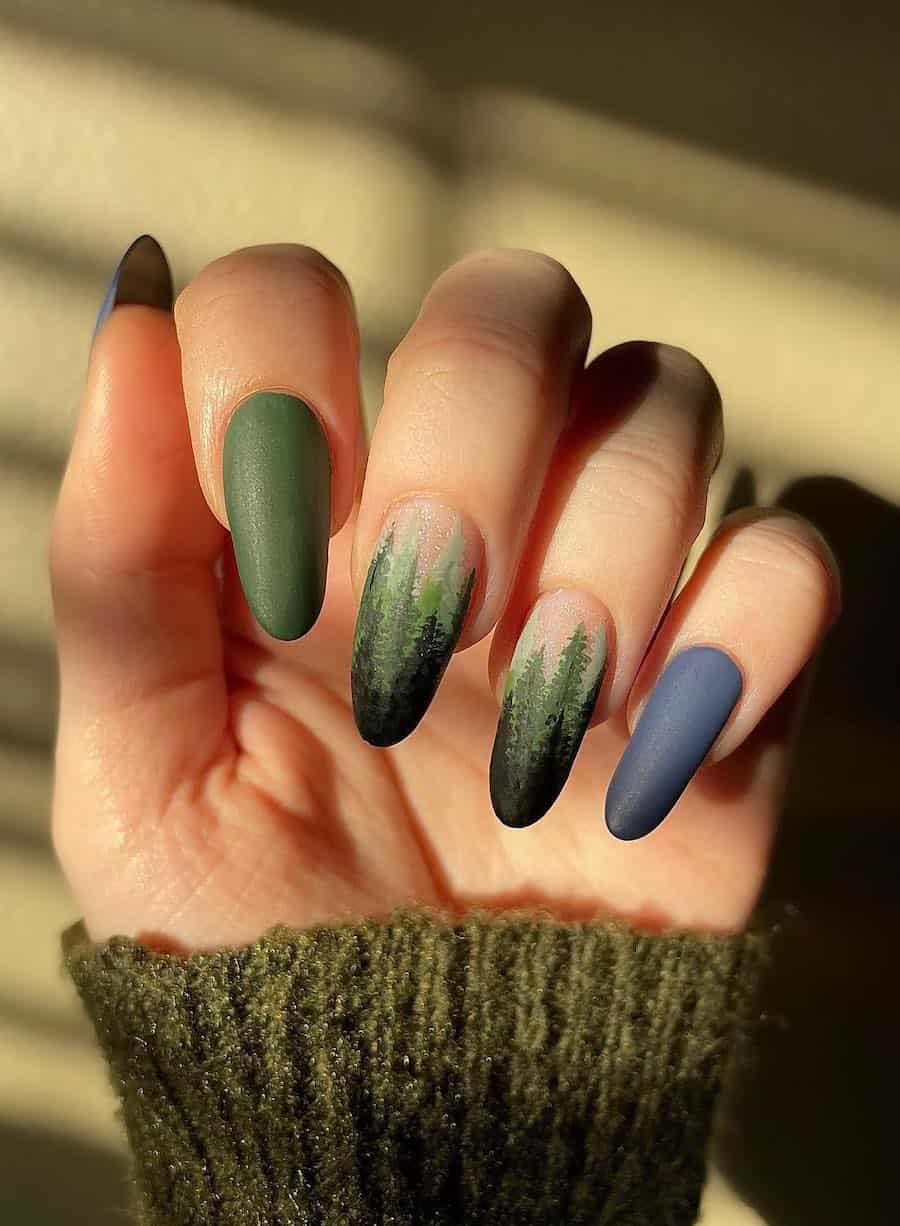 Forest green is obviously the perfect color for forest nail art, so it's no surprise that this combo works so well to create a chic and unique manicure.
So if you want to show off your love for nature, this nail design is a fantastic pick. We love the addition of blue ombre nails for a more alluring look, and the matte finish adds a sophisticated touch.
Textured Forest Green Frenchies
A French manicure is always a great way to go when trying out new shades, but you can make your mani a bit bolder by adding textured details like these. These nails are perfect for a coffee date, dinner date, or anything in between!
Marbled Forest Green Mani
We love a marbled mani, and marbled forest green is no exception.
This manicure has a whimsical, gorgeous design that will quickly upgrade any outfit. Plus, this nail design is great for any occasion, so you can feel confident that you'll be ready for anything with this nail design.
Matte Forest Green + Gold Accents
You can always let the forest green be the star and elevate your manicure with metallic details and a matte finish. Go for a simple and classic design like this for elegant nails that will definitely be turning heads!
Dark Green Polish + Tropical Nail Art
Planning a tropical vacation in 2023? Upgrade your vacation nails with this beautiful earthy green, and add some playful nail art for a bold look.
We love the combo of both nude and pastel green as a base coat. Although you can mix things up by using these shades in ombre nails as a base instead!
Matte Green Nails w/ Gold + White Accents
Pairing different shades of green together is an easy way to add some depth to your manicure, while the white and glitter accents brighten the look and add a glamorous vibe. This nail design is a must for your next wedding or anniversary dinner.
Nude & Forest Green Nails w/ Glitter
Going for glitter accents is an easy way to elevate any manicure, and the combination of glossy and sparkly nails here is chic and feminine. The nude accent nails help balance out this dark shade and add a beautiful contrast that makes these gel nails pop.
Botanical Nail Art + Gold Glitter Details
A glamorous nature-inspired design like this one is perfect for showing off this stunning color.
The light green looks gorgeous with these forest green nails, while the gold glitter details give this manicure an elegant aesthetic. You can definitely sport this manicure while grabbing mimosas at your favorite brunch spot.
Deep Green Mani w/ Reverse French Tips
Add a chic and modern vibe to your nails with reverse French tips! We love this pale pink color with the deep forest green, and these shades definitely make each stand out.
This design is simple but elegant and perfect for adding a refined touch to your everyday looks!
Earthy Green Nails w/ Glossy Finish
Such a rich, earthy shade really doesn't need anything added to it! This color is so breathtaking on its own, and it also has a retro vibe that makes it perfect for anyone who loves vintage fashion.
Dark Green French Tips + Sparkle Accents
Sparkle details definitely add a playful and youthful vibe, and this fun nail art pairs so well with a timeless shade like forest green. This classic nail design with a modern twist is an excellent pick to add some spice to your outfits.
Vibrant Floral Nail Art on Forest Green Polish
This is another nail design that was made to be worn during a tropical getaway! The vibrant, colorful shades are so eye-catching against this rich shade of green, so it has the perfect combination of elegance and boldness.
Milky White Nails w/ Green Waves
Forest green nail polish instantly pops against this milky white base, and the addition of light green is a gorgeous touch. We love this bright and modern nail design for a day at the beach or pool this summer.
Asymmetrical Frenchies w/ Dot Details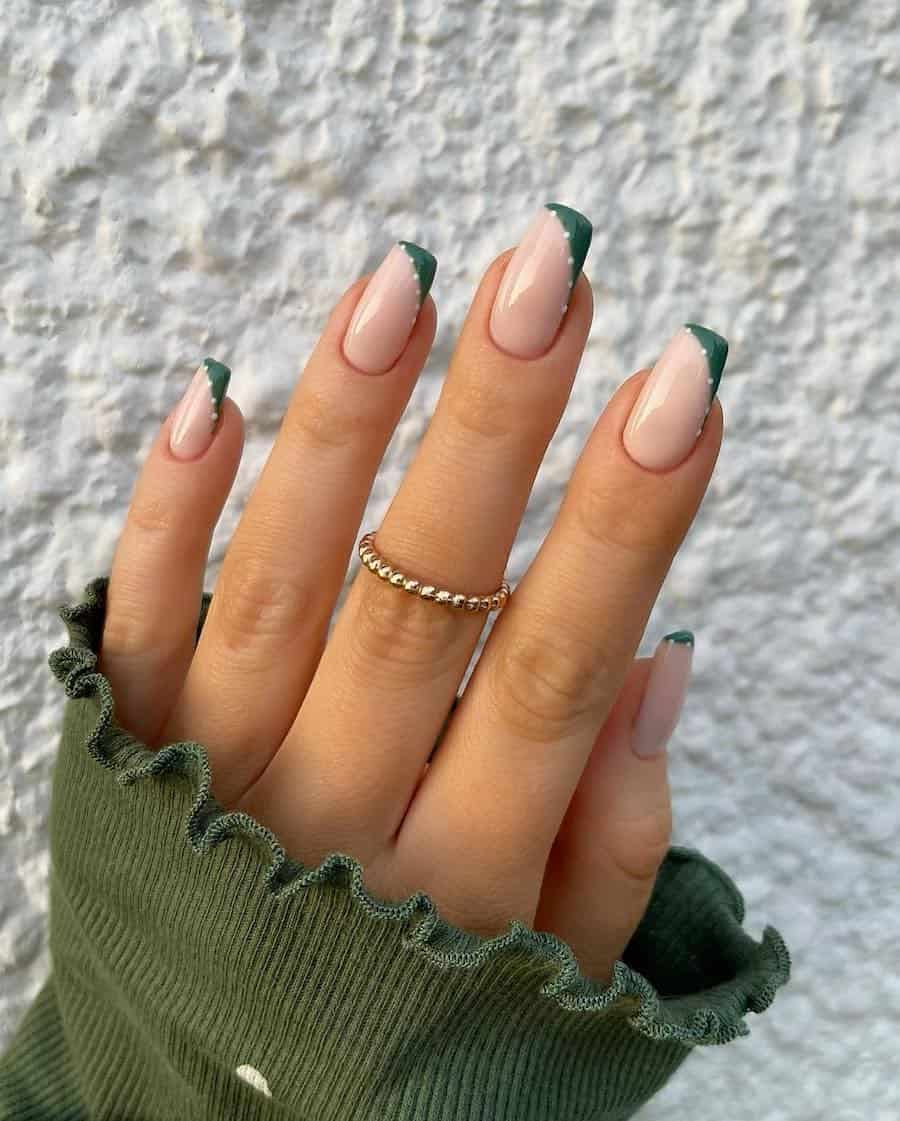 These asymmetrical French tips are both elegant and unique, and we love the playful vibe from the white dot details. The light nude base makes this another nail design that's great for summer, although you really can rock this look all year long!
Pink + Green Nails w/ Floral Art
Pink and green are definitely a favorite color combo of ours. The pink adds a chic and feminine aesthetic, while the forest green is bold and refined! We love the pop of white from the floral nail art, and adding green leaves to the pink nails makes this manicure so well-balanced.
Forest Green Mani w/ Glitter Accent Nails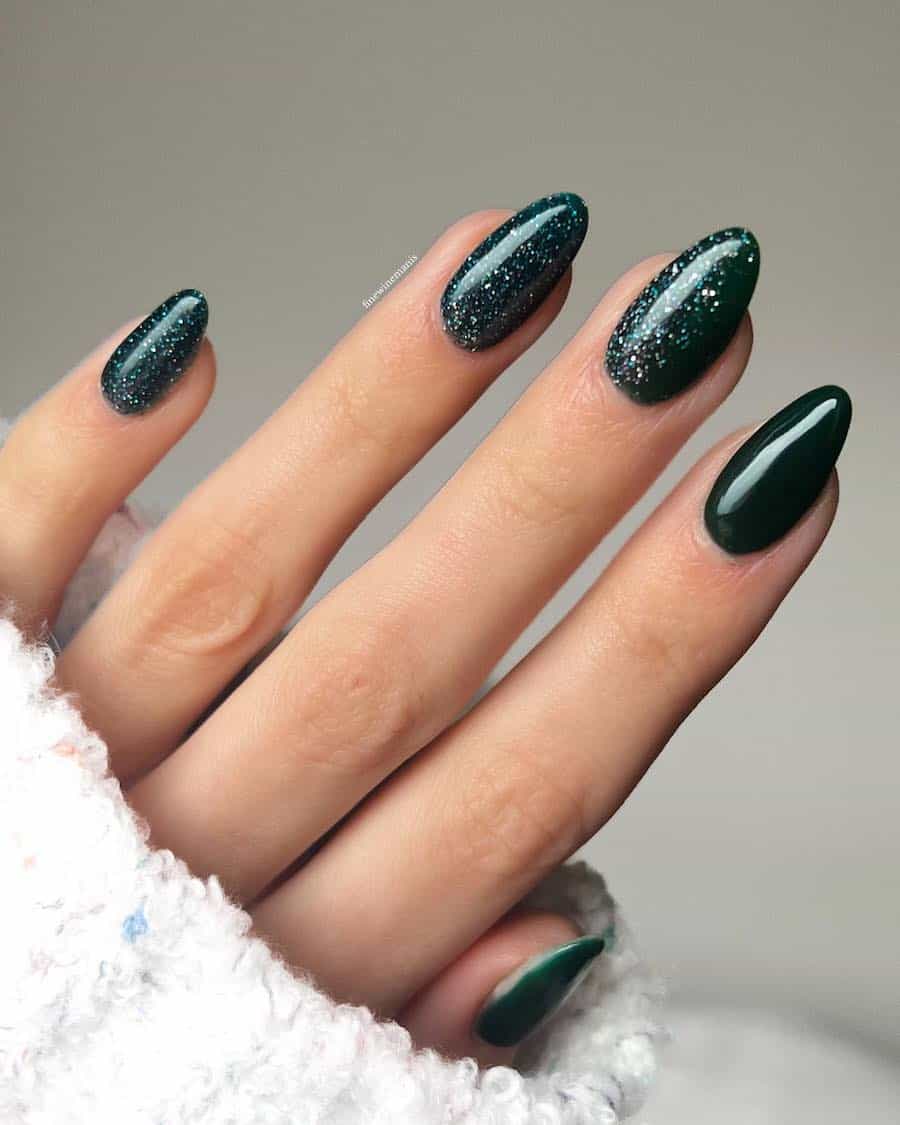 Speckled gold glitter is so bright and gorgeous against this dark forest green. This nail design is simple and classy but will definitely add a polished feel to any outfit.
Combine this color with burnt orange nails for a perfect fall-inspired nail design.
Glossy Dark Green Nails
You can make short nails stand out by using a deep and rich color, like forest green.
This color is so bold and eye-catching, so it will instantly draw attention to your manicure. You can always add more details if that's your style or leave it how it is for a chic, minimal look.
White + Green Nails w/ Wave Accents
These shades of green are so stunning together, and the white nail polish adds a lovely brightness to this nail design. We absolutely adore this simple gradient nail design, and the wave accent nail takes this manicure to the next level!
Matte Green Nails w/ Half Moons & Gold Details
And we're finishing our list of forest green nail designs with this beautiful and sophisticated manicure.
Matte green will always look so elegant, and the gold glitter adds a glamorous vibe. Half-moons add a unique and modern touch that definitely sets this nail design apart from the rest.
Forest green is a timeless color that looks amazing year-round! So if you're looking to elevate your manicure with this color, there are so many forest green nail designs that you can choose from.
Whether you want to go with some polished and classic or a mani with a bit of an edge, this style guide has the perfect inspiration to make your next manicure effortlessly chic!
Looking for more fall nail inspiration? Check out these pumpkin nail designs and burnt orange nails!
More Nail Inspiration You'll Love:
25+ Stunning Mint Green Nails To Inspire Your Next Mani
27+ Gorgeous Green Fall Nails With An Earthy Vibe
25+ Great Green French Tip Nails
17+ Stunning Sage Green Nails To Copy
19+ Gorgeous Emerald Green Nails