Are you looking for refined nail designs to elevate your look in 2023? You'll love our list of 22+ classy white almond nail designs, including white tip almond nails and milky white almond nails
Stunning White Almond Nails
Have you been looking for elegant nail designs to rock in 2023? White almond nails might be the perfect look for you! Almond-shaped nails always have a sophisticated feel, while white nail polish looks clean, classic, and polished.
We've gathered tons of stunning white almond nail designs, including white tip almond nails and milky white almond nails, that will easily elevate any outfit.
White Almond Nail Designs List:
Whether you're going for a classic and simple nail design or you want a bold and modern mani, we have a look for you in our list of white almond nails below!
White Ombre Nails w/ Silver Details
Go for an elevated look with a matte white ombre on almond nails! This mani has a minimal design but still manages to be an eye-catching beauty, and the silver details elevate the look that much more.
We love these nails for a formal event or an anniversary dinner in 2023!
French Tips + Florals
Florals always add a chic and feminine feel to any nail design, and pairing them with classic French tips is a gorgeous way to elevate this simple manicure. And we love how the dainty, colorful flowers pop against the white tips!
Seashell Manicure + Pearl Details
Are you planning a trip to the beach in 2023? Choose a bold and gorgeous white almond nail design like this!
Seashell nails are definitely attention-grabbing, and we love the pearl details on each nail for an elevated touch. Whether you'll be soaking up the sun on the beach or lounging on a boat in the middle of the ocean, these seashells nails are a must for a seaside getaway.
White Marble Nails
White marbled nails are always so stunning and have an elegant vibe that we can't get enough of! You can rock a classic nail design like this anywhere, from a lunch date to a girls' night out and even as bridal nails!
Do almond nails look good on everyone?
Almond nails are chic and classy, but you may be wondering – do almond nails look good on everyone?
Luckily, almond nails do look flattering on anyone! This nail shape elongates the fingers while adding a feminine and sophisticated look. Almond nails also look great at any length, so you can sport short almond nails or long almond nails and look stunning either way!
Nude Almond Nails & Floral Art
You can rock an eye-catching design even on short almond nails, and this beautiful floral nail art has a delicate and romantic aesthetic that we adore! This is an excellent look for a date night with your SO or to elevate your everyday outfits.
Animal Print Frenchies
Add a bold touch to your mani with animal print!
These cute zebra-striped Frenchies are so chic, and they have a modern feel that we love. This white almond nail design is perfect for adding a daring vibe to your outfit while still looking clean and polished.
White Pearly Nails + Drip Details
We are so in love with the shimmering pearly finish on these nails! The white nail polish is classic and chic, but the pearl finish is so dreamy while adding a trendy touch.
The drip details on nude accent nails are another elevated touch, and they add an eye-catching pop to this simple nail design.
White Almond Nails + Gold Waves
White and gold are a match made in mani heaven! Clean and classic white looks so stunning, and the vibrant gold details add a glamorous vibe to this nail design.
These white almond nails are a must for anyone who loves minimal manicures with a bold touch.
White Mani w/ French Tips
If you love the look of white almond nails but can't decide on a design, you can always opt for a simple and classic manicure like this.
We love the combo of solid-colored nails with French tips – it's playful and chic without taking away from the timeless aesthetic. This is perfect for a simple but beautiful nail design to elevate your style!
Asymmetrical White Frenchies
Add a modern twist to a classic design with these asymmetrical Frenchies! Nude pink and white are so gorgeous together, and this mani has a clean and classic aesthetic while still feeling bold and playful.
Chrome White Almond Nails
Chrome nails are definitely one of our favorite nail trends in 2023, and white chrome nails are no exception! This bright and shimmering finish takes a simple manicure and makes it modern and eye-catching.
These chrome white almond nails might just be our new go-to for simple but stunning nails!
Nude + White Marbled Nails w/ Gold Accents
Soft white marbling looks terrific with pops of gold, and we love the addition of light nude nails to mix things up here. This manicure has the perfect balance of classic designs with luxurious accents!
White Mani w/ Line Art Accent Nails
These acrylic nails are so gorgeous, and the simple line accents add a fun but refined feel to this nail design. We love the pink base on the accent nails, and you can also add some glitter accents for an elevated touch!
White Drip Nail Art + Nude Nails
Nude and white are classic neutral shades that work so well together for a clean and refined aesthetic. We love the combo of these classic shades with a daring, modern nail design, making this a must for anyone who wants a chic but bold mani!
White + Gold Patterned Nails
Go for a full glam look with bright gold patterned nails! We love the multi-pattern design of these nails – they're fun, bold, and oh-so chic. This manicure is perfect for a night-out look.
Pink Nude Nails & White Polish Teardrops
We are always a fan of new and bold ways to rock a French manicure, and this nail design has a gorgeous mix of modern, abstract details with classic styles! You can go for a fully French manicure with this pattern or add the full art accent nails for a playful touch.
Glitter Nails w/ French Tips + Heart Art
Glitter and heart details add a girly and romantic feel to this white almond nail design. These accents are so cute and fun, while the white French tips add a classy and chic touch.
This is great for a date night look or to add a dreamy vibe to your weekday looks!
White Tip Almond Nails
If you're looking for classic white tip almond nails, we've got you covered. We have some gorgeous French tip nail designs below that you won't want to miss!
Classic French Manicure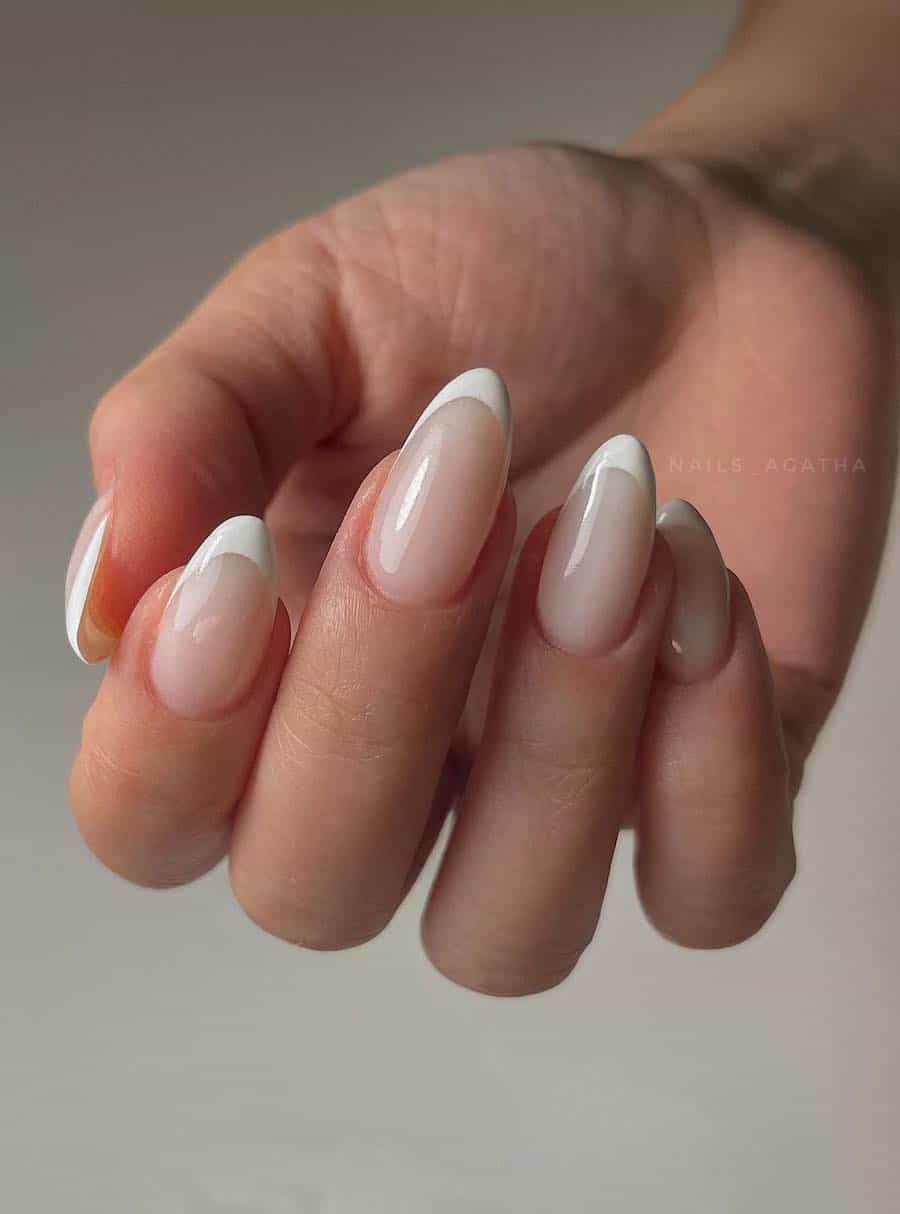 Of course, a simple and classic French manicure has to be on our list of white tip almond nails! You really can't go wrong with this nail design for an effortlessly elegant and stylish look.
White French Tips + Pearl Accents
You can also elevate a French manicure with chic accents like pearls. This is a fun twist to add to white almond tips, and you can always choose gem accents for a similar look with more of a glamorous vibe!
Milky White Almond Nails
Milky white nails are always so gorgeous, so we had to include this chic nail design on our list of white almond nails! If you love this new white nail trend as much as we do, you're sure to love the manicures below.
Milky White Nails, Gold Reverse French Tips & Floral Details
Milky white nails are stunning on their own, but don't be afraid to add some other gorgeous details to elevate your manicure! Gold glitter reverse Frenchies are chic and playful, and the white floral nail art is so cute.
Show these nails off when meeting the girls for Sunday brunch, or wear them for your next weekend getaway!
What nail color is milky white?
Milky white nails have been all over our Pinterest and Instagram feeds, but what exactly is milky white nail color?
This trendy nail color is a soft, creamy, and semi-translucent shade of white. And we love that this color has an elegant and timeless look while being perfectly on-trend.
Milky white nails are the perfect shade for a chic, refined nail design with a modern, trendy vibe!
Milky White Almond Nails + Glitter Ombre
Go for a simpler design with milky white almond nails by opting for glitter ombre accent nails! Even though this design has a minimalistic look, it's still so stunning and has that attention-grabbing pop that we want in any manicure.
And if you want to make this nail design even bolder, go for glitter ombre on every nail!
Milky White Almond Nails with Black Hearts
Lastly, these gorgeous milky white almond nails have a simple heart design on them, making a great Valentine's Day nail design, or for every day wear. You can easily change the black to pink, red, or even gold chrome hearts.
White almond nails always have an elegant and chic look, making these nails an easy go-to if you want a classy manicure in 2023! You can stick with simple and classic designs or add eye-catching accents and nail art, but either way, white almond nail designs are sure to upgrade your style.
More Nail Inspiration You'll Love:
25+ Stunning Beige Nails That Are Anything But Bland
23+ Classic Pink and White Nails + Cute Pink and White Nail Designs
21+ Stunning Nude Pink Nails & Nude Marble Nails