Wondering what are the best tops to wear with leather leggings? Learn about the best top styles for leather leggings and get chic and modern leather leggings outfit inspo!
*this post contains affiliate links*
The Best Tops To Wear With Leather Leggings
Leather leggings have become a wardrobe staple for many women in recent years. They are versatile, comfortable, and can be dressed up or down depending on the occasion.
But, what tops should you wear with them? This blog post will discuss the best tops to wear with leather leggings for different occasions.
We will also provide chic and modern leather leggings outfit ideas to help you get started. So, read on to get inspired!
shop leather leggings:

Are leather leggings in style 2022?
Leather leggings are in style for 2022 and are not going anywhere anytime soon. What makes them so popular is that they are very versatile. Leather leggings can be worn at the office, for a night out with the girls, or even on a casual weekend running errands.
Leather leggings can be paired with a casual top and sneakers for a laid-back look. Or, with a camisole, blazer, and heels for a fun night out.
They are also perfect wardrobe essential for transitional weather. You can wear leather leggings in the spring and fall seasons when it's not warm enough for shorts, but you don't want to wear rigid jeans.
These pants are a closet staple you can rely on yearly. So, if you're wondering if leather leggings are still in style in 2022, the answer is a resounding yes!
What top can you wear with leather leggings?
There are a variety of tops you can wear with leather leggings including sweaters, tunics, graphic t-shirts, camisoles and tank tops, or button-down blouses. It really just depends on the look you are going for.
Do you want an edgy look? Or, are you looking for something more conservative to wear to the office?
Regardless of the look you're trying to achieve, leather leggings versatile enough to work with any occasion. Below are some leather leggings outfit ideas to show you which tops can be paired with these chic pants.
Leather Leggings Outfit Ideas:
a dressy blouse.
get the look:

A great way to dress up a pair of fitted leather leggings is with a flowy tunic or blouse. You can take this leather leggings outfit from the office to a night out depending on the accessories and footwear.
Add a blazer to make the look more professional, and swap it for a leather jacket with a pair of pumps for a night out!
This is a quick and easy way to create a chic look.
cropped jacket or cardigan.
get the look:

We love how pairing leather leggings with a cropped jacket (like a jean jacket in the look above) can elongate your legs.
Additionally, this look can easily be dressed down by swapping out the heels for sneakers. This is a great, effortless way to rock leather pants.
This leather leggings outfit is chic, stylish, and versatile.
a graphic t-shirt.
get the look:

A graphic tee and leather leggings creates an edgy look. You can easily wear a plain white t-shirt to keep it minimal or recreate the look above with a graphic band t-shirt.
Either way, it'll give off major cool-girl vibes.
An oversized sweater.
get the look:

Our favorite tops to wear with leather leggings are oversized sweaters. Especially in the fall and winter months.
A cozy oversized knit sweater in wool or cashmere pairs perfectly with leather leggings for an elevated look. Finish the leather leggings outfit with ankle boots or combat boots and you'll be ready to take on the day.
What kind of tops go with leather pants?
Leather pants can include leather leggings or can be more tailored in fit. They go really well with a sweater, t-shirt, bodysuit, button-up blouse, denim jacket, or leather jacket.
Opt for leather pants that have a slim flit to give more of a tailored shape than leather leggings do. Or stick with leather leggings for the looks below.
leather on leather.
get the look:

You probably wouldn't think to pair leather pants or leggings with a leather jacket, but the look works well. It's edgy, chic, and can be worn for a date night, girls night, or out to a concert with friends.
We recommend sticking with the same color leather jacket as leather leggings. Black on black looks great, or you can lighten up the look with taupe leather leggings and a taupe leather jacket with a black top underneath to break up the tones.
a white button-up top.
get the look:

A crisp white cotton button-up top is a perfect way to contrast a pair of black leather pants. This leather leggings outfit is chic but still tailored enough for the office or a business meeting with flair.
Go with an oversized button-up shirt to give the outfit an elevated look, and opt for a pair of ankle boots or leather loafers.
with a blazer.
get the look:

Reach for your favorite tailored or oversized blazer for a great combination that creates a polished look. Depending on your style, you can go with black, or another neutral tone. Or, add a pop of color for some fun.
This is another excellent look if you're looking for a way to wear leather pants to the office. Simply pair them with a printed blouse and a black blazer.
with a vest.
get the look:

Last year, we saw a lot of vests trending in the fashion world. And, lucky for us, this year they are back again!
Pair a knit tunic vest with a white button-down for the perfect leather leggings outfit for the office, a coffee-shop hangout, or a meal with friends.
a plaid shacket.
get the look:

Is it a shirt or is it a jacket? The jury is out on that one, but it is safe to say that pairing leather pants with a neutral or plaid shacket is a great look. Especially in the fall when the temperatures start to drop.
You can also finish the look off with a pair of combat boots to add a little edge to the outfit.
with a puffer coat.
get the look:

For a casual look winter-ready look, a puffer coat is perfect to pair with leather leggings. Not only will it keep you warm, but the leather leggings elevate the look, so you can pretty much wear this outfit anywhere.
Go with a cropped puffer jacket to elongate your legs. Or, opt for a longer puffer coat for really chilly weather!
What should I wear with leather leggings on a night out?
How you style your leather leggings for a night out depends on where you're going. If you're going to a bar or club, you can dress up leather leggings with a bodysuit or camisole top and a pair of high heels.
On the other hand, if you're going to a nicer restaurant or event, you'll want to dress the leggings up in a different way. A long wool coat and nice sweater with boots, or a pretty blouse and heels will look great.
Here are some leather leggings outfit ideas you can try for a night out:
with a bodysuit.
get the look:

A bodysuit or a fitted cami top is a perfect way to dress up your leather leggings. It'll hug all your curves in the right ways and show off just enough skin.
Additionally, you can easily throw a cardigan or jacket over the top for a little bit of extra coverage.
with a wool coat.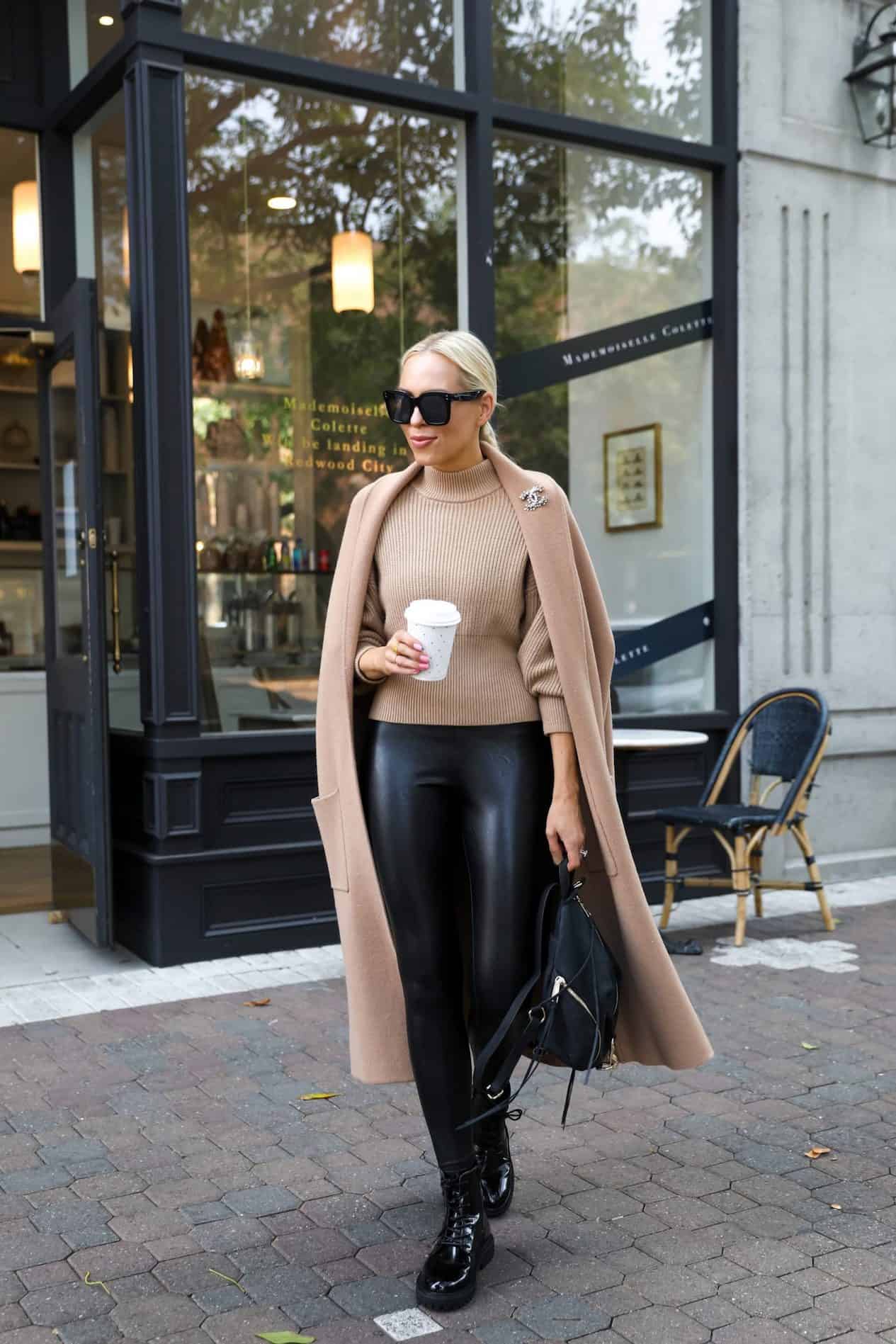 get the look:

For a more conservative night out, go with a monochromatic look by pairing a fitted sweater with a long wool or trench coat in a matching neutral tone.
We love how elegant the look above is with camel over black leather leggings, but feel free to experiment with different jewel tones.
How do you style leather leggings in 2022?
When it comes to styling leather leggings, the sky is the limit! You can go for a classic, laid-back look by pairing them with a graphic tee and denim jacket, or you can dress them up with a pretty blouse and heels.
Or, go cozy with an oversized sweater and combat boots. If you want to add a bit of edge to your outfit, try accessorizing with a studded belt or chunky necklace.
No matter how you wear them, leather leggings are sure to make a statement. So, have fun experimenting with different looks until you find the perfect one!
More Style Guides You'll Love:
What To Wear With Faux Leather Leggings: Chic + Modern Outfits
How To Wear A Bodysuit With Jeans: 14+ Chic Looks To Copy
17+ Leather Pants Outfit Ideas That Prove You Need A Pair
Are Leggings Business Casual? Here's What You Need To Know!
How To Wear A Shacket: 16+ Chic Shacket Outfit Ideas To Copy
18+ Outfits With Green Pants: Stylish + Elevated Looks
How To Style Wide Leg Jeans in 2022
The Best Shoes To Wear With Sweater Dresses + 10+ *Chic* Outfit Ideas