Looking for the perfect dip powder nail idea? You'll love this list of 26+ dip nail ideas including short dip nails ideas, French tip dip nails, glitter dip powder nails, and more!
Stunning Dip Nail Ideas You'll Love
The dip powder nail technique has become incredibly popular over the last few years. With the dip powder technique, a base coat is applied first followed by dipping the nail into a powder made of acrylic resin. Within a few seconds, the acrylic hardens and is then sealed with a top coat to finish off your mani!
Whether you are looking to try out dip powder for the first time or you are a regular user searching for your next dip powder look, we have put together a list that will provide the perfect nail inspiration. From simple looks to bold designs, we have a dip powder nail design to suit your style!
Dip Powder Nails Design List:
Scroll through for everything from timeless French tips to trendy and bold nail designs, all using the dip powder nail technique.
Solid Color Dip Powder Nails
A simple solid mani is always a great choice. From classic neutrals to bold and bright, these solid color manis are anything but basic!
Neutral Taupe Nails
Brown nails and earthy are becoming increasingly popular and have a timeless appeal, especially during the fall and winter months. With fall approaching quickly, these dip nails are worth trying.
Robin's Egg Blue Nails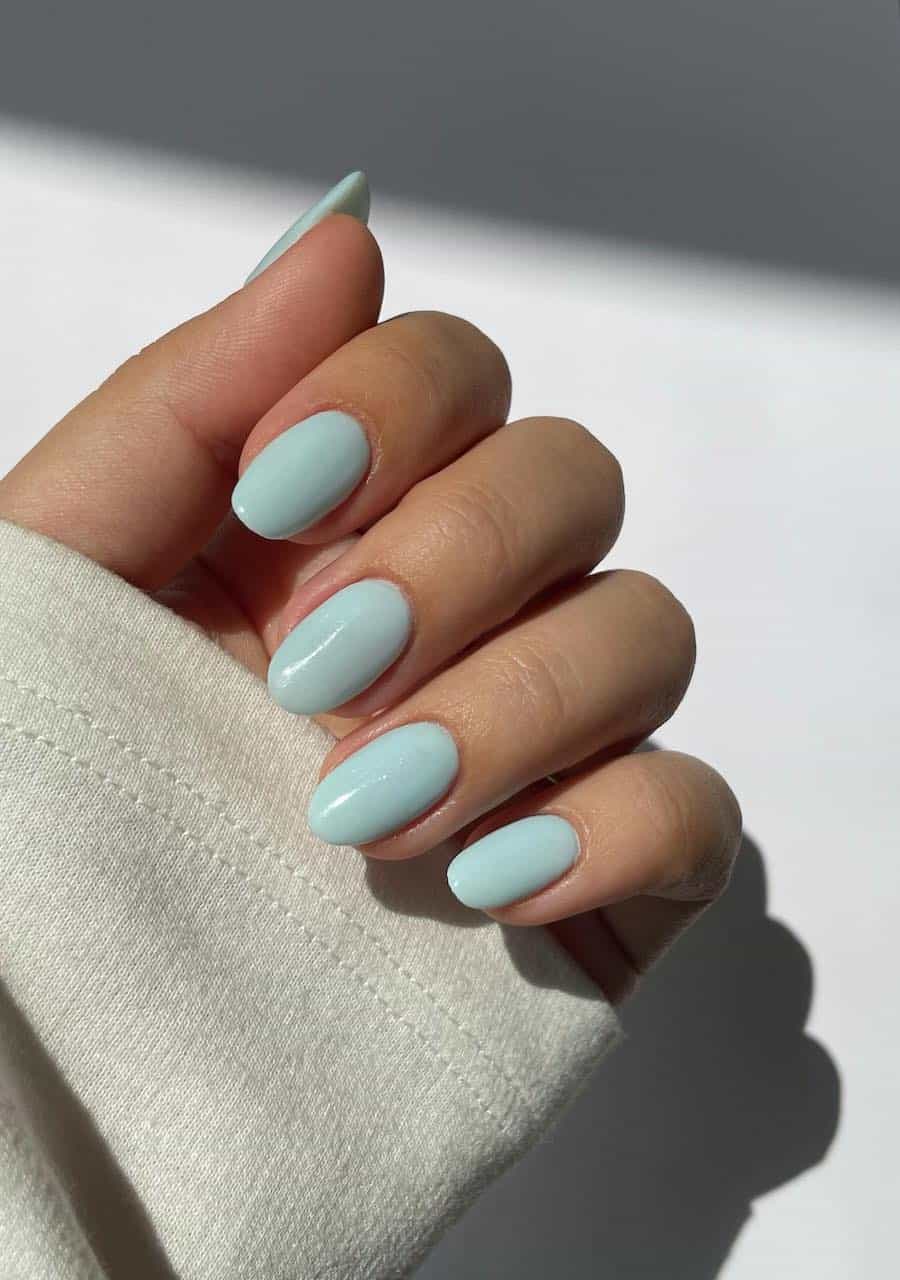 If you're looking for something soft and subtle, this Robin's Egg blue dip powder manicure is an excellent choice. This color and other pastels work particularly well during the spring and summer seasons and pair nicely with a variety of outfit choices.
Milky White Dip Powder Nails
This milky white dip powder look will give you a clean and chic manicure perfect for everyday wear. These nails have the perfect balance of professional and girly, and an easy way to jazz them up would be an accent nail or pearl embellishments.
Bold Royal Blue Nails
Colors like bold royal blue are a great way to make a statement with your dip powder mani! Pair this bold manicure with neutral basics to create an overall look that is timeless yet fun.
Pink Nails w/ Chrome Dip Powder Finish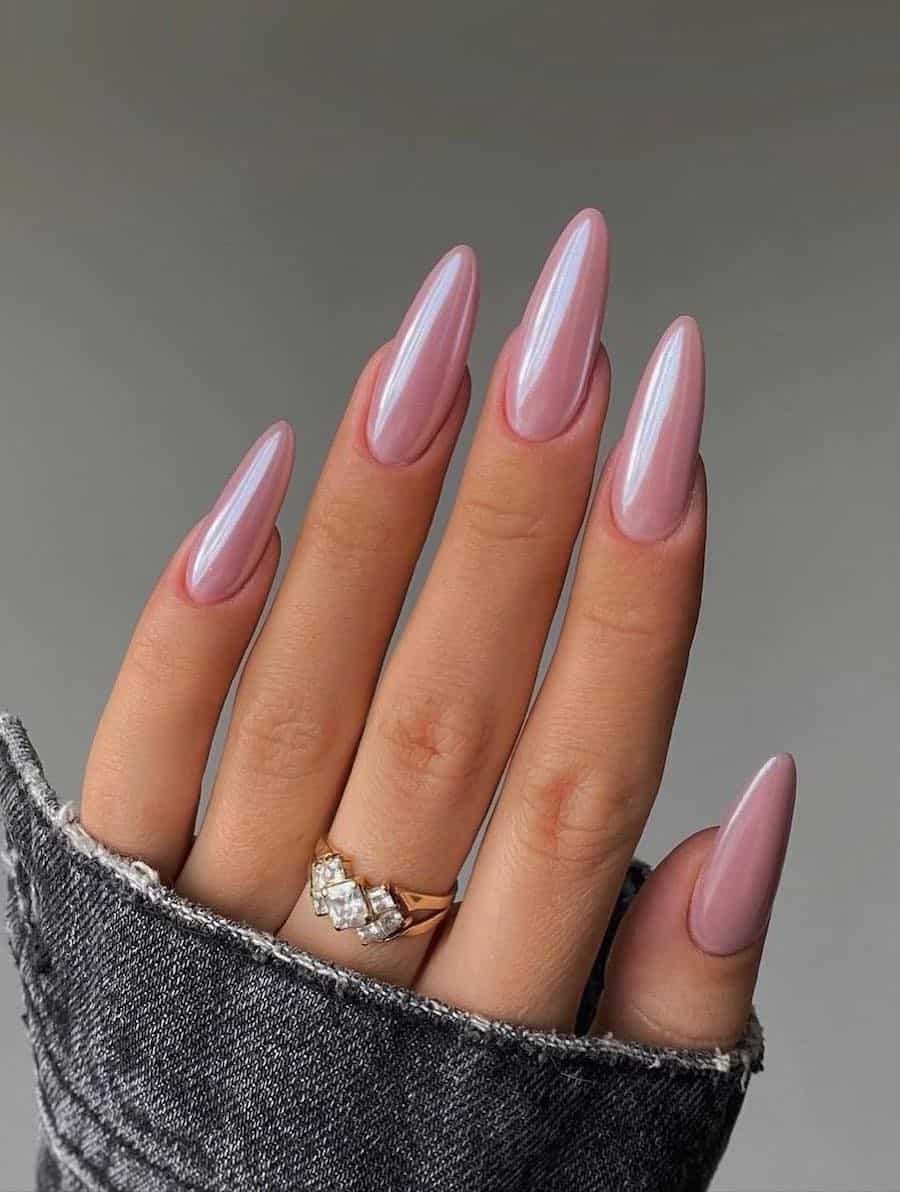 The "glazed donut" or chrome finish has become a huge trend in 2023. Pink nails are a go-to for a fun and flirty look, and adding a chrome dip powder layer is a great way to take your mani to the next level.
Are dip nails healthier than gel?
Dip nails and gel nails are equally healthy for the nails. Both of these options will not cause damage to the nails solely from the product but instead due to improper application or removal of the product from the nails. However, dip powder is more durable than gel so you will get a longer-lasting manicure from dip powder.
French Tip Dip Powder Nails
A French manicure is a nail design that will never go out of style. We have found everything from your classic French tips to bold and bright French manis to fit any style.
Classic French Tips
A French manicure is a great option when you're struggling to find the perfect mani. Head over to @doonails on Instagram for a French tip dip powder tutorial to recreate this classic look.
Burgundy Asymmetrical Frenchies
This dip powder combo with deep burgundy and gold glitter is screaming cozy fall vibes! Style your hands with some gold accent rings and jewelry to elevate the look even more.
Simple Black French Tips
A great way to switch up a classic white French manicure is to go with a glossy black tip using dip powder. A black French tip still gives off a clean appearance with a bold twist!
Pink Dip Mani w/ French Tip Accents
Boost your classic mani with a fun French accent nail! Choosing a fun color like hot pink will give you a fun and feminine look for any occasion (Barbie vibes anyone?).
Yellow French Tips w/ Chrome Powder Finish
A yellow French tip creates an instant bright and bold mani! Elevate the look by adding a light chrome dip powder finish for an extra glow.
Gold Dipped Tips
Gold is often associated with luxury and elegance so a molten gold French manicure is the perfect way to add a touch of elegance to your style. This look is modern, luxurious, and very cool.
Glitter Dip Powder Nail Ideas
Glitter dip powder is a great way to add an eye-catching element to your mani. Whether you're looking for a little glitter or a lot, our list has a look for everyone.
Gradient Teal Glitter
Calling all mermaid lovers! This glitter dip powder mani with different shades of teal gives off major ocean vibes. A bright and fun mani like this is perfect for a tropical vacation or trip to Vegas.
Purple Ombre Glitter Accent Nails
The combo of purple and white is an excellent choice for a unique dip powder mani. And adding glitter accents will take your look from simple to stunning!
Nude Nails w/ Pink Glitter Dip Powder
We love how these pink glitter dip powder accent nails add a little something special to a neutral nude base. These nails are a chic and stylish everyday look.
Purple Glitter w/ French Tips + Abstract Details
We love the combo of glitter solids with bare accent nails to create an abstract nail design. This look is perfect for whether you're headed to work or out on the town!
Pastel Pink and Blue Nails w/ Glitter
This combo of pastel pink and blue is giving us some serious cotton candy vibes. We love how the artist added chunky glitter dip powder for a little extra sparkle!
Can you get designs on dip nails?
If you love to elevate your manicure with designs or nail bling, you can still achieve this with dip powder. Typically, designs are created by adding gel nail polish or embellishments after your dip powder base color is applied. Then the nails are dipped again to coat the design, creating a contrast from the base color.
Dip Powder with Nail Designs
Adding a fun design is always a great way to boost a mani. We have everything from simple details to fun and flirty designs that will take your dip powder mani from basic to brilliant.
Nude w/ Heart Detail
We love how this design shows that adding something as simple as a small heart detail can transform your manicure. This look is neutral and simple making it great for everyday wear.
Rose Gold Chrome Nails
The combo of rose gold chrome and abstract details gives an elegant and feminine look to this mani. This is the perfect look for a formal occasion such as a wedding or special celebration.
Blush Pink w/ Blue Floral Art
These nails are created with a neutral dip powder base, then the floral design is dipped separately into blue, white, and green powder to get the final look. It creates a cute vibe we are loving!
Rose Marble Dip Nails
Marble nail designs are a hot trend in 2023 and we are here for it! This combo of rose with milky white detailing and gold foil accents is to die for. Follow the tutorial for these dip powder nails on @doonails IG.
Iridescent Dip Nails w/ Pearls
This sparkling iridescent white would be beautiful on its own but the addition of pearls and gold detailing takes it to the next level of flashy and elegant. This mani would be perfect for an upscale occasion or could be worn by a bride!
White Nails w/ Wave Details
We love the clean and chic aesthetic of this manicure. A nude and white combo is simple and clean, and the addition of silver wave detailing adds a fun and youthful vibe that we can't get enough of!
Bare Nails w/ Silver Chrome Outlining
The outline nail trend is becoming increasingly popular and is a great way to put a twist on a classic French manicure. The contrast of nude and silver chrome dip powder creates a futuristic look that any minimalist will love!
Glossy Black w/ Glitter Accent + Rhinestones
We love a black and silver manicure. Black is bold and eye-catching for any occasion.
Take a basic black manicure to a new level with the addition of a glitter dip powder accent nail, rhinestone gems, or both!
Can you get dip on short nails?
Absolutely! Dip powder is not limited to the length of nails. You can choose to embrace your short, natural nails or add a nail extension with dip powder applied on top for a longer look.
Short Dip Nails Ideas
If you are one that can't stand the thought of long nails, we have gathered a couple of amazing nail designs that will fulfill all of your short nail dreams.
Classic Nude Mani
A basic nude manicure creates a simple, clean, and chic look perfect for an everyday look. If you want to add a little flare we suggest perhaps a French tip or dainty details.
Mauve Nails w/ Glitter Half Moons
This stunning Mauve mani is eye catching and unique. We love the addition of silver glitter half-moons at the base to add a little extra flare to this simple mani.
Dip powder has become a huge trend in the last few years and as you have seen from the list above, there are several options and styles to enjoy with dip powder. Whether you are a dip powder regular or you are looking to try it for the first time we hope that our list has provided you with some inspiration for your next mani!
More Nail Inspiration You'll Love:
31+ Most Aesthetic Nails We've Seen Yet
32+ Classy Short Nail Designs & Ideas For Every Season