Are you planning a family photo session? If you aren't sure what to wear, check out these 15+ family photo outfit ideas that are simple, classy, and will make your photos memorable in the best way possible!
*this post contains affiliate links*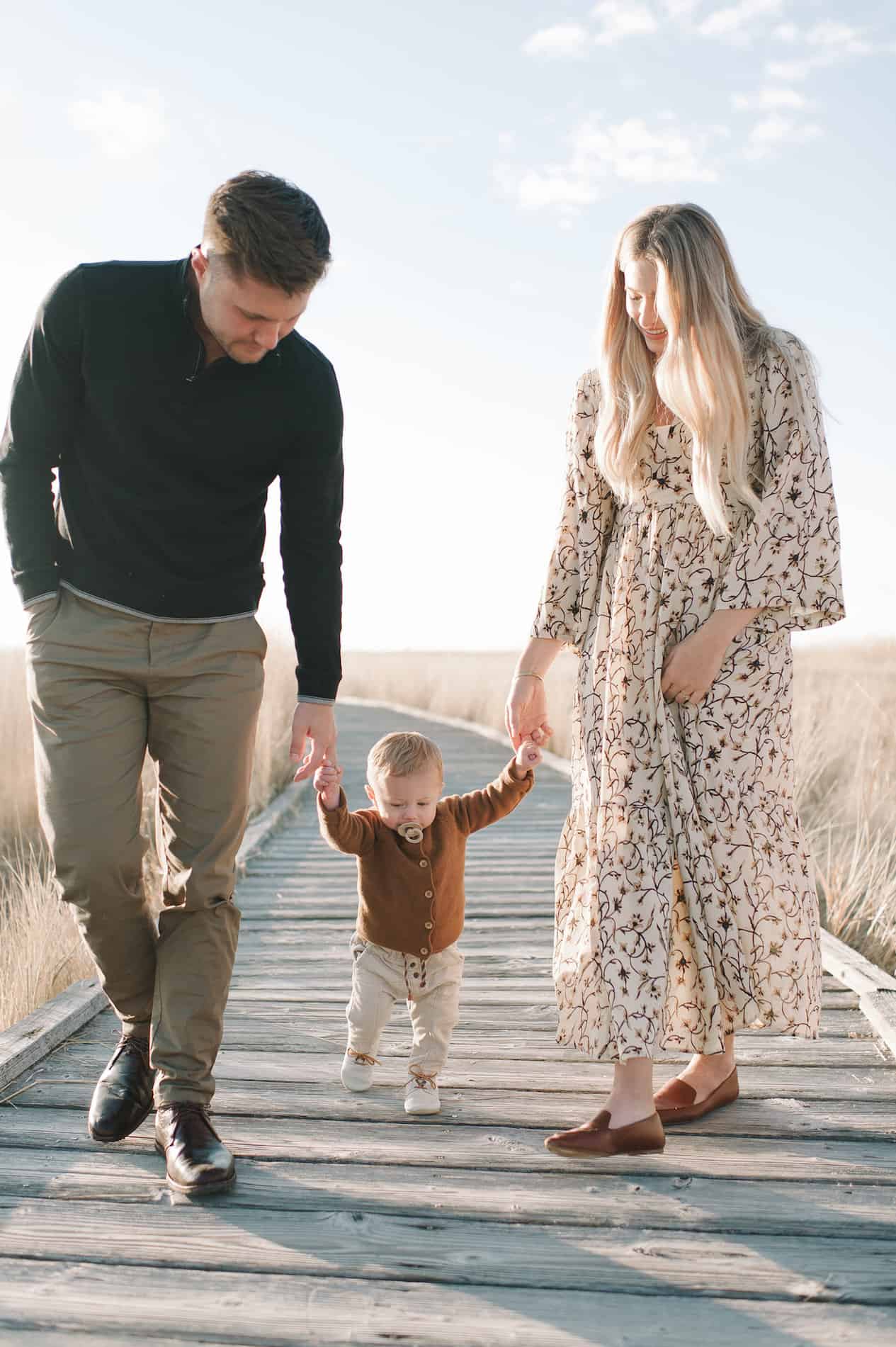 The Best Family Photo Outfit Ideas
When planning family photos there are often a lot of questions that will run through your head – Where will you go? Who will take the pictures? What will you wear? How can you make sure your little ones aren't making funny faces the whole time?
While we can't exactly tell you how to get little Jimmy to keep a normal smile on his face during the photo shoot (as moms we know the struggle!), we can give you some tips and great outfit inspiration to help you with your planning!
Below you'll find answers to common questions about family photo outfits, color palette ideas, and 15+ fantastic family outfits we think you'll love.
How should you dress for family photos?
When it comes to a family photoshoot we recommend going with a smart-casual style which is a mix between dressy and formal and more casual and laid-back. As a matter of fact, family photos have come a long way from the stuffy portrait studios and are now often very candid and casual.
This means you can leave the super formal outfits at home (unless your photos are being taken at a formal occasion like a wedding). Instead, opt for a more laid-back version of dressy so you feel comfortable and put-together at the same time.
This can include breezy dresses, nice blouses and trousers or skirts for the women/girls, and chino pants and button-up tops or sweaters for the men/boys.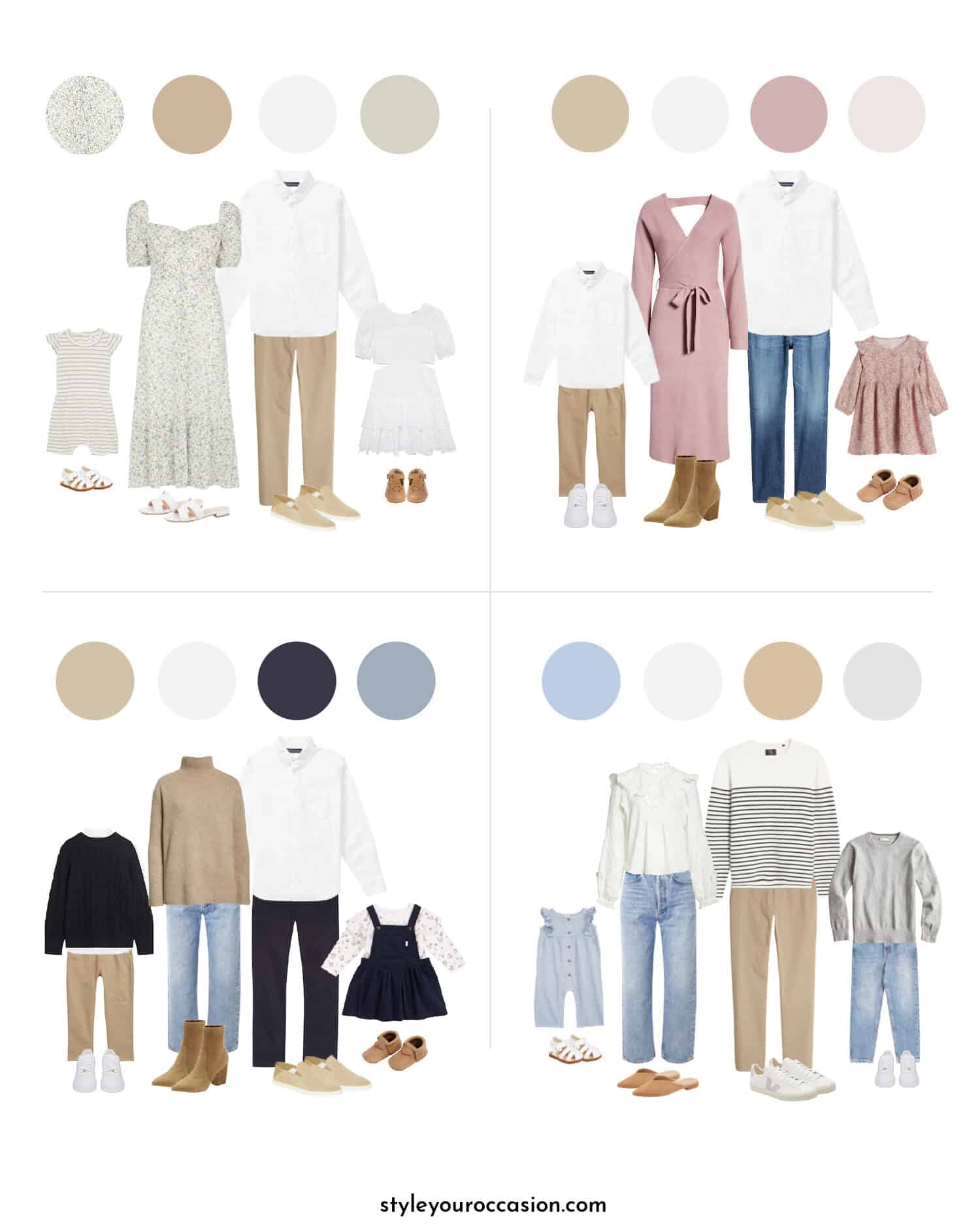 What are the best colors to wear for family pictures?
Trying to coordinate colors for everyone in the family can be challenging. But, we have a trick to make it easier! We recommend sticking with mostly neutrals then bringing in subtle colors and patterns as accents if you want to brighten up the look.
Additionally, if everyone is wearing a bright/bold color or pattern, it can overwhelm the photos and take away from your beautiful faces. Instead, its best to go with neutrals as they are subtle and classy and work well with any other accent color tone.
Above you'll see four different family photo outfit ideas with corresponding color palettes that combine neutrals with one or two accent colors.
What should I wear for a large group family photo?
For large group family photos where there is bound to be a lot going on, we recommend sticking with neutrals and/or subtle colors. Ivory, beige, tan, and cream are all lovely with an accent color like blush, sage green, russet brown, mist blue, or navy.
Depending on the formality of the photo, you can go with a simple dress and heels, or trousers with a pretty blouse. Also, for cooler weather, a nice knit sweater and a pair of jeans with ankle booties looks great!
Additionally, just to be on the safe side, ask whoever is coordinating the family portrait if they have a color scheme in mind, or any specific dress code.
15+ Family Photo Outfit Ideas
Below are our top family picture outfit combinations for spring family photos, summer pictures, and fall and winter photo sessions.
Spring Family Photo Session Outfits
get the look:

mauve and green.
Spring is such a gorgeous time to get family photos taken. Everything begins to get colorful and new life is blooming! We love this family photo outfit idea with the mom in a pretty mauve maxi dress, baby in a forest green romper, and dad in light green chinos and a neutral sweater.
The wardrobe colors are subtle and they compliment the environment making the family the real focus of the photo.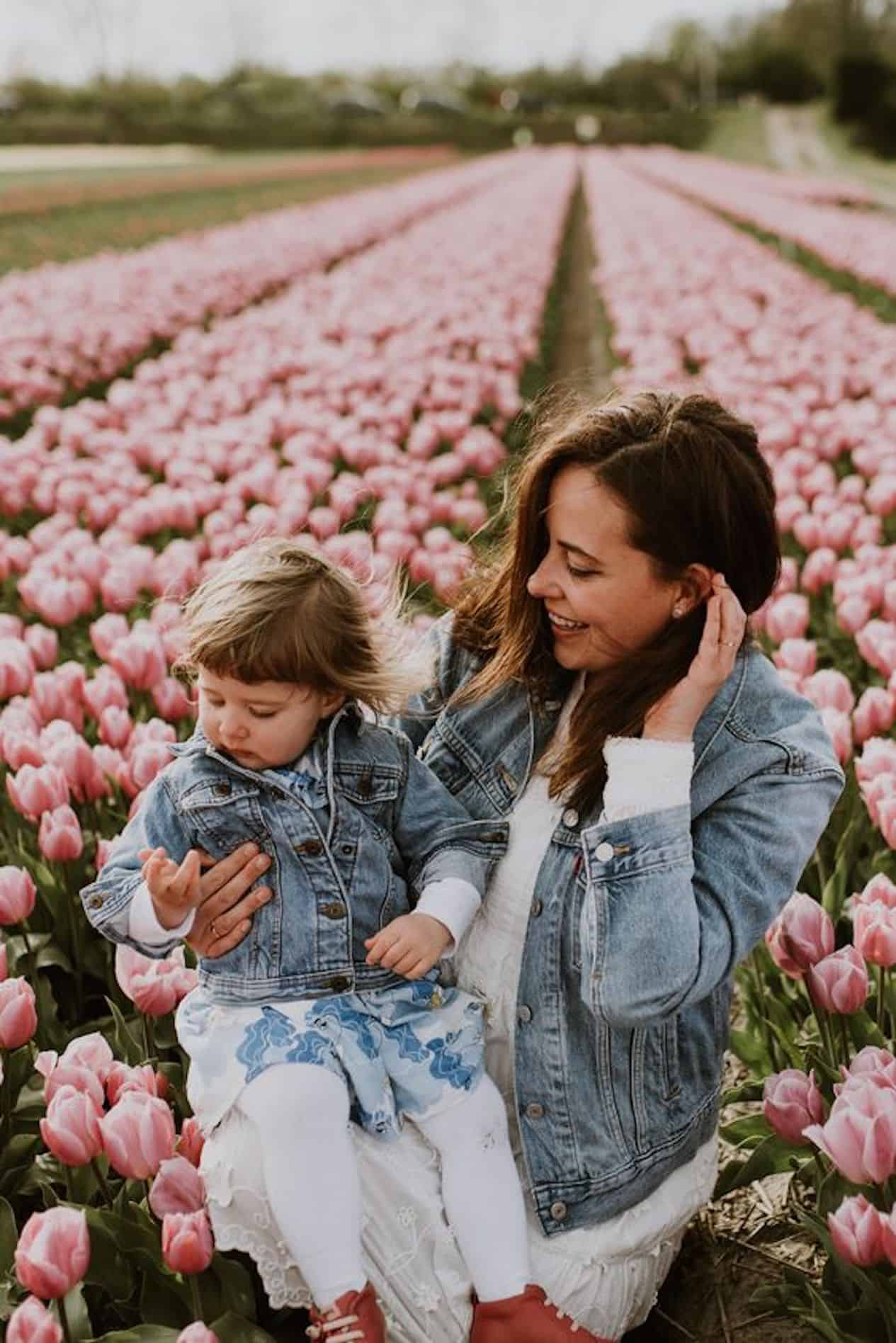 get the look:

white and denim.
Cuteness overload! This look is casual yet still perfect for a laid-back spring family photo. Mom and her little one are in matching denim jackets with white dresses underneath.
This is perfect because it adds an extra layer in case the weather is chilly. However, you can easily lose the denim jackets for a few pictures if you want to look a little more formal in just dresses.
For dad or other siblings in the photo we would recommend neutral sweaters and a combination of jeans or chino pants.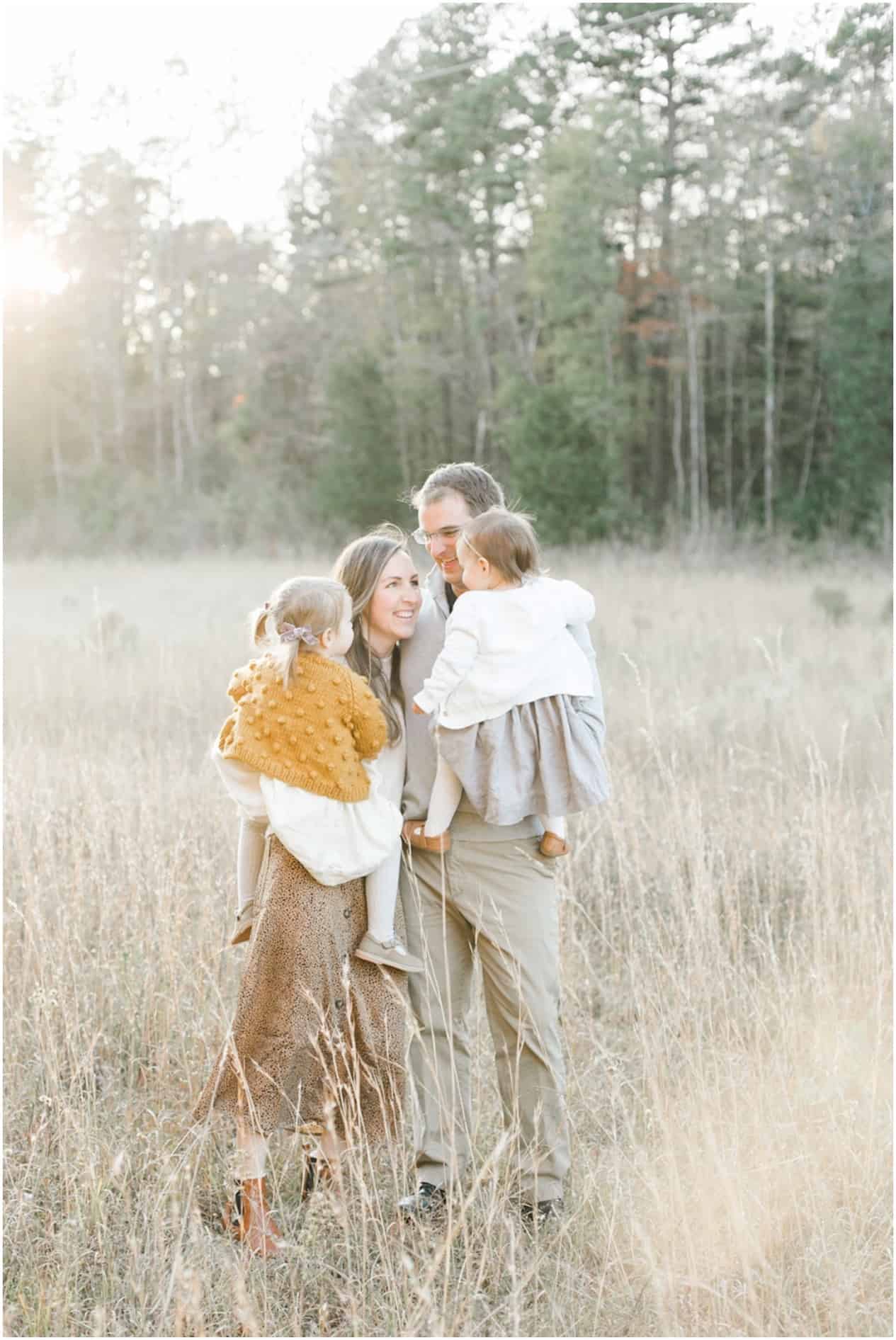 get the look:

a touch of animal print.
This family photo session outfit combination could work for spring, late summer, or early fall. We love the subtle leopard print midi skirt on mom paired with an ivory knit sweeter and brown ankle booties. The dad is in neutral chino pants and a knit sweater which is nice and subtle.
The little girls are wearing mostly neutrals but we love the little pop of color in the girls sweater that plays off the mom's midi skirt.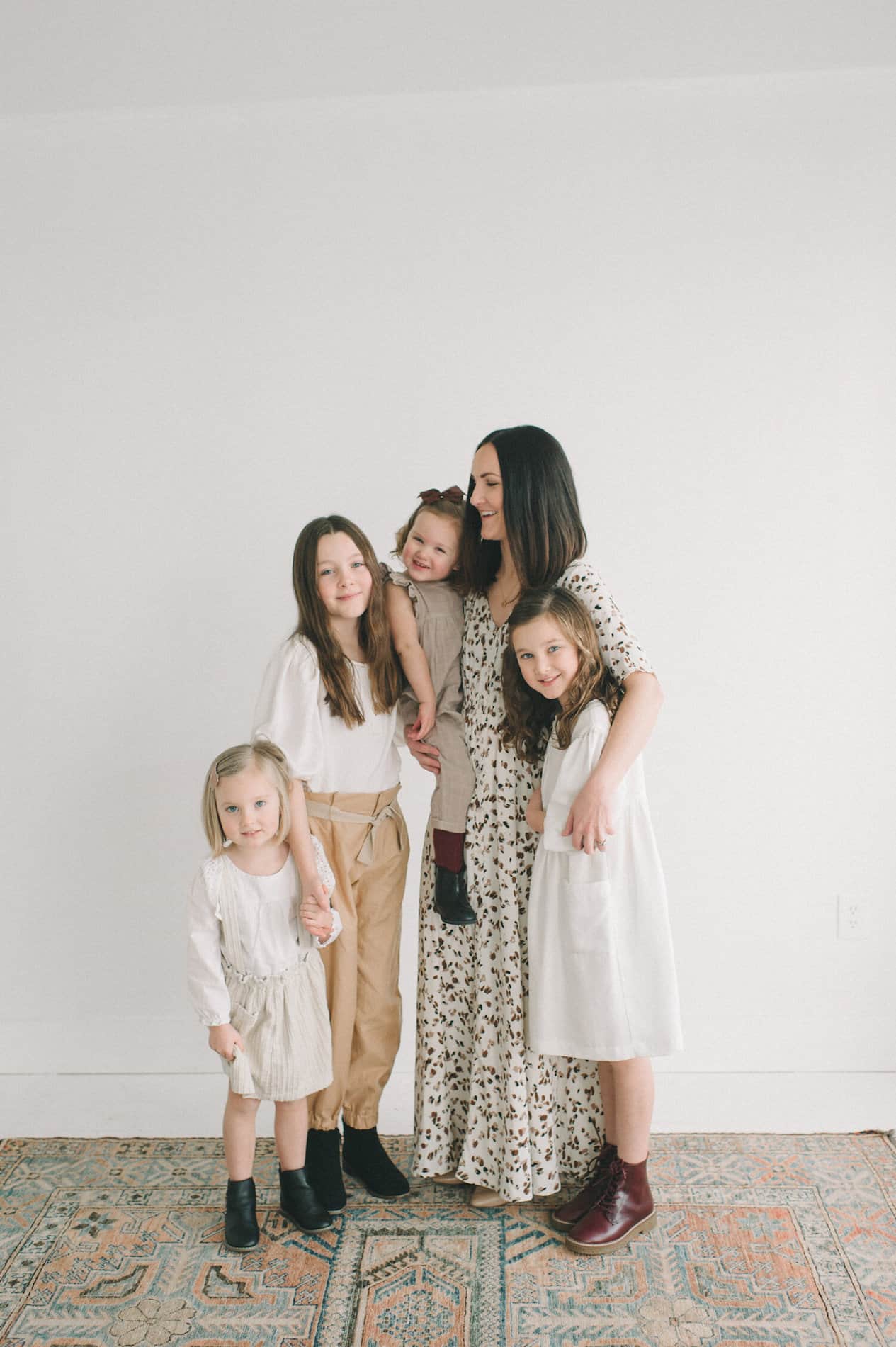 creamy neutrals.
Photographer Jessica Haderlie does the most amazing "motherhood" family photoshoots and we are here for them! This mother and daughters group looks fantastic in neutral colors, and mom stands out in a simple maxi dress with subtle color tones.
Family photo outfits do not have to be complicated. White, ivory, cream, and tan always look stunning on everyone and a touch of minimal patterns can add interest to the photos without overwhelming them.
Summer Family Photoshoot Outfits
get the look:

pinks and blues.
Sweet and summery, this family photo outfit combination is absolutely perfect. In other words, we totally love the pink and blush tones on the girls with their pretty dresses. The pink color tones compliment the wildflowers so well, and we love that there are simple, subtle patterns – nothing overwhelming.
The boys look great in light blue tones and the outfits are casual but still formal enough for pictures with the collared shirts.
get the look:

neutral perfection.
Neutrals done right. This outfit combination is perfect for summer with the mom and dad in creamy neutrals and the little one in a subtle floral pattern dress.
We love how the light toned outfits pop against the green background and the little bits of color brought in from the fruit and flowers.
breezy whites and sandals.
Take a trip to the beach for your summer family photoshoot! This beachy family photo is so precious from the neutrals, to the coastal blues, all the way to the Birkenstock sandals.
The kids and dad are wearing effortless neutral clothing in laid back styles – romper, shorts, t-shirts. And, mom is in a pretty blouse and skirt combo.
get the look:

blush and patterns.
Can we just pause for a moment to appreciate how incredibly cute this little one is?! Oh my!
This family outfit is interesting but it totally works. Baby is in a striped white romper with the cutest brown shoes that match the dad's shoes. Dad is wearing dark tones but has a dotted green shirt that plays off the color in the little girls romper. Mom is in a simple blush dress and sandals.
The greens and blush make for a great summer outfit combination and we are here for it!
Fall Family Photography Outfits
get the look:

fedoras and wool.
This mother daughter photo stopped us dead in our tracks. It's unexpected, but so precious and the outfits work wonderfully for a laid-back, casual fall photoshoot. Not to mention it's totally giving matching mom + mini vibes.
The wool fedora hats and neutral shirt jackets look great on these two paired with simple denim jeans. For a casual family combo we'd put dad in jeans and a neutral knit sweater, and other siblings in the same.
get the look:

moody florals.
We love the moody hues in this beautiful family photo. The deep floral dress on mom is perfect for the fall season in September or October, and combines so well with the dark tones on dad.
Baby is wearing dark mustard color pants (another great fall tone) with a light ivory sweater to bring a pop of brightness to the overall dark look.
Stunning!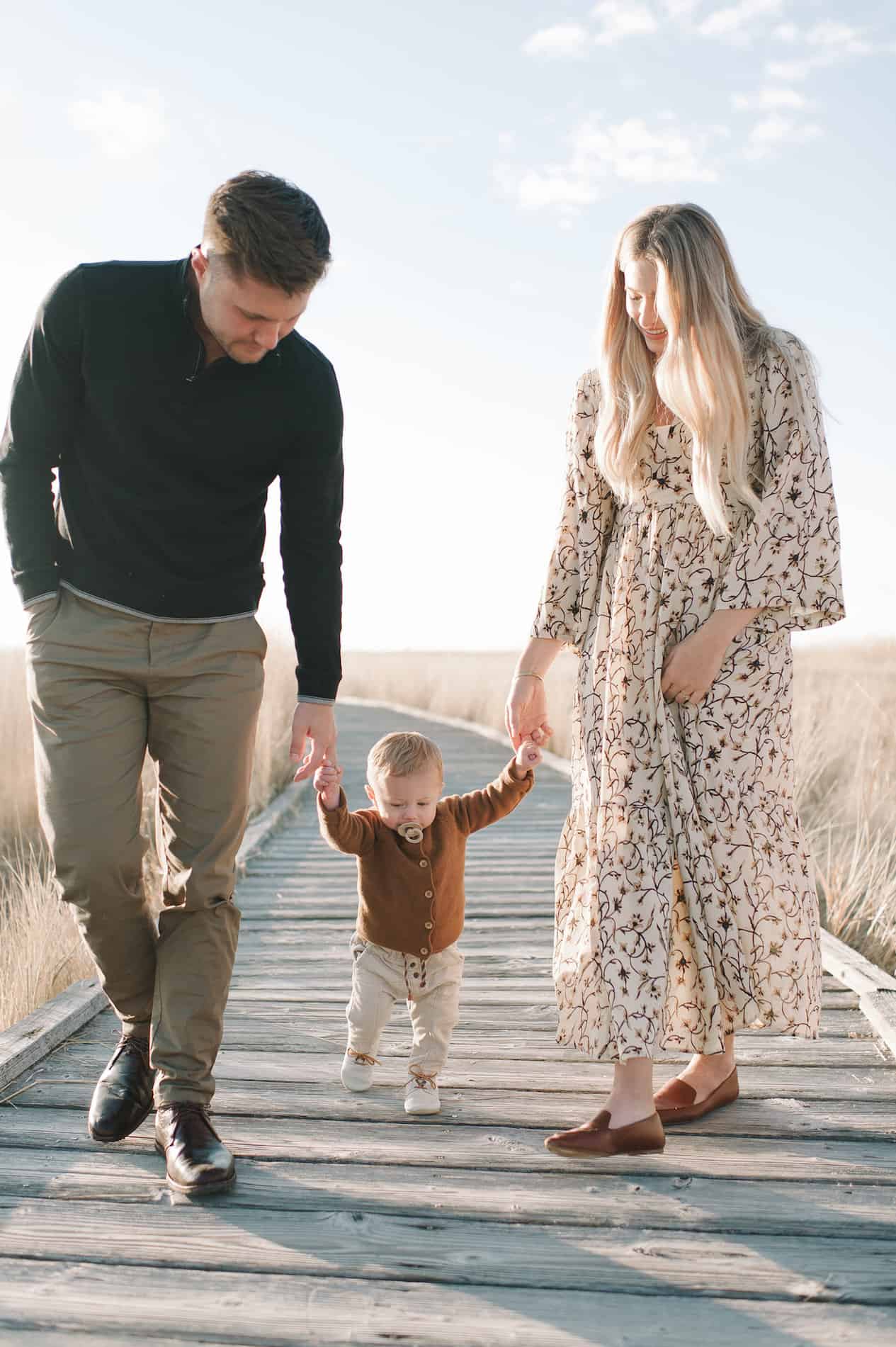 get the look:

subtle fall tones.
This family photo combines gorgeous fall color tones – brown, rust, and deep green – with lightweight clothing choices that work when the weather is still mild in early autumn.
The maxi dress on mom is super feminine and pretty and contrast perfectly with the dark shades on Dad. The little one wears a super cute rust color knit sweater with cream pants and a little pair of neutral mocs.
This is definitely one of our favorite family photo outfit ideas on the list!
laid-back denim.
Laid-back and casual done right! We love, love, love this family photo outfit idea for something that feels super relaxed and fun. Also you can totally tell this family enjoys the outdoors and likes to live an adventurous and casual life.
When we say family photos have become a lot more casual and candid these days, this is what we mean. Stuffy portrait studios are out, and wearing what's true to you and your family is in!
Winter Family Picture Outfit Ideas
get the look:

wool coats and denim.
When the weather gets chilly you can still get outside for a family photo! We love the look above with the Mom and Dad in matching rust brown wool coats, denim, and boots. The little one is so cute in a green winter jacket and cream color shearling pants.
It's warm, cozy, and a perfect family photo outfit idea for the winter months.
get the look:

winter whites.
Creamy ivory and white works perfectly in this family photo against a white backdrop. Particularly a snowy winter backdrop!
The mom looks stunning in a knit sweater, midi skirt and wool fedora. And, the dad looks great in a white sweater and jeans. The little bambino is in a mix of neutral shades like tan, ivory, and cream to tie the whole look together.
Also, don't worry about wearing white tones and getting "washed out" in photos. In this case, if your photographer knows what they are doing (as they should!), they will be able to make the neutrals work perfectly!
get the look:

black on black.
Opposite of the previous family photo outfit, this look is all black and it totally works! Especially if you want to take your photo session indoors in the winter. We love the idea of monochromatic black outfits against a light and airy backdrop.
Here both mom and dad are in black denim and nice tops, with bare feet which gives a relaxed vibe to the photoshoot. The color tones work perfectly for the winter season, and they would work great outdoors in a snowy environment too.
get the look:

ivory and browns.
Lastly, if you live where it doesn't really snow in the winter, you can definitely try an outfit combination like this. There vibe is moody with a mix of dark and light neutrals.
We love how the mom is in a light outfit while the boys are in darker tones as it creates a beautiful contrast. Also, a silk maxi slip dress adds elegance but the cardigan and fedora keep the look more laid-back.
Family Photo Outfit Tips
We hope you feel inspired and found some family photo outfit ideas on the list that you absolutely love! Here are some extra tips to help your photoshoot go smoothly and get the best pictures you could ask for!
Give your clothing a good steam or iron before the session. Otherwise, wrinkles can definitely show up in photos and will take away from the overall look and can end up appearing sloppy.
Do not wear a hat at the start of the photoshoot. If you plan to wear a hat for some of your photos, do your hair and bring the hat along. Generally, it is best to get photos without it first and put it on near the end of the photoshoot. This way you don't end up with flat hat hair in your pictures.
Dress for the weather because there's nothing worse than being too cold or too hot (or having little ones who are uncomfortable) during a photoshoot. Above all, be prepared for the temperature and dress accordingly to avoid cranky faces in all the photos.
Watch out for rogue bra straps because one thing you will never regret is making sure your bra straps are secure before a photoshoot. In other words, the worst thing is having a beautiful photo ruined by a rogue bra strap showing when you didn't intend it to.
Avoid high heels/pumps in grassy locations unless you will be on a solid or concrete ground the whole time. Pumps with pointy heels almost always get stuck in grassy areas or soft ground. In this case go for block heels, wedges, or flats.
In summary, we hope you enjoy your family photoshoot! Have fun with it and be sure to pin the photo below to save this post for later!
Pin this:
More Photoshoot Outfit Ideas You'll Love:
15+ Neutral Family Photo Outfits For Every Season
Family Beach Pictures, What To Wear + Modern Outfit Ideas!
Summer Family Photo Outfits: 15+ Perfect Looks To Inspire You!
15+ Photoshoot Ideas for Birthday Celebrations You'll Love!
18+ Spring Family Photo Outfits
Shop The Post:

About
Welcome to Style Your Occasion. Your styling inspiration go-to for every activity, occasion, event, party, and trip!
Featured Post
Pink is the prettiest hue. If you are a fan of this color, you'll love these chic and modern pink sweater outfits that incorporate this sweet shade (including baby pink sweater outfit and hot pink sweater outfit ideas)! Wear these looks in all seasons and anywhere,…