Are you planning for a family photo session? If you aren't sure what to wear, you'll love this list of 19+ family photo outfit ideas that are simple, classy, and will make memorable photos… in the best way!
*this post contains affiliate links*
*Originally published May 2022, Updated Aug 2023*
When planning family photos there are often a lot of questions that will run through your head – Where will you go? Who will take the pictures? What will you wear? How can you make sure your little ones aren't making funny faces the whole time?
While we can't exactly tell you how to get little Jimmy to keep a normal smile on his face during the photo shoot (as moms we know the struggle!), we can give you some tips and great outfit inspiration to help you with your planning!
Below you'll find answers to common questions about family photo outfits, color palette ideas, and 15+ fantastic family outfits we think you'll love.
How should you dress for family photos?
When it comes to a family photoshoot we recommend going with a smart-casual style which is a mix between dressy and formal and more casual and laid-back. As a matter of fact, family photos have come a long way from the stuffy portrait studios and are now often very candid and casual.
This means you can leave the super formal outfits at home (unless your photos are being taken at a formal occasion like a wedding). Instead, opt for a more laid-back version of dressy so you feel comfortable and put-together at the same time.
This can include breezy dresses, nice blouses and trousers or skirts for the women/girls, and chino pants and button-up tops or sweaters for the men/boys.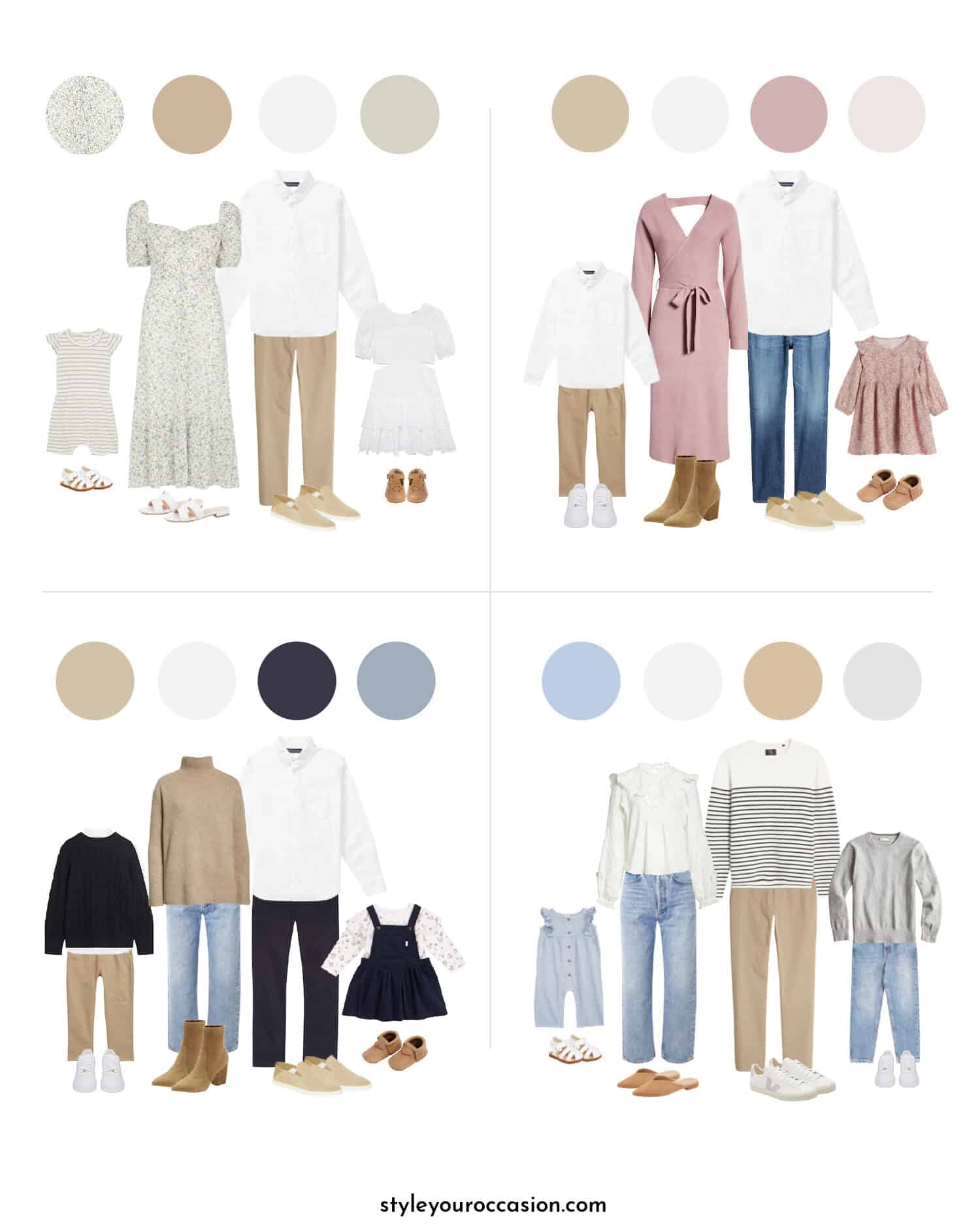 Trying to coordinate colors for everyone in the family can be challenging. But, we have a trick to make it easier! We recommend sticking with mostly neutrals then bringing in subtle colors and patterns as accents if you want to brighten up the look.
Additionally, if everyone is wearing a bright/bold color or pattern, it can overwhelm the photos and take away from your beautiful faces. Instead, its best to go with neutrals as they are subtle and classy and work well with any other accent color tone.
Above you'll see four different family photo outfit ideas with corresponding color palettes that combine neutrals with one or two accent colors.
Christal Sczebel is an entrepreneur, published author, and content creator. Over the past decade she has worked in the digital media field building successful websites for both food and fashion. She has a natural affinity for minimal, timeless fashion, neutral home decor, and styling.
Here on Style Your Occasion, Christal is the Editor-in-chief and brain behind the aesthetic. She hopes you love the this space and the inspiration you'll find!