Have a red dress you are eager to wear? Learn what color shoes to wear with a red dress in 2022 so you can rock that fiery dress in the best way possible, and get chic outfit ideas!
*this post contains affiliate links*
What Color Shoes To Wear With A Red Dress in 2022
When it comes to wearing red, trying to find the right shoe color can sometimes be a challenge. Red is a pretty bold color so when choosing other items to pair with it, you'll have to be a bit strategic.
If you've been holding off on showcasing that beautiful red dress of yours because you don't know what color shoes to wear, we're here to give you some great inspiration!
While there are obviously many different styles of dresses we've gone with a beautiful day-to-night dress from Reformation to give you some simple ideas for what color shoes to wear with a red dress.
If your red dress happens to be fancier you can choose one of the dressier options below, or if it's more casual you can opt for one of the more laid back looks.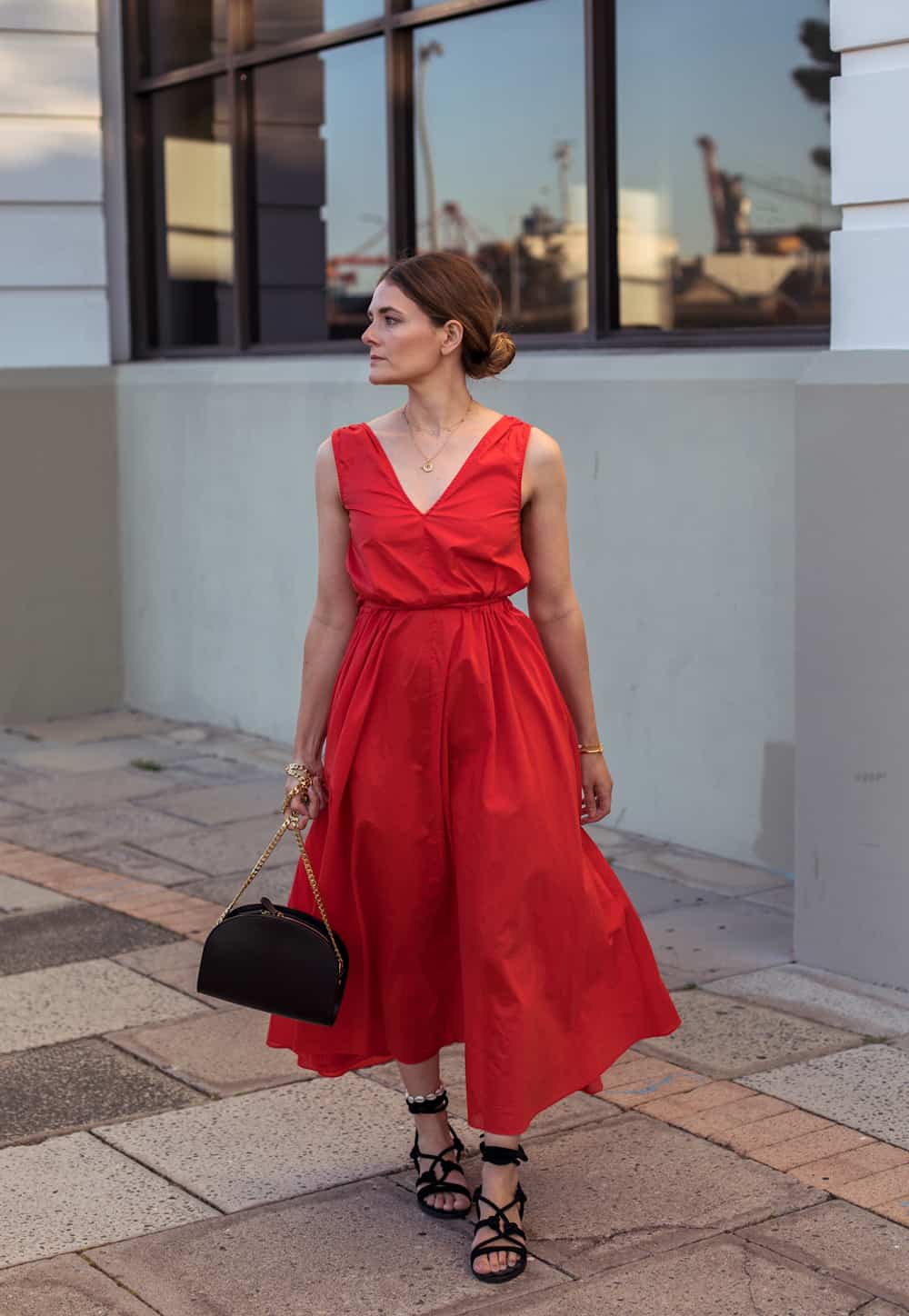 What color goes with red dress?
A red dress is a statement piece, especially if it's a bold red color. Below are the best colors that complement a red dress because they are subtle, making the dress the star of the show.
white or cream shoes
black shoes
nude shoes
brown shoes
animal print shoes (leopard, cheetah)
metallic shoes (gold, silver)
clear shoes
Now that being said, another color that actually can go quite well with a red dress when done the right way is… red shoes! We'll explain more below…
shop shoes:

What do I wear with a red dress?
A red dress can easily be dressed up or dressed down depending on the occasion. If you are wearing a red dress on a casual day running errands or going for brunch, you can pair it with a denim jacket and sneakers.
On the other hand, for a more formal occasion, a red dress can look fantastic with black strappy sandals and a leather clutch.
Below are some chic and stylish red dress outfit ideas to give you an idea of what color shoes to wear with a red dress, and how to style red dresses with other clothing and accessories.
Red dress + white sneakers.
get the look:

Bright, crisp white works perfectly with a red dress, especially in the form of laid-back sneakers. The white complements the bold red so well and let's the red be the star of the show.
For the inspiration outfit we chose a pair of cute white sneakers for a more casual look. Paired with a red mini dress or midi dress, this look can be worn while running errands, to a daytime festival, out for brunch with friends, or an afternoon visiting a winery.
Dress it up: For a more formal look swap the running shoes for white woven mules or white block heel sandals.
get the look:

What color heels go with a red dress?
When it comes to heels, you can go with any of the colors mentioned earlier – white, black, nude, brown, animal print, or metallic (gold shoes or silver shoes). All of these are neutral toned so they complement the red and don't compete with it.
When choosing heels you can opt for heeled sandals, pumps, kitten heels, or heeled boots. This all depends on the style of dress and the occasion.
Check out how we've paired heeled shoes with a red dress below!
Red dress + nude heels.
get the look:

Neutral colors pair work perfectly with a bright, vibrant red, and these nude block heel sandals are a great fit. Tie the look together with a natural woven tote bag, dainty gold jewelry, and a pair of sunnies.
With this look you'll be set for a spring or summer birthday party, baby shower, or dinner on a patio. You can also dress this look up for a casual wedding by swapping the straw tote for a nude clutch or crossbody purse.
Seasonal swap: For the fall or winter season, swap the sandals for nude booties and throw on a cozy cream cardigan.
Red dress + black ankle boots.
get the look:

Classic black shoes are always a safe bet when it comes to wearing a red dress. Whether you choose black ankle boots, pumps, low heels, casual sandals, heeled sandals, or sneakers, you can always pull of the black and red combo confidently.
The look above elevates the red dress with sleek black ankle boots, a cropped leather jacket and all the right accessories for a date night or drinks out with the girls.
Dress it up: To make this more casual look more appropriate for a formal event, swap the black boots out for black pumps and go with an elevated black clutch. If it's cool, add a faux fur shawl to be extra luxe.
Red dress + animal print heels.
get the look:

The beauty of animal print shoes is that they are inherently neutral in tone. Zebra print, cheetah print, leopard print, the list goes on.
With animal print shoes you are typically going to get a nice combination of ivory, brown, beige, and black (unless you go with peacock or flamingo!).
Pairing neutral animal print shoes with a red dress is an eye-catcher. And, if you keep the rest of your pieces neutral or black, you'll be sure to have a stunning look.
Can I wear red shoes with a red dress?
Absolutely! Red shoes with a red dress can look truly amazing. But, there are a couple things to consider for a successful look.
Choose a shade of red shoes that match the shade of red dress. This will create a cohesive look rather than the combination that ends up looking disjointed.
Go with minimal red shoes. Choosingdainty sandals or strappy heels versus heavy knee-high red boots or clunky red sneakers is best. You simply want to complement the red dress with the shoes rather than compete with it.
Red dress + red heeled sandals.
get the look:

Last, but not least, we have a simple and pretty red-on-red outfit combination. If you've ever wondered what color shoes to wear with a red dress, perhaps the answer has been in front of you all along!
This chic outfit comes together with dainty red sandals, a woven hat, simple woven leather purse, and a touch of gold jewelry. With red being such a bright, vibrant, bold color, when it comes to shoes, less truly is more!
You could also easily swap the heels for red pumps, or flat red sandals for a dressier look, or something more laid-back.
What Color Shoes To Wear With A Red Dress For a Wedding
If you are headed to a wedding in the spring, summer, fall, or winter, you can don a red dress with a fancy pair of heels. But what color should you choose? Because a red dress is already a statement piece, and the color is bolder, it's best to go with nude, clear, or black shoes.
For a fall or winter wedding, black heels look really sharp with a red dress, and definitely gives festive vibes. In the spring or summer, go lighter with nude or clear heeled sandals or pumps.
Clear shoes are definitely having a moment right now and they won't compete at all with the red dress.
Can you wear a red dress to a wedding?
Yes! Wear a red dress to a wedding is totally fine, but it's best to choose a dress that isn't overly bright or neon red. This will draw too much attention and that means less attention on the bride, which you never want to do.
When wearing a red dress to a wedding, proceed with caution and go with a red dress that is more muted in color. Or, consider a red dress with a floral pattern or lace-overlay to downplay the color.
Final Notes
Some think it takes guts to wear a red dress, but we know you can rock a red dress any day of the week and look très chic!
When it comes to choosing the best shoes to go with a red dress, think "subtle" and "neutral". For a bolder look opt for animal print or red (but make sure it's the same shade as your dress!).
We hope you feel confident choosing the best footwear to pair with your red dress for whatever occasion lies ahead!
More Style Guides You'll Love:
What Shoes To Wear With Black Dress + Stunning Looks To Steal
16+ Pink and Red Outfit Ideas: A Chic Take On This Color Combo
14+ Chic Pink Sweater Outfit Ideas
12+ Red Boots Outfit Ideas That Will Have You Smitten
The Best Shoes To Wear With Long Dress for Any Occasion
The Best Shoes To Wear With A White Dress + Chic Looks To Copy
18+ Outfits With Green Pants: Stylish + Elevated Looks
18+ Modern Fall Family Photo Outfits
15+ Classy Boudoir Outfit Ideas
Capsule Summer Wardrobe: Checklist + What To Wear
15+ Pink and Black Outfit Ideas That Prove This Combo Is Still Hot
Christal Sczebel is an entrepreneur, published author, and content creator. Over the past decade she has worked in the digital media field building successful websites for both food and fashion. She has a natural affinity for minimal, timeless fashion, neutral home decor, and styling.
Here on Style Your Occasion, Christal is the Editor-in-chief and brain behind the aesthetic. She hopes you love the this space and the inspiration you'll find!