Have you been searching for gorgeous gold and green nails to inspire your next manicure? You'll love my list of 26+ green and gold nail designs that are seriously stunning for any time of year!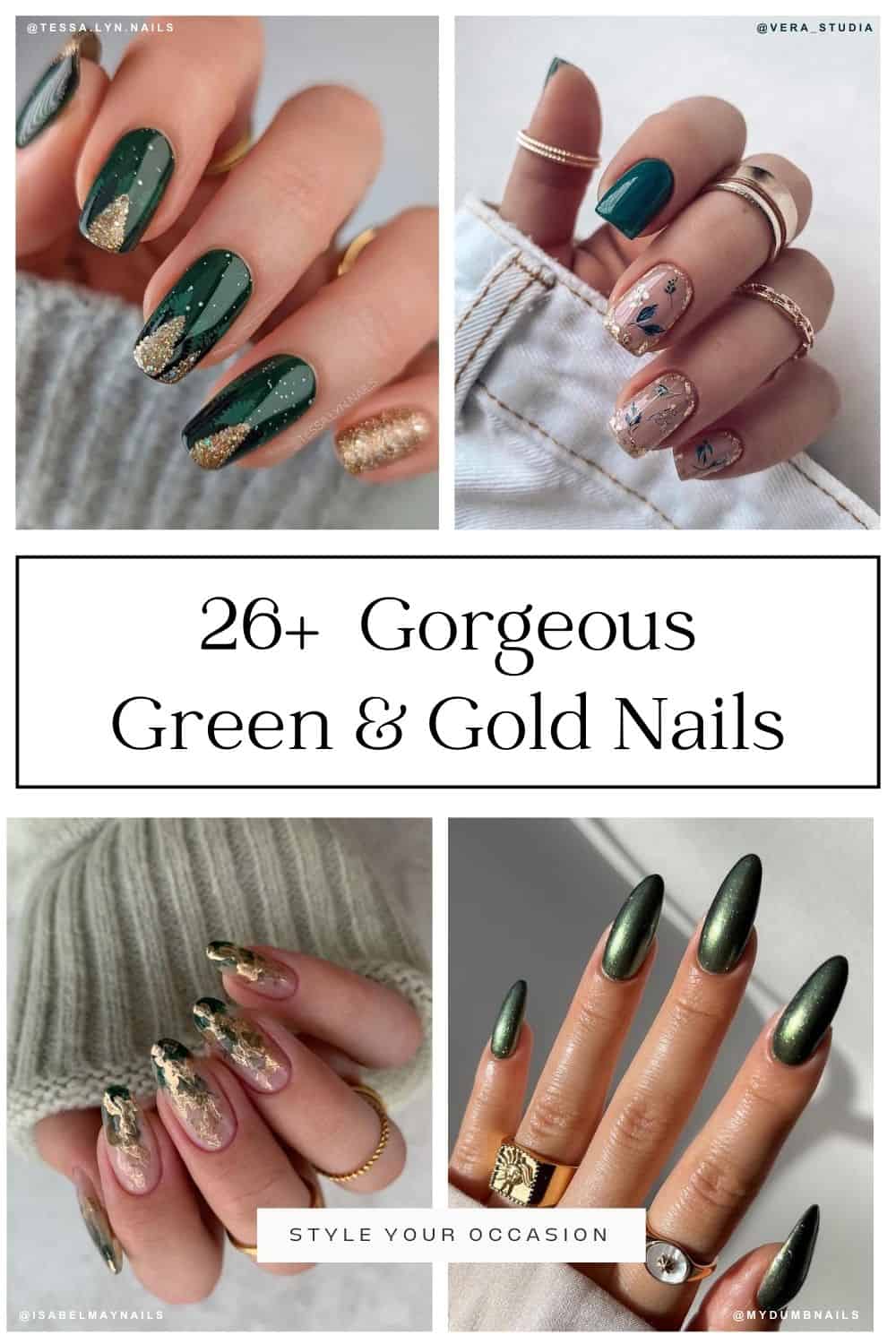 *this post contains affiliate links*
Gorgeous Green and Gold Nails
When it comes to gorgeous nail color combos, I have to say that green and gold are one of my favorite pairings!
I love the combination of warm-toned gold details with cool green nail polish, and I know I'm not alone since these shades have been all over my Instagram feed lately. InStyle Magazine says "Dark green nails are especially perfect this time of year, as they add depth, harmonize with the season, and beautifully transition from fall to winter", so I expect to see tons of stylish green and gold nail designs this holiday season.
Whether you love this color combo as much as me or you're just looking for chic, trendy nails to try out before the year ends, you've come to the right place. I've gathered the most beautiful green and gold nail designs that can easily elevate your look, so keep scrolling to find the nail inspiration you've been looking for!
Gold and Green Nails List:
I have everything from classic manicures to modern designs, from bold nail art to simple and stunning. So no matter what aesthetic you're looking for, I guarantee there's something for you on my list below!
Shades of Green w/ Gold Waves
I'm starting my list of green and gold nails with this vibrant and youthful manicure.
Waves have to be one of my favorite nail designs! It's trendy with a playful vibe yet still sophisticated enough to wear for special occasions, like family get-togethers, baby showers, and more.
Sage + Stone Abstract Nails w/ Gold Flakes
Looking for a nail design that's trendy and elegant? This abstract nail design is just what you need. I love the soft, natural nail polish colors used here, while the gold foil adds the perfect amount of glam!
Smoky Gold & Green Mani
Shimmering gold and dark green nail polish pop so well against the nude pink base in this nail design. In my opinion, this is an excellent choice if you want something that's unique and eye-catching but still refined.
I would also love to see this smoky gold texture on green ombre nails!
Forest Green + Sparkly Gold w/ Plaid
Give your mani a holiday feel with green and gold plaid details.
I love the addition of black nail polish here as well. It adds depth to this nail design without taking away from its timeless aesthetic.
Green & Gold Geometric Nails
Searching for something bold and playful? I love the daring look of these geometric nails! The gold polish elevates this manicure, and the combination of textures and colors adds so much depth and interest to this look.
Emerald Green Nails w/ Florals & Gold Borders
In my opinion, florals are always a stunning addition to any nail design. And while flowers are usually associated with spring, you can pull off floral nail art in any season.
If you plan to add floral or botanical art to your mani this winter, I recommend pairing this design with a darker shade more suitable for this time of the year. According to Cosmopolitan Magazine, "Rich, jewel-tone shades like emerald green are perfect for the winter season."
And don't forget the metallic details! I love how the delicate gold foil border matches the aesthetic of these dainty flowers, making it the perfect finishing touch!
Forest Green Nails w/ Gold Trees
In need of a stunning green and gold nail design for Christmas in 2023?
This deep forest green would definitely be my top pick for a Christmas inspired design, and I love how the sparkling gold glitter pops against this color. Whether you need something for Christmas day or a holiday party this winter, the nail design above is an excellent choice!
Gold Stars on Green Polish
What's not to love about this design?
The rich green hue pairs perfectly with the glimmering gold stars, making for a dazzling and attention-grabbing look. This design is perfect for a night out or any occasion where you want to add a touch of glamour to your ensemble.
Soft Sage, Florals & Gold Foil
This design is perfect for those who love a more delicate and feminine look. I love how the floral and butterfly accents add a charming and whimsical feel while the gold foil details add a touch of sophistication.
This light sage is perfect for springtime, but you can definitely still wear this to any winter event where you want to showcase your sweet and feminine side.
Green Marble Nails w/ Gold Flakes
I can't get over how elegant and chic these hunter-green and gold nails are. The green and white marbling adds a unique touch, while the gold foil accents add the perfect amount of glam.
Asymmetrical Gold Polish w/ Green Leaf Art
I love the unique look of this nail design! The gold polish adds a luxurious feel, while the green botanical art is so elegant. These colors complement each other well, although I recommend adding white floral details if you want to brighten the look.
Bright Green + Metallic Abstract Tips
Are you looking to add a vibrant pop of color to your everyday outfits? This bright green is perfect for just that!
This green and gold mani has the perfect balance of playfulness and elegance. And you can easily rock this look at a party, a winter concert, or even at the office!
Wavy Green + Gold Frenchies
Go for a chic mani with this gorgeous army green color! This muted, earthy shade looks great when paired with bright gold details, and I love the playful spin on this classic nail design.
Emerald Green Polish + Gold Art Deco
If you're in need of a mani that is bold and eye-catching yet still sophisticated, this nail look above is for you!
The Art Deco details add a refined and alluring touch, making these green and gold nails perfect for any party this holiday season! If you want to switch it up, I recommend adding a matte topcoat for a more understated look.
Jade Green + Gold Snakeskin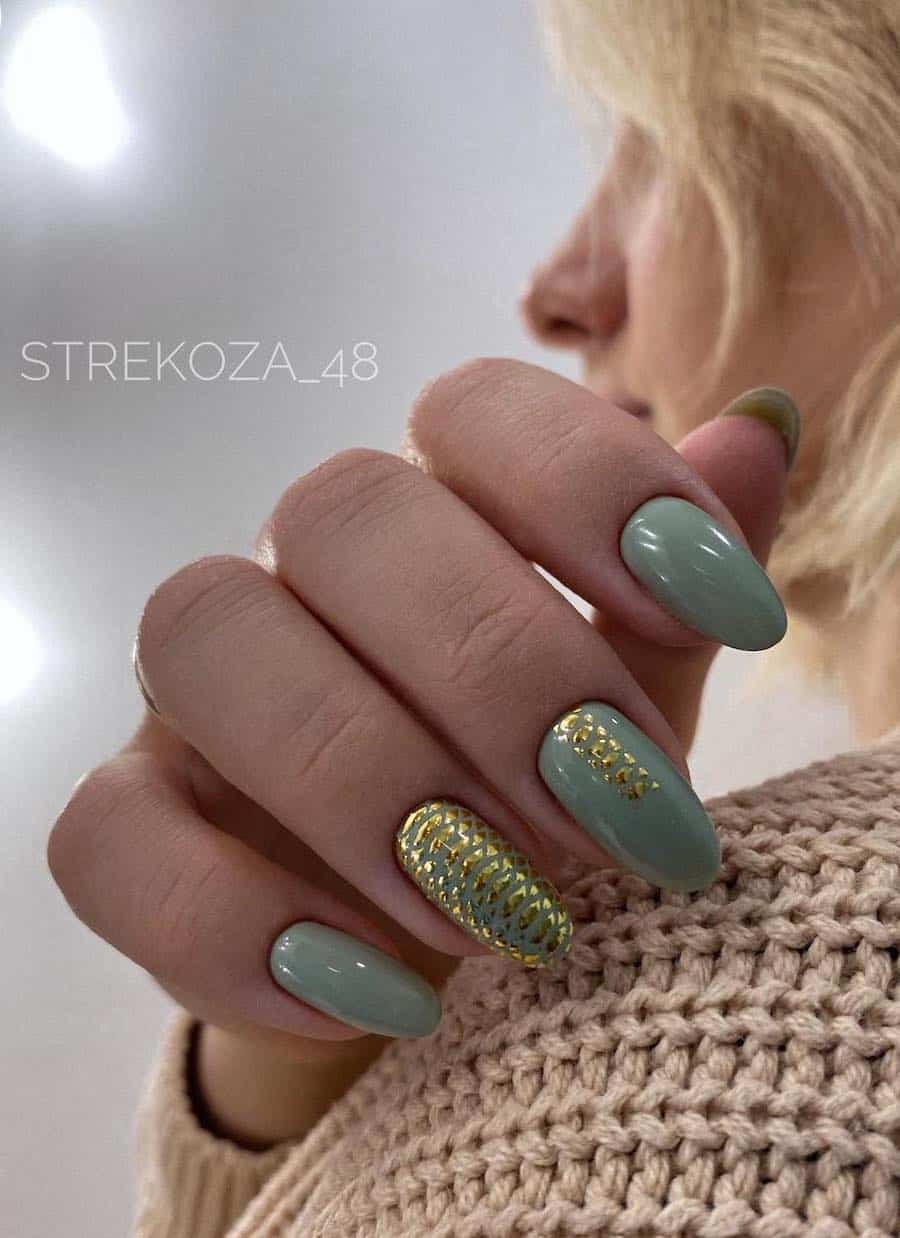 This nail design is a must for anyone who wants to make a statement without being too flashy! And I love how the snakeskin pattern adds an edgy aesthetic to this otherwise classic jade-green mani.
You can wear these nails anywhere from work to a lunch date or even a night out on the town.
Gold & Forest Green Polish w/ Holiday Nail Art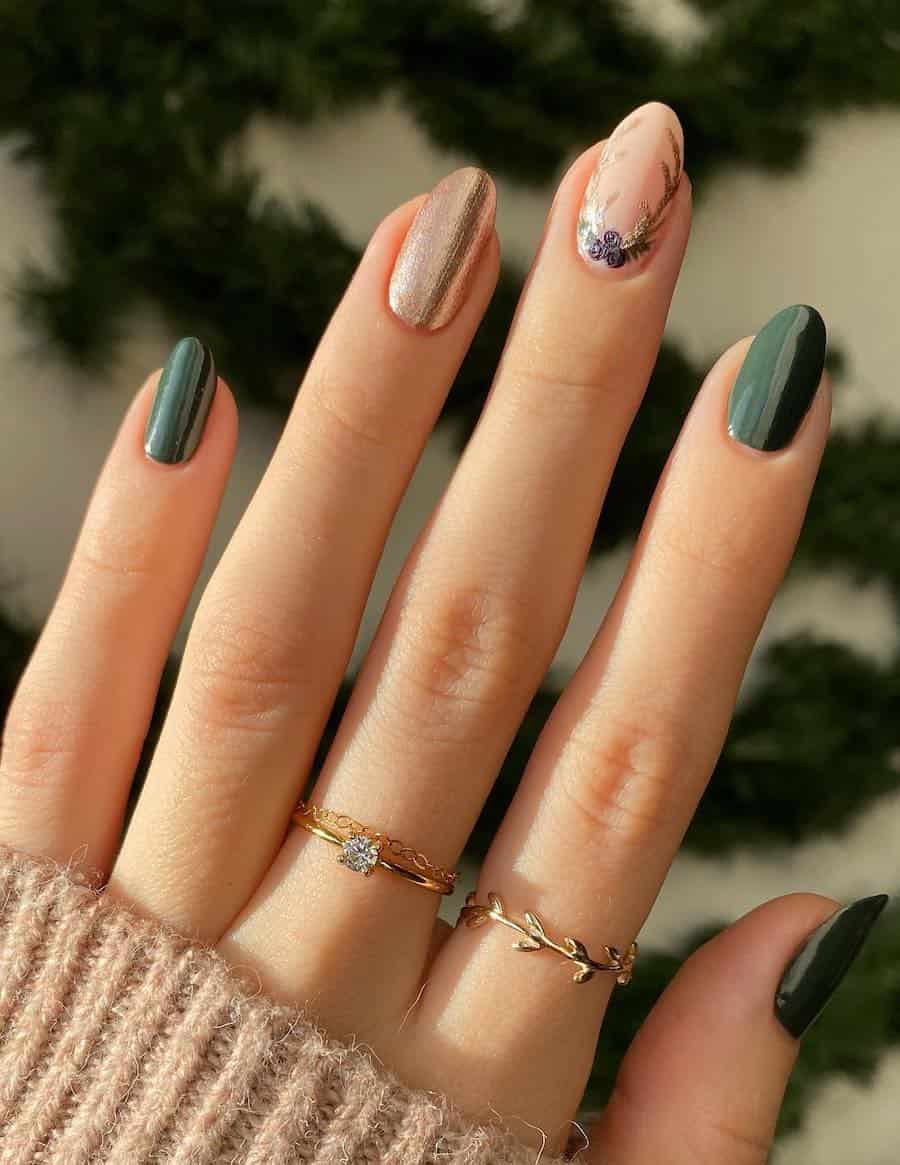 This nail design is just too cute!
I love how this mani has a festive vibe but still looks sleek and elegant. The gold antlers and lovely rose details make this nail design perfect to wear while taking holiday photos, enjoying a light show, or to wear on Christmas day.
Green + Blue Gradient w/ Gold Waves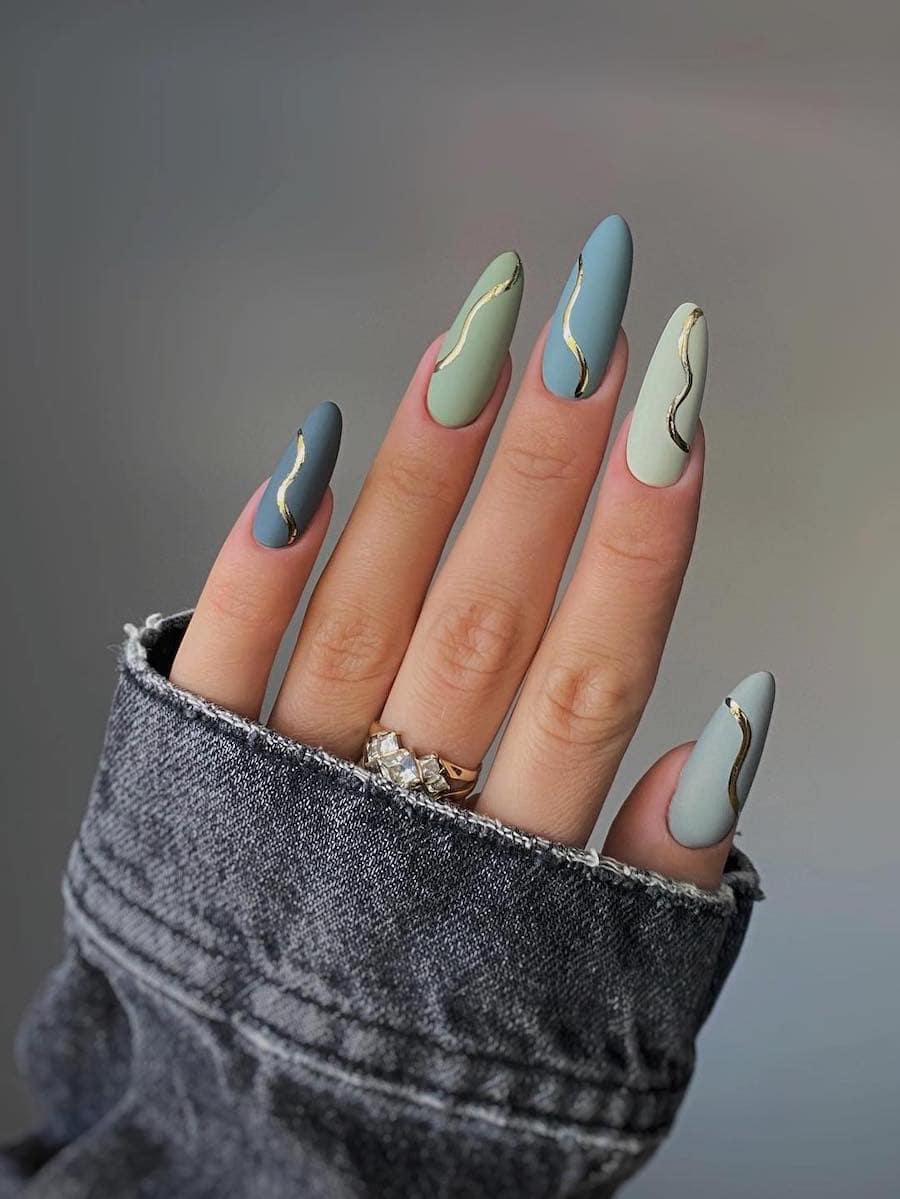 Shades of green and blue with gold waves are perfect for those who love a pop of color. I absolutely love how the gold waves add a sense of movement to the design, making it ideal for a fun girl's night out look.
And while I love matte green and gold nail designs, I recommend adding a glossy topcoat if you want to change the aesthetic and make the colors pop even more.
Marbled Jade Nails w/ Gold Foil
Marbled jade green nails with gold flakes are a stunning choice for those who love a simple and natural look.
I love how the marbling creates a unique pattern on each nail while the gold flakes add a touch of luxury. I would wear this manicure to a wedding or a fancy dinner party.
Metallic Moss & Gold Chrome
Go for this mani if you want a chic and on-trend nail design in 2023! These nails are modern and refined, and I love the earthiness of this mossy green shade paired with the metallic sheen of the gold chrome.
Holographic Gold + Gem Accents on Dark Green Nails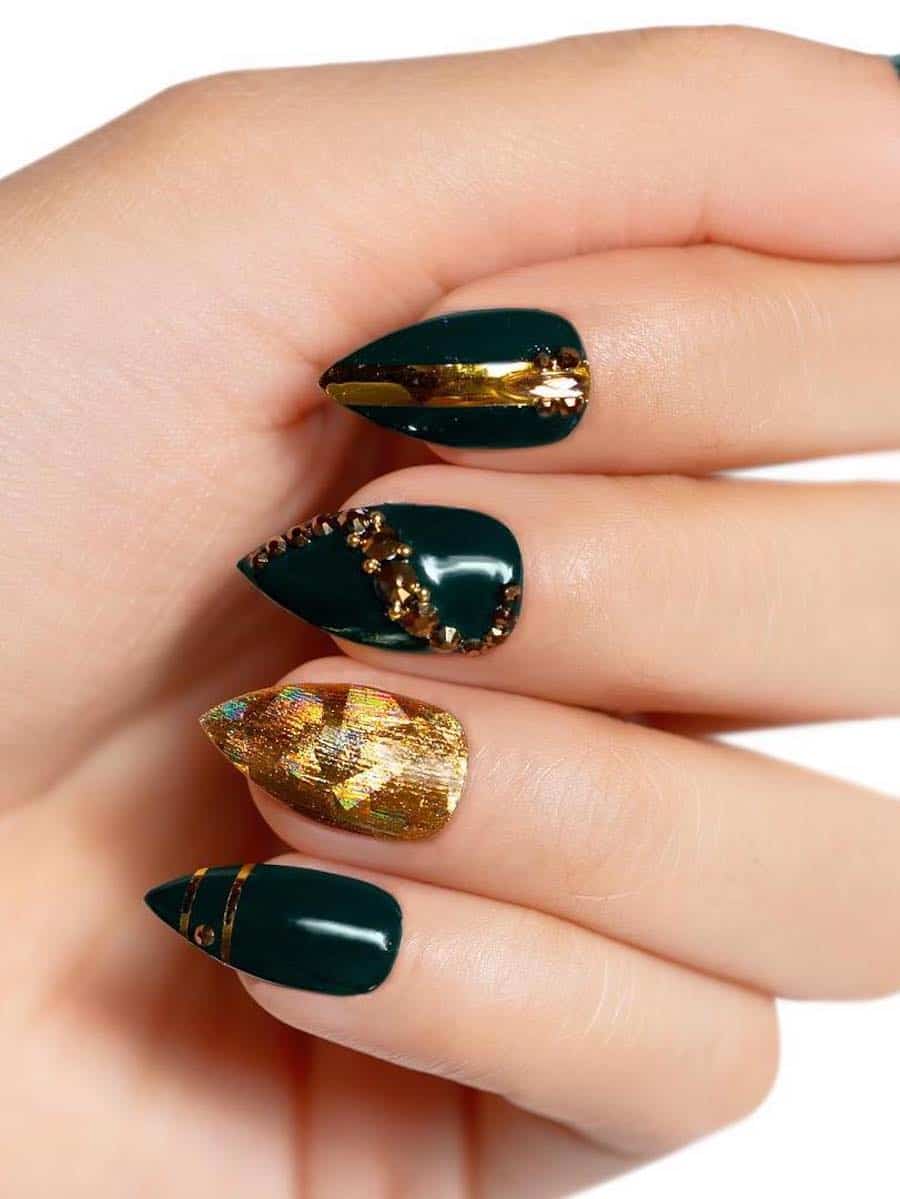 If I wanted to stand out from the crowd, these green and gold nails would be my top choice to do just that!
This dark green hue and gold details are an elegant pairing, while the holographic gold accent nail adds a bold, futuristic twist! I love that this design can be worn to a fancy event or to spice up a casual outfit.
Dark Green w/ Glittering Gold + Gems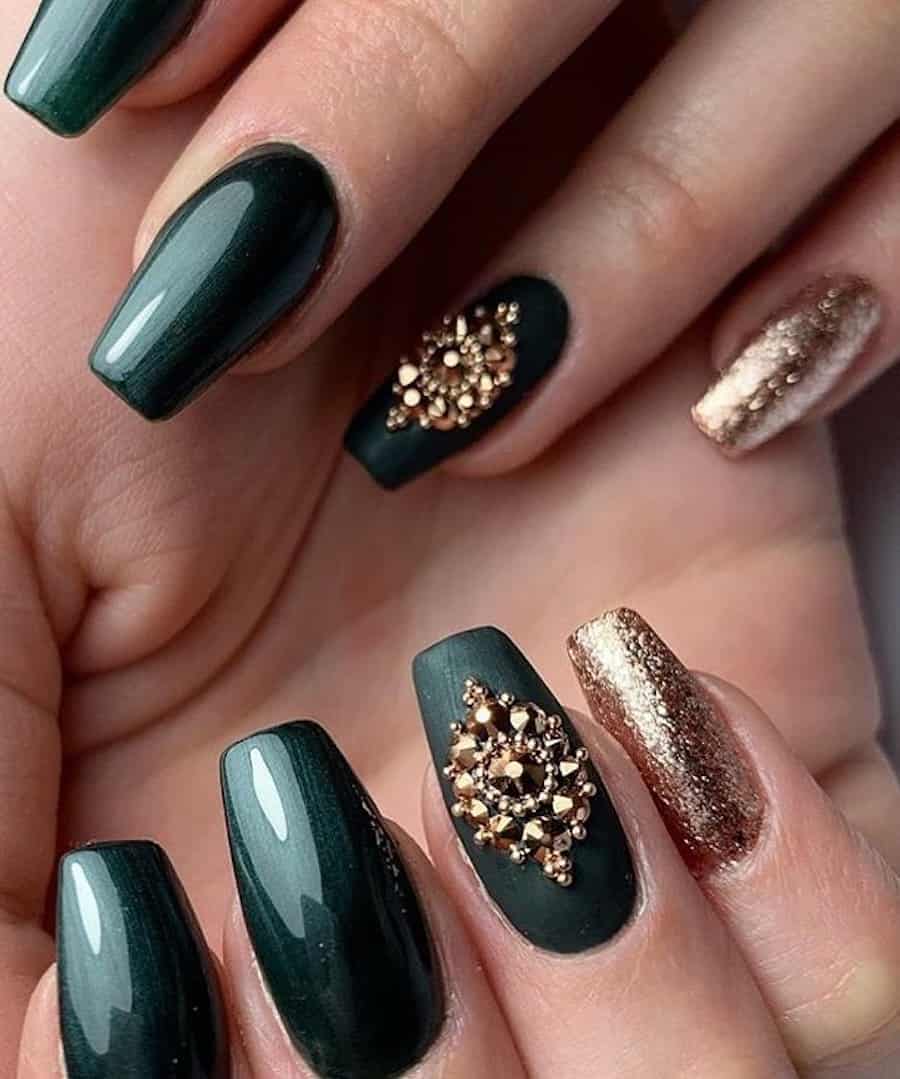 This stunning manicure is perfect if you love a bit of bling with your look. The gold beads add a touch of sophistication, while the gold glitter accent nail is a playful addition.
Matte Green + Sparkling Gold Leaves
I can't get over how gorgeous these gold and green nails are! The gold glitter leaf art is stunning, and the French tip accent nail adds a classic touch. I would wear these nails to a winter dinner party or even to add a little sparkle to my day-to-day outfits.
Forest Green Polish w/ Gold Sparkles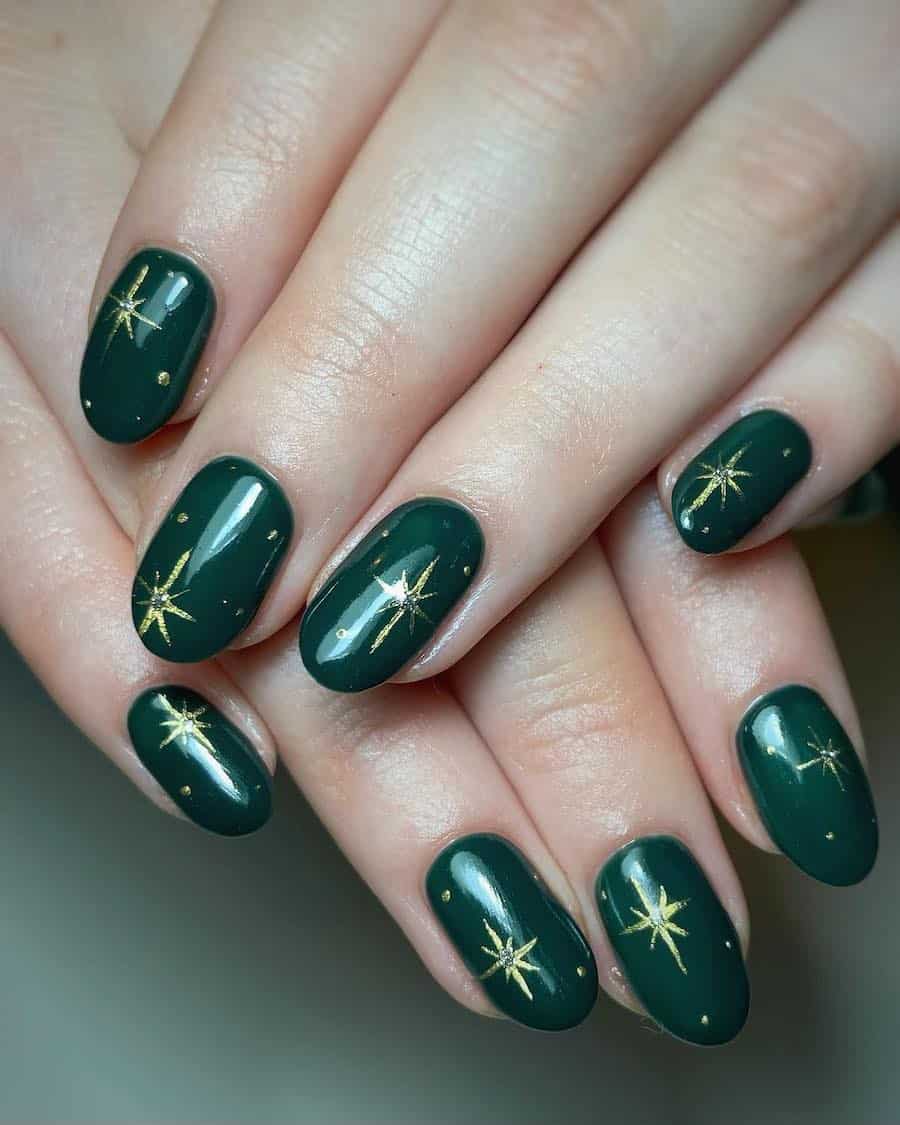 In my opinion, you can't really go wrong by adding sparkle details to your green and gold nail designs! The gold sparkles add a touch of glamour to the deep green shade, and I love that this versatile design can be worn with both formal and casual outfits.
Earthy Green + Shimmering Gold Waves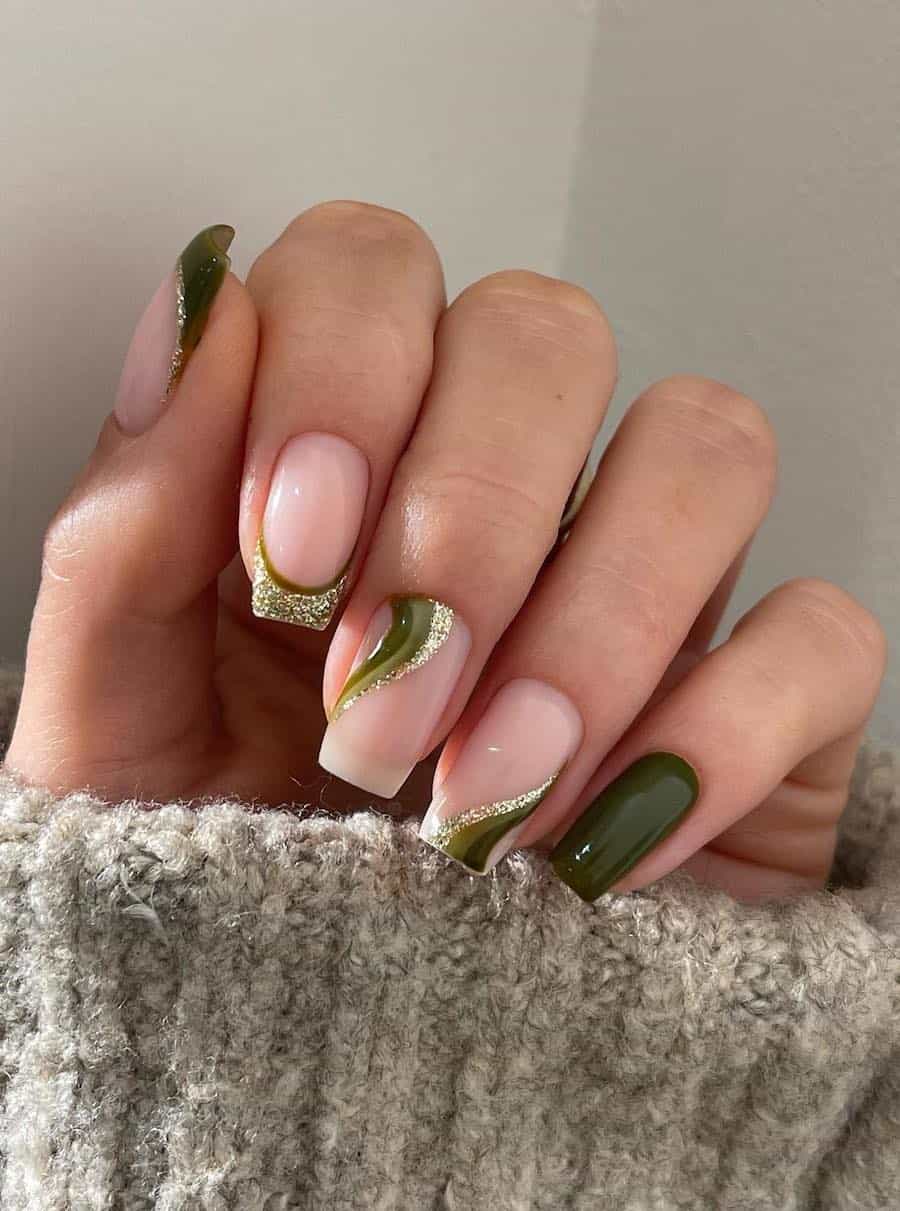 Who doesn't love an elegant but minimalistic nail design? These earthy green and gold waves are perfect for a subtle but unique look! And I love that these nails can go from a day at the office to a night on the town effortlessly.
Gold Foil on Dark Green Nails
Sleek but subtle, these nails are a must if you want elevated green and gold nail designs this winter! And if you ask me, the gold foil accent nails are the perfect way to elevate this nail design while keeping it minimal.
Kelly Green & Distressed Gold Polish
This manicure is my favorite green and gold nail design on this list!
The matte Kelly green polish is so stunning, and the distressed gold accent nails add a unique touch. I would wear these nails to a casual outing with friends for something simple but alluring.
Sage Green Mani w/ Florals + Gold Accents
And lastly, this pretty sage green manicure with floral details is ideal for anyone who loves bright and feminine designs! The combo of white, gold, and this light green is so lovely. This mani would be perfect for a spring nail design or if you want a softer look this winter.
Green and gold are a nail color combo that you can't go wrong with. Whether you choose a romantic floral design, a bold abstract mani, or something simple and classic, you can feel confident that the green and gold nail designs on this list will elevate your style in 2023 and beyond!
More Nail Inspiration You'll Love:
28+ Gorgeous Emerald Green Nails You'll Want To Copy
27+ Stunning Forest Green Nails To Obsess Over
17+ Sage Green Nails To Inspire Your Next Manicure