Are you wondering how to wear a Lululemon belt bag? Or looking for cute Lululemon belt bag outfit ideas? See my top tips on how to wear this coveted fanny pack and get simple and stylish outfit inspiration!
*this article contains affiliate links*
How To Wear A Lululemon Belt Bag
I'm a tried-and-true Lululemon belt bag lover. I've owned this chic "fanny pack" for years, and it's become my go-to for running errands with my kids. I also frequently take my Lululemon Everywhere belt bag on walks and hikes, to concerts, and for other occasions where I just need my essentials (phone, keys, wallet).
This is also the perfect accessory for travel outfits! On my most recent trip, I brought my belt bag along to carry all my travel must-haves, including my AirPods, hand sanitizer, sunglasses, and passport. Needless to say, it's a great accessory to have!
I first purchased the Lululemon mini belt bag in black because I knew it would be the easiest to style with my wardrobe. I've since purchased the Everywhere Fleece Belt Bag in light ivory, which has a super soft fleece fabric that adds a touch of texture to my outfits and is great for fall and winter.
If you can get your hands on the Lululemon belt bag – the bag is so popular it frequently runs out of stock – I highly suggest picking it up. It comes in several colors and sizes, so there's something for everyone!
4 Different Ways To Wear The Everywhere Belt Bag
If you have the Lululemon Everywhere belt bag (or a belt bag dupe) and need outfit inspiration and styling tips, I've got you covered! In this guide, I show you how to wear your Lululemon belt bag, as well as give you some ideas on how to style it!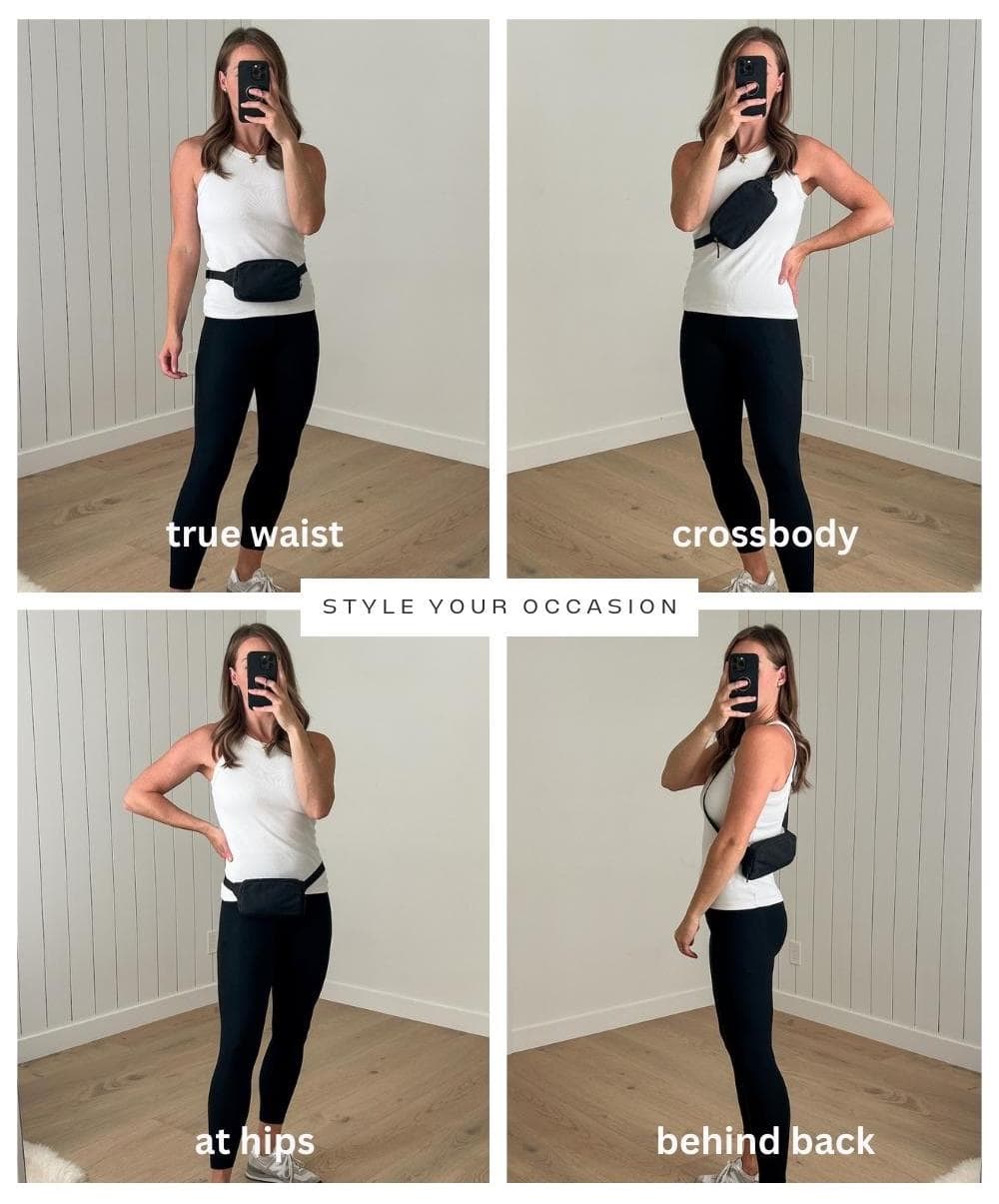 The Lululemon belt bag can be worn four ways, read on to learn about each one!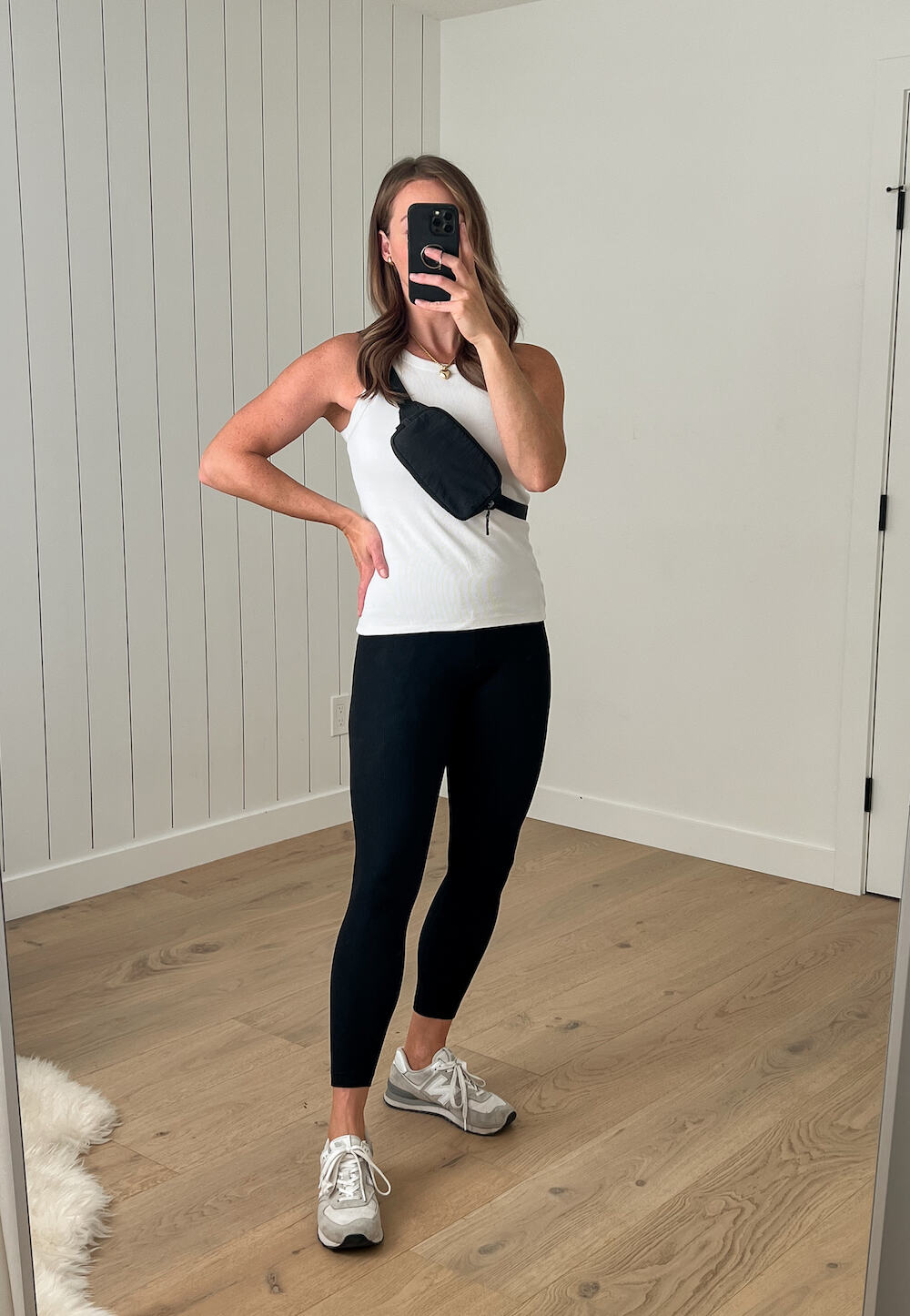 Can you wear the Lululemon belt bag as a crossbody?
Yes! The most popular way to wear the Lululemon belt bag is as a crossbody bag across the chest. Having the belt bag across your chest lets you keep your belongings close while staying comfortable and hands-free.
It's also one of the most fashion-forward styling options that can be dressed up or down. Get more ideas for how to wear a belt bag here!
At The Hips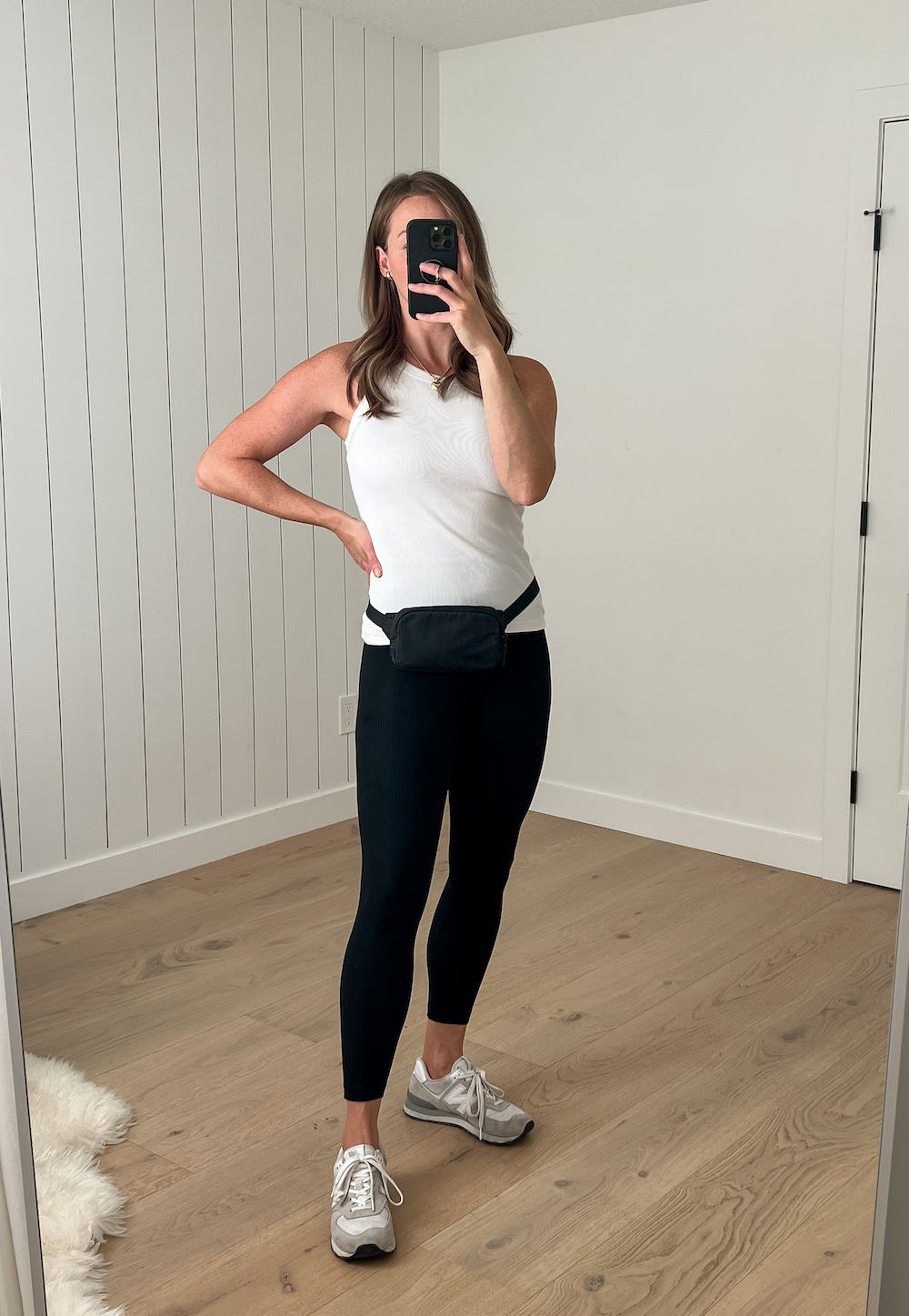 Wearing your belt bag on your hips is reminiscent of how you'd wear a fanny pack. This casual and comfy option provides easy access to all your essentials. I like to wear my Everywhere bag around my hips when I'm going for a classic sporty look.
At The Waist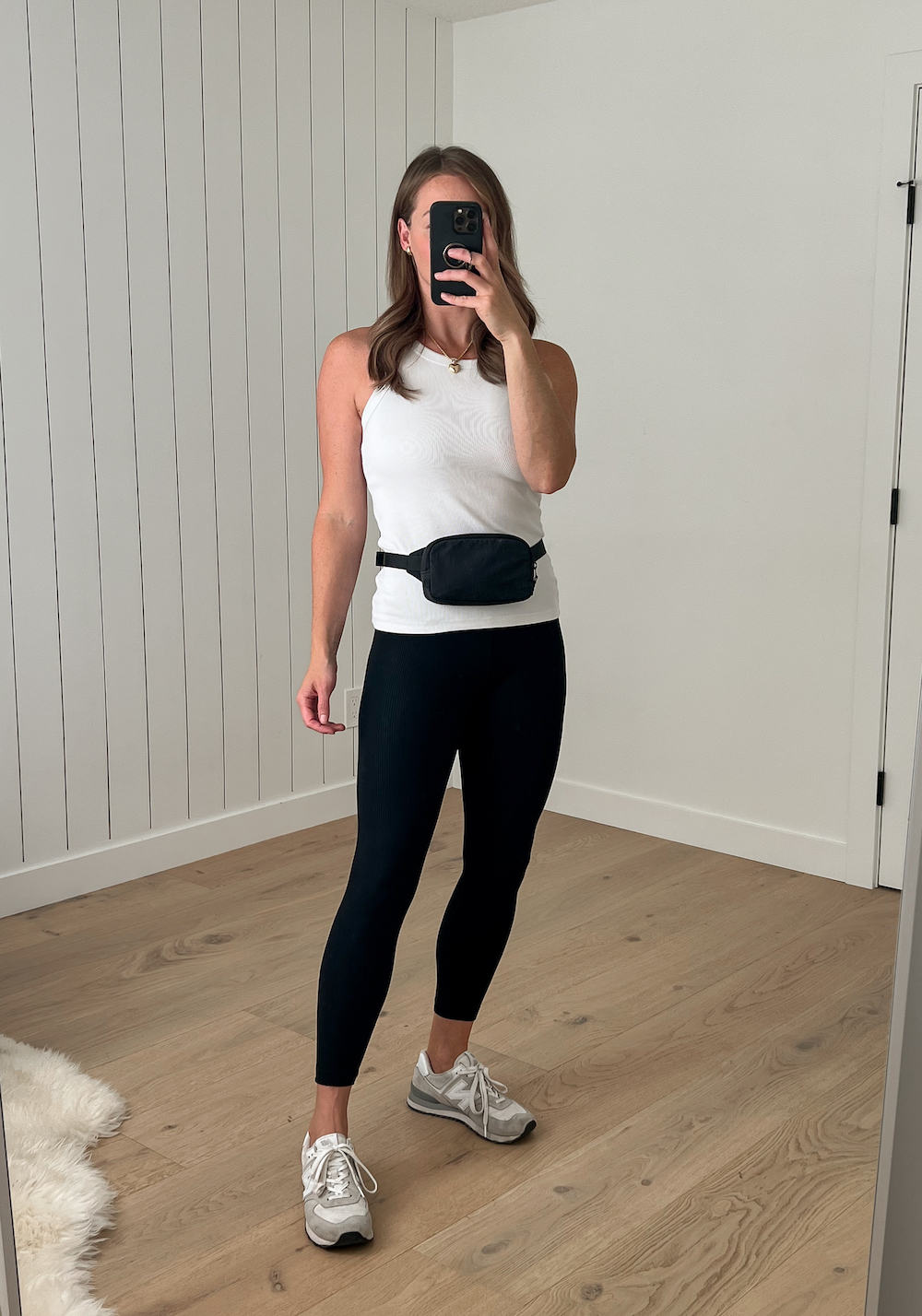 Similarly to wearing your belt bag along the hips, you can also wear it higher up on your waist along your true waistline (just above the belly button). Wearing your belt bag at your true waist with bottoms like leggings or biker shorts will define your natural waistline.
Behind The Back
Another way to style your Lululemon belt bag is crossbody-style with the pouch behind your back. This option feels super laid-back and goes well with casual outfits or athleisure.
It's also surprisingly comfortable since the bag is behind you and doesn't get in the way as you walk, run errands, or shop. However, your belongings are behind your back, so this might not be the best option if you're traveling or need to quickly access your things.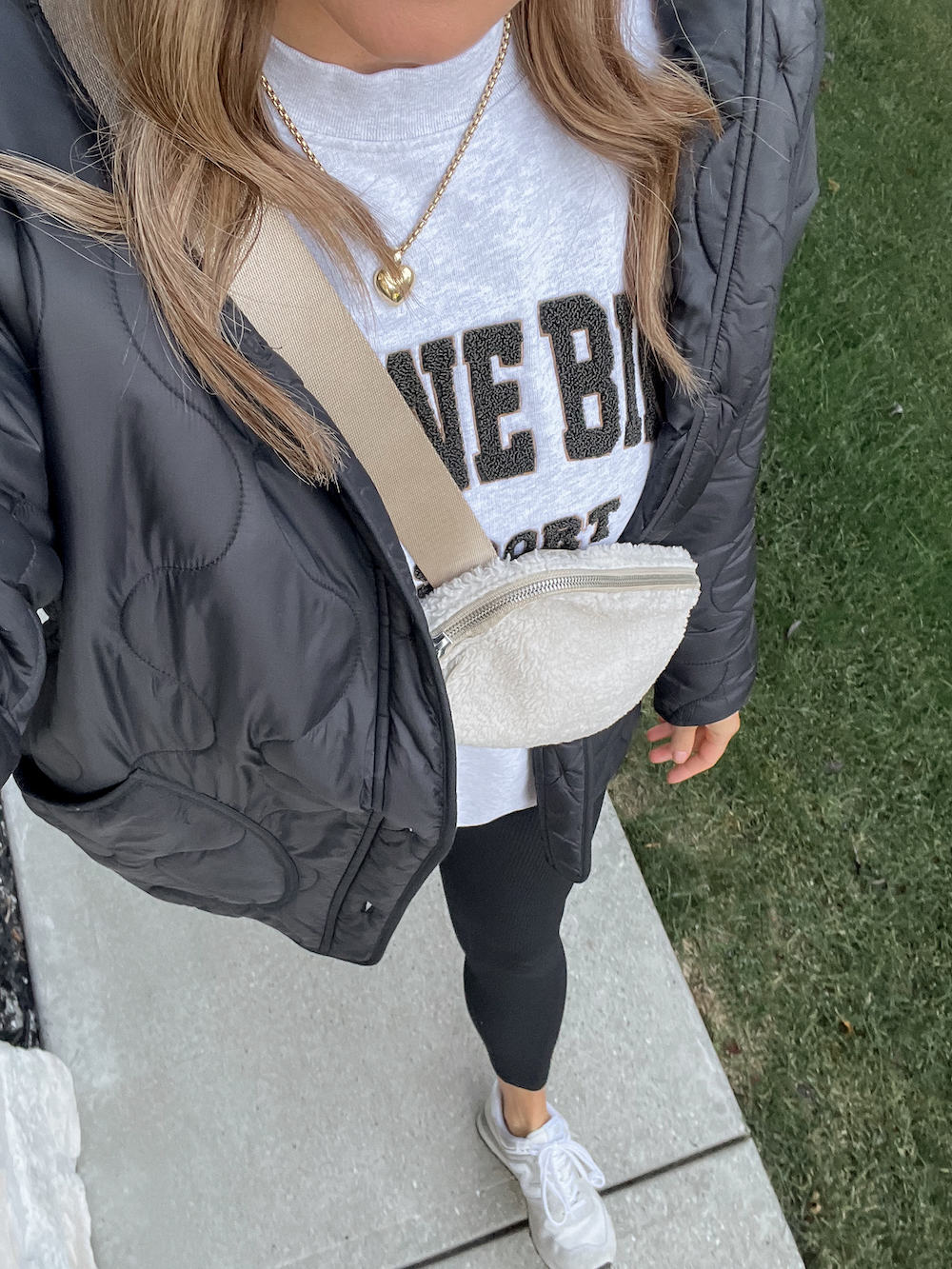 How To Style A Lululemon Belt Bag
This practical little bag is the ultimate wardrobe staple for my girls who love to dress casually with a touch of sporty chic. As you've seen, there are multiple ways to wear this belt bag. And luckily, there are even more ideas on how to style the iconic Lululemon belt bag.
Lululemon Belt Bag Outfit Ideas
Ahead, you'll find my go-to Lululemon Everywhere belt bag outfit ideas to take inspiration from. Whether you want a new travel accessory or a minimalist everyday bag, I promise this belt bag will go everywhere with you.
Leggings, sweatshirt + quilted jacket.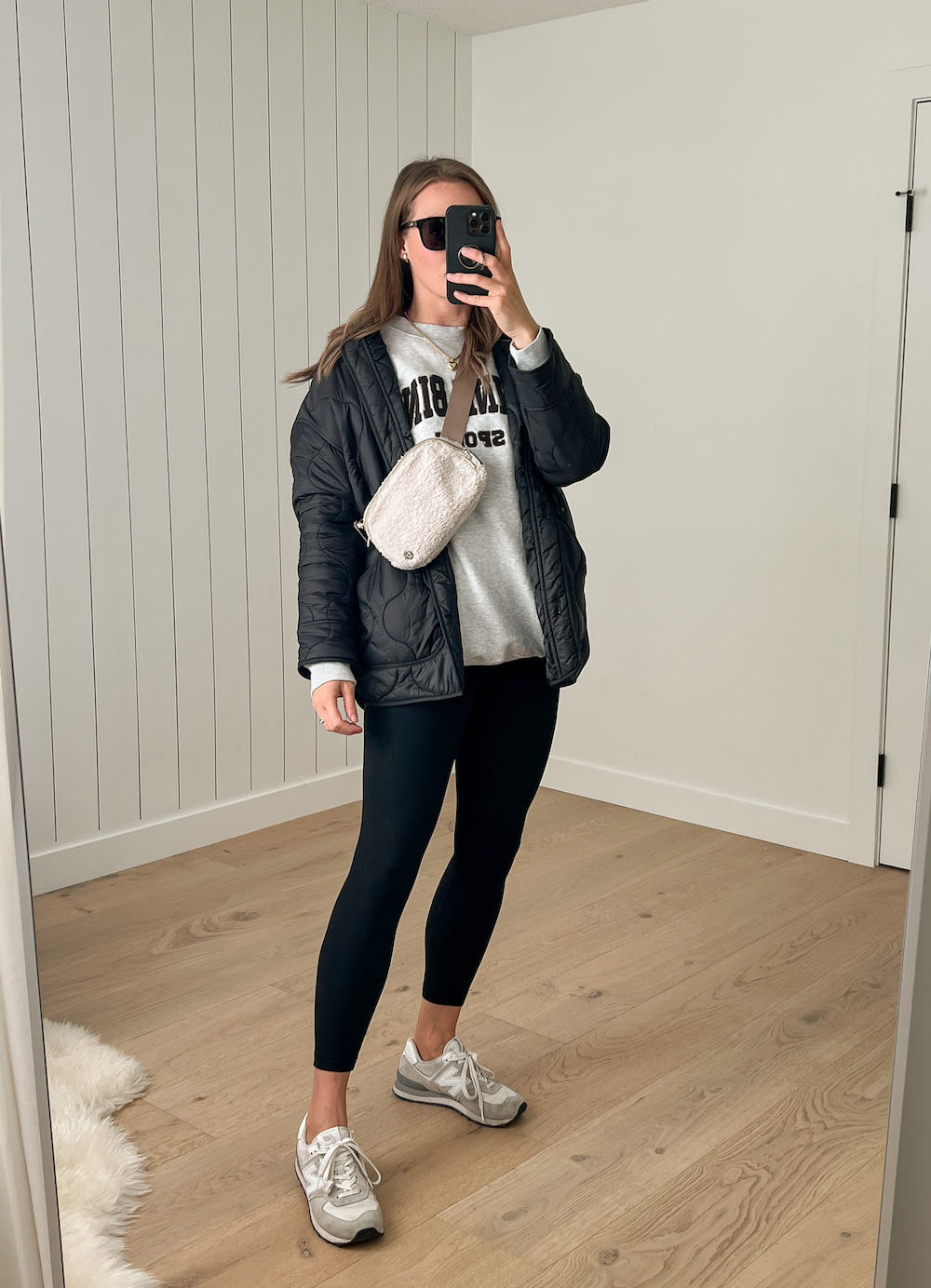 get the look:

This is the kind of outfit I wear most with my Everywhere belt bag. I'll throw it on over my fave oversized Anine Bing sweatshirt and Lululemon Align leggings for a casual look that's great for outdoor walks around my neighborhood and grocery store trips.
Here, I've worn it crossbody style over my Abercrombie & Fitch collarless quilted jacket (alternates linked above). And because I've worn it over my jacket, it makes pulling out my phone or a quick snack for the kids that much easier.
Jeans, trench coat + sneakers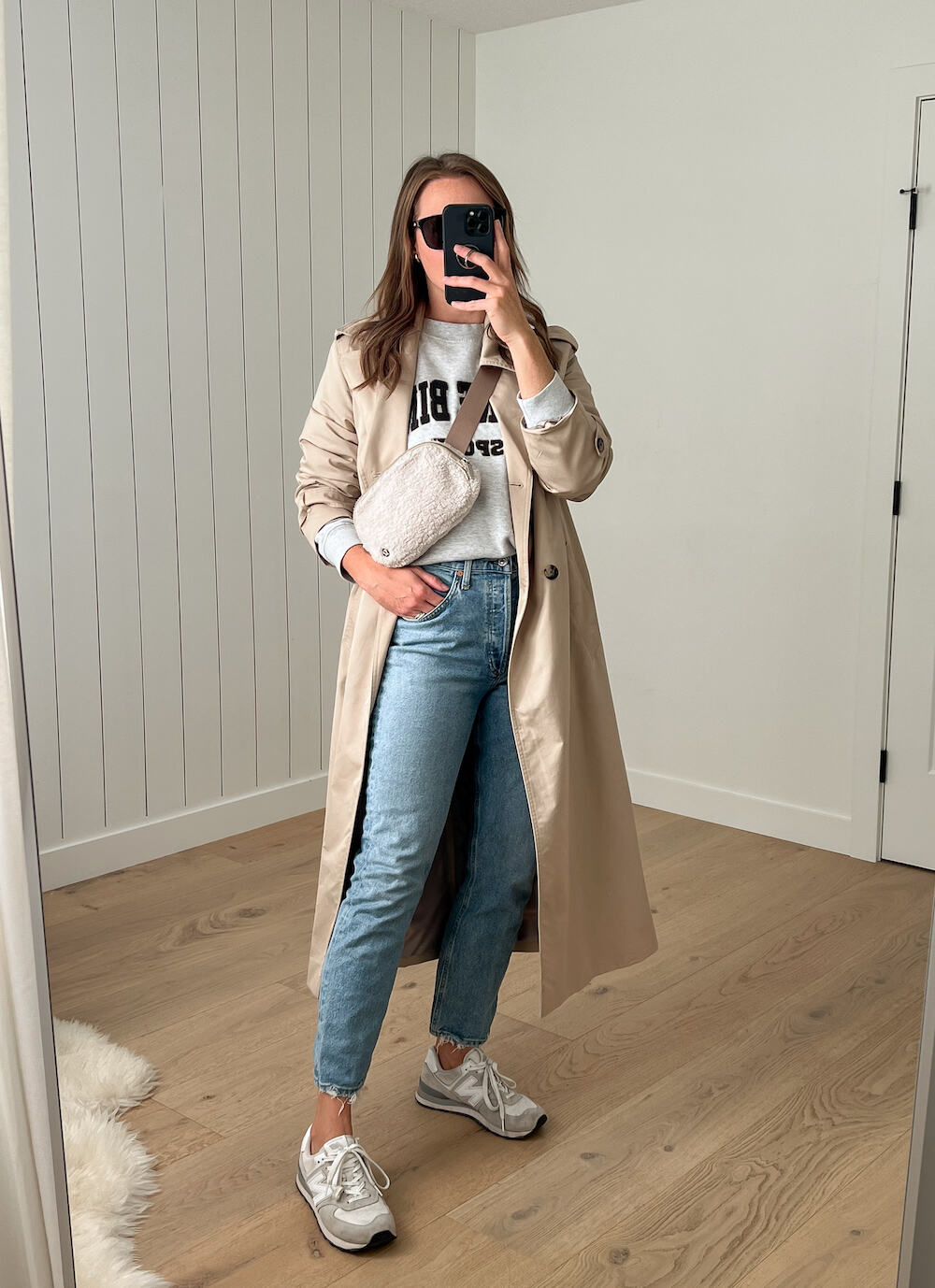 get the look:

Next is a Lululemon belt bag outfit I wear on days when I want to feel comfortable but still look put-together.
I start with a pair of jeans and my Anine Bing crewneck before throwing on my New Balance 574 sneakers. Next, the trench coat instantly adds an elevated look and gives it a cool-girl vibe.
For this outfit, I took the same base outfit and swapped out my fleece bag for the mini black belt bag. In my opinion, the black bag gives the look a sportier vibe that perfectly matches a logo sweatshirt and trendy sneakers. Here you can see the Lulu bag under the trench coat as another styling option.
Activewear dress + sandals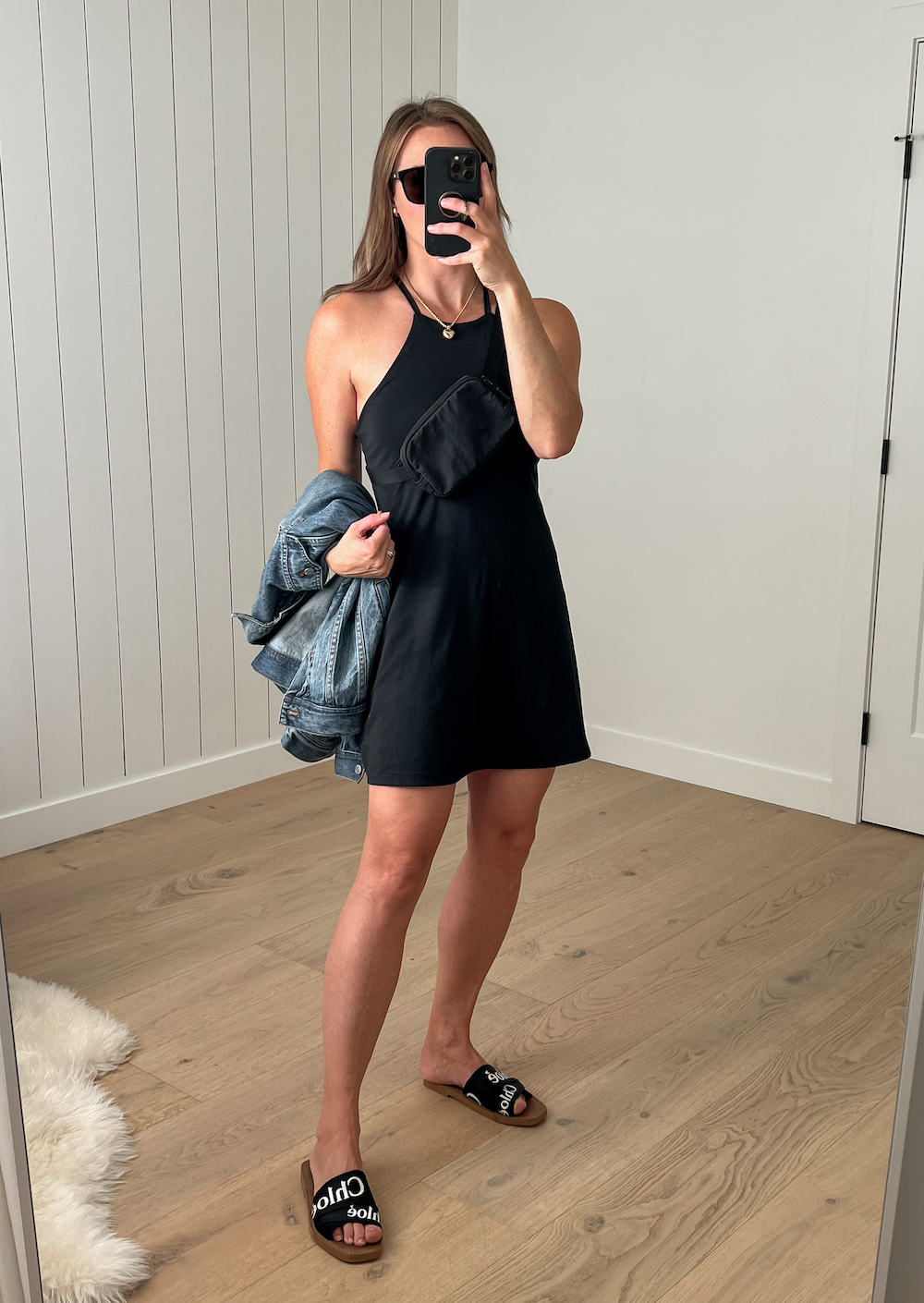 get the look:

My next Lululemon belt bag outfit proves how versatile this bag really is. Here, I've worn it crossbody over a Madewell fitness dress for a fashionable and functional look.
The black bag is easier to dress up than other color options. Plus, the black-on-black is discrete yet chic, meaning you can wear this look to a summer event, an evening at the winery, or to brunch with the girls.
Sweatshirt, joggers + baseball cap
get the look:

I love how the Lululemon Everywhere belt bag looks with loungewear. I tend to opt for my fleece bag on casual days like this because it leans into the cozy vibes and adds an elevated touch to my outfit (so it doesn't look like I just rolled out of bed!).
When heading out the door in my cozy Lululemon Scuba joggers and sweatshirt, I'll throw the belt bag over my shoulder for a casual look. And because the bag is lightweight and has a thick, adjustable strap, it never puts much pressure on my shoulder when worn this way.
Sweater + bike shorts.
get the look:

This Lululemon belt bag outfit is the perfect blend of sporty and chic. I tuck a cozy Jenni Kayne cashmere sweater into my Lululemon black bike shorts. I then wear my belt bag around my waist to flatter my figure and stay hands-free as I go about my day.
This is an outfit I wear when I'm on mom duty out and about with my kids.
Graphic tee, shorts + cowboy boots.
get the look:

I stand by the fact that the Everywhere belt bag is ideal for casual wear, but it also makes the best concert or festival bag.
I love a good graphic tee and bike shorts combo to keep things cool and relaxed. And for a country concert or festival, I'd go with these cute Poppy Barley western boots and an oversized leather jacket.
This bag goes well with virtually any concert outfit, so don't be afraid to mix and match – just have fun with it!
Why do people carry around Lululemon bags?
The Lululemon Everywhere Belt Bag is the brand's most popular bag—and it's surprisingly affordable. People love to carry around Lululemon belt bags because they are at an accessible price point, lightweight, water-resistant, and stylish.
The hands-free carryall is ideal for day-to-day wear and can be worn with a variety of different outfits. Its versatility is another reason why this belt bag is a top seller. You can just as easily wear it on a hike as you could running errands around town or on a casual dinner date.
I hope you have been inspired by all the different ways you can wear and style a Lululemon belt bag! Which look will you try first?
More Style Inspiration You'll Love:
Best Lululemon Align Tank Dupes
16+ Fresh & Chic Trench Coat Outfit Ideas
12+ Black Joggers Outfit Ideas To Copy