If you love gorgeous sage green nail designs, then check out our list of 17+ sage green nails that you'll want to try for your next manicure for the perfect sage green nails aesthetic!
Gorgeous Sage Green Nails
Sage green is such a calming, serene, and lovely earthy color. It conjures thoughts of nature, like the leaves of a eucalyptus plant or touches of green in a turquoise ocean.
It's no wonder it's such a likeable nail color, and we don't see that stopping any time soon. Sage green nails are still going to be just as popular in 2023.
17+ Sage Green Nail Aesthetic Ideas
If you love the look of sage green nails and need some ideas for your next manicure, look no further. We've collected the most stunning sage green nail aesthetic ideas so you can choose the perfect look.
Acrylic Sage Nails
If acrylic nails are your go-to at the salon, then check out these gorgeous acrylic designs that we absolutely adore.
1. Sage Green Acrylics with Gold Accents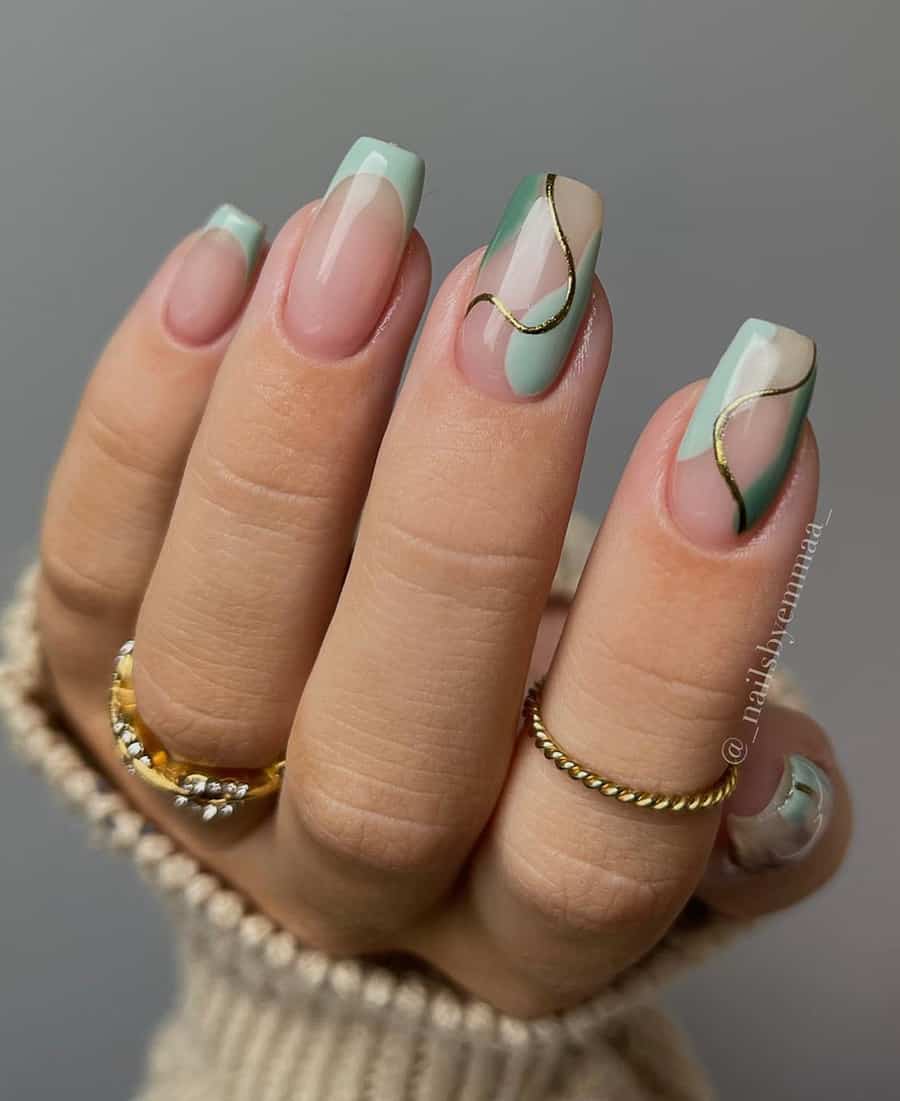 We're starting off with these stunning multi-design nails. We love the classic look of the French tip using soft sage green instead of white. The second design with sage green accents and gold line wave details makes this manicure so unique.
These nails are the perfect mix of business and pleasure, so these are an excellent option for a versatile look.
2. Matte Sage Acrylics with White Details
This next manicure has a gorgeous matte finish over pastel sage green. These long nails look amazing as is, but the white line art adds an elevated touch to them.
These could easily be recreated on any nail length or shape and is another perfect look that can go from work to nightlife instantly.
3. Square Sage Green Acrylics with Leaf Art
A similar manicure to the one above, this nail design uses delicate leaf art instead of line details. We love the sophisticated look of matte nails, and the bright white looks stunning against the sage green.
This look with the white leaves is a great choice to show off your playful side while still keeping a minimal look.
4. Long Cat Eye Sage Green Acrylics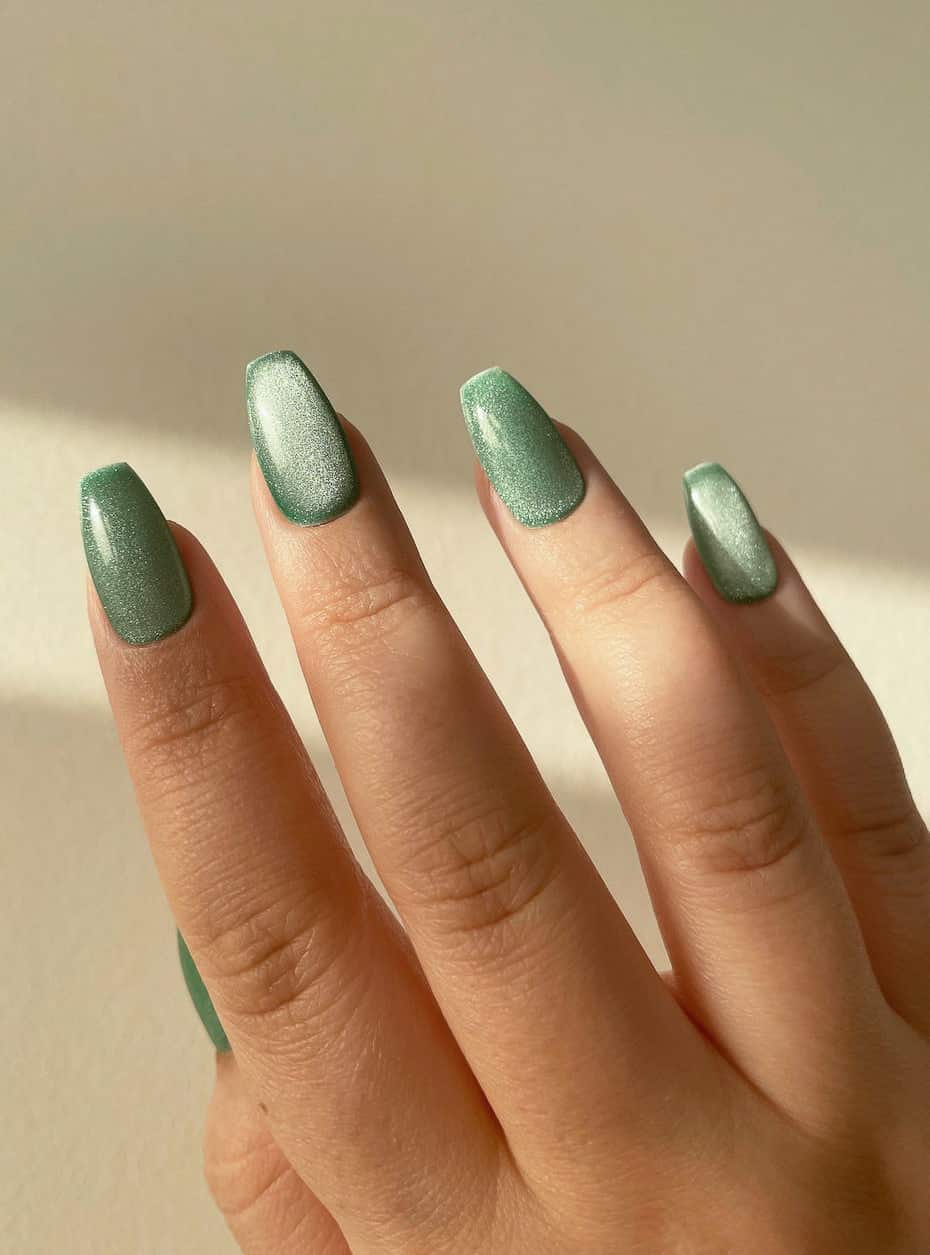 Who doesn't love a good glitter manicure? You can't go wrong with the classic and fun look of a solid color enhanced by the shimmer of a glittery finish. This color is so gorgeous on its own, and the addition of the glitter adds a youthful vibe to it.
These sage green coffin nails can easily be worn anywhere, from an office meeting to date night or even a casual day out with friends.
5. Long Sage Nails with Floral Design
Square nails are having a moment here as we have another gorgeous design featuring this nail shape. We love the combo of the square cut with the long nails, and this lovely sage green polish gives it a soft and feminine look.
The tiny daisies on each nail add a subtle but charming touch that makes this perfect for the laid-back girl who loves floral details.
6. Long Matte Sage Nails with Leaf Texture
This next manicure is beauty and elegance wrapped up into one. The pastel green with a matte finish is definitely a favorite look of ours, but the addition of the monotone leaf art takes this manicure to the next level.
We could see this easily getting compliments everywhere you go, from the grocery store to Sunday brunch.
7. High Gloss Dark Sage Green Nails
We love the look of a classic manicure using this gorgeous color. This manicure is perfect if you want to wear beautiful sage green but want a simple, minimalist look.
While these nails are straightforward, the extra glossy finish adds a polished touch. The long nails, rich tone, and shiny finish make this manicure sleek and chic.
If you like the darker tone of these nails, don't miss our list of forest green nail designs!
Sage Green Nails with Polish
If a manicure with nail polish is more in your wheelhouse, these next picks are for you. Take a look at these chic sage green manicures using nail polish.
8. Sage Green Nail Polish with Accent Nails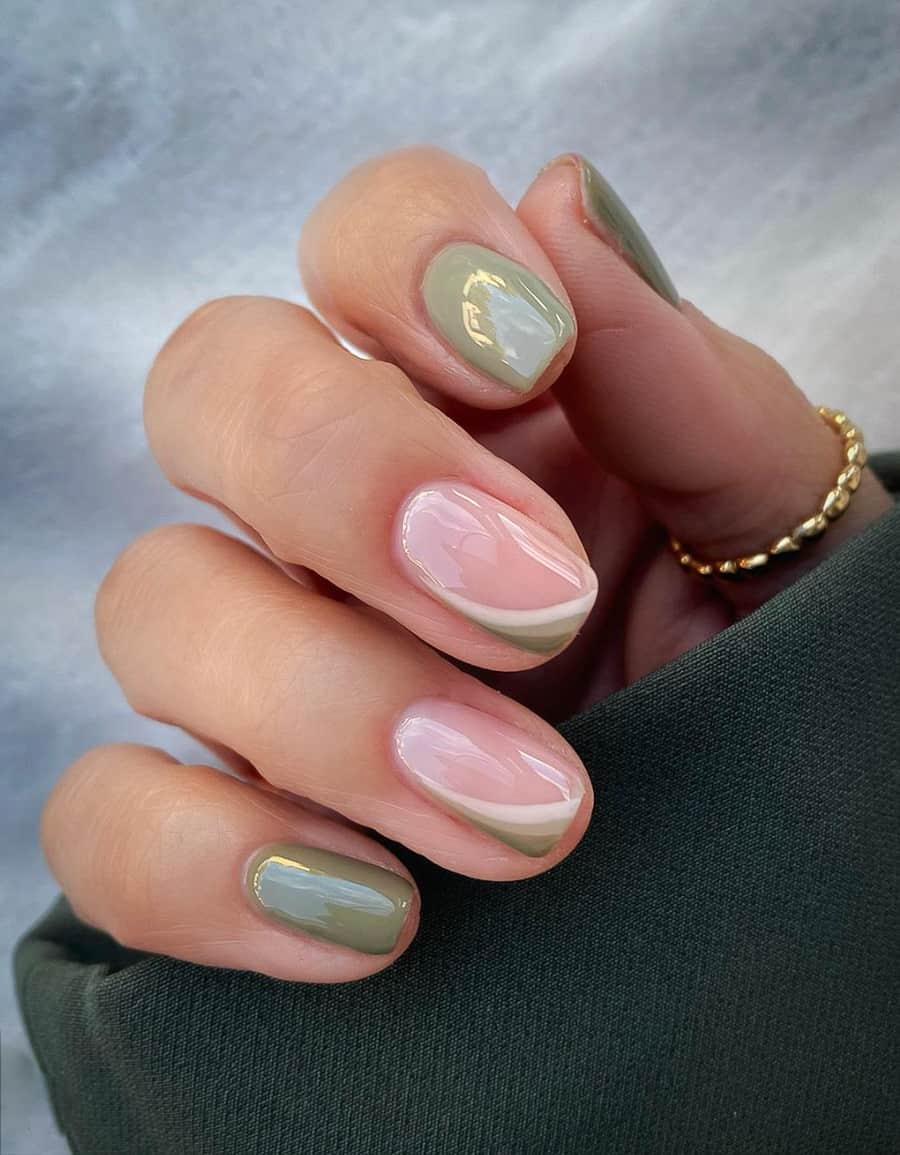 This soft green looks so good with the nude and white tones it's paired with. We love this manicure's soft and dreamy look, while the accent nails add a playful touch.
These short sage green nails are definitely for you if you love the clean girl aesthetic, and the stylish design on the accent nails still shows off your fun-loving side.
9. Sage Green French Tips with Accent Nail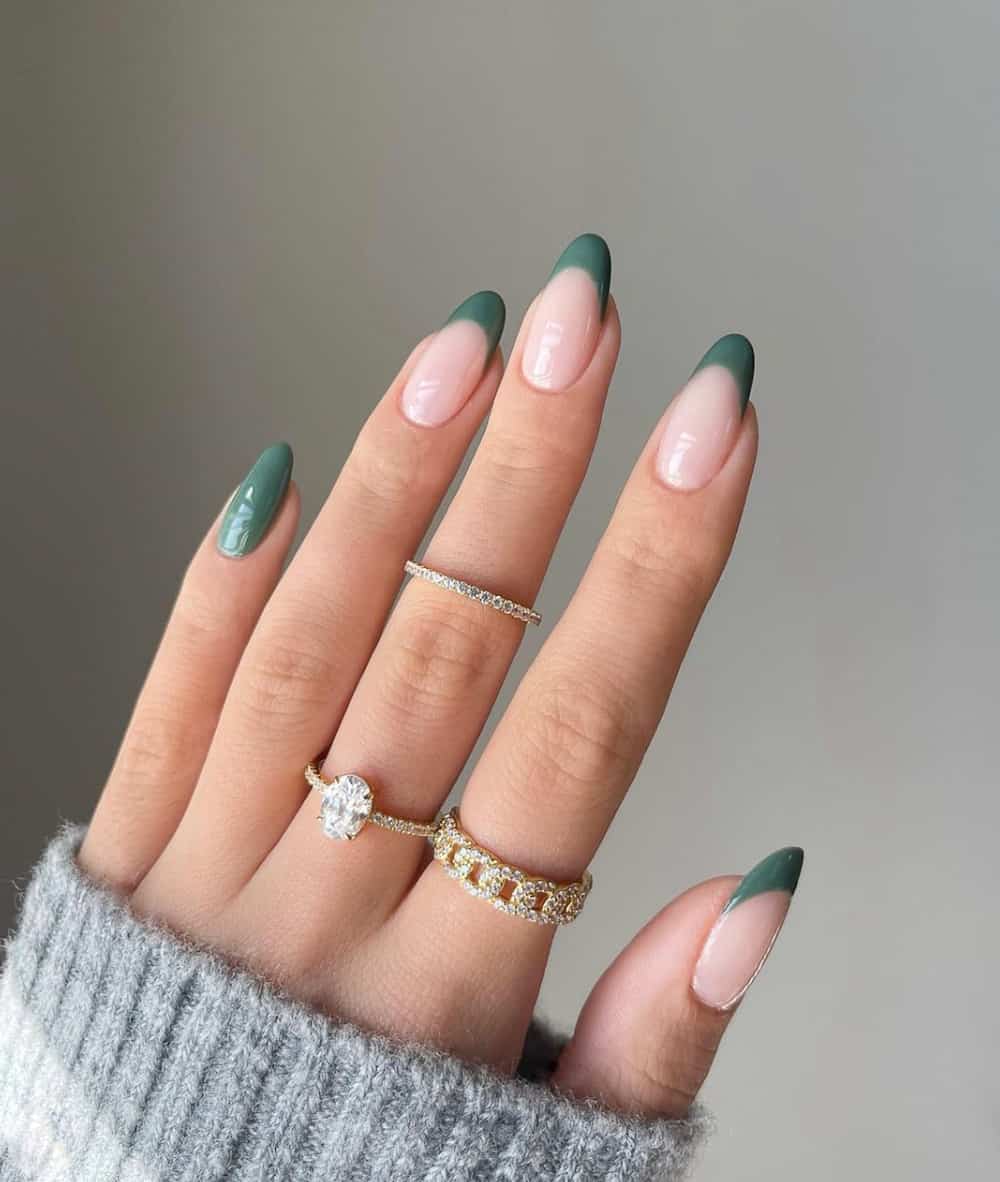 French tips are always a gorgeous go-to when it comes to nail designs. This rich tone of sage green is eye-catching and sure to get you more than a few compliments. We love the single solid-colored nail to add a fun variation to this classic look.
This manicure is fantastic if you want to bring more color into your look without having a complex design.
Is green nail polish on trend?
Yes, it is! In fact, in the last couple of years, we've seen the rise of the color green. From interior design to stylish outfits, green has become a go-to color for a chic aesthetic.
So, it should come as no surprise that green nail polish is also on trend. This stunning color can be warm and inviting or fun and vibrant, depending on the shade used.
We're here for all of the green nail polish designs we've been seeing, and, despite being a spring color, sage green has definitely been in the spotlight all year and is really popular in the winter months too.
10. Sage Green Almond Nails with French Tip Accents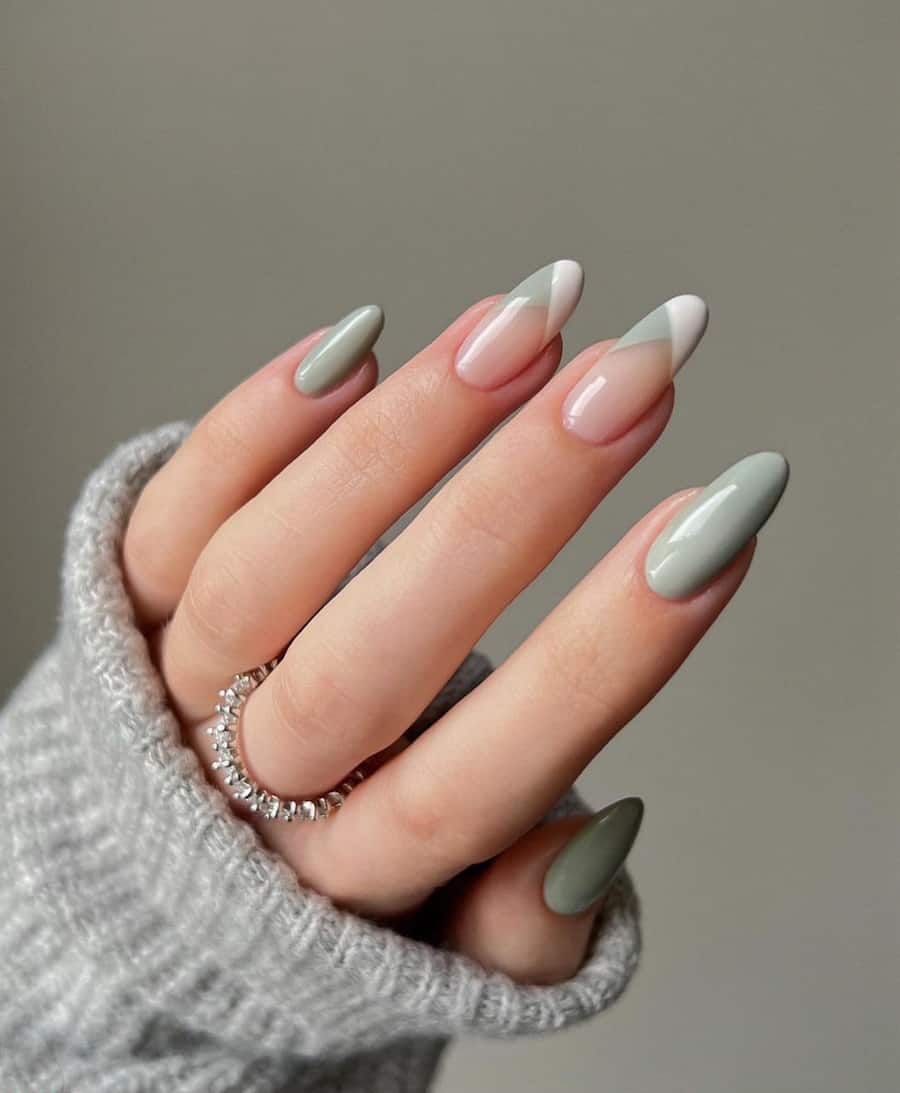 Here's another stunning sage green nails aesthetic on classy almond nails. The green creates a soft and romantic look, while the two accent nails bring in a youthful and fun vibe that we love.
The white looks fantastic paired with the sage green, and we love the crisscross design that works as a French tip.
Sage Green Nail Designs
Do you love to try bold and unique nail art designs on your manicures? We've chosen lovely sage green nails with breathtaking designs you'll want to try.
11. Short Sage Green Nails with Leaf Art
We absolutely adore the look of this manicure. The addition of vibrant yellow looks incredible with the white and green polish. This leaf art is definitely a great choice for any nature lovers who want a fun look with this beautiful shade of green.
You can also mix it up by adding the botanical designs on each hand, but either way, you'll have a stunning manicure that others will envy.
12. Matte Sage Nails with Gold Geometric Design
This manicure has a bold and playful feel to it. The matte sage green nails look chic, and the geometric patterns on each accent nail are perfect for showing off your daring and trend-setting personality.
We really love the warm bronze-like tone of the gold accents, but you can also substitute the color for silver if that's more your style.
13. Geode Sage Green Nails with Gold Flake Accents
This one-of-a-kind nail design looks so luxurious and vibrant. We love the marbled look of these nails, and the rough gold edges make it look like a gorgeous geode.
The sage green has a soothing feel, and the gold accents add a chic touch. This is a perfect choice if you're looking for a beautiful and unique nail design.
14. Sage Green Nails with Leopard Details
Animal print is always a great choice to add a playful touch to any look and goes well with the sage green nails aesthetic. The hue is so stunning, and the animal print's dark brown and beige tones add an earthy and wild vibe that we adore.
The classy almond shape complements the bold nail art here, and this design would also look great on longer nails.
What can I wear with green nails?
Green nails can be worn with so many looks. Some of the best colors to wear with green nails include neutral tones, like white, black, and beige, along with metallic colors like gold and silver. These combinations have a clean, polished look that you can't go wrong with.
However, you can also easily pair green with other vibrant colors, like pink, blue, purple, and yellow.
Sage green is a pastel tone, so other pastels pair well with it, so try dusty pink, baby blue, or a stunning lilac for a fun look. Yellow adds brightness to the sage green, creating a youthful vibe we love.
15. Single Line Art Sage Green Nails
We cannot get over how breathtaking this next manicure is, talk about perfect sage green nails aesthetic!The white and grey polish pairs perfectly with the delicate sage green, and the single-line art and other details add a creative touch.
If you love a daring and artistic look, this manicure is definitely the one for you. You can easily add more accent nails if you really love the nail art, or leave it as is for a gorgeous look.
16. Negative Space Sage Nails with Gold Flecks
One of our favorites on this whole list is this negative space manicure. We love the adventurous look of these nails and how they still have an elegant feel even with the bold design.
Gold is a perfect color to complement the sage green, and the flakes add even more to the playful vibe here.
17. Neutral and Sage Green Speckled Nails
And last but obviously not least, another stunning sage green nails aesthetic, we have this stylish sage green and white manicure. The detailed leaf art elevates the look completely, and the small accents of black and gold add effortless style to the nails.
These nails would look great anywhere. They're gorgeous and elegant enough to wear at the office, at a wedding, or on your next vacation.
Which sage green nail should I try?
We love these sage green nail designs for their fun vibe and gorgeous aesthetic. If you're looking to try a sage green nails, any of these serve as perfect inspiration.
You can choose the look that is most beautiful to you or mix it up with a design that you normally wouldn't go for. Either way, you're sure to look stunning and chic while sporting any of these designs!
More Nail Inspiration You'll Love:
19+ Emerald Green Nails You'll Want To Copy
27+ Gorgeous Green Fall Nails With An Earthy Vibe
25+ Green French Tip Nails You'll Love